The best dog dental chew is Greenies Original Teenies Dog Treats.
Is your cuddly pooch having bad breath?
Do you find dental cleaning expensive and not a permanent solution?
That's why you have to consider getting dog dental chews. They are simply a godsend. Not only do they improve gum health and control plaque and tartar (which are often the main culprits for bad breath), but they also keep your dog's breath fresh.
According to Web MD Pets, veterinarian research found that dogs that regularly chew on dental treats can reduce plaque by a whopping 70%!
Searching for a good dental chew is not easy. Not to worry, we are here to help you. Here are 9 of the best dog dental chews that have been tried and tested by satisfied dog owners.
#1 Greenies Original Teenies Dog Treats
SALE ALERT!!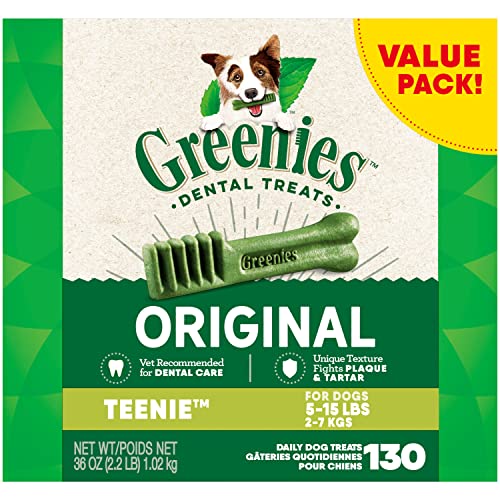 The Greenies are dental chews made from all harmless natural ingredients and are well-loved by dogs (and their owners, too!) because they are easy on the digestive tract and come in appealing poultry flavor. They are loaded with vitamins and minerals beneficial for canine health.
Despite being a yummy treat, the Greenies does its job of keeping bad breath at bay and maintaining good gum health. Plaque and tartar are removed effectively as this chew reaches all the way to your dog's gumline.
You can choose from large, petite, and regular sizes based on the age and size of your dog. However, do take note that these dog treats are not suitable for puppies under six months and weighing less than 5 lbs.
What's more? They are veterinarians recommended and even accepted by the Veterinary Oral Health Council (VOHC) in the USA.
Available in various sizes right from puppyhood to adults, the brand covers all sizes of dogs. And the feather in the cap is that the dental chews meet the AAFCO dog food nutrient profile needed for dog health maintenance.
Pros
---
Greenies Dog Treats are approved by the VOHC, thanks to a unique texture that is effective at combating plaque and tartar buildup in dogs.
In addition to being effective against plaque and tartar, the Greenies Original treats help maintain the formation of healthy gums and keep a dog's breath fresh.
These dog treats are manufactured with highly soluble ingredients that can be easily digested when swallowed by a pooch.
This product is available in packs, that contain varying amounts of treats, that are priced to cater to different customer budgets and also reduce wastage.
Greenies Dog Treats are manufactured in U.S.-based facilities, with ingredients gotten from high-quality sources from around the world.
Cons
---
Chewing too fast and ingesting large pieces of these dog treats can cause damage to a pooch's gastrointestinal system.
The taste of the Greenies Teenies reportedly makes some dogs vomit after consumption.
#2 Pedigree Dentastix Original Treats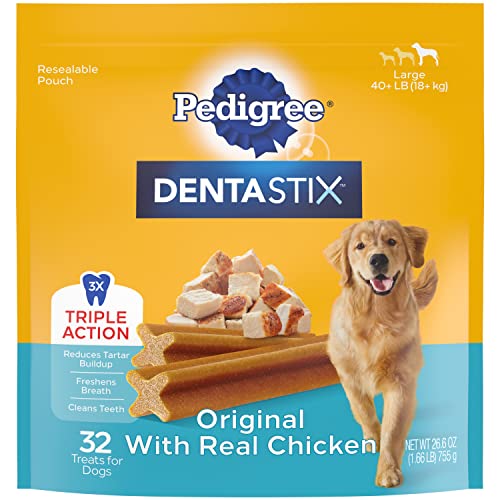 Available in multiple flavors such as beef, bacon, mint & chicken, these sticks are also designed to energize your canine companion along with maintaining dental hygiene.
Approved by the VOHC, these sticks are made in the USA and have the required ingredients in the right quantity to prevent the buildup of plaque and tartar. This helps to reduce your dog's bad breath.
These dental hygiene chews are shaped specifically to reach all parts of the teeth and clean efficiently up to the gum line. They have the right thickness for giving the perfect chew and are suitable even for dogs with sensitive teeth.
We really like their triple-action cleaning mechanism and the affordable price, as you get 45 treats per pack at around $15. This is at least 40% cheaper as compared to other dental treats out there in the market.
Pros
---
Pedigree Original treats are available in four different flavors – Beef, Chicken, Bacon, as well as Bacon & Chicken – to cater to pooches that are picky eaters.
The triple-action formulation of the Pedigree Treats is effective at reducing tartar buildup, freshening dog breath, and keeping a dog's teeth clean.
These dog treats feature a unique X-shape design that is easier for dogs to break down and chew.
Customers only need to give their dogs one stick of the Pedigree treats per day, with the effects of this product being noticeable for the whole day.
The Pedigree Dentastix treats don't contain added sugar, fillers, and other ingredients that can be toxic to pooches when ingested.
Cons
---
The Original Treats are specially formulated for consumption by large dogs and aren't suitable for dental care in small dog breeds.
Multiple customers claim that their dogs developed diarrhea after eating these treats.
#3 Milk-Bone Brushing Dental Chews
Manufactured in the USA, the Milk-Bone Chews are approved by the Veterinary Oral Health Council (VOHC).
These delectable dental chews become an instant favorite with your dogs because of their chicken flavor. Available in various sizes, you must choose a size suitable for your canine to prevent any unforeseen choking incident.
The Milk-Bone Dental Chews have a unique shape enhanced by nubs and ridges which work like a toothbrush in dislodging food particles in the mouth.
In addition, these dog treats are fortified with calcium and imbibed with all 12 essential vitamins and minerals.
A great-tasting dental chew that cleans efficiently even in the deepest recesses of the mouth, leaving your pup with fresh breath and a healthy mouth. It is fortified with essential vitamins and minerals.
Pros
---
Milk-Bone Dental Chews are manufactured in the United States, and as a sign of quality, they are approved for use in dogs by the VOHC.
The Milk-Bone chews come in different sizes – Small/Medium, Mini, and Large – to ensure that they can be eaten by pooches with various teeth sizes.
The patented twist bone design of the Milk-bone chews, which comes with nubs and ridges, is effective at cleaning the nooks and crannies of a dog's teeth and mouth.
Constant chewing of these Milk-Bone chews helps prevent plaque and tartar buildup in a dog's mouth.
Milk-Bone dental chews are formulated with 12 essential vitamins and minerals, including calcium which is vital for the formation of strong teeth in dogs.
Cons
---
These dental chews tend to cause pooches with sensitive stomachs to develop diarrhea.
There have been multiple customer reports of Milk-Bone treats getting stuck in dogs' throats due to pooches swallowing large chunks of the treats.
#4 Blue Buffalo Dental Bones
SALE ALERT!!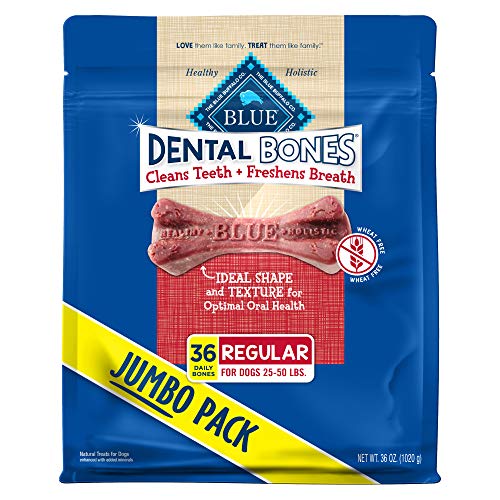 An all-natural dental chew, the Blue Buffalo Dental Bones are meant for daily use.
They are formulated wheat-free and easy to digest.
A tasty treat, these dental chews contain parsley which helps to freshen up your canine breath. They also ensure that the gums and teeth remain healthy.
Many dog parents have also commented that the taste of the Blue Buffalo Dental Bones is simply incredible! Most dental chews are not tasty by nature, so it can be difficult to convince your dog to eat them regularly. However, the Blue Buffalo Dental Bones are simply irresistible – you would have your dog wanting more.
It is made of all-natural fruits and vegetables and is not synthetic in nature.
Pros
---
The Blue Buffalo bones are formulated with ingredients, such as powdered cellulose, that are easy to digest by dogs.
These dental bones don't contain artificial preservatives, colors, flavors, and filler ingredients, such as corn, grain, gluten, and soya, that typically trigger allergic reactions in dogs.
Ingredients used in manufacturing the Blue Buffalo dental bones include vitamins and minerals that help promote canine oral health.
These medium-sized bones are ideally formulated for consumption by pooches weighing between 25 to 50 lbs.
The texture of the Blue Buffalo Dental Bones is ideal for cleaning dog teeth and preventing the buildup of plaque and tartar on a pooch's teeth.
Cons
---
Several customers claim that their pooches were hesitant to try out the Blue Buffalo dental bones.
The size of these bones is such that some dogs can easily chew and swallow them within seconds, thereby making them ineffective for maintaining canine oral health.
#5 Checkups Dental Dog Treats
SALE ALERT!!
Here's a brand that promises you a specific percentage of improvement in your dog's oral health with their product. Not only are the ingredients all-natural, but they are also sourced locally from Canada and USA for greater quality control.
The treats contain healthy omega-3 fatty acids for stimulating good health.
These dog treats are not only natural but are also easy to chew. This makes it suitable for aging senior dogs. Formulated with ingredients sourced from Canada and the USA, the Checkup Dental Treats has relatively minimal additives.
Pros
---
This dental dog treat is scientifically proven to reduce plaque formation in dogs by up to 25% and reduce tartar buildup by 65%.
The wheat-free formulation of the Checkups treats is ideal for pooches that suffer from grain allergies.
Checkups Dental Dog Treats are manufactured in the United States with ingredients sourced from Canada and the USA.
This product features the Veterinary Oral Health Council seal of approval as a mark of quality.
Customers can easily break these dog treats into smaller bits to feed small pooches without posing a choking hazard to their furry friends.
Cons
---
Several customers claim that this product isn't as digestible as advertised and that their pooches tend to develop diarrhea after consuming the treats.
Checkups Dental Dog Treats are one of the more expensive options available on the market.
#6 Whimzees Natural Grain Free Daily Dental Dog Treat
As the name suggests, these dog treats come in whimsical shapes and can intrigue your furry friend to explore more.
Not only with they improve oral health but will build cognitive skills as well. Made from all-natural ingredients and free from gluten, grain, and other artificial colors, these are the only vegetarian treats on the menu here.
Made from all-natural non-allergenic ingredients, the Whimzees can become a daily treat for your canine companion. They counter bad breath and improve the overall dental health of your dog. Their unique shapes with knobs and grooves enhance the chewing action and provide more thorough cleaning.
Pros
---
Whimzees dog treats are tested and approved by VOHC for effectiveness in controlling dog plaque and tartar buildup.
These treats are manufactured without using artificial colors, preservatives, gluten, or meat, thereby making them ideal for dogs with allergies and food sensitivities.
The toughness of the Whimzees treats ensures that they can be chewed for longer periods, thereby providing even more cleaning time per treat.
The vitamin and antioxidant-rich formulation of this dental dog treat is of immense health benefit to a pooch, and the fiber content of this product also aids easy digestion.
Whimzees dog treats feature hollow shapes and spaces that make it convenient for a dog's teeth to grip and chew the treats, thereby providing even better dental cleaning for the pooch.
Cons
---
These chews may be too hard for some dogs to conveniently break down and swallow.
Multiple customers have reported that these treats upset their dogs' gastrointestinal tracts and caused the pooches in question to vomit.
#7 Luke's Z-Bone Dental Chew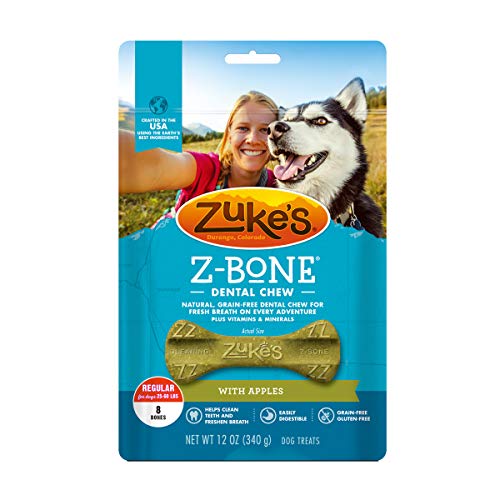 These grain-free dental chews have a refreshing apple flavor and are available in Small, Medium, and Large sizes. Formulated for dogs with allergies, these dental chews are also formulated with parsley, fennel, and other herbs to freshen the breath.
Chewy in texture, they must not be given to dogs that weigh anything lesser than 5 lbs.
These dental chews are made from natural ingredients and are easy to digest and safe to have even one each day. They keep teeth strong and prevent periodontal diseases when used regularly with teeth brushing.
Pros
---
Luke's dental chews are available in 2 different flavors – apple and carrots – to suit dogs that are picky eaters.
These grain-free dental chews that are devoid of corn, wheat, soy, or gluten are suitable for consumption by dogs with grain allergies.
The inclusion of parsley and fennel among the ingredients used to produce the Z-Bone chews ensures fresh breath for dogs.
Luke's dental chews have a texture that is effective at scraping dirt off and cleaning a dog's teeth.
The Z-Bone recipe is trail-tested to ensure that it is safe for dogs to eat.
Cons
---
This product can't be chewed by dogs less than 10 lbs or under six months of age due to a risk of choking.
For a package size of 8 bones per bag, Luke's dental Z-Bone chews are considerably pricey.
#8 Ark Naturals Breath-Less Brushless Dental Chews
SALE ALERT!!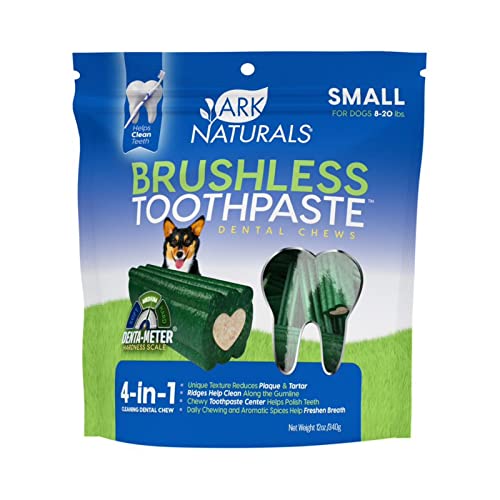 A dental chew can be only effective and replace a toothbrush only when it produces some friction and dislodged the food particles. The Ark Naturals Brushless Dental Chews are designed with an abrasive surface to thoroughly remove tartar plaque and bacteria from all recesses of the mouth.
They are flavored with vanilla and clove to leave your pooch's breath feeling fresh.
Added with clove known for its bacterial fighting properties, these oral hygiene chews remove plaque and tartar and keep the canine's mouth smelling fresh and free of bacteria for long. It is natural and safe for their digestive system.
Pros
---
Ark Naturals dental chews have a chewy toothpaste center that is effective at helping to polish a dog's teeth.
Ark Naturals chews are crafted in the United States to ensure compliance with safety and quality standards.
These chews have outside, abrasive ridges that help to keep a dog's teeth clean and also get rid of stains by imitating the brushing effect of a toothbrush on teeth.
Natural ingredients such as alfalfa, cinnamon, and clove, make up the Ark Naturals chews so that they can be effective at combating bad breath in dogs.
This dental chew product is manufactured without preservatives and additives that pose a health risk to dogs.
Cons
---
Some dogs find it difficult to digest the green outer layer of these brushless dental chews, thereby resulting in gastrointestinal issues.
The Ark Naturals chews are too hard for senior dogs to chew and break down.
#9 Purina DentaLife Daily Oral Care Dental Chews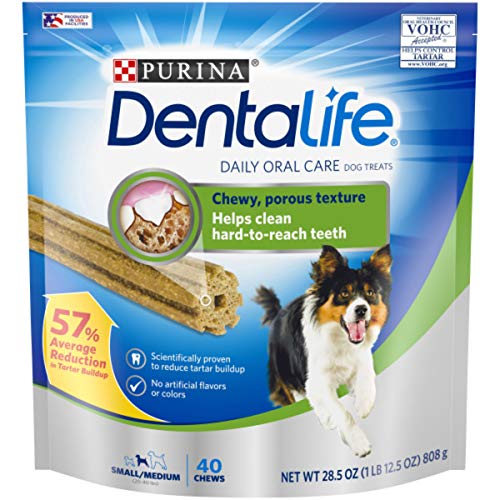 Infused with chicken flavor, these edible oral hygiene chews entice dogs of all sizes even though they are meant for adults.
You will feel no guilt in handing these dog treats to your dog as they are free of artificial additives and colors. They are designed to have a chewy texture. The treat comes with ridges that ensure that plaque and tartar from the remotest corners of the mouth are removed, thereby cleaning the dog's teeth.
What's left? Your cuddly doggy with a set of sparkly clean teeth combined with fresh breath.
A natural dental chew, the Purina products are proven to keep tartar buildup at bay. Their unique design ensures that your furry best friend has sparkly teeth every time it uses the chew. The absence of artificial additives makes them safe for the gut too.
Pros
---
Purina dental chews have a porous texture that is quite effective at scrubbing and cleaning a dog's teeth.
The inclusion of distinct ridges on the surface of these dental chews makes them suitable for cleaning hard-to-reach regions in a dog's mouth.
Purina oral care chews are produced in facilities located in the United States, and they also boast the Veterinary Oral Health Care seal of approval.
Several customers have praised the effectiveness of the Purina dental chews in reducing tartar buildup on their dogs' teeth.
The absence of artificial flavors and colors in this product's ingredient list ensures that it is safe for dogs to consume.
Cons
---
Multiple customers have reported that their pooches refused to eat the Purina dental chews.
The Purina dental chews are too large for miniature and small dogs to chew without either choking or damaging their teeth and gums.
---
Dog Dental Chews Buyer's Guide
---
In this guide, we go into detail what are some of the important facts you would need to know before getting those dental chews. These will help you to make an informed decision before making a purchase.
Dental Chews – What Are They?
Oral hygiene has a huge role to play in the overall well-being of your dog, hence do not neglect it or be ignorant of the need for it. Dogs are not meant to have bad breath – it's often a symptom of bad underlying oral hygiene.
Dental chews are handy tools that do the job of satisfying the natural urge to chew while simultaneously cleaning the teeth and keeping the dog's breath fresh.
They usually have a rough texture that gently grinds and loosens plaques on hard-to-reach areas. This helps to reduce tartar while preventing periodontal disease and gum disease
Why Do Dogs Need Them?
Dogs, by nature, are prone to gnawing and chewing; it is a natural urge that needs to be satisfied in the best possible way. While the free-roaming dogs entertain themselves by gnawing on their hooves, our furry canines need a little bit of help from us as pet parents.
Letting your dogs chew on any piece of furniture and tennis balls is highly not recommended. This habit will damage the teeth due to their abrasive nature. Over a prolonged period of time, this might harm the pulp of the teeth.
Actually, chewing is a mechanical action that prevents tartar buildup and removes plaque. The presence of plaque allows a buildup of bacteria in your dog's mouth. This is what causes them to have that bad breath.
Dental Chews are specially designed with a matrix abrasive outer layer, which is meant to rub against the teeth and remove all the food and debris accumulated there.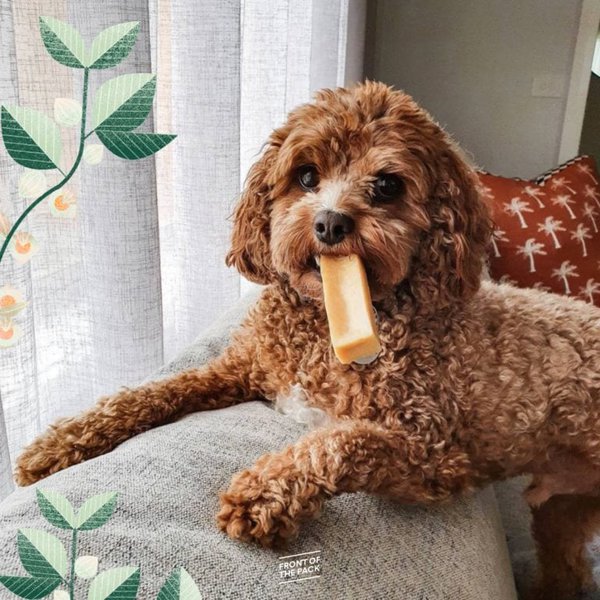 Selecting The Right Dental Chew
Not all dental chews are made equal. They differ in size, texture, color, and taste.
Also, you have to be aware that your canine friend will have their own preferences in terms of flavor or feel.
Initially, you might have to experiment to identify your dog's likes and tastes before you zero down on the right choice. In case, you need help this guide will assist you to choose what is best for your dog.
Here are a few basic guidelines which we have identified:
Size: Choose a treat that is not too small or too big. A small treat could lead to choking, while a big treat could be too much for your dog to finish. Each packet of dental treats comes with a recommendation for the suitable weight and age of the dog.
The presence of a VOHC seal: Look out for the Veterinary Oral Health Council approval stamp on the product. These dog treats are meant to reduce plaque and tartar. The VOHC approves only those treats that reduce tartar buildup by 10%, which in turn will reduce the formation of plaque.
Ingredients: Some dogs are allergic to certain ingredients like gluten & grain. Choose products that your canine friend is not allergic to. Thankfully, there are plenty of dental chews that are made of different ingredients on the market currently.
Taste: Taste is a very subjective factor. It's always recommended to choose a dog treat based on the flavors that your dog has taken a liking to. For example, if your dog enjoys peanut butter, then you should try to get peanut butter dental treats. This reduces the possibility of your dog not liking its taste.
Thickness and hardness: Dog chews must be of the right thickness; you must be able to indent them with your finger when pressed. They must not hurt and must be easy to bend with bare hands.
Longevity: Not all dental chews can withstand the weather. Hence, read the instructions and choose the dental chews that are the most suitable for your climate.
Chewer: Some dogs are aggressive chewers and bite off big chunks. While there are some, who have dental problems such as loose teeth and bleeding gums. Choosing the wrong product will harm the canine teeth and even lead to bleeding and infections. The age of the dog also will determine the kind of chew it requires.
Place of origin: Always choose products from regions known for strict rules, regulations, and quality control to ensure that the overall effectiveness of the dental chews is maintained.
We have listed several factors that will help you choose the right dental chew for your dog.
A quick tip?
If you have other dog parents in the vicinity, you could ask for a little of their dental chews so that your pooch could sample them. A gauge of its effectiveness and whether your dog has taken a liking to these dog treats before making a purchase.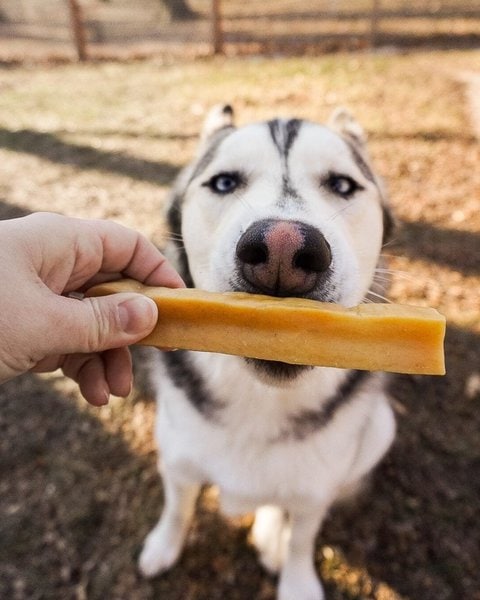 What Are Their Benefits?
It is not enough to reiterate the fact that the dental health of dogs is as important as their physical well-being. Similar to our teeth, your dog's teeth must have a sound oral hygiene plan, or this can lead to early periodontal diseases.
Dogs, by nature, love to chew. It's in their DNA.
Related: Best Dog DNA Test Kit
They will chew on just about anything and everything. While it is good to encourage this habit, you must ensure that chewing doesn't become destructive and harmful to their dental health.
With dental chews, you can not only make sure that the dog is getting its regular chewing needs and also takes care of oral hygiene at the same time.
A few of the prominent benefits are:
Removes bad breath: Constant chewing habit dislodges the odor-causing plaque and tartar this, in turn, reduces the presence of bacteria in the mouth. It also keeps tooth and gum diseases at bay.
Mental stimulation: Yes, dental chews are not meant just for good oral hygiene but also for keeping our canine friends mentally occupied and agile. Chewing on stuff requires a lot of concentration and involvement. By chewing on these dog treats, your pooch is satisfying its natural urge to chew as well as keeping the brain well-occupied.
Relieves boredom: Chewing releases nervous energy and keeps the dog in a better frame of mind. This usually leads to better discipline and behavior. It helps dogs overcome even separation anxiety. It basically is a natural need, and the dental chews help satisfy that craving. Apart from dental chews, dog toys can also help to alleviate your dog's boredom.
Natural VS Synthetic
Your canine friend needs nothing but the best. We know that.
Thankfully, there are enough options to choose from. As a general guide, there are two main types of dog chews:
Based on what you are looking for, you can choose either of the two.
Natural dental chews are generally higher in nutrition and closest to what the dog ancestry is used to there is also the fear of contamination.
On the other hand, synthetic dental chews are relatively safer, and many of them often have an additional layer of essential nutrients, vitamins, and minerals.
You have to consider your lifestyle. Perhaps your furry best friend might be the best judge between the two.
---
Final Thoughts
---
After careful consideration of all factors such as the ingredients used, place of manufacture, presence of a VOHC seal, taste, and overall effectiveness, we believe that our top pick is the best dental chew one can get on the market currently.
It should also come at a reasonable price point and has a great chewy texture that your canine companion will absolutely love!
We hope this review has helped you choose the right dental chew for your pooch.