We all love our furry friends and sometimes want to know a little more about them. Not all dogs are born equal, given that some breeds are more prone to certain hereditary diseases than others.
This is why it is essential to know which breeds your dog truly comes from. Its ancestry is key to understanding the inherent health risks your dog may be susceptible to so that you can take the necessary precautions to safeguard its health. All you need to unlock its ancestral secrets is a dog DNA test.
In this article, we'll cover the top three products in this category. These tests can tell you everything from your pup's breed to their health risks. You'll also find a comprehensive buying guide at the bottom, which will help you make a wise decision.
#1 Embark Dog DNA Test Kit
SALE ALERT!!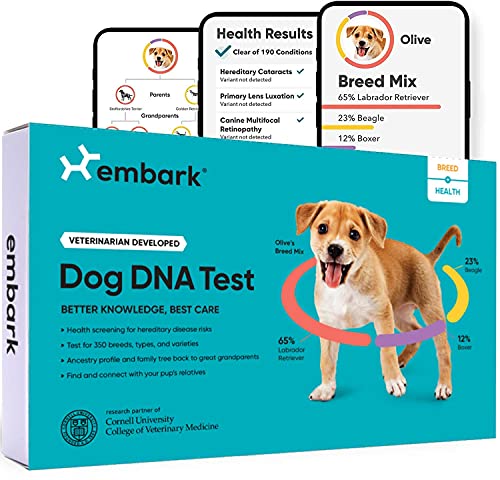 Embark is by far the most praised dog DNA test kit across online marketplaces, and for a good reason. The people at Embark test for around 256 quadrillion genes and cross-reference with more than 200 dog breeds, which shows that they genuinely care about the dogs they check.
The test includes both the maternal and paternal lines of your dog, going all the way to great-grandparents. Not only that, but the results will even tell you if your companion has wolf or coyote ancestors. How cool is that?
Besides checking the bloodline of your dog, the test also includes a health screening test, which searches for more than 160 known medical conditions for dogs. That's as high as they get, which proves once again that this is the best dog DNA test you can get.
This test is on the expensive side of the spectrum, that's for sure, but if you trust only the best for your pooch, the Embark Dog DNA Test Kit is worth every penny, especially since using it is as simple as swabbing the inside of your dog's cheek and sending the kit back to get the results within 3 to 7 weeks.
The Embark Dog DNA Test Kit is our pick for the best dog DNA test because it offers the same level of accuracy as a human test, with plenty of genetic markers, both paternal and maternal tracing, and a thorough health screening that will point out anything your pooch may be suffering from. If you're looking for the absolute best for your little buddy, this is the DNA test for you.
Pros
---
The test is purposed to facilitate a better understanding of your pup's unique health needs as it tests for over 190 genetic conditions and over 350 dog breeds, thanks to a collaboration between Cornell University College of Veterinary Medicine, a top veterinary school in the country, and Spencer Wells, a leader in consumer genetics.
The test conducted is between 95% and 99% accurate, so you can even determine your pup's family tree and know more about its history.
Easy to use because all you have to do is order it online, swab your pup after activation and send it back to Embark labs, and you can expect results within 2 to 4 weeks.
You can find out the traits they will have as they age, like hair color, size, and coat traits such as shedding, and this lets you know what foods and pup products to buy for their overall wellness.
Great and effective customer care in case of any questions or concerns about your DNA kit.
Cons
---
Offers comprehensive raw data of genetic and breed information that can seem overly complex to decipher, and you may need to rely on customer support to fully understand it.
It can be a costly and pointless purchase if you have already known your pup's breed mix.
#2 Wisdom Panel Premium: Advanced DNA Test
The Wisdom Panel advanced DNA test is a unique product that analyzes submitted DNA samples to provide dog owners with a comprehensive overview of their dog's ancestry and breed composition.
The Wisdom Panel advanced DNA test screens for over 200 different genetic health conditions, thereby helping dog owners to be more proactive when it comes to maintaining their Fido's health.
Additionally, this DNA testing kit provides information on a dog's individual physical traits, such as coat type, ideal weight range, and eye color. And for areas where a pooch falls short, Wisdom Pet provides dog owners with special care recommendations.
Instructions for using the Wisdom Panel DNA test kit are easy to follow and to collect DNA samples for testing, users have to swab the insides of their dog's mouth for a minimum of 15 seconds. The Wisdom Panel team thoroughly tests collected samples, and comprehensive results are sent back to dog parents between 2 to 3 weeks after submitting the samples.
Precise and comprehensive, the Wisdom Panel Premium is an effective tool for dog parents looking to gather more information about their Fido's origins, physical attributes, and potential health conditions. Its test kit is relatively affordable, easy to use, and swiftly delivers test results.
Pros
---
The test kit is capable of determining over 350 dog breeds, over 200 genetic conditions, and many other traits, all of which give you an idea of your pup's health and wellness needs.
You're assured of accurate results because the test has been used on over 2 million pups, with 15 percent of them having mutations in 2020 alone.
Comes in a well-packaged kit that also doubles up as a return package back to the Embark labs.
Employs unique swabs, resembling tiny bottle brushes that are gentle for your pup, as opposed to the regular cotton option.
The test kit comes in an easy-to-use package, and all you have to do is to open, start swabbing, label the swabs, pack them up, and mail them to Embark.
Cons
---
The Wisdom panel interface where you receive the results might not be user-friendly to understand or use, but this can be resolved by contacting its customer support.
Some dog owners have repeatedly complained about the inaccuracy of the results received, despite waiting for as long as five weeks for them to be processed.
#3 Orivet Dog DNA Test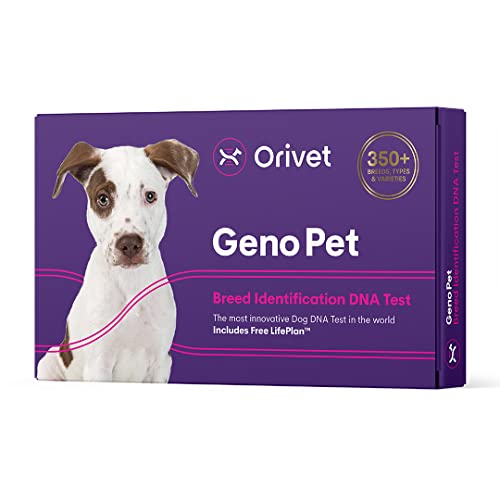 This Orivet dog DNA test analyzes collected canine samples and screens through a database of over 350 different dog breeds to provide the breed makeup of any dog. Results of the Orivet DNA breed tests usually come in a percentage breakdown, thereby giving dog owners a clearer and easy-to-understand overview of their pooch's genetic makeup.
Additionally, the Orivet dog DNA test package includes screening exercises for inheritable genetic diseases. And in situations where it is discovered that a pooch is prone to suffering from any of these genetic disorders, dog parents are provided with advice on how to proceed with these health conditions.
Information collected during the Orivet dog DNA test is used to curate a specialized wellness plan for the pooch in question. And dog parents also have the option to liaise with their vets to formulate a customized wellness plan, following the schedule that is typically included in the Orivet LifePlan.
The vast Orivet database of available canine breeds ensures a great degree of accuracy you can expect when it comes to predicting canine breeds. And with the Orivet dog DNA test, there is a fast turnaround period when it comes to the delivery of results, as the results do not require any form of post-processing or interpreting expertise.
Pros
---
This DNA kit is capable of identifying over 350 pup breeds, over 200 traits and health conditions.
The kit is easy to use, so you don't have to stress about wasting it; all you have to do is activate the swab online, swab your furry friend and send it back to the lab in the provided return package.
The results are ready within three weeks and include the Orivet Lifeplan, a personalized wellness plan that gives you an idea about how to take care of your doggie.
You can plan your pup's nutrition thanks to its adult weight prediction feature.
Employs a dog-friendly swab design that is built to effectively collect a sample from the cheeks.
Cons
---
Its customer support takes a long time to respond to queries and this can be a challenge considering how much you have spent on the kit.
Many customers have waited for test results for up to 8 weeks, and even then, the results are either inaccurate or inconclusive.
---
Dog DNA Tests Buyer's Guide
---
If you own a purebred dog, you can get any information you need about your pooch from the Internet. There isn't much guesswork involved in figuring out which foods your dogs can safely eat, how they should be trained, and which disease it's prone to.
Unfortunately, we're not all purebred owners, and if your little bud is a mutt, finding such info can be challenging. That's where dog DNA tests come in to save the day.
Dog DNA tests are designed to determine the breeds that went into making a certain mongrel. Not only that, but they can also trace the ancestry of the dog up to its great-grandparents.
Knowing which breeds went into the making of your dog will help you figure out its diet, training routine, as well as health precautions that you should take to avoid certain hereditary illnesses. Furthermore, the genetic revelation will help you identify the behavioral patterns and tendencies of your dog and the ideal body weight and size that it should reach.
Avoid Inbreeding
Inbreeding, if not studied and managed correctly, can be dangerous for the offspring, as they may inherit bad traits from their parents if they're closely related. It's basically a game of probability, and while inbreeding in and of itself is not a bad thing, doing it without prior management isn't a good idea. That's why you need to check your dog's ancestry before allowing it to mate with another dog.
Unveil Health-Related Issues
Dog DNA tests have come a long way since their invention. Although they originally started as a way to know your dog's breed, they can be currently used to identify the potential illnesses and diseases that can affect your pooch specifically based on its genetic disposition. That way, you can take the necessary precautions to prevent such conditions. After all, prevention is always better than cure.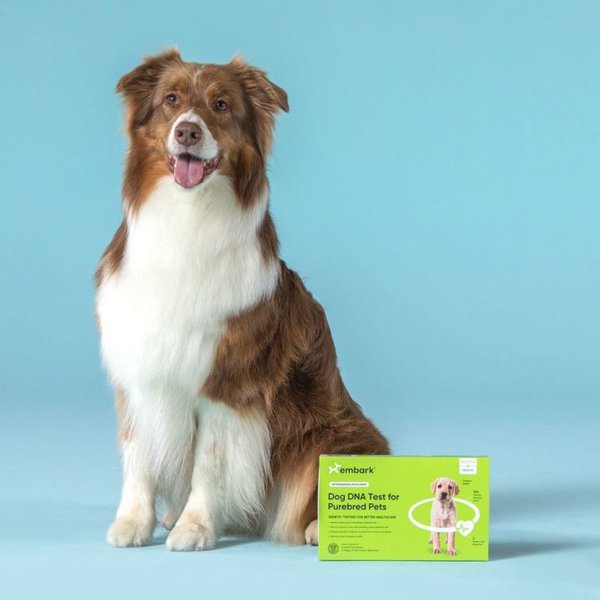 Discover Your Dog's Behavioral Tendencies
Just like humans, each dog has a different personality. Some love playing around and meeting new people, while others prefer sticking with their owner only. Personality traits can also be identified thanks to DNA testing.
You can use all of that data to provide a better life for your companion and, therefore, keep it by your side for as long as possible, which is why testing your pooch's DNA is essential for both of you.
Factors That Affect Dog DNA Tests
Three factors affect the accuracy of the results of a dog DNA test: the quality of the sample, the brand's breed database, and the covered genetic markers. In other words, getting an accurate analysis depends on both the user and the testing kit.
Sample's Quality
The quality of the sample will depend on your own carefulness while taking it. Here are the instructions for getting the samples properly, which should be almost the same for all brands:
Get the swab out of the pocket carefully.
Swab the inside of your dog's cheek for 20 seconds or so.
Put the swab back into the packaging and leave it to dry for 5 minutes or so.
If you're using an Embark swab, shake it for 10 seconds inside the provided container.
Repeat the previous steps for the second swab.
Activate the DNA test online, then write the confirmation number onto the label.
Stick the label on the swab sleeve.
Place the swabs in the sleeve and don't seal them to avoid compromising the sample.
Place the sleeve in the container and seal it.
Mail the samples to the provided address and wait for the results.
Instructions may differ a little depending on the brand, so make sure to read the included giddiness thoroughly to get a high-quality sample. Remember, the more careful you are while taking the sample, the more accurate the results are going to be.
You may be tempted to skip a step or do another faster, but that can lead to "user error," which is the term used to describe when the inaccuracy of a DNA test is caused by the user.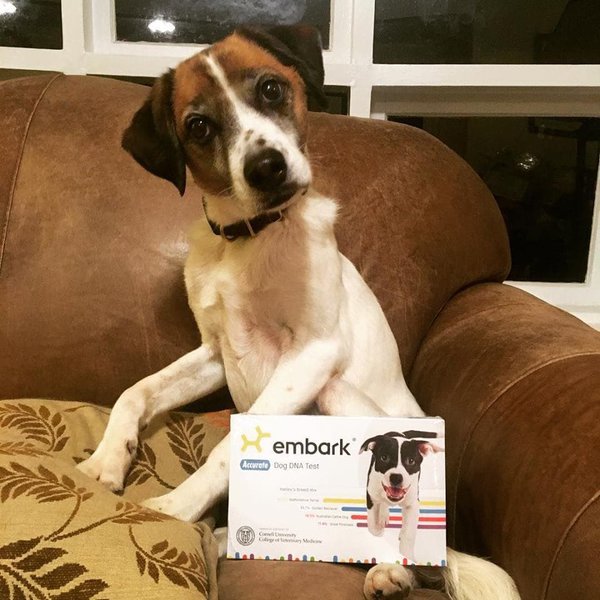 Breed Database
While some tests have a breed panel of fewer than 100 breeds, others exceed the 250-breed mark. Obviously, the more breeds a test covers, the more accurate the results are going to be. That said, you also need to factor in the genetic markers the test includes.
If you have a mutt canine, you ought to get a test that has a comprehensive database, especially if his or her parents are mutts as well.
Genetic Markers
A genetic marker is a DNA structure or sequence that's used to identify different breeds. By studying the similarities and differences between the different genetic markers of your dog, researchers can get a clearer idea regarding the personal traits of the pet. Just like breeds, the more genetic markers a test kit covers, the better the results are going to be.
It goes without saying that choosing the best dog DNA test and following the provided instructions closely can only lead to accurate results, so make sure to take care of both carefully.
Embark VS Wisdom Panel VS Orivet: Which Is the Best Brand?
Whether you're planning to get your dog's DNA tested out of curiosity because you couldn't figure out its mix of breeds or to screen for any medical conditions it may suffer from, getting the best dog DNA test kit is a must.
Although all three of the reviewed brands are worth every penny, the Embark test kit is the clear winner because of the high accuracy it provides. That said, the Embark test kit is a bit expensive, and it may not be a suitable choice for many users. Try out the Wisdom Panel Premium kit, another solid runner-up that is slightly cheaper.
The Orivet dog DNA test kit is also a great and inexpensive choice to consider, but it's less accurate than the other two, which is why we recommend picking it as your next best dog DNA test kit, only if you can't afford Embark or Wisdom Panel.
---
Final Thoughts
---
DNA testing helps you to get to know your dog better.
Again, any of the aforementioned kits can be the best dog DNA test for your pooch, but we highly recommend going with the Embark kit if you can afford it.
Not only does it provide accurate results thanks to the company's comprehensive breed database and extensive care for detail, but Embark also has an excellent customer support team that's willing to go above and beyond to help dog owners. What else could you ask for in the best dog DNA test?