The best dog hair removal tool is ChomChom Roller Pet Hair Remover.
It's that time of year again and the dog hair is piling up on your floor, clothes, furniture, and you. You wish there was a better way to remove all this fur that has accumulated over the past few months but don't know what to do.
Dog hair can get anywhere and everywhere; on the sofa, bed, carpets, floors, etc., and it can be frustrating sometimes (well, most of the time).
Thankfully, such a minor issue can be solved by getting a dog hair removal tool. One of the most common types on the market today is a lint roller. Lint rollers come in different sizes and shapes, but they all have one thing in common- sticky material that attracts loose hairs from clothing or upholstery. They're inexpensive, compact, and easy to use.
Without further ado, here's our list of the best dog hair removal tools complied for you!
#1 ChomChom Roller Pet Hair Remover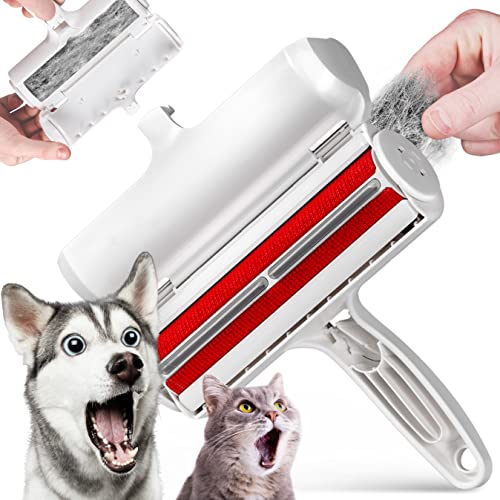 Compared to other handheld dog hair removers, the ChomChom roller is a bit high-priced, but the price tag is totally justified, as the tool does work, and it does it in a safe manner.
Unlike most products in this category, the ChomChom roller doesn't rely on adhesives nor stick tapes to remove pet hair. Instead, the tool works like a sweeper vacuum. The brush simply grabs the hair and pushes it to an internal chamber, which you can empty in the garbage bin later on. Quite intuitive, isn't it?
That's not the only convenient feature though, as the hair removal mechanism allows the ChomChom roller to be used as many times as you need it without even requiring batteries. In other words, there's no recurring fee here, which makes the higher price worth it.
The ChomChom roller's features speak for themselves. Safe materials, ease of use, and intuitive, reusable concept. What else could you ask for in the best pet hair removal tool?
Pros
---
Reusable and easy to use.
Features a hair chamber.
Doesn't need batteries.
#2 Evercare Pet Hair Extra Sticky 60 Layer Lint Roller
SALE ALERT!!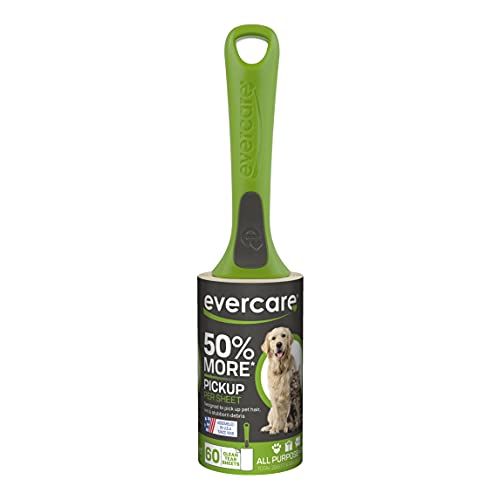 For a dog hair removal tool to be considered good, it must – well, you guessed it – remove hair effectively, but what would make the device even more appealing is an affordable price tag, such as the one that the Evercare roller has.
This is a lint roller, which means that, unlike the ChomChom Roller, it does use adhesive to get rid of dog hair. That's not a bad thing though, as, besides being cheaper, the Evercare tool can effectively remove hair, dust, and lint from anything – such as your clothes, furniture, and car – with ease thanks to the extra pick-up power that the adhesive offers.
Not only is this tool effective, but it's also safe, as the adhesive and razor-cut, easy-tear sheets are made in the USA, and they don't affect the fabric of your clothing.
Of course, being a cheap pet hair remover, the Evercare roller does come with a few niggles, mainly the fact that it's not reusable. Each roller sports 60 layers, though, which means that you'll be good to go for a long time with a single Evercare dog hair removal tool.
The Evercare lint roller is an excellent pet hair remover for those on a budget as it's an effective dog hair removal tool that can get the job done without blowing a hole in your wallet.
Pros
---
60 layers.
Easy-tear sheets.
Extra pick-up power.
#3 SEALEN Pet Hair Cleaner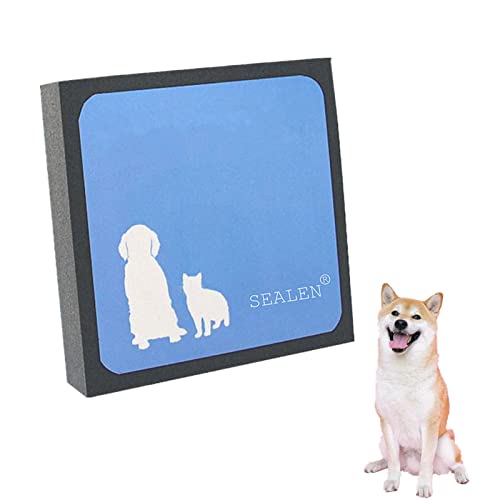 If you want a cheap hair removal tool but aren't fond of lint rollers such as the Evercare reviewed above, you should consider the SEALEN hair cleaner, which offers similar performance and efficiency at a low price point as well.
The SEALEN dog hair cleaner measures 3.8 inches long by 3.8 inches wide by 0.79 inches thick, which means that it's quite compact and portable, and uses high-density, super fiber foam as the build material. What makes the foam an effective cleaner is that it doesn't stick to hair, meaning that you won't need to spend hours cleaning the cleaner after every cleaning session, which would be ironic.
Besides being convenient, the SEALEN dog hair cleaner is also durable and can be used quite a good number of times before needing to be replaced.
The SEALEN Pet Hair Cleaner is an impressive pet hair remover, as it's affordable, durable, and convenient. For those who don't want to rely on lint rollers, SEALEN's dog hair remover is the way to go.
Pros
---
Super fiber foam construction.
Compact design.
Non-sticky.
#4 Dyson V11 Animal Cordless Vacuum Cleaner
Dyson V11 Animal Cordless Vacuum Cleaner, Purple
The Dyson V11 Animal Integrated LED Screen - Displays the current cleaning mode and lets you switch between three Modes,...
Powerful 7-Cell Lithium-ion Batteries and a Digital Motor - The V11 Animal Delivers 20% more Suction Power than the...
The Dynamic Load Sensor (DLS) - Allows the System to Actively Change the Motor Speed Between Carpets and Hard Floors for...
Getting a vacuum cleaner to get rid of dog hair may seem like overkill for some, but it's actually a good choice if you're looking for the epitome of effectiveness no matter the price.
The Dyson Cyclone V11 is cordless. You don't need to struggle with cords and wires when using it. On a single 3.5-hour charge, this cleaner can operate for a full hour before running out of juice. For someone raising a dog or two, that's more than enough for a complete hair removal session across all carpets, furniture, and floors.
Other features that we dig in the Dyson Cyclone V11 Animal Vacuum Cleaner include the easy transformation into a handheld vacuum to cover more surfaces, the hygienic 'point and shoot' bin emptying, and the powerful torque drive cleaner head. Thanks to those features, the V10 can easily become the cleaning power horse of your household.
The Dyson Cyclone V11 is expensive, there's no denying that, but it can give you the bang for your buck and spare you hours of cleaning after your dog, which why we consider it to be one of the best pet hair removal tools available today.
Pros
---
Cordless.
Torque drive cleaner.
60-minute operation on a single charge.
#5 HandsOn Pet Grooming Gloves
SALE ALERT!!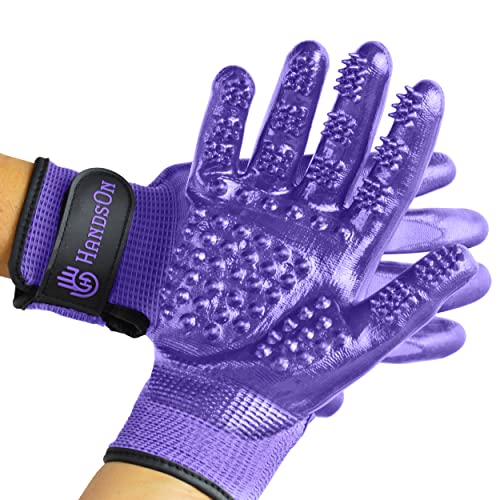 H HANDSON Pet Grooming Gloves - Patented #1 Ranked, Award Winning Shedding, Bathing, & Hair Remover...
GENTLY GROOM, SHED, BATHE, & MASSAGE PETS - HandsOn's five-finger design, complete with bristle tips on the fingers and...
NON-ABRASIVE, FLEXIBLE RUBBER NODULES - Groom and shed your animal without hurting their skin Non-abrasive, flexible...
BIG OR SMALL PETS / LONG OR SHORT HAIR - Whether you are grooming a horse, chihuahua, or calico cat, rest assured that...
Do you believe in the saying "the best defense is a good offense?" If so, you'll like HandsOn Pet Grooming Glove Brush, which is designed to help you reduce your dog's hair all over the house by de-shedding its coat directly.
Unlike metal brushes, the Better Petter is both practical and comfy for your dog. Not only can it trap dog hair to protect you from pet fur, but it can also give your pooch the grooming it deserves and loves.
The HandsOn Pet Grooming Glove is a grooming glove that, despite being gentle, is quite the effective de-shedding tool, making it a perfect pet hair remover that would appeal to both you and your dog.
Pros
---
Gentle to the touch.
Fits most hand sizes.
Works on all dog breeds.
#6 CleanAide Lint & Hair Pick It Up Mitt
SALE ALERT!!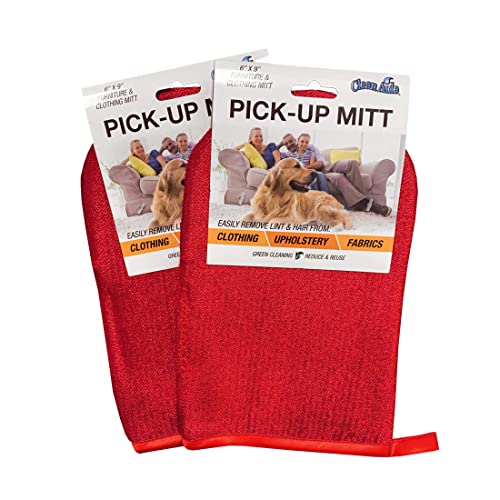 CleanAide's dog hair removal mitt is a pet hair remover that follows Da Vinci's "simplicity is the ultimate sophistication" quote. Not only is it designed to last forever with a mix of 80% polyester and 20% polyamide, but it can be used by anyone thanks to the simple, comfy construction it boasts.
Does the convenience end there?
Not really, as this mitt is also easy to store thanks to the hanging loop, comfortable to wear thanks to the non-irritating materials, and suitable for anyone thanks to the one-size-fits-all design. All of that comes at a low price that's hard to resist.
The CleanAide dog hair removal mitt is an affordable tool that can be used for anyone to remove pet hair from anything, making it one of the best pet hair removal tools you can find today.
Pros
---
Made of 80% polyester and 20% polyamide.
Removes dog hair from any surface.
Comfortable.
#7 Shark NV752 TruePet Vacuum
SALE ALERT!!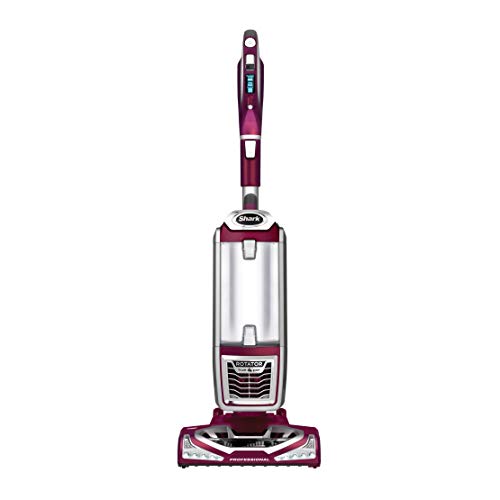 Another vacuum cleaner in the house, but with a lower price tag. Coming from one of the biggest appliance manufacturers in the world, the Shark vacuum is all you need to take care of your dog's hair and remove it from your carpets, floors, and furniture thanks to a TruePet Motorized Brush and Pet-Multi Tool that can make your cleaning sessions a breeze.
With a detachable canister that can be used for hard-to-reach areas and one-button operation, Shark's dog hair removal tool is simple to use, and certainly, all the reviews can attest to the effortless operation of this vacuum.
Not only is the Shark vacuum effective, but it's also safe, as it uses Anti-Allergen Complete Seal Technology and a HEPA filter to keep all the dust and dog hair inside when you're cleaning. Quite the complete package, isn't it?
You should expect nothing but pure quality and efficiency when getting a pet hair remover from Shark, and their dog hair removal vacuum cleaner is no exception.
Pros
---
Easy operation.
HEPA filter for safety.
Detachable canister for hard-to-reach spots.
#8 FURminator Undercoat De-Shedding Tool
SALE ALERT!!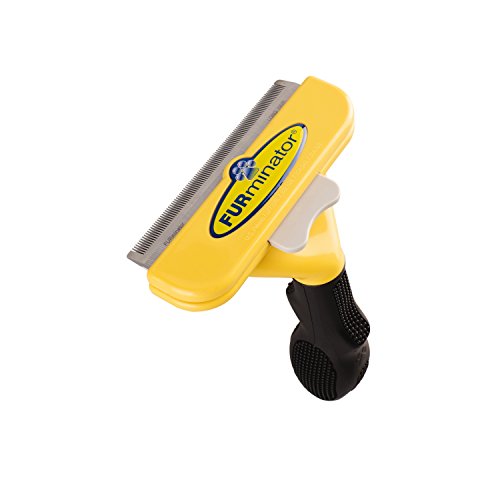 The FURminator undercoat de-shedding tool is the epitome of ergonomics, as the stainless steel de-shedding edge can reach through the top coat of your dog to remove hair and undercoat in a safe and easy manner. Once you finish the process, simply use the FURejector button to release the stuck hair effortlessly.
The handle is equally ergonomic, and it's designed to provide both comfort and ease of use no matter how long you're using the tool. This tool comes in five sizes to accommodate different dog breeds and ages, which adds to the convenience.
FURminator is a well-known brand, and its undercoat de-shedding tool is among their elite products. If you're not comfortable with using rubber or lint rollers, this dog hair removal brush is worth a look.
Pros
---
Comes in five sizes.
Stainless steel de-shedding edge.
FURejector button to release the hair.
#9 FURemover Duo
SALE ALERT!!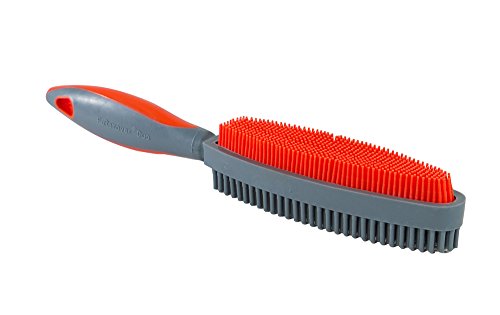 The FURemover Duo handheld removal tool is the switch army knife of dog hair removers, as it works as both a lint brush and a de-shedding or grooming tool. The dual-sided brush offers a fine bristle side capable of removing hair and lint from practically anything along with a thick bristle side that you can use to groom your dog gently. Mr. All-in-one much?
What's convenient about the Evriholder FURemover Duo hair removal tool is that cleaning up is as easy as it can get, as all you have to do is use soapy water and voila, you're good to go for another hair removal run!
If you're one to prefer efficiency and convenience overlooks and gimmicky features, you'll certainly fall in love with this FURemover Duo, the all-in-one dog hair removal tool.
Pros
---
Fine bristle for lint removal.
Thick bristle for grooming.
Easy to clean.
#10 FURemover Pet Hair Removal Broom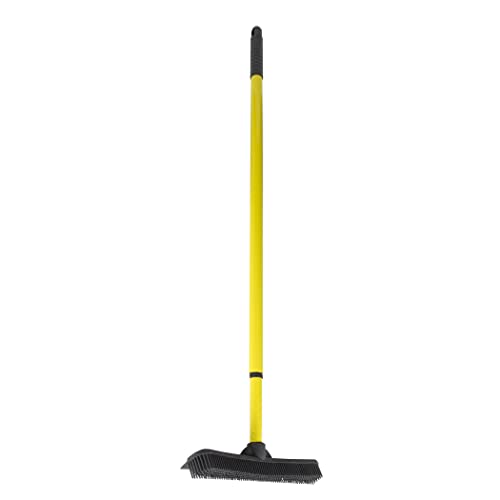 Yes, this is a broom, and no, it's not the standard type. The FURemover dog hair removal broom is another versatile tool capable of solving your pet's shedding issues without costing you an arm nor a leg.
It can be used to remove hair from any surface – including your floors, rugs, carpets, and furniture – thanks to the natural rubber fur remover that works like a magnet for dog hair. Once you finish removing hair from your house's surfaces, simply wash away any excess fur, and the broom will be ready for its next mission.
When you're not hunting for fur, you can use the Evriholder broom to clean your shower, window, and windshield or wipe liquid spills on concrete, tile, and any hardwood surface. The fact that this dog hair removal tool comes with an adjustable handle makes using it even easier as it can cater to the needs (and height) of anyone.
The FURemover broom is a tool for, well, every holder (pun intended for sure). It can be used by anyone to clean pet hair from any surface, making it one of the best pet hair removal tools in terms of versatility.
Pros
---
Natural rubber fur remover.
Adjustable handle.
Easy cleanup.
#11 Hertzko Pet Bath & Massage Brush
SALE ALERT!!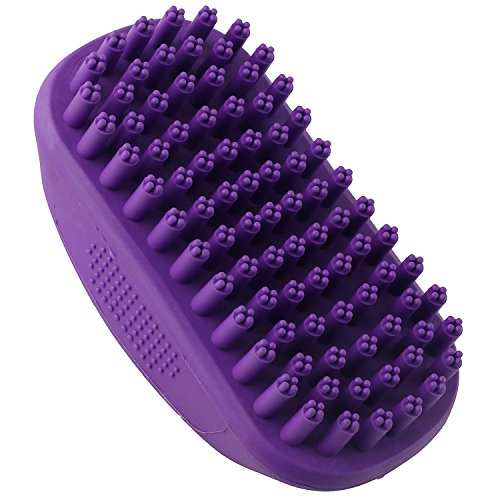 Who said dogs don't love massages? Actually, they do, and that's why the Hertzko Pet Bath & Massage Brush was invented. Hertzko's brush boasts soft rubber bristles, which means that it doubles as a hair removal tool capable of shedding fur from your dog's coat and a massager that can help your pet relax when he or she is having a hard time.
Not only is this brush comfy for your dog though, as it's also comfortable for you as well since the grip is rubberized for great control even when the brush is wet. The fact that this brush can be easily cleaned by washing away the fur and hair is just the cherry on top.
Hertzko's hair removal brush is another excellent tool that can help your dog when he or she is shedding without going hard on his or her coat.
Pros
---
Soft rubber bristles.
Rubberized grip.
Easy to clean.
#12 DELOMO Pet Hair Remover Roller
SALE ALERT!!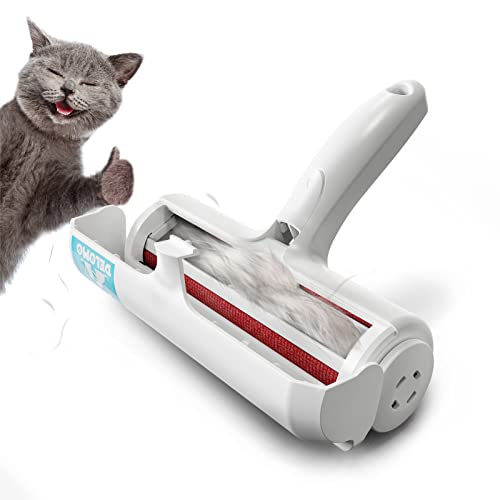 The pet hair remover from DELOMO is suitable for gathering and disposing of bits of cat and dog hair that have accumulated on several pieces of furniture in the house such as tables, couches, and beds.
This pet hair remover is simple to use, with users manually rolling it back and forth over the furniture surface several times to collect pet hair. The disposal of gathered pet hair is considerably straightforward, with one step to open the product lid and empty the waste compartment into the trash bin.
Hair lint rollers for this DELOMO pet hair remover are completely reusable, and the durable nylon and ABS plastic material used in crafting the roller ensures durability. Maintenance of this roller simply involves cleaning the brush surface with a soft and wet towel.
The DELOMO hair remover is the ideal product for households with pets that are constantly shedding and leaving hair around the house. The ability to reuse lint rollers with this hair remover is quite cost-effective and the ease of use, as well as the simple method by which this roller can be maintained, are features that will definitely appeal to you and other dog owners.
Pros
---
Usable on a wide variety of surfaces, including cotton, linen, and wool.
Easy to use with a straightforward disposal mechanism.
Easy maintenance.
Reusable lint rollers.
Available in four colors; Blue, Pink, Purple, and White.
#13 Gonzo Pet Hair Lifter
SALE ALERT!!
If the vacuum cleaners reviewed above are the BMWs of dog hair removal tools, the Gonzo Pet Hair Lifter is the Mitsubishi; it's cheap, it doesn't look fancy, but it sure can take a beating and get the job done.
Gonzo's Pet Hair Lifter is basically a sponge that's made of natural materials and that can instantly remove dog hair from any surface. Like the ChomChom roller, this tool can be used a good number of times, and it's versatile in its application as it can take care of dust as well.
The Gonzo Pet Hair Lifter is a dog hair removal tool that we highly recommend for anyone looking to quickly bolster their cleaning arsenal with an effective pet hair removal product that doesn't cost a fortune.
Pros
---
Reusable.
Natural materials.
Works on different surfaces.
#14 Bissell 1782 Pet Hair Eraser Cordless Hand & Car Vacuum
SALE ALERT!!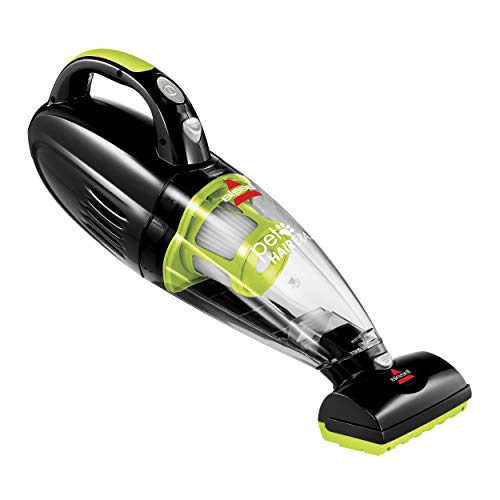 Bissell, 1782 Pet Hair Eraser Cordless Hand and Car Vacuum
BISSELL Pet Hair Eraser hand vacuum is cordless, to clean wherever your pet goes
Motorized foot provides powerful suction for a deeper clean. Power Rating : 14.4 Volts
Crevice tool helps clean hard-to-reach areas and tight spaces. Telescoping Extension Wand
If you're looking for a vacuum cleaner but the above recommendations from Shark and Dyson are too expensive for your budget, you ought to check Bissel's Pet Hair Eraser vacuum.
Not only does this tool look good, but it also performs well and can remove hair from the hardest of spots thanks to a motorized foot that provides powerful suction for a deeper cleaning no matter the surface and a telescoping extension wand capable of reaching practically anywhere.
The cleanup is also a breeze, as all you have to do is empty the dirt bin and your vacuum will be ready for the next round in no time.
The Bissell pet hair eraser vacuum is one of the best pet hair removal tools that you can get if you're interested in a motorized appliance. Some users complained about the battery life, but quite honestly, at this price point, we can't deny how good this vacuum is.
Pros
---
Cordless.
Lightweight design.
Deep cleaning and hair removal.
---
Dog Hair Removal Tools Buyer's Guide
---
Shed dog hair can be really annoying on both the aesthetic and convenience levels. What's even worse is that there's no such thing as a non-shedding dog, which means that no matter which breed you choose, you're going to encounter this issue sooner or later.
Even if you don't mind your house upholstered in your pet's fur, your visitors (especially your in-laws) may not appreciate having to carry your pooch's hair with them when they leave your house, and some of them may even suffer from serious allergies to fur and dander, which makes removing your dog's loose fur a necessity.
The solution? Getting one of the best pet hair removal tools, of course, which can be achieved by going over our recommendations and buying guides.
Related: Best Dog Shedding Brush
Can Pet Hair Be Bad For Your Health?
Dog hair itself is not dangerous, but allergens such as dead skin flakes, urine, and saliva that often accompany it may trigger serious allergies in some people. When such an unfortunate thing happens, the allergy sufferer may experience streaming eyes, a runny nose, sneezing, and wheezing.
If the person has asthma, the consequences may be even more serious, which is why dog hair (and dander in general) shouldn't be left around, and shedding should be stopped or, at least, reduced.
Related: Best Air Purifiers For Pets
How Can You Reduce Shedding?
Shedding can be reduced, even before recurring to dog hair removal tools. Many factors affect how much your pet sheds, including the environment, diet, and grooming habits. To reduce your dog's shedding, here are some tips that you can follow:
Include omega-3 fatty acids in your pet's diet.
Keep your dog hydrated.
Avoid bathing your dog more than once per month.
Blow-dry your dog after every bath.
Consider clipping your dog if it has a thick, profuse coat.
Brush your dog's coat on a regular basis using a shed-control brush.
The tips go on and on of course. If nothing of that works, make sure to take your dog to the veterinarian as there may be a medical issue behind the shedding.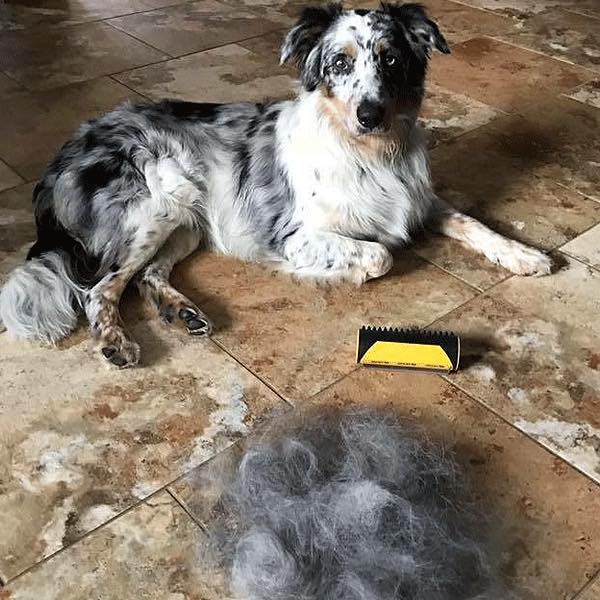 What Are The Different Types Of Dog Hair Removal Tools?
Dog hair removal tools come in different forms and shapes, as to each his own when it comes to cleaning.
Rubber Gloves
Rubber gloves are one of the most commonly-used dog hair removal tools available today for two reasons; one, their simplicity, and two, their price. Using one of these tools is as easy as getting a pair of old-fashioned rubber gloves from the nearest supermarket, damping them slightly, and sliding them over your hair-covered carpet, sofa, or rug.
Pet Hair Removal Mitts
Dog hair removal mitts are like the soft version of rubber gloves, as they're made of a special material with soft nubs that pick up dog hair, which means that they won't affect soft and delicate clothing.
Lint Rollers
Lint rollers are another affordable option that people use often. This tool uses sticky tape to remove dog hair from furniture, clothes, and carpets. Using a sticky lint roller may be tedious If you're planning to hunt your dog's hair across the entire house, but for quick cleaning sessions over one piece of furniture at a time, this tool is all you'll need.
Dog Hair Removal Brooms
Some brooms are designed to remove fluffy, floaty, hard-to-sweep messes such as dog hair, making them an ideal choice for those looking to wipe dander off their surfaces and floors without breaking their backs while doing so.
Brushes
Grooming brushes are among the best pet hair removal tools as they work on removing loose fur from your pet to reduce shedding.
Vacuums
Dog hair removal vacuums come in two varieties; upright and handheld ones. Depending on your preference, any of those types can be the best for you. What makes vacuums unique is that they provide effortless operation as they rely on motorized suction power capable of pulling your pet's hard from any surface. The only inconvenience to these appliances is their price, as they're way higher-price than other dog hair removal tools.
Related: Best Dog Hair Vacuum Cleaner
---
Final Thoughts
---
Dog hair can be annoying and, sometimes, dangerous, which is why you ought to get one of the best pet hair removal tools as soon as you adopt your pooch. Although any of the above recommendations can be the best pet hair remover for you, we highly recommend our top pick, as it's affordable, reusable, and safe, which means that it checks all the boxes when it comes to fur removers.