The best air purifier for pets is Blue Pure 411.
Whether it is getting rid of pet odors or dealing with dander floating about in the air, there is no denying the value of good air filtration in a dog-friendly home. Let us take a closer look at some of the best air purifiers for pets so that you know exactly where to begin your search.
#1 Blue Pure 411
SALE ALERT!!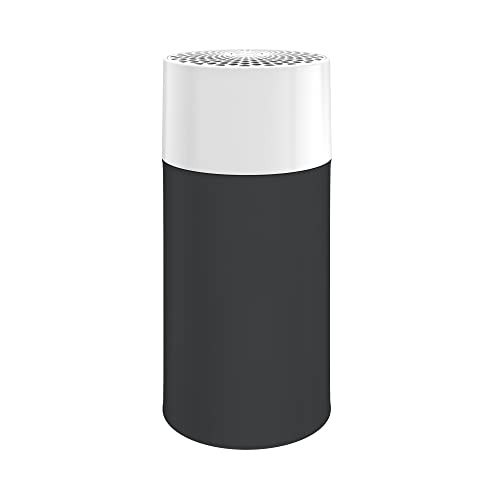 The Blue Pure 411 air purifier from Blueair is the overall best air purifier mainly because of its 3-stage filtration system.
The first filter traps larger particles, including the pet hair and pet fur.
The second traps finer particles like pet dander and dust that could trigger allergies in the little fur babies.
Finally, there is a carbon filter that is ideal when dealing with pet odors related to raising your furry friend and keeping the air quality around your house clean.
In addition to the main True HEPA filters in the internal systems, the unit comes with an external fabric pre-filter. This traps some dirt, dust mites, skin flakes, and pet hair, therefore, reducing the load on the internal filters. The best part is that these fabrics are machine washable and, as such, reusable.
You will also enjoy the energy efficiency with the low 30 to 60 Watts consumption of the unit. That way, you can run it for as long as you wish without driving your electricity bills up.
What's more? The Blueair Pure 411 is effective against dust mites too.
There is nothing not to like about this air purifier for pet homes, from the highly efficient filtration system to the economic energy use. It is a fantastic long-term investment that will eliminate pet odors and dander that otherwise make living with our four-legged friends a little too complicated.
Pros
---
The 411 purifier has the HEPASilent™ dual filtration technology and this helps to filter up to 99.97% airborne pet dander, dust, pollen, mold, viruses, and bacteria.
Its compact size lets you place the device anywhere in the house, unlike many purifiers which need a larger space.
It has an easy-to-use single button control so you don't have to fidget with multiple controls, and also provides you with a warning indicator when the filter needs to be replaced.
It is less noisy and requires minimal energy to operate.
Comes with two washable pre-filters responsible for filtering larger dirt particles.
Cons
---
Despite its high performance, it is only ideal for small rooms of up to 161 sq. ft., which means you might need multiple purifiers in larger spaces.
Many reports from customers cast a doubt on the reliability of the 411 purifier after it stops working upon frequent use within 6 months.
#2 Germ Guardian True HEPA Filter Air Purifier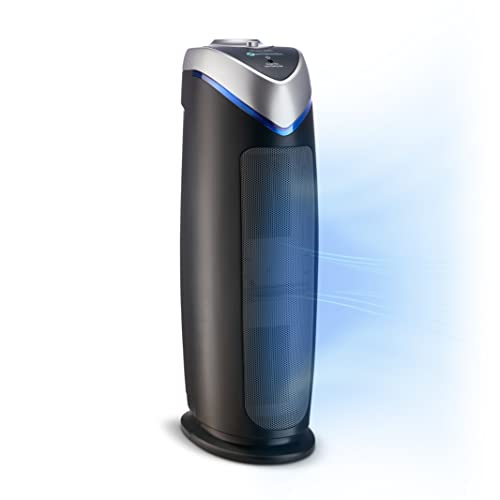 Despite being one of the most affordable air purifiers, this Germ Guardian True HEPA air purifier does not skimp out on quality and versatility with its 5-in-1 functionality.
Of most importance to you as a pet owner will definitely be an air purifier. This is made possible by the pre-filter surface that traps things like pet hair from your dog.
Furthermore, the unit contains a charcoal filter layer that helps with the elimination of pet odors to maintain the air quality in your house.
Finally, the HEPA filter will come in handy as in addition to trapping pet dander, it traps tiny airborne bugs like mites and could help you control a possible infestation.
In addition to all this, the unit acts as a general air purifier, kills airborne germs, and reduces the amount of allergens in the air from dust to pollen.
This all-rounded nature easily makes it one of the best air purifiers if you want full value for your money.
It goes without saying that the main reason we like this air purifier is the combination of high-quality construction, versatility, and affordability. Therefore, if you are shopping for a pet air purifier on a tight budget then this air purifier will definitely be worth considering as it offers more than its value.
Pros
---
Easy to use because it is already fully set up, and all you have to do is turn it on.
Perfect for those with allergies as the HEPA air filter reduces up to 99.97% of allergens like dust, mold, pollen, bacteria, and pet dander.
The UV-C light helps to fight germs like influenza or rhinovirus.
Gets rid of odors like pet odor, cooking fumes, or smoke thanks to the activated charcoal filter.
Each unit comes with a 3-year limited warranty and has a red-light indicator that alerts you when it is time to replace the filter.
Cons
---
The filters are not washable, and this means that you may have to vacuum away the collected dirt at least once a month.
The purifier is not well-designed to dissipate hot air from its motor, causing it to occasionally overheat and emit a burning smell as reported by a number of customers.
#3 Alen BreatheSmart Classic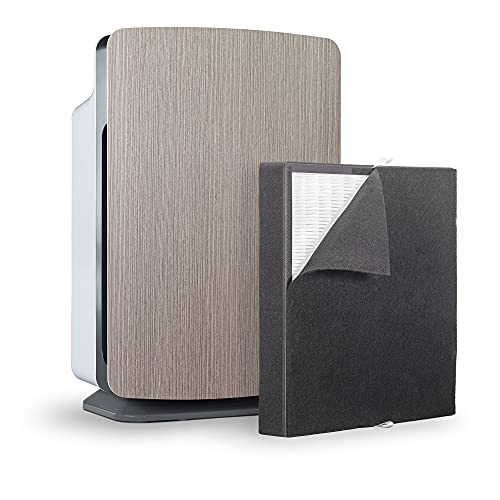 This air purifier stands out with its wide coverage capabilities for large rooms. In fact, it can filter 1,100 square feet of air in under 30 minutes. This makes it one of the fastest air purifiers on the market.
These specifications also make it ideal for filtering the air in large spaces whether it is your pet's sleeping area or the family room where the animal spends most of its time.
In addition to the wide coverage and speedy filtration, you are pretty much guaranteed effective cleaning of the air through its True HEPA-Odorcell filtration system and improving the air quality around your house.
Not only does the True HEPA-Odorcell filter traps particles responsible for bad pet odors, but it also traps particulate matter, ranging from pet hair to pet dander and even mites.
We would definitely recommend this for large homes where speedy and efficient filtration is the main priority.
Pros
---
Uses an air quality sensor light to indicate the air quality based on different light colors, from which the sensor can be set to the automatic mode that periodically adjusts the fan speed based on the current air quality.
Ideal for pets and humans with allergies thanks to the Medical Grade H13 True HEPA layer capable of capturing up to 99.99% bacteria, dust, mold, pet hairs, and dirt.
Comes in a package of four Odorcell Filters, all of which use a patented molecular conversion powder to get rid of odors.
Takes 30 minutes to clean a 1,100 sq. ft. room and operates quietly while you and your pet sleep.
Available in seven colors, such as Weathered Gray, Espresso, and Maple, among others to suit your preference and your room decor.
Cons
---
The filter is designed to only work within Continental US, which means it will not operate for customers from other countries.
Large in size and would not be ideal for smaller rooms.
#4 Bissell Air400
SALE ALERT!!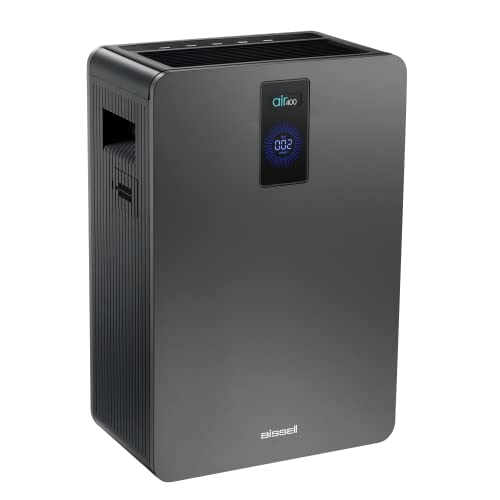 The automated functionality is arguably the best feature of this air purifier. It includes an air sensor that monitors air quality in the room, which provides a coverage area of up to 1200 sq. ft.
If particulate matter as small as pet hair or pet dander, or even smoke is detected, the unit automatically turns on and begins to filter the air in the room. You also have the option to override this automation if you do not want the filter running by simply using the user-friendly control panel.
Another standout feature is the honeycomb filter design. This is designed to trap a lot more dust for more efficient filtration especially when it comes to the elimination of pet odors by the carbon filter.
The high-tech automation system is definitely the key selling point for this air purifier. It is ideal for homeowners who travel a lot as the unit can more or less run itself.
Pros
---
Uses a 3-stage filter comprising the Pre-Filter, HEPA filter, and Activated Carbon Filter, all of which help to clean up to 99% of large particles, bacterial, pet dander, dust, and pollen.
Ideal for cleaning larger rooms of up to 400 sq. ft. every 20 minutes.
Has a great modern design that looks perfect in any room.
Has five fan speeds, one of which is Night mode which runs quietly at night to give you a better sleep.
The Automated CirQulate System is a smart sensor that lets you know air quality digitally or using color codes and adjusts its speeds accordingly.
Cons
---
Operating at 75 W, its power consumption is considerably higher than other purifiers on the market.
The high fan setting is rather noisy and may scare off pets when the purifier is turned on.
#5 Levoit LV-PUR131 HEPA Filter Air Purifier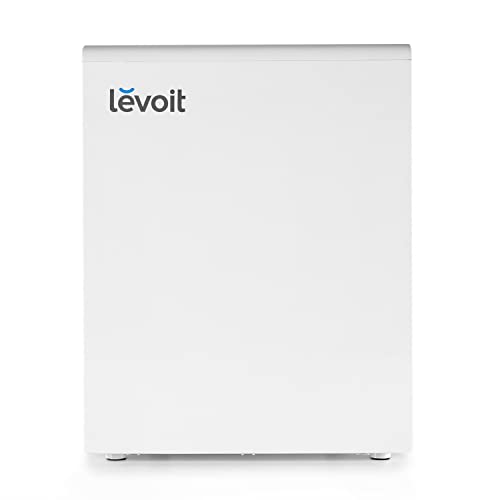 The LEVOIT air purifier has a very convenient auto mode setting. This allows you to set the unit up to run up to 12 hours after which it will automatically turn itself off. The combination of this and the energy-saving design makes it a very efficient unit if you want to save on electricity bills.
In addition to the auto-off option, the unit has an air sensor that could be set to turn the filter on when certain levels of air pollution in the home are detected.
It uses infrared technology to detect these particles and can pick up on impurities as small as 0.3 microns, like pet hair and pet dander.
The H13 true HEPA filter traps up 99.97% of mold spores, pollens, and pet dander effectively. This makes it suitable for pet owners that are suffering from allergies.
This is another fantastic option if you want an automatable air purifier to deal with pet dander and odors. It is also very affordable to run with low-cost replacements and high energy efficiency.
Pros
---
Perfect for purifying larger rooms especially due to its massive size, measuring 14.6 inches long by 7.2 inches wide by 18.5 inches tall.
The H13 True HEPA Filter is capable of capturing up to 99.97% of pet hair, bacteria, dust, mold, and pollen, which is perfect for those who suffer from allergies.
The Activated Carbon Filter helps to clear pet, cooking, or smoke odors in an effective manner.
Easy to operate with the automatic mode and sleep mode as well as fan speeds to suit your needs.
Each unit comes with a 2-year warranty.
Cons
---
While it helps to clean larger rooms, the purifier is rather large to fit into smaller rooms.
The filters are not reusable, so you must discard and replace them once every 6 months or more.
#6 Winix 5500-2
What stands out the most with the Winix 5500-2 air purifier is its Plasma Wave filter.
While other filters in the unit take care of regular particles like dust, pollen, and fur, this filter focuses more on fumes. It could be VOC (volatile organic compounds) chemicals or, in the case of pets, odors from things like pee and poop accidents.
It not only filters them out of the air but also breaks them down for fresher-smelling air.
The unit also has a night mode option. This slows down the air purifier to a quieter running speed allowing noiseless filtration throughout the night.
It also dims down indicator lights further increasing energy efficiency.
This is an awesome choice if you have been dealing with really bad dog smells in your home whether it is pee stains on your furniture or even general dog smells.
Pros
---
Uses Plasmawave Technology which uses electrical waves to disintegrate dirt molecules.
Has a HEPA filter and an Activated Carbon Filter to remove up to 99.9% dirt and odor, which is ideal for users and pets suffering from allergies.
Has a washable mesh pre-filter and carbon odor filter.
Easy to use with its auto mode, light sensor, and Filter Reset Indicator. These let your purifier function according to the air quality without you having to adjust many settings
Each unit comes with a 2-year warranty.
Cons
---
This purifier is considered noisier than other models in its category, making it less ideal to be operating at night while you and your pet are sleeping.
The bright light and loud sound effects can be excessive and disruptive when the purifier is used at night.
#7 Coway AP-1512HH HEPA-Filter Mighty Air Purifier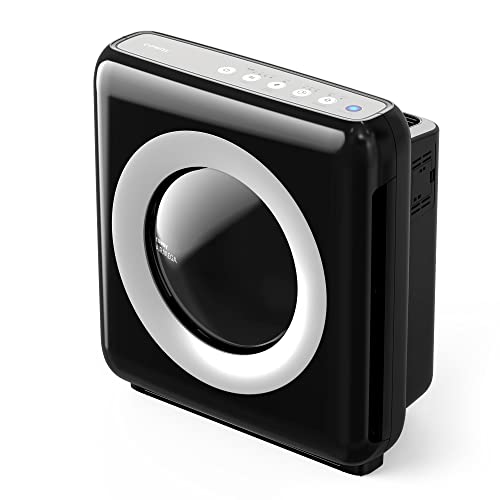 This Coway air purification unit stands out with its 4-stage filtration system whereas most other air purifiers on the market have 3 or less.
These include the regular pre-filter layer and a highly efficient HEPA filter. It also includes a vital ion layer that helps with pet odors control. Finally, there is a deodorization filter that has the air leaving smelling way better than it did going in.
You also have a lot to look forward to with their advanced automation features. These include an air sensor that alters filter speed based on the amount of air pollution plus a 3-option timer for 1, 4, or 8 hours.
This is the best air purifier when it comes to dealing with really strong pet odors and getting rid of pet dander. It is also very convenient with all the automation options.
Pros
---
Compact, lightweight, and has a modern design that can fit the decor of most rooms.
Effective air cleaning thanks to the four filters available and these are the pre-filter, HEPA filter, carbon filter, and bipolar ionizer, making it perfect for those with allergies given that it gets rid of most allergens, such as dust, pet hair, pollen, and bad odor.
The purifier has an energy-saving mode to conserve power, boosting its eco-friendly appeal.
Has an indicator that alerts you to replace the filter and a timer feature to automatically turn off after a set amount of time.
Each unit comes with a 3-year warranty.
Cons
---
Does not come with a quiet mode, so this purifier is not ideal for your bedroom at night.
Less effective in rooms larger than 361 sq. ft., so you either need more than one of these purifiers or opt for a different and larger model.
#8 AeraMax 300 Air Purifier For Large Room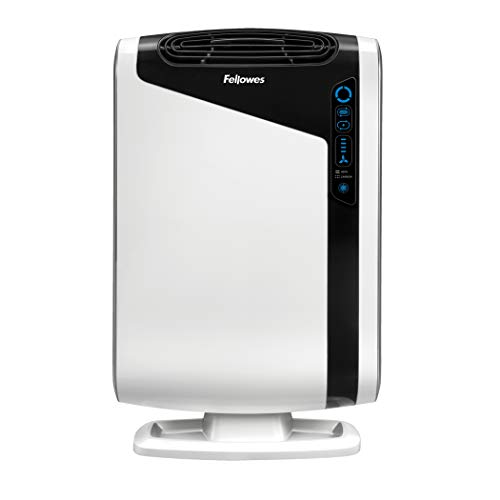 This air purifier uses revolutionary Aerasafe antimicrobial technology to take filtration to the next level by also eliminating germs. It is especially useful in homes with pets where airborne germs are more or less inevitable.
This system also filters out and kills mold which is common with water damage on carpets or upholstery from pet potty accidents.
Moreover, the system uses a high-quality HEPA filter.
This traps everything from pollen and dust to pet hair and pet dander. It is especially useful in homes where humans or pets have allergies or asthma that could be triggered by these pollutants.
In addition to the awesome performance, we like the sleek and adaptable design that makes this unit fit anywhere in the home from living spaces to the bedroom.
Pros
---
Effective air purifier with a 4-stage hospital-type filtration. It has the Ionizer, pre-filter, HEPA filter and carbon filter. The pre-filter takes up larger particles, while the HEPA and carbon filters take care of most allergens and bad odor.
The Plasma True Technology uses ionization to get rid of most air pollutants like pollen, dust, and pet hair.
Has Aera Smart technology to detect the air quality and automatically adjust the fan speed.
Operating at 4 decibels, the ultra-quiet purifier is perfect for sleep time.
Perfect for larger rooms of up to 600 sq. ft.
Cons
---
The plastic smell from the filter it emits after use can put some customers off.
It is considerably more expensive than most purifiers in its class.
---
Air Purifiers For Pets Buyer's Guide
---
There are tons of options on the market for air purifiers.
However, not all of the air purifiers out there are good for special needs associated with owning a pet. And even among those that are, a select few like those we have highlighted in our review will actually offer you full value for your money.
In this buying guide, we will cover all the important considerations when shopping for an air purifier for dealing with pet dander and pet odors. That way, you will have all the information you need to narrow your options down to the best air purifier for your home. Here are the key factors to consider.
Filtration Levels
It goes without saying that the more layers that polluted air has to go through the more likely it is to come out on the other side nice and clean. You can therefore not underestimate the value of multiple filtration levels.
The 3-stage system is without a doubt the best to go with. This takes care not only of different sizes of particles but also odors. The 4-stage filters, on the other hand, are pretty awesome but may not offer that much in the way of purification. This is because the additional layer is usually a deodorizing one that only scents and without further purification.
Actual Filter Types
It is not just enough to have multiple filtration layers. For a unit to be truly worth its value, the actual filters in the different levels must be of good quality and efficient enough to purify the air as much as possible. Some of the options here include:
Pre-Filters
These are often simply cloths or other porous materials that trap large dust, pollen, and fur particles in the air. A good unit should have this as a way of reducing the overall load on the internal air filter. It should also be machine washable and reusable for convenience.
HEPA Filters
In full, these are High-Efficiency Particulate Air filters (True HEPA). As the name suggests, these take care only of particle impurities in the air and should be able to filter out particles as small as 0.3 microns like pet hair and pet dander.
As a result, they should always be used with other filters that deal with fumes.
Carbon Filters
Activated carbon works by binding elements in pollutants like smoke and odors. These layers could be further optimized by arranging them in honeycomb styles or by treating the carbon to increase the surface area to which impurities can bind.
Ion Filters
These are charged filters that often bear negative charges. They attract and bind particles like pet hair and pet dander with positive charges which are the majority of allergens including dust, pollen, and fur.
Antimicrobial Filters
These filters are infused with antimicrobial chemicals meant to not only trap but also kill any germs floating about in the air. They are ideal for homes with pets as they could minimize the risk of airborne infections both to the animal and other inhabitants.
UV Filters
This is another alternative when dealing with airborne microorganisms whether bacterial or even fungal. They use short wave UV-C rays to inactivate the germs thus sanitizing the filtered air.
Automation Features
Automation makes using the air purifier a lot easier and more convenient, especially for the working dog parent who isn't around all day. With air purifiers, there are two main options when it comes to automation.
The first is automation in terms of detection of impurities in the air and appropriate alterations to the fan speed. Air purifiers with this capability use sensors like infrared to detect the presence of particles. Depending on the concentration detected, the systems will automatically configure the fans to the appropriate speed for optimum filtration.
The second automation option is in terms of the ability to set timers. Here, it is definitely worth celebrating if the air purifier you have has at least 1 timer option. However, the more options you have the better as it allows you to set filtration to the amount of time you believe is needed.
Energy Efficiency
Air filtration systems can be real power guzzlers that if not chosen correctly will cost you a lot in running costs. That is why energy efficiency is such an important factor to consider when making your choice.
Make sure to find an air purifier that has been tested and certified as an energy-saving unit. That way, you can have the air purifier running for as long as you wish without incurring crazy power bills.
Coverage Limits
Not all filters were made equal when it comes to the amount of air they can effectively filter. It is a common misconception among pets and homeowners that size is an indicator of how much coverage the filter will offer. This is not always the case.
Instead, find the specific coverage limits for each air purifier and compare them to the space where you intend to set it up. If they are compatible, you can rest assured that every square feet of the room will have purified air.
Noise Levels
Noisy filters are definitely not fun to live with. Although there is no one air purifier that is completely noise-free, there are several options, like our top pick, that are designed to operate as quietly as possible.
This comes in particularly handy if you plan on setting the air purifier filter up somewhere like your bedroom or in a living space where the last thing you want is a noisy distraction.
In this case, any unit with noise levels below 30 decibels would be ideal. These would be classified as ultra-quiet air purifiers. Those up to 60 decibels at full fan speed would also be easy to live with. Anything above that and you will not have a great time.
Ease And Cost Of Maintenance
Investing in an air purifier is not a one-time thing. In addition to power costs that we have already touched on, these units need to be cleaned regularly. The filters will require replacements. With the latter, especially, you have to make sure that the replacement filters are just as easily accessible and affordable as the main unit. This is the only way to guarantee full value for your money in the long run.
Ease of maintenance goes for removable parts like pre-filters in which case you definitely want something that is machine washable.
Aesthetics
Finally, you need to consider the design in terms of aesthetics. These units are often very large and will stick out in a bad way if you do not make the right choice.
So all other factors considered, make sure to go for units that are compact and sleek in design like several of the air purifiers we have recommended above including our top pick. That way, you will have invested in something that will fit in perfectly with your home décor style.
5 Easy Steps To Remove Pet Hair From Air
Sure, you love everything about your cute furry friend, but you probably hate the fact that its hair is all over the place! Pet hair can be genuinely irritating, especially when it starts accumulating in your carpets, furniture, clothing, etc.
But there is no need to give your beloved pet for adoption just because you are tired of seeing its hair scattered all over your home. There are many ways you can deal with those pesky hairs.
Below are some tricks that can help to minimize the number of pet hairs that will spread all over the air in your surroundings.
Get An Air Purifier
One sure way to remove the presence of pet hair in your indoor air is to use a good air purifier. These purifiers can help to circulate air indoors and remove pet hair, including the microscopic allergens and invisible particles that might pose a danger to your health. Remember, some of these hairs are so tiny that it's difficult to see them with a naked eye. Thus, the best way to filter them from your indoor air is to use a purifier.
If you or any member of your household is suffering from pet allergies, an air purifier will undoubtedly be a big help. It can help to eliminate the presence of allergens in your home, including pet hair and dander. Even if you regularly dust, clean, and vacuum your home, there are still some particles that will be released into the air that are not visible.
Limit The Area Where Your Pet Can Move
If you have big spaces inside your house, limiting your pet's area of activity should be easy. You simply have to rope off certain areas to prevent your dog from getting into them. In doing so, you will be able to minimize the spread of dander and hair in your house. This is very important if someone in your family suffers from pet allergies.
Some of the areas in your house that should be off-limits to your pets are your kids' bedroom and the kitchen. You don't want your kids to get sick because of pet hair. Also, your kitchen is where you prepare your food so it should be clean at all times and free from any pet dander or hair.
Use A Damp Cloth
Pet hairs don't go well with water. Therefore, if you notice any presence of pet hair on your furniture, simply wet a cloth and wipe it into the affected area. The hair will clamp easily into the cloth because of the presence of water.
Aside from a damp cloth, you can also use rubber gloves to remove these hairs. Simply dip the gloves in water and rub them directly to the surface. You'll notice that this will make it easier for you to take them all off.
Buy A Dander Remover Spray
A dander remover spray is effective at removing not only the presence of dander in the air but also pet hair as well. The spray contains natural enzymes that can effectively eliminate pet hair and dander while reducing odor as well. Thus, your home will smell fresh at all times.
The dander remover spray is ideal for pet owners who have dogs and cats at home. If a visiting guest is allergic to your pet, you can simply spray the place with the dander remover spray, and that should take care of the problem. Choose a dander remover spray that comes with disposable wipes so it will be convenient for you to wipe off any excess.
Clean Regularly
Cleaning your house regularly can help to minimize the presence of pet hair and dander. Invest in a powerful vacuum that can suck pet hair and other small particles even from the most challenging areas to reach, such as carpeted stairs and thick carpets. When buying a vacuum cleaner, look for an efficient machine that has adequate filtration. This vacuum could suck up all the pet hair even before they get into the air.
Aside from vacuuming regularly, you must also take the time to dust off your furniture, and wipe the tables, cabinets, and other furniture in your home. This should help to remove pet hairs that have gotten into these items. Finish off with a damp mop to make sure that all hair and other particles are entirely removed.
What Is Pet Dander And How Do You Get Rid Of It?
You might have heard the term pet dander several times but you're not really sure what it is. These are basically tiny flecks of a pet's dead skin cells that are microscopic. This means that they are so tiny that you have no way of detecting their presence. But despite being so small, these particles can cause serious allergic reactions in some people.
If you've got pets in your home and you or any member of your family is allergic to pet dander, then you should find ways to get rid of these allergens. Remember that these microscopic substances could spread anywhere in your home. The best way to minimize the amount of dander that your pet will shed is to groom your pet well and make sure that your house is clean at all times.
Below are tips on how you can effectively get rid of pet dander.
Use An Air Purifier
Pet allergens like dander are airborne and lightweight. Therefore, a high-quality air purifier should be able to capture them. Using an air-cleaning system equipped with HEPA technology is truly the best way to remove these extremely tiny particles. Of course, you need to replace the filter regularly to make sure that the purifier will remain effective in removing the presence of allergens in your home.
Consider installing filters on your bedroom's ventilation grids as well because forced air conditioning and air heating are also responsible for the spread of these allergens.
Give Your Pet Regular Baths
Given our busy schedules, we sometimes neglect washing our pets, which could be the reason behind the spread of allergens in our home. If you want to minimize and prevent the spread of pet dander, you need to allocate some of your time to washing and bathing your pet at least once a month or ideally once every two weeks.
Use A Dander Remover Spray
If you don't have the time to wash your pet regularly, a dander remover spray might be a good purchase. These sprays have natural enzymes that can effectively eliminate the presence of dander and minimize odor in your home.
If you are expecting a visitor in your home that happens to be allergic to pets, this spray would be very useful. You can simply spray it on your pet's fur and wipe any excess. Some of these sprays also come with disposable wipes, which allows for more convenient usage of the spray.
Get Allergy-Free Covers
Most pet owners give their pooch the freedom to roam around the house, including in the bedroom. In fact, some people even prefer to sleep beside their pets. To keep your bed free from dander, consider covering it with allergy-free covers. Use these covers to cover your mattresses, pillows, beddings, etc. These covers can help to effectively prevent pet dander from getting into your sleeping area, which is very important for people with pet allergies.
But just because you've got allergy-free covers doesn't mean you'll no longer clean or vacuum your room. You still need to clean your house regularly because these dead skin cells could accumulate in the carpet, floor, and other areas in your home.
Allocate Pet-Free Spaces
Although most pet owners consider their dogs to be prominent members of the family, it would help if you keep some spaces in your home "pet-free." You can perhaps train your dog not to go to your pantry, garage, kitchen, and other areas that you believe should be off-limits to pets.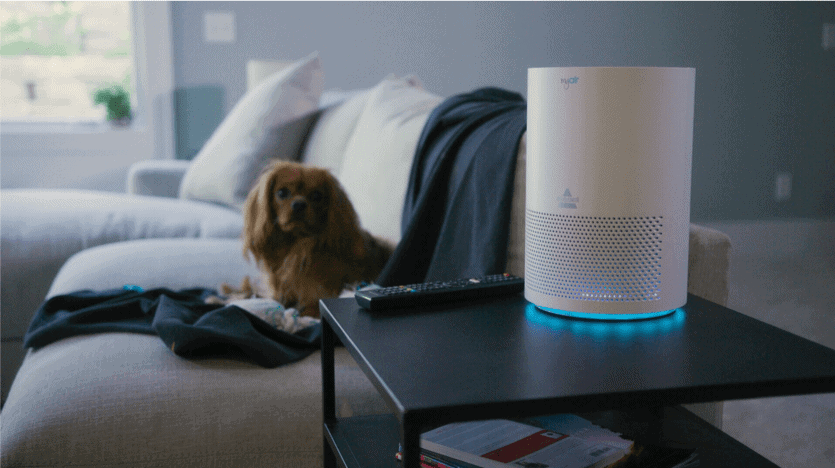 5 Hacks To Deal With Your Dog's Shedding
Just like humans, dogs get old too and will naturally shed some hair during the process.
Although shedding is just a normal process in dogs, the frequency and the amount of hair that they shed will greatly vary depending on the breed and health conditions.
Hair shedding on pets will also depend upon the season. Most dogs develop a thick coat during winter and shed it in spring. Dogs that are mostly kept indoors are prone to some fluctuations in coat thickness and shed fairly evenly during the entire year.
Pregnancy, lactation, and hormones are also some of the reasons behind hair shedding in dogs. Furthermore, dogs will also shed if they are extremely stressed. Indeed, shedding is a normal process for dogs, and there's no way of stopping it.
However, taking good care of your dog can help to somehow minimize excessive shedding, and keep your home free from hair.
So here are five hacks to help deal with your dog's shedding.
Prepare A Healthy Diet For Your Dog
One factor that could affect the shedding of your dog's hair is the diet. If you feed your dog a nutritious diet, then the coat of your dog will remain healthy and shiny, with only a little bit of shedding.
However, if your dog has an unbalanced diet, then there's a tendency that it will shed hair excessively. An unbalanced diet may also lead to brittle fur and drying of the skin. This is pretty common in dogs that feed mainly on dry food.
Try to limit dry food as much as possible. These foods contain an excessive amount of fillers and have no moisture, which is why they can make your pet's skin dry. So to minimize the shedding, take the time to evaluate the nutrients of the food that you give to your dog. Make sure they are filled with essential nutrients. You can ask help from your vet for recommendations on the proper diet that your dog should follow to avoid excessive shedding.
Brush Regularly
Brushing your dog's hair regularly is one of the most effective ways to manage hair shedding. Regular brushing can help to catch loose fur right before it gets to your couch or carpet. Brushing your pet's hair can also help to minimize matting, which could result in the growth of bacteria and infection.
When it comes to brushing your dog's hair, it's essential that you choose the right type of brush. Also, you need to adhere to a proper brushing routine that can work well for your pooch. Regular brushing can also help promote blood flow, which is good for your pet. Furthermore, brushing your pet's hair distributes natural oil evenly.
Remember that regularity is the key to brushing. Longhaired dogs must be brushed almost every single day. On the other hand, short-haired dogs only require brushing once or twice each week. If you're not exactly sure how often you should brush your dog's hair, start by brushing once every day. After a while, you should be able to gauge how often you should be brushing, depending on the amount of hair that comes off from the brush.
Take Your Dog Outdoors Regularly
For dogs that are considered seasonal shedders, there's no way to prevent shedding. But take advantage of the changing of the season by spending more time with your pooch outdoors. You should take your pooch out regularly for long walks so it can shed hair outdoors.
Don't Overdo Bathing
Regular bathing is important for your dog. Aside from helping to keep it clean, bathing can also help your dog's fur and skin to stay healthy. However, excess bathing might dry out your dog's skin and could lead to more shedding. Therefore, you should try to minimize the frequency of your dog's bathing.
Also, when bathing your dog, always use a shampoo that's designed specifically for dogs. Consult your veterinarian for advice on the best shampoo to use for your dog that will not contribute to the shedding of the hair. If shedding comes as a result of dry skin, then use pet shampoos that are soothing for the skin of your pooch.
Use An Air Purifier
As mentioned, hair shedding on dogs cannot be avoided since it's a normal part of growing. While the hacks above can help to minimize the shedding, the best way to remove the presence of hair inside your home is to use an air purifier. A good quality air purifier can help to keep your surroundings clean and fresh by removing dust, dander, and pet hair.
7 Tips To Get Rid Of Dog Smell In House
Sure, you love your pet but that doesn't mean you have to live in a stinky house. Aside from being embarrassed when guests come over for a visit, a house that smells of pets could lead to many problems.
This could be a sign that there are some bacteria lingering somewhere in your house and if you have small kids whose immune system is weak, then it could be a huge risk.
Therefore, you should not ignore the pet smell in your house.
You need to do something to get rid of it and here are some tips on how to do just that.
Mop The Floor Daily
You should keep your house clean at all times to prevent it from smelling bad. Therefore, mop your floors regularly to remove all the dander and other particles that could be causing the bad smell. Aside from the dander, hair and dust particles coming from your pet may be the reason behind the smell.
Sweep the floor gently and properly and don't do it in haste. Otherwise, these particles could spread all over the place. Delicately sweep the floor and try to find time to mop once a day.
Use An Air Purifier
Getting an air purifier for pet odor is a great idea. An air purifier can help to keep the air inside your home stay clean and fresh, which masks out the pet odor. You'll find different kinds of air purifiers in the market now but choose a model that's designed specifically for pet odors.
High-quality air purifiers are a great investment because aside from filtering particulate matters from the air, they are also capable of killing fungi and bacteria. This can help minimize the presence of odor-causing particles in your home.
Wash Your Pet's Bed
Perhaps, it is your pet's bed that's causing the bad smell in your home. As you know, it's a place where your pet lingers every single day, so there's a good chance that it's now filled with saliva, dirt, dander, urine, hair, etc.
Therefore, take the time to wash and clean your pet's bed. If possible, buy a bed that is machine washable. That way, you just need to take the cover off when it's time to wash and place it in the washing machine.
Check the bed carefully, if there are stains, and make sure to remove them because that might be the reason for the awful smell in your house.
Steam Clean Your Carpets
As soon as you remove the dry materials, grab a steam cleaner to remove any odors that might have been trapped somewhere in the fibers of the carpets. If you don't mind spending a little bit of money, consider hiring the services of professional carpet cleaning services.
Otherwise, you can do it yourself. Just make sure you use cleaning products that are pet-friendly.
When cleaning your carpet, secure your dog in the backyard or garage. Make sure that the carpets have been dried completely before you put your dog back into the house.
Wash All The Linens
Almost any kind of fabric in your house is capable of absorbing odors. Therefore, wash all the linens and everything else that is made of fabric. This should include the bed linen and covers for the throw pillows, couch, etc. Before you put them back to where they belong, make sure that you first dry them completely.
If you spend a lot of time cuddling with your dog, then there's a good chance that your clothes might smell like your pooch. Therefore, make sure to wash your clothing well to remove any dog smell. Use a fabric freshener afterward.
Replace Air Filters Regularly
Take the time to replace the air filters in your home regularly, as this might be the reason behind the smell. Clogged air filters can also make your HVAC system work less efficiently by reducing the amount of air that flows into your house daily.
Changing the air filter should be easy. Even if you're someone who is not an expert on home improvement, you should be able to replace it by yourself.
Vacuum Everywhere
After you clean the hardwood, tile floors, and linoleum, it's time that you wash and clean your carpets thoroughly. Remember that the carpet in your living room that's exposed to your pet might be filled with lots of dander, dust, and hair.
Therefore, make sure you vacuum it and all the rugs in your house where your pet might be stepping regularly.
After cleaning and vacuuming the carpet, it's time that you clean your furniture. Vacuum your sofa to remove the pet dander that might have gotten into it. Check the crevices and cracks of your wooden furniture and clean them too. Don't forget to wash the curtains as well.
For more tips, check out our thorough list of steps in this article.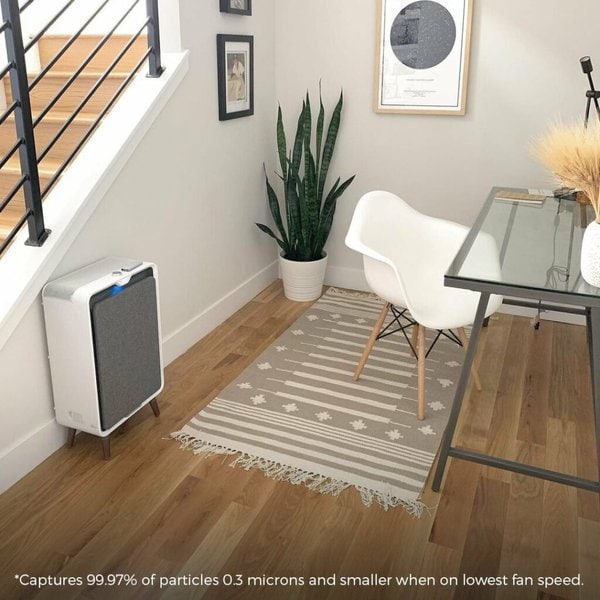 Allergic To Your Dog? Here Are 5 Things You Can Do
Pet allergies are common, most especially among those who have asthma or are suffering from other types of allergies as well. In fact, 3 in 10 people are said to have pet allergies. These individuals suffer from allergic reactions when they get close to dogs and cats. Cat allergies are usually more common than dog allergies.
If you are allergic to dogs but you would want to adopt a pet, don't worry because there are solutions to your dilemma. As a matter of fact, a lot of pet owners have pet allergies, yet they can successfully and harmoniously live with their pets in their homes.
Here are some of the things that you can do if you're allergic to dogs but would like to become a pet parent.
Don't Bring Your Pets to Your Bedroom
If you've got pet allergies, then you should keep your pet from your bedroom so their fur doesn't get into contact with your blanket, pillows, and sheets which could make you suffer from allergic reactions. As much as possible you should keep your bedroom free from allergens so you can restfully sleep at night.
Regularly Clean Your Rugs
First of all, it's not the pet itself that you're allergic to. Instead, it's the hair and dander of your pet. Thus, you need to make sure that you clean your rugs and carpets regularly, ideally, once a week.
Use a vacuum with HEPA filter that's capable of removing tiny bits of debris, including pet dander. Some other vacuums tend to miss out on these, so it is best to invest in a vacuum with a HEPA filter.
Remember that pet dander may also stick to some hard surfaces in your home, such as the door sill and walls so try to clean these areas regularly as well.
Get An Air Purifier
Sure, vacuums that have HEPA filters may be able to clean your rugs and carpets. But if you've got pets at home, dander could spread all over the surroundings, including the air. Using an air purifier can help to minimize the presence of these allergens in the air, which is vital for people with pet allergies.
Keep Allergy Medications With You At All Times
No matter how careful you are, if you've got pets at home and you're allergic to them, your allergy could attack anytime. So always have your medicines ready to be sure, including antihistamines. This medicine is effective at managing even the worst allergic reactions.
Depending on when and where your allergies will attack, you must have nasal sprays and soothing eye drops on hand. Make sure you follow the instructions thoroughly before using any of these treatments.
For instance, using nasal sprays consecutively for more than 30 days could constrict swollen blood vessels, and you could end up with some unpleasant conditions known as rebound congestion.
Avoid self-medicating if you have pet allergies. Always consult with a doctor or a medical expert before taking any medication.
Consider Allergy Shots
Immunotherapy or allergy shots are injections that can help to prevent allergy triggers. Usually, it's administered in a period of 3 to 5 years. It works by convincing your immune system not to react to the allergens. The shots are done twice a week or once every four weeks, depending on your doctor's advice.
But medical experts say that the effectiveness of immunotherapy will vary in terms of relieving you of your allergy symptoms. If your doctor or allergist believes that you are the right candidate for allergy shots, then you should take advantage of them. That way, you will be able to take care of your furry friend without the risk of suffering from an allergic reaction.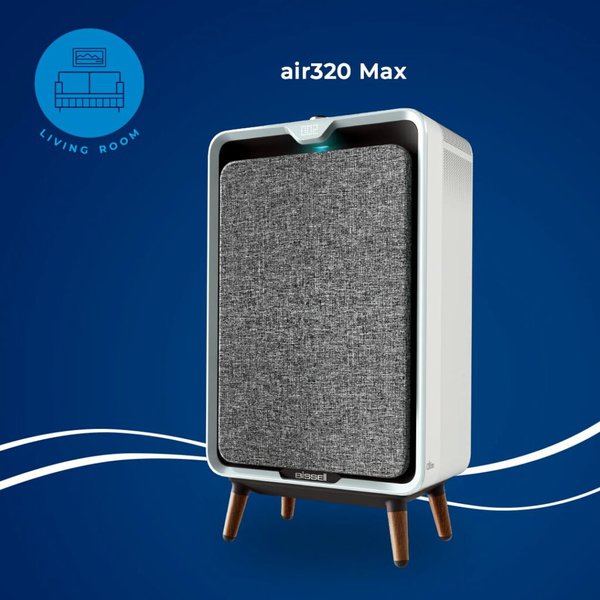 How To Get Dog Hair From Clothes Without Lint Roller?
If you live with a dog in your home, then you need to get used to the idea of having pet hair all over the place, from your clothes, carpets, rugs, upholstery, and pretty much anywhere! Most pet owners rely on a lint roller to remove pet hair. But there are instances when the lint roller gets misplaced somewhere. If you're wondering how to remove these hairs without using a lint roller, then here are some tips.
Sprinkle a Small Amount of Vinegar
One way you can prevent these pesky hairs from your clothes is to simply add a small amount of vinegar when you wash your clothes. You only need a ½ cup of vinegar for this. Add it to water and detergent that you use to wash your clothes, sheets, upholstery, or any fabric.
By washing the fabric with vinegar, you will minimize and eliminate the static in your fabric that attracts pet hair. The vinegar will react with your clothes and produce a non-sticking surface so your dog's hair will not stick to it. Aside from preventing pet hair from sticking, it can also help minimize lint from the fabric.
Keep Your Closet Closed
Make sure that your closet door is always closed to prevent the pet hair from getting into the clothing inside the closet. Remember, pet hair can spread all over the place. So make it a habit to close the closet door after every use.
Pet hair can easily find its way towards any fabric, including the clothes inside your closet. You might say that it's impossible for the hair to get there because you don't allow your pet inside your room, but these pesky hairs could travel through the air and land anywhere in your house. So always keep your closet door closed at all times.
Use Damp Hands
Another way to get rid of pet hair from your clothes is with your damp hands or you can also use rubber gloves. Simply run your hands or gloves in cold water and wipe your clothes using your hands. This should remove the presence of unwanted hair in your clothing. Just make sure you maintain a downward motion so that the hair doesn't ball up, making it easier for you to take the hair off and throw it away.
Get An Air Purifier
As mentioned, pet hair could spread quickly all over the place even if you restrict your dog to certain areas in your house. That's because these hairs travel through the air in your surroundings. So aside from removing unwanted pet hair from your clothes, you must also consider removing the hair from the air in your home. When it comes to this, an air purifier for pets would be a great help.
Use Dryer Sheets
Another great alternative to a lint roller when it comes to removing pet hair is the dryer sheets. You simply have to run these sheets to your clothes after washing, and it can help to remove any unwanted hair that has gotten into your clothes. This is because the dryer sheet will suck those loose pet hairs out.
If you're worried about pet hair sticking on clothes that you plan to wear for an important event, simply toss the clothes in the dryer real quick. Then slip it into the dryer sheet and let the machine run on cool. This can help to resolve your problem. You may also add some wet clothes made of microfiber and set your machine on tumble to allow for the easy removal of pet hair.
Why Do Wet Dogs Smell So Bad?
As a dog parent, you've probably noticed that your pooch tends to stink when it's wet. For instance, you took your dog for a dip at the lake. On your drive home, you notice a funny smell while in your car and you find out later that it's your furry friend that's causing the smell.
So why do wet dogs smell so bad?
The Science Behind Dog Stinking
There's a scientific explanation behind the stinking of your dog when wet. Certain breeds of dogs, especially the hound ones, have more oil in their coat compared to other breeds. Known as Sebum, the oil accumulates on your dog's hair follicles and shaft. The main purpose of the Sebum is to keep your dog's skin protected from dehydration.
So when your dog gets wet, for instance, after taking a dip in a lake, the Sebum will mix with the water and this will eventually lead to bacteria growth that is what's causing the stinky smell. Therefore, you need to make sure that your pooch is dried properly after a dip to avoid smelling so bad.
How To Prevent The Stinky Smell?
Of course, the stinky smell can be prevented. As mentioned, you need to dry your pet properly after taking a bath. But sometimes, toweling your dog is just not enough because the towel won't be able to get through to the skin of your pooch where the Sebum is. In fact, dogs that have very short coats require more. Using a blow dryer that will penetrate the coats of your furry friend may be the best way to address this problem.
Bathe Your Dog Regularly
Vets recommend bathing your pooch once in a couple of weeks. It's not a good idea to bathe your dog too often since this could make the skin of your dog flaky, dry, and itchy. Also, when washing your pooch, use a high-quality shampoo that's designed specifically for dogs. After shampooing, make sure you rinse their fur properly. Otherwise, the residues could lead to skin problems.
Although a hairdryer is recommended to properly dry your dog and prevent the stinky smell, some dogs might not appreciate the presence of a hairdryer. Other dogs may suffer from a heart attack and anxiety when exposed directly to a hairdryer. If this is your pooch, you might as well use a good quality brush to dry your furry companion's hair.
Use An Air Purifier
Although there are ways to prevent the stinky smell of your dog when wet, there are cases where the smell cannot be removed and the best thing that you can do is to use an air purifier to get rid of the smell in your car or home.
Air purifiers that have activated carbon filters are a great solution in this regard. The activated carbon comes with special properties that could effectively remove the odor coming from your wet pet so your car or home will always smell fresh.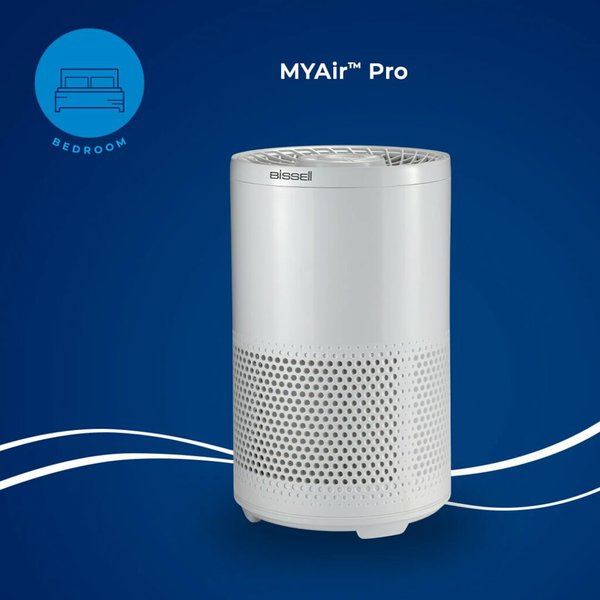 Why Does My Dog Stink?
As pet parents, we certainly love cuddling and hugging our pets from time to time just like we do with our kids. But what happens if your dog stinks? The bad smell can put you off.
There are many reasons why your dog smells bad. Perhaps, it ended up rolling or playing on surfaces that had feces or some other substances with a strong smell. Or probably some angry skunk ended up spraying your pooch.
Depending on the reasons behind the stinky smell of your pooch, this problem can be easily remedied. Usually, you can simply wash your pooch with a good-smelling shampoo, and that should solve the problem. But sometimes, no matter how you wash and bath your pooch, the bad smell just won't be removed.
So what could be the reason behind the awful smell of your dog?
Flatulence
Flatulence or gas can also happen to dogs, which could be the reason behind its bad smell. But some dogs produce extremely smelly gas because of the foods that they eat. You can perhaps talk to your dog's vet and propose the idea of changing your dog's diet to prevent smelly gas. Also, the bad smell can be a sign of some underlying medical condition, so it's best to take your pet to the vet.
Allergic Diseases
Food allergies could trigger an inflammation on the skin of your pet that can also result in excessive oil secretion from the glands, which can produce a musty smell in your pet. This is why a proper diet is important to avoid this condition.
Your pet may also end up suffering from yeast infections that would give off a bad smell. A diet high in processed foods and carbohydrates could be the reason behind this. So try changing your pet's diet to a high-protein diet and feed your pooch non-processed foods.
Dental Problems
Just like humans, dogs can also suffer from dental problems that could make them develop bad breath. The buildup of tartar and plaque in your pet's teeth could lead to bad breath, and this could be the reason behind the stinky smell of your pooch. Certain breeds of dogs, especially the small breeds, are at high risk of developing dental problems, most especially gum diseases. Another common dental problem that your dog could suffer from is Gingival Hyperplasia, a condition resulting from the overgrowth of gums, which could produce a rotten smell.
Anal Sacs
Anal sacs are among the most common reasons behind the stinky smell of dogs. Our furry friends have two tiny scent sacs at their bottom, which is why dogs smell on their rear ends. Once these sacs are affected, your pooch may suffer from extreme pain, and this leads to the release of smelly secretion that could linger on its fur, which is why your pooch will smell bad.
Ear Infections
If your pet is suffering from an ear infection, then it could develop a bad smell in the ear area. This is usually a result of the yeast and bacteria that may have accumulated in your dog's ears. If your dog suffers from hormonal imbalances or allergies, the bacteria and yeast could increase dramatically, leading to the stinky smell in your dog's ear. Dogs that have floppy ears or hair ears are highly susceptible to this, such as the Springer Spaniels and Basset Hounds.
Urinary Tract Infection
If you notice that your dog smells like urine, then that's probably because it's suffering from UTI or Urinary Tract Infection. While many think that this infection only happens to humans, it's more common in dogs. Aside from smelling bad, your dog could suffer from miserable pain.
Some of the most common signs of UTI in your dog are frequent bathroom trips and pain during peeing. You might also see the presence of blood on your pooch's urine. Therefore, you should immediately take your pooch to the vet when this happens.
Take note that a strong urine smell on your pooch can also be a sign of diabetes, kidney stones, and some fungal infections.
What To Do About The Stink?
Always keep those folds in the ears and skin of your pet dry and clean. Regularly check your dog's ears to ensure that they are dry and clean after swimming and taking a bath.
If you believe that the smell has something to do with your pet's bad diet, then feed your pooch a healthy diet. Consult your pet's vet for advice on the most suitable diet that can help to prevent your pet from smelling bad.
Regularly bathe your dog no matter how busy you may be. Try to wash your dog once every two to three weeks.
Strictly observe proper dental hygiene on your pooch to prevent bad breath. Brush your dog's teeth regularly and schedule an annual dental cleaning with a vet.
Use An Air Purifier
The tips above are effective in preventing your dog from smelling bad.
However, it might take a while for these remedies to work. What you can do for now is to get an air purifier for dogs that can somehow help to mask the odor that your pet produces.
The air purifier is very effective at removing odor from the air so your home will smell fresh and stay clean despite the stinky smell coming from your pet.
---
Final Thoughts
---
As you can see, our top pick stands out as the best on the market for homes with pets. Based on our buyer's guide, it has the most to offer in terms of aesthetics, convenience, and most importantly, functionality. It is also very affordable not only to purchase but also to run.
Therefore, if you are in the market for the perfect filter as a homeowner then our top pick should definitely be high on your radar. The other seven air purifiers are also worth checking out for some perspective on what is out there.