Are you looking for an outdoor space to keep your pet dog when the weather is nice? Furthermore, do you intend to make the space large enough for your furry friend to roam about freely? You're definitely not alone if you're in the market for an outdoor 10×10 dog kennel.
A quality 10×10 dog kennel is a necessity for any dog owner. An important factor influencing your choice of such a kennel should be the availability of a roof shade to shield your dog from the sun. Besides, the durability and height of the enclosure also play a vital role in adequately securing and housing your dog outdoors. With so many different options available, it can be tough to decide which one is right for you and your pet.
That's why we put together this list of the best 10×10 dog kennels on the market today. So read on to find the perfect kennel for your furry friend!
#1 Midwest Homes For Pets K9 Dog Kennel
The Midwest Homes dog kennel is a super-spacious dog kennel with a galvanized steel construction and well-spaced link meshes. The Midwest kennel also features rounded edges to keep the pooch from hurting itself and is quite easy to set up, with little or no equipment required.
If you're looking to give your pooch some time out in the yard while restricting movement, the Midwest Kennel's polythene sunscreen cover provides ample protection against harsh sun rays. The kennel also boasts a human-size entry door for easy access and a latch to help secure the pooch.
The kennel comes in four different sizes, ranging from 76 lbs to 155 lbs. Such weight gives the kennel its sturdiness and is ideal for all dog breeds.
The Midwest Homes dog kennel's pet-friendly design, with a chain-link mesh for proper ventilation and sunscreen to protect the pooch from harsh weather conditions, makes it worth investing in. Moreover, the Midwest Kennel's durable steel design guarantees your canine buddy a comfortable home for several years.
Pros
---
The spacious extra-large kennel offers your furry friend sufficient space to play and exercise, making it ideal for all breeds and pet sizes.
Lightweight at only 155 lbs which makes it easy to transport and move indoors or outdoors.
Comes with a one-year manufacturer's warranty due to its durability and requires minimal maintenance, thanks to its galvanized steel and chain-link design.
Its full-height entry mesh door allows dog owners to enter and access the pet easily and has a safety latch to keep the dog secure with the kennel.
The kennel comes with a free woven fabric screen that offers up to 80% sunblock when outdoors.
Cons
---
Assembly may take more time than usual because the chain links sometimes tangle during shipping, and you may need an extra set of hands to set up the dog frame.
The wire can easily be bent out of shape and chewed through by larger or vicious dogs.
#2 Petsafe Box Kennel For Pets
If you have been a dog owner for some time, then you must have come across the name PetSafe, which is one of the major brands in the market right now. The company makes a wide range of pet-related products, and its PetSafe Box Kennel is probably one of the best offerings they have.
The 10×10 boxed kennel is gated and very tall too. The gate comes already preassembled and with free shipping. You just need to screw the other panels, and that's it.
Generally, the PetSafe Box Kennel for Pets is a considerably easy product to assemble. It's also huge. As a matter of fact, the kennel is big enough to fit in two or three Great Danes and still leave behind enough space for play. The pen is quite solid too, but there are a few other brands that are stronger than it.
However, if you are looking for a place where your dogs can spend a few hours each week, then you will get great service from the PetSafe Box Kennel for Pets.
Besides, the product is very affordable too. You can even save a lot of money if you avoid using the professional installation option.
The PetSafe Box Kennel for Pets is one of the cheapest 10×10 options you will get on the market right now. But don't let the price fool you. The product is creatively designed. It's also big and strong enough to deliver excellent service. You will get a lot of value from it compared to the money you have paid.
Pros
---
Its spacious kennel is ideal for all dog sizes and gives them enough space to play and relax.
Has a durable alloy steel frame that is rust-resistant and protects your furry friends.
Easy to assemble frame, which makes it perfect for indoors, outdoors, and travel.
For hot days, there is a Sunblock Top that you can purchase separately to keep your pups cool while the sun is out.
Cons
---
It is not the ideal kennel for dogs that have not been adequately trained, especially athletic ones, as they can easily jump over.
It will take some dogs with anxiety or behavioral problems for prolonged periods as they may try to break out.
#3 ALEKO DK10X10X6 Pet System DIY Box Kennel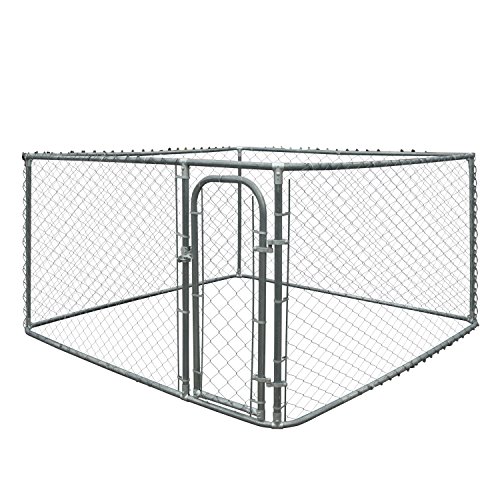 At 10 feet high, the ALEKO DK10X10X6 Pet System DIY Box Kennel is one of the biggest options right now. The product is made using highly durable steel. It features one single door that can be opened and closed easily too.
But if the size is not big enough for you, you can simply put together two similar kennels for extra space. The ALEKO DK10X10X6 Pet System DIY Box Kennel also offers quick and easy assembly and can be used both indoors and outdoors.
The price is not bad, either. For all its features, this 10×10 dog kennel is affordable. The strength is, however, the best-selling point. Even if you have a big dog that can easily break average kennels, it will not be able to do so with this one.
We also noted that the kennel is easy to clean and can resist just about any weather. It is also rust-free, but sadly you don't get a top cover.
This ALEKO DK10X10X6 Pet System DIY Box Kennel is probably one of the sturdiest and most durable options you will get right now. It's manufactured using steel and also features a 13 gauge heavy-duty mesh. We also loved that it's weather resistant and rust-free.
Pros
---
Its large structural size enables multiple uses, such as a chicken coop, a hen house, a cat house, a playpen, or an exercise pen.
Durable frame made of rust-free galvanized steel, which is perfect for outdoor or indoor use.
The chin link structure is easy to assemble.
Has a secure lock to keep your pets safe within the kennel, thereby removing the need for constant supervision.
Cons
---
Larger untrained dogs, especially those with chewing tendencies, can potentially chew through the 12 gauge wire mesh.
While the kennel is easy for most people to assemble, you sometimes need an extra pair of hands to set it up.
#4 Amazon Basics Welded Outdoor Wire Crate Kennel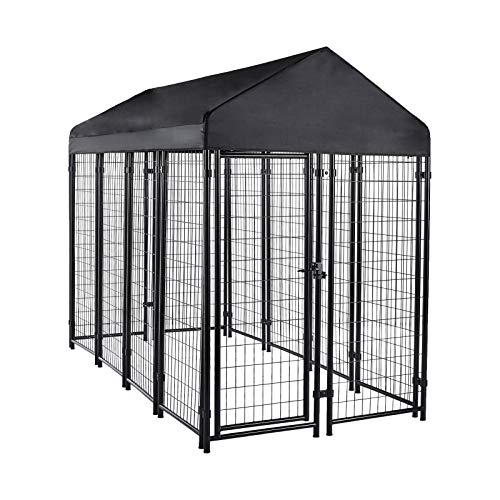 Amazon Basics Welded Rectangular Outdoor Wire Crate Kennel, Large, Black, 102 x 48 x 72 Inches
Large outdoor wire kennel provides a secure pet play area for a canine friend; swing-open door for easy in/out access
Made of durable materials, including metal wire, for safety, optimal stability, and long-lasting strength; sets up...
Weatherguard cover offers waterproof protection, keeping pet protected from snow, wind, rain, and other outdoor elements
The Amazon Basics crate kennel is a metal wire construction with dimensions of 101.57 inches long by 72.05 inches wide by 48.03 inches tall. It also comes with features such as a sizable swing-open door for easy access and plug protection for indoor flooring.
Additionally, the Amazon Basics kennel has a damp-proof surface that can be easily wiped clean with a damp cloth, thereby helping to promote proper hygiene. And the kennel's weather guard cover helps protect pooches from rain, snow, wind, and sun when used outdoors.
The Amazon crate kennel can conveniently house dogs of all size categories. Its portability, good ventilation design, and simplistic set-up design make it suitable for use in both indoor and outdoor situations, thereby providing customers with great versatility and good value for money.
Pros
---
Large enough for play and exercise and is suitable for all dog sizes.
Uses a swing door for easy access with a safety latch to secure your pups.
Made of steel wire and other durable materials for durability, security, and structural stability, you can find out what parts of the kennel are covered by the one-year Amazon Basics limited warranty.
Comes with a Weatherguard cover to protect your pups from harsh weather conditions.
Easy to clean surfaces as you only need a damp cloth to wipe them down.
Cons
---
You will only receive two right cross bars for roof support, and during heavy rain, this can cause sagging, so it is highly recommended to get at least five or more bars.
You may have to place the kennel on gravel or concrete to avoid your pups from digging under to escape.
#5 HITTITE Outdoor Chain Link Dog Kennel
SALE ALERT!!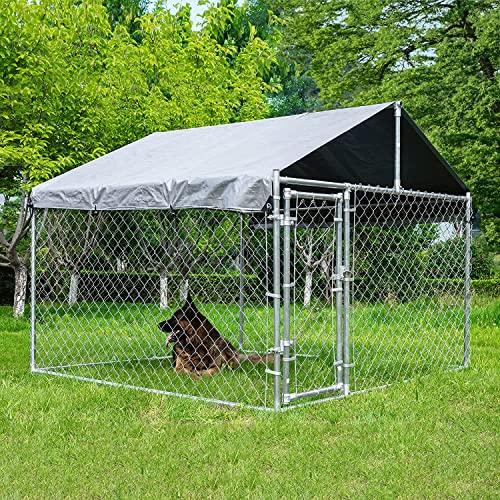 The easy-to-assemble HITTITE outdoor kennel is a multipurpose product designed to be used with different household pets. Its physical dimensions are 6.76 inches long by 6.76 inches wide by 5.64 inches tall. It is a considerably small enclosure for small to medium dog breeds.
The kennel meshes are considerably thick to prevent large dogs from biting their way through. Its galvanized steel tube construction of the kennel's meshes gives the kennel its durability and corrosion resistance factor, thereby maximizing the value of your purchase in the long run.
The HITTITE kennel also features 1-inch raised legs, which make cleaning a lot easier. The roof-pitch design of the kennel, which boasts a UV-protected cover, makes it easier for rainwater and debris to run off rather than accumulate.
For households with multiple pets, the HITTITE outdoor kennel is useful when it comes to giving these pets a large, secure area to play outdoors. The kennel's wire meshes are considerably thicker than what is obtainable with most other products out there, and the anti-rust design of these meshes ensures that this is one kennel you can use for several years.
Pros
---
Its fence Is made of durable galvanized metal and comes with a 1.25-inch kennel tube and a wire mesh size of 2.36-inch by 2.36-inch.
The sloped roof design is perfect for winter or wet weather because the snow and water can run off the sides easily.
For harsh weather conditions, the kennel comes with a waterproof roof cover that also blocks UV rays.
The smooth edges, small mesh holes, and latch and lock keep your pups safe and secure for hours.
A multipurpose kennel that can take care of dogs, cats, chickens, and other pets of all sizes.
Cons
---
For a larger or more active dog, you need to install an anchor to keep the kennel stable and stop it from tipping over.
Assembly can take a longer time for first-time kennel owners, but following the included instructions should help.
---
10×10 Dog Kennel Buyer's Guide
---
Buying a 10×10 dog kennel is not always going to be easy, especially if you are doing this for the first time. But there are a few basics you need to get right. To begin with, you have to decide the kind of enclosure you need.
Generally, there are three types of dog enclosures. They include crates, boarding, and breeding. These options will vary a lot in terms of their sizes, the materials used to make them, and other special features.
Crate Kennel
The crate kennels usually are very simple in their design. They are made using a wide range of materials, including aluminum, fabric, and even plastic.
However, crate kennels made using welded wire tend to be very popular due to the substantial strength and durability that they offer. A crate kennel is the most basic option that offers comfort and security for your dog. It can also be ideal for traveling.
Boarding Kennel
Dog boarding kennels are largely used indoors. They are designed to keep your dog safe and secure when you are not at home. The kennels are also available for all types of dogs and breeds out there.
Breeding Kennel
These kennels are perfect for breeding. They are usually used to keep dogs separated to prevent unplanned breeding. They can be used both indoors and outdoors. Dog breeding kennels can also be custom-made to meet the needs of various pet owners.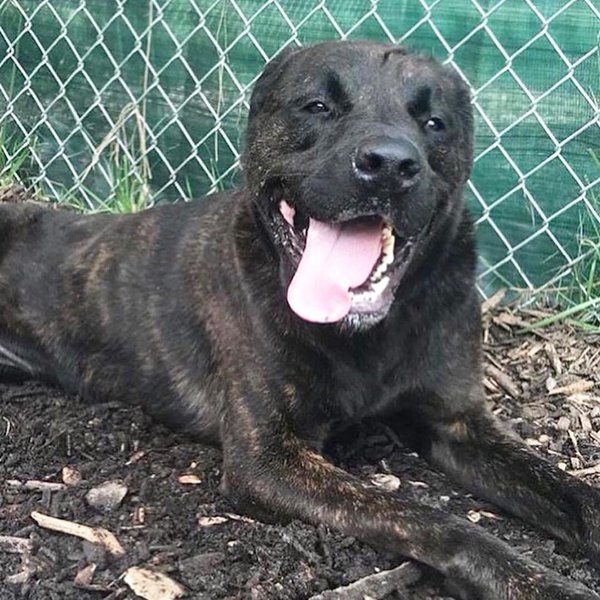 Things To Consider When Shopping For The Best 10×10 Dog Kennels
When buying a dog kennel, there are a few things you will always need to keep in mind. Here are some of them:
Safety
The safety of your pet has to be the priority when you buy a dog kennel. You should never choose design or style over safety. Durable and strong pens that feature a sturdy steel construction are often recommended. A kennel should also not tip over easily. Proper ventilation that keeps the clean air coming is needed for extra safety.
Space
If you buy one large enough to fit your dog, make sure you already have enough yard space at home to place it. Start by deciding the size of the kennel you need.
After that, see if you can free up some yard space at home for it before you make the purchase.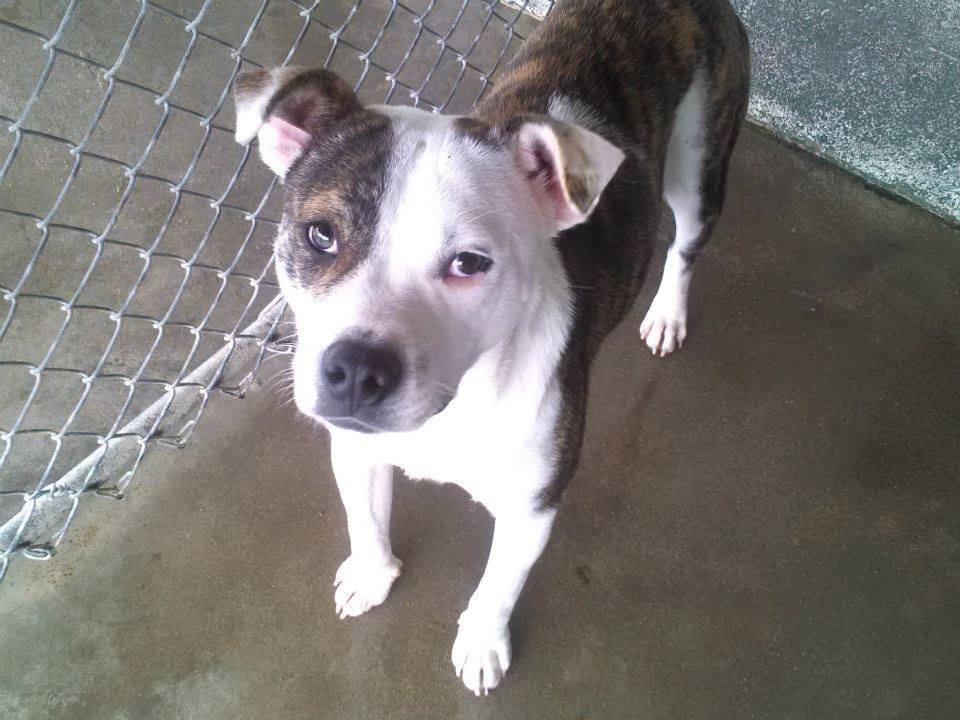 Size
The essential factor for a dog owner is to make sure that their canine companion is comfortable in a kennel. In that case, you will have to pick a kennel big enough to accommodate your dog and leave enough room for some playtime too.
Generally, the best way to go about this is to choose a pen that is at least three times bigger than the size of your dog. This will ensure there is enough space for the dog to walk around, eat or drink, and jump around.
Durability
It's also essential to make sure that you are buying something that will last long. Highly durable kennels with the potential for longer-term service will cost more, but in the long run, they will truly be worth it.
They will also be safe for your pet. Don't focus too much on the cost here. Cheap is always expensive in the end, and besides, you have to give your pet the best.
Future Needs
If you are starting with a puppy, you may also want to get a kennel that can be expanded in the future as the puppy grows bigger. You can decide to buy a kennel that is big enough even when the pup is fully grown or simply buy extendable pens. Either way, you must make sure the kennel is ready as soon as your pup is all grown up.
---
Final Thoughts
---
Quality and reliability are probably two of the most important factors to keep in mind when buying a 10×10 dog kennel. Our top pick offers that and more. It's a highly durable and safe pen that will work for dogs of all sizes.
The kennel requires minimal assembly too. No professional help is required to set it up. Although it's a top choice in the market from one of the top brands in the industry, it's also a low-cost kennel that will serve you and your pet for years. So if you are looking for the best 10×10 dog kennel, you can't go wrong with our top pick.