The best dog shampoo is Burt's Bees Natural Oatmeal Dog Shampoo.
There are many different types of dog shampoos on the market today. Some people swear by a particular type, but we're here to give you an overview of what is best for your pup!
After all, there is nothing more important than keeping your canine clean. The smell and dirt can build upon their skin if they aren't regularly washed, so it's extra important to use the best products for cleaning your pup.
We'll talk about how to find out which shampoo is best for your pup and then break down some of the pros and cons of each type. Hopefully, this helps you pick out the best dog shampoo for the perfect bath!
#1 Burt's Bees Natural Oatmeal Dog Shampoo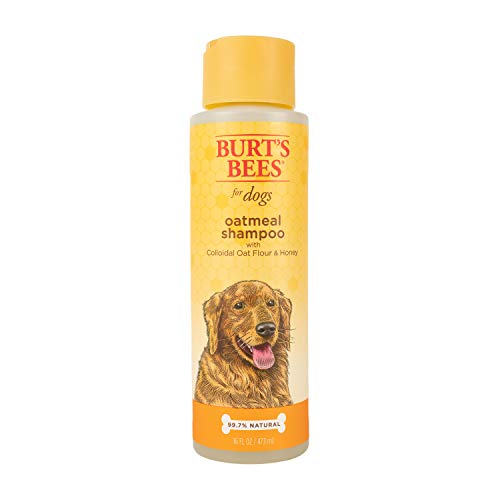 Why do we think that the Burt's Bees Natural Oatmeal Dog Shampoo is the best?
It's 100% organic, free of both paraben and sulfate, and has an amazing scent.
This dog wash contains colloidal oatmeal flour and honey that are known to provide relief to itchy and painful skin that is caused by the presence of dander, fleas, and ticks. Changes in weather could also trigger itchiness that is effortlessly taken care of by this dog shampoo.
You also have Camelia Sinensis (Green Tea) extract in this product that helps clean your pooch to keep it odorless and moisturized.
Have you always had a hard time making your dog's bath a tear-free process? Most dog shampoos contain harsh chemicals that give you and your dog a painful bath time. This dog shampoo at hand gives you a tearless and hassle-free bath time that is thoroughly enjoyed by you as well as your furry friend!
We recommend this product because it uses natural ingredients to keep your dog feeling fresh and happy all day!
Pros
---
Safe and non-toxic ingredients.
Soap-less and tear-free formula for a fun-filled bathing experience.
2 in 1 formulation (shampoo and conditioner).
Cons
---
Does not lather as much as what would some dog parents have expected.
#2 Earthbath Oatmeal & Aloe Pet Grooming Bundle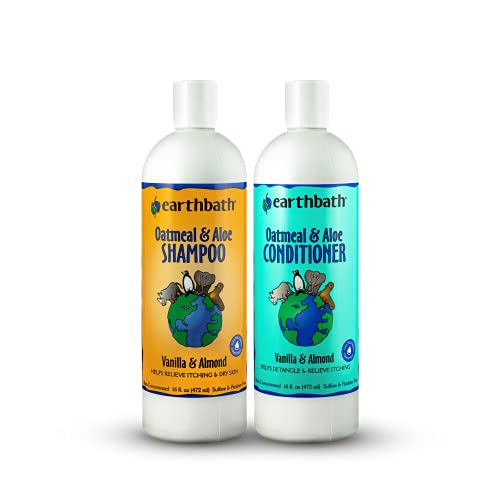 We have spoken to a number of dog owners who used to struggle with seasonal allergies, itchy skin and dry, sensitive skin, and toxic ingredients in dog shampoos.
A good percentage of them vouched for the Earthbath All Natural Pet Shampoo simply because the presence of natural ingredients in them makes a huge difference.
Veterinarians most often recommend the use of both aloe and oatmeal to reduce allergic bouts, promote skin healing and rehydrate dry skin. Along with the presence of these natural ingredients, the combination of vanilla and almond oil makes for a pleasurable and aromatic therapy for your dogs as well as puppies.
We also recommend it because this dog shampoo is 100% biodegradable and resorts to cruelty-free means of research. It is safe, gentle, and highly effective in caring for the sensitive skin of your beloved pup.
Pros
---
Natural ingredients clean and heal gently.
Rehydrates dry and itchy skin.
100% biodegradable, hence environment-friendly.
Cons
---
Shampoo might be a tad too watery, while conditioner might be on the thicker side.
#3 TropiClean Aloe & Coconut Pet Shampoo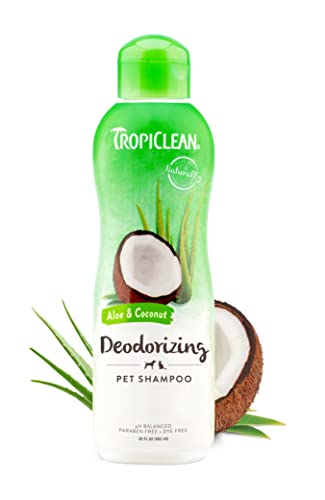 The TropiClean Aloe & Coconut pet shampoo takes your dog's bath time a notch higher with aloe and coconut for a long-lasting shine and fragrance.
We understand that you love snuggling your furry friends, but you need to be extra careful while doing that on your couch. To ensure that your dogs are clean and fresh and do not end up making your couch smell weird, give them a bath with this dog shampoo for a squeaky clean finish.
This dog shampoo contains natural ingredients that are absolutely safe to use and have been sourced reliably. The manufacturers have ensured that only the best and the most naturally available ingredients are used for the dog shampoo.
Although the product is a mild coconut cleanser, it produces a rich lather that can also be rinsed quickly. The shampoo has infused botanical extracts that nourish and strengthen your dog's coat and skin.
We recommend this dog shampoo because if your dog has sensitive skin and is scratching away at the same time with seasonal allergies, then this is your best option. The best part about this dog shampoo is that it has immediate effects on your pet's sensitive skin. Although it is a tad bit expensive, it clearly is a worthy investment.
Pros
---
Works immediately to relieve dry and itchy skin.
Long-lasting shine and fragrance.
Made in the USA.
Cons
---
Does not really add to the shine of your dog's fur.
#4 Wahl 4-In-1 Calming Pet Shampoo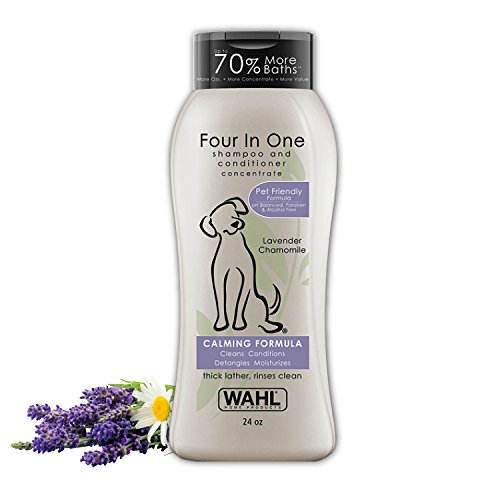 In fact, there are products that further enhance the irritability of your dog's skin. Healthy skin would mean a shiny coat and lesser shedding. The Wahl 4-in-1 calming pet shampoo makes for an easy rinse with a rich lather to ensure that bath time is healing and exciting for both you and your canine companion.
If you want to avoid using harsh chemicals for your pup, this dog shampoo will please you with its natural and gentle ingredients. The one reason that makes Wahl pet shampoo a dog owner's first choice is the fact that it has natural plant-derived ingredients.
While reviewing this product, we spoke to dog owners who couldn't stop appreciating the effects of this dog shampoo on their furry friends. They vouched for the fact that this dog shampoo not only smells great but is mild enough to not be overwhelming for you or your dog.
We recommend this dog shampoo because it thoroughly cleans your dog's coat and relieves the usual itch that most dogs experience after a bath. Despite the fact that it gives you a good amount of lather, it can be rinsed off easily.
Pros
---
Rich lather that is easy to rinse.
The scent is not overbearing.
Works immediately to relieve dry and itchy skin.
Cons
---
The product might not be suitable for dogs with sensitive skin.
#5 Buddy's Best Dog Shampoo And Conditioner In One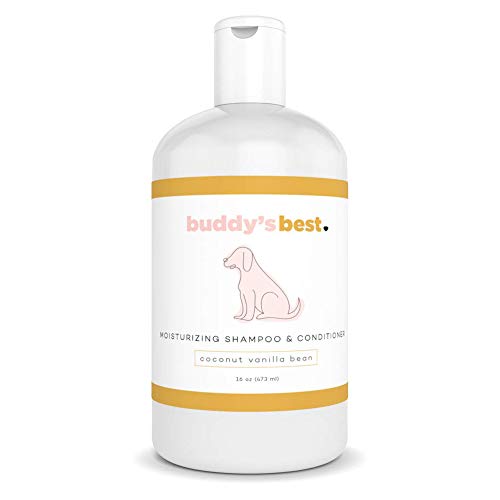 Buddy's Best Dog Shampoo And Conditioner In One is ideal for dogs with dry and sensitive skin. The combination of aloe vera and oatmeal relieves dry and itchy skin and promotes a smooth and healthy fur. Brushing your dog after its use is easier because it leaves the coat soft and smooth, and it minimizes matting after several washes.
The product also leaves a nice and subtle smell that does not overpower the nose and stays on the coat for several days. Multiple washing is not necessary to remove the smelly odor of your dog, and the scents available are fresh and sweet-smelling.
The scents available are Coconut Vanilla Bean, Ripe Melon, Calming Lavender, Citronella Eucalyptus, and Citrus Fresh. There is also a fragrance-free version if you are not keen on a perfumed smell.
The ingredients used for this shampoo and conditioner are pet-safe, and the formula is easy on the eyes as well. It leaves no residue on the coat and is very easy to rinse.
Pros
---
Available in three size options; 16 fl oz, 32 fl oz, and one gal.
Comes in five different scents or a fragrance-free option.
Made from cruelty-free and vegan ingredients.
Great for sensitive skin.
Cons
---
Might not lather well as you may have expected.
Pricier than related products.
#6 Oster Oatmeal Essentials 4-In-1 Shampoo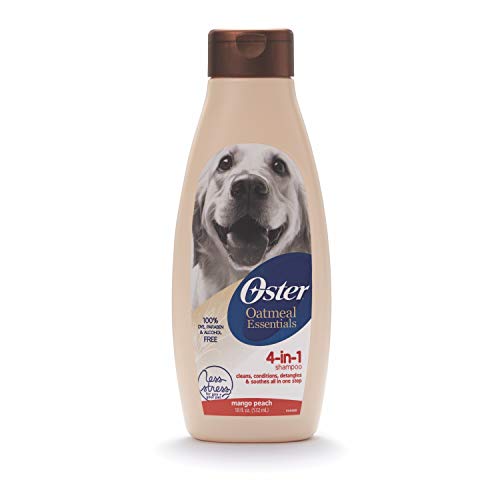 Oster Oatmeal Essentials 4-in-1 Shampoo
Formulated with Vitamin B5 and natural conditioners to help detangle, remove static, add shine and condition the coat
Made with 100% Natural Oatmeal to soothe and protect the skin
100% dye free, paraben free, alcohol free, phosphate free, phthalate free
Spending time on a shampoo formulation compatible with your dog's sensitive skin and coat is essential. It is not for nothing that veterinarians highly recommend the Oster Oatmeal Essentials 4-in-1 shampoo for your grown-up dogs as well as for your puppies.
It consists of 100% natural oatmeal that effectively takes care of dry and itchy skin, especially during seasonal changes and after a bath. The shampoo has built-in conditioners that will effectively detangle your dog's hair, remove static and condition the coat.
This dog shampoo not only soothes dry skin but also controls odor and shedding. Treating your pooch to a refreshing bath with this shampoo will do wonders, as this product cares for your dog's specific needs in ways that your pup's coat smells great and shines with all the health it truly deserves.
We recommend this dog shampoo because of the fact that it is pH-balanced which goes a long way to preserve your dog's skin health. This product is 100% free of alcohol, dyes, and parabens, making it absolutely skin-friendly for you, as well as your dog.
Pros
---
All-natural ingredients make for a safe and gentle application.
Retains the pH value of your dog's sensitive skin.
Controls odor and prevents shedding.
Cons
---
Some users have reported that their dogs were allergic to certain ingredients of the dog shampoo.
#7 Pro Pet Works Organic 5 In 1 Oatmeal Pet Shampoo And Conditioner
SALE ALERT!!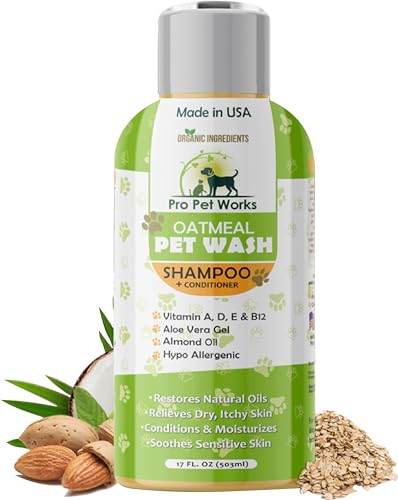 This 5-in-1 dog shampoo and conditioner has been specifically formulated for dogs who suffer from fleas, tick bites, and food allergies and who tend to have dry and sensitive skin.
The Pro Pet Works product has the perfect combination of organic almond oil, aloe vera extract, vitamins A, E, and D, all of which make the formula hypoallergenic in nature. Your furry friend will have a no-tears experience while bathing.
Not only that, but it contains all-natural ingredients as well.
These organic ingredients are therapeutic in nature and soothe your dog's sensitive skin and coat. Its soap-less and detergent-free formula makes sure that bath time is nothing but a pleasurable experience for your canine companion.
We recommend this dog shampoo because the manufacturer has ensured that this product is 100% biodegradable and has incorporated recycled materials during its manufacturing process. It is non-toxic in nature and is absolutely cruelty-free in its testing procedures. These factors make the shampoo even more popular.
Pros
---
Gives your dog a tear-free bathing experience.
Long-lasting mild fragrance.
Non-toxic and cruelty-free formula.
Cons
---
It is on the pricier side as it is packaged in a 17 fl oz bottle.
#8 PetAg Fresh' N Clean Scented Dog Shampoo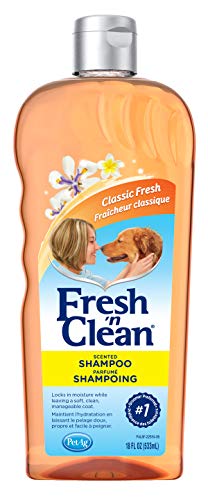 If you need a fragrance and cleansing that lasts from one bath time to the next, then the Fresh 'n Clean scented dog shampoo from PetAg will help you do that.
This dog shampoo not only removes mats and tangles easily but also keeps your dog smelling fresh and clean for days! Its ready-to-use formula is quite convenient, and all you need to do is work the shampoo into the coat, rinse and work again.
Its antistatic agents will ensure that your dog's coat is fresh and manageable even if the next bath time is a couple of weeks away.
We recommend this dog shampoo because it is an all-new way of ensuring a fresh, clean, and healthy dog!
Pros
---
Removes mats and tangles for a more manageable coat.
Convenient to use.
Fresh and clean coat for weeks.
Cons
---
The shipping package could be a lot better.
#9 Cloud Star Buddy Wash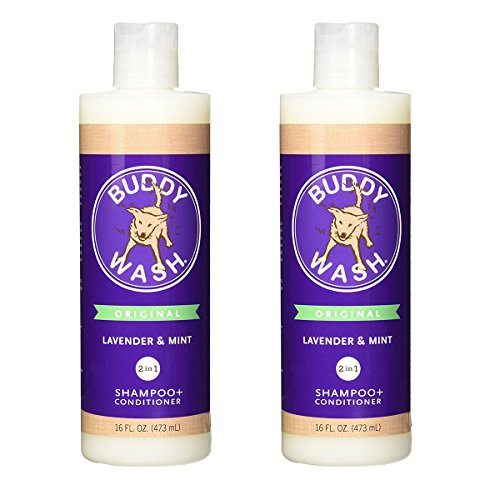 The Cloud Star Buddy Wash is made of purely natural and botanical extracts to deodorize your dog's sensitive skin and rejuvenate the nourishment that often gets lost in daily activities and frequent washes.
It consists of coconut oil, aloe vera, and vitamin E, which give your pup an irritation-free bathing experience.
This dog shampoo is light and gentle and cleans your dog's coat without using harmful chemicals. Despite the fact that this is a soap-free formula, it will give you a rich lather that is fairly easy to rinse away. You will no longer have that typical "wet dog" smell in your house anymore.
We recommend this dog shampoo because of its soap-free formulation that makes your life a lot easier. And for each purchase, you get two 16 fl oz bottles that should last you for months.
Pros
---
Rejuvenates and moisturizes your pooch's sensitive skin.
Uses a soap-free formula for a no-tears experience.
Rich lather that washes away easily.
Cons
---
Not as good for smaller dogs.
#10 FURminator deShedding Ultra Premium Shampoo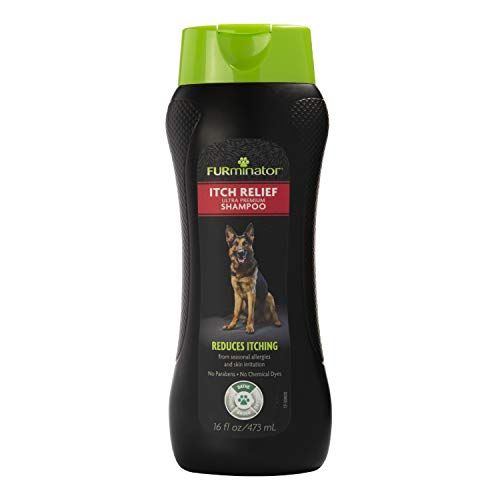 Looking for an ultra-premium de-shedding shampoo?
The FURminator deShedding Ultra Premium Shampoo is perfect for you.
When you need a professional grooming experience at home, then we would suggest you blindly opt for this shampoo. The role it plays in dog hair care and hygiene is unbelievable.
It helps your dog have healthy skin and coat while also ensuring that it is free of harmful chemicals and parabens.
We highly recommend this shampoo because it consists of omega-3 and omega-6 fatty acids, extracts of calendula, and papaya leaf for the ultimate skincare possible. If you want a shampoo for lesser shedding, then this is it!
Pros
---
Salon-style grooming.
Contains natural ingredient extracts.
Reduces shedding.
Cons
---
Some dogs could be allergic to a few ingredients in the shampoo.
#11 Honest Paws 5-In-1 Oatmeal Shampoo And Conditioner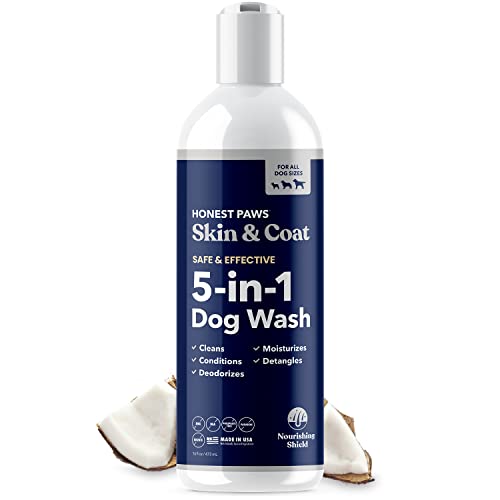 The Honest Paws Shampoo and Conditioner is a convenient product that lets you clean, deodorize, condition, detangle matting, and moisturize your dog's skin all in one package. There is no need to use separate products to maintain the coat of your dog.
Its ingredients are mostly all-natural that do not irritate the skin, with aloe and oatmeal as its main component. Both aloe and oatmeal are known to lessen skin sores, and it eases the inflammation of most allergies that causes itching. It hydrates and replenishes the skin of its natural moisture preventing dry and flaky dandruff.
This product also leaves the fresh and sweet scent of coconut on your pooch's hair. Coconut also has the added benefit of having antifungal and antibacterial properties that keep your dog's coat clean and free of odors.
We highly recommend the formula from Honest Paws because it is safe for use in puppies as young as 12 weeks. No dyes, alcohol, or preservatives are used, which is common among many dog products.
Pros
---
Great for all dog breeds.
Uses all-plant-based ingredients without any harmful chemicals.
Lathers gently and rinses easily.
Cons
---
It is not 100% tear-free.
Pricier compared to similar products.
#12 Mighty Mutt Waterless Foam Shampoo
The Mighty Mutt Waterless Foam Shampoo is a no-mess way to clean your dog quickly without the hassle of wetting their coats. We all know how stressful it is, not just to us but to our dogs as well, to give them their regular baths. This is the solution you might be looking for to reduce that stress.
It is a wet foam that you just spread across their body that instantly removes any dirt, grime, and smell. This is great for quick touch-ups if you are pressed for time. Drying is pretty quick and leaves their coat clean and soft without irritating the skin.
If you are wary of letting your dog jump onto your bed because of their smell, a few rubs of this product will make your dog ready for cuddling in no time.
The dry shampoo is suitable for sensitive skins due to a ph-balanced formula, and the product claims to use only four all-natural ingredients, but it is not indicated on the label. It is also biodegradable and does not contain any harmful chemicals like dyes, sulfates, parabens, and phthalates.
Pros
---
Quick and easy to use.
Hypoallergenic.
All-natural ingredients.
Cons
---
The scent might be too strong for some dogs.
Has not received approval from the FDA.
#13 Naturel Promise Fresh & Soothing Shampoo
SALE ALERT!!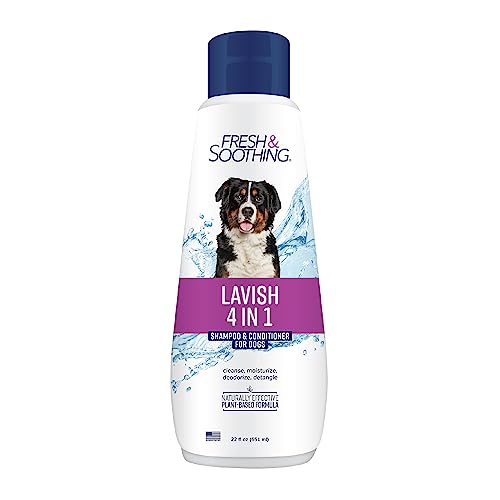 This Lavish 4-in-1 shampoo and conditioner from Naturel Promise dos all the things your dog's coat needs. It cleans, moisturizes, deodorizes, and lessens the tangles for smoother brushing. Bathing your dog couldn't be faster and less stressful for you. It uses plant-based ingredients so you can be assured that your pooch is safe from harmful chemicals.
It also has the soothing smell of papaya and kiwi, leaving a fresh-smelling scent without overpowering your nose. Its gentle formulation is easy on the eyes and great for sensitive skin. And, because of the product's gentle formula, you can use it as often as you want without drying your dog's skin.
We recommend this dog shampoo because, aside from its many benefits, it does not affect the efficacy of the spot-on liquid flea treatments that shield your dog against fleas and ticks.
Pros
---
Soap and paraben-free.
Do not interfere with spot-on flea treatments.
Gentle on the eyes.
Great for all dog breeds and even cats.
Cons
---
The scent may not stay for long on the coat.
Thinner consistency of shampoo compared to other products.
---
Dog Shampoos & Conditioners Buyer's Guide
---
The best way to keep your pup looking great is with a good shampoo. But, what are you supposed to look for? One of the most important things to consider when buying dog shampoos is that it is fragrance-free and pH-balanced. This will be gentle on their skin, which is very sensitive.
There are many other factors as well, such as whether or not it's tearless or hypoallergenic (which can be especially helpful if your dog has allergies). Look for ingredients like aloe vera and oatmeal, which can help moisturize dry skin and relieve itchiness.
And finally, make sure it rinses out easily! You want something that washes away cleanly, so there isn't any residue left behind.
Related: Best Dog Grooming Tools
What Are The Most Dog Common Skin Conditions?
Before you head out to buy a dog shampoo, there are a few conditions that you need to keep in mind. Not every bath is meant to clean the dog's coat, which is why it is important to know which dog shampoo is meant for what.
General Cleaning
If all that you need to do is remove dirt and odor from your dog's skin, then choose a gentle dog shampoo. It will contain moisturizers that will avoid your pup's skin from drying out.
Body Odor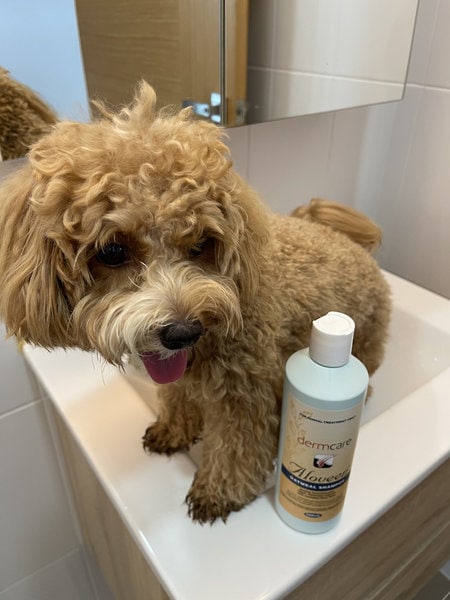 If your canine's coat has been smelly even after general cleaning, he might have a skin infection or any other problem that needs a vet visit. For such circumstances, dog shampoos that contain essential fatty acids, aloe vera extracts, and oatmeal are generally recommended.
Environmental Allergies
If your furry companion is allergic to pollen, dust mites, spores, and other potential triggers, then they need to be bathed regularly with products that are hypoallergenic in nature.
Skin Diseases
Bacterial and fungal skin infections are common in dogs. If you notice extra flakiness or greasiness, then you might want to take your dog to a vet as soon as possible. A dog shampoo that targets a broader spectrum of activity is better for such circumstances. Only a certified vet will be able to diagnose and treat skin infections most effectively.
Related: Best Dog Hair Dryer
Understanding A Dog Shampoo & Conditioner
We have to emphasize:
Dog shampoo is not simply meant to clean your dog's coat and skin but also to eliminate odor, keep infections at bay as well as keep the skin and coat properly moisturized.
The pH levels are important too.
When you are out looking for the right dog shampoo, you should be aware of the pH level of your dog's skin. A dog's skin is more alkaline than human skin, and you should be aware of what exactly your dog needs.
pH levels generally differ with the breed, gender, and geographical location of your dog. You should ideally buy a shampoo that keeps the skin's pH levels in balance to have fewer skin infections and irritations.
Yet another aspect of a dog shampoo should be its long-lasting effects on your dog's skin. Dogs do not get regular baths, and they are not even fond of them. This is exactly why you need to get a dog shampoo that keeps your dog's skin fresh for a longer time. Investing in a good quality dog shampoo makes sure that your furry companion looks and feels good and your bottle lasts longer.
If your pooch has allergies, it is better to invest in a hypoallergenic dog shampoo. This kind of dog shampoo is mild on their skin and will not cause further allergic reactions.
Tip 1: Best Ingredients To Have For Dog Shampoos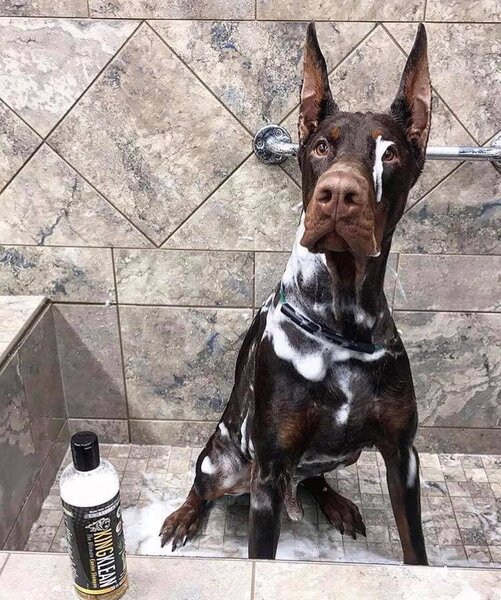 The primary motive of a dog shampoo should be to cleanse, condition, and moisturize your dog's skin so that it looks shiny and healthy. The main ingredients that you should look for are:
Aloe vera
Vitamin E
Antiseptic ingredients
Tip 2: 6 Things You Should Be Aware Of
While picking that bottle of dog shampoo, unconvincingly, step back and go over these pointers to ensure that you buy the right product.
Too many bright colors mean artificial additives that might not be as good for your dog's skin, although these products could look quite appealing.
Overwhelming scents and smells are not indicators of chemical-free or non-toxic products. Most hypoallergenic and natural dog shampoos will have a mild smell and nothing too intense.
A dog shampoo that is too thick has thickening agents added to it. Steer clear from these products because they could cause allergies and irritation to your dog's skin and coat.
A few dog shampoos on the market have a milky sheen to them. This indicates the addition of sulfates.
You would know that sulfates have been added when there are bubbles in the bottle.
A dog shampoo that claims to have a lot of lather also contains sulfates and ethanolamines. You will get lather while using a safer and natural dog shampoo, but it will lather in a different way.
Awareness Is Crucial
While reviewing these products and finding out what a dog shampoo should really be like, we came across data suggesting that cancer is the primary cause of death in dogs. Most of these are caused by environmental factors, and the toxic chemicals present in dog shampoos or conditioners are as responsible as other factors.
Finding organic dog shampoos is easier than ever before. The ones that contain essential oils can help soothe irritated skin without adding to further trouble. These can make a big difference to your dog's appearance. They might be more expensive than those containing toxic chemicals but are worth every penny.
Related: Best Dog Dry Shampoo
---
Final Words – Keep Your Dog's Coat Clean, Odorless, And Shiny!
---
Don't we just love it when our dogs are kept clean and nice-smelling?
As dog owners, we have a responsibility to ensure that our pooches are always well taken care of.
That's why in this article, we have ensured that you only find products that have natural ingredients that are safe and gentle on your dog's skin.
We understand how difficult it is to care for your dog's health while managing everything else at your end.
This is exactly why we have attempted to make your work slightly easier. All the products are natural, effective, and gentle. While you choose any one of them, simply remember what your dog's breed allows and if it is sensitive or allergic to anything in particular.
For beautiful skin and a coat that shines with health and hygiene, choosing the best dog shampoo and conditioner just got way easier for you!