The best dry shampoo for dogs is Paw Choice Dry Dog Shampoo.
You know the importance of taking a bath from time to time, don't you? It helps you get rid of all the dirt and muck that your skin might be carrying, keeps germs at bay, and also prevents that foul smell that comes as a result of the accumulation of layers of sweat. Just as you need to keep your body tidy, your dogs need this too.
As rampant as they may be, if you've ever tried using any type of liquid or bar soaps to bathe your dog, then you would also know the challenges that come with it. Asides from the fact it's really hard to get the soap to seep past the thick coating of your pooch and unto their skin, there's also the challenge of using so much water to wash it off afterward. Not to mention the feeling of uneasiness that comes with seeing so much dog hair on a bar of soap.
Dry shampoos are the future of dog grooming. These types of shampoos are advantageous in the sense that they save you time and prevent the waste of water. And the results they provide are just as good as, if not better, than when you use a regular type of soap/shampoo. And we'll be taking a look at the best dry shampoos for dogs the market has to offer you.
#1 Paw Choice Naturals Waterless Dog Mousse Shampoo
SALE ALERT!!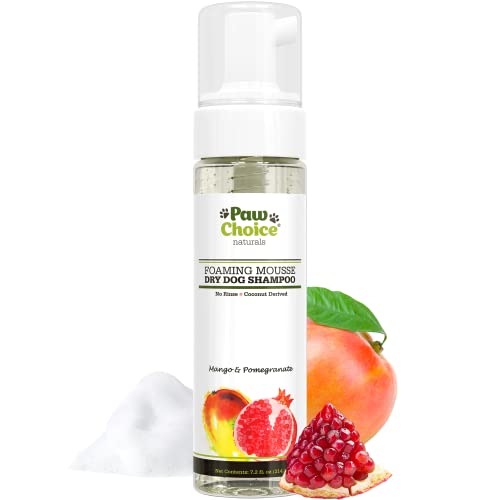 This product is a naturally formulated shampoo made from coconut oil. It's great for use for your dog even if it has sensitive skin because it has a gentle action that works wonders, even on your dog's fur. This product is made in the USA and was recently named ahead of other products listed as the Top Pet Odor Eliminators in the Canine Journal. This product comes in one of two scents – Lavender Chamomile and Mango Pomegranate.
Using this product is very easy. All you have to do is spray a bit of the mousse-like substance on the portion of your dog you want to clean, rub it in with a massage, and then you can either air-dry or towel-dry. It will interest you to know that this shampoo doesn't just mask bad odors as colognes do. It gets to the root of these odors and fights them from there.
This product gets rid of the bad odor and cleans out your dog's coat without damaging the essential oils needed for its nourishment. It's an easy-to-use product and saves a lot of time, energy, and even water. Using this product doesn't leave your dog's coat sticky or greasy.
Pros
---
This is a no-rinse shampoo that comes in a mango and pomegranate formula, but you can also get the Lavender and Chamomile variants in an 8-oz bottle.
It is easy to use because you do not need to rinse it out after use, as all you have to do is apply it onto your doggie's coat, massage it in and let it dry naturally.
It is perfect for pups with sensitive skin because it does not contain parabens, SLS, alcohol, dyes, or chemicals that could cause irritation.
It is a foam, waterless shampoo that works as a perfect odor-neutralizer that keeps your furry friend feeling fresh.
It is the perfect shampoo for pups recovering from surgery, when traveling, or in between full baths to keep your doggie's skin and coat hydrated and smooth.
Cons
---
Some doggie owners feel that the fragrance is too strong for both humans and dogs.
It sometimes causes your pup's coat and skin to feel sticky after use.
#2 Burt's Bees All Natural Waterless Shampoo Spray For Dogs
SALE ALERT!!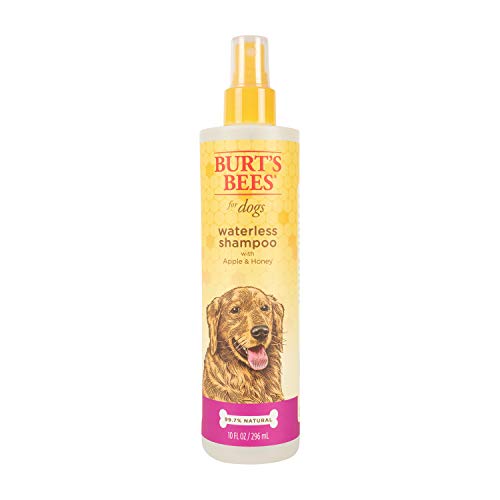 This brand of shampoo also requires no rinsing when used. It is free of sulfates and any form of colorant and is made with naturally occurring ingredients, apples, and honey. It's formulated with a balanced pH which means it works perfectly for dogs that have sensitive skin.
It removes odors, moisturizes the skin, gives your dog's coat a distinct shine, and strengthens its hair follicles without the risk of drying out the structure of its hair. It comes in a bottle with a spray mechanism which makes it very simple to use.
Just spray the liquid content on the area of your dog from behind its ears to prevent trace amounts from getting into its eyes. Then, massage it into its coat and then towel dry. The best part of this product is that you can get it for far less than $10.
The main ingredients in this brand have specific functions that are extremely beneficial to your dog – they regulate and retain moisture in its hair and strengthen hair follicles for healthy growth. This product is great for spot cleaning and muddy paws. It's a product that provides quality results without putting a strain on your pockets.
Pros
---
This waterless shampoo comes in a 10-oz bottle, and you can purchase it as a single bottle or in packs of 2, 3, or 6.
It is made of 99 percent natural ingredients, including apple and honey, all of which keep the skin nourished and coat shiny.
It is an odor neutralizer which means your pup can smell fresh for a long time or until their next full bath.
It can be used on pups and adult dogs thanks to its perfect balance of pH, so it does not cause skin irritation.
It is cruelty-free and does not contain harsh chemicals, sulfates, or colorants, and this makes it ideal for doggies with skin allergies.
Cons
---
While it is an odor neutralizer, it does not contain fragrance which some owners prefer.
Some pup owners feel their pups smell like a 'wet dog' after use.
#3 Wahl Deodorizing And Refreshing Pet Deodorant For Dogs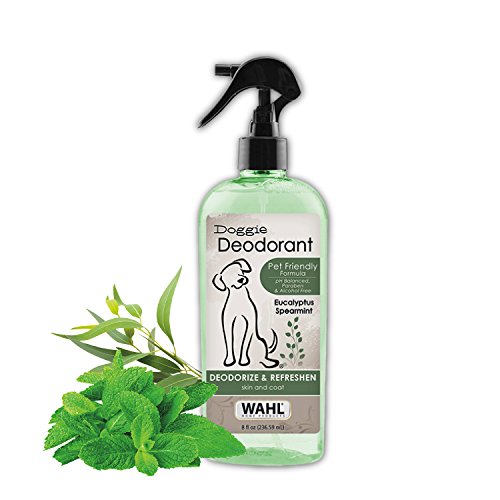 You must have heard about the company Wahl before, right? It's a company that has been in service for over 50 years and has ample experience with grooming practices. They manufactured this product specifically for pet owners who want to keep their dogs clean and smelling fresh in between lengthy routine baths.
Although not an adequate substitute for bathing your dog, this product will clean your dog's coat, eliminate odors and moisturize its skin. It's made from plant-based ingredients and has no alcohol or paraben. It has a balanced pH for dogs with sensitive skin. It's also an easy product to use as it comes in a spray-enabled plastic container.
This product is free of substances like paraben and alcohol, which are harmful to your dog. Instead, it's made with natural plant-based ingredients that are beneficial to the health of your furry friend.
Pros
---
This shampoo comes in an 8-oz bottle and has an easy-to-use spray nozzle.
It is both a deodorizer and freshener thanks to its eucalyptus and spearmint fragrance, so this keeps your pup feeling refreshed and odor-free after use.
Its formula helps to keep the coat strengthened and shiny while hydrating and soothing your doggie's skin.
It is perfect for all fur types and easy to use as you only have to spray it on your pup's coat, rub it, and do it in between baths or during travel.
It is ideal for doggies with sensitive skin as it has a perfect pH balance and is free of parabens or alcohol.
Cons
---
Some dogs do not like the strong fragrance.
Doggies with sensitive skin have experienced a rash after use.
#4 The Spruce Hypoallergenic Waterless Pet Wash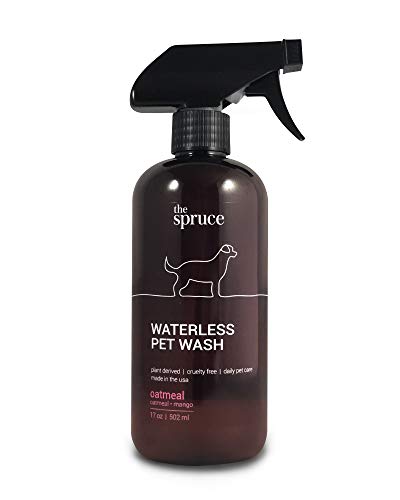 The Spruce hypoallergenic waterless pet wash is a daily pet care product that will keep your pet feeling fresh and clean. It is made of carefully selected natural ingredients, and it comes in three flavors, namely, Fresh, Oatmeal, and Lavender. Each flavor is also infused with fruits for that unique fresh and aromatherapeutic fragrance.
This pet wash from The Spruce helps to keep your pet's coat well moisturized and conditioned. It has an enzyme-activated, pH-adjusted formula that helps to get rid of dirt, feces, and urine. It is also free of dyes, parabens, synthetic fragrances, chlorine, or phosphates.
The best part? You don't need to rinse your pet when using this wash. It is a cruelty-free, plant-derived product made in the United States.
We love this waterless wash from The Spruce, which you can use to keep your pet clean daily. It is made of natural ingredients and is pH-balanced for your pet's safety. It is also perfect for keeping your pet's fur soft and the skin clean.
Pros
---
This waterless shampoo is available in Fresh, Lavender, and Oatmeal variants, and you can buy this 17-oz bottle individually or in a pack of 2 or 3.
You do not need to rinse off this enzyme-activated formula shampoo that helps to clean off dirt on your pup.
Helps to prevent itching or skin dryness thanks to its natural plant-based ingredients.
It helps to neutralize bad odors with a Neroli, Orchid, and Apple fragrance infusion.
It is pH-balanced and free of dyes, alcohol, phthalates, sulfate, or other harmful ingredients, such that you can use it on both young and mature pups.
Cons
---
Feels slightly sticky after spraying it onto your doggie's coat.
The fragrance is not appreciated by all pups.
#5 Bodhi Dog New Waterless Shampoo
This brand of dry shampoo comes in two scents; lemongrass and lavender. If you're interested in making your pet's coat soft and maintaining its shine, you should consider the Bodhi Dog Shampoo. Its gentle formula is perfect for spot cleaning and is formulated to work excellently well with dogs that have skin sensitivity issues.
This brand of shampoo is made from an all-natural, plant-based formula that's gentle on all skin types. It's a non-toxic detergent that has no alcohol present in it. To apply, just spray the area to be cleaned and let the liquid sit for a minute before rubbing with a towel. To restore the luster and shine, you can brush your dog's coat after application.
If your aim is to keep your pet's coat shiny, soft, and smelling fresh and clean in between baths, you would want to hop on this product. It's very easy to use and super effective too.
Pros
---
This waterless doggie shampoo is available in lavender, lemongrass and oatmeal, and apple formulas; it also comes in 8-oz, 17-oz, or one-gal options.
It is made with natural lavender and coconut extracts which helps to get rid of unpleasant odors on your pups while also keeping their skin nourished and coat shiny.
It can be used on doggies with sensitive skin as it is free of stripping Ethyl alcohol, parabens, SLS, or other harsh chemicals.
It is easy to use as you only have to spray it on, rub it in and wipe the excess off with a towel, and this also makes it a coat detangler.
Comes in eco-friendly packaging and a 100% money-back guarantee if unsatisfied with the shampoo.
Cons
---
Some doggies refuse to have this shampoo sprayed on them because of its strong fragrance.
There are pups with sensitive skin that experience irritation after using the shampoo.
#6 Wags & Wiggles Anti-Itch Relieve Waterless Dog Grooming Spray Shampoo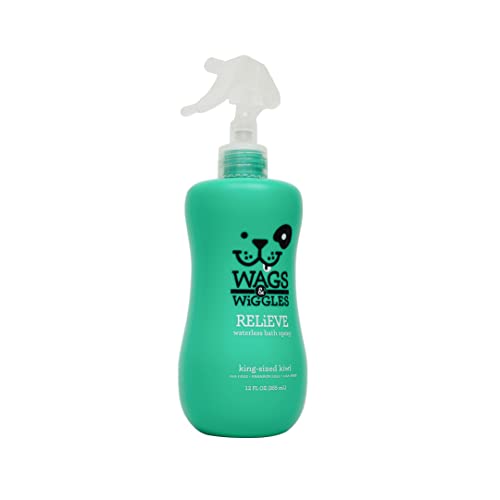 Wags & Wiggles are a well-known group responsible for manufacturing a series of grooming tools and substances for pets. This product is one of them. This dry shampoo comes in an easy-to-use container which makes its application easy and unmessy. If you're looking for a way to make grooming a lot more fun and effective for your pet, you need this product.
When you apply this shampoo to your dog's coat, it works by alleviating dry, irritated skin that may result due to allergies and sensitive skin. It cleans out the coat while at the same time moisturizing the skin and providing essential oils and nutrients to it. After use, it leaves your dog looking and smelling fresh for a long time.
When used, its effects are long-lasting. This means your dog has the opportunity to maintain a lustrous-looking coat and keep a fresh scent between periodic baths on a regular basis.
Pros
---
This uniquely shaped shampoo bottle holds a capacity of 12 fl oz, and it is mainly an anti-itch waterless shampoo.
Its formula includes peppermint, aloe, and tea tree oils which help to soothe your pup's skin while keeping their coat shiny.
The above ingredients and the primary kiwi scent help to keep your doggie smelling fresh in between baths.
To apply it on your furry friend, spray it directly on the coat and let it dry naturally such that you do not have to worry about wiping or rinsing off this shampoo.
This pH-balanced shampoo is also free of SLS, parabens, and DEA, which makes it safe for most doggie breeds.
Cons
---
The strong fragrance does not last as long as many pup owners hoped.
Some doggies scratch and are uncomfortable after using this shampoo.
#7 BioSilk For Dogs Moisturizing Dog Shampoo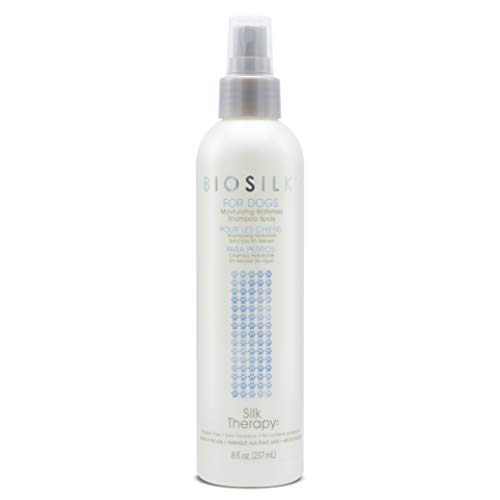 Are you the kind of dog owner who loves it when other dogs and dog owners look at your dog in envy? Then this is the right product for you. With this product, you can have your furry friend looking like it just finished its appointment at the pet spa. Using this product makes your pooch grab the attention of everyone and everything in its path.
With no water needed, this shampoo cleans your dog's skin, moisturizes its coat, and gives your pup a luxurious look. So you have little to worry about when trying to maintain the look and hygiene of your dog between baths.
This product is Paraben and sulfate-free. It has a balanced pH formula that will have your dog looking and smelling great for a long time. It's even encouraged to be used in the treatment of tropical fleas and ticks.
Pros
---
This shampoo comes in an 8-oz bottle and is perfect for keeping your doggie smelling fresh and moisturized.
Contains silk proteins and enriching vitamins, and these help to rehydrate dry pup skin.
It contains other natural ingredients, which include mild cleansing agents, Moisturizing soy protein, oatmeal, aloe vera, and vitamin E to give your doggie soft skin and a shiny coat.
Its mild formula does not get rid of flea or tick treatment that your pup might have on their coat.
It is a pH-balanced shampoo that contains no parabens or sulfate, and this means you can use it on dogs older than eight weeks.
Cons
---
The fragrance lasts for many days, and this can be uncomfortable for some doggies.
Some pups experienced matting fur and sticky skin after use.
---
Best Dry Shampoo Buyer's Guide
---
Keeping your dog groomed is a very important thing if you want it to stay healthy and live a long and prosperous life. Grooming helps in maintaining proper hygiene and also gives your pet an attractive look. One thing that can never be overlooked in the process of maintaining and even improving the hygiene of your dog is good shampoo.
Gone are the days when you had to give your dog a bath every other week. With the inception of the use of dry shampoos, you can help with cleaning out your dog's body and also help maintain a fresh and lustrous look between routine baths. Let's take a look at some important factors you will need to consider when trying to select an appropriate dry shampoo for your dog.
Activity Levels
Some dogs are more active than others. You need to be aware of how much activity your dog engages in regularly in order to help determine the type of shampoo to get. This is because the more active your dog is, the more prone it is to getting dirty and sweaty. This, in turn, will encourage you to get a brand of shampoo that would be effective in getting as much stain and sweat as possible off your pooch.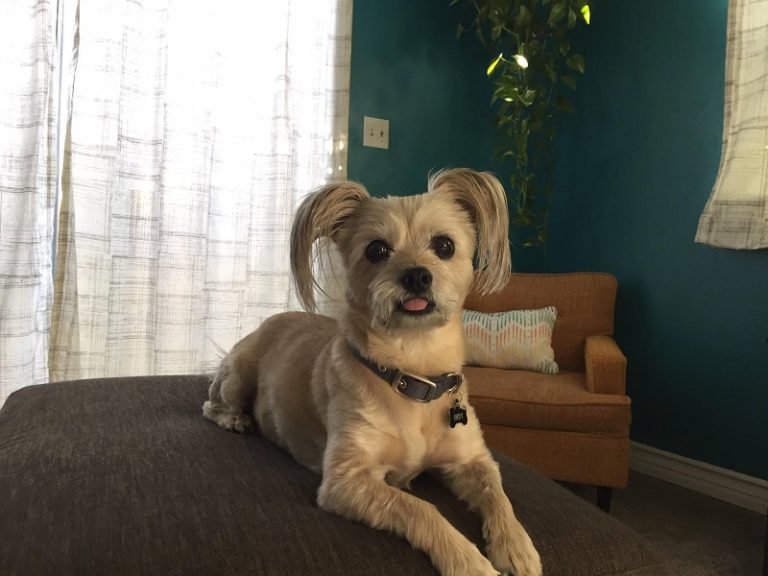 Health History Of Your Dog
Some dogs are naturally prone to be "healthier" than others. For example, some breeds are known for shedding their fur at an easier and faster rate than other breeds do. Taking that fact into consideration, it would be best for you to know what your dog's health history is. I say this because there's a probability that your dog might be allergic to a certain ingredient that might be contained in the shampoo you want to get. Being informed about these types of things will go a long way in influencing your choice of shampoo to purchase.
Process Of Application
This is really important as nobody wants to be stressed. Picking a product that comes in a convenient container and dispenses easily is something you won't want to overlook in your process of picking the right shampoo. You will notice that the easier it is for you to use a product, the better your life becomes. Generally, there are two types of shampoos when it comes to the method of application, namely the foam and spray types.
---
Final Thoughts
---
While I would advise you not to completely replace regularly bathing your dog with the process of dry shampooing, it's still a great way to maintain the health of your pooch in cases where you can't afford to bathe them as often as you'll want to. If you want the best option when choosing a perfect dry shampoo for your dog, look no further than our top pick. You won't regret it!