The best indestructible dog toy for Pit Bulls Goughnuts Indestructible Dog Chew Toy MAXX.
Pit Bulls are loyal companions but demanding to keep. They have a lot of energy which is useful for keeping themselves entertained but can be destructive for your furniture and your shoes. You've probably purchased numerous toys for your Pitbull, but they've shredded them all to pieces by now.
What you need is an indestructible dog chew toy that's designed to withstand the rigors of a Pit Bull's powerful jaw.
Here's the list of the best indestructible dog toys for Pit Bulls that are made from durable and long-lasting materials. 
#1 Goughnuts Indestructible Dog Chew Toy MAXX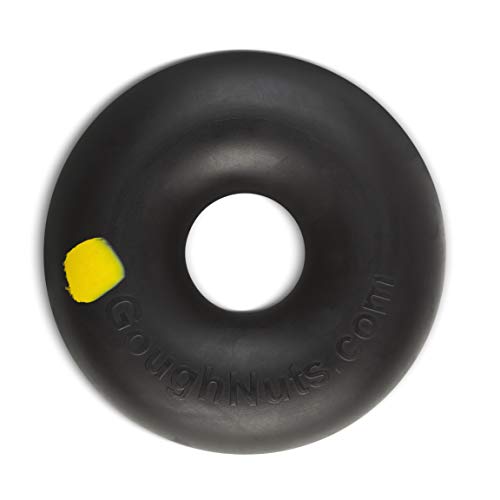 Your dog will go nuts for this indestructible dog chew toy from GoughNuts (see what we did there?) This brand is a firm favorite among Pit Bull owners and for a good reason. You won't find a better toymaker for Pit Bulls and this one is no different.
This toy is made from a sturdy rubber material, which is reinforced with carefully engineered carbon. It will give your pet hours of entertainment thanks to its unique rounded shape, which makes for a great game of tug-of-war. Plus, there's a red safety indicator to let you know when it's time to take the toy away from your dog.
This dog chew toy was made for aggressive chewers with strong jaws and teeth. It's made from a practically indestructible rubber material that has been reinforced with carbon, and your Pit Bull will love its fun shape.
Pros
---
This indestructible canine chew toy from Goughnuts comes in four different size options – small, medium, large and extra-large – to ensure that Pit Bulls in the various size categories can chew without swallowing these toys and choking themselves.
The reinforced rubber material used to manufacture the MAXX chew toy is sturdy and, in most cases, can withstand aggressive chewing from pooches for a considerable period.
The smooth rubber design of the MAXX chew toy offers no weak spots for pooches to bite off and chew bits of the rubber material, thereby preventing potentially dangerous intestinal blockages that may result from the ingestion of these rubber bits.
The absence of a squeaker in this canine chew toy ensures that Pit Bulls can continue to play with their toys without generating weird and disturbing noises.
The Goughnuts chew toy comes with a red safety core that serves as an indicator that the product is close to being damaged, thereby letting customers know when it is time to purchase a replacement.
Cons
---
Some customers have reported that this canine chew toy came with a strong rubber smell that didn't go away for a long time.
The MAXX chew toy is considerably heavy and can be potentially harmful when dropped on a customer or pooch's feet.
#2 HDP Kong Extreme Dog Pet Toy Chew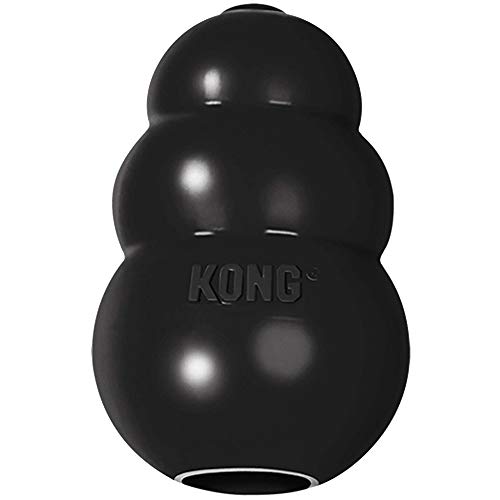 Dog lovers know the Kong brand very well because it's one of the most reliable dog toy manufacturers around. They're known for creating chew toys that can withstand the elements and the test of time. This dental chew toy lives up to that reputation. Not only is it practically indestructible, but it's safe and healthy for your pup to chew on.
That's because it's made from a kind of natural rubber that is completely non-toxic yet remarkably hard-wearing. The best part about Kong toys is the fact that you can stuff them with toys to make playtime even more exciting for your Pitbull. Another reason why dog owners love Kong toys is that they're easy to clean up after, and they've been known to reduce separation anxiety because they represent a reliable constant that will comfort your dog whenever you're away.
If you're looking for a powerful dog chew toy that will stand up to constant pounding and tearing from your Pit Bull, this is a great option. We love the fact that Kong was able to balance quality and price pretty well with this dog chew toy. Plus, you can stuff it with your pup's favorite treats like peanut butter, kibble, and even frozen yogurt to add more excitement to playtime.
Pros
---
HDP's dog toy chew can be utilized for puzzle-solving play, thereby helping to reduce canine boredom and prevent a Pit Bull from developing separation anxiety whenever their human has to go out.
The stuffable design of the HDP chew toy makes it possible for customers to fill the product with various treats and snacks to provide their Pit Bulls with additional mental and physical stimulation while providing worthwhile rewards.
This canine chew toy product from HDP Kong is available in five size options – Small, Medium, Large, X-Large, and XX-Large – to guarantee compatibility and safe chewing for Pit Bulls that fall into the various size categories.
The dishwasher-safe manufacturing of the HDP Kong chew toy for Pit Bulls ensures that customers can conveniently carry out cleaning and maintenance operations when there is a need to do so.
This canine chew toy for Pit Bulls is designed to bounce unpredictably, thereby making it possible for pooches to play fetch with themselves and stay busy when their human is away.
Cons
---
This HDP Kong product occasionally comes with a strong rubber smell that may discourage some Pit Bulls and dogs, in general, from playing with the chew toy.
Multiple customers have commented that the HDP chew toys they received were not sized as advertised, with the products being considerably smaller than what is depicted.
#3 Benebone Real Flavor Wishbone Dog Chew Toy
SALE ALERT!!
Not only is this indestructible dog chew toy from Benebone shaped like a wishbone, it also has the flavor of bacon. That's not to say that it's meant to be eaten but your dog will spend hours enjoying its delicious flavor while trying to chew at it.
It's made from durable nylon and it's available in flavors other than bacon, including chicken and peanut butter. Your Pitbull will have the time of his life chewing through this indestructible dog toy, whose wishbone shape makes it comfortable and even pleasurable for dogs to chew. It's worth noting that this dog chew toy is larger in size than the other toys on this list and it comes at a very attractive price point.
We love the fact that this toy comes in different flavors because it adds an element of unexpected fun for your dog, and it's made from real food ingredients with no artificial flavors or chemicals.
Pros
---
Benebone's Wishbone comes in several deep flavor options – bacon, chicken, and peanut – to increase the product's appeal and ensure a Pit Bull's interest in playing with the chew toy.
The dog-friendly ergonomic design – which is provided by a paw-friendly shape – of the Wishbone ensures that Pit Bulls can get a good grip on the chew time every time they play with it.
This canine chew toy for Pit Bulls comes in a bone-shaped design that is sure to intrigue a Pit Bull and provide sufficient mental stimulation for the pooch in question.
This canine chew toy from Benebone is produced in the United States, with all the materials and ingredients used for manufacturing and packaging also obtained from reputable local sources.
Purchase of this dog chew toy is a way of indirectly contributing to animal welfare, as a percentage of the organization's profits are donated to animal support organizations across the United States.
Cons
---
There are several reports of the hard texture of this Benebone chew toy product breaking a pooch's tooth.
The Benebone Wishbone is considerably heavy and makes clunking noises that can be unbearable to deal with every time it falls on hard floor surfaces in the home.
#4 Monster K9 Dog Toys Indestructible Dog Ball
Monster K9 Dog Toys - Ultra Durable Solid Ball - Lifetime Replacement Guarantee
VIRTUALLY INDESTRUCTIBLE: Our proprietary natural rubber compound is engineered to be as strong and indestructible as...
AGGRESSIVE CHEWER APPROVED: Our industrial-strength natural rubber toys are tested & approved by thousands of large dogs...
100% SAFE & NON-TOXIC: All of our dog toys are made from a custom natural rubber compound that is 100% safe & non-toxic,...
Pit bulls like their toys tough and easy to play with. The Monster K9 dog toy satisfies that desire with this durable dog ball that comes with a lifetime guarantee which shows that it's really made to last. You'll be glad to know that it's made from natural rubber that's not harmful to your pup and it's perfect for playing catch.
The interesting thing about this toy is that it's shaped like a ball so it's not a traditional, squishy chew toy, but your dog will love playing with it nonetheless.
The only downside is that this ball doesn't float so you can't play in the water with it.
This is one of the most resilient toys on this list and it comes with a lifetime money-back guarantee to back it up. It's definitely made for aggressive chewers who also enjoy a game of fetch every now and then.
Pros
---
The Monster K9 dog ball is manufactured from a natural rubber compound that is safe and non-toxic for pooches to chew on and play with.
The ball-shaped design of this Monster K9 chew toy makes it easy for customers to throw and play games of fetch with their canine buddies.
The use of industrial-strength rubber compound material to manufacture this Monster K9 product ensures that this product is one that can, for a considerable period, withstand heavy chewing from Pit Bulls that are aggressive chewers.
This canine chew toy product comes with a one-time lifetime replacement guarantee that customers can utilize to get refunds or replacements, provided the chew toy doesn't last as long as expected.
The texture of this Monster K9 chew toy makes it easy to clean, with customers able to conveniently wipe off the dirt from the ball with a damp cloth whenever there is a need to do so.
Cons
---
The small, tennis-sized design of this canine chew toy poses a swallow and choking hazard for pooches that are extremely large.
This canine chew toy is considerably heavy as its non-hollow design makes it sink when placed in water, thereby making it unsuitable for water play.
#5 Devil Dog Pet Co Antler Dog Chew – Premium Elk Antlers
The elk antler natural chew toy from Devil Dog Pet Co is a pricey but rewarding option. This long-lasting chew toy is made from all-natural, odorless, and non-synthetic antlers. It'll keep your dog stimulated and engaged for hours, knowing that just below the surface of the hard exterior is some delicious bone marrow.
This is not an indestructible toy because your dog will eventually get to its center to enjoy the treat hidden within, but it can last for months and even a year if your dog takes his time chewing it up. Most dog owners opt for the largest size because it takes longer for Pit Bulls to chew through it.
Just make sure to keep an eye on your dog while they're chewing this toy because there's always a chance that a small shard could break off from the antler and cause a choking hazard.
The Elk Antler chew toy is available in a variety of different sizes, and dogs enjoy it because of its taste, smell, and shape.
Pros
---
These Devil Dog chew toys come in various size options, ranging from small to monster – for the strongest chewers – to ensure that individual pooches can safely chew on the toys for their size categories without a choking risk.
The Grade-A Elk used to manufacture the Devil Dog chews are wild-sourced from the Rocky Mountain region of the United States, and they are processed into chews for pooches with cruelty-free methods.
The rough texture of this canine chew toy product helps to scrape plaques and prevent tartar buildup, thereby helping to support a Pit Bull's dental hygiene and providing a marked improvement in the pooch's tooth strength.
These premium elk antlers for Pit Bulls and dogs, in general, from Devil Dog Pet Co are produced without chemicals, artificial flavors, and preservatives, thereby making them safe for consumption by pooches with food sensitivities.
This chew toy is odorless and doesn't leave residue on floors, carpets, and furniture, thereby making it safe for use within the house.
Cons
---
The inconsistencies in this product's sizing have resulted in some customers receiving chew toys that were thinner, compared to previous orders, and easily destroyed by their canine buddies.
The lack of a return policy makes it impossible for customers to request a refund or replacement, provided this antler chew doesn't meet up to expectations.
#6 West Paw Zogoflex Hurley Durable Dog Bone Chew Toy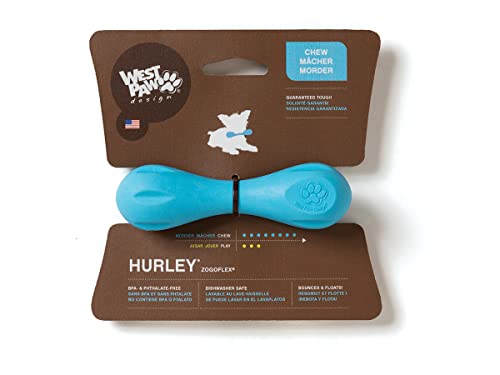 West Paw's Zogoflex Hurley chew toy comes with a slot for you to stuff treats inside that will keep your dog busy for hours on end. This dog toy is made from non-toxic, BPA and phthalate-free materials that are 100% safe for your Pit Bull to chew on for as long as it likes.
Not only does it have an unpredictable bounce, but this dog toy floats in water, and it's dishwasher safe. If you like, you can even fling it while playing, and it'll withstand constant chewing with no problem. It's available in a wide range of fun colors that include orange, aqua blue, granny smith green, and black.
This is one of those toys that's perfect for solo and interactive play alike, plus it is 100% guaranteed against damage, so no amount of chewing will destroy this dog toy. The company will even pay you back if your dog happens to chew his way through this toy.
This is a non-toxic chew toy that's guaranteed against dog damage; that's not something you see every day. It's easy to clean because it's dishwasher friendly, and you can stuff treats inside the large receptacle in the middle of the toy.
Pros
---
The bouncy nature of the Zogoflex Hurley chew toy for Pit Bulls makes this product ideal for customers looking to play a game of fetch to eliminate boredom and keep their Pit Bulls physically and mentally stimulated.
The floatable design of this West Paw canine chew toy makes it suitable for playing catch and fetch with a pooch while in water.
The West Paw Hurley chew toys come in bright colors to make their retrieval easier for customers and pooches to spot them on land, in snow, and on water.
The plastic material used to manufacture West Paw's durable canine chew toy product is BPA-free, latex-free, and in compliance with the FDA's safety and quality regulations.
Customers can conveniently clean and sanitize the Zogoflex chew toy by washing it with a dishwasher to get rid of stains and dirt that are a source of potentially harmful germs.
Cons
---
Multiple customers have left comments on how easy it was for their Pit Bulls and dogs, in general, to bite off varying sizes from this canine chew toy.
Some pooches reportedly find the design of the Zogoflex chew toy to be boring and have reportedly refused to interact with the product as a result.
#7 Petstages Dogwood Durable Real Wood Dog Chew Toy
SALE ALERT!!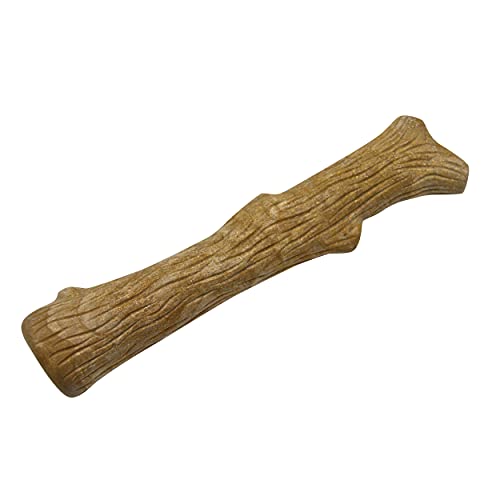 Petstages Dogwood Wood Alternative Dog Chew Toy, Medium
DURABLE STICK TOY: With all the taste and texture of real wood, this BBQ flavor doggy chew satisfies your dog's...
NO SPLINTERING: Safer than chewing real sticks and branches which can harm your dog's mouth, these tough chewable dog...
MESS FREE CHEWING: Keep chewers occupied to help reduce and redirect destructive chewing behavior. Unlike natural...
Petstages introduces a toy that's designed not just for fun and games but with your pup's dental health in mind. It's constructed from a combination of durable synthetic and wood material that's guaranteed to withstand rigorous chewing.
Of course, this means that a piece of the toy could always be stripped away, causing a choking hazard, but other than that, this toy is designed to keep even the most demanding Pit Bull happy for a long time. Be sure to keep an eye on your pup while they're playing with this toy and remove it immediately if you notice a piece of it breaking off.
Made from an innovative combination of materials, this toy is a one-of-a-kind design that's made to satisfy even the most demanding chewer. It's made to keep your Pitbull's teeth healthy while keeping them preoccupied.
Pros
---
This Petstages canine chew toy is produced with a combination of real wood and non-toxic synthetic material to ensure the toughness and durability of the product.
Petstages' dog chew toy product features a natural, real wood flavor to pique and maintain a Pit Bull's interest in playing with the toy, thereby providing an effective solution to canine boredom.
The Dogwood canine chew toy for Pit Bulls is lightweight and floats in water, which makes it possible for pooches to play with the toy even while swimming.
Constant chewing on the rough texture of the Petstages chew toy helps to eliminate teeth plaque and prevent tartar buildup, thereby improving canine dental health.
This canine chew toy is available in multiple sizes and flavor options to enable customers to make purchases based on their pooches' individual needs and preferences.
Cons
---
There have been multiple reports about this canine toy breaking down under chewing to produce wood splinters that can be dangerous to pooches when ingested.
Some customers also claim that their Petstages chew toys didn't come with the wood flavor that typically entices pooches to play with the toys.
---
Indestructible Dog Toys For Pit Bulls Buying Guide
---
We all know that Pit Bulls are highly energetic and enthusiastic players, so it's no wonder that they need special toys to play with. Preferably it should be something stronger than the average toy, with the ability to withstand aggressive chewing.
Here are some of the characteristics that best describe toys of this caliber.
Resistance
First of all, it's important to clarify that all dog toys will eventually succumb to constant chewing. But, it's a matter of extending their lifespan through thoughtful design and the use of strong, high-quality materials.
What you want is a toy that can withstand constant chewing for extended periods of time so that you're not out buying a new chew toy every month. After all, a chew toy should be intriguing to your dog so that they keep coming back to it. It needs to be challenging and engaging at the same time, and that's what most chew-resistant dog toys offer.
Size
Size is another important factor to keep in mind when looking for a Pit Bull chew toy. Ideally, you should opt for the largest available size, considering the fact that Pit Bulls have large jaws, and you don't want a small toy that your dog can potentially choke on.
Likewise, if you have a Pitbull puppy, it is better to get a smaller-sized chew toy instead. Here's a list of all the essential items that you need for your new Pitbull puppy.
Related: Best Large Dog Beds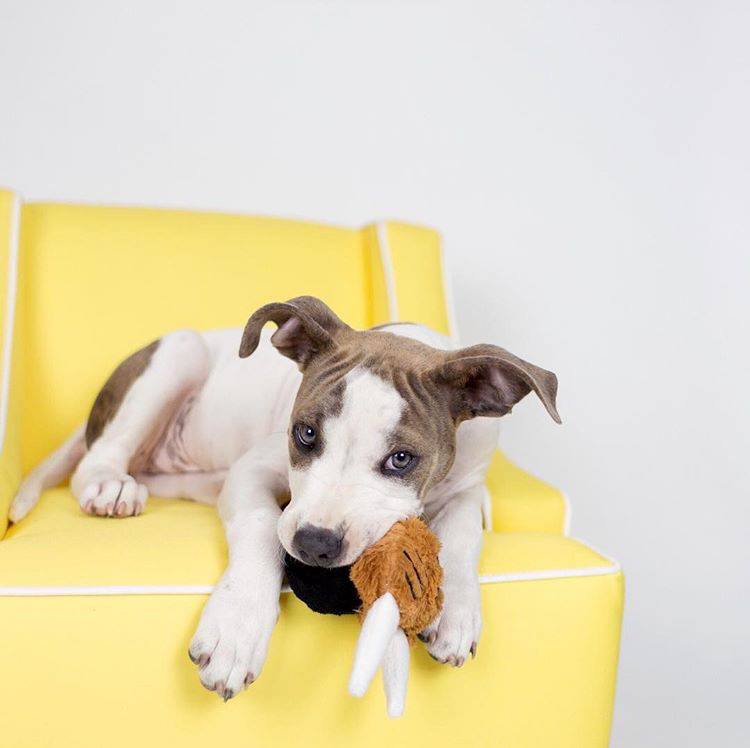 Material
Manufacturers use all sorts of materials to make chew toys, and some are better than others. The best choice for your dog should be a material that's sturdy and safe enough for your dog to chew without posing a health risk.
Look out for things like sharp edges or poor paint job and flimsy materials that disintegrate or chip off easily. The last thing you want is for your Pit Bull to get injured while playing with their chew toy. Plus, you should be able to leave your dog to play and enjoy their toy without too much supervision.
Safety Concerns
It's very important for Pitbull dog owners to pay attention to the level of safety offered by the toy they purchase for their pup. Some chew toys are unsafe because small pieces of the toy can break off and choke a dog to death, while others can even lead to intestinal blockage due to their size.
That's why you should look for a large-sized chew toy that your dog won't be able to swallow, and this takes bouncy rubber balls out of the picture. Remember that Pit Bulls are large and aggressive chewers by nature, so you can't buy them the same toys you'd get for a Chihuahua, for example.
But size alone won't protect your toy because even large toys can be dangerous if they're made from inferior materials. Keep an eye out for jagged edges or sharp corners that might cut your dog's lip. Rather opt for a toy with soft edges, which is common with balls, rings, and stick-like toys.
Edible chew toys can sometimes break off into splinters which is obviously hazardous to your pup's health. Be sure to look out for this, especially with cooked bones and antlers. Your dog's safety is paramount, and if it means you have to spend a little more to guarantee their safety, don't hesitate to do so.
For younger Pitbull puppies, it is recommended to consider getting specialized chew toys that are more suited for their development stages.
Related: Best Large Dog Crates
---
Final Thoughts
---
There's nothing more satisfying for a Pit Bull than playing with a toy that's engaging, challenging and durable. It gives them a sense of adventure to know that they're up against this virtually indestructible object that also happens to have an interesting shape.
The key to a long-lasting chew toy is a combination of high-quality craftsmanship, using the right materials, safety and durability. Extras like being able to stuff treats inside, different colors and flavors are also nice.
One toy that meets and exceeds these requirements is the Goughnuts Indestructible Chew Toy. It's made from a sturdy rubber material that's designed to keep your dog entertained while maintaining good dental health. It has a simple, safe rounded design and it has a proven track record for being a fun and durable toy that your Pit Bull pooch can grow up with.
We particularly like the red indicator button on this toy, which is meant to let you know when to take it away from your dog. This is a great safety feature that will protect your dog from harm.