The best dog knee brace is AGON Rear Leg Joint Wrap.
We're not so different from our furry friends. Just like you, they need regular exercise to maintain a healthy lifestyle as they also get easily worn out, especially when getting older. That's why we need to always take proper care of them. Because you know as much as I do that if the roles were reversed, they'd do the same for us. The best dog knee brace is all you need.
There are various reasons your dog could need a knee brace. Some dogs are overweight and find it hard for their legs to carry their body weight. Other dogs are very active and are prone to running a lot. This increased activity can put a strain on their joints and can cause significant pains. Then, there's the age factor.
Generally, as your dog gets older, simple tasks that were once easy to perform become harder to accomplish. Because of the weariness that comes with old age, even walking around the house can be a very painful experience for them. That's why specialists have recommended the use of knee braces to prevent and manage such situations. In this article, we'll be looking at the seven best dog knee braces you can find on the market today.
#1 AGON Rear Leg Joint Wrap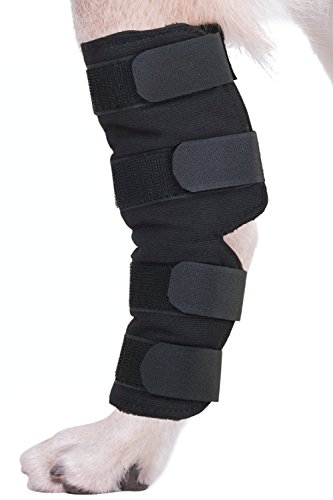 Is your furry friend growing old and suffering from arthritis? Is he experiencing a lot of pain due to an injury he just sustained or recuperating from surgery? Are her joints inflamed, and you find her limping while walking around the house? Has he been putting on a lot of weight lately and, as a result, needs some support to improve his stability? Do your furry friend play around a lot, and you're afraid she might get herself injured? If your answer to any of these questions is yes, this is for you.
This product from the Agon Company is a premium one as you can use it for any and all issues relating to hock and knee complications for your dog. This brace has been clinically tested and has been certified effective in reducing any joint pains your canine might be experiencing in its joints. It's made from neoprene sponge rubber fabric which is soft and about 5mm thick. This material is good enough to help heal your dog without restricting its movements.
This is a great brace for your dog because not only does it help your dog heal from a series of complications, but it also helps in preventing injuries in general. The design of this brace and the materials it's made from give your dog an ultimately comfortable experience altogether.
Pros
---
The AGON canine hock brace is available in five different size options, ranging from X-Small to Extra Large, to ensure compatibility with a variety of dog leg sizes.
The soft neoprene material used to manufacture this rear leg joint wrap is soft and gentle on a pooch's legs, ensuring that the healing process can take place as desired.
This dog hock brace is designed and effective for use after surgery, as well as taking care of medical conditions such as chronic arthritis and ligament injuries.
This rear leg joint wrap from AGON is effective for providing support and stability to dogs suffering from leg injuries.
Similarly, this AGON joint wrap is useful for suppressing and loosening inflammation of a dog's joints that is caused by an injury to the pooch's legs.
Cons
---
Several customers have commented that this joint wrap doesn't stay on their pooch's legs, as the Velcro straps tend to loosen, thereby causing the wrap to fall off.
Some customers also remarked that the joint wraps they received didn't fit on their dogs' legs, despite measuring the dogs' legs as instructed.
#2 WOVOMO Front Leg Wrap Compression Brace
SALE ALERT!!
Similar to the Agon product described above, this product has a range of usefulness. It is a full-proof way of ensuring your dog prevents itself from sustaining serious injuries resulting from excessive activities. It helps to increase the stability of your pooch when it seems to be gaining excess weight and also helps reduce pains from severe injuries.
Old dogs and dogs that are prone to arthritis can also benefit from the use of this product. Wrapping this brace around the forelegs of your dog can go a long way in saving its life as it helps to prevent it from lethal snake bites.
One distinct thing about this brace is the presence of metal strips in it. These strips serve as a splint which helps with increasing the stability it provides for your dog, especially if it's injured. The best part about this particular set of braces is that they come with major benefits and will cost less than all other products on this list.
Due to its special strip feature, this brand of braces supplies optimum support for your pet even if it's overweight, injured, or of an older age. It's made of materials that are durable, flexible, comfortable, and shock-proof, which perfectly aligns with every of your dog's needs.
Pros
---
The WOVOMO compression brace is made of soft and flexible neoprene material that is both comfortable to wear and gentle on a pooch's skin.
This front leg brace features two metal spring strips to provide additional support and stabilization for a pooch that is recovering from a leg injury.
Asides from its use in caring for canine leg injuries, this compression brace can also be used to proactively care for senior dogs that are at a higher risk of suffering from leg and joint injuries.
The WOVOMO front leg wrap also doubles as a protective cover, against snake bites and bush scratches, for pooches that are actively involved outdoors.
This front leg wrap features straps that can either be tightened or loosened to adjust the brace as needed.
Cons
---
There are multiple reports of this brace not staying in place and sliding down a pooch's legs, while the dog is walking.
The WOVOMO leg wrap may be difficult for some customers to apply on their dog's legs, as the product doesn't come with directions on how to fix the brace on a pooch's leg.
#3 WalkAbout Canine Knee Brace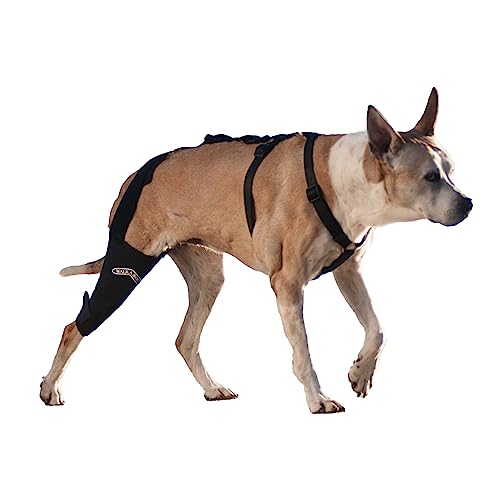 This brace has been tested and proven to work on a lot of dogs. It works especially to help your dog's hind knees by providing relief and comfort for its injuries. It functions by holding the joints securely, which helps to keep it compressed and stabilized in order to reduce any inflammation, thereby giving it a chance to heal.
This product is made with neoprene fabric and comes with a suspender that can be attached to a chest halter which you can purchase separately. It's advisable to have your dog wear this brace during activity times alone and not when it's asleep on inactive.
This is a great product for dogs with arthritis, especially the ones that are aging. If your dog is also prone to injuries, you would need this brand of braces.
Pros
---
The WalkAbout canine knee brace comes with two adjustable stirrup straps that can be attached to a chest halter and wrapped around a dog's back to ensure that the brace stays in place on a pooch's leg.
The 3mm neoprene material used to manufacture this canine brace doesn't impede blood flow and oxygen circulation around joints, muscles and tissues.
This neoprene knee brace is effective and suitable for use with pooches suffering from a variety of medical conditions, including arthritis, luxating patella, cranial cruciate ligament tears and muscle overuse.
This canine knee brace is designed to provide relief to pooches suffering from pain and inflammation caused by leg injuries.
This WalkAbout knee brace also provides the support needed for the rehabilitation and recovery process of pooches that have undergone leg surgeries.
Cons
---
There is a tendency for this canine knee brace to give too much room at the most crucial points on a pooch's legs, which results in the brace not providing leg support as intended.
The lack of Velcro straps on this WalkAbout product causes some dogs pain when trying to put their injured legs inside the knee brace.
#4 Caldera Pet Therapy Wraps
SALE ALERT!!
Caldera Pet Therapy Short Stifle Wrap with Gel, Medium
Medium Short Stifle Pet Therapy Wrap: Caldera Medium Short Stifle Pet Therapy Wrap is a patent pending Pet Therapy Wrap...
Size Medium: Caldera Medium Short Stifle Pet Therapy Wrap fits most standard medium dogs such as Australian Cattle Dog,...
Includes One Medium Short Stifle Therapy Wrap, one Medium Back Boomerang strap, one Medium Anchor strap, and one Medium...
This product is endorsed by leading veterinarians and animal surgeons. It's most useful for postoperative recoveries. That's not to say it doesn't help with the soft tissue injury recovery process and joint rehabilitation. This innovative wrap comes with gel packs that provide both hot and cold therapy experiences to targeted areas. It helps in reducing inflammation, swelling, and pains in such places.
It's most suitable for aging dogs, competition dogs, working dogs, agility dogs, or dogs with hip and joint pains. This product comes in a practical system consisting of reusable gel packs, an adjustable quick-release buckle, and sturdy nylon straps. The gel packs are microwave and freezer safe.
The wraps help improve joint rehabilitation after surgery, and this product can be a good alternative to invasive surgery for your pets, which is more expensive.
Pros
---
Caldera's pet therapy wraps come with quick-release buckles that make it easy to remove the brace from a pooch's legs.
The gel packs that come with these therapy wraps are generally safe and non-toxic, and they can either be applied hot or cold.
The design of the Caldera pet wraps is such that the gels are applied directly to the affected regions of a pooch's legs to provide therapeutic relief.
The innovative strap and collar design of the Caldera therapy wraps ensures that the knee brace doesn't easily slide off a pooch's legs after installation.
The Caldera pet therapy wrap is machine washable to provide a convenient maintenance option for customers.
Cons
---
This pet therapy wrap is available in just one size option, and it doesn't fit a considerable amount of dogs.
There are reports of this product's straps pulling on a pooch's collar and almost choking the dog in question.
#5 COODEO Powerful Dog Rear Leg Hock Joint Brace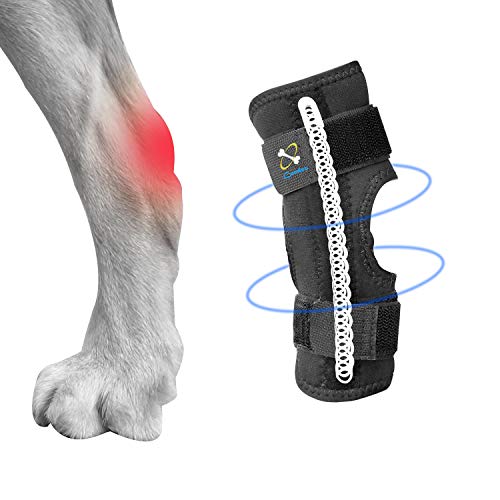 This brace works perfectly for dogs that are injured, prone to suffering from sprains, and dogs that suffer from arthritis and rheumatism. With this product, your dog will walk properly and without any pains. Designed for either the left or right rear limbs, this product is also made from a quality, durable materials.
The metal strips in this brace are made to give your dog all the support it requires when moving about. It's designed in such a way that it provides maximum comfort to your pooch without restricting the movement of its joints. When not moving around, it's advisable to remove the brace to improve blood flow.
This product provides adequate support for your dog and greatly reduces pains around the joints. It's a premium product because it's made from top-tier materials. If you're a big fan of quality, you'll love this.
Pros
---
The COODEO rear leg joint brace is available in three different size options – Small, Medium, and Large – to ensure compatibility with various dog leg sizes.
The soft textured material used in manufacturing this knee brace is comfortable for a pooch to wear and also offers a degree of flexibility to support the dog while walking.
COODEO's rear leg hock can also be used to effectively prevent pooches from licking and aggravating wounds, thereby supporting the healing process.
The design of the COODEO rear leg hock brace is such that it can be conveniently worn on either a pooch's left or right hind legs.
The inclusion of metal springs in this joint brace design provides additional support to dogs with weak knees and legs, thereby enabling them to walk normally.
Cons
---
The COODEO joint brace is designed in a way that there is no bend to accommodate the curved nature of a dog's hock, thereby resulting in customers needing to painfully tighten the top strap to make the brace fit well.
Several customers have reportedly received COODEO knee braces that were an inappropriate fit for their dogs.
#6 NeoAlly Dog Leg Brace
If there's one reason you might find this brand more attractive than the rest above, it'll have to be because of the reflective material on it. This ensures the safety of your dog even at night when it's dark. This leg brace comes in a pair which means maximum protection for both of your dog's legs.
This brand is made with breathable fabric to ensure your dog's normal leg circulation is maintained. It will allow your pet to play around like it normally does, no matter the weather condition. This pair of dog braces offer safety and comfort to your pooch.
When a dog gets injured on one leg, the possibility of sustaining an injury on the other leg is high. This brand of braces comes in a pair and prevents such occurrences.
Pros
---
This dog leg brace product from NeoAlly is manufactured with high-quality 4mm neoprene and nylon material that offers optimal compression, without pinching on a pooch's skin.
The reflective straps that are included on this dog leg brace glow in low light, thereby offering extra visibility and preventing the occurrence of accidents when it gets dark.
This NeoAlly dog leg brace is available in five size options, ranging from X-Small to X-Large, to ensure an appropriate fit for various leg sizes of different dogs.
This dog knee brace product from NeoAlly comes in a pair to provide support for both legs and prevent walking imbalances that may develop in a leg, due to an injury to the other leg.
NeoAlly's leg brace is specifically designed for use with small dogs and dog breeds that have short legs.
Cons
---
The lack of metal braces in this dog leg brace provides poor support and stability for a pooch's knees.
Some customers have reported that consistent use of this dog leg brace resulted in their pooches developing skin hotspots.
#7 AGON Joint Brace Compression Wrap With Straps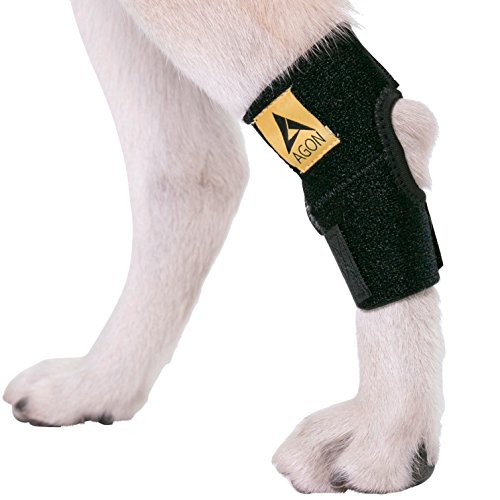 This dog brace from AGON helps tackle a number of complications. It aids dogs with an underlying cause of arthritis, helps dogs prone to suffering from fatigue, provides support, hastens the healing process of your dog post-surgery, and prevents future injuries.
It is designed in a way that's guaranteed to provide comfort to your healing pet without any worries of discomfort. If your dog is injured and wears these braces, it won't be evident to people. This brings about a generally positive outlook to people around as they would have no idea what's going on. It also comes in pairs.
You can prevent serious dog injuries by using this product. You can also help fasten your dog's healing process from injuries by getting a pair of these braces for its use.
Pros
---
The flexible nylon material employed in the product of this AGON compression wrap ensures that there is no resistance to a dog's walking movements.
The texture of the AGON joint brace can effectively loosen inflammation of a dog's joint and minimize pain caused by injury or the aftermath of a surgical procedure.
The smooth mesh material that is used to produce the AGON joint brace can be easily washed with soapy water when there is a need to clean the product.
This dog hock brace is also designed to provide stability and support for a pooch undergoing rehabilitation and recovery from a leg injury.
The adjustable Velcro straps that come with this AGON compression wrap makes it easy to wear and remove the brace from a dog's leg.
Cons
---
There are multiple reports of the AGON joint brace failing to stay in place on a dog's leg, regardless of how tightly the Velcro straps are fixed.
Some customers have also commented that this compression wrap product caused skin irritation and the development of hotspots on their dogs' legs.
#8 Ortocanis Original Dog Knee Brace
Ortocanis - Knee Brace for Dogs with Cruciate Ligament Injuries, Patella Dislocation or...
FULL SUPPORT. This knee protection by Ortocanis is ideal for accelerating the post-operative recovery process and...
RAPID RECOVERY. The increased joint temperature accelerates blood circulation and improves oxygen supply for a faster...
A PAIN RELIEF SOLUTION. By increasing the temperature, the joint protection helps to reduce inflammation and pain caused...
The Ortocanis knee brace is a flexible 2-mm neoprene material produced to provide much-needed support for pooches suffering from muscle and joint injuries, such as kneecap dislocation and arthritis.
The brace works by slightly compressing the region to which it is attached, subsequently increasing blood flow to that region and hastening the recovery period. It also offers 360° support to reduce and relieve pain in the specified region.
Additionally, the Ortocanis knee brace typically increases the temperature in muscle and bone joints. This, in turn, helps reduce the inflammation associated with health conditions such as cruciate ligament injuries and osteoarthritis.
Velcro straps located on the Ortocanis brace make it easy to attach and secure this product on dogs, and the option to choose from nine different size options adequately caters to various canine sizes.
The Ortocanis dog knee brace is the ideal medical accessory to facilitate speedy recovery for pooches suffering from various joint and muscle problems. The flexible build of this brace is comfortable for dogs to wear, with the light compression of the brace providing dogs with stability and improved balance.
Pros
---
The Ortocanis dog knee brace helps maintain optimal joint temperature, thereby increasing blood circulation and improving oxygen delivery to support faster recovery.
The 2mm neoprene material used to make this dog knee brace offers elasticity and flexibility to ensure that dogs can comfortably walk while wearing the brace.
The elastic effect offered by this dog knee brace also reduces inflammation and provides relief from pain caused by cruciate ligament injuries, osteoarthritis, and kneecap injuries.
The inclusion of two lateral splints in this canine brace offers additional support, rigidity, and stability for dogs with weak knees and legs.
This dog knee brace comes with straps that can be wrapped around a pooch's waist to prevent the brace from sliding down the dog's knees.
Cons
---
Multiple customers claim that the strap that is intended to keep the brace in place repeatedly slides off their dogs' backs, except it is used with a collar.
Some customers reportedly received knee braces that weren't true to size, despite following the measuring instructions and chart provided by the Ortocanis brand.
---
Dog Knee Braces Buyer's Guide
---
If you're reading this, then there's a huge chance that your dog is going through some sort of pain and needs braces. But you don't know how to go about picking the right one, and you need some information before making a decision. Good news! You've come to the right place. We'll go through all you need to know to make an informed decision, one that will be of the greatest benefit to you and your furry friend.
Purpose
Knowing exactly why your dog needs a leg brace is the first thing you should figure out. Are you trying to prevent injuries? Did your pooch just come out of surgery? Does your dog do a lot of work, or has it been suffering from fatigue around the legs? These are some questions you need to ask yourself.
As some leg braces can be suited explicitly to solving one problem over another, having answers to these questions will give you more insight on what type you should get.
Health History
After finding out why your dog needs braces, this is a very important thing to consider. For example, if your dog's breed is well known to be prone to suffer from arthritis or rheumatism, you should have a brace in your home on standby. One that's specifically suited for such issues.
These types of information are important to have at your disposal so as to prevent dire consequences. You should also know what materials your dog might be allergic to so as not to choose a dog brace made from such material.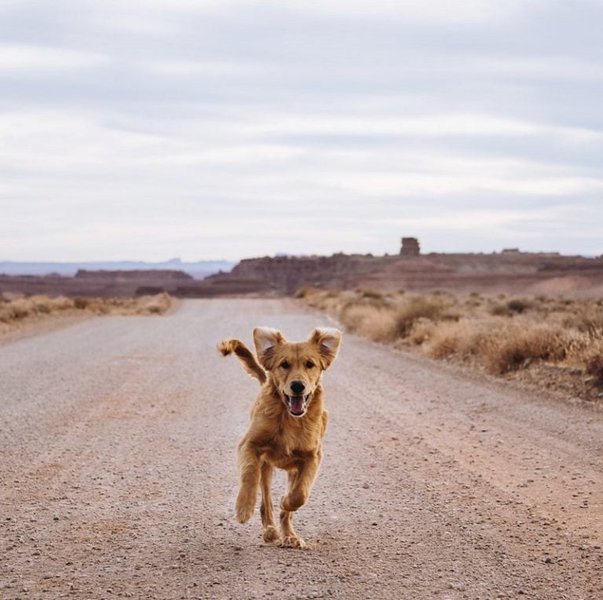 Size Matters
If you want your dog to be as comfortable as possible while wearing a brace, you should be sure to get the right size. Picking a brand that has the appropriate size available for your pooch is always something you should pay attention to.
Besides, picking the wrong size of leg braces for your dog can actually do more harm than good. So go for a brand that offers what you need.
What's Your Budget?
This is something that probably runs through your mind when making any purchase and should be no different in this situation. Although the amount of money you have to spend always plays a huge factor when buying things, you should keep in mind that no expense should be spared when it comes to the health of your dog.
Even with that in mind, you can always find a brace for your dog that will serve the purpose you want without digging a massive hole in your pockets.
---
Final Thoughts
---
We won't lie to you; picking the right leg braces to align with the needs of your dog isn't child's play. A lot of thought processes should be put into it if you have the best interests of your dog at heart. That's why this article is here to guide you every step of the way and why we have provided you with the best option.
Our top pick is the best brace that you can get spend your money on. This brand proves you with the best value for your money no matter your reason for needing a brace for your pooch.