The best human-grade dog food is Healthy Dogma PetMix Homemade Dog Food.
You see your canine as part of the family and want to feed him as such. This can be challenging if all you see on the market are dog foods with poor-grade ingredients. Opting from among the eight best human-grade dog food lets you know that your furry friend is getting high-quality dog food, giving you peace of mind.
#1 Healthy Dogma PetMix Homemade Dog Food
Healthy Dogma PetMix dog food uses human-grade ingredients, including broccoli, carrot, kelp, blueberry, banana, apple, flax meal, and whole eggs. Like most human-grade dog food, you only need a few minutes to prepare it. Combine a cup of PetMix with 1.5 cups of warm water. After stirring, let it sit for three minutes then add a pound of your choice of meat.
The PetMix formula was designed by experts to reduce inflammation and pain in joints and muscles, expel free radicals from your pup's bloodstream, reduce blood cholesterol, and normalize your canine's body weight. Most dogs reach a consistently healthy weight, have higher energy levels, and produce healthy bowel movements when eating this human-grade dog food.
All of the ingredients are human-grade and you will not find any gluten or grains in the formula. Because you combine it with the high-quality protein of your choice, you are in full control of what your four-legged friend eats and the PetMix lasts a long time.
Healthy Dogma PetMix is simple to use and dogs love it, especially because you mix in the chicken, fish, or meat that your canine prefers. The ingredients are all-natural and there is no gluten or any allergens. The product is also made in the USA by a family-owned company.
Pros
---
Combined with protein of choice.
100% free from allergens, grains, and gluten.
Family-owned company.
#2 Dapper Dog Cuisine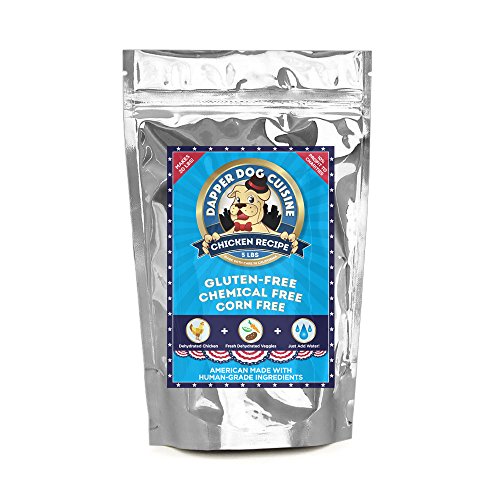 Dapper Dog Cuisine offers a complete and balanced meal for your furry friend, without any need to prepare or add protein separately, something which helps you keep costs low. The primary protein source in this dog food is chicken which is farmed within the United States.
In addition to using human-grade ingredients, this human-grade dog food is free from gluten, corn, and chemicals. Instead, it combines fresh dehydrated chicken with fresh dehydrated vegetables.
Your pooch will enjoy spinach, celery, green beans, carrots, potatoes, and chicken, without any filler ingredients. The use of non-processed vegetables means that they retain their nutrients, giving your canine all of the vitamins and minerals it needs.
Like most other dog foods on this list, you just add water when your furry friend is ready for a meal. You can store it at room temperature or in the fridge and your dog will appreciate the consistency of the human-grade dog food once prepared, as it is similar to wet food.
The company, Dagger Dog Cuisine, is family-owned and founded in the United States. It oversees the manufacturing processes, both upstream and downstream held within its founding country and nowhere else.
This human-grade dog food features only natural ingredients, all of which are human-grade too. It only contains dehydrated chicken and vegetables that retained their nutrients, meaning that the human-grade dog food does not require any additional supplements, vitamins, or minerals.
Pros
---
Protein from homegrown chicken right here in the United States.
Only features all-natural dehydrated chicken and vegetables.
Made by a family-owned company in the United States.
#3 The Honest Kitchen Base Mix Dog Food
This is one of the best human-grade dog foods from The Honest Kitchen if you want to choose the right protein source that your pet loves. This makes it adaptable to any dietary restrictions that your canine has, even if it is an allergy to a common protein.
The Base Mix features dehydrated ingredients that you can cook or serve to your furry friend raw, depending on your preferences. Or, simply add water and serve.
In addition to being human-grade, human-grade dog food does not have any GMO ingredients, preservatives, or by-products. A single package of this human-grade dog food makes 29 lbs of your Base Mix. Each package contains 11 sweet potatoes, three heads of cabbage, a bunch of bananas, 15 cored apples, ¾ of a small pumpkin, and 4.5 bunches of spinach.
This Base Mix dog food from The Honest Kitchen is made from 100% human-grade ingredients, featuring a specific combination of fruits and vegetables in each package to ensure your canine receives a balanced meal. You just add your choice of protein and water.
Pros
---
Made in safe human food facilities.
The long-standing company has been in business since 2002.
You choose the protein type for your dog.
#4 Only Natural Pet Wholesome Homemade Stew Dehydrated Dog Food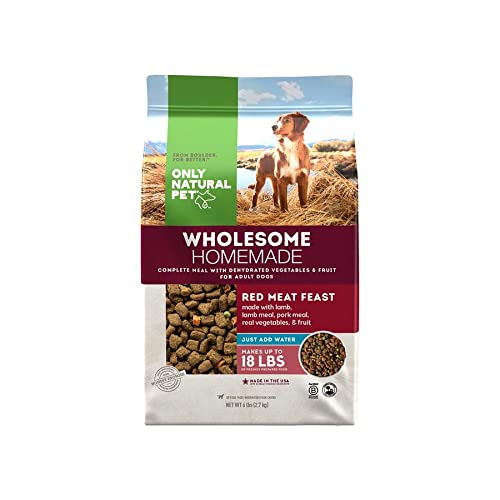 This Only Natural Pet dog food is all-inclusive, featuring both the combination of vegetables your canine needs and a source of protein. This recipe contains deboned lamb, lamb meal, real veggies, and sweet potato. There are no artificial fillers, preservatives, colors, or flavors. For peace of mind, the company extensively tests each batch for quality and safety.
The ingredients have been gently dehydrated to maintain their vitamins and nutrients. This human-grade dog food was designed by experts to include low glycemic carbs and bioavailable naturally-occurring nutrients, including amino acids and essential fatty acids. It also features a satisfaction guarantee.
This human-grade dog food from Only Natural Pet features delicious lamb, sweet potatoes, and real veggies without GMO ingredients or artificial ingredients, all of which are bound to whet your dog's appetite. The mix also provides naturally-high sources of protein along with essential fatty acids and amino acids.
Pros
---
A 100% satisfaction guarantee.
Protein from deboned lamb and lamb meal.
Balanced and minimally processed.
#5 Dr. Harvey's Veg-To-Bowl Dog Food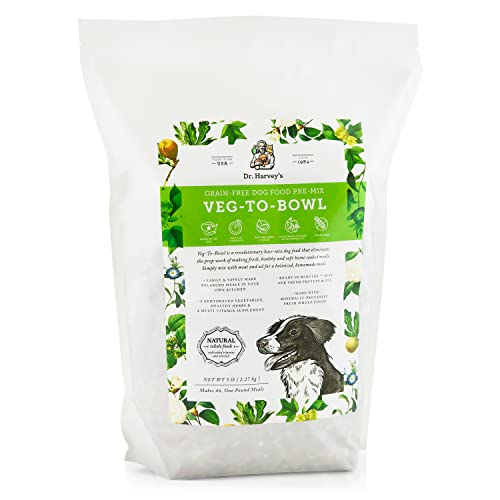 This is another of the best human-grade dog foods that let you customize it by adding the protein of your choice. This human-grade dog food is made in the United States and is ready in minutes when you add oil and fresh protein. All of the ingredients are whole foods that have been minimally processed.
Your canine will enjoy the combination of eight dehydrated vegetables along with healthy herbs. The multivitamin supplement included in the recipe ensures that your furry friend gets all of the nutrition needed to stay healthy. With the 5-pounder bag, you can make 46 finished meals that are each about a tenth of one pound.
This human-grade dog food features an all-natural formula that has been shown to reduce and treat allergies, including rashes, skin redness, and itching. You can add your pooch's favorite protein or stick to a low-protein diet if your canine has kidney problems.
Pros
---
A 5 lbs bag turns into 46 meals.
Features multivitamin supplementation.
Can be used with low-protein diets or your canine's favorite protein.
#6 Dr. Harvey's Canine Health Miracle Dog Food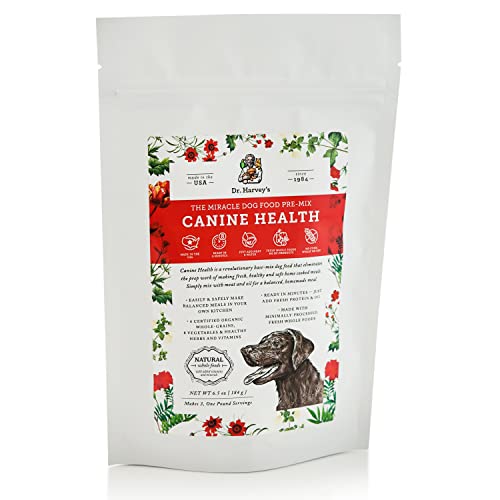 Here comes another from Dr. Harvey's line of products. The Canine Health miracle dog food is a health base mix that can help improve your furry friend's kidneys. This 100% human-grade mix contains six organic grains, nine dehydrated vegetables, and crushed eggshells. All the ingredients are free of chemicals, dyes, fillers, and preservatives. It comes in a 6.5 oz bag, which makes up to 3 meals for your pet.
Dr. Harvey's Canine Health dog food is easy to prepare. All you have to do is add hot water to the mix to rehydrate it. Next, you can add meat or pet supplements according to your dog's needs. Not only does it boost your dog's kidney health, but also gives a shiny coat, more energy, less smelly stool, and less itchy skin.
Because of the all-natural ingredients and health benefits it brings, Dr. Harvey's Canine Health Miracle dog food is going to be a great addition to your pet's diet. We love that you can get three meals from one bag. We also appreciate how easy it is to prepare this base mix.
Pros
---
Available in three bag sizes; 6.5 oz, 5 lbs, and 10 lbs.
100% human-grade mix containing vegetables, grains, and crushed eggshells.
Free of chemicals, dyes, fillers, or preservatives.
Easy to prepare.
Perfect for kidney, digestion, shiny coat, less itchy skin, and more energy.
#7 Rudy Green's Doggy Cuisine Dog Food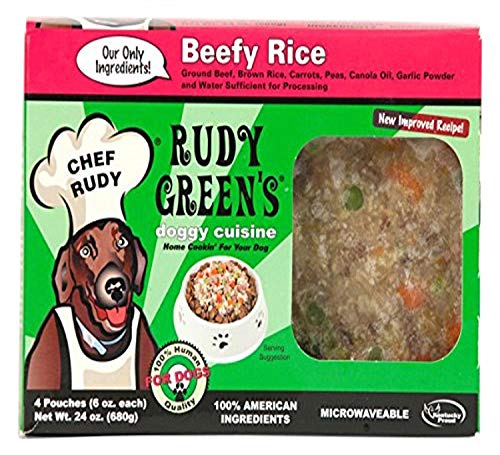 As opposed to the dehydrated dog foods on this list, this dog food from Rudy Green's is frozen after being gently cooked at low heat. Simply microwave to reheat it within seconds and serve.
This Doggy Cuisine's Beefy Rice recipe was formulated to work for all dogs, including seniors and those who are sick or suffering from allergies. For your convenience, the larger container includes individually-packaged servings of dog food, so you do not have to measure it out.
This human-grade food features whole grains, veggies, and real meat. There are no additives or preservatives. The gentle cooking of the ingredients keeps them safe without processing or removing nutrients and minerals.
You can choose to use this human-grade dog food as your canine's sole meal or to make dry kibble more appealing and balanced by using it as a meal topper.
For those in search of frozen human-grade dog food, this product from Rudy Green's is a great option. It includes real meat, vegetables, and ingredients all sourced within the United States.
Pros
---
Frozen and microwaveable.
Features real meat.
Good for dogs with allergies.
#8 Portland Pet Food Company Mixed Pack Dog Food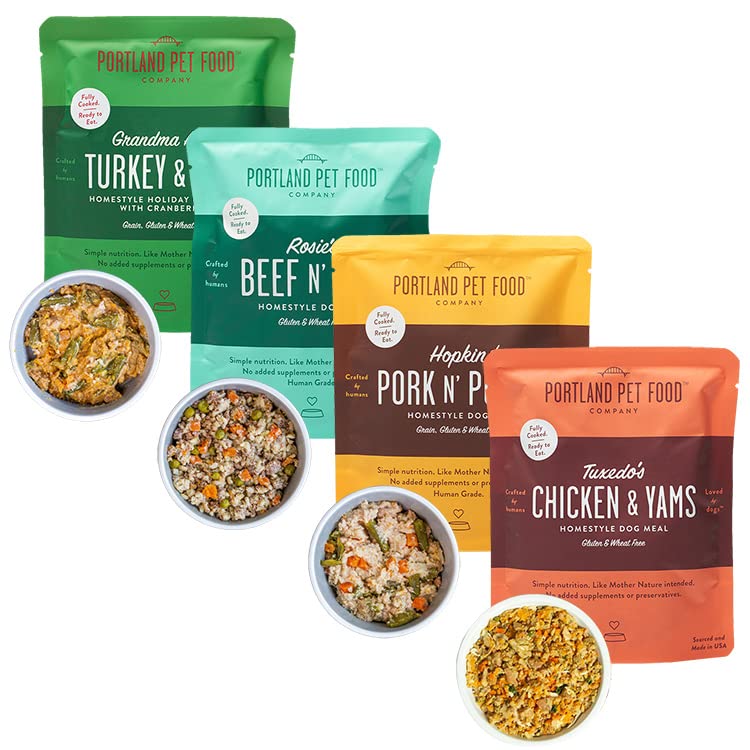 Portland Pet Food Company Human-Grade Dog Food Pouch — Mixer, Topper, and Rotational Meal (Mixed...
EXCLUSIVELY REAL INGREDIENTS: All-natural, fully cooked homestyle dog meal pouches are crafted with premium, fresh...
ALL-NATURAL DOG FOOD: Gluten-free, wheat-free, and grain-free options, this premium dog food is made with the best...
GREAT FOR WELLNESS, PICKY OR SENIOR DOGS: Taste so good, even picky dogs, sensitive dogs, and older dogs can't refuse!...
The Mixed Pack dog food from Portland Pet Food Company is a wet dog food product that is formulated with natural, human-grade ingredients to promote the health and welfare of pooches. This product can be served in a number of ways, including as a dog food topper, a supplemental meal, or as a complement to a dry dog meal, all without the need to add water or to cook.
The absence of wheat and gluten in this Portland formulation makes this food product ideal for dogs with allergies or sensitive stomachs. And each bag is typically formulated with 11 or fewer whole ingredients, free of artificial preservatives, animal by-products, or artificial flavors.
Ingredients used in formulating this Mixed Pack dog food include non-rendered meat (at least 40% in overall content) organic eggshells, organic potatoes, and sweet potatoes, just to mention a few. Additionally, the dog food is suitable for dogs at different stages of life – from puppies to senior dogs.
Besides Mixed Pack, Portland Pet Food Company also provides a wide range of flavors, including Tuxedo's Chicken & Yams, Hopkin's Pork N' Potato, Rosie's Beef N' Rice, and Wally's Salmon N' Rice. This provides more options for dog parents with picky pooches.
The Mixed Pack dog food from Portland Pet Food Company contains a number of healthy ingredients that provide dogs with the best nutrition and is a worthy addition to your pooch's diet. The absence of fillers and chemicals makes this food product safe for dogs to eat, and its availability in different flavors offers great variety.
Pros
---
Free of gluten and grains.
Contains at least 40% human-grade meat.
Comes ready-to-serve.
Available in eight different flavors.
Formulated with less than 11 whole ingredients.
Absence of artificial flavors and preservatives.
Can be served in several ways – topper, supplement, or complement.
---
Human-Grade Dog Food Buyer's Guide
---
When you buy human-grade dog food, you may find yourself overwhelmed by options available on the market or the shelves at your neighborhood store. Between the above suggestions and the following considerations, you should have no problem choosing a dog food that your canine loves and providing balanced nutrition.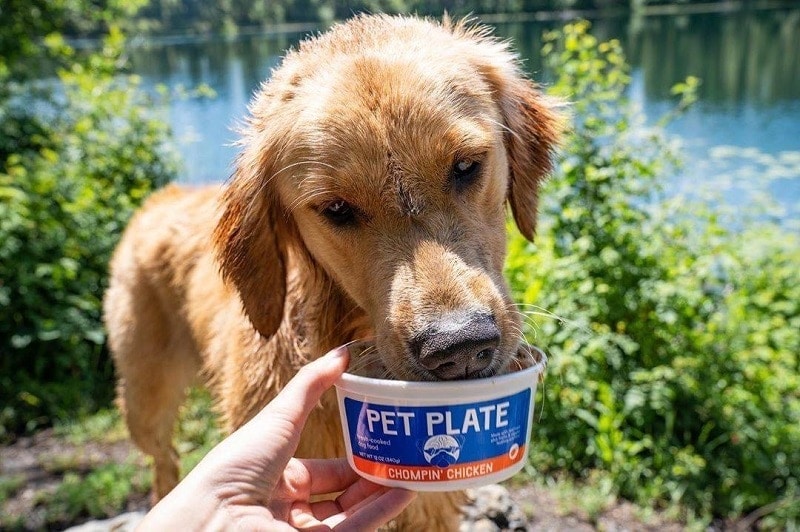 Is It Really Human-Grade?
Start by taking the time to confirm that your chosen dog food is truly human-grade and not just claiming to be. The Association of American Feed Control Officials indicates that there is not a legal definition for "human-grade." This gives companies a bit of leeway. If you do not read the labels carefully, you may get taken advantage of and pay a premium for what you think is human-grade dog food but is in fact not the case.
To qualify as "human-grade dog food," the dog food must only have human-suitable ingredients and meet all of the regulations for manufacturing and packaging human foods at the federal level. This is a very high standard that few dog foods can meet.
Pay attention to the label to make sure that you get truly human-grade dog food. You want to choose a dog food brand that meets or exceeds the standards of AAFCO, the United States Department of Agriculture (USDA), and the Food and Drug Administration (FDA).
You should also take a look at the ingredient list and see if the brand provides any additional information on the ingredients. Ideally, they will specifically mention that the ingredients are human-grade.
Ingredients And Nutrition
The ingredients in your chosen human-grade dog food are important for doing more than just confirming that it is human-grade. You also want to look at the ingredients as a way to ensure that your canine companion enjoys a balanced diet with all of the necessary nutrients.
The best human-grade dog foods will start with all-natural human-grade ingredients that are fit for human consumption. They will then dehydrate or cook the ingredients at low heat to make them safe without losing any nutritional value. This is a key contrast to most dog foods, which involve highly processed ingredients with minimal nutritional value.
When your pooch's food features non-processed ingredients, they retain the nutrients so the brand does not need to add in extra vitamins and minerals. While looking at the ingredients, read the label to confirm that your chosen dog food has all of the nutrients that your pooch needs.
Whether It Includes A Protein Source
As you explore our list of the eight best human-grade dog foods, you will likely notice that some include protein while others require you to add it yourself. This is a personal decision and depends on your furry friend and yourself.
Dog foods that already include protein offer convenience, as there is no need to add anything other than water if it is dehydrated or heats it up if it is frozen. The protein is usually from a high-quality source. If you are short on time or do not want to deal with finding and cooking meat for your four-legged friend, this is the way to go.
Dog foods that have you add protein give you more flexibility, including the ability to cater to your pooch's tastes. Additionally, if you add the protein, you can give your canine more variety by using a range of meats. This is also a very useful option for those whose dogs have allergies since you can avoid common meat allergens.
Dehydrated Or Frozen
You will also have to think about whether you prefer human-grade dog food to be dehydrated or frozen. Because of the freshness of ingredients used, human-grade dog food will fit one of these categories. Neither is better than the other and it once again comes down to personal preference.
With dehydrated dog foods, you usually just have to add water and frequently have the option of heating them up if your dog prefers. With frozen dog foods, you usually just stick them in the microwave.
One type of dog food will not necessarily last longer than the other. Opt for dehydrated if you want the human-grade dog food to be highly portable, but otherwise, either should be fine. You can also think about the storage space in your kitchen, including the pantry and fridge, to decide between frozen and dehydrated dog foods for your canine.
---
Final Thoughts
---
When choosing a human-grade dog food, you want a product that your canine will love and that is well-balanced with real ingredients that have been minimally processed. Look for balanced nutrition and a formula that was created to promote the overall health of your canine companion.
Many of the best human-grade dog foods let you add your four-legged friend's preferred protein source, while others already include meat. The best products will also list all of their ingredients, without any additives in the formula.
Go with our top pick. Rest assured that you will never go wrong with your next purchase.