The best dog leash holder is TBFM His Her Dog Hanger.
You just got home from that fun walk with your dog. You get inside, take off their collar and leash then have nowhere to leave it.
Do you leave it on the floor as a trip hazard? Do you take it elsewhere and risk not being able to find it tomorrow? Sounds like you need a dog leash holder and to help make your life easier.
Here are 7 of the best dog leash holders in the market for you to choose from.
#1 TBFM His Her Dog Hanger
This is an interesting gift for dog lovers. It is a wooden handcrafted key holder made from 100% fir wood, a material that is also durable and easy to clean.
The hanger comes with three hooks, namely, 'his,' 'hers,' and a dog, distinguished by its paw print. It measures 9.8 inches long by 7.9 inches wide by 0.8 inches thick and weighs about 9.6 oz.
It also comes with two screw anchors and two screws. As it is very light in weight, it is easy to mount onto a wall. You can hang it anywhere you want, like the home entrance, bedroom, or kitchen.
The rustic design gives this dog hanger a lovely finish. You can use it to hang not only pet collars but also coats, keys, and pet leashes.
If you know a dog lover, this makes the perfect housewarming or birthday gift. This hanger from TBFM has a lovely brown wood finish that looks great anywhere in the house. We love that it is easy to install and comes with screws and screw anchors. We also appreciate that it is lightweight and won't mess with the walls.
Pros
---
It is light and can fit on any wall as it is 9.8 x 7.9 x 0.8 inches in size and weighs 0.6 lbs.
It comes in an eye-catching rustic natural or brown color that looks perfect on any doorway or wall, and it also makes a great gift for fellow dog lovers or as a housewarming gift.
It is made of solid 100% fir wood, and each product comes with three sturdy and durable hooks.
It is a multipurpose hanger that you can use for leashes, collars, coats, keys, and even coats.
If you are not satisfied with the hanger, there is a 100% money-back guarantee.
Cons
---
The hooks can bend or break off if heavy objects are hung on them.
Some customers feel that the hanger is too thin and may not last long with frequent use.
#2 Franklin Brass FBWBONE-FB-C Bone Shaped Dog Leash Wall Hook
Franklin Brass Bone Shaped Hook Wall Hooks, Black, FBWBONE-FB-C
STYLE - Casual style coordinates with most home décor and provides an abundance of space for hanging items in the...
PERSONAL - This hardware set will add style and function while still complementing your existing home décor.
ORGANIZE - Our wall hooks provide an abundance of space for hanging items and getting organized.
What makes this dog leash holder unique is its single hook design. It is therefore ideal if you do not have a lot of accessories you want to hang up. You would also benefit from this style if you are working with limited wall space and just want something simple.
However, do not let the lone soldier style fool you. This hook can handle a lot. With its deep curve hook, you can hang several dog leashes as well as other useful accessories
For its price point, this is a wonderful alternative for low budget dog leash holder shopping. You get to enjoy the flexibility offered by the deep hook and high weight capacity. That way you can dump a lot of your outdoor trip accessories onto it without having it give up on you and fall off the wall.
Pros
---
Comes in a pup-friendly wire bone hook design and is made of black Franklin brass that makes your doggies feel at home.
This wall hook is 4.33 x 2.17 x 4.82 inches in size, weighs 3.58 oz, and can carry items up to 35 lbs.
The design can fit into any home design and can be hung on the doorway, bedroom, or bathroom.
It lets you hang different items, such as dog leashes, collars, coats, and keys.
Its simplistic design makes it easy to install, mount, and clean, such that anybody can use it.
Cons
---
Not ideal for doggie lovers who have items heavier than 35 lbs to hang.
Some customers complained that the hook was delivered in a bent condition and did not sit well on a flat surface, making the purchase a waste of money.
#3 The Metal Peddler Labrador Retriever Rack Leash Hanger
SALE ALERT!!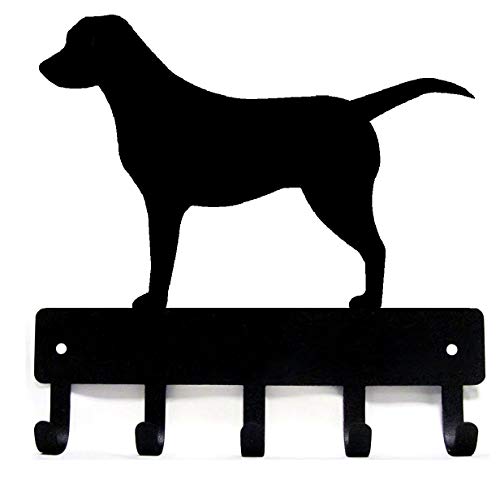 This is great wall décor from The Metal Peddler and stands out because of its cute Labrador silhouette design. It is made with 16-gauge American steel.
Despite being made using a steel alloy, it is lightweight and comes in two sizes, Small and Large. It has five rounded hooks which can be used to hang dog leashes, dog collars, harnesses, medals, or keys. It even allows a magnet to stick to the hanger!
It is made of a black powder coat which is oven-baked to make it durable, rust-resistant, and scratch-resistant. You can easily install it with the provided matching black screws. It is the ideal gift for birthdays, housewarming, Christmas, or just a gift for your dog or an animal lover.
We love the unique and adorable-looking Labrador silhouette design from The Metal Peddler. The black finish, which is rust and scratch-resistant, is also a definite plus. It is lightweight and won't ruin your walls or doors. The rounded hooks are also safe and can be used to hang just about anything.
Pros
---
It is available in two width sizes, namely, 6 inches and 9 inches, each of which comes with five hooks for use.
It is durable as it comes in a doggie silhouette design that is cut out of high-quality 16-gauge American steel.
The easy-to-clean finish is made of an oven-baked powder finish that makes the hanger rust and dustproof.
It can be used to hang up to 12 lbs of items like keys, dog leashes, doggie dispenser bags, collars, lanyards, and other small items.
It is manufactured within the United States, and every purchase of this product goes to supporting a small local business based by a small local business.
Cons
---
It is not ideal for large items like umbrellas or coats as it can only carry small items of up to 12 lbs.
The hooks are too close together to fit large dog items like harnesses.
#4 Lulu Decor, Cast Iron 5 Dog Keys And Dog Leash Hooks
The cast iron construction on the Lulu Décor Dog Leash and Key holder makes it one of the most durable options you have on the market. It also contributes to the aesthetics creating a nice vintage and homey feel.
The holder also stands out with the curved dog silhouettes as the actual bar. This design will definitely make a statement so you can count on the holder to mark your home as one where dogs are loved and welcomed.
Here, we have yet another fantastic option for gifts with both fantastic aesthetics and quality functionality.
Pros
---
It comes in an unforgettable hand-crafted cast iron 5 dog design that is a great addition to any home.
This hanger comes in antique black and antique brown colors, is 8.5 x 4.49 x 0.91 inches in size and weighs 0.55 lbs.
It comes with five hooks you can use to hang keys, dog leashes and collars in any room of your home.
Easy to install with two studs on each end of the hooks.
Makes a perfect gift for fellow doggie owners.
Cons
---
Can only hold small pup breed leashes, which means you need a larger option for big doggies.
Hard to get a matching replacement screw if you lose one or both of them.
#5 Rustic Dog Leash Holder Wall Rack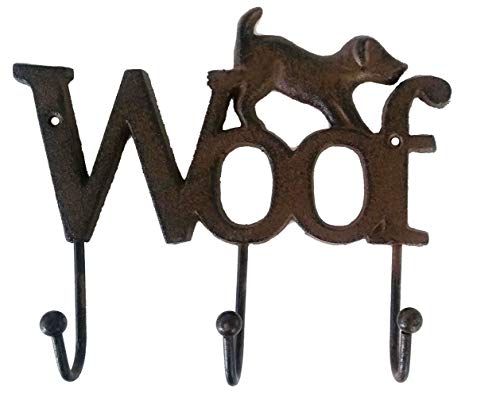 Leash Holder Wall Rack
Leash Holder Wall Rack - Woof
Solid cast iron, perfect for indoor/outdoor use
Ideal for front entryway or porch
This holder is built for both indoor and outdoor use. This is made possible by the use of durable and weather-resistant cast iron material. You can therefore set it up anywhere on your property from the front porch and garage to the back foyer inside your home.
You also have a lot to look forward to in terms of aesthetics. In addition to the rustic look and feel from the cast iron, the holder bar features the text "Woof" and the silhouette of a dog. Now that is how you make a statement as a dog owner.
If you are looking for something to store your accessories outside then this would be the perfect alternative.
Pros
---
Comes in a unique 'Woof' and pup silhouette design that looks great in any room in a house.
The cast iron material makes the wall rack perfect for indoor and outdoor use.
The rack is 7.5 x 2 x 6⅛ inches in size and is light in weight, which means it won't destroy your surfaces after installation.
Easy to install thanks to the pre-drilled screw holes on each end of the rack.
Comes with three hooks for leashes, lanyards, keys, and other small items.
Cons
---
The screws are not always included in the package, which means you have to spend a little more for some.
Not ideal for those with larger doggie items and cannot safely hold heavier items like coats.
#6 NITYNP His Her Pup Key Holder Dog Leash Hanger
SALE ALERT!!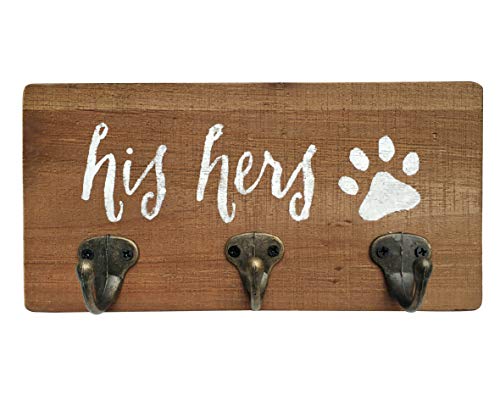 While it may not have the most hooks on one bar, this dog leash holder offers you the benefit of deep hooks. This means that you can hang up several of your dog's outdoor accessories at the same time including with the same amount of sturdiness.
Installation is also pretty simple here. The back hangers are to thank in this case. All you need to do is to hang it onto nails or wall stick-on hooks and you have a steady spot for all your dog accessory hanging needs.
If you do not want to spend too much time or energy figuring out installation, this simple hang-on design is a wonderful choice.
Pros
---
This hangar is made of rustic distressed wood with added antique-looking brass hooks that are perfect for any flat surface.
It is 9 x 1.57 x 4.53 inches in size, weighs 10.6 oz, and can carry up to 500 grams.
Available in a natural brown color that blends in well with most home décor.
It is easy to install as each hook includes a two-triangle hanger back.
It can be used to hang small items like car keys and dog leashes, and it also makes a perfect housewarming or birthday gift.
Cons
---
It can only carry small items and will break off if larger or heavier items are hung on it.
Many pup owners prefer a larger hanger to carry many items at once.
#7 LJOWJVA Dog Tail Hooks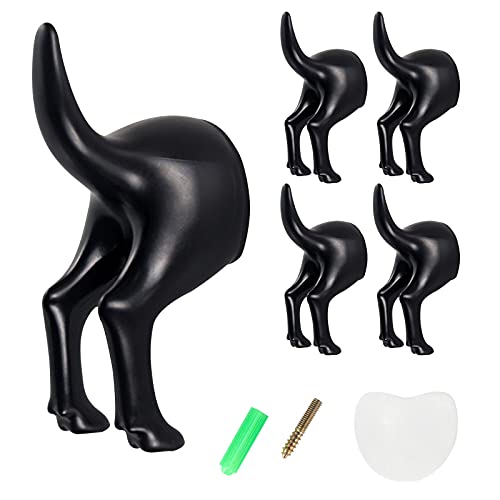 LJOWJVA Dog Butt Hook,Keep Your Space Organized with Tail Hooks for Wall - Perfect for...
Keep your space neat and tidy with these durable dog tail hooks for wall, perfect for holding leashes, keys, hats,...
With three easy installation methods included, these dog hooks can be securely mounted just about anywhere, making them...
Made from high-quality materials, these dog butt hooks for wall are built to withstand daily use and are sure to last...
The LJOWJVA dog tail hooks can be mounted on the wall and come in a pack of 5. The hooks are of high bearing capacity for coats and jackets and are made of environmentally friendly ABS plastic.
These hooks are perfect for installing on any type of smooth surface like metal, glass, plastic, wood, or ceramic. It can be installed via three methods using screws, double-sided tape, and applied glue adhesive. The pack comes with easy-to-follow installation instructions.
The practical hook can be used indoors or outdoors. It should not be used on rough or uneven surfaces. You should also be careful what you hang is not too valuable. It has a warranty, and you can return or exchange the hooks.
These dog tail hooks from LJOWJVA will add some pet flavor to any space. We love that you can use them indoors and outdoors. They can be installed in more than one way on any smooth surface you want. Just remember, don't hang anything valuable on these light hooks.
Pros
---
Comes in a pup-butt design with the tail serving as the hook.
It is 3.93 inches in size, weighs 7 oz, and can carry up to 220 grams of items.
The package comes with 5 hooks, 7 double-sided stickers, and 7 Nut suite materials for easy installation.
Comes in black color, is made of Acrylonitrile butadiene styrene, and has a polished finish.
It is also a great decoration for the home aside from its functional purpose of hanging items.
Cons
---
Should not be installed on rough surfaces as it could break and fall.
As it is made of hollow plastic, it is not as durable as metal hooks.
---
Dog Leash Holder Buyer's Guide
---
Now that you know what is out there, let us take a look at what these different specifications mean for you, what matters and what should be considered seriously. That way you can make the best choice. Here are the most important factors to consider when shopping for leash holders.
Durability Of Materials Used
The materials used to make the dog leash holder determine several things. The first is aesthetics. Here, you could go for something rustic in which case distressed wood and cast iron never disappoint. You could also go for something cleaner and more modern with options like smooth-finished wood, shiny metal and even synthetics.
The material also determines the sturdiness and strength of the entire piece. In this case, metallic hooks are the best performers. They can handle a lot more weight and do so very steadily. You also have the choice of resins like our top pick which offers incredible strength, in addition to aesthetics. Plastic may also work but there is always the risk of cracking.
Finally, the choice of material plays a role in overall durability. You want something that is resilient against wear and tear forces as well as resistant to fading and corrosion. That way you will have your unit up and functioning properly for a very long time.
Construction And Sturdiness
How is the dog leash holder built? Is it nice and sturdy? Does it have rickety parts that make you nervous every time you hang something? The quality of construction with your leash holder will determine whether you got full value for your money or if you wasted it on something that really will not last.
The best way to tell whether a unit is sturdy is by going through consumer reviews on it. These people have actually used the holder and know just how well it can bear the weight of different accessories. They are therefore in the best position to give you an objective viewpoint so that you know exactly what you are considering putting your money into.
If you see a lot of negative feedback on the unit being shaky, the hooks being loose or the material being flimsy, you are better off looking elsewhere. However, if the reviews paint it out to be a well-built, strong and reliable piece then you can breathe easy.
Aesthetics
A really good dog leash holder is more than just a bunch of hooks to hold your dog's accessories. It should actually serve some aesthetic purpose if you want full value for your investment in it. There is absolutely nothing wrong with those cute and goofy dog silhouette designs. These add character to the hanger and to the space where you choose to hang them up. They are also a fantastic way to let people know that that is a dog-friendly home.
When it comes to aesthetics, you should also consider the overall vibe created by the design and the finishing. Is it rustic, minimalistic, or even modern chic? Compare this with the aesthetic of the space where you plan to set it up. The last thing you want is a rustic eye sore sticking out in your immaculate modern style space.
Aesthetics are also really important if you are shopping for the dog leash holder as a gift to a pet-owner loved one. That way, they will have something super cute yet sentimental and at the same time functional. What else would anyone need from a gift?
Number Of Leashes It Can Hold
The number of leashes your holder can accommodate is determined by three things. The first is the design and depth of the hooks. Deep hooks are always a win. This is because they allow you to hang up several dog accessories at the same time on one hook.
The second major factor is the weight capacity on the hooks and on the dog leash holder as a whole. It goes without saying that the heavier a load that the hook can handle the better. That way you can enjoy multi-functionality with the unit holding not just your dog's leash but also other accessories like harnesses, leash handles, dog clothes and so much more.
Finally, the number of hooks on each dog holder determines how much you can hold on it. Again, the more the merrier especially if you have a lot of things you need to store on it.
Individual Hooks VS Bar Holder
Does it come as a bar with several hooks? Or is it a single hook you mount on the wall? The designs here both have a lot to offer with a little bit of compromise required in each case.
With the individual hook dog leash holders, you basically have a single mount hook that you attach directly to the wall without any intermediate bar. These are wonderful if you are working with limited space as it is only one hook. However, the capacity is greatly limited which can be challenging especially if you have a lot of items you would like to store.
The bar holder, on the other hand, offers a lot more space for you to work with whether it is 2,4 or even 6 hooks. These are ideal if you have a lot you would want to be held on the hanger. They also come in handy if you want things orderly and easy to access as you are not cramming everything onto one hanger hook. However, you need to find the right amount of space to accommodate these which might not work as well aesthetically if the space is already crowded.
How Does It Attach To The Wall?
There are many different ways to attach dog leash holders to the wall. You can hammer it straight in, use drill screws, use double-sided tape or even hang it up using D-rings. The screws and D-ring methods are by far the most popular and both have their fair share of pros and cons.
The screw method of fastening the holder to the wall is the most secure. The screws also add more strength and stability to the whole setup. That way, your holder can truly live up to its maximum weight potential and then some. The only drawback is that setup can be a little complicated. You also do not have the freedom to easily take it down and set it up elsewhere on a whim.
The D-rings, on the other hand, are very easy to hang up and take down. Just get some nails on the wall or a wall accessory hanging hook and use the rings to set it up. This design also offers flexibility allowing you to take down the dog leash holder and move it around as you see fit. However, the stability of the mounting on the wall here is only as reliable as the tools that the holder hangs on so you need to make them incredibly secure for the whole setup to stand sturdily.
---
Final Thoughts
---
You now have all the information you need to make the best decision for your home. Our top pick is worth looking into with its perfect balance between aesthetics and functionality. That way you get something that not only looks great on your wall but will also serve you and your dogs for a long time- giving you more bang for your buck.
You could also check out our other 6 alternatives for a wider point of view of what is out there, what matters and what your different options are depending on your needs. Whichever the case, just use what you have learned from our beginner's shopping guide and you should be good to go.