The best high-fiber dog food is Wellness Core High-Fiber Dog Food.
Does your dog suffer from constipation, diarrhea, or frequent gas? Does he or she have trouble keeping a healthy weight?
There's a chance that your dog isn't getting enough fiber in his or her diet, and that's why. Dogs who are fed diets low in fiber often develop urinary and digestive tract problems, allergies, and even joint diseases.
Dog owners who want their pets to live healthy, comfortable lives should consider adding fiber to their dog's diet. After all, there are health benefits associated with having more dietary fiber in your pooch's diet.
So, we have compiled a list of the best high-fiber dog food to help you choose the very best option for your dog.
#1 Wellness Core High-Fiber Dog Food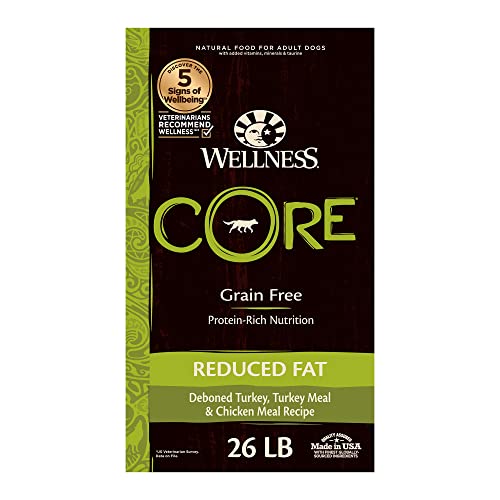 This option by Wellness is awarded our top spot, and it is easy to see why. It offers a huge range of benefits for your dog, including essential vitamins and minerals which take care of everything from cardiovascular health to maintaining a shiny and glossy coat.
Containing around 80% more meat than its competitors, this is a high-fiber choice that helps to support a raw diet and philosophy, stripping the dog food back to basics and providing your pooch with an extremely high level of meat that resembles their natural choice of diet.
This choice has the added bonus of being all-natural, reduced in fat, and grain-free, making this the ultimate healthy choice for your dog. With antioxidants to help boost nutrition content and live-action probiotics and prebiotics to take care of digestive health, this is a comprehensive dog food that offers your furry friend everything they need to stay in tip-top condition.
The Wellness Core brand has offered a comprehensive package that is specifically designed to target and boost every area of your dog's health and well-being. Based on the natural diet of your pet pooch and composed to include as much meat as possible, this is a perfect option for those looking for a premium dog food choice.
Pros
---
Wellness' high-fiber dog food, which contains a considerably lesser amount of fat, is an ideal product for weight maintenance in pooches that are struggling to stay in shape.
This canine food product is formulated with 42% high-quality protein ingredients to facilitate the development of lean body mass and toned muscles in a pooch.
This high-fiber canine food product is fortified with a healthy mix of omega fatty acids, antioxidants, prebiotics, probiotics, vitamins, and minerals that all work together to promote a pooch's well-being.
The Wellness Core canine food product is devoid of poultry by-products, wheat, wheat gluten, corn, soy, artificial colors, preservatives, and other ingredients that are typically considered to be unsafe for canine consumption.
Wellness Core high-fiber dog food is produced in the company's state-of-the-art facility located in the United States, in compliance with safe manufacturing practices.
Cons
---
There are concerns about this product's quality control as several customers have reportedly received torn food bags or moldy food that was unfit for consumption by their pooches.
The huge kibble pieces of the Wellness Core high-fiber dog food usually prove to be difficult for small-sized pooches to comfortably chew and swallow.
#2 Natural Balance Limited Ingredient High-Fiber Dog Food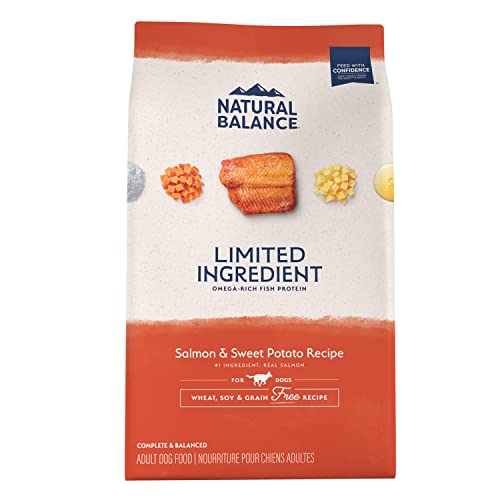 This high-fiber pick from Natural Balance offers a simple, healthy, and delicious option which is suitable even for those on a budget. The key focus is on eliminating unnecessary ingredients from your dog's food, leaving them only with the essentials which can help to boost health and wellbeing.
Ingredients are kept simple and functional: salmon helps to provide amino acids, which are essential for maintaining a healthy coat and strong muscle tone. Sweet potatoes offer carbohydrates for much-needed energy, as well as a rich source of potassium, and are easy for your dog to digest to allow them to receive the maximum benefits.
Natural Balance keeps it simple, and the end result is a dog food your pooch will love, which is free from unwanted chemicals, colors, flavors, or preservatives, as well as eliminating unnecessary ingredients. This ensures that everything your dog is eating is nutritious, wholesome, and beneficial.
The benefits of organic and natural diets have long been lauded in human society, so why not pass on those benefits to your precious pooches? Natural Balance offers a natural and simple yet affordable dog food that is designed to include everything your dog needs to thrive and has no nasty hidden surprises or additives included.
Pros
---
The use of real salmon as the first and major ingredient of this Natural Balance formula provides the amino acids that are needed for the formation and maintenance of strong muscles in pooches.
Natural Balance's high-fiber dog food product contains sweet potato as a grain-free source of fiber that is helpful for the maintenance of canine digestive health.
The nutrient-rich recipe of this Natural Balance diet is formulated and suitable for consumption by pooches of all ages, breeds, and sizes.
The canola oil contained in this limited-ingredient diet is a rich source of the omega fatty acids that are needed for the maintenance of healthy skin and coat quality in dogs.
This limited-ingredient dog food recipe is prepared with a simplified list of premium ingredients which comprises a single animal protein source and is devoid of soy, grains, gluten, and artificial flavors that typically trigger food sensitivities in pooches.
Cons
---
Multiple customers have commented that they received Natural Balance food bags with a significant amount of crumbs that their canine buddies couldn't eat.
Frequent changes in the formula of this high-fiber food product usually result in pooches failing to develop an appetite or exhibiting symptoms such as vomiting and diarrhea.
#3 Solid Gold Fiber-Rich Dog Food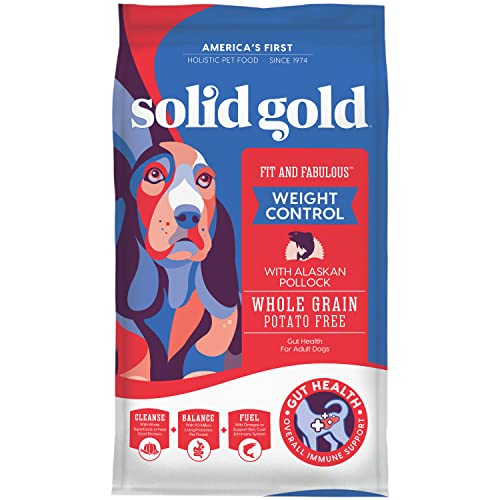 If you are looking for a complete high-fiber dog food that is specially formulated to give your pooch everything they need, this is the ideal choice. Specially designed with gut health in mind, this pick from Solid Gold targets the whole body for a holistic and complete approach to health.
With high levels of calcium and phosphorous to help maintain strong teeth and bones and omega-3 and omega-6 to boost a glossy coat and healthy skin, this is a balanced blend of essential nutrients designed to keep your pooch in tip-top condition. What's also included are proteins, vitamins, minerals, amino acids, and fatty acids, all of which work together to provide a comprehensive dietary solution.
This is a simple yet balanced high-fiber option for your dog's diet, providing everything they need to stay strong and fit and remain free from unnecessary chemicals and ingredients.
Pros
---
Solid Gold's fiber-rich dog food product contains ocean fish meal and salmon that produce EPA and DHA, both of which are needed for the proper cognitive development of puppies and support for the heart to maintain its performance.
This canine food product is formulated to keep a pooch's fat consumption at the barest minimum, thanks to a low-calorie recipe that is ensured by the use of either real Alaskan Pollock or chicken as the main protein sources.
The superfood ingredients and antioxidants contained in this canine food product contribute to the improvement of a pooch's immune and overall health quality.
This dog food product from Solid Gold contains 90 million living probiotics per pound that help fight diseases and contribute to the maintenance of a pooch's digestive system by facilitating the growth of gut flora and healthy bacteria.
This low-fat dog food formula contains brown rice and pearled barley, both of which are rich sources of fiber and minerals that are of immense benefit to a pooch's digestive health.
Cons
---
The tiny kibble size of the Solid Gold dog food usually proves to be difficult for large pooches to chew.
The occasionally bad packaging of this product results in customers receiving torn food bags that have been infested by ants.
#4 NUTRO NATURAL CHOICE Adult Healthy Weight Dry Dog Food
We all want our dogs to be healthy, and this includes helping them to maintain a healthy weight. This high-fiber dog food by Wholesome Essentials offers a healthy and nutritious option that will help your dog to stay fit, lean, and on top of its game.
Each recipe is based on a high-quality protein source, and choices include chicken, venison, or lamb, depending on your dog's preferences. This helps to provide much-needed energy while building strong, lean muscle and helping to watch and manage weight. The focus is on natural and "real" ingredients, with no artificial filler or unwanted chemicals, and all components are locally sourced and easily recognizable.
This is an ideal high-fiber solution to keeping your dog's weight under control while still ensuring that its diet is balanced, healthy, and delicious.
Pros
---
The tailored blend of protein and fiber contained in the NUTRO NATURAL dog food is formulated to help with weight management in pooches struggling with excessive weight gain.
The essential antioxidants that make up the constituents of this NUTRO NATURAL dog food product are important for the maintenance and support of a pooch's immune system.
The use of non-GMO ingredients and the absence of chicken by-product meal, corn, wheat, and soy make this recipe an appropriate choice for pooches with a history of food sensitivities and allergies.
This NUTRO NATURAL recipe is crafted with a high-quality protein source – chicken or lamb – to provide pooches with the nutrients that are required for proper and healthy physical development.
This high-fiber food product is produced in NUTRO NATURAL facilities located in the United States, with ingredients gotten from reputable and healthy sources around the world.
Cons
---
There have been several reports of the NUTRO NATURAL kibbles arriving as fragmented pieces that were somewhat difficult for pooches to eat and swallow.
Several dogs have reportedly become sick with vomiting and severe diarrhea after consuming this dry dog food recipe.
#5 Wellness Complete Health Natural Healthy Weight High-Fiber Dog Food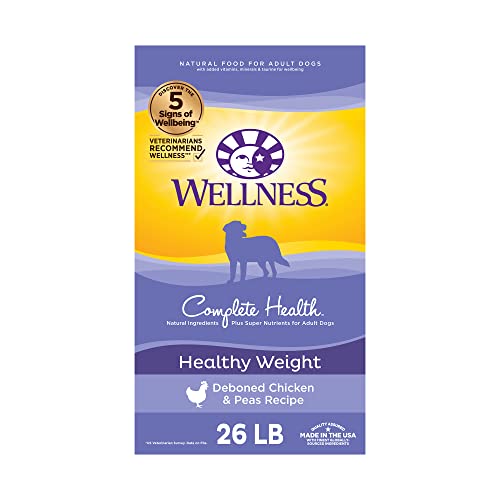 Balancing a healthy, nutritious diet and healthy dog weight management can be tricky. The Wellness Complete Health Dry Dog Food helps you to tick both boxes effectively, offering a healthy and well-balanced option that is lower in calories.
Ingredients are naturally sourced and chosen to ensure the maximum benefits while considering the needs of the whole body from the top of the nose to the end of the tail! Debones chicken and peas help to provide protein which is essential for building muscle, as well as aiding digestion and effective absorption of nutrients to make sure your canine companion is totally cared for.
Help your dog live their healthiest life by balancing weight management with good all-around nutrition. This is a delicious and healthy high-fiber option that will appeal to dogs of any size and age.
Pros
---
The Wellness Complete high-fiber dog food contains antioxidants and taurine that help to strengthen a dog's immune system and ensure that the pooch's heart continues to function optimally.
Its nutritious, balanced blend of fats, carbohydrates, and proteins provides the energy levels that are needed for a pooch to go about its daily activities without issues.
Flaxseed contained in this Wellness Complete dog food product is a rich source of fiber that supports canine digestive health and omega fatty acids to keep a pooch's skin and coat shiny.
This canine food recipe is specifically developed with fewer calories to support the maintenance of optimal weight in pooches and to facilitate weight loss in dogs struggling with obesity.
The crunchy kibbles of this Wellness Complete food product are prepared without meat byproducts, common filler ingredients, as well as artificial preservatives, and colors that are generally considered to be unsafe for canine consumption.
Cons
---
The kibbles of this Wellness Complete canine food product are reportedly usually too large for small pooches to chew and swallow without choking.
This dog food product isn't manufactured for picky eaters, as there are multiple customer reports about pooches refusing to eat the kibble.
#6 Blue Buffalo Wilderness High-Fiber Dog Food
Blue Buffalo prides itself on creating well-balanced, complete dog food that is tailored exactly to the needs of your pooch. All recipes have two parts; top quality, naturally sourced ingredients combined with vitamins, minerals, and antioxidants to provide a thorough total-body benefit.
Crucial ingredients, like DHA, helps to support cognitive development in your dog, while chondroitin and glucosamine support joints and help to assist mobility, particularly in older and larger dogs. All Blue Buffalo's dog foods also contain "LifeSource Bits," – an antioxidant-rich kibble that helps to preserve and boost the nutritional benefits of the food, allowing your dog to receive maximum benefits.
This high-fiber pick from Blue Buffalo offers a balanced dog food option for your pooch, specially designed to help support and boost every area of the body for maximum benefits, no matter their age, breed, or size.
Pros
---
The use of either real chicken or lamb as the major protein source of this canine food product ensures the provision of nutrients that dogs need to build lean muscle mass and develop physically.
Blue Buffalo's high-fiber dog food product contains the LifeSource Bits, which is a precise blend of antioxidants, vitamins, and minerals that work in various capacities to promote canine immune health.
This high-fiber recipe contains a generous and healthy amount of calcium and phosphorus to aid in the development of strong teeth and bones in a dog.
This high-fiber canine food recipe is grain-free and prepared without soy, wheat, and meat by-product meals, thereby making it safe for consumption by pooches with allergies to the aforementioned ingredients.
The omega-3 and omega-6 fatty acids contained in this Blue Buffalo dog food provide the nutrition that is essential for the maintenance of the shine and luster of a pooch's coat and skin.
Cons
---
Frequent changes in the texture and sizes of the Blue Buffalo usually result in pooches refusing to eat these kibbles at times.
This dog food product is relatively expensive and may not be appropriate for customers operating on a budget.
#7 Taste of the Wild Grain Free High-Fiber Dog Food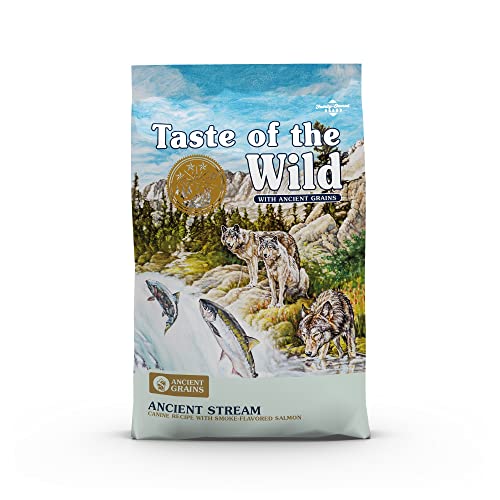 This high-fiber dog food from Taste of The Wild is exactly as the name suggests; a balanced and complete diet choice that takes its inspiration from the diet of your dog's ancestors. Roasted bison is the main ingredient, offering a rich source of protein to help build strong, lean muscle mass and offering essential amino acids which boost a shiny, healthy coat.
The recipe also contains superfoods, fruits, and vegetables, as well as crucial acids to help benefit every part of your dog, from a healthy heart to sharp eyes. With no unwanted additives, preservatives, or chemicals, you can be confident in the knowledge that your pooch is eating a high-quality, high-fiber dietary dog food that closely mirrors their natural preferences.
For a true return to your canine's wild roots, this is a nutritious and delicious high-fiber option that offers a range of benefits to boost your dog's overall health and well-being.
Pros
---
The high-protein formulation of this Taste of the Wild recipe, which is guaranteed by the use of real fish as the major ingredient, facilitates the development of strong bones, joints, and lean muscle mass.
Taste of the Wild's high-fiber dog food product contains vitamins and minerals from real fruits, as well as superfood ingredients, such as blueberries and raspberries, that provide the nutrients needed for the optimal development of a pooch.
This grain-free recipe contains species-specific K9 strain proprietary probiotics and prebiotics that promote the growth of healthy bacteria in a pooch's gut, thereby strengthening the dog's digestive health.
In addition to the prebiotics and probiotics, this Taste of the Wild product is prepared with dried chicory root, which is a rich source of fiber that provides fuel for the activity of beneficial bacteria in a dog's digestive system.
This canine recipe is formulated without eggs, egg products, chicken meat, chicken fat, or chicken meal, which makes it beneficial for pooches with food-related sensitivities.
Cons
---
The fishy flavor of this high-fiber food product has reportedly resulted in several dogs, with no previous history of food pickiness, refusing to eat the kibbles.
Multiple pooches have reportedly become sick, vomited, and developed diarrhea after eating Taste of the Wild's high-fiber kibbles.
#8 Royal Canin Canine Gastrointestinal High-Fiber Dog Food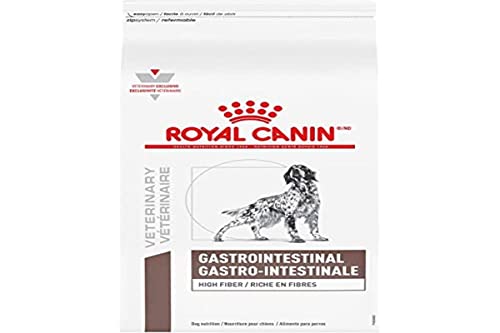 ROYAL CANIN Canine Gastrointestinal Fiber Response Dry (8.8 lb)
WEIGHT MAINTENANCE: Royal Canin Gastrointestinal Fiber Response provides appropriate energy levels for weight...
HEALTHY DIGESTION: Highly digestible proteins and prebiotics promote digestive health and optimal stool quality
HIGH FIBER LEVELS: Formulated with high levels of dietary fiber to promote dog digestive health and to help dogs with...
This is a specially formulated gastrointestinal fiber response dog food that is specifically designed to help boost and restore your dog's digestive system back to full health. Issues such as illness and antibiotics can wreak havoc with the delicate balance of your pooch's digestion, and it is important that the digestive system is given time and support to fully recover.
This high-fiber formula contains high quantities of fiber, which helps to prevent colitis and diarrhea – common unwanted effects of digestion issues. The recipe also includes ingredients that have been specially selected to nourish the intestinal microflora in dogs, while a boosted amount of omega-3 fatty acids work to reduce any intestinal swelling and nourish the tissue of the gastrointestinal tract to help get your canine companion up to full health.
If you are searching for the best way to help support your dog's digestion and restore them to its full strength, this is the ideal dog food to help rebuild and strengthen the digestive system.
Pros
---
This Royal Canin recipe is formulated with high levels of dietary fiber to ensure the convenient digestion of food and improve a pooch's gastrointestinal health.
This dog food product contains a blend of omega-3 fatty acids, EPA, and DHA that help to manage and reduce cases of intestinal swelling, as well as nourish tissue located in a pooch's gastrointestinal tract.
The mixture of soluble and insoluble fibers contained in this Royal Canin recipe facilitates smooth movement within a pooch's intestines, thereby ensuring easy digestion of ingested food.
The high-fiber content of this canine food product is helpful for the maintenance of weight in pooches that are struggling to stay in shape.
Cons
---
Customers are usually required to get vet approval before purchasing this dog food product, and this may not be easily acquirable for some potential customers.
This Royal Canin high-fiber recipe is relatively more expensive than similar products on the market.
---
High-Fiber Dog Foods Buyer's Guide
---
Choosing high-fiber dog foods for your pooch can offer a range of health benefits and help to improve their overall health. Fiber is essential for helping your pooch to maintain a healthy digestive tract; the fatty acids found in your dog's intestine help to convert the substance into fatty acids, which help to prevent the overgrowth of bad bacteria, as well as help the colon to recover from injury faster.
Having a high-fiber diet is also important for dogs that are suffering from anal gland problems, as it helps to improve their bowel movements.
2 Types Of Fiber
There are two main types of fiber that be beneficial for your dog, namely soluble and insoluble.
Soluble fiber ferments in the colon to create gases; too much can cause diarrhea, and this is common when fiber is first introduced into the diet. For this reason, it is a good idea to start slowly and build up.
Insoluble fiber absorbs water as it makes its way through the digestive tract and helps to regulate intestinal transit time. Excess of insoluble fiber can decrease nutrition in a diet, as it binds minerals. This can lead to weight loss, vomiting, diarrhea, flatulence, and poor coat quality.
By ensuring that your dog's diet has enough fiber, you can help to reduce and prevent diarrhea and constipation. The soluble and insoluble fibers both combine to add moisture to your dog's excrement. When this moisture is taken from outside the colon, it helps to reduce the likelihood of constipation.
Related: Best Limited Ingredient Dog Food
Higher Fiber Helps With Overweight Dogs
Weight loss is also an area that can benefit from the introduction of fiber. Fiber can help your dog to feel more full, leaving them satisfied without the consumption of too many calories.
Dog food that is high in fiber often has the ability to absorb a higher volume of water. This also helps to make your furry companion feel fuller faster. So, it reduces the number of calories they need to consume.
Related: Best Dog Food For Weight Loss
How To Introduce A High-Fiber Diet?
A high-fiber diet has a huge range of benefits for your dog and can prove a bonus to overall health and fitness, as well as having the potential to stave off some serious illnesses and conditions later on. Before switching to a high-fiber diet, there are some considerations to make in order to make the change comfortable for your pooch.
Step 1: Observation And Evaluation
You should start by observing and evaluating what your dog has been consuming thus far. Your dog's stomach will be used to the diet they have been given, and a sudden change can cause disruptions and problems with digestion. Consider how much fiber they are used to, and take steps to introduce it slowly.
Step 2: Research
The next step is to consider which forms of fiber will be most beneficial to your dog. Many complete canine foods already offer close to the recommended amount of fiber, so you may simply need to add a few more elements, such as vegetables or supplements.
Do your homework; discover how much fiber your dog has been receiving and from what sources. You have the option to either change the food completely or simply add more fiber to the existing diet. Make sure you are clued up on the best primary sources of dietary fiber, where they can be found, and the best supplements.
A chat with your vet is a good idea, as they will be able to help you tailor your plan to your canine.
Step 3: Gradual Introduction
If you decide to completely overhaul your dog's diet, it is important to do this very slowly, gradually mixing the new food with the existing food to prevent an upset tummy.
Gradually increase the level of high-fiber foods until you have fully switched over. Similarly, if you are introducing new elements into your dog's diet, make this a steady process to help the digestive system get used to the changes.
Always follow your dog's lead; if they seem to be struggling with a change, take a step back and reassess your approach.
Related: Best Wet Dog Food
Examples Of High-Fiber Foods
As well as complete dog food options, there is a range of foods that are naturally high in fiber and which can be added to your dog's existing diet with no issues or huge overhauls. Fruits and vegetables are the ideal options for adding fiber, and there are certain sources that are particularly useful for dogs, such as:
Tomatoes
Carrots
Avocados
Peaches
Apples
Green vegetables, such as spinach, green beans, and broccoli
Beet pulp
Pumpkin
Sweet potatoes
Green Beans
Green beans are an ideal vegetable and can offer a useful supplement to your dog's diet, as well as being easy to add to their dinner. They are also easy to prep; simply steam, chop, and mix them in for an easy way to increase the fiber content of your dog's food.
Sweet Potatoes
There is a good reason why sweet potatoes are the central ingredient of so many dog foods; they are super high in fiber, with over 3g in a single medium-sized sweet potato. They are also easy to include in your dog's food; simply wash, prick with a fork, and cook for between 8 and 10 minutes. Once cooked, scoop out the inside from the skin, mash it, and mix between 1 and 3 tablespoons in with your pooch's normal meal.
Pumpkin
Canned pumpkin is also a super simple way to increase the amount of fiber in your dog's diet; double-check to make sure you do not pick up pumpkin pie mix, as this has far too much sugar. Pumpkin is high in fiber and so needs to be carefully controlled depending on the size of your pooch. A smaller dog only needs around a teaspoon mixed with food, while larger dogs, such as those greater than 50 pounds, can have up to a quarter of a cup.
Consider Natural Fiber Supplements Too!
In most cases, your dog will be able to get the fiber they need merely from a carefully balanced diet and adding in suitable foods and additions where necessary.
However, in some cases, your vet may recommend supplements to help with bowel movements and to keep your dog's digestive system in tip-top condition.
While there is a variety of over-the-counter options, many owners are understandably reluctant to add chemicals or medications to their dog's diet where natural alternatives are available. One of the best ways to supplement your dog's fiber requirements is through additions like flaxseed.
Flaxseed is a naturally occurring substance that comes with a variety of benefits and can be particularly helpful for adding fiber and helping out the digestive system.
What Is Flax?
The flax plant produces small golden-brown seeds and a nutty flavor. It is often seen in ground form and can be sprinkled on your dog's food or added to a capsule.
Health Benefits Of Flax
The biggest benefit of flax is the high level of fatty acids and omega-3, which contributes to cell membrane structure, cell function, immune function, healthy skin and coat, digestion, and growth of bones and muscles.
How Much Flax To Give Your Pooch?
It is particularly beneficial for healthy digestion, and it is flexible enough to help with both diarrhea and constipation. For this reason, it is often already added to many complete dog food, but you can also add it to your dog's diet if this is not the case.
When using ground flaxseed, the dosage is based on the weight of your dog. As a rule, the amounts are as follows:
Teacup dog breeds – ⅛ to ¼ teaspoon a day
Small dogs – start with ½ teaspoon, and increase to 1 teaspoon a day
Medium dogs – start with 1 ½ teaspoons and increase to 2 full teaspoons a day
Large dogs – 2 ½ teaspoons, and increase to 1 full teaspoon a day
Giant breeds – start with 1 ½ to 2 full teaspoons a day
You should always check with your vet if you have any concerns or questions or if your dog is diabetic, hypoglycemic, or suffering from any other medical conditions.
Related: Best Organic Dog Food
---
Final Thoughts
---
A high-fiber diet is essential for maintaining the overall health and well-being of your pooch. The best options are those which offer a complete nutrition program and provide a blend of protein, vitamins, minerals, and essential acids to create a balanced, nutritional food for your pet.
The top pick we chose offers all of this and will help your canine companion remain in peak condition with everything they need to thrive, provided in one easy-to-feed solution.