The best indoor dog potty is PetSafe Pet Loo Portable Indoor Dog Pee Pads.
Getting a puppy? Or do you perhaps have a dog that's not housebroken?
When you get a puppy, and they're too small to go outside on their own, you'll need to know how to house train a dog. Housebreaking a puppy is easy if you teach your puppy to use a dog potty or indoor dog toilet.
That will help you potty train a puppy and make your pet dog more trustworthy.
Here are some of the best indoor dog potty solutions to help you and your family live a cleaner, happier life with your pet pooch.
#1 PetSafe Pet Loo Portable Indoor Dog Potty
SALE ALERT!!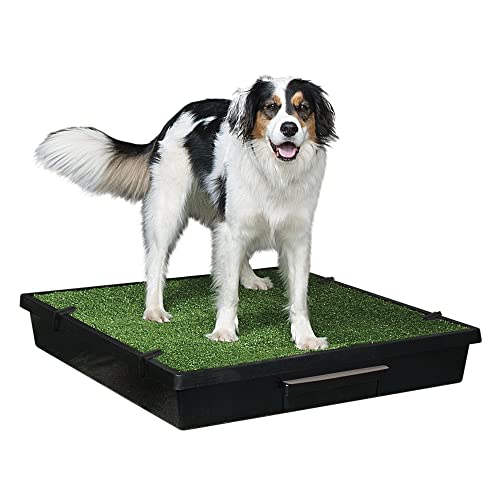 PetSafe Pet Loo Portable Dog Potty, Alternative to Puppy Pads, Large
PEACE OF MIND: Great for working pet parents or those that live in apartments and want to train the dog to use the...
LESS ODOR: The covered waste bin and Wee Sponge powder work together to trap smells and help keep the potty odor-free....
CONVENIENT CLEAN-UP: The Pee-Pod slides out of the base and the Wee Sponge powder turns the urine into a gel on contact...
This dog potty system is our top pick because it offers the best of both worlds: effectiveness and value for money.
While there are some other pee pads that work pretty effectively as well, they come with natural grass and need to be replaced very often, which can be very expensive over a period of time.
The synthetic grass doesn't need to be replaced, and you also wouldn't have to deal with any soil or grass mess.
The tray the grass is clipped to is slanted to allow the urine to seep through to the waste bin without getting stuck in the grass. Unlike some other indoor dog potty pee pads, the synthetic grass this product comes with doesn't absorb the urine much, which helps keep odor and smells at bay.
A unique Wee Sponge powder is also included in the package that turns the urine into a solid, gel-like substance that doesn't let the urine escape to the floor or give off a bad odor or smell.
Dogs can get used to the potty system fairly easily. However, if your furry buddy doesn't take a liking to it quickly, you can purchase PetSafe's Skip To My Loo separately, which should help your dog better adapt to this potty system.
This indoor dog potty from PetSafe offers everything you can ask for to have a completely hassle-free, odor-free potty system for your dog, but without having to replace the system every now and then.
Pros
---
The convenient, portable design of the PetSafe dog potty makes it possible for customers to transport this product for their canine buddies to use in different locations.
The innovatively designed PetSafe dog potty features a synthetic grass surface that gives pooches the feel of real grass and makes them feel more comfortable about using the product.
The Wee sponge powder used in this canine potty turns dog urine into gel on contact, thereby reducing odors and subsequently making it easier for customers to dispose of a pooch's waste.
The synthetic grass mat used for the PetSafe canine loo is placed on a tray base that can be conveniently slid out and rinsed with water to provide a convenient way for customers to carry out cleaning and maintenance when needed.
The reinforced structure of this canine potty's base provides additional support for a dog's weight and ensures that the product won't collapse when a pooch is either pooping or peeing.
Cons
---
The clips that come with this package usually don't work well to keep the synthetic grass in place, thereby resulting in pooches dragging the grass – with their poop and pee – around the house.
Several customers have bemoaned the poor quality of the grass material that comes with this dog potty product.
#2 Synturfmats Pet Indoor Potty Patch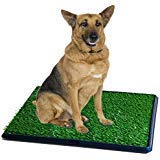 While our top pick is actually a great value for money, it does come with a hefty price tag. But what if you're on a tight budget?
Well, in that case, this product is what you would want to go for.
It has three layers: artificial, synthetic grass, a grid tray that helps keep the grass dry, and the base tray at the bottom that collects the urine.
It's not as convenient as the product we reviewed above, especially when it comes to disposing of the urine, but that's pretty much the only drawback.
Other than that, it's surprisingly easy to clean (you just need to rinse it with soapy water), the grass really does stay dry, and most importantly, there's no odor.
Thanks to the grass that looks realistic, most dogs take to this product pretty quickly. So, it can be a budget-friendly way of avoiding all the mess your furry beast may be causing around the house.
The Syntufmats indoor dog potty is being offered at a surprisingly low price, especially for how effective it actually is. Sure, you don't have the convenience of solidifying the urine like the top pick above does, but other than that, there's really nothing to complain about this product.
Pros
---
This canine potty patch is simple to use, and it also comes ready to use, with customers not needing to carry out any additional installation processes.
The 3-layer design of the Synturfmats includes a plastic insert that allows liquids to drain and a base tray for the collection and subsequent disposal of dog urine that passes through the previous layers.
The Synturfmats potty patch is relatively easy to clean and maintain, with customers simply needing to rinse the product with soapy water and air dry to get rid of urine and stains.
This indoor potty patch is produced with synthetic material that looks like real grass to serve as an encouragement for pooches to do their toilet business on the product.
The Synturfmats potty patch comes in handy for potty training pooches or providing assistance to senior dogs that find it difficult to go outside and use the bathroom.
Cons
---
The lightweight design of this canine potty makes it relatively easy for dogs to move and flip the potty, thereby making big messes on the floor.
Several customers have commented that the turf grass of this potty patch doesn't drain and, instead, retains liquids, thereby resulting in an unpleasant smell around the home.
#3 BrilliantPad Automatic Self-Cleaning Indoor Dog Potty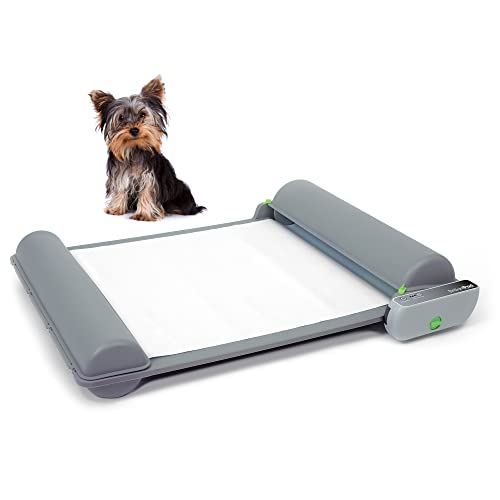 Now, this is a wonder product for puppies. However, it's only designed for puppies and can't be used for adult dogs.
But it's one of the few potty systems that can actually handle #2 as well and not just urine.
It boasts an automatic system with super absorbent pad rolls that seal and wrap the waste after your pup is done with its business. However, its smart sensor ensures that it never rolls when your dog is on the product.
The edges of the machine are designed in a way to prevent any spills on the floor, which can really turn out to be useful when your puppy relieves itself near the edge.
Finally, the product is more eco-friendly than other similar ones, and the roll disposal is easy.
The BrilliantPad indoor dog potty does come with an expensive price tag, but boy, is it worth every penny. If you have a puppy and would like something that can handle both their #1 and #2 almost completely hands-free, you would be hard-pressed to find a better option.
Pros
---
The lightweight, compact design of the BrilliantPad indoor potty ensures that it can fit seamlessly in both homes with large spaces and limited living spaces.
The BrilliantPad canine potty features an adjustable timer that automatically advances the pad, depending on the frequency set by the user, to wrap and seal dog wastes, thereby helping to keep the home clean and odor-free.
The automatic advancement system of this canine potty comes with an animal sensor to detect a dog's movement and ensures that the machine advances safely only when there is no pooch nearby.
The BrilliantPad indoor canine potty comes with disposable rods and caps that make it easy and fast for customers to get rid of collected dog waste.
This canine potty product is specifically designed for use with puppies and small dogs that weigh under 25 lbs.
Cons
---
This product is considerably expensive for use in homes with multiple dogs, as the rolls tend to run out quicker, and customers subsequently have to purchase replacements at a higher frequency.
Several dogs don't take well to the hard surface of the BrilliantPad potty and, as a result, refuse to use the product when it is time to poop and pee.
#4 DoggieLawn Indoor Disposable Dog Potty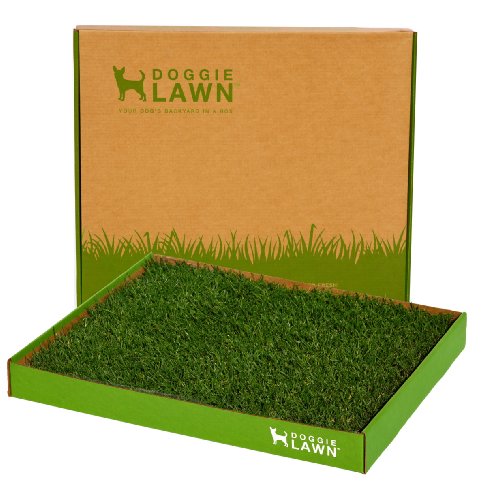 If you have a puppy or a medium-sized dog that wouldn't take to anything but real grass, then this product from DoggieLawn will be right up your alley. It comes with real grass that's grown hydroponically.
You would get all the benefits of real patch grass with this product. There would hardly be any dog that wouldn't take to it immediately, as most dogs love to do their business on natural grass anyway.
These disposable real grass dog potties absorb the odor really well and are completely odor-free. It's a great biodegradable option as both the grass and the cardboard tray are made from environmentally friendly materials.
After using the product for a couple of weeks, you will have to discard it away and get a new one. This means that its replacement cost can add up.
The feel of the grass makes all the difference – with the unique design from DoggieLawn only keeping the dirt mat an inch thick – which also helps avoid all the issues otherwise associated with a product made of natural grass.
Pros
---
The DoggieLawn potty is produced with real grass pee pads to give pooches the feel of being outside, thereby encouraging them to do their toilet business on the potty.
The use of real grass to produce this doggy potty provides an eco-friendly design that ensures that this product won't end up in landfills after disposal.
Similar to actual turfs, the DoggieLawn indoor canine potty is designed to absorb liquids and smells, thereby ensuring that the home remains odor-free.
The DoggieLawn grass turf comes in a box, and it can be easily removed and disposed of when it is time to install a replacement.
The DoggieLawn indoor potty is produced in different sizes, ranging from mini to extra-large, to ensure that pooches within the various size categories can conveniently do their toilet business without making a mess on the floor.
Cons
---
This canine potty isn't suitable for use with untrained and unsupervised dogs, as it is considerably easier for a pooch to dig in and destroy the product.
The inability to clean the DoggieLawn turf results in the product becoming wet and soggy, a state that can be both uncomfortable and unsanitary for a pooch to use.
#5 LOOBANI Dog Potty Systems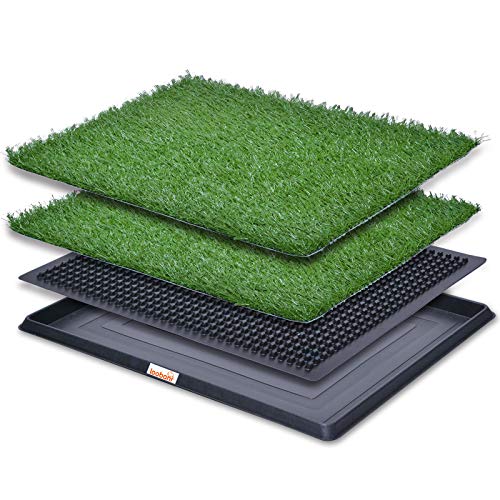 The LOOBANI dog potty system comes with two fake grass mats, which give your pet the comfort that they are using the real deal. It comes in three sizes which is suitable for most dogs.
It has a triple-layer design with a layer of synthetic grass on top. Underneath the grass is a drainage gate to catch solids. The final bottom layer is a durable collection tray to catch liquid waste.
This LOOBANI system uses reusable grass that is very easy to clean. It can be cleaned with warm soapy water or the gush of a water hose. You can empty the collection plate easily. It can be used indoors or outdoors and is perfect for homes or high-rise apartments.
It is a great tool for potty training and is suitable for old or sick pets. Your pet can use it if you're away for long hours and is portable enough for travel.
We love the easy-to-use design, which holds all the waste thanks to the triple-layer design. You can use the LOOBANI dog potty system indoors or outdoors, which is suitable for training or taking care of sick or old dogs. We appreciate its easy-to-clean design.
Pros
---
This indoor potty product features a three-layer system – grass mat, drainage gate, and protection tray – that works to collect both liquid and solid wastes and prevent these wastes from seeping through and making a mess on the floor.
The collection base of this LOOBANI potty system can be conveniently slid out for the disposal of liquid waste that passes through the product's drainage gate.
The top grass pad of the LOOBANI canine potty system can be easily cleaned either by hosing it off or washing it in warm, soapy water to prevent the development of unsavory smells.
The portable, lightweight design of this canine potty product makes it easier for customers to transport and set up the potty for both indoor and outdoor use.
The LOOBANI canine potty comes with an additional artificial grass mat that ensures that the product can continue to be used when the grass pad in use has to be washed.
Cons
---
The grass mat of the LOOBANI potty system tends to retain smells, even after it has been thoroughly washed with soap and water.
The tray of the LOOBANI canine potty is shallow and the absence of raised edges usually results in customers needing to frequently empty the potty to prevent dog urine from spilling over.
#6 PETMAKER Artificial Grass Indoor Dog Potty
SALE ALERT!!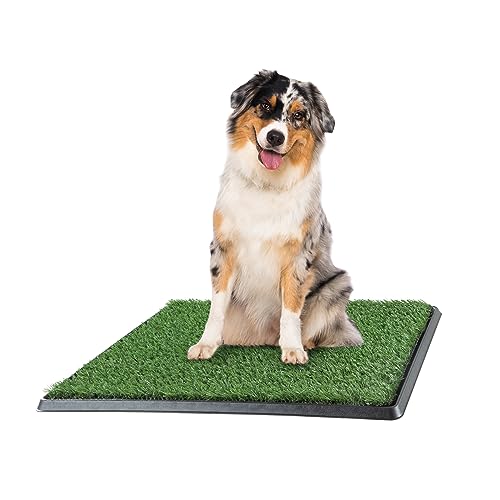 If you're on a super tight budget but want to get pretty much the same features as some of the more expensive indoor dog potty pee pads, then these dog pee pads from PETMAKER will likely turn out to be your best bet.
It is designed for small and medium dogs only though. It's also one of the few potty systems that would fit inside a 48-inch crate if that is an important factor for you at all.
It has three layers as well; the faux grass is realistic but safe and non-toxic for your pup, the grid tray allows the urine to flow through easily while keeping the mat dry, and the durable base tray that collects the urine and is easy to remove.
It is being offered at a steal price compared to other indoor dog potty pee pads, without actually having any major drawbacks. Many puppies don't even need to be trained much to start using it on their own.
Pros
---
PETMAKER's artificial grass potty is available in both 3-layer and 4-layer systems to provide an enhanced collection of dog wastes and prevent messes and spills on the floor.
Maintenance of this canine potty product is straightforward, with customers simply required to rinse the three layers with soapy water and air-dry to clean the product.
The bottom base tray of this indoor dog potty can be detached from the grid tray to provide an easy and convenient way for customers to get rid of collected dog urine and liquids.
The versatile design of this artificial grass potty makes it suitable for use indoors in apartments and homes with no available yard for pooches to do their toilet business or outdoors on a patio, porch, or garage.
The non-toxic synthetic material used to produce this dog potty's grass mat looks like real grass, and this usually serves as an encouragement for pooches to poop and pee on the product.
Cons
---
The thin base tray of this canine potty product doesn't hold much before urine starts puddling up and spilling out of the sides and onto the floor.
There are doubts over the quality of the synthetic material used to produce this potty's grass mat, as several customers have reported that the mat tends to unravel and shed easily.
---
Indoor Dog Potty Buyer's Guide
---
There can be multiple issues for a dog not being able to use your house's bathroom, and it can also be an incredible challenge to train them to use it.
But an indoor dog potty is a completely different world for them. They are already made to depict the natural environment a dog likes to do their business in, so it can make the task so much easier.
Why An Indoor Dog Potty Can Be A Wonder Product?
You wouldn't ask this question at all had you used a good indoor dog potty just for a couple of weeks. But to answer the question, one of the most important reasons is that it can completely stop all the accidents your dog may be causing in your home.
Most indoor dog potty pee pads we have reviewed above either come with real grass or synthetic grass that looks very realistic. It would encourage your dog to "go" just the way they do when they are outside.
We have also carefully chosen dog pee pads that make it easy to dispose of the urine and waste, so your life would certainly get easier as you won't have to deal with all those accidents.
There are obviously also times when taking your dog outside just isn't an option, such as when it's freezing cold or raining heavily outside. Some dog owners also leave in apartments (where you may not even have a garden) that make it much more challenging to take their dog out just for peeing.
It's very unreasonable to expect your dog to control their urge to "go" for more than a few minutes, especially older dogs that typically have bladder control or bowel incontinence issues.
For all these things and many more, an indoor dog potty can very well turn out to be one of the best indoor dog potty pee pads you would ever buy for your dog and yourself.
Related: Best Puppy Potty Training Pads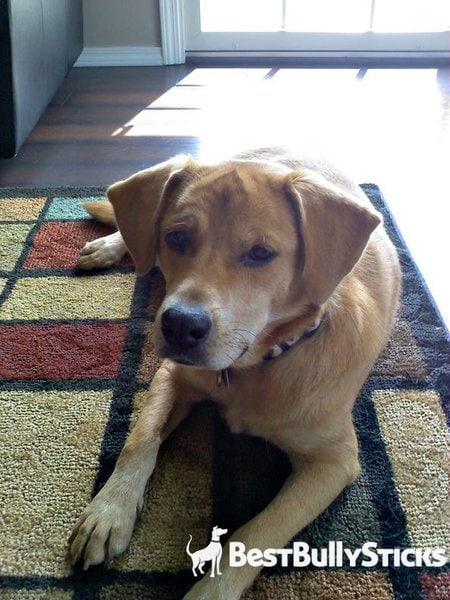 How Does An Indoor Dog Potty Works?
Most indoor dog potty systems come with three layers, except the real grass ones. The first layer is a synthetic or faux grass mat.
The second layer is a grid that paves the way for quick, effective drainage of the urine so as to keep the grass layer dry and odor-free. The bottom layer is removable and works as a collective tray for the urine.
The synthetic grass helps attract your dog, as dogs love to do their business on the grass in the garden. This makes it incredibly easy to potty train your dog or puppy, while also preventing annoying accidents around the home.
The indoor potty systems we have picked above are also easy to clean, and usually, just require being rinsed with soapy water and dried before assembling back and putting back in use.
Related: Best Puppy Playpens
Other Types Of Indoor Dog Potty Systems
While the synthetic grass dog potty systems are extremely popular and ideal for most dog owners, some also prefer going for the natural, real grass ones. This is because they are easier to get used to for the dog, while also being much better at absorbing the odor.
Real Grass
Also, as they come with real grass, they don't need to be cleaned or washed. However, the trade-off is that they have to be thrown away and replaced with a new one every couple of weeks or so, as there's no drainage or cleaning to make them useable for a long time.
There's obviously no hassle of having to dispose of the urine or clean the system. But it's not really an option for those on a budget as the cost can really add up over time.
Automatic Self Cleaning
The only other type of dog potty system we have on our list is an automatic self-cleaning indoor potty. It's specifically designed for puppies and an exceptional choice for them as it handles both #1 and #2, something that hardly any other product can do.
In other words, you don't have to manually remove the waste on the potty after your puppy is done. It automatically wraps it in the pad roll, which can easily be thrown away.
Pee Pads
While not on our list, many dog owners also use pee pads. Most may switch to one of the dog pee pads we reviewed above if they knew about them, though.
This is because while pee pads can help reduce accidents, they usually cannot totally prevent them. They are also a lot more hassle than the indoor dog pee pads we reviewed above.
Most dogs also don't like them, and you would likely struggle to get your dog used to them or potty train a dog or a puppy using pee pads.
Further, as they need to be replaced with use, their cost can add up as well, just like the real grass potty system.
There are also some other types of potty systems like a litter box and a grate, but they are not as good an option as the ones we have already discussed.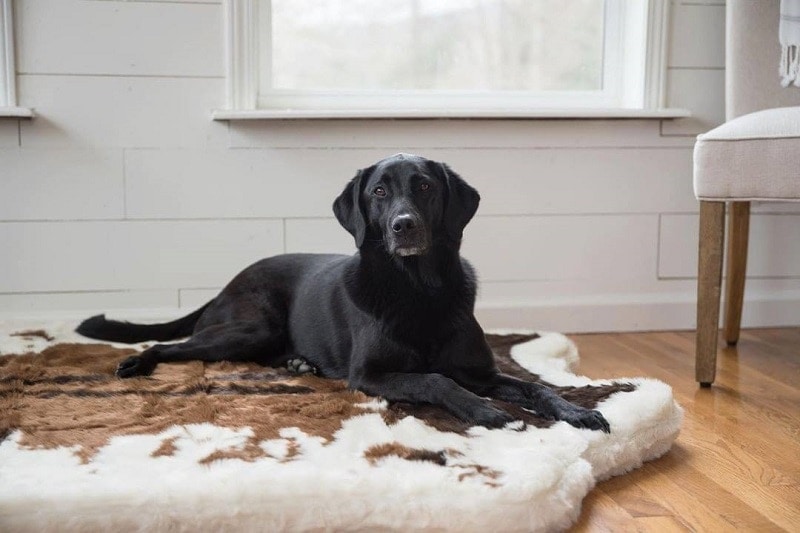 Potty Training Your Dog Using An Indoor Dog Potty
If you have decided to get an indoor dog potty, you would also want to know how to potty train your dog with it.
Well, to your pleasant surprise, many dogs take to an indoor dog potty system right after you introduce it to them. This is especially true with real grass pee pads or the synthetic grass ones we have reviewed in this post, as they create the kind of environment that dogs are already naturally used to.
However, some dogs may require training, and you will realize that it becomes so much easier to potty train them with an indoor dog potty.
You need to start with introducing the potty to your dog and asking them to "go" on it. Similarly, whenever they give you the signal that they want to relieve themselves, bring them to the potty and ask them to "go" there.
A great way to reinforce the habit when they start using the potty is to generously praise and give them a good treat.
Once they get used to the potty, they wouldn't want to "go" anywhere else in your home.
This is a simple process but does require some patience. However, if you want to get there a bit faster, you can put some dog pee on the potty, which would give a big signal to your dog that a potty is a suitable place for them to do their business.
---
Final Thoughts
---
After going through everything we discussed, it can be concluded that you can either go for an inexpensive option OR a completely hassle-free option.
But what if you can get the best of both worlds? Our best indoor dog potty we reviewed right at the top would indeed turn out to be surprisingly economical in the long run despite the seemingly high price tag, while also offering the most hassle-free, odor-free, and dog-friendly experience you can get.
Apart from the innovative slanting design for highly effective drainage, it's the only potty system that allows you to solidify the urine, meaning no odors, spills, or mess, while also making it incredibly easy to dispose of.