The best puppy playpen is IRIS Exercise Pen Dog Playpen.
As puppies grow, they require more space and freedom to play and explore. This is why the best puppy playpens are so important, as they provide a safe, contained space for puppies to run, jump, and play all day.
Also, because they are so energetic, puppies are prone to chewing on furniture, and they also need a place to relieve themselves when you are out of the house. A great way to prevent this from happening is to buy a playpen for your puppy, as they can be easily set up and moved around to different locations.
We have created a list of the best puppy playpens in the market today, so you can find the right product for you and your furry friend!
#1 IRIS Exercise Pen Dog Playpen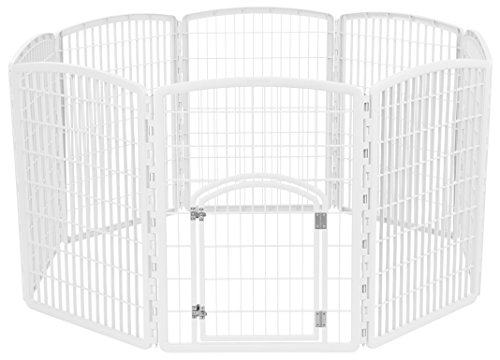 This multifunctional puppy playpen from IRIS is hands-down the most reliable and versatile on our list. We've given it the top spot because of how many different configurations it can be used in, how easy it is to actually use, and how effective a product it is.
Your canine companion will have the time of their life in this super simple (but super effective) playpen. It can be set up to act as a security gate or a playpen. It can even fold between hexagonal and rectangular configurations, to fit any size apartment or house.
The adorable little doggy-door built into the product is perfect for training your puppy and letting them know when they can enter and leave the pen. It's the ideal way to teach your new friend some obedience and how to play properly.
This playpen totally deserved the spot at the top of our list as it truly is the best we've seen. The incredible versatility of the product really sealed the deal as we know how important it is to get value for your money!
Pros
---
21 square feet of room to play
Easy to assemble and take apart
Hinged access door with secure latches
Can be expanded with extra panels
#2 Amazon Basics Foldable Metal Dog Playpen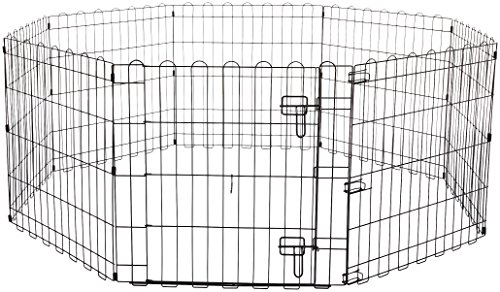 Speaking of getting value for money, this next entry is our special 'budget-conscious pick'. We scoured the web for something that could meet any budgetary requirements, while still retaining the high quality you need from a pet product.
The Amazon Basics Foldable Metal Dog Playpen went above and beyond, in our opinion – and it really deserved its place on the list. With all the features of a premium puppy pen, at a fraction of the price, you definitely won't be disappointed!
This durable playpen is super-secure and even comes fitted with non-skid rubber feet, to protect your floors. Another awesome safety feature is the rust-proof iron material it's made of (so if you use it outdoors, it won't rust).
Considering the price point, we think this playpen provides everything your puppy could ever need and more. It's a surprisingly luxurious pen with plenty of room for your little friend to have fun in, and it definitely won't break the bank!
Pros
---
Multiple configurations
Folds down for easy storage
Secure-locking slide-bolt latches
#3 North States Pet MYPET Petyard Passage
SALE ALERT!!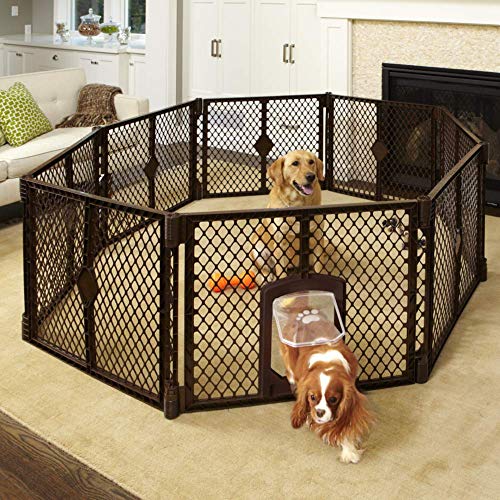 The MYPET Petyard Passage from North States Pet is a wonderfully customizable option for those of you who want to keep your puppy constantly on their toes. It comes with a choice of between 4, 6, or 8 panels – so you can reconfigure it into different shapes and surprise your little pup.
We love how light and easy to use this particular indoor puppy playpen is. It's easy to assemble and reconfigure and even has a small door fitted for your puppy to jump in and out of. Don't worry, though, it's plenty secure and can be locked when needed.
One of the main selling points of the MYPET Convertible Petyard is just how large you can make it with the customizable panels. Having that extra room to add as your puppy grows is such a great idea.
Pros
---
Skid-resistant pads
Convenient carry handle
Made from lightweight plastic
Can enclose up to 34 square feet
#4 Carlson Convertible Super Wide Gate
SALE ALERT!!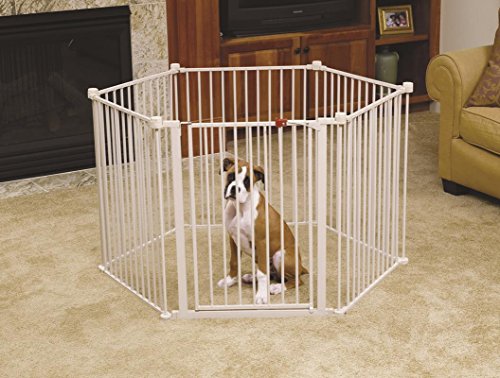 Carlson Pet Yard and Convertible Super Wide Gate
6-PANEL PEN: Six 24-inch wide configurable panel pen
CONFIGURABLE: Each panel can be adjusted to fit almost any opening. Great for wide spaces, angled openings, hallway,...
DURABLE AND CONVENIENT: The all steel design is durable and convenient with a walk-through door. Easy sliding lock...
For ease-of-use and portability, the Carlson Pet Yard Playpen is one of the best on the market. With a simple one-touch lever, that allows you to walk through with minimal effort, this playpen is a joy to use.
This heavy-duty dog playpen made out of sturdy steel, which is sure to last a long time. It's simple to fold down and move around the house, and it can even be extended or customized with additional panels. It can even be reconfigured to be used as a gate if needed. This Carlson product is a genuine jack-of-all-trades.
If you're looking for something that's strong, secure, and tough for your pup to break out of, then this might just be the playpen for you. It's intuitive to set up and use and versatile enough to be used throughout your puppy's entire life.
Pros
---
Expandable to fit openings up to 144-inch
Heavy duty all steel construction
28-inches tall (so no escaping)
Easy release lever to pass through
#5 ZENY Foldable Metal Dog Fence
SALE ALERT!!
With a superbly simple 'snap-together' panel system, this heavy-duty ZENY Foldable Metal Dog Fence is perfect for puppy owners who find themselves looking for something easy and effective. It can be put up in seconds and then used as a playpen, a barricade, or a training yard.
Built out of robust metal and designed to be easily folded away in seconds, this sturdy metal wire dog playpen hits so many of the needs that people have when searching for that perfect dog playpen for their pups. Better yet, when you consider the price of it, it's an absolute steal.
Sturdy, solid, and versatile are the three words we'd use to best describe this gem of a find. The ZENY Metal Pet Fence is ideal for anyone who wants that little extra bit of security when searching for a new playpen.
Pros
---
No tools required for assembly
Folds flat for storage and travel
Heavy duty gauge metal wire construction
Durable weather resistant design
#6 BestPet 8 Panel Puppy Playpen
SALE ALERT!!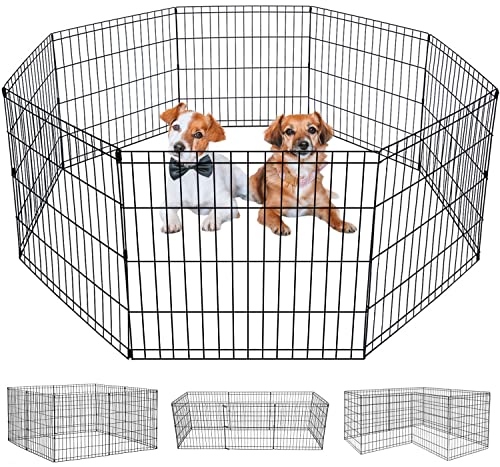 The BestPet Dog Playpen has been designed from the ground up to be perfect for excitable and curious puppies. Getting them inside this large exercise pen is the perfect way to start training with them and teaching them obedience.
This rust-resistant dog playpen can easily be reconfigured into different shapes to always keep your dog guessing and ensure they're constantly mentally stimulated. It can also be folded down in a matter of seconds and carried around whenever you want to relocate it.
With so many options on the market, it's hard to decide which playpen will suit your needs and your pet's needs. The BestPet foldable pet playpen is ideal for people looking to train their dogs in a sensible and secure environment.
Pros
---
Easy to set up and fold down
Multiple configurations; rectangle, square, octangle, barricade etc
Rust and corrosion resistant
#7 New World Foldable Metal Exercise Puppy Playpen
SALE ALERT!!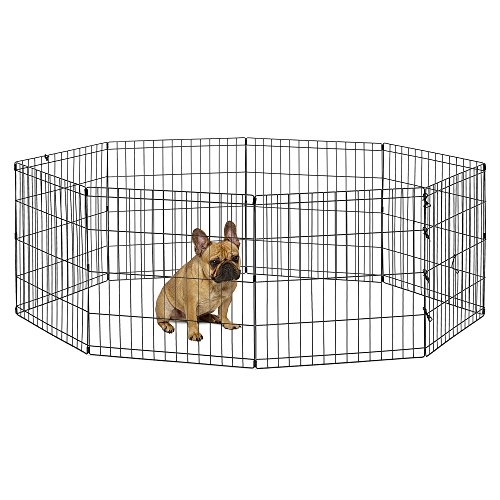 Sometimes, your little puppy needs a safe environment to let loose and exercise. This New World Pet Products playpen could potentially be one of the best on the market for these types of needs as it's designed specifically for small dogs to exercise in.
It comes with a variety of options, such as being able to choose a specific height level depending on how big your dog is. This is a really welcome choice as different puppies come in all kinds of shapes and sizes, so you can be 100% sure you've chosen the right model.
Coated with a rust-resistant black coat of paint, it is suitable to be used as an outdoor puppy playpen.
We love this foldable playpen because it has options for every size puppy out there. It's also really surprising that you can extend the size of the pen with a metal dog crate – which should make it even more homely for your puppy!
Pros
---
16 square feet of play space
A metal dog crate can be attached
Ground stakes included (for outdoor use)
No tools required to assemble
#8 X-ZONE PET Playpen
SALE ALERT!!
If you're looking for something completely different from the rest, the X-ZONE PET Playpen might just be for you. Your puppy is sure to stand out from the crowd with this striking mesh playpen.
With a zipped front door and an optional top piece (for extra containment), you can be assured of your pup's security and safety inside this fun pen. Because of its size, this pen is even more portable than many of the others on the list.
That last point really caught our attention. If you're looking for something extra versatile, this could be ideal. Side pockets on the mesh wall panels of the playpen give you even more storage space for things like dog treats!
Pros
---
Fully-ventilated mesh panels
Removable top panel for added security
Easy to set up without tools
Side pockets for extra storage
#9 Summer Infant Pop N' Play Portable Playard
SALE ALERT!!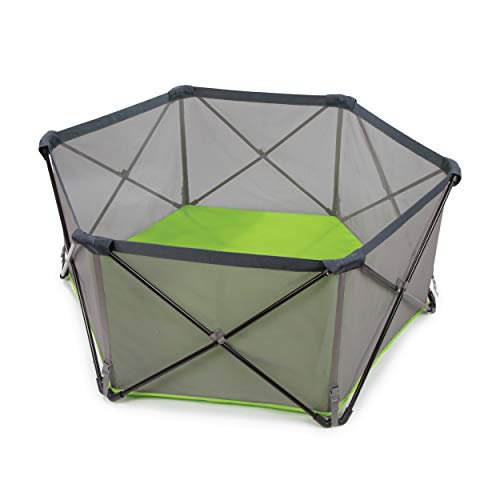 You might be able to guess from the name that this product wasn't initially designed for puppies. It is, however, still a great product that'd be perfect for your dog. It's also perfect for your wallet as it comes at an amazing price point – especially considering the high-quality build of it.
You can even take this with you on road trips or days out to the park as it folds down small enough to fit in a handy travel bag. That's quite impressive when you consider that it gives you a huge 14 square feet area for your puppy to play in when it's fully set up.
Although it might sound like a strange choice to include this in our list, it's a totally valid option for anyone out there concerned about their budget. Your puppy will absolutely love this playpen, regardless of if it was designed for them or not.
Pros
---
Freestanding and portable
Breathable mesh sides
Weather-resistant canvas floor
Folds down to fit in a travel bag
#10 ESK COLLECTION Puppy Playpen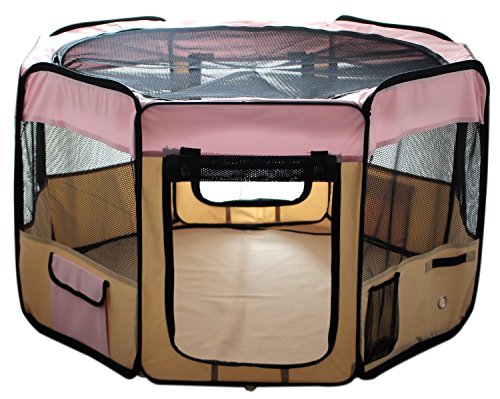 Speaking of prices – you'll probably be surprised to see just how inexpensive the ESK COLLECTION Puppy Playpen is, considering how versatile it is. With full mesh panel coverage, this pen can be used as an exercise pen, training tool, and kennel – all in one neat package.
Your dog is kept secure within the well-ventilated mesh walls (which also allow you to keep an eye on them while they play). Handy storage compartments make training easier, as you can store their favorite toys and treats inside.
We love how user-friendly this model of the playpen is. Setting it up, folding it down, cleaning it, and storing it are all super easy tasks – made even easier by the awesome design of the pen.
Pros
---
Water resistant cloth material
Disassembles to a compact size
Simple to install, 8-panel design
Easy to clean
#11 Jespet Pet Playpen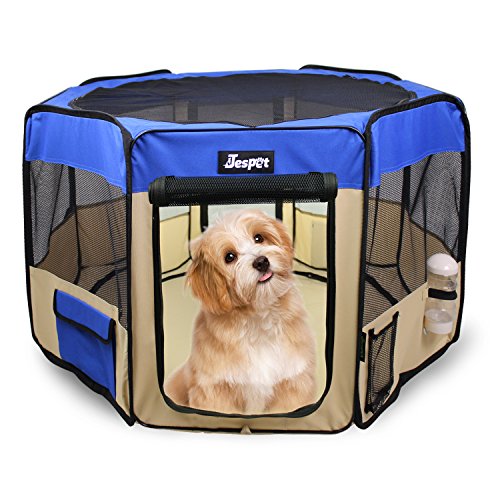 Another mesh playpen to finish off our list of recommendations now. This Jespet model is perfect for puppy owners who want to take their little friend out and about, but don't quite trust them to run around responsibly. This tiny playpen will solve all your problems.
Handy storage pockets on the size provide ample room for toys, treats, and other doggy accessories. The total mesh coverage also provides a secure space for your canine companion to enjoy their playtime safely (and with your supervision).
It is made of water-resistant material that would keep the area dry and clean. It is perfect for indoor outdoor usage.
Something that we really loved about this playpen is the thought and care that has obviously gone into the quality design. It's made to still be strong and durable, despite being constructed mostly from a mesh material.
Pros
---
2 zippered doors
Protected seams and reinforced corners
Water resistant fabric and durable mesh build
Lightweight and easy to carry
---
Puppy Playpens Buyer's Guide
---
We've given you all of our top recommendations and told you why we love them, but the final choice is all yours to make. In this buyer's guide section, we're going to go over the different factors which you'll have to consider when choosing which playpen is right for your dog.
Related: Best Puppy Potty Training Pads
How Will Your Puppy Use It?
What playpen you end up choosing could very well be affected by what kind of usage you expect to get out of it. There are several different ways that you can utilize an indoor puppy playpen, so let's take a look at them:
Training Purposes
Many owners use a playpen as a way to enforce good behavior and train their puppies in obedience. There are many ways to go about this. For example, the pens can be used to help them with their toilet training, or they can be used to get your pup used to the crate (for when you leave for work).
Barricade
Some dogs require a little extra reminding about boundaries and where they are and aren't allowed to go in the household. Playpens can act as the perfect barrier to show them what areas of the house they're allowed in. This can be a great way to help the dog understand the rules.
Purely For Play
Some people just want their dogs to have a good time. Playpens are perfect for allowing your dog a little time to themselves, where they can let loose, chase their tail, and play with all their favorite toys in a safe and secure environment.
It's entirely down to you what purpose you want your new playpen to serve. If you have different ideas in mind, you may want to go for a pen that is versatile and can serve several different purposes. This is why you'll see so many models come with extendable panels, additional accessories, and reconfiguration options to suit your needs.
Playpens that have been designed specifically with training in mind will very often come with additional storage pouches and pockets around the outside. These are perfect for storing treats and toys to aid you in the training of your puppy.
Related: New Puppy Checklist (EPIC Guide!)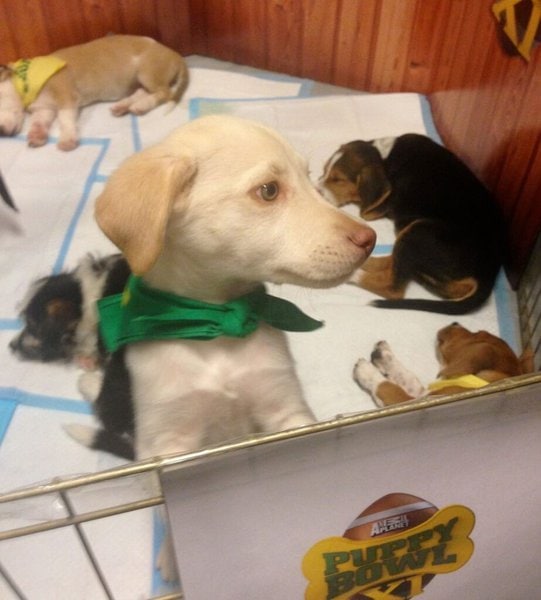 The Size, Weight & Height Of The Playpen
These are three really important factors that you have to take into consideration when purchasing a new playpen; the size, weight, and height of the pen you want. Let's take a closer look at the reasons why you need to have already decided these details before you start looking:
Size
Depending on what breed of dog you have, your puppy could soon grow into quite a large young adult. If you want your dog to have adequate room as it grows, it's best to get a pen that can grow with him (via extending panels). On the other hand, smaller breeds will always stay small and will love having a pen that's just the right size for them.
Weight
Depending on what material your pen is made out of, the weight could differ vastly. This is important for a few reasons, the first of which is the puppy being able to move the pen around on the floor if it's too light. Secondly, portability is something you may want to think about. A lighter pen is perfect for taking on day trips and moving around the house.
Height
Much in the same way as size, the height of the playpen should be determined by what breed of dog you have and how quickly they will grow (or how long you want to continue using the playpen). Thankfully, several playpens come with options for different heights and it's usually fairly easy to find the right size for your pup. Height can also affect storage and portability.
Deciding the desired size, weight, and height of your playpen before buying is absolutely essential. Make sure you take measurements or do a little research to figure out the specifics of what you need.
If you're not entirely sure what size your dog will grow to, it may be ideal for you to go with a playpen which can be added to as time goes on. Once your dog outgrows it, you can purchase additional panels to fit into your existing pen and increase the play area within!
Related: Best Puppy Foods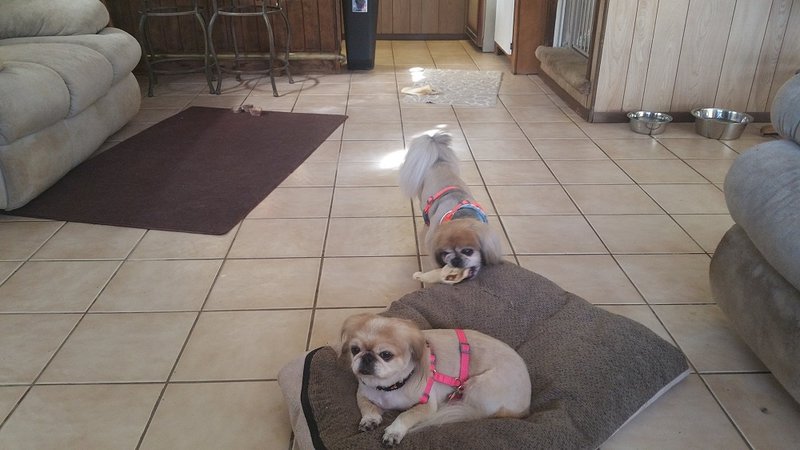 What Material Is It Made Out Of?
Most puppy playpens are made out of one of three materials. It's really important to consider which material will be best suited for you and your dog before making any kind of purchase.
These are the three most common materials used in their construction:
Mesh
This is a great option because of how light it is. You'll be able to watch your pet through it at all times and it's extremely well-ventilated. The only downside with mesh is that more destructive puppies will definitely find a way to chew through it.
Metal
This is the sturdiest of materials for a playpen and usually the most secure choice. It does come with a few drawbacks, however, such as the weight making it hard to maneuver and very cumbersome. If this is a problem for you, you're best to go for something a little lighter.
Plastic
With plastic playpens, you get the best of both worlds. It's strong, rugged, very durable, and still easy to move around (they're very lightweight). Plastic also has the added benefit of not rusting (if you decide to take it outside where it could be rained on). One downside of plastic playpens is the fact that naughty puppies can sometimes chew the weaker plastic models – so make sure you go for a quality brand when purchasing!
All options are completely valid if they'll suit your puppy and you're comfortable with it. In our opinion, a good strong plastic playpen is probably your best bet. If you can afford a heavy-duty metal pen, however, and don't mind the extra weight when carrying it, this might be a good option for you, too.
Something else to think about is the optional top panel which comes with many modern playpens. These are usually made from metal wire, soft-top canvas, or mesh material. These can be great to stop excited puppies from trying to escape out of the top.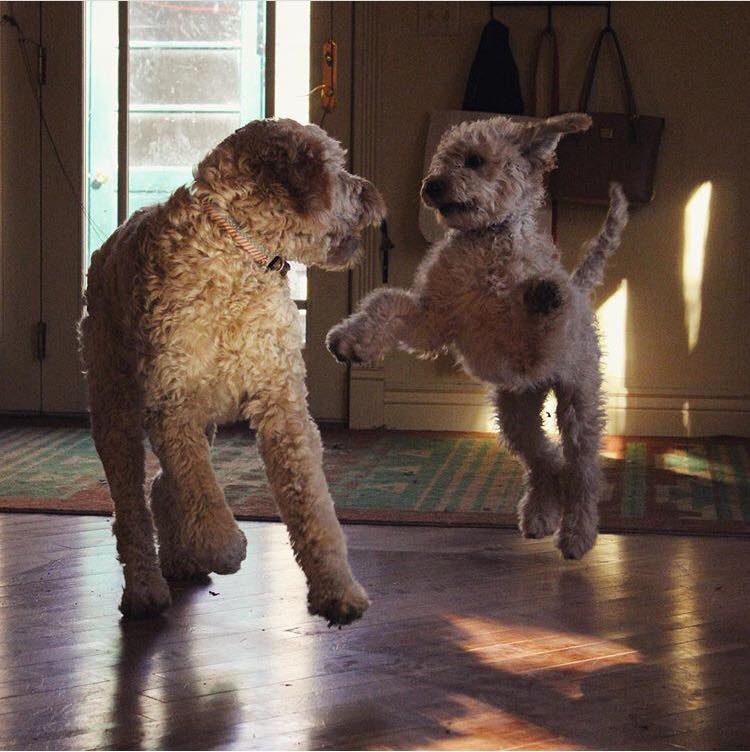 Safety Features Of The Playpen
As your puppy may be spending a fair amount of time inside the playpen, it's important that it's secure and safe for them. We don't want any accidents happening or any damage to be caused to your home.
Here are a few safety features that you need to consider and check for before buying:
Locking Mechanisms
There are several different types of locking mechanisms that playpens use. E.G. zippers, latches, touch-release etc. It's entirely up to you what option you go for, just make sure something is in place that'll stop your puppy from running straight out.
Rubber Feet
The best indoor playpens come with rubber feet (or similar material) which help to reduce movement along the floor and stop the feet of the pen from scraping the surface of your floor. These aren't essential, but if you think your pup may become excitable and move the pen around a lot, it's worth checking if the model you like the look of has them.
Screws/Bolts
It's very rare to see nowadays, but always check on pictures and read up on the playpens you like to check there are no exposed screws or bolts. These could potentially injure your puppy if they rub up against them or try to bite and chew them. It's also possible your puppy could get their collar or harness caught on these types of items, so make sure to remove them before allowing your dog inside a pen – just in case.
There are plenty of other elements you need to consider before making your purchase, but we've covered the vast majority of them. If you remember to keep everything we've taught you in mind, you should have no problem picking the best indoor puppy playpen.
That brings us to the end of our guide. All that's left now is to see what our final conclusion is.
---
Final Thoughts
---
We've finally reached the end of our in-depth guide to all of the best indoor puppy playpens on the market. Hopefully, the advice we've given – and the amazing recommendations we've made – will help set you on the right course in your hunt for the perfect pen for your pup.
Our overall top dog is still the IRIS Puppy Playpen. With a solid build, multiple handy configurations, and sturdy construction, we think this is the ideal playpen for any puppy!