The best indoor dog gate is the Richell 3-In-1 Convertible Elite Pet Gate.
Man's best friend is an adventurous creature that would love to go to just anywhere. Especially for untrained dogs, you would prefer them to be kept restricted off an area in your house where they won't damage stuff. It's for their security and safety.
The best way to do so is by getting an indoor dog gate to keep them safe.
Indoor dog gates are an important addition to any home with a dog. They provide an easy way to contain your dog, keep your pet out of trouble, and protect your home from damage.
We have compiled a list of the best indoor dog gates, so let's explore them in detail!
#1 Richell 3-In-1 Convertible Elite Pet Gate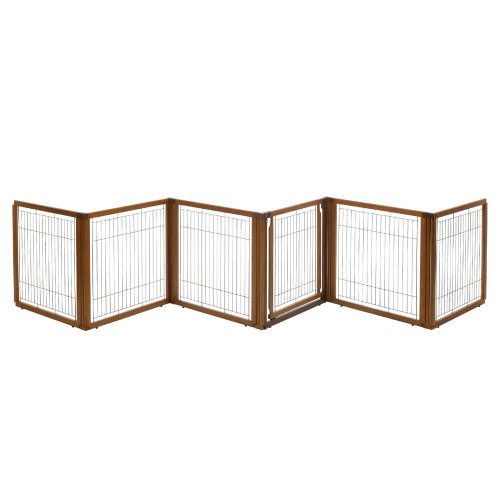 Richell 3-in-1 Convertible Elite Pet Gate, 6-Panel
3-in-1 pet gate converts to a freestanding gate, a room divider and a pet pen | Optional panel and wire top sold...
Room divider dimensions – 135.8" L x 29.1" W x 31.5" H | Pen dimensions – 68.9" L x 31.9" W x 31.5" H...
Recommended for small to large dogs of 8.8 to 44 lbs. (4-20kg) | Space between wire slats – 1 1/8" | Door opening...
Looking for an indoor canine gate that has three different functionalities in one?
Search no more! The Richell 3-in-1 convertible elite pet gate is your ultimate choice for an indoor dog gate to cater to all your needs. With just six panels, it does not only operate as a freestanding gate but also as a pet pen and a room divider.
The gate is constructed from brown hardwood, which would undoubtedly add beauty and taste to any home décor.
While using it as a freestanding indoor dog gate, it comfortably covers spaces spanning 129.9 inches to 134.4 inches wide.
With all that extra length, this makes this product the best indoor dog gate there is out there. It's highly versatile, and you can use it for apartments and big houses.
The indoor dog gates from Richell are very easy to assemble and configure into the different modes. It can also be easily folded for storage after removing the caps. The sustainable rubber and hardwood used in manufacturing are durable, saving you money in repairs.
Pros
---
Configurable panels allow you to either use it as a freestanding pet gate, room divider, or a pet pen.
An optional wire top can make it a dog crate.
Uses a swinging, easy to pass, and lockable door design.
Rubber feet for stability.
#2 Internet's Best Traditional Pet Gate
With a classic look to match your home décor, the Internet's Best Traditional Pet Gate is a very impressive indoor dog gate to keep your pooch safe. It is also a great option for budget-conscious folks to consider.
Setting it up in a "Z" formation, this gate can be used almost anywhere within the house, such as stairs, hallways, and bedrooms. It is constructed from wood and weighs 28.9 lbs. It is also available in two colors; Espresso and White.
When fully assembled, it covers an extra-wide length of 80 inches. This indoor dog gate has a height of 30 inches high, which makes it difficult for small or medium-sized dogs to jump over.
This dog gate from Internet's Best exhibits a simple design that is bound to capture the attention of minimalists. It can also be folded for storage in smaller spaces. Its color options, Espresso or White, should help blend in with almost every home décor.
Pros
---
Freestanding gate – no drilling required.
Sturdy hinges allow the folding of the gate to your desired design.
Made from durable wood to keep your dog safe for longer periods.
Classic finish with either an Espresso or White appearance to match your home décor.
Available in two height options; Standard (24 inches wide) and Tall (36 inches wide).
#3 PETMAKER Wooden Pet Gate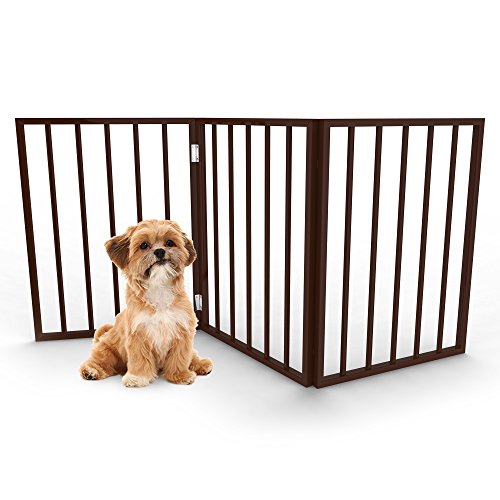 Hailing from PETMAKER, this is your ideal indoor dog gate to keep your fluffy friend away from accessing some parts of your home. Its length is suitable for almost any place you would wish to keep the gate.
Setting up in a "Z" formation, it can be used for wide hallways, wide double doors, etc. Weighing at 4.75 lbs, the high-quality yet lightweight wood is strong enough to prevent toppling in case your canine companion tries to knock it down.
When fully opened, it can cover up to 54 inches wide, but this will require something to hold the gate upright.
This indoor dog gate from PETMAKER is heavy enough to withstand your dog and yet light enough to easily carry, fold and store. Its storage is the best as it folds down to 3 inches, meaning you can even keep it in your closet.
Pros
---
Easy to install and fold.
Adjustable strap.
Lightweight side panels.
#4 PAWLAND Wooden Freestanding Foldable Pet Gate For Dogs
Made from tough wood and durable metal hinges, you are sure of owning a long-lasting dog gate that won't give you any issues in the near future.
This PAWLAND pet gate uses an accordion-like hinge design, thereby allowing you to install this indoor dog gate at nearly any location within the house, such as the staircase, kitchen, or hallways.
This indoor dog gate is perfect for blocking any wide entrances, as it has an extra-wide length of 80 inches when fully assembled.
The PAWLAND pet gate can be used as a fence, room divider, or pet pen. Its stylish and elegant looks are ideal for any homestead without affecting your home décor. Besides the added stability, the sturdy non-slip rubber feet are very useful in preventing scratches to the floorboards, unlike with some other gates.
Pros
---
No assembly is required.
Folds down for easy storage.
Sturdy rubber feet are friendly to your flooring.
Extra-wide and tall.
#5 Primetime Petz 360 Configurable Dog Gate With Door
SALE ALERT!!
If you have a playful dog who chews almost anything, here is your solution. Hailing from Primetime Petz, this 360° configurable dog gate with a door is made from chew-resistant solid wood, thereby keeping your pooch away from restricted parts of the house.
The gate comprises four panels, weighing 17.39 lbs and spanning up to 72 inches wide. It also comes with a smaller pet gate to allow your pet dogs to pass through without collapsing the entire gate.
Featuring the 360° hinge design, you can configure your furry four-legged friend's play space in a couple of ways.
This product also comes with rich Walnut or White finish options to fit your home décor. Its elegant and classy finish will add more exquisiteness to your home.
The four wide panels can span up to 72 inches making the gate suitable for dogs of any breed and size. The 360° hinges allow the doors to be opened both inwards and outwards, making them fit almost anywhere with your preferred configuration.
Pros
---
Sturdy rubber on the feet for stability and protection of the floor.
360° hinges assist in folding for easy storage.
Used as a gate or pen.
Lightweight and easy to move.
Its construction is 100% wood.
#6 Carlson Extra-Wide Walk-Through Pet Gate
SALE ALERT!!
This all-steel indoor canine gate from Carlson is the perfect answer for those with both big and small dogs. Its chew-resistant material saves you more money on repairs.
This white-colored gate can be easily installed using the pressure-mount system or by using the wall mount brackets. It also has a small walk-through 8-inch by 8-inch door that operates using an easy touch release handle, allowing your dog to pass through when you need it to.
As compared to the first few indoor dog gates, this product is more suited for smaller apartments as it only expands to between 29 inches to 36.5 inches wide. It is also 30 inches tall, making it ideal for keeping larger dogs in.
This Carlson dog gate has a state-of-the-art design that adds taste to your home décor. Its installation and removal process is very easy. Its use can be expanded to hallways and spaces spanning a width between 29 inches to 37 inches.
Pros
---
The pressure mount design is quick to set up; no hole drilling is required.
Has an 8-inch by 8-inch pet door that only allows small pets to pass through when opened.
Side panels can be easily detached for storage.
Sturdy metal materials.
#7 Carlson Home Design Extra Wide Walk-Thru Pet Gate
SALE ALERT!!
This unique pet gate from Carlson covers openings between 29 inches to 42 inches wide, a width sufficient to cover most homes' doorways.
Its design can be used for wide hallways or even double-sized doors, using the 4-inch or 6-inch extension kits provided. Without the extensions, it can be folded flat for easy storage.
This gate also stands at 30 inches tall, a height that would certainly deter most pets from jumping over it. Made of cast iron that is painted black, it is built for durability and chew resistance.
Besides its regular door, this product comes with the patented small pet door, measuring 10 inches tall by 7 inches wide, allowing smaller dogs to go through with ease. As such, this indoor dog gate can be configured to allow small pets out of the enclosed area while keeping bigger pets contained.
This indoor doggie gate from Carlson is ideal for almost any space, regardless of how wide or sophisticated the structure is. Its height will keep most dog breeds from passing through. The sturdy cast-iron material used is chew-proof and cannot be knocked down by heavy or aggressive dogs when its edges are properly secured to the wall.
Pros
---
Convenient walk-through gate with efficient lock feature.
Durable cast iron design.
Can be folded flat for easy storage.
Additional extension kits of 4-inch and 6-inch are provided.
#8 Arf Pets Free-Standing Wood Dog Gate
SALE ALERT!!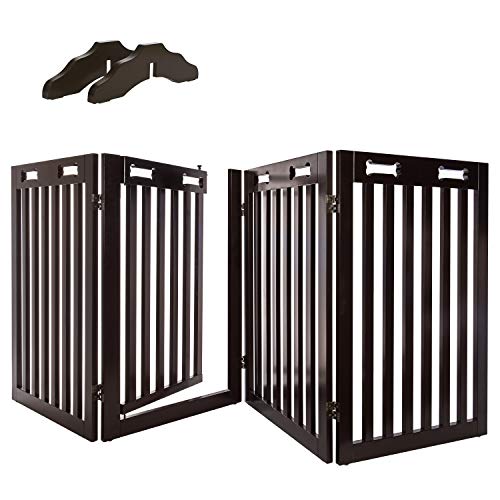 If you wish to own an indoor canine gate that you can temporarily place somewhere or keep at different locations from time to time, then this is your ultimate choice. The freestanding dog gate from Arf Pets can also be folded to create a pet pen.
This indoor doggie gate is very light, allowing you to carry it around without any constraints, but heavy enough to keep the dog from taking it down. The elegant dark wood finish does not disturb your home's image but adds more value.
When fully expanded, the freestanding dog gate covers a generous 80 inches in length. This product stands at the height of 31.5 inches, much taller when compared to the other options here.
This four-panel foldable gate from Arf Pets has a smaller door for dogs to pass through easily. The gate can also be easily folded to create a dog pen. It also allows for one to expand the size of the gate further by another 40 inches with the purchase of its two-panel extension.
Pros
---
Freestanding gate or pen.
Quality wood material.
A hinged door gate keeps the pets away but is easy for you to pass through.
Allows multiple configurations.
#9 SPIRICH Dog Gate With Door Walk-Through
The SPIRICH dog gate with a walk-through door comes extra wide at 96 inches and 30 inches tall, making it perfect for tall dogs. If you have a pup that you need to contain or a large dog, this dog gate will be a perfect choice.
This product has a solid wood frame plus a strong mental wire interior. It has four panels that are well secured and connected with 360° hinges.
It can also be used in doorways, hallways, or any wide spaces in your home. The lockable door lets you move around freely without dismantling the gate.
This dog gate is portable and has two protruding support feet for added stability against toppling. Hence, its freestanding design does not need any wall attachments to function.
We love the extra-wide design that the SPIRICH dog gate employs. It is durable, thanks to its metal and wood design. You don't need any wall fixtures because it is freestanding. We love its walk-through design because you don't have to dismantle it while trying to get through.
Pros
---
The gate spans a width of 96 inches and a height of 30 inches.
A dog gate with a walk-through door design.
Made of wood and metal, available in two colors, namely, Espresso and White.
The four panels are connected with 360° hinges.
Can be used in any extra-wide spaces, such as doorways and stairways.
Employs a freestanding design.
Two support feet for extra balance.
Perfect for pups and large dogs.
#10 Summer Infant Walk-Thru Baby Gate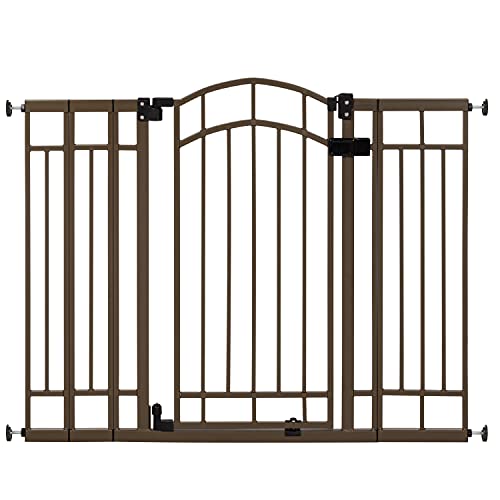 When you wish to combine simplicity and convenience in one statement, think of the Summer Infant Walk-Thru Baby Gate.
Despite being rated for babies, its all-metallic, pressure-mounted gate works well with pups and adult dogs too. Its three finish options, namely Black, Beige, and Bronze, will surely fit any home décor.
The product has a width spanning 28.5 inches to 48 inches wide and a height reaching up to 36 inches tall. Such dimensions are ideal for protecting even the larger dogs from accessing the restricted parts of the house.
Another really neat feature is that this indoor dog gate comes with an expandable option. You can configure it to fit any openings between 28 inches to 48 inches wide.
The door auto-close feature of this Summer Infant gate lets the door shut gently behind you instead of banging it, thereby reducing wear and tear. The pressure mounts are padded and do not leave any marks on your wall. The option of hardware mounting is also available to make it more secure.
Pros
---
Has an auto-close feature.
One hand walk-through.
Is easy to install with its pressure mounts and has the option for hardware mounting.
Has a durable metallic finish available in three options; Beige, Black, and Bronze.
#11 Palmer Dog Gate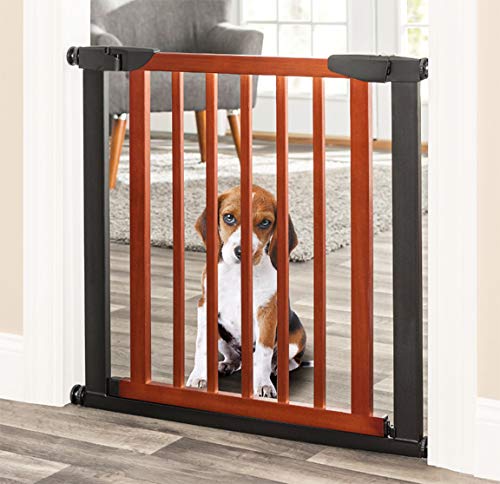 The Palmer indoor dog gate from NMN Designs is a pressure-mounted dog gate made from natural hardwood and metal spindles. The outer frame is made from chew-resistant steel.
With the help of the included extensions, the gate can be expanded from 29.5 inches to 40.5 inches wide. It comes with a classy auto-shut feature that shuts the door gently after opening it. This feature will not be triggered if the door is open to a full 90° angle, great for situations when you need unrestricted access between rooms.
As it uses metal and wood for its constructions, its overall appearance can be somewhat jarring due to the two colors of great contrast. Additional work will need to be done to the wooden frame, like repainting it in a darker color to match the black steel outer frames.
The Palmer Dog Gate is made with high-quality, durable materials. The pressure mount is firm in a way that it cannot fall off at any point. It is ideal for both small and big pooches as they cannot get past it with ease.
Pros
---
Easy to install, no drilling or tools required.
Gentle auto-shut door feature.
Expandable with included extensions.
Constructed using an inner wood frame, an outer metallic frame, and metallic door spindles.
#12 LZRS Oak Wood Freestanding Pet Gate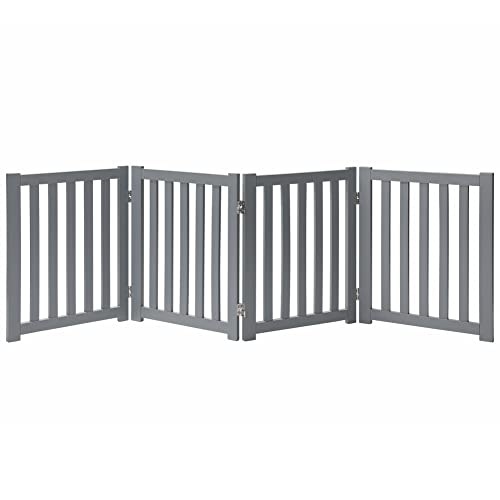 The LZRS Oak Wood freestanding pet gate has a freestanding design. It has 360° multiple connection hinges to connect four 24-inch panels, which can be arranged in any design.
This pet gate is made of 100% oak hardwood, which is sturdy and durable. Its smooth finish makes any space look beautiful. It is wear-resistant and corrosion-resistant because it is sealed with special paint.
This pet gate from LZRS is already pre-assembled and ready for use without any assembly necessary. It can be used in any space in your home to barricade your dog. You can easily fold it for storage or travel. LZRS offers a 100% satisfaction guarantee.
We love the design of the LZRS Oak Wood freestanding pet gate with no assembly necessary. It has a beautiful design that matches any home décor. It is easy to use and is foldable if you want to keep it away or travel with it.
Pros
---
Measuring 80 inches long by 0.71 inches wide by 24 inches tall.
Made from 100% oak hardwood.
Coated with special paint to prevent corrosion or wear, and is available in eight different colors.
Employs a freestanding design.
360° multiple connection hinges.
Comes with four panels.
No assembly is required.
Foldable for easy storage.
---
Indoor Dog Gates Buyer's Guide
---
Not all dogs are the same in terms of both breed and behavior. In this part of the article, we take you through some of the most important tips to look at before buying your next canine dog gate. It is important to do your research to choose the best indoor dog gate.
Let's get started.
Three Different Types Of Indoor Dog Gates
There are different types of indoor dog gates. It is highly recommended to understand them, consider what you want, and think about what works best for your house. The three major types are:
Pressure mounted
Hardware mounted
Freestanding
Related: Best Portable Dog Fences
Pressure-Mounted Dog Gates
These indoor canine gates are installed by applying pressure on the door frames or sides of the wall. Usually, they are very efficient as you can place them at whatever level you want to match your pooch's size. Some pressure-mounted dog gates also come with an allowance for an extension, hence making them suitable for various spaces.
These types of dog gates mostly work for those who wish to have the gate installed at one particular spot for long periods. But, it still can be easily removed and be installed at another spot, should the need arise. It is also ideal for hallways and small doors.
With a pressure-mounted gate, take note of the width span of the gate and measure that against your hallway or door. Ensure that it is able to fit and that it is neither too big nor too small.
Hardware-Mounted Dog Gates
These types of indoor dog gates require some physical effort for the installation process. Usually, this involves some form of drilling to affix the dog gates on your house's walls.
Installing them may not be as easy as the pressure-mounted dog gates. From our research, dog parents don't really prefer this option, especially for those that wish to keep changing the location of their canine gates.
However, it is the sturdiest gate available and could be a more effective option for bigger-sized dogs.
Freestanding Dog Gates
Freestanding dog gates are one of the most popular types of indoor dog gates for canine owners.
They are the easiest to install as most already come assembled. The panels are usually hinged to allow for several configurations and can also be used as a dog playpen too. Some of these freestanding dog gates are 3-in-1, allowing for a configuration for a dog crate.
These are also capable of being extended and can fit a bigger space.
However, the disadvantage of the freestanding indoor gate is that you are not able to adjust its height. So as your puppy grows bigger, you will need to get a bigger gate too.
Also, they are the least sturdy among the three options. As such, a physically stronger dog breed might be able to trample across the gate with ease.
Related: Best Wireless Dog Fence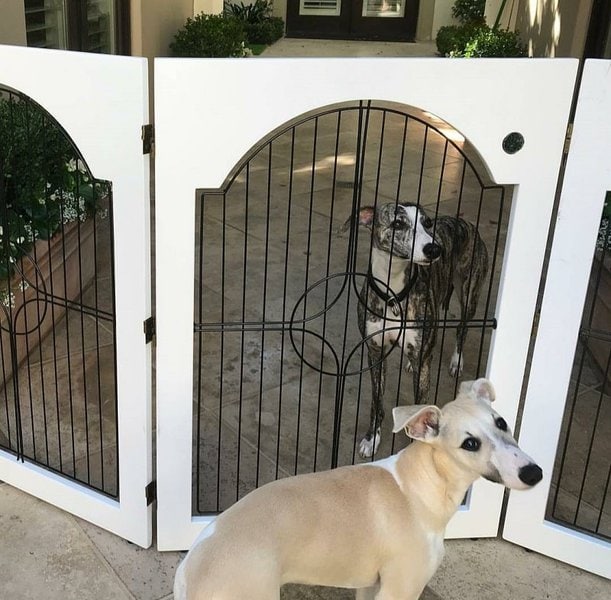 Material Of The Gate
When choosing the best indoor dog gate, pick the right material, as the material used for construction matters more than you think.
We do recommend hardwood or metal as the material for the dog gate, as these are materials that a dog cannot easily chew through. They are sturdier and more durable but might be slightly more expensive as compared to the plastic options.
Size Of Your Dog
Never buy a gate shorter than your dog – it's a definite waste of money.
Why?
As your canine friend can simply jump over the gate, rendering it useless.
Measure the height of your dog and make sure that you get a gate that is minimally 1 foot taller than it.
If you have a few dogs that you wish to keep confined, simply measure the height of the tallest one and use it as the reference when buying any indoor dog gates.
Location To Place Your Indoor Gate
Where do you wish to place your dog gate? Is it a wide or narrow space? Will you keep it on the stairs?
You should consider all the possible places and sizes of the places you wish to place your canine gate. The size and structure of the place will have a big say on what type of gate you want. It should also tell you whether you will need to get one that will be extended at some point.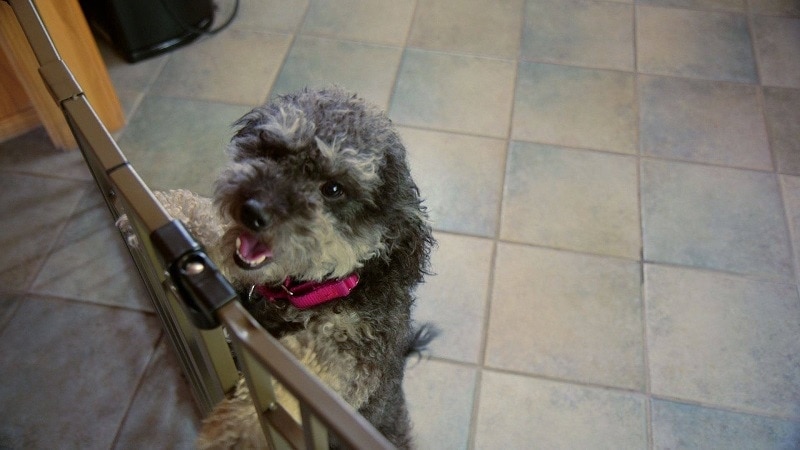 Methods Of Entry
The method by which you want your dog pooch to navigate through the barrier is also another factor that you have to consider.
There are three popular ways of going through a dog barrier:
Walkthrough: This means you can go through the barrier, which has a door. It is usually built with a small lock you can use to close shut the gate behind you.
Swing open: There are no major locks in this type of gate. They usually come with a simple yet effective latching mechanism which makes it difficult for your dog to open the gate.
Step over: Mostly used with smaller pets and puppies. Simply step over the dog gate to get across to the other side of the barrier.
You should also consider how your dog will be passing through the gate is allowed. In most cases, it all involves you opening the gate for them, while some other models will have a patented small door for small pets to pass and leave the big dogs behind.
Strength And Stability
This must be one of your priorities when choosing the best indoor dog gate. You really wouldn't wish to have your dog taking down the gate and passing through the barrier. Some breeds of dogs are naturally stronger and more aggressive, so they are more inclined to try all means possible to break loose from their 'prison.'
Probably, all they may want is to be close to their owners. Make sure to get a gate that is stable even if the dog tries to push it off its original position. This mainly applies to freestanding dog gates.
The Finishing Of The Dog Gates
The design and color of the gate should also appear on your list. Getting a dog gate doesn't necessarily mean your home will lose its fine touch. Get your dog a well-designed gate that will compliment your home. Also, get one that easily blends in with your house's furnishing and color scheme.
Related: Best Indoor Dog Potty
---
Final Thoughts – Protect Your Pooch And Keep It Safe!
---
Dog gates are the best way of protecting your four-legged companion from accessing some parts of the house without necessarily having to confine them to an enclosed kennel. Furthermore, the indoor dog gates don't completely shut them off as they can see all the happenings on the other side of the barrier.
Get yourself a suitable indoor dog gate that will meet the needs of both you and your dog. Our top pick comes highly recommended as it is a highly versatile product. It's really the best indoor dog gate that you can buy.
Not only does it doubles up as a room divider and a pet pen too, and the specially designed cap locks panels securely at 90° or 180° angles for that added stability.