The best dog ramp for cars, SUVs and trucks is Pet Gear Free-Standing Extra-Wide Pet Ramp.
Owning a dog is one of the greatest pleasures we can experience. We share our lives with them and very often take road trips out to find new places to go dog-walking and explore with our four-legged friends.
But do you find the start and the end of your journey to be a pain with mischievous dogs refusing to get in the car or insisting you lift them up? Whether it's from old age or general rambunctiousness, some dogs just don't like jumping up into the car.
To solve this problem, we've put together a helpful guide to the best dog ramps for cars/SUVs/trucks that you can get your hands on.
#1 Pet Gear Free-Standing Extra-Wide Pet Ramp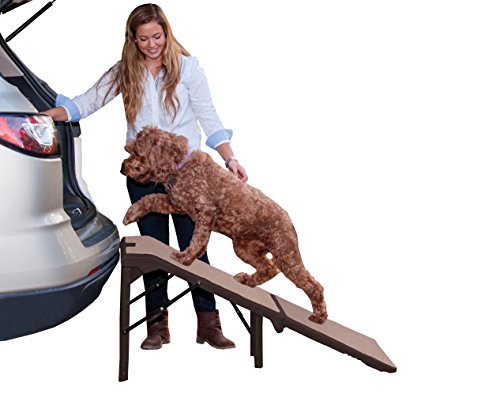 The first dog ramp on our list is from Pet Gear. It features a standalone ramp with a wide width to provide a comfortable clearance for dogs to climb upon. It measures 55 inches long by 19.25 inches wide by 23 inches deep, suitable for dogs of most sizes.
Made from a tough plastic material, the ramp has a dark chocolate color and weighs merely 19 lbs. Its design is foldable to allow easy storage, and has raised edges to keep dogs from slipping off the sides of the ramp. It also uses rubber grippers for a more stable placement when set up.
Next, to better enhance the grip for dogs to walk up the ramp, Pet Gear uses supertraX treaded material for its ramp surface. This surface is not only soft and provides better grip for various dogs' paw types, but it also traps dirt and mud from dirty paws and is very easy to clean thereafter. With this list of features, it is not hard to deny that this ramp is a great product.
We've listed the Pet Gear pet ramp first on our list because of how impressive we believe it feels and looks. This ramp has a solid and well-engineered construction to support dogs of all different sizes. It is perfect for use on road trips or even just as a way for your senior dogs or tired pooches to get up on your bed and snuggle up with you.
Pros
---
The SupertraX tread material used to manufacture this Pet Gear ramp is soft to the touch and comfortable on a dog's paws, with the material's pressure-activated, carpeted grip providing sure footing for pooches.
This canine ramp for cars features rubberized bottom grippers that provide a firm, non-slip grip and prevent the ramp from dangerously shifting around while being climbed by a pooch.
Customers can easily fold up this Pet Gear ramp, when it isn't in use, for convenient and compact storage.
The reflective design of the Pet Gear ramp provides extra safety when loading and unloading dogs in low-light conditions, with the high-contrast markings helping to guide pooches up and down the ramp.
The free-standing design of this canine pet ramp ensures that customers don't need to go through the hassle of attaching the product to a vehicle before it can be used to guide dogs into the vehicle in question.
Cons
---
This canine pet ramp is considerably bulky and may be difficult for some customers to transport on their own.
Some customers have commented that the angle of this Pet Gear ramp is too steep for their dogs to climb up without issues.
#2 Alpha Paw Car Ramp
Tired of bending and hurting your back to help your dog get into your SUV? Then this product is terrific for you. The Alpha Paw car ramp is a lightweight and foldable ramp spanning 60 inches long and 14 inches wide. With a mere weight of 9.9 lbs, it is easy to carry and very useful for traveling.
The ramp has a skid-resistant surface that makes sure your dog would not accidentally slip, especially when it is raining outside. Additionally, the sides are both raised to ensure the safety of your dog.
It is not only useful in vehicles but any raised surfaces, be it the veterinary table or a tall bed. The plastic material used is also sturdy and can easily be washed with soap and water.
The foldable design of the Alpha Paw car ramp fits into any car, truck bed, or SUV, which means you can take the ramp anywhere and help your dog get in and out of the vehicle with ease. Senior dogs with weight problems and weak knees or small dogs who have difficulty jumping high can both benefit from this ramp.
Pros
---
Alpha Paw's car ramp boasts a lightweight and portable design that makes the product easy to transport and setup as needed.
Customers can conveniently fold flat and lock this dog car ramp for compact and convenient storage when the product isn't in use.
This dog ramp for cars features pet-friendly raised edges that are intended to prevent pooches from falling off the sides of the ramp.
This canine ramp for cars features rubber feet on both ends to help keep the ramp in place and prevent it from unnecessarily shifting or falling over when being climbed by a pooch.
The plastic construction of this dog car ramp ensures that customers can conveniently clean and wash the ramp with mild household detergents and water when needed.
Cons
---
Several customers have commented that this canine ramp didn't fit in their vehicles after it had been folded down for storage.
There have also been multiple reports of this ramp being too steep for pooches to successfully climb up and into a vehicle, without additional support.
#3 LUFFWELL Portable Dog Stairs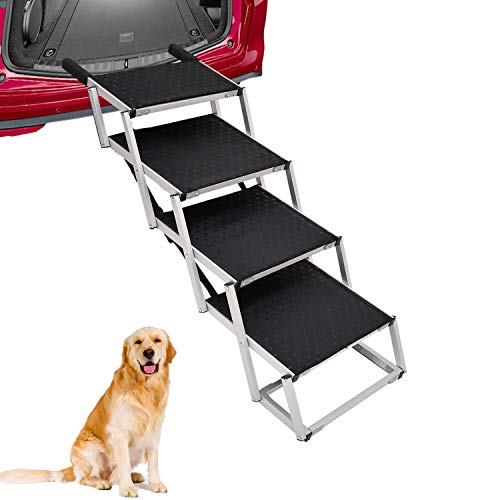 In an innovative move, this model from LUFFWELL is actually a foldable, portable set of stairs rather than a dog ramp. This is an ideal choice for older dogs who may be suffering from arthritis, knee disease, or joint pains in their elderly age.
Weighing merely 8 lbs and suiting a vehicle height of 22 to 28 inches, this model of stairs provides a low-angle ascent ramp and uses 10-inch wide step decks. It can even be adjusted to increase and decrease the shallowness between steps. Each step can be customized to be fitted with a grass deck for additional comfort.
This design enables dogs of all different shapes and sizes to get in and out of your car smoothly and most importantly, safely. Because of the design, though, this particular model can be used in a variety of ways. You could use it to help dogs get on the couch, the bed, even up steep steps in your own garden.
This portable dog stairs from LUFFWELL is a great versatile tool to provide the best possible way for your dog to overcome any height obstacle. With the customizable option to fit grass step decks, we are confident in saying most dog owners (and their dogs) would be more than happy with one of these.
Pros
---
LUFFWELL's portable dog stairs feature a non-slip paw print coating surface to prevent pooches from slipping and falling off while climbing up.
The slip-resistant rubber mat used for the base of this canine stairs product helps keep the ramp sturdy and steady when it is being used on smooth surfaces.
Customers can adjust the angle of the LUFFWELL stairs to provide a more comfortable, less steep, and easier climbing experience for their dogs.
This dog car ramp product features deeper stair depths that are intended to put less pressure on a pooch's joints, thereby making it suitable for use with pooches that have joint and mobility issues.
Customers can fold down the LUFFWELL dog stair into a size of 15 x 13 x 5 inches for portable transportation and convenient storage when not in use.
Cons
---
These steps are too narrow to be safely used with larger dogs.
Several customers claim that the LUFFWELL dog stairs aren't as stable as advertised and that they buckle under the weight of their large pooches.
#4 Pet Loader Light Platform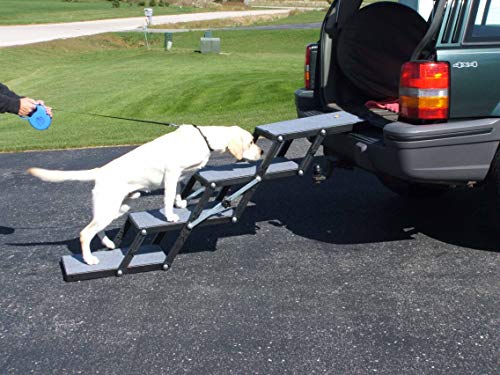 Here we've got another dog ramp which is actually a set of foldable stairs for your dog to use when getting in and out of your car. The Pet Loader Light Platform is a little different from the last entry in our list, though.
With a unique design that distributes the weight over two points, namely the first step on the ground and the final step on the vehicle, this model is extra stable and secure for your dog, supporting up to 150 lbs. It even comes with two options, either a 3-step or a 4-step version, depending on what you'll be using it for.
You can tell that the makers of this model had the dog's safety and comfort in mind as they've designed this specifically to match the gait of a dog and be as ergonomic as possible.
Pros
---
This canine ramp product for cars comes with a detailed guide and instructions to help customers choose a ramp that is an appropriate size for their vehicle.
Customers can fold the Pet Loader light platform to a height of just 7.5 inches for compact storage in limited spaces when the ramp isn't needed.
Customers have the option to order the inclusion of optional factory-fitted wheels on the Pet Loader ramp to boost mobility and make it easier to transport the ramp from one place to another.
This canine ramp product features a versatile design that makes it suitable for use in a variety of locations, including at home, with a vehicle, or at the veterinary hospital.
Pet Loader Light Platform features a stair depth of, at least, 11 inches that is suitable to accommodate the typically wide space between a pooch's front and hind legs.
Cons
---
Without the inclusion of wheels, the 4-step version of the Pet Loader ramp, which weighs 24 lbs, may be difficult for some customers to move and transport.
#5 PetSTEP Original Folding Dog Ramp
SALE ALERT!!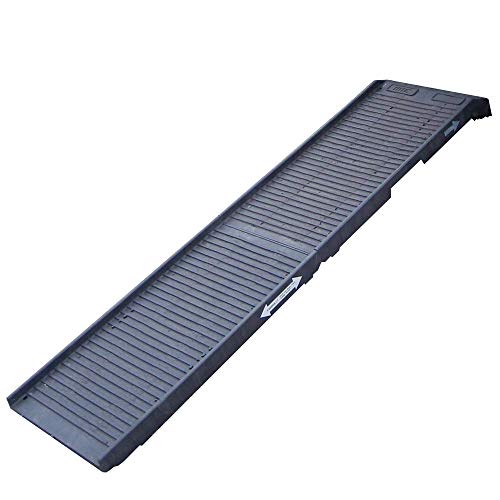 Original PetSTEP folding pet ramp - Graphite
Unique soft non-slip rubberized walking surface. Superior Traction in wet or dry conditions. No sandpaper or carpet...
Universal non-slip grip fits all vehicles and edges
Folds in half for easy storage and portability (molded ergonomic handles on both sides)- opens and closes in seconds (no...
Although the PetStamp Original Folding Dog Ramp lacks some of the nuance and subtlety of its competitors, it makes up for it in sheer functionality and strength. This huge ramp can provide support for pets of up to 500 lbs! That's quite impressive!
Made from plastic, rubber, and fiberglass, this particular model is easy to clean and built to last. If you buy one of these, you can be sure it'll last a long, long time.
If you've got a hefty big dog who just loves to play but hates to jump into your car or SUV, the PetSTEP Original Folding Pet Ramp can be ideal for you. It might not fold down as small as some of the competitors but it's still a brilliant choice.
Pros
---
The PetSTEP original folding dog ramp features an innovative telescoping design that makes it possible for owners to adjust the length of the ramp to suit their dogs' individual needs.
The soft and non-slip rubber walking surface of this PetSTEP ramp provides dogs with superior traction and a firm walking grip, both in wet and dry conditions.
The plastic construction of this folding dog ramp ensures that the product won't fade or corrode and that it can also be conveniently cleaned with soap and water.
Customers can easily close this canine ramp for easy transportation and storage, when not in use, with the product also coming with a latch to help keep the ramp closed when it isn't being used.
The inclusion of molded ergonomic handles on each side of this canine folding ramp makes it convenient to carry the ramp from place to place.
Cons
---
Several customers claim that this ramp's incline is too steep for their pooches to climb with ease.
This PetSTEP folding ramp is considerably narrow and not convenient for large dogs to climb without falling off the sides.
#6 PetSafe Happy Ride Telescoping Dog Ramp
SALE ALERT!!
If safety is your main concern when it comes to your dog, then you're going to love the Happy Ride telescoping dog ramp from PetSafe. This model is perfect for elderly dogs who are having a hard time jumping up into the car. It comes fitted with safety rails on the edge of the dog ramp, so no doggy accidents occur.
As a telescoping dog ramp, it comes with a certain degree of adjustability – so it's perfect for all different types of dogs. Even larger dogs will be comfortable on this dog ramp as it can support up to 300 lbs.
With such attention to detail, the Happy Ride telescoping dog ramp is the ideal model for older dogs who need a little extra support and safety than other, sprightly pets. Your dog will love the comfort and stability of this model.
Pros
---
PetSafe's telescoping ramp can be adjusted to heights ranging between 28 to 70 inches to conform to each dog's individual needs and make it easier for a pooch to get in and out of a car.
The Happy Ride canine ramp can be slid down into a smaller, more compact size to allow convenient storage in the trunk of a car.
The high traction design of this canine ramp's waking surface – which is provided by the use of threaded material – combined with the side rails, provides a dog with a firm grip and prevents the pooch from falling over the sides of the ramp.
The inclusion of rubber caps on all four feet of the Happy Ride ensures that the ramp remains sturdy and steady when used on relatively smooth surfaces.
Customers can conveniently clean this PetSafe ramp with a mild detergent or simply hose off dirt and stains.
Cons
---
This canine ramp is too narrow to be safely used with large-sized dogs.
Several customers claim that the Happy Ride's sandpaper surface did nothing to keep their pooches from sliding off the ramp.
#7 WeatherTech Dog Ramp
If portability is one of your main concerns when it comes to dog ramps, then you're going to adore the WeatherTech Pet Ramp.
Measuring 67 inches long by 15 inches wide, this 16-lb dog ramp model is built out of aluminum, a strong yet light material, and is foldable down to a comfortable size, measuring 33.5 inches long by 15 inches wide, for easy storage and portability.
Simplicity can be a major deciding factor when it comes to a purchase like this and this particular model has that in spades. It's only two sections, easy-to-use, and has no fiddly bits that'll leave you confused.
This sturdy and versatile ramp from WeatherTech is useful in a variety of situations. Your dog should have no trouble climbing up it to get in your car, on your bed, or atop any other surfaces, it needs to get to.
Pros
---
The WeatherTech dog ramp features soft rubber feet end grips that provide sturdiness and prevent the ramp from sliding around on the ground when being climbed by a pooch.
Customers can fold this canine ramp into a compact and portable size – due to the inclusion of a custom-designed hinge – for convenient storage and transportation when the ramp isn't in use.
The WeatherTech ramp also comes with a built-in handle that makes it easy for customers to carry the ramp around.
The molded-in soft, textured rubber surface of this canine ramp is gentle on a pooch's paws, and it also provides extra traction to keep the dog's paws firmly in place while climbing up the ramp.
The use of rubber material to manufacture this canine car ramp makes it possible for customers to wash the ramp with water and soap when there is a need to clean it.
Cons
---
Customers claim that this ramp doesn't fully lock into position when opened, hence making it difficult for those trying to load a pooch into a car, while having to keep the ramp open at the same time.
The WeatherTech canine car ramp is not wide enough to be safely used with large senior dogs.
#8 Perfect Life Ideas Folding Large Dog Pet Ramp
Last on our list is this awesome truck-safe heavy-duty dog ramp from Perfect Life Ideas. This is a durable, pre-assembled ramp that can tackle any and all conditions you throw its way.
Measuring 62 inches long by 16 inches wide when the ramp is in use, it provides ample space and a gentle incline for your dog to travel and reach its destination effortlessly. It can fold down to just 31 inches long by 16 inches wide by 4 inches thick for easy storage under a bed, garage, or truck.
Built to last, this 10-lb ramp can support twenty times its own weight, up to 200 lbs. Its carpeted surface provides the much-needed grip and is ideal for dogs who are suffering from knee injuries or just need a little help jumping up to higher surfaces.
If you're worried about your furry best friend injuring their legs – or even if you just have a tiny dog that needs the helping hand – this model from Perfect Life Ideas is ideal for you.
Pros
---
This dog car ramp from Perfect Life Ideas features a versatile design that makes it suitable for both indoor and outdoor use.
This canine ramp features a non-slip, anti-skid surface that makes it possible for pooches to safely climb into a car without falling off.
This dog ramp product, which measures 62" L x 16" W, can be folded down to dimensions of 31" L x 16" W x 4" H to provide compact storage in limited spaces.
This Perfect Life product comes with a safety latch that can be used to keep the ramp safely locked and prevent sudden opening after it has been folded and stored.
Cons
---
The absence of grips on the ends of this pet ramp product results in the ramp tending to slip off a car's tailgate, and this can result in dogs falling and injuring themselves.
Multiple reports about this canine ramp being too steep for dogs to conveniently climb.
---
Dog Ramps For Cars/SUVs/Trucks Buyer's Guide
---
So, you've had a look through our top 8 list and you're wondering what the next step is? Purchasing a dog ramp might seem like the easiest decision in the world but there's a lot more to it than just picking the first one you see.
In this section – our buyer's guide – we're going to go over a few of the main points you should consider before buying a dog ramp.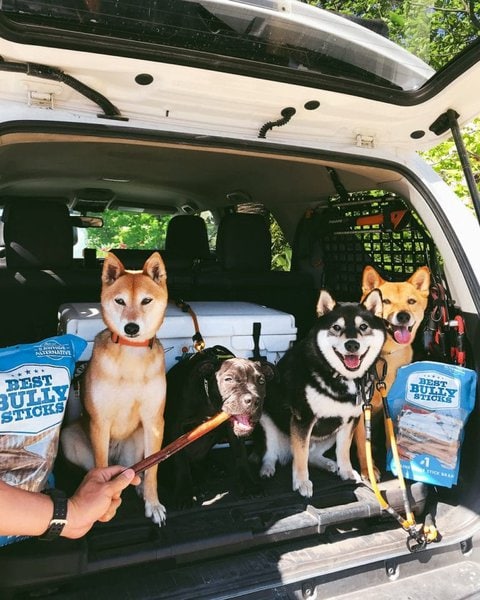 Easy Storage And Portability
As a dog ramp is something you're going to be lugging around in your vehicle every time you take it out to drive, you're going to want something that can easily be folded down to a compact size. Portability is a must-have when it comes to purchases like this.
Different dog ramps come in different shapes and sizes and choosing which option to go for all depends on how much room you're able to sacrifice in the back of your car (or wherever you're planning on storing it).
If you have a larger dog, you might not want to opt for the small, compact models as they may not be able to support the weight of your dog. Likewise, if you only have a tiny dog, you don't necessarily need a huge dog ramp taking up room in the back of your car when a small one will do.
Always remember to measure how much space you have available and what the height of your car is. Along with the weight of your dog, these figures should give you a good indication as to what model is going to be best suited to your needs.
Another aspect that affects storage is the structural design of your chosen ramp, which we'll touch on in this next subsection.
Material And Structural Design
Many of the dog ramps we've listed come with certain materials fitted to ensure that your dog can safely ascend and descend them. It's best to know what kind of surface your dog is most comfortable with before making a purchase.
Perhaps perform a few tests at home to see if your dog is okay walking on carpeted areas, soft rubber treading, and mats, or prefers something a little more solid with more grip.
Several ramps come with optional extras, so if you're not sure exactly what your dog is going to be comfortable with, it's possible to test once you've already purchased the pet ramp. It's always best to have a good idea first, though, to prevent any disappointment or returns.
In terms of the structural design of your chosen product, you'll find the choice between steps and ramps, and free-standing models which simply attach to the back of the vehicle. Which option you go for all depends on the size of the dog who'll be using it and how much stability you need.
Ramps are easy-to-use, simple to set up, and seem like the obvious choice for anyone who is worried about fiddly parts and getting their fingers jammed in folding accordion-style stairs. Free-standing ramps do have more moving parts than the vehicle-supported versions, but they also come with more benefits. Stability and safety are both greatly improved when you opt for a free-standing model.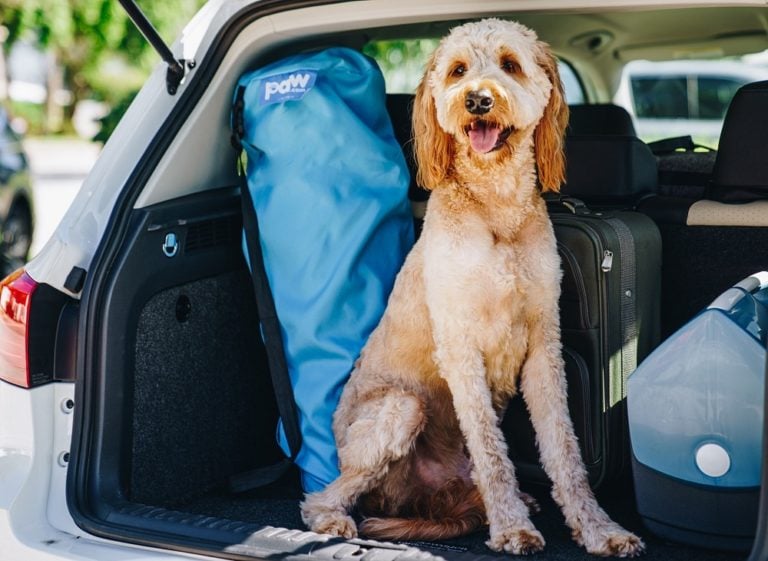 Safety Tips
Most ramps are sturdy and built to be especially stable while your dog is ascending and descending. It should go without saying, however, that buying a dog ramp which will fully support the weight of your dog is absolutely essential to ensure no accidents occur.
Specifications will be listed on the product pages for all dog ramps, so it should be relatively easy to see how suitable any given model is for your dog – no matter how big or how small they are.
Something else to consider when making this purchase is whether you think your dog will be best suited to a free-standing dog ramp or one which simply attaches to the back of your vehicle via hinges or loops. If you have a particularly large dog, we would definitely recommend opting for a free-standingdog ramp, for that extra added safety and stability.
Some models will even come with added guard rails, which can be a perfect addition for elderly dogs who need a little more safety and stability when they're ascending the dog ramp. If this is something you think you need to worry about then you should definitely see what ramps come with this option. It shouldn't be much of a need for younger dogs who are surer on their feet, though.
Before taking your new dog ramp for a spin we would always recommend that you thoroughly read any and all instructional manuals which come with it. These will teach you the correct way to operate the product safely and ensure you don't make any mistakes while setting it up.
Product Care
Any good dog ramp (much like any good product) will come from a company who cares about the safety and needs of their customers. If you're worried about anything or have any problems, then you should double-check that your dog ramp comes from a company with a dedicated customer service center.
If a car ramp is something that your dog is going to be using every single day, then you can expect to see a little wear and tear over time – just like with any product. Let's take a look at a few ways that you can extend the lifespan of your dog ramp and ensure no accidents occur.
If you opt for a model that is built using metal (either entirely or just certain parts) you run the risk of experiencing rust and corrosion after extended periods of use in wet weather. Always try and pack away your dog ramp right after use and don't leave it out in the rain if it can be helped.
Some models are made of other materials like fiberglass, plastic, and rubber. These are much more durable when it comes to adverse weather conditions. Still, try not to leave them out too long if you can avoid it anyway.
Most ramps are fairly easy to clean after they've been in use a certain length of time. Muddy paws can cause lots of stray dirt and other messy substances to stain surfaces. Look for a model that can easily be washed down with wet wipes or a simple spray of the hose.
More complicated stair models will have more parts that need cleaning, obviously. So, if this is something you want to avoid as often as possible then perhaps opt for a dog ramp which is simply just a foldable flat surface and will be easier for you to wipe down after particularly muddy walks.
---
Final Thoughts
---
After checking out our buyer's guide and taking a look at all of the products we've tried and tested, you're probably wondering what option we'd go for. In our opinion, our #1 pick should stand out as a clear winner and the top choice over any of the others.
We love the fact that there are several different models with options to choose from, one of which should fit best for you and your dog – no matter what size or shape they are. The various surfaces which you can choose from are also a big selling point, as certain dogs respond better to certain materials (carpet, treading, etc).
In terms of value at this price point, our top pick is clearly the king of quality. Rest assured that you'll never go wrong with this choice.