The best electronic dog door is PetSafe Electronic Smart Pet Door.
Are unsightly scratches decorating your doors? Do you always plan your schedule around your furry friend's nature calls?
If you've ever found yourself in the position of having to hold the door open for your dog while they go potty, or had a pup with separation anxiety that chewed through every door in your house, then an electronic dog door could be just what you need.
An electronic dog door lets your pup go in and out whenever they please, so you don't have to worry about them getting cold or making a mess on your nice flooring. Some additional benefits include:
Save effort to let your dog in and out.
Never clean up another "potty" mishap.
Trains your dog to stop barking and whining at the door.
We'll tell you about the best electronic dog doors on the market today and give some advice to help you find one that's perfect for your pup.
#1 PetSafe Electronic Smart Pet Door
SALE ALERT!!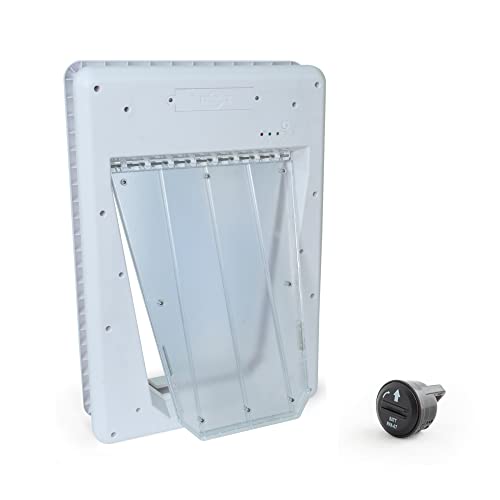 Petite in size but mighty in functionality, this is by far the most favorite of all pet owners in the electronic dog door section. Packed full of tons of smart features, this electronic door gives the owners the control they need to keep their pets safe and yet free.
The PetSafe Electronic Smart Dog Door works on the radio frequency identification system. Simply attach the smart key to your dog's collar and the automated flap will open when your pet is nearby. Without the smart key, the electronic smart door will never unlock. This prevents stray animals such as raccoons from entering your house.
It is reasonably priced and is available in two sizes.
There are three modes of operation: locked, unlocked, and automatic.
Since it is the flap type model, it is relatively easy to alternate between the modes. The only issue that we found is that the dog door tends to open every time your dog is near it and not just when it wants to go out. Therefore, the safest method is to rely on the locked mode for the most time.
If you have multiple pets, there can be no better alternative than the PetSmart for all their outdoor needs. One reason for its popularity is its simplicity and smart flap system which can be controlled by the pet owner. The price, ease of installation and smart features make the PetSafe Electronic Smart Door our top pick.
Pros
---
This smart pet door comes in three programmable modes and these are Automatic, Locked, and Unlocked, so you can set the right mode for your pets.
Comes with a waterproof smart key that your pup or pet wears around its neck, and this is what the smart pet door detects and lets only your pet in or out.
You can operate your pet door, thanks to four D-size batteries.
It allows you to program up to five pet smart keys, and this is perfect for homes with multiple pets.
There are two pet door sizes, available in Small and Large, such that you can choose the right option for your pets.
Cons
---
The hinges are made of plastic, and this means that strong or aggressive pups can easily break the door off.
The lock and unlock modes can sometimes delay or open too fast, and this can be a problem for impatient pups if they urgently need to use the door.
#2 PetSafe Extreme Weather Energy Efficient Pet Door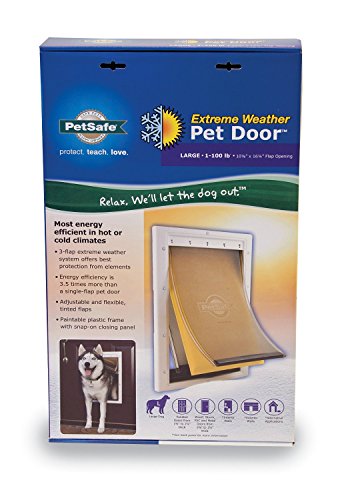 When you need a dog door for all seasons, the PetSafe Extreme Weather model comes to mind because it has been designed exclusively for that reason. To ensure maximum energy efficiency, the door comes with a unique 3 flap system.
Every time your pet enters and leaves, it affects the room temperature. Especially during the winters, this can result in the loss of heat in your house. But with the revolutionary 3-flap system, this keeps the temperature within the house constant.
As a result? You save 3.5 times more energy and that makes this model the most economical on the list. The durable plastic material and the ease of installation are additional bonuses.
Manufactured from a combination of plastic and nylon, this pet door has a thick frame of 3.5 inches.
The frame is made of highly durable plastic that can be painted to match your existing dog door color. It is available in small, medium, and large sizes. There is a snap on the panel should you wish to restrict your pet's movement.
It comes with a weatherstrip around the frame and an insulated flap sandwiched between 2 outer flaps that can keep cold air out or hot air in.
Pros
---
This pet door is perfect for large pup breeds of up to 100 lbs, and the flap opening size is 10.125 inches by 16.25 inches.
It has a unique three-flap design which makes it more durable and sturdier for your large furry friend to use.
The pet door comes with a center insulated flap, and this is perfect for keeping the cold out and the warm in as needed as well as a magnetic top flap to ensure a tight seal.
It is an easy-to-install pet door, which comes with a plastic frame that you can paint over to match your home décor.
It comes with a Snap-On closing panel which you can place over the pet door to prevent your doggie from using it if you need to keep them in or out.
Cons
---
The pet door comes with plastic screws, which are not as durable and can easily break.
Some pup owners felt that the parts of this pet door and frame did not properly snap into place, which makes installation a frustrating process.
#3 High Tech Pet Power Electronic Pet Door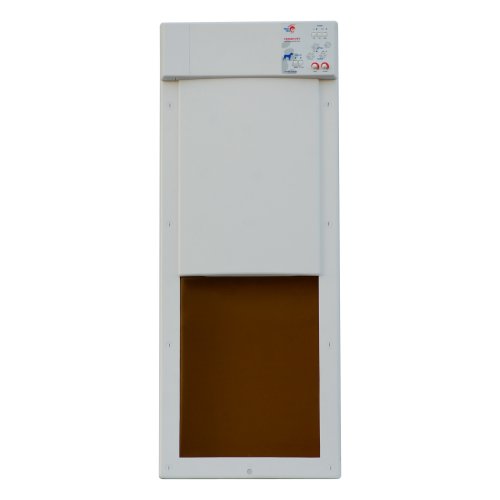 Power Pet Large Electronic Pet Door PX-2
Motor driven vertically-sliding door is activated by MS-4 ultrasonic collar
Directional sensing system opens the door only when your pet is on a direct approach, not when he is just wandering by...
4-way access control lets you select from In Only, Out Only, Full Access or Closed & Locked
This electronic dog door model from High Tech Pet is meant for wall installation and comes with a much-acclaimed direction sensing system. With such a sensing system, it ensures that the pet door will swing open only when your pet is ready to go out. Otherwise, it will stay locked even if it stands near the dog door, unlike other electronic dog doors which open every time your pooch passes by.
You have greater control over the access in this system as you can operate any of the 4 different modes of full access. These are "In Only, Out Only, In & Out, Closed & Locked".
This is not the usual flap system but a motor-driven sliding pet door that opens and closes automatically. For additional security, you have the option of dead bolting the dog door too.
Well constructed with high-quality sensing technology, this model is the most expensive option among them all. For pet owners with budget constrain, we wouldn't recommend this option. But if money is not an issue, the High Tech Pet Power Electronic Pet Door ranks highest for both safety and utility.
Pros
---
This electronic pet door is available in Large for large breeds of up to 100 lbs and also Medium for smaller pup breeds of up to 30 lbs, such that you can choose a suitable size comfortable for your pet.
This fully automatic door has a 4-way access control panel that lets you choose whether your pup can stay in, out, full access, or fully locked.
This is a vertically sliding electronic door that is fully controlled by an ultrasonic doggie collar.
It has directional sensing capabilities and will operate only when your pup walks towards it, and will not sense the collar if your pup is just walking by.
It has an airtight seal, perfect for extreme weather conditions, and a deadbolt that offers extra security for your pet.
Cons
---
The pet collar only operates on special cell batteries such that you need to spend more every 8 to 10 weeks to purchase a new one.
After some time of use, the door randomly opens and closes even when your doggie is not near it and sometimes gets stuck midway such that your pup cannot continue using it.
#4 SureFlap Microchip Pet Door
SALE ALERT!!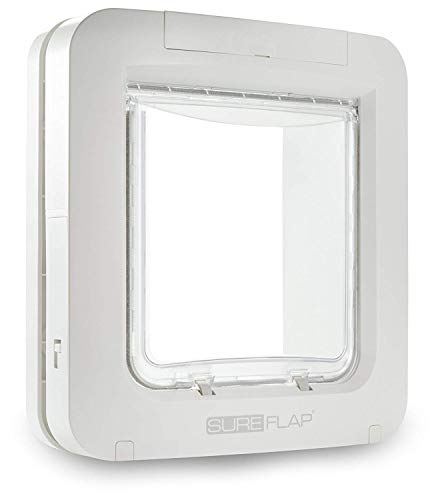 SureFlap-Sure Petcare Microchip Pet Door (White)
SELECTIVE ENTRY PET DOOR: Scans on ENTRY ONLY. Uses RFID to read your pet's implanted ID microchip, allowing your pet...
MICROCHIP COMPATIBILITY: Works with 9 (Avid Secure), 10 (FDXA) and 15 (FDXB) digit microchip numbers; if unsure of your...
DOOR OPENING: The Microchip Pet Door Flap opening is 6 11/16" (H) by 7" (W) and can be installed in doors, windows...
When you are looking for more security over everything else, the Sureflap Microchip Pet Door is our choice. In this model, you have to insert a microchip into your pet and that will coordinate with the dog door system to give it entry and exit.
The system can store up to 32 pets, which is the greatest number of pets that any electronic dog door can accommodate in the market currently.
If microchipping your dog is not an option, you can opt to use a collar with RFID instead.
With a programmable feature, you can program the pet door to allow your dog entry only during certain times of the day.
A modern design compatible with both the chip system and the RFID tag, the SureFlap pet door is ideal for those with multiple pets.
Pros
---
Measuring 6.68 inches by 7 inches, this glass pet door is available in white, and it can easily be installed on windows, walls, and doors, giving your pets various access options.
This door has a built-in curfew timer which you can set the door to lock or unlock, and you can even set it to lock at a specific time daily and keep your pup safe.
This pet door only scans the ENTRY ONLY action and uses a universal RFID chip to read an implanted microchip or a programmable collar tag, and this ensures that stray animals do not use the door.
It operates on four C non-rechargeable alkaline batteries, which can run for up to 12 months, and you can tell when you need to replace them thanks to a low battery.
This easy-to-install pet door is perfect for small pup breeds or large cats.
Cons
---
The pet door further requires constant communication with customer service to ensure its microchip and sensors are functioning properly, which can be frustrating to the customers.
Unfortunately, it operates as a one-way entry, which means it does not offer an exit option.
#5 Perfect Pet All-Weather Energy-Efficient Dog Door
SALE ALERT!!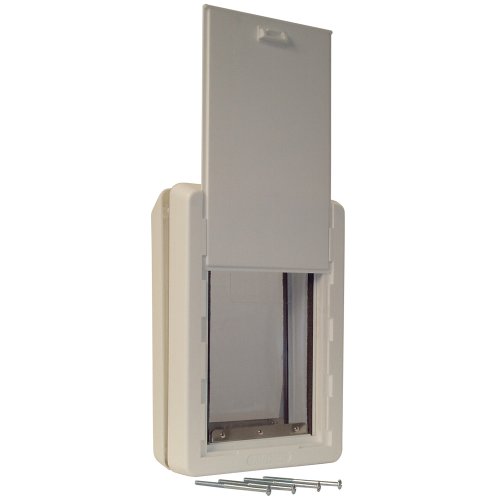 The Perfect Pet all-weather energy-efficient dog door is an advanced pet door that your furry friend can use while getting into or leaving the house. Letting your dog out through this door helps minimize the loss of energy that your house or room will lose while keeping the main door open throughout the day.
It is made of energy-efficient structural foam molded plastic which is easy to clean and maintain. It has adjustable frame telescopes ranging from ¾-inch to 1 ¾-inch thickness to suit the various doors or wall thicknesses. For setting up the dog door through a thick wall, you may consider purchasing the optional wall kit separately.
This dog door from Perfect Pet comes in an innovative double vinyl flap design which creates an efficient air pocket. For instance, the Extra Large flap size stands at 9 ¾ inches by 17 inches. It comes in other sizes which should work for most dog sizes.
Your furry friend uses a pet door about 5 times daily and this leads to energy waste. This door will help to save you energy. Many dog doors are not all-weather like the Perfect Pet all-weather energy-efficient dog door. It also comes with double flaps which create an efficient air pocket. The door comes in multiple sizes to suit dogs of most sizes.
Pros
---
This energy-efficient dog door comes in four sizes, one of which is the Extra Large option measuring 9.75 inches by 17 inches, and it should fit most dog breeds.
It is made of molded foam plastic, and this is ideal for all weather conditions and is also energy efficient.
It has an insulation pocket between the two flaps, and this helps to keep the cold air out and warmth in.
Has two flexible plastic flaps that allow your pup to come in or go out when it pleases.
It is easy to clean as you only need to wipe down the flaps, and also has a magnetic strip for proper sealing.
Cons
---
The Perfect Pet door's magnetic strip does not hold well during very windy conditions.
Installation can be a challenge as the screws provided sometimes do not match the frame holes.
#6 PlexiDor Performance PDE Electronic Pet Door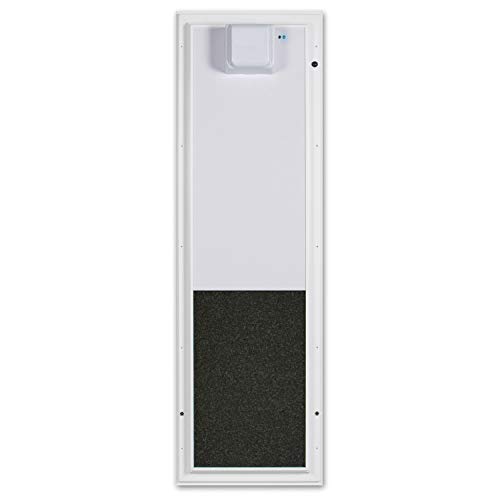 If you want a premium product look no further. The PlexiDor electronic dog door is exactly what you are looking for. Using the RFID technology, this electronic dog door opens up only for those animals that have a matching RFID tag.
The sensors are waterproof to prevent any accidental damage. The set comes with a 5-year warranty which is a testament to the quality.
Suitable for all sizes even really large canines, the system is safe even when you have babies around. It has a safety mechanism that prevents it from closing when there's obstruction.
If you can overlook the price tag, then the model is really a good choice. It is wired directly into your electrical system which makes it more durable than the conventional battery-operated dog doors.
Pros
---
This hardened ABS panel is suitable for pups of up to 125 lbs and other pets like cats.
It is programmed with an in-built RFID chip that operates the pet door like a regular garage door.
It comes with two PDE collar keys that do not require batteries to operate, are waterproof and lightweight to be strapped on to your pup.
It works with a one-touch programming panel which lets you program the pet door as needed, and it even comes with a steel deadbolt that slides into place after your doggie passes through to prevent pet intrusions.
This pet door is operated using an 18V transformer which comes with a six-ft long cable that you can connect easily to the power mains in your home.
Cons
---
The transmitter is relatively weak, and your pup has to come as close as possible to the door for it to operate.
It does not have a backup battery for reliability such that the door cannot be used in the case of a power outage.
#7 High Tech Pet Fully Automatic-E Sliding Glass Dog Door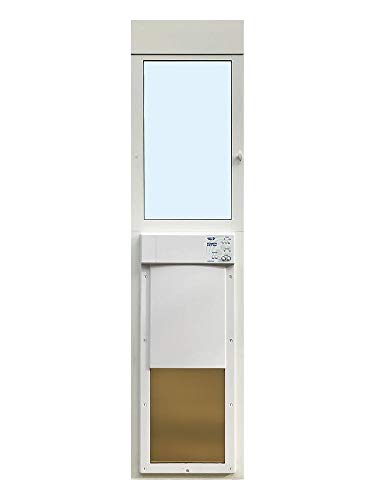 Using the latest and most promising directional sensing system, this automatic sliding pet door can become an important part of your pet's life. The aluminum-framed pet door has the right thickness and the required track to fit into any existing door track without significant alternation works.
It is motor-driven and can be activated by the ultrasonic chip in the pet's collar. You can program how the dog door opens and closes. As an added precaution, you can add in an additional latch for safety.
The directional sensing system ensures that the pet door opens only when the dog is facing it and not every time it passes by.
You can convert your sliding door into your pet dog door without affecting the overall aesthetics. The model has the required thickness to fit into any sliding door track without any major works.
Pros
---
This sliding glass door is available in regular and tall patterns and comes in Medium for pups of up to 30 lbs and large for doggie breeds of up to 100 lbs.
This is an electronic door that is fully automated and is activated by your doggie's digitally coded ultrasonic collar, which allows them to move freely through the door while offering security against strays.
This door operates with an AC adapter, and there is an option of using a charger with one or two CRG-12V batteries such that it can reliably operate even during a power outage.
It has a dual pane tempered glass as well as an extra heavy-duty aluminum frame which is twice as thick and 8 times stronger than conventional patio doors, and this offers protection from extreme weather.
Its installation takes less than an hour, and the dog door should fit right into your sliding glass patio door track and further provide adjustments to your door's individual height, thanks to a special loaded spring.
Cons
---
Some dog owners found the pet door hard to install and required lots of patience or assistance from a professional.
It is not fully secure as it only has one small lock, and the flaps are not as airtight when closed.
---
Electronic Dog Doors Buyer's Guide
---
An electronic dog door will ensure that your pooch has the ability to get in and out of your house while you remain undisturbed.
Technology has come a long way since the days of dialing on our landline phones. In fact, it's even changed how we live in our homes! One area where this is especially true is pets and their owners.
With technology like electronic dog doors that can be programmed to automatically unlock at certain times for your furry friend, you don't have to worry about them getting locked out or any other mishap.
Related: Best Dog GPS Trackers
How Do Electronic Dog Doors Work?
The electronic dog door systems work via sensors.
The pet door system senses the related signal emitted by a sensor embedded in your pet's collar or from a microchip inserted in the skin and opens the dog door automatically. Some models come with a remote control device that the owner can use to open the pet door. As a result of this feature, rest assured that your electronic dog door will not open for any animal it does not recognize.
This keeps the pesky stray animals from entering your home.
Related: Best Automatic Dog Ball Launcher
Types Of Sensors
Electronic dog doors use microchips that can be inserted by a vet under the pet's skin. This is convenient as the chip won't get lost and will never need battery replacements. Sometimes, magnetic sensors are fitted in the dog's collar but they are not the most efficient. Ultrasonic waves to are used in some models.
But the most popular technology is the RFID or the radio frequency identification device. It is safe, secure and only identifies pets whose information is registered in the system. As an owner, you have exact control of who can enter and leave your home.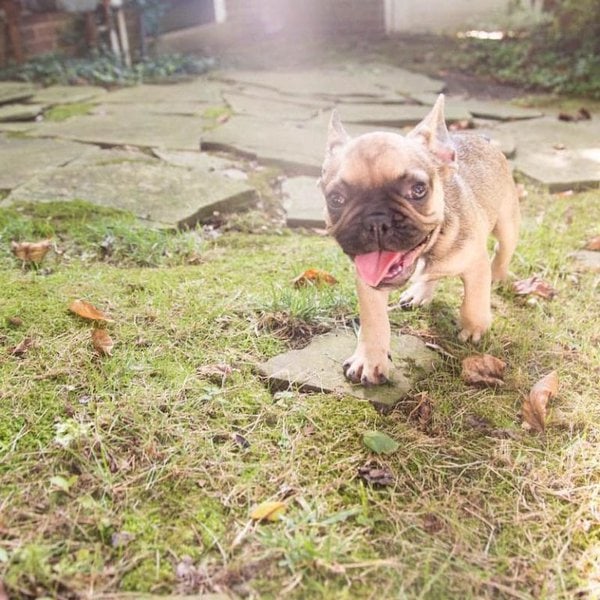 Types Of Mounting
There are different types of mounting that will suit different types of dog doors. The common mounting styles are:
Wall mounting
Door mounting
Patio door mounting
Window mounting
Advantages Of An Electronic Dog Door
Makes your dog independent: Gives your dog the freedom to go out and snoop when it is getting bored indoors. Your pooch will be able to relieve itself instead of waiting for you to take it out.
Frees up your time: It is not practical to leave work midway each time to take your dog out. But with an electronic dog door, you can be sure that the pet finds a way out and you can continue with your work.
Saves money: Dogs are prone to scratching the dog doors when they need to get outside. Repainting is a costly affair and leaving unsightly scratch marks on your pet doors lowers the aesthetic value of your home. When the electronic dog door opens for the dog on its own, it will stop scratching and this will save your doors.
What To Look Out For?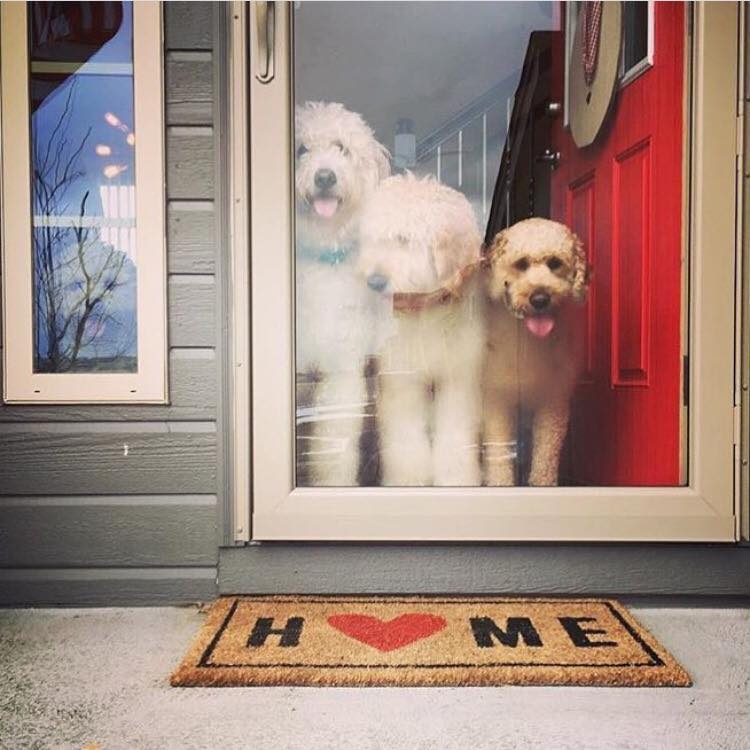 Check out the following pointers before you make a purchase.
Size: There is no standard size. Each dog is unique and has its own measurements. Hence, measure your dog before deciding on the pet door panel size. You must ensure that your dog is able to move in and out easily. If you are getting for a puppy, you must factor in additional allowances for growth too.
Access control: This feature will help you determine how the dog door opens and how your dog uses the pet door. For example, you can prevent entry from outside when the dog is inside the house.
Ease of installation: If the installation is a simple process, it is more advantageous than spending an extra buck on a handyman to do the job. Check on the difficulty in installing the electronic smart pet door.
Directional sensing system: Without a well-defined directional sensing system, it will unlock every time the dog is near it. It's highly recommended to get an electronic dog door with an accurate sensing system. This will prevent the pet door from accidentally opening when your dog walks past.
Material: Look for a long-lasting material such as steel which has an additional aesthetic value also.
Energy efficiency: Every time the pet door opens and closes, you lose a little of your thermal energy. Add them all up over the months and your heating bills will increase significantly. Your dog door must be energy efficient. It must have the proper sealings to ensure minimal heat loss.
You Need To Measure Your Pet
For the height of your pet, you must measure the distance from the ground to the shoulders. For the width, measure the distance between the shoulders as it is the widest part of a canine.
Another important measure is the rising height which is the distance between the foundation and the dog's lower chest. Make sure that there is a minimum 2-inch allowance for future growth in height and width.
Related: Best Wireless Dog Fence
---
Final Thoughts
---
All dog owners will agree that the electronic dog doors have made life easier for them and their pets. Based on price, functionality, ease of installation, energy efficiency, and most importantly feedback from satisfied pet owners, we think that our top pick is the best out there in the market. Though small in size, it delivers massively on value.
We have you have been able to make the right decision for your home and pet. The time is ripe to pass the baton to other pet owners and friends – share this article with your friends if you found that this was helpful!