The best dog food for Chihuahua is Purina Pro Plan Adult Shredded Formula.
Chihuahuas are one of the most popular dog breeds in the world. This is because they have a lot of personalities, and give their owners tons of love. They're also very small which makes them perfect for living in an apartment or condo.
There's nothing better than having your own little best friend around to greet you when you come home each day! But what should be on your list before buying that new pup? Your first priority should be finding out about the breed's specific dietary needs.
These tiny little companions are picky eaters and will not just eat any kibble you place before them. They are highly sensitive to what they eat, how often they eat, and in which manner you feed them. What they need is a good diet that will accommodate their small frame and fast metabolism.
We know how important it is to keep your Chihuahua happy and healthy, so we've created a list of the best dog foods for Chihuahuas!
#1 Purina Pro Plan Adult Shredded Formula
SALE ALERT!!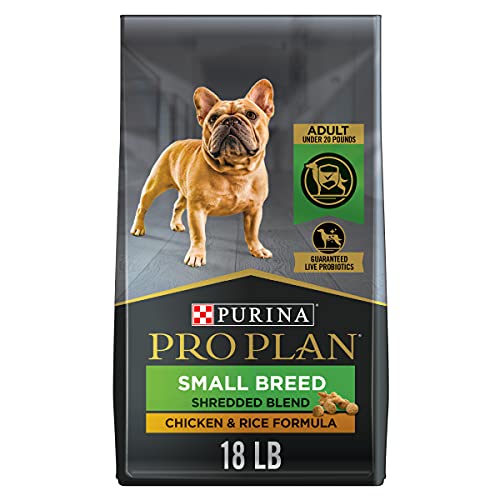 This particular dog food is scientifically formulated for small breeds. Toy breeds like Chihuahuas burn calories faster than larger breeds and the high protein and calorie content in the formula supplies this metabolic need.
Chicken is the first ingredient with 26% protein for an optimal protein-to-fat ratio to ensure your chi stays in shape. Pet parents love this because the blend of shredded chicken and rice formula satisfies even the fussiest eaters. This small kibble has a complex texture and taste with small tender and shredded pieces to chew on and keep them hooked.
What makes this the best dog food for chihuahuas is that it contains natural prebiotic fiber from whole wheat bran. As Chihuahuas commonly have sensitive stomachs, the fiber will do wonders to encourage a healthy digestive system. It is loaded with phosphorus, calcium, and other minerals to keep their teeth and bones strong and healthy.
A delicious and savory recipe that is formulated just for small dog breeds. This is especially important for Chihuahuas – as they are notorious for being extremely picky eaters.
Pros
---
Contains chicken as the first ingredient.
Live probiotics to encourage healthy digestion.
Omega-6 fatty acid, vitamin A and linoleic acid for healthy skin and hair
26% protein for the optimal protein-to-fat ratio
#2 Blue Buffalo Life Protection Chicken and Brown Rice Formula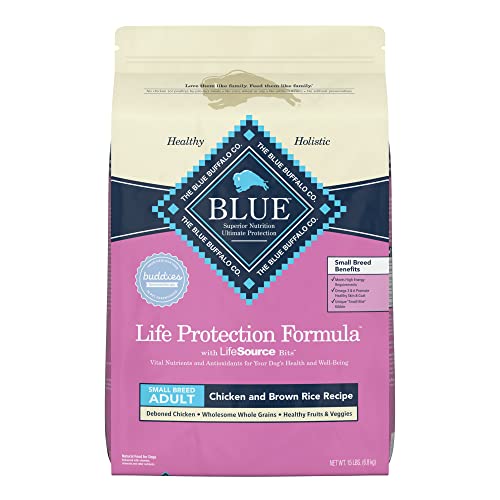 If you love your Chihuahua but find yourself a little short on cash, Blue Buffalo Life Protection Formula with Chicken and Brown Rice is probably your best choice. We have scoured the market, and we have come to the conclusion that this formula offers one of the most reasonable rates without compromising on quality.
It is formulated especially for typically active toy breeds like Chihuahuas who need the macronutrient balance. The formula consists of both deboned chicken and chicken meal with fairly high carbohydrates like healthy whole grains in the form of barley, brown rice, and oatmeal, along with peas and potatoes.
As a "True Blue Promise", it does not contain any chicken or poultry by-product meals, no wheat, corn, or soy, and no artificial additives or preservatives.
Cranberries and blueberries are great antioxidants that protect healthy cells from free radicals for Chihuahuas – as they can be prone to heart disease or cancer. The recipe also has a low dose of glucosamine which protects your little one from possible joint injuries.
You can find many Chihuahua dog food formulas like this one in the same price category. But none has as many high-quality benefits as the Blue Buffalo Life Protection Formula. It has real deboned chicken and many other quality ingredients like brown rice, flaxseed, blueberries, cranberries, peas & carrots, sweet potatoes, etc.
Pros
---
High-quality protein from real chicken
A precise blend of antioxidants, vitamins, and minerals
No chicken by-product, wheat, soy or artificial additives
#3 NUTRO Ultra Superfood Small Breed Dog Food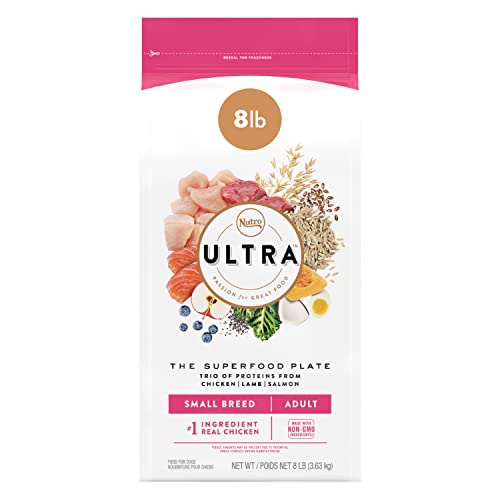 This small breed weight management formula comes in two different types and three different sizes so that you can customize it for your dog. Your Chihuahua will get complete and balanced nutrition with a Trio of Proteins – Chicken, Lamb, and Salmon. Chicken is the #1 ingredient.
This superfood plate is also formulated with a blend of 15 vibrant superfoods like blueberries, kale, chia, coconut, and much more to help your chi lose weight and boost the immune system. This is a complete and balanced nutritional formula that will take a lot of trouble off your hands when taking care of your pup's diet.
With 15 vibrant superfoods, it is a well-designed diet for Chihuahuas. It comes in two different types and three sizes so you can customize it exactly as your dog wants.
Pros
---
Trio protein – chicken, lamb, and salmon
15 vibrant superfoods
No chicken by-product meal, corn, etc
No artificial flavors, colors or preservatives
#4 Rachael Ray Nutrish Little Bites Dry Dog Food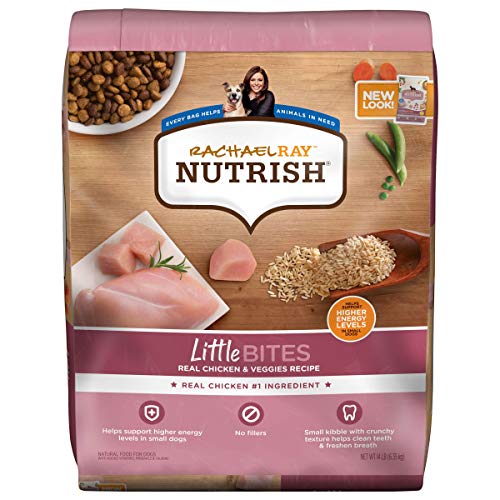 The Rachael Ray Nutrish Little Bites Dry Dog Food for Chihuahuas is made using real farm-raised chicken in the US. The ingredients in this formula are simple and straightforward – perfect for maintaining the optimum health and well-being of your pup. This protein-rich chicken dog food is beefed up with wholesome, micronutrient-dense veggies and fruits.
Unfortunately, it includes soybean, corn, and some slightly glycemic ingredients in the formula. The top 5 ingredients are real chicken meat and meal, soybean meal, dried peas, and whole-grain corn. All ingredients are all-natural with no artificial preservatives or flavors.
You won't have to worry about your chi's sensitive tummy because there are no fillers or wheat gluten.
This is a well-rounded dog food formula for your Chihuahua that supports their high energy levels thanks to the farm-raised chicken. The presence of antioxidant-rich cranberries is also ideal for helping reduce the stress levels that are common in small breeds.
Pros
---
Farm-raised chicken listed as #1 ingredient
Vitamins, minerals and essential fatty acids
Contains antioxidant-rich cranberries
No chicken by-product meal or artificial flavors
#5 Merrick Lil Plates Small Breed Grain Free Dry Food
Merrick Lil Plates Grain Free Small Breed Recipe, 12-Pound, Beef
One (1) 12 lb Bag - Merrick Lil' Plates Small Breed Dog Food, Grain Free Real Texas Beef and Sweet Potato Recipe, Small...
Real deboned Texas beef is always the first ingredient in this small breed dry dog food, which offers the ideal...
Natural dog food grain free recipe crafted with probiotics and prebiotic fiber for healthy digestion
Merrick Lil Plates is perfect for smaller dog breeds like Chihuahuas with its highly nutritious small kibble. The size is perfect for tiny jaws to pick and chew easily. This is a grain-free, gluten-free dog food formula with real deboned beef as the #1 ingredient to encourage healthy muscle growth in your dog.
The recipe is poultry-free for those dogs that are sensitive to poultry ingredients. Other noteworthy ingredients include omega fatty acids for healthy coat and skin and probiotics and prebiotic fiber for better digestion.
This product is a great choice for dogs with sensitivities. The grain-free, gluten-free ingredients make it perfect for chis with sensitive tummies. It is also a poultry-free recipe for dogs that are sensitive to any poultry ingredients.
Pros
---
Real deboned beef as #1 ingredient
Grain free, gluten-free ingredients
Poultry-free ingredients for dogs with sensitivities
#6 Wellness Complete Health Small Breed Turkey & Oatmeal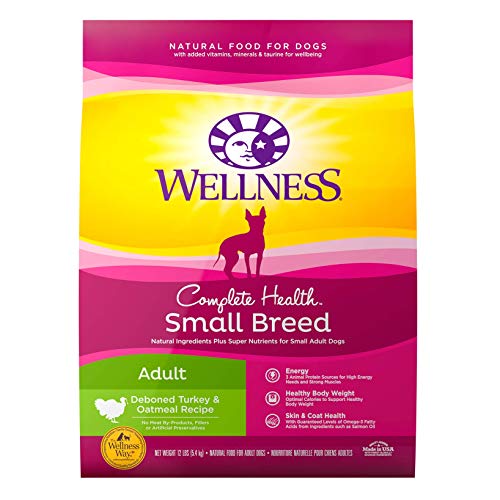 Does your tiny Chihuahua act like the biggest bark on the block? Wellness Complete Health is the food for him. This one is a protein powerhouse with lean and quality protein sourced from deboned Turkey, Oatmeal, and Salmon. The wholesome whole grain from oatmeal and high calorific count ensure that Fido keeps up with the active playtime.
Worried about his skin and coat? This formula is loaded with omega-3, omega-6 fatty acids, and essential vitamins and minerals. This dog food has small kibbles to fit its little jaws and is fortified with superfoods like antioxidants. Better yet, it has probiotics, prebiotics, healthy fiber, and chicory root extract to support a healthy digestive system.
This one provides an optimally balanced nutrient-rich diet to improve your dog's overall health. The formula is designed to offer overall vitality and health, natural nutrition, healthy body mass, and improved bone and joint functionality.
Pros
---
Lean protein from turkey, salmon and oatmeal
All natural ingredients
No artificial flavors, colors and preservatives
#7 Wellness Core Natural Grain Free Small Breed Dog Food
SALE ALERT!!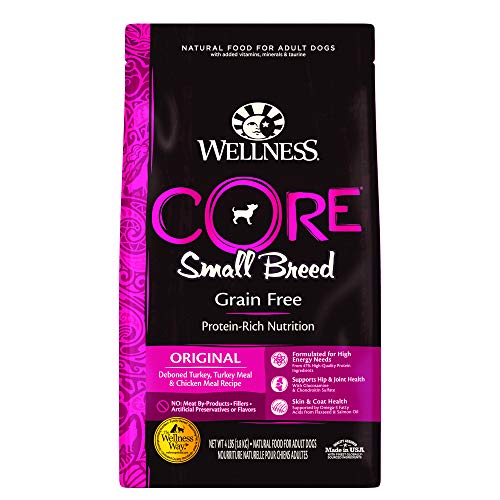 Wellness CORE Natural Grain Free Dry Dog Food, Small Breed, 4-Pound Bag
SMALL BREED DRY DOG FOOD: Optimal protein levels and calorie content to help support the higher energy needs of small...
ENJOY A LIFETIME OF WELLBEING: High quality proteins and wholesome grains are expertly balanced to deliver a complete...
WHOLE BODY HEALTH: Supported by omega fatty acids, antioxidants, glucosamine, probiotics and taurine for a healthy heart
Wellness Core Natural comes loaded with 54% high-quality protein ingredients, 37% carbohydrates, and 29% fat. The main sources of protein are deboned turkey, turkey meal, and chicken meal.
If your Chihuahua is allergic to grain, this one is 100% free from grain products. The formula improves your dog's skin and coat condition with omega-3 fatty acids sourced from salmon oil and flaxseed. The chondroitin sulphate and glucosamine hydrochloride help to maintain healthy bone and joint health.
Better yet, there are no artificial colors, preservatives, and flavors. It is made of all-natural ingredients with no corn, wheat, soy, and meat by-products.
Wellness Core Natural is perfect for those Chihuahuas that are allergic to grain. The high protein content sourced from turkey and chicken contains optimal fat and calorie levels that are just perfect for everyday feeding.
Pros
---
100% grain free
Deboned turkey and chicken as first ingredients
No corn, wheat, soy and meat by-products
#8 Cesar Filet Mignon Flavor With Spring Vegetables Garnish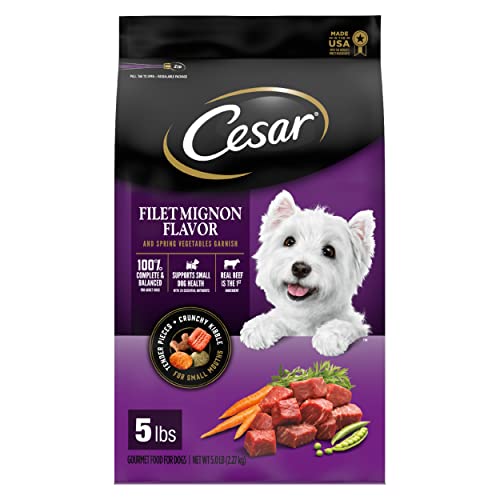 The Cesar Filet Mignon Flavor is a unique take on what a kibble should taste like. It features the tasty flavor of filet mignon and is garnished with the freshest spring vegetables that you could possibly get. Think of it as a kibble version of juicy grilled steak served with fresh vegetables on the side.
Real beef is the first ingredient to this gourmet dog food, and it has 26 nutrients that your Chihuahua needs.
A notable feature of this dog food is its H-shaped flavorful crunchy kibbles with tender, meaty pieces. Each kibble bears the shape of the letter "H", which doubles up as a pseudo brush that will help, albeit minimally, to remove tartar and plaque from your dogs' teeth.
If you want to serve your dog a gourmet meal, the Cesar Filet Mignon flavor is the perfect choice for you. Imagine finely roasted beef garnished with healthy vegetables for a palatable taste and well-rounded nutrition.
Pros
---
Made with real beef
26 nutrients that small dogs need
H-shaped kibbles to remove tartar and plaque
---
Dog Food For Chihuahuas Buyer's Guide
---
Getting the best dog food for chihuahuas is very important. You need to find something that gives them what they need, a formula that gives them the energy to their active body, and most importantly, something they will enjoy eating on a daily basis.
Here is a definitive buying guide to help you make the best dog food decisions for your little pooch.
Related: 37 Hidden Colors & Patterns Of A Chihuahua
Factors To Consider
Reading pet food labels can be intimidating. There are so many terminologies and long lists of food ingredients that can easily confuse you. Fortunately, you don't need to understand every single one of them.
Age
A Chihuahua's vitamin, nutrient, and mineral requirements change according to age. Puppies, mature dogs, pregnant or nursing dogs all have different nutrition requirements, feeding patterns, and the amount of dog food they need.
Simply buying age-appropriate dog foods will go a long way in taking care of your pooch's nutritional requirements.
Protein, Starch And Carbohydrate Ratios
A good diet for your Chihuahua should have a protein-carb-starch ratio of 40:40:20. Protein sources must come from good quality fish and meat sources. Carbs should come in the form of complex carbohydrates like fruit, vegetables, and whole grain.
Amino Acids
Amino acids are considered the building blocks for proteins. They are therefore vital to your chi's wellbeing. Go for those that list specific meat sources so that you know your dog is getting the right amount of amino acids.
Vitamins And Minerals
To make sure your Chihuahua maintains a healthy immune system, healthy skin and coat, and a healthy body, their food should contain vitamins and minerals. A quality dog food should have vitamins B-12, A, E, and C among others. It should also have minerals like Sodium Selenite and calcium Iodate along with folic acid and DHA omega oils.
Wheat And Grains
Many chi owners are confused because there is an increasing rise of dog foods that either contain wheat or are absolutely wheat and grain-free. There is no definitive answer to whether your pooch should avoid grains altogether unless they are allergic to them. If you decide to buy food that has grains, opt for whole grains because it contains good fiber and is more beneficial.
Kibble Size
We all know Chihuahuas have tiny jaws and teeth. The kibble size should be small enough for them to be able to chew without straining their jaws. Buying the right kibble size is very important because it helps to promote their overall mouth health like getting rid of tartar and plaque, etc. Smaller kibbles will be kinder on sensitive jaws and even motivate picky eaters to eat because it requires less physical effort to chew.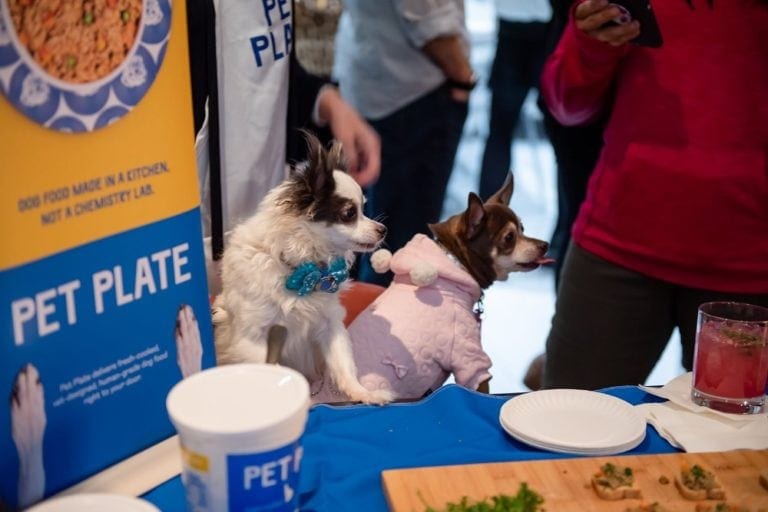 How Much Food Should You Feed Your Chi?
When you think about how much food to feed your Chihuahua, you are probably thinking in terms of measurement. However, what matters is not the number of kibbles you feed but the calorie count.
It is important for you to read the label because every dog food formula is different and hence the calorie count varies.
The good news is, most of the labels provide feeding recommendations as per the calorie content of the formula. The number of calories your Chihuahua needs will depend on his age, level of activity, and individual metabolism. We can safely judge the first two things, but the metabolism of each dog will vary. The guidelines will generally vary about 20% lower or higher.
The type of food you feed your Chihuahua will also affect the amount of food you give because of this. Different types of food contain different amounts of calories. The amount of food you give will depend on whether you give your Chihuahua dry food, wet food, or a home-cooked meal.
For instance, one cup of dry, low-quality kibble may contain 100 calories while the same quantity of wet food may contain double the calories. In this case, recommending you to feed one cup would not be helpful.
Having said that, those Chihuahuas that are 4 to 10 pounds in weight will generally eat 1-1/3 cups of dog food in a day.
That's right! They are a very small breed, and they don't eat a lot which is why you need to feed them high-quality food.
Keep in mind that these are just recommendations. Every chi is different, and yours might need more or less than the general recommendation based on his metabolism, level of activity, and age. If you find he is gaining too much weight, you should feed him less and if he is too thin, feed him more.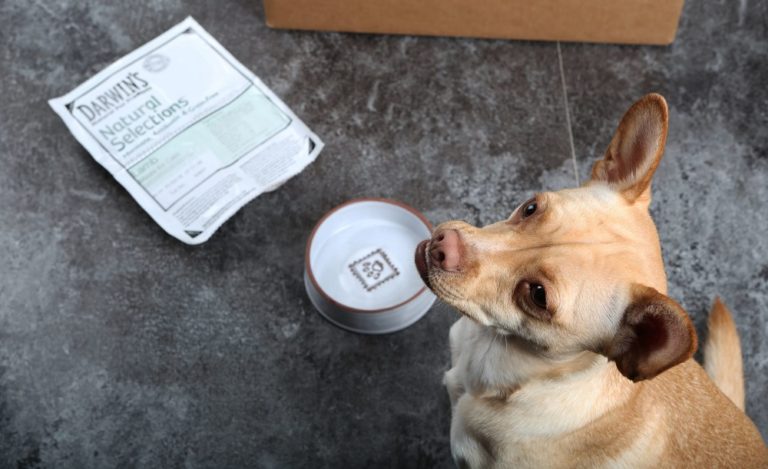 Ingredients to Look For When Buying Chihuahua Dog Food
Besides being extremely fussy eaters, Chihuahuas have very specific dietary requirements which is why you should not compromise on the quality of food you give them. Here are a few things to watch out for when buying food for your little one.
Vegetables, Fruits And Whole Grains
Chihuahuas may be small, but they are very energetic. They need high protein levels and complex carbohydrates to keep their muscles healthy and energy levels stable. If you feed them fully processed carbohydrates, they will experience extreme rise and fall in their energy levels. Good sources of carbohydrates include vegetables, fruits, and whole grains. Your Chihuahua's food should consist of 40% vegetables.
Fiber
Fiber is important for a healthy digestive system. If there is too little fiber in your dog's diet, he will suffer from constipation. The wrong type of fiber can also leave them bloated. This is why vegetables and whole grains are important.
Meat
It is very important that your Chihuahua's diet consists of not only high meat content but also high-quality meat. Meat should be the first ingredient in the list of food ingredients. Avoid those that have a high content of meat by-products. Ideally, you should opt for those dog foods that have no animal by-products because these have no nutritional value.
Antioxidants
Antioxidants are very important for small breed dogs like Chihuahuas because smaller breeds have a longer life expectancy. A good supply of antioxidants will protect your dog from free radicals and keep them young longer.
Fat
The good kind of fat is necessary for a well-rounded diet. These are rich in calories and will provide the right level of energy. Unless your Chihuahua is overweight, you don't need to look for low-fat dog food because he will typically burn it off.
Specialty Formulas
Dog food manufacturers have started selling breed-specific dog food formulas. Dog foods formulated especially for Chihuahuas generally have chicken as the first ingredient. Other top ingredients for Chihuahuas include barley, probiotics, and prebiotics for digestion, antioxidants, and fish oil like omega-3 fatty acids.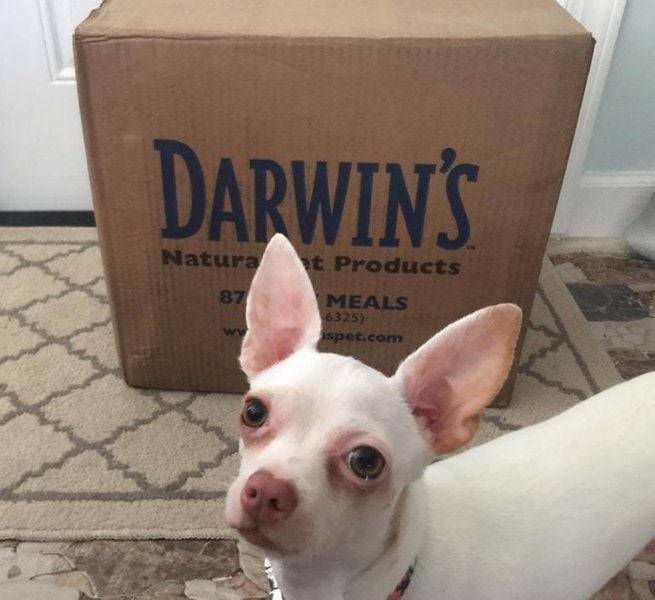 What Food to Avoid When Feeding Your Chihuahua?
One of the biggest mistakes you can make when buying dog food for your Chihuahua is putting your trust in brands that are sold at the grocery store. This can be confusing because some brands are labeled premium and it instantly makes you think they surely must be better. Most times, these "premium" dog foods are loaded with junk and fillers that add little to no nutritional value to your Chihuahua's diet.
Does that mean you should avoid all dog food labeled premium at the grocery stores? Not really. But you need to be careful and inspect the ingredients before you feed them to your little one.
Another mistake you need to avoid is following the advice of your chi's veterinarian. Sure there are some ethical vets, but some are simply in the business to make money. If a vet is recommending your Chihuahua a dog food that is sold in their office premises, there is a high chance that they are getting a commission out of it. You should politely turn down their offer and look elsewhere.
Here Are Some Ingredients To Avoid
Artificial Ingredients
This includes artificial coloring, preservatives, and flavoring. Your chihuahuas could have sensitive tummies, and it can cause a lot of gastrointestinal issues like upset stomach, vomiting, and diarrhea.
They can also cause allergies like itching, dry skin, poor coat, and other similar allergic reactions due to poor quality food.
Fillers
Fillers have no nutritional value, and so the body does not absorb them. The result is that these types of food will pass through the body quickly. It will leave your chi nutritionally deficient and cause behavioral issues like eating feces, grass, etc.
By-Products
Animal by-products are those parts of meat that are not fit for human consumption. It can include bone, beaks, fatty tissue, lungs, hooves, spleens, ears, snouts, etc. Feeding your dog animal by-products can be highly detrimental to their health.
Generic Meat Sources
Generic meat sources are probably one of the most disturbing ingredients present in inferior quality dog foods. It's a wonder that this is even legal. This means any animal meat, including roadkill, animals that died during transportation, and even euthanized cats and dogs that lived in shelters.
---
Final Thoughts
---
It will surprise you how strong-willed these tiny Chihuahuas can be when it comes to food. Good quality is the way to go because they have sensitive digestive health and specific nutrient requirements.
The Purina Pro Plan Adult Shredded Formula strikes a fine balance between budget and quality. It is a stand-out because it features natural ingredients and the top-recommended protein for Chihuahuas – chicken. This is by far the best dog food for Chihuahuas and we strongly recommend it.