As Yorkies are picky eaters, getting them, the best dog treats might be quite a task. I wonder what kind of dog treats can be genuinely called a treat for these dainty little Yorkshire Terriers.
What are good treats for Yorkies? The best type of treats for Yorkies is tasty soft chews that are small enough to fit into their mouths. Vegetables such as beans, peas, carrots, and sweet potatoes are also healthy treats that they will love.
Read on more to find out what our recommendation is for the best dog treats that you can give your Yorkshire Terrier.
What Are The Best Dog Treats For Yorkies?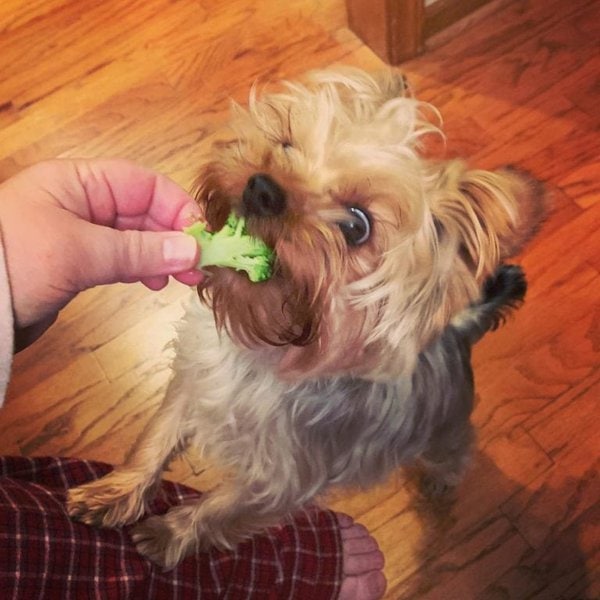 Yorkshire Terriers are known for their huge appetite and tendency to turn anything and everything into a treat. This holds true regardless of whether they are a Parti Yorkie, a Biewer Yorkie, or even the miniature version.
If you are not careful, the habits could lead to all sorts of problems, from stomach upsets to obesity. The secret is to get the little one something they will enjoy for a long time without compromising on their health.
One major factor to consider when choosing the best dog treat for your Yorkie is the texture.
The teddy bear, like Yorkies, loves chewy and crunchy things. This is the case, particularly with young, teething Yorkie pups. The best treats, in this case, are those with a nice bite to them, like fresh fruit and baby carrots.
Another determinant for what makes a treat fantastic for a Yorkie is flavor.
They are not the pickiest of eaters, but they have been shown to be impartial to meaty flavors. This is worth considering if you want to invest in prepackaged treats. And if you are still confused by the options, you can never go wrong with chicken when dealing with Yorkies.
Finally, the best dog treats for yorkies are those that do not add too many calories to their daily input tally.
These dogs are prone to developing obesity, so you want to monitor how much you feed them each day. This is especially so for teacup Yorkies, where the weight gain is proportionately significant relative to their tiny size. The safest options to go with here are fruits and veggies. However, you could also get processed treats designed to offer low-calorie goodness.
One particular dog treat that we would highly recommend that of the Zesty Paws Mobility Bites. The soft, duck-flavored chewables are specifically awesome for Yorkies with the presence of ingredients like OptiMSM, Glucosamine, and Chondroitin.
These will help your pooch with any bone or joint problems by easing pain and promoting regeneration. Its supreme taste will definitely get your dear Yorkies wagging their tails whenever you open the container unless, of course, they had their tails docked.
Yitto Paws Granola Bites are another fantastic option. They include fruits and peanut butter for a healthy and tasty treat. The high fiber content also makes them very filling with a little going a long way. They also come in small bite sizes in a significant number. This is perfect for training your Yorkie puppies for a new trick or for positive reinforcement during potty training.
On top of that, the treats to give your Yorkies should also depend on the current status that they are in right now. For example, if they are experiencing joint problems, dog treats with glucosamine will be more beneficial than any other kind of treats. Similarly, if your Yorkie is in heat, calming dog treats may be an ideal option.
Note that these treats are not suitable for newborn puppies.
Best Chew Bones For Yorkies
Chew bones are an excellent alternative to traditional soft-chew treats especially if you are trying to help the doggy watch their weight.
When it comes to overall nutritional value, this counts more as a tasty chew toy for your Yorkie than a part of the meal plan. They are thus a great way to watch your dog's calories without denying the joy of tasty treats.
They are also fantastic for the breed due to the dental benefits in store for your dog. One of them is the relief of teeth and gum pains. It could be during teething for pups or even due to dental infections as a complication of retained pup teeth which is common with Yorkies.
Consistent chewing of these harder treats also helps with clearing plaque mechanically and by stimulating saliva production. This will help prevent their mouths from getting stinky.
Earth Animal No-Hide Wholesome Dog Chews are an option you should consider if you want longer-lasting chews. Technically speaking, these are chewy rolls and not actual bones. They are made from high-quality natural ingredients, including chicken, rice, and olive oil. They are also free from chemical additives for your dog's safety as they enjoy the treat.
The Pet 'n Shape Beef Bone Natural Dog Treat, on the other hand, is a single-ingredient hard chewable that consists of sliced and roasted beef bones. In addition to boosting the flavor profile, the preparation eliminates the need for chemical preservatives. The bones are also rich in nutrients like protein and calcium, which will help your Yorkie with their musculoskeletal issues.
Best Homemade Food For Yorkies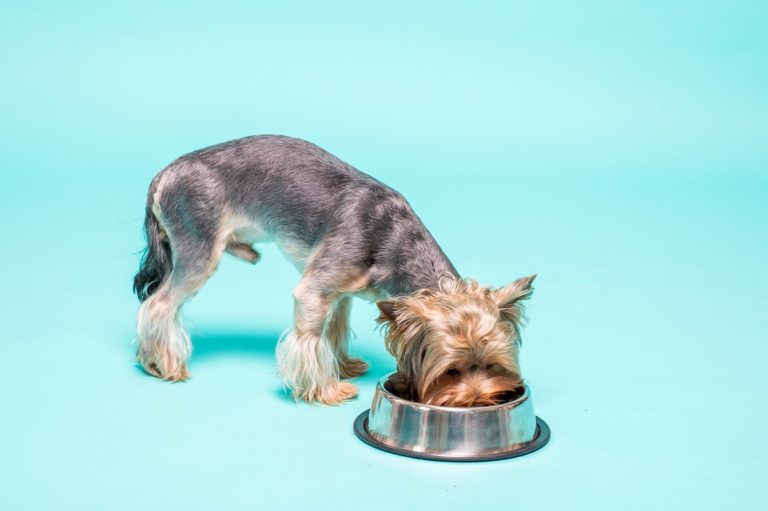 One of the best things about raising a Yorkie is the fact that they are not fussy feeders. In fact, you can very easily feed the little furry buddies off your plate. You just have to know what is safe and beneficial for their diet so you can avoid having them missing out on anything essential.
In addition to being super convenient for you as the dog owner, homemade food has its fair share of advantages over packaged treats. The main one is the fact that you know what exactly your dog is eating. A lot of packaged options include additives like chemical flavor enhancers and preservatives that you definitely do not want to expose your precious doggy too.
Homemade food is usually fresh and free from these, which is awesome for your Yorkie's health down the line. It reduces the possibility of any mishaps from happening like food poisoning, which can lead to undesirable consequences like vomiting, skin allergies, and abnormal shedding.
And with their propensity to developing gut problems, you will be doing them a lot of favors feeding them the healthiest and most organic options.
Clearly, homemade food has a lot to offer your pooch. To help you out, here are five everyday meals you can count your pooch in on.
Any meat that has been thoroughly cooked.
Sugar-free and dairy-free oatmeal porridge.
Steamed vegetables like broccoli and carrots.
Plain starches, including Irish potatoes and sweet potatoes.
Wheat products like pasta and bread as long as there are no allergies.
Your imagination only limits the list. Just make sure to stay away from Yorkie no-no's like garlic, onions, tomatoes, hard cheeses, and grapes, among many others.
What Kind Of Toys Do Yorkies Like?
Yorkies do not always eat because they are hungry. More often than not, it is their overly angsty personalities that make them desperate for activity, in which case chewing is one of their favorite pastimes. As a result, non-edible chew toys are an excellent alternative to soft chew treats and hard edible treats like bones and hides. For dog owners, it will keep them from chewing on furniture or barking unnecessarily, which is definitely ideal.
One of the best things about them is the fact that they have zero calories to them. This is ideal for Yorkies that tend to pack on pounds, especially with high-calorie treats. That way, your best buddy gets something to keep them properly occupied without putting them at risk for obesity.
Chew toys are similar to hides and bones in that they offer awesome dental benefits from the mechanics alone. What sets the inedible toys apart is the fact that they last way longer. In fact, all you have to do is to clean the toy and put it away when the Yorkie isn't using it, and you can have it around for several months.
If you would like to give these a try, the AWOOF 10 Pack Puppy Toys are a really good place to start. The squeaky toys feature a machine-washable plush cover. In addition to being soft and fun to play with, the materials used and this design contributes to longevity by making the little toys resistant to wear and tear from the insistent chewing.
Chiwava 4 Pack Squeaky Dog Toys are another alternative to look into. These are made from durable, non-toxic latex for a satisfying chew experience and durability.
Puppies are inclined to establish a bond with their toys, and we have seen countless photos of dogs still having to hug their toys when they go to sleep, even though they have already outgrown their toys' sizes. Hence, it is essential to consider the durability of these toys for the sake of your Yorkie as it grows up.
What Are Yorkies Favorite Things To Do?
Yorkies are notoriously playful, and if you own one or are planning to, you have to get with the program. Fortunately, they are very easy to please, and you can give them a wonderful day of bonding and fun with very little effort. Here are a few ideas you could start with that your Yorkie will definitely enjoy.
Playing Fetch
There are few dogs that love to run around and jump as much as Yorkies do. Their light build and agility also mean that they were built for these kinds of games. Take your fetch sessions to the next level by investing in the Paws & Pals Automatic Dog Ball Launcher. The model stands out with the distance options that allow you to build up from 10 feet throws to 30 feet.
Flirt Pole Games
This is another game that makes the most of Yorkies' quick, flexible, and curious nature. The Squishy Face Studio Flirt Pole measures 24 inches and is fantastic for small breed dogs like these.
Daily Walks
Sometimes all the little one wants is some fresh air and a change in scenery. In this case, you will never go wrong with a walk. You could take a short stroll around the block, or you could take them to the park and let them socialize with other dogs and people.
Chewing On Stuff
If they can wrap their jaws around it, then it is fair game. Therefore, if you want a quick and easy activity to keep your Yorkie entertained and distracted, just invest in a good quality chew toy and you are all set.
Playing Hide And Seek
Finally, Yorkies love the thrill of a good hunt and chase, in which case a friendly game of hiding and seek always does the job. It might take a minute to get the pooch to understand how it works, but once they get it, they are fantastic at the game.
---
Related Questions
---
Yorkies Are Very Active And As A Result Need A Constant Supply Of Energy. This is why they always seem to be hungry and are generally not picky eaters. However, their meals should be controlled and kept between 3 and 4 per day with a couple of treats now and then. This will help avoid weight issues which they are prone to.
What Do Yorkies Like To Eat? Yorkies are not very fussy eaters, but they do have their favorites. Anything meaty will always hit the spot, with chicken, fish, and turkey being among their favorite flavors. They also enjoy chewy and crunchy textures. However, the most honest answer is that Yorkies like to eat whatever they can and are allowed to.
Yorkie Foods To Avoid? While they do seem up to trying anything, there are several foods that could cause serious short-term and long-term consequences when consumed by Yorkies. Top on this list are grapes, raisins, onions, garlic, and chocolate. It would be best if you also avoid things like alcohol, undercooked or raw meat, as well as avocado. In addition, pregnant Yorkies should also have a limited ingredient diet for the sake of their health.