An estimated 85 million American households own a pet, and in Oregon alone, it is said that approximately half of the residents are pet owners. This data is based on a recent pet ownership survey conducted by The American Veterinary Medical Association (AVMA) in 2022. The survey also concluded that for most households, a great majority care for dogs as their pets.
Given the rising dog ownership figures in Portland, it is not difficult to find apartments in this dog-friendly city, and there are over 30 parks that allow off-leash dogs, such as Gabriel Park and Sacajawea Dog Park. Apart from regular exercise at such parks, bringing your Fido to the groomer on a regular basis is beneficial for its skin and coat health.
Professional dog groomers are trained to handle even the most difficult dogs; plus, they have the tools and expertise to bring out the very best in your dog. So, look no further because we've, pl found and reviewed 23 dog groomers around Portland, Oregon. All of them have passed our selection criteria, so you can rest easy because your dog and, for some of you, your cats are safe with them.
23. Serenity Mobile Pet Spa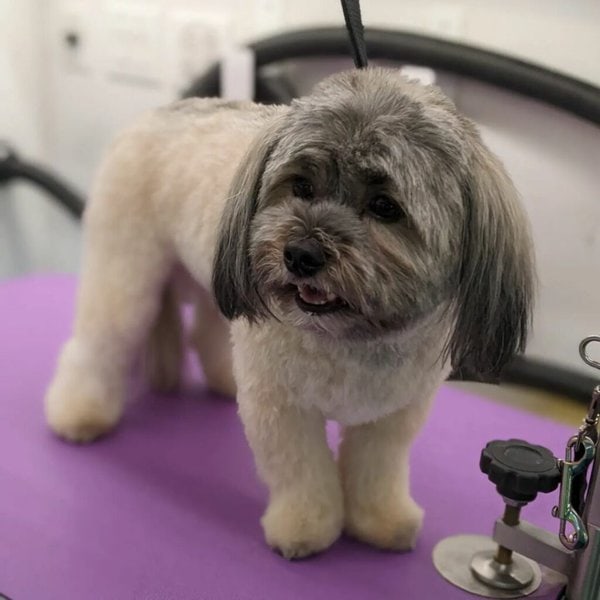 There is nothing more convenient than just waiting for the dog groomer to arrive at your home and perform the services right in the comfort zone of your dog and yours, too. This service is only possible through mobile dog grooming like Serenity Mobile Pet Spa. They provide cage-free, stress-free, and no waiting time for you and your dog.
Unlike other mobile pet grooming salons, the Serenity Mobile Pet Spa will not hook up to your water and electrical utilities. The mobile grooming van is fully equipped with all the necessary tools to pamper your pooch from head to tail. You can do a virtual tour of the mobile salon through its website.
Other than aggressive dogs, they accept grooming all dog breeds, senior dogs, and even those with health problems. Take note that an updated anti-rabies vaccination is required prior to an appointment. There is no fixed price list because the final cost depends on the dog's behavior, size, and severity of matting.
Highlights
The mobile pet spa also accepts the grooming of cats, including kitty haircuts.
If your cat or dog needs a haircut, you have to schedule an appointment as early as 8 weeks which you can do by calling the number provided above.
For heavily matted dogs, the groomer may decide to perform a shave-down of the coat, and this procedure is done to prevent accidents such as cuts or abrasions from the scissors or clippers.
If you need to cancel or move your appointment to another date, please do so 24 hours before your schedule.
Services
Dog Basic Spa Package

Hydro massage bath with premium shampoo and conditioner
Nail trimming
Ear cleaning
Anal gland expression (upon patron's request)
Oral care

Kitty Package

Bath
De-shedding
Haircut
Soft paws
---
22. Coats & Tails Pet Salon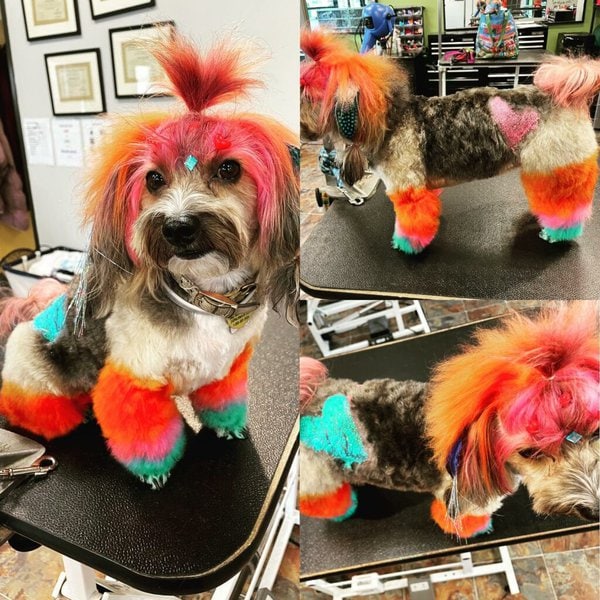 Erin Fogg, who has extensive experience in the pet grooming industry for more than 10 years, opened Coats & Tails Pet Salon in 2011. Along with her are four Certified Master Groomers who are skilled in handling canine behaviors as well as expertise in the areas of safety, first aid, dog anatomy, and hair styling for all dog breeds. Also on board are two dog groomers who are on their way to getting their certificates as Master Groomers.
Dog owners have nothing but excellent words because of the specialized care their pooches have received from them. From the ease of booking a schedule to bathing and the hand-drying process or hand-stripping for rare dog breeds up until their dogs sashayed out of the pet salon, everything was under personalized care.
As a salon policy, patrons should take note that they cannot accommodate your dog if you arrive 15 minutes late. And, in case you fail to pick up your pooch at 6 pm, an additional $15 for every 30-minute waiting time will be charged.
Highlights
The salon owner and four of her grooming staff are all National Certified Master Groomers, meaning that it took them years of training, practice, and passing both practical & written examinations before they were given a certificate.
All dog breeds and sizes are accepted for grooming; in case your dog is too large to handle, there would be two dog groomers to do the job.
Puppies as young as 12 weeks of age can also be accommodated for their first grooming.
To make them more accessible, patrons can book any of the services any day of the week beginning 7:30 am up until 5 pm.
Services
Basic Grooming

Bathing
Hands-on drying
Nail trimming
Ear cleaning
Anal gland expression

Other Services

Breed-specific haircut
Oral hygiene treatment
---
21. Yappy Dog Pet Grooming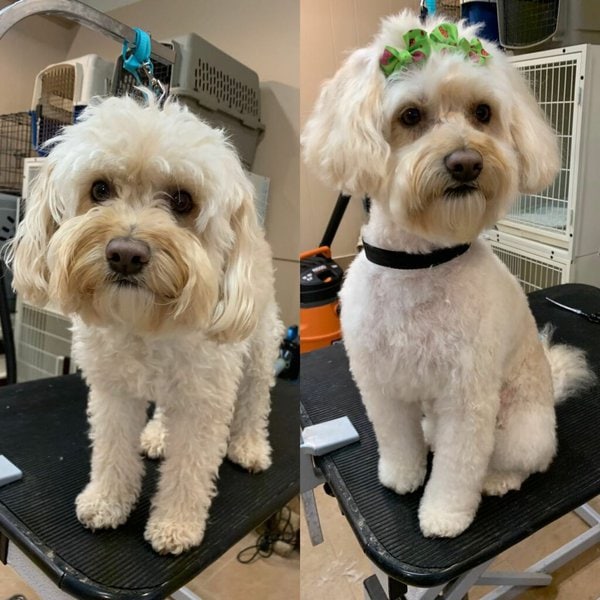 Yappy Dog Pet Grooming is owned by Sharon S., who began her career as a Licensed Pet Stylist in 1995. She specializes in styling all breeds of dogs, including Poodles and Doodles, which are extra challenging to groom and style.
The patrons of Sharon have shared their online reviews and particularly admired how their doggies come out of the salon looking amazingly great with their new haircuts, nails well-trimmed, ears all cleaned, and breath smelling fresh, all these for a reasonable fee. One particular dog owner even expressed her gratitude because her overly-anxious senior and blind Japanese Chin got the best grooming experience under the caring hands of Sharon.
Dog owners like you will never get bored while waiting for your fur babies to be made up because you can spend time at New Seasons Market or a nearby shopping mall. So, pick up that phone and make an appointment with Sharon for your dog's next grooming session.
Highlights
Sharon accepts grooming and performs custom cuts for all breeds of dogs.
To set up an appointment, you can call the phone number provided above.
For patrons' convenience, detailed driving direction is available on its website.
Cats are also accepted at this grooming establishment.
Services
Basic Grooming

Bath
Body trimming
Ear cleaning
Nail trimming
Teeth brushing

Specialized Services

De-matting
Paw pad trimming
Sanitary trim
Breed-specific cut
---
20. Ruff Around The Collar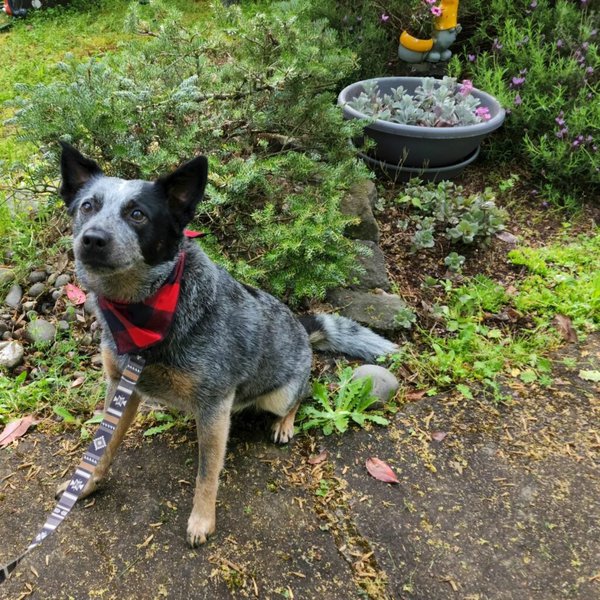 The owner, Josh, offers his patrons the privilege of having their pooches groomed in a relaxing environment where there are no other dogs anxiously waiting for their turns to get clean and pretty. At Ruff Around The Collar, your fur baby will enjoy its me-time with Josh, who offers doggie treats and lots of cuddles, plus a free toy at the end of the grooming session.
Before the appointment, be sure to inform Josh of any skin allergies, infections, and any other issues like aggressiveness that your pooch may have. In case he deems it not safe to groom your dog because of its aggressive temperament, he will discontinue the grooming process to avoid any unwanted incidents.
Booking an appointment can be done through the website, or you can choose to call the number provided. Take note that Josh allows one dog at a time; thus, his scheduling is on a back-to-back basis. So, if you're 15-minute late, he may have to reset your appointment for another day.
Highlights
Josh offers a less-stressful environment because the next dog to be groomed is not allowed to wait in the facility.
Dog grooming sessions last for an average of two hours and longer if it involves shave-down services.
He only uses all-natural and organic grooming products to avoid skin irritations.
Josh can do all kinds of haircuts, including punk rock hawks breed-specific hairstyles.
Services
Basic Grooming

Bath with hair conditioner
Ear cleaning
Brush out
Nail trimming

Other Services

De-shedding through the use of FURminator
Nail polishing
Coat shaving
---
19. Wiggles & Wags Grooming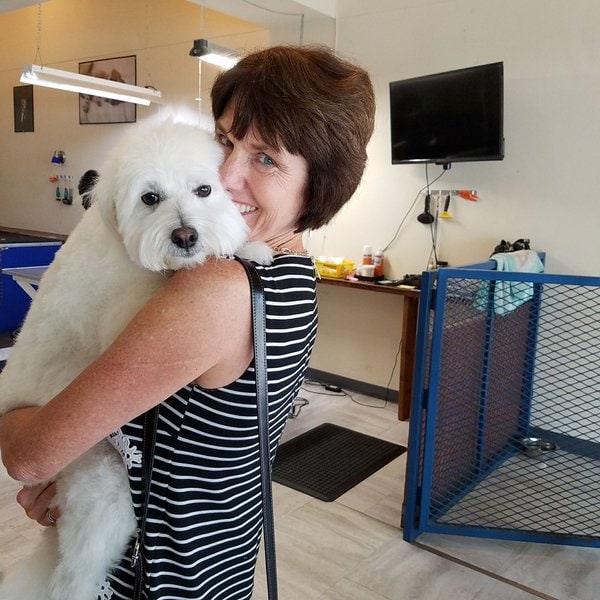 Shelley Webb, the owner of Wiggles & Wags Grooming, began working at the salon in 2005 until she decided to buy it from the owner in 2009. Now, the salon has been transformed from a self-service dog wash into a full-service dog grooming salon that caters to all kinds of dog breeds, sizes, and coat types.
Their loyal patrons have praised the top-notch and friendly services of the staff and the dog groomers themselves. They also admired how the salon was kept clean and orderly. Aside from adult dogs, puppies are also welcome for grooming. Dog groomers take their time in making the pups comfortable and will only begin the grooming process once they sense that the little ones are ready for it.
All services are strictly on an appointment basis. There is no fixed price list for the services rendered, but you can request a free estimate by filling up the online form. They accept checks as a payment option.
Highlights
The salon uses high-quality shampoo, conditioner, and other products to keep dogs safe from skin irritations.
They accept Poodles and Doodle breeds for grooming.
For heavily matted pooches, dog groomers can accommodate them for a thorough de-shedding service.
It is a one-stop shop for grooming services and products because patrons can also purchase high-quality grooming essentials, including pet oral care products, grooming, and de-shedding tools, as well as pet treats, collars, and leashes.
Services
Full-Service Grooming

Bathing
Anal gland expression
Hair styling
Nail trimming
Ear cleaning

Other Services

De-matting
Paw cleaning
Sanitary trim
Eye cleaning
---
18. Grooming Arts Northwest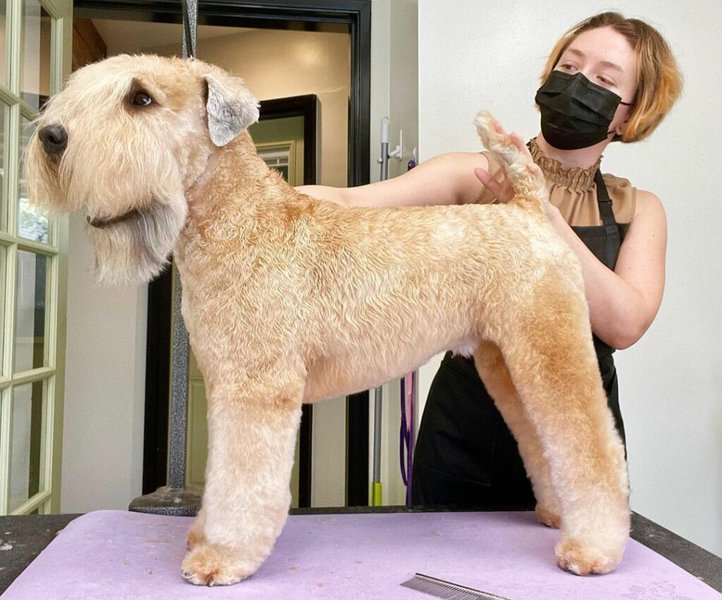 Grooming Arts Northwest is one of the premium dog grooming salons in the metropolis. The founder, Karu Wojtaszek, is an International Certified Master Groomer who received some of his training skills from the best groomers in the field of show ring competitions, including the AKC conformation rings. It's not surprising that he is given a certification both by the National Dog Groomers Association of America in sporting and non-sporting breeds and also from CPR/First Aid by the American Red Cross.
Also on board is a team of dog groomers who were carefully selected based on their skills and genuine compassion for animals. This is a grooming salon that also takes into consideration the emotional well-being of dogs, especially those with anxiety and nervousness issues. Thus, patrons like you would be glad to learn that all dogs are groomed in an individual and quiet room.
Take note that all services are strictly on an appointment basis. For new patrons, you may have to wait for 2 to 6 weeks before your request can be accommodated.
Highlights
The dog groomers are Fear Free certified, meaning that they have skills and knowledge on how to pacify an overly-anxious dog.
Patrons should only bring in their dogs at the appointed time because they value a stress-free environment; hence, there are no waiting rooms for dogs at the salon.
Each dog is groomed in individual treatment rooms.
Dog owners will receive a free short education about proper coat care and maintenance.
Services
Full-Service Grooming

Hydrotherapy massage bath
Hand drying
Nails trimming
Anal galnd expression
Fluff drying

Other Services

Coat coloring
Poodle trimming
Custom hairstyling
Dematting
Hand stripping
---
17. Hair Of The Dog Wash And Groom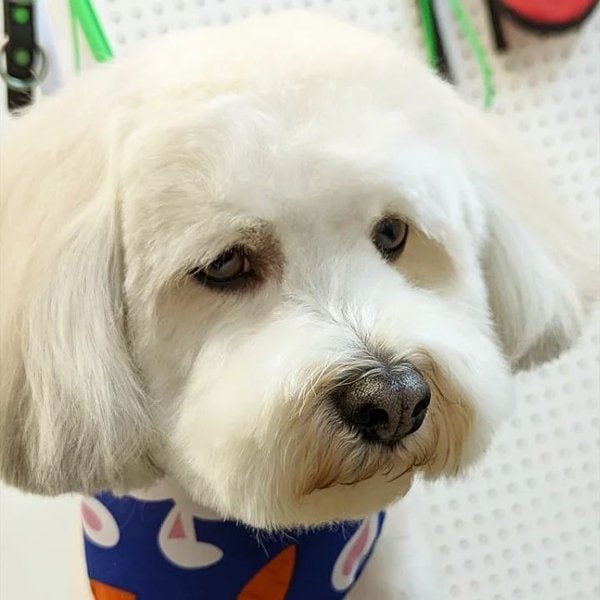 A dog grooming salon that has been in the business for more than 70 years, it is now under new management with a staff of professional groomers who are knowledgeable in the trends of dog styling. They do not accept walk-in patrons. To get an appointment, simply give them a call at the number we've listed above.
You will only be given an estimate for the cost of grooming. The final price depends on the coat condition, breed, weight, and the dog's temperament. Be sure to bring your fur baby's latest anti-rabies vaccination on the day of the appointment.
As patrons, you have the option to choose if you like your dog to roam freely around the facility before and after grooming or if you wish, your pooch will be placed in a cage.
Highlights
Dog parents can request specific hairstyles for their pooches.
There are no additional fees for de-matting because it is part of the grooming package for a polished groom.
Express services such as nail trimming, anal gland expression, ear cleaning, paw trims, and teeth brushing can be availed of.
For safety precautions against COVID spread, those who failed to call for an appointment are not allowed on the salon premises.
Services
Full-Groom Services

Bath using skin-specific shampoo and conditioner
Nail trimming
Ear cleaning
De-matting
Breath freshening service

Express Services

Nail trimming and filing
Ear cleaning
Anal gland expression
Teeth brushing
---
16. Pretty Paws & Claws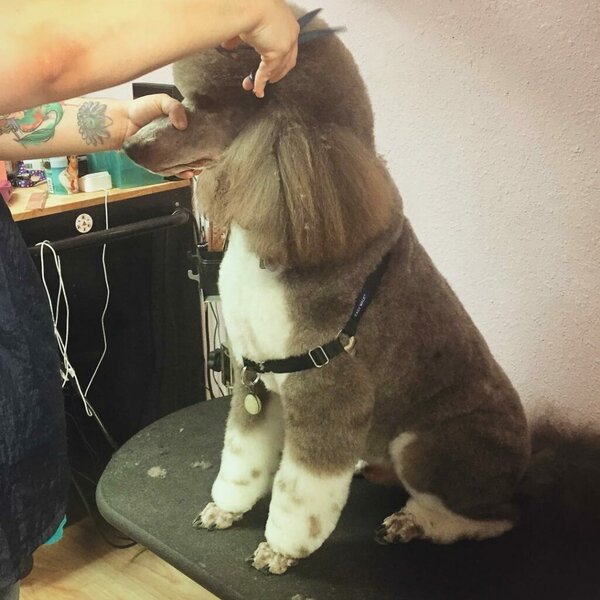 Pretty Paws & Claws began its operation in 2012 by owner Katie Miller, who received her grooming certificate at Betty's Grooming School. Her business started small with dog grooming done in her kitchen. It was over a year later that her patrons started to increase, and she took the leap and opened her grooming salon that catered to both cats and dogs.
Dogs of all shapes and sizes are accepted for grooming. For patrons who own dogs that are very challenging to pacify during nail trimming procedures may avail of the doggie lift or suspended nail cutting. This is a procedure wherein your dog will be safely placed in a suspended harness while the nails are being done.
Patrons keep on coming back to Pretty Paws & Claws not only because of the reasonable prices but also because of the way Katie handles their pets with extra care and is good at handling nervous cats and dogs.
Highlights
All dog breeds, from extra-small to extra-large, can be accommodated for grooming, including Poodles and Doodles.
Dog owners can avail of the safe and comfortable suspended nail cutting for dogs which is a great option for overly-anxious dogs.
Dog owners can schedule up to 3 dogs in one grooming session.
Puppies and dogs adopted from rescue and adoption centers who never had a grooming experience in the past are accepted for a full-grooming service.
Services
Full-Grooming Service

Bath
Brush
Blow drying
Haircut
Nail trimming

Other Services

Coat coloring
De-shedding
Guinea pig nail trim
Dremel and suspended nail trimming
---
15. Pupdo's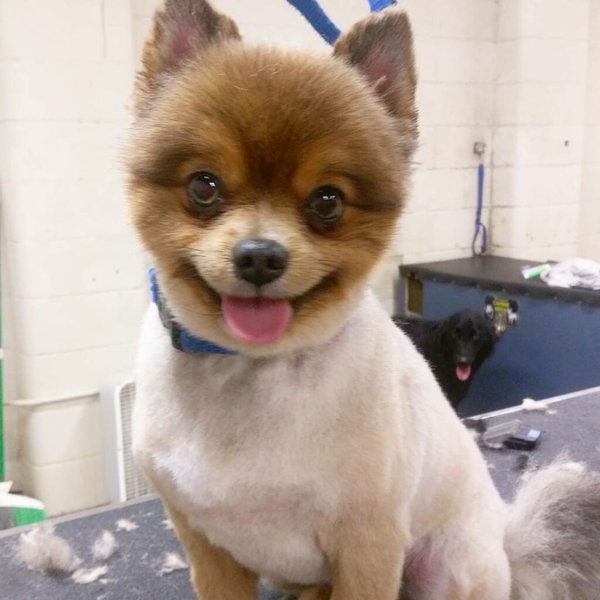 Pupdo's owner, Dawnidia Holscher, is an experienced dog groomer who is backed with over 20 years of experience in the dog grooming industry. Dog owners who have senior pets, sensitive skin, or dogs that are difficult to handle can go to her.
Patrons will appreciate that grooming their dogs will be done at a maximum time of 2 hours which is great for anxious Fidos and for those dog owners who are always on the go. Some are even done in less, depending on the temperament and dog breed. But, if you wish, you can take your dog or cat for grooming before you head off to work or recreation and pick it up after your schedule for the day is done.
They do not accept patrons with no scheduled appointment. Please call Pudpo's if you are interested in availing of any of the grooming services. Cat lovers are welcome to bring their kitties for grooming, too.
Highlights
The groomer is highly-skilled in handling elderly dogs and hard-to-manage dogs for grooming.
Dawnidia also accepts grooming feline pets, much to the delight of dog parents who have pet cats.
All grooming procedures are guaranteed to be done in 2 hours or less.
As a special service, patrons can leave their cats or dogs in the morning and pick them up in the afternoon.
Services
Basic Dog Grooming
Other Services

Anal gland expression
Cat haircut
Cat bath
Sanitary trim
---
14. Dogs Dig It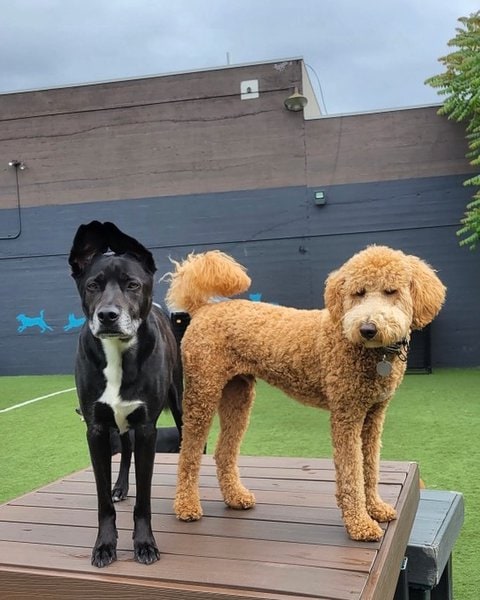 Dogs Dig It opened in 2006, and its services include dog grooming, daycare, and dog boarding. As a dog owner, you will appreciate the limited number of dogs that they accept for grooming each day. This is done for them to create a calmer and less-stressful environment during dog grooming sessions.
The owner, Karen Woodbury, along with her team of grooming specialists and friendly, well-trained staff, gives dogs enough space to romp around and socialize with other dogs in a vast 14,000-sq-ft outdoor and indoor space. Dog owners can book a grooming session while their pets are boarded in the facility. Just the same, you can take your pooch to the salon to just avail of any of the grooming services.
Dogs Dig It got a high rating of 4 stars out of 5, based on online reviews of over 80 patrons on Yelp. The positive feedback was based on categories such as staff courteousness, grooming skills, and prices.
Highlights
Low-stress grooming experience because of the limited number of dogs that are accepted for grooming.
The prices are based on the dog's temperament, size, skin condition, and special requests like special scissoring.
An appointment can be made through their website, or you can also call them at the phone number provided above.
All dog breeds, as well as puppies, are accepted for grooming.
Services
Full-Service Groom

A warm bath with high-quality shampoo and conditioner
Eye and ear cleaning
Teeth brushing
Brush out

Other Services
---
13. The Bow Wow Grooming Boutique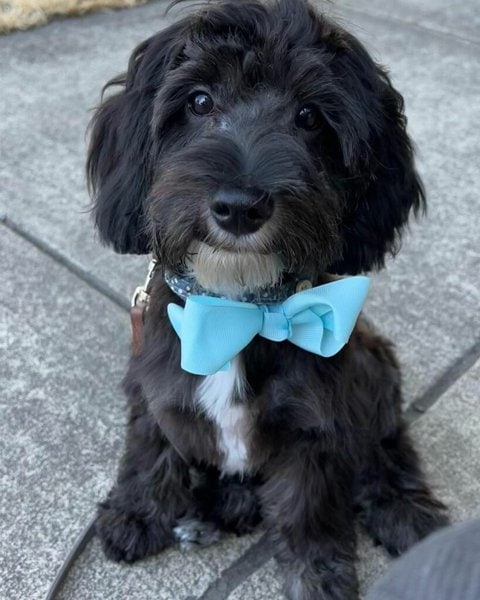 The owner, Amber Taylor, completed her 2-year internship program under the tutelage of a Master Groomer in Missouri. After working for many years as a dog groomer, she decided to open The Bow Wow Grooming Boutique in 2012 right in her remodeled house garage. In 2016, she was awarded the Best Dog Groomer in Portland by Expertise.
Amber is fully hands-on, from start to finish, in the grooming process. This is a small grooming boutique that can only accommodate a maximum of two dogs at a time. She specializes in calming grooming techniques wherein she uses plant-based oil to calm down nervous dogs and to treat skin ailments such as hot spots.
Other than ear cleaning, nail trimming, face trim, and anal gland expression, Amber only accepts dogs 75 lbs and below for grooming. Do take note that she does not accept credit cards as forms of payment. You can pay cash, check, or Venmo.
Highlights
Cats are also accepted for full grooming sessions, and to avoid stressing them, cats are scheduled for either the first or last appointment of the day.
Dog owners can get price quotes through text, as there is no fixed grooming rate because issues like breed, size, and behavior will be factored in.
It is a small grooming boutique; hence, a limited number of dogs is accepted each day. 
Nail trimming can be accommodated even without an appointment.
Services
Dog Grooming Services

Bath
Brush out
Face trim
Nail trimming
Anal gland expression
Ear cleaning

Cat Grooming Services

Bath
Shave down
Sanitary shave
---
12. Townhouse Pet Care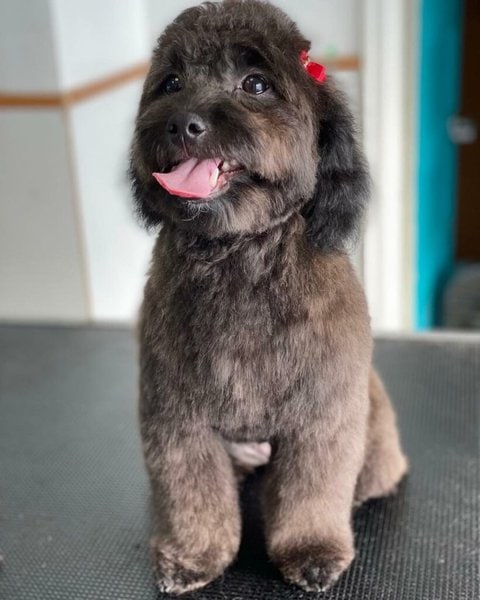 Townhouse Pet Care is owned and operated by Dan G., who bought it from the previous owner in 2016 to render grooming services to dog owners in Portland. The following year, Dan and his team expanded the business and bought its nearby dog daycare center. Today, Townhouse Pet Salon provides boarding to cats and dogs, but its grooming services are exclusively for dogs only.
The dog grooming procedures have a turnaround time of about 4 to 6 hours. Patrons will be informed right away once their fur babies are done being dolled up. The groomers use specialized shampoos and conditioners, and if necessary, flea treatment shampoos but with an additional cost. Patrons can inform the groomers ahead of time if they prefer to use hypoallergenic bath products for their pooches.
As a salon policy, dogs showing aggressive demeanor will be stopped from grooming, and owners will be required to pick up their dogs immediately. All grooming services can be scheduled via appointment basis only, which can be done either by calling them or through online booking.
Highlights
Grooming processes take an average time of 4 to 6 hours to finish.
Apart from grooming, doggy daycare and dog boarding can also be availed where there is a big space to play and socialize with other dogs.
If the dog's coat is severely matted, the groomers may do a shave-down procedure which will be discussed with the owner upon check-in.
Prices depend on the dog's breed, coat condition, specialized cut requested, and the dog's behavior.
Services
Haircut & Bath

Brush out
Double scrub and rinse with hydro-therapy
Complete blowdry
Final brush out
Trim

Other Services

Paw balm
Pawdicure
Deep cleansing face wash with scent options
Anal gland expression
---
11. Sweetpea Mobile Pet Spa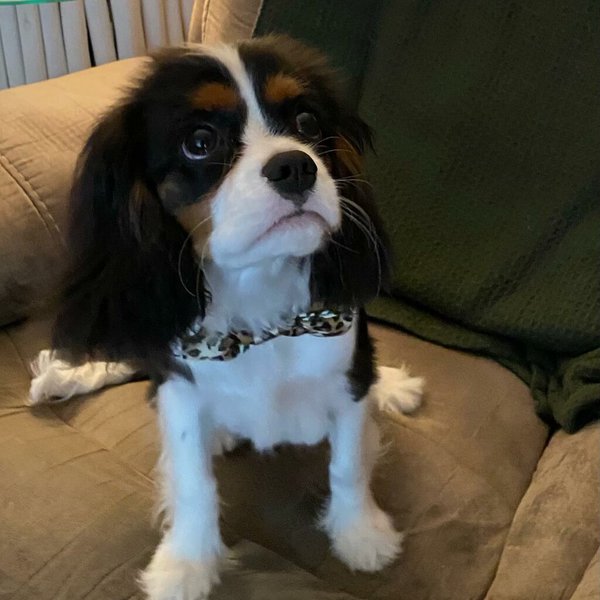 There is nothing more convenient and stress-free than having your dog groomed at your home, which is what you will get from Sweetpea Mobile Pet Spa. Dog owners praise Sally Winslow, the owner, because she was very responsive during the online booking process and was on time with her schedule.
Sally has a state-of-the-art grooming and self-contained van that does not need to be hooked up to your water and electricity. No worries for patrons living in apartment settings for as long as there is a 9-ft clearance of overhangs in the garage area.
All her grooming services start at a reasonable price of $125 and will increase or remain the same depending on the size and the coat condition. To book an appointment, text the number provided above, or you may also email her at info@sweetpeaspa.com.
Highlights
The groomer uses non-toxic dog shampoo and conditioner, but dog owners who wish to supply their veterinarian-approved shampoo may do so.
Dogs that are showing aggressive behaviors will be discontinued from grooming.
During the process, owners are not allowed to accompany their fur babies inside the grooming van to avoid distracting them while being groomed.
All dog breeds and sizes are accepted for grooming.
Services
Full-Service Grooming

Bathing
Brushing
Haircut
Nail trimming
Ear cleaning
Teeth brushing with breath spray

Other Services

Anal gland expression
De-matting
Blueberry facial
Hydromassage
---
10. Petco Dog Grooming – Portland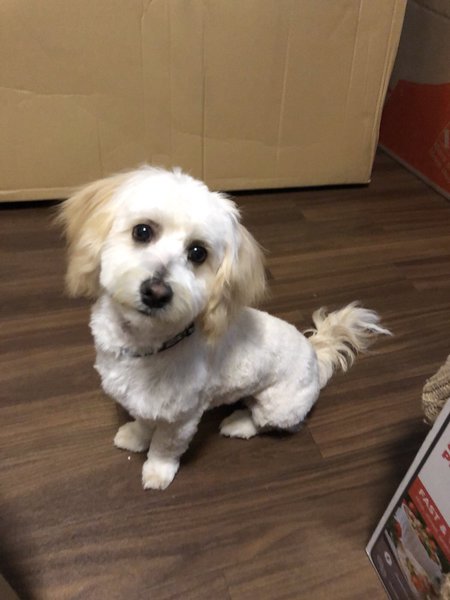 With several branches in Portland, Petco is an all-in-one pet service store that not only sells pet supplies but also offers dog training and grooming services. Groomers are well-trained to handle all types of breeds, with each one having undergone a 20-week, 800-hour course certification.
Every grooming starts with a 7-point Care Check, where a patron's dog is physically examined for any potential health concerns, like the presence of parasites or a weight issue. Dogs are then groomed based on their specific needs and are given a report card at the end to let patrons know about the services provided with additional after-care suggestions.
Dogs of all breeds can be accommodated with different pricing depending on the size and hair length. Walk-in services are also available for specific care needs. Other Petco stores in the Portland area are located in the SE Division, Sunnyside Road, and Hayden Island.
Highlights
VIP Express Service is available for brachycephalic breeds, like French Bulldogs and Boxers, for quicker grooming and added safety.
The facility uses a groomer's helper tool to ensure the safety of the dogs.
Several methods of drying are available such as kennel drying, towel drying, and air drying, depending on the needs of the dog.
24/7 booking is available through their website or app.
Services
Breed-Specific Haircuts

Cut and style
Deep-cleaning shampoo
Blow-dry and brush out
Anal gland expression
Nail trim
Scented spritz

Customized Packages

Flea cleanse
Shed release
Dry skin repair
---
9. Nature's Pet Market NW Portland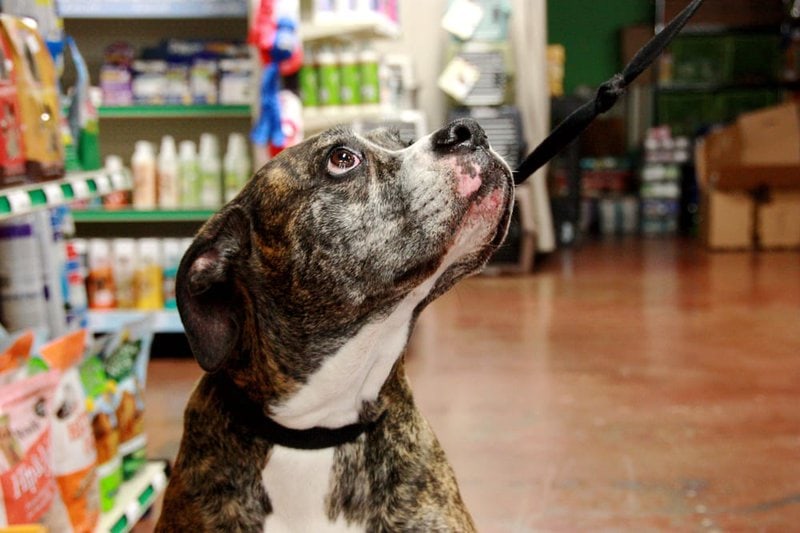 Nature's Pet started in 2009 as a locally-owned pet store supply that specializes in natural raw dog and cat foods. They now carry an assortment of products for all types of pets and offer grooming for dogs as well.
Patrons have nothing but praise for the friendly and accommodating staff. Products used for grooming are all-natural and do not contain harsh chemicals that would otherwise irritate sensitive skin.
Self-wash service is also available in the facility for people who want to bathe their dogs on their own. All the products, including towels, brushes, and air dryers, will be provided, and the facility is equipped with easy-to-use tubs with ramps for great maneuverability.
Highlights
The products used are all-natural and environmentally friendly, ensuring safety for the dog's skin and coat.
All breeds and sizes of dogs can be accommodated for grooming.
Covered parking is available for added convenience during rainy days.
Nature's Pet also has another branch on N Lombard Street, Portland.
Services
Coat Care

Shampoo and conditioning
Towel dry and coat fluffing with a dryer
Clipping
Soft combing and brushing
Styling
Skin and coat treatments

Other Services

Nail trim
Ear cleaning
Teeth brushing
Anal gland expression
---
8. A Cut Above Dog And Cat Grooming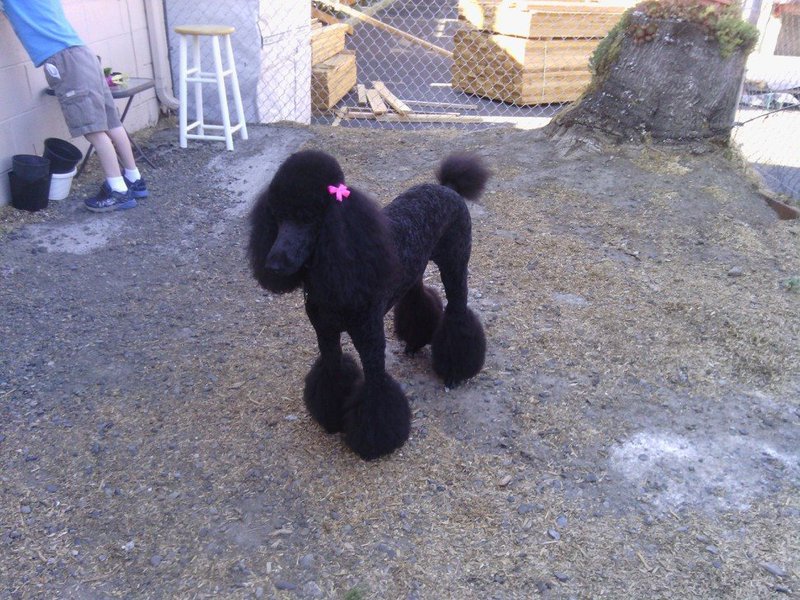 A Cut Above Dog And Cat Grooming is a locally operated small shop in the suburb of Portland owned by Melissa Latham since 2011. It offers a more personalized service compared to big grooming franchises, with your dog or cat given much more attention and care.
The shop has developed patrons over the years, and most of them are very satisfied with the grooming services provided. The atmosphere in the shop is calming, and the owner will take the time to talk to patrons about their pet's needs.
The shop accepts all breeds and sizes of dogs, with pricing depending on the length and condition of the hair. They use Kelco products that are detergent-free with natural herbs and extracts for a deep clean and degreasing. Walk-in nail trim is available from 2 pm to 5 pm during operating hours with free Dremeling, sanding, and smoothing.
Highlights
The shop is located on a busy street with a nearby coffee shop and other vintage stores, which you can visit while your cat or dog is being groomed.
Pricing is very reasonable, starting at $55 for a full groom of extra small dogs.
There is a small backyard in the shop where dogs can relieve themselves.
Services
Full-Service Grooming

Bath
Brush out and blow dry
Nail trim
Ear cleaning
Haircut or sanitary trim
Anal galnd expression

Bath Only

Bath, brush, drying
Nail trim
Ear cleaning
---
7. Emerald K9 Salon & Spa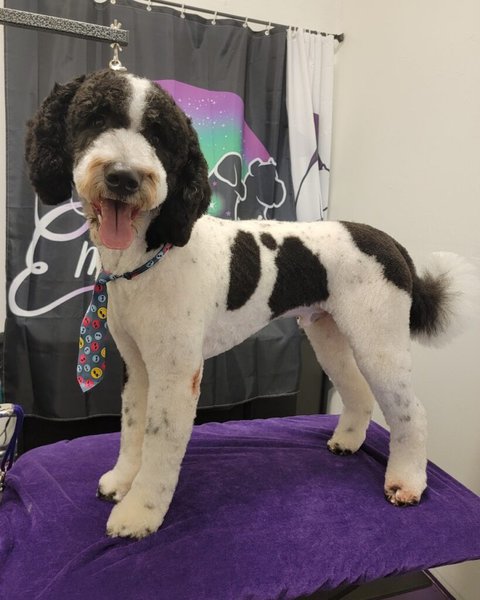 Owner Kaley McGuigan is a Nationally Certified Master Groomer and Certified Canine Esthetician who has won countless awards for her expertise, especially with Poodles and the Bichon Frise. She is very knowledgeable about the latest trends in grooming and has continued to pursue further education to give patrons the best possible service.
The salon places great emphasis on comfort and efficiency, equipping the facility with an electric grooming table and a bathing unit that can be lowered to accommodate large dogs with ease. Dryers used are also one of the quietest in the market, guaranteeing dogs would not be stressed out during the grooming process.
Patrons can also be assured that their dogs will look professionally groomed and even competition-ready. Kaley puts a lot of effort and attention into her craft, and the results can surprise many dog owners.
Highlights
The facility is equipped with top-of-the-line and low-stress equipment, ensuring comfort for all types of dogs, including senior dogs.
The staff has completed the Fear Free Groomer Certification Course and Pet First Aid & CPR Certification, ensuring patrons of a safe and stress-free environment. 
Patrons can save time via a video consultation with the groomer prior to the first appointment.
The owner, Kaley, received awards in the 2019 Northwest Grooming Show and 2019 & 2020 Groom Expo West.
Services
Full-Service Grooming

Bath
Nail buffing
Ear cleaning
breath -freshening treatment

Other Services
---
6. D'Tails Dog Salon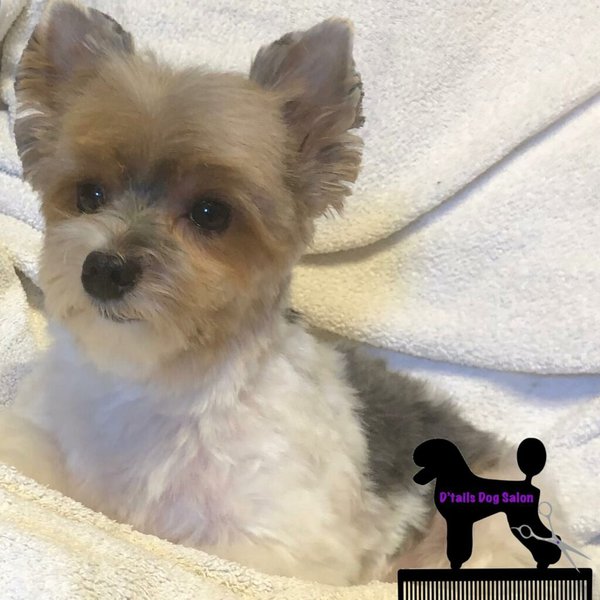 D'tails Dog Salon was established by Deena Holeman in 2006 after working for several years in various grooming establishments. She is an award-winning dog groomer who won a Best In Show in 2007 and has since placed high in many dog show competitions, specializing in Poodles, Bichon Frises, and Terriers.
The salon has a dog weight limit of up to 25 lbs. Charges are based on the number of hours spent on grooming, as well as the dog's weight, and not based on the breed. The groomer may charge an additional fee for difficult and aggressive dogs.
Grooming is by appointment only by phone or through the salon's website. The scheduled appointment is strictly followed due to one-on-one handling in the salon, with the dogs returned to the patrons as soon as the grooming is done. Late drop-off may result in a cancellation, and late pick-up will be charged an additional fee.
Highlights
Dogs are not placed in kennels since the owners have to pick them up right after grooming.
Undercoat de-mucking for Terriers is available, which is done to preserve the rich color and texture of the coat.
Payment options include slow pay with a touchless option using a QR code.
Puppies as young as 8 to 10 weeks old are accepted for a gentle grooming session.
Services
Full-Grooming Services

Bathing
Deep cleaning oxygenated bath with massage
Ear cleaning
Anal gland expression

Other Services

Hand stripping
Undercoat de-mucking
Deluxe de-shedding
---
5. Original Bark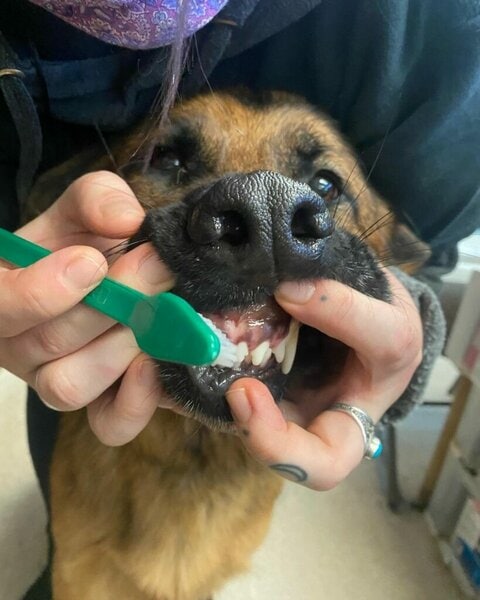 Established in 2003 by Ben Jelline primarily as a dog daycare, Original Bark has since included dog grooming services, as well as a dog hiking service and supply retail shop.
All dog breeds of any size are welcome in their climate-controlled boarding facility, which is quite spacious, and dogs can freely socialize with others to keep them from getting bored. Every dog is checked for vaccination records, so patrons will be assured that their pet is safe from any diseases.
The grooming facility is well-equipped with loads of soap options for your dog's needs. Professional grooming services are by appointment and only available in their Burlingame branch, but there is another branch in Raleigh Hills where only Basic Bath service is offered for a quick cleanup.
Original Bark received a high average rating of 4 stars based on over 40 reviews from dog owners, as reported on the Yelp platform. Patrons are particularly appreciative of the staff's friendliness and helpfulness; plus, they liked that there are webcams installed in the facility.
Highlights
Offers overnight boarding with drop-off and pickup available 24/7 throughout the year.
Webcams are installed for patrons wanting to check on their dogs.
A temperament assessment is first conducted by the staff for new dogs to check for aggressive behaviors to ensure the safety of other dogs.
There is a 20% discount on bathing services for those dogs that are boarded in the facility.
Services
Bath & Brush

Shampoo and conditioning
Brush out and blow dry
Nail trim
Ear cleaning
Anal gland expression

Full Haircut

Bath
Brush
Requested haircut
---
4. Bubbles N' Bows Dog Salon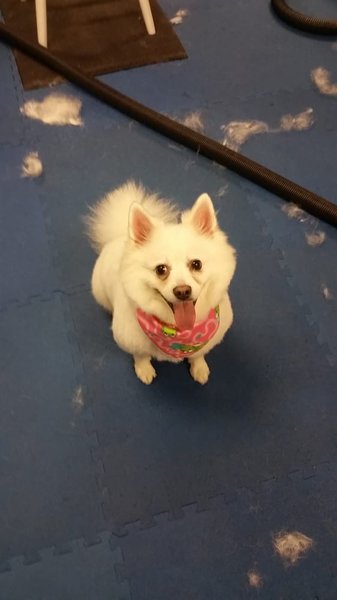 Opened in 2008, owner Karen Goodale aims to provide a one-on-one grooming service for dogs 25 lbs or less. The groomer only accepts a maximum of 4 dogs each day to give each one the attention they deserve. Appointments are arranged with extra time between schedules to ensure the previous dog has gone home before the next one arrives.
The exclusive handling of each dog at Bubbles N' Bows Dog Salon provides a serene atmosphere and minimizes the stress most dogs experience whenever they go to the groomer. Each dog is also hand fluff dried, doing away with cage dryers that could cause additional stress to dogs.
The salon offers a dental cleaning system using PetzLife Peppermint Oral Spray that uses natural products, like grape seed extracts and neem oil, to remove hard plaque and tartar. As part of the salon's corporate policy, take note that all dogs must be leashed upon arriving and before leaving; if not, dog owners must carry their pooches while at the salon.
Highlights
The groomer is certified in Pet First Aid and CPR.
The salon utilizes relaxing and safe-for-pets aromatherapy products to relieve stress for dogs.
High-quality professional grooming products are used to prevent skin irritations.
A potty patch in front of the salon is available for dogs that need to relieve themselves before and after grooming.
Services
Bubbles N' Tidy Package

Blueberry facial
Double massaging bath with coat conditioner
Hand fluff drying
Brush out
Nail trim
Ear cleaning
Anal gland expression

Bubbles N' Full Groom Package

Includes Bubbles N' Tidy package
Haircut/styling
---
3. Pup Panache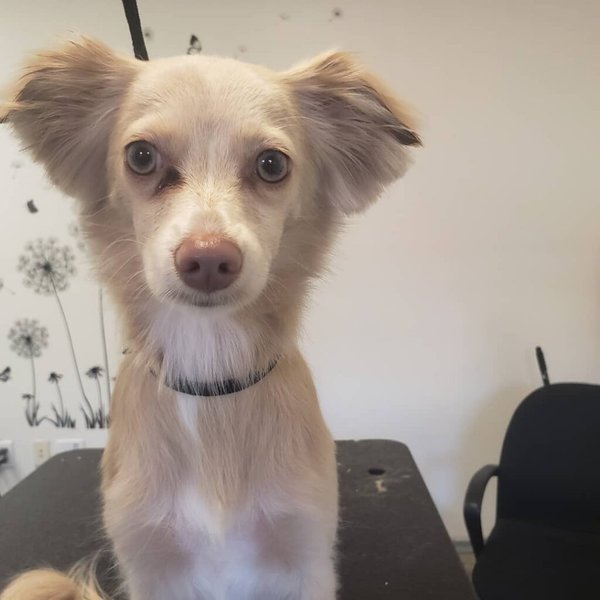 Owner Megan Arend is a National Certified Master Groomer who offers a one-on-one grooming service for dogs under 40 lbs. The facility only allows one dog in the space at a time for complete attention and care.
Patrons have nothing but praise for Arend in the way she handles anxious dogs, particularly puppies who are new to grooming. Puppies are first introduced to grooming by familiarizing them with the grooming table, clippers, and bathing. Haircuts are not performed during their first visit to avoid getting traumatized.
Appointments could be made through phone, email, or text, and cancellation must be done at least 24 hours before grooming. They have a "No Show" policy wherein patrons will still be billed if they did not cancel on time or did not appear in the time allotted to them.
Highlights
The facility has no exclusive parking slots for patrons, but street parking is available around the block.
Patrons will be informed and given a 15-minute window to pick up their pets, whereas failure to pick them up on time will incur an additional charge.
Only one dog is groomed at a time in the salon for a less stressful experience for dogs.
Puppies are accepted, but the package only includes a gentle introduction to grooming, such as eye and foot trim, nail trimming, and sanitary trim; a full haircut is not offered on the puppy's first visit.
Services
Standard Services

Bath
Nail clipping
Ear cleaning
Anal gland expression

Other Services

Nail trimming using either a clipper or a grinder
Puppy introductory grooming
---
2. Metro Mobile Groomers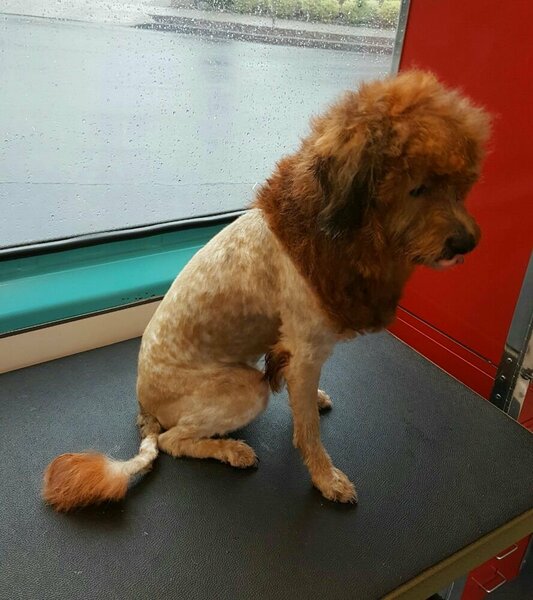 For dogs and cats that find going to the groomers physically and mentally stressful, Metro Mobile Groomers just might be the right solution.
They have been serving the Portland area since 2008, offering a variety of grooming services that not only includes basic grooming, but also hair coloring, airbrush stenciling art, nail polishing, and rhinestone or glitter application. There are also a number of spa treatments available, from mud masks to foot massages.
Their 15-Step Signature Groom is the one to try that includes two shampoos, two brush-outs, a conditioning rinse, and other basic services with optional liver/hypo treats. The main advantage of choosing Metro Mobile Groomers is that you are assured of a one-on-one service in a quiet and stress-free environment.
Their vans are climate-controlled for comfort and have their own source of water and electricity doing away with outside hookups. Setting up an appointment is easy, preferably through text messaging.
Highlights
The areas this establishment serves in Portland are limited due to traffic congestion; the zip codes serviced are available on the website.
The van has a large window where dogs can easily see their homes to reduce grooming anxiety.
Prices depend on the length and condition of the coat.
Cats are also accepted for full-grooming services.
Services
Grooming For Cats and Dogs

15-step grooming for cats and dogs
De-shedding
Dandruff treatment
Flea and tick treatment

Other Services

Coat coloring
Nail polish application
Coat braiding
Paw massage
---
1. What's Up Pup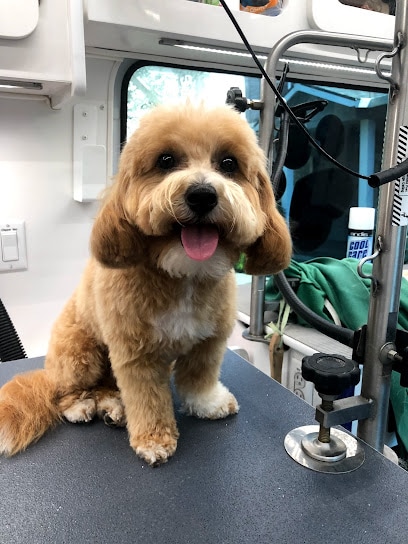 Founded in 2021 by Chassidy Sisco, What's Up Pup is a mobile grooming salon servicing the Portland metropolitan area and nearby suburbs, as well as Sherwood and Hillsboro.
Sisco has been working as a pet stylist for 10 years in different companies before deciding to open a grooming business herself. She got her start as an apprentice grooming dogs and cats, and she later got certified after passing numerous technical exams. She also studied to be a veterinary technician, so caring for animals is really her passion.
Sisco's business model is not just to offer convenience to patrons and a laid-back atmosphere to pets but also to be environmentally sound in the course of her business. She wants to minimize her salon's carbon footprint as much as possible by using an eco-friendly van and grooming products.
Highlights
Grooming is done on a one-on-one basis ensuring utmost care and attention to every dog with selected services similarly offered to cats.
All dog breeds and sizes are welcome, with prices depending on size, length, coat condition, and the duration of the grooming.
Grooming service is by appointment only and can be scheduled through phone or email.
A 48-hour notice should be given for cancellations.
Services
Full-Service Grooming

Bathing
Haircut
Ear cleaning
Nail trimming
Anal gland expression

Additional Services

Nail grinding
De-shedding
Teeth cleaning
---
Related Questions
---
Do You Need A License To Groom Dogs In Oregon? No, you don't need a license nor a certification to groom dogs in Oregon the same way hairstylists and barbers need it. However, having the right credentials will give aspiring dog groomers more opportunities to get hired since both companies and patrons prefer certified groomers. Getting trained in a program recognized by The National Dog Groomers Association of America (NDGAA) is a big plus.
How Often Should A Dog Be Professionally Groomed? Dogs should be professionally groomed every 4 to 6 weeks. This lessens the need for dogs to be shaved bald due to excessive matting. Dogs that have a thick undercoat will need to have their coats combed out to eliminate excess fur that would otherwise cause skin irritation and rashes.
How Long Does It Take To Groom A Dog? Depending on the length and condition of a dog's coat, it would take an average of 1 hour to groom. Small dogs with short and well-maintained hair can get groomed in 30 minutes tops, but larger dogs and those with more matted hair can take up a minimum of 2 hours.