A family dog was hailed as a savior for alerting a family of four in time before their house was completely engulfed in fire on the early morning of 2022 Christmas Eve.
The incident happened in Rockland County in Bardonia, New York, 35 miles north of New York City. The Mulhall couple, together with their two children and two dogs, were able to escape the fire. No one was hurt, but the firefighters adjudged their house uninhabitable after extinguishing the fire.
Scratching Noises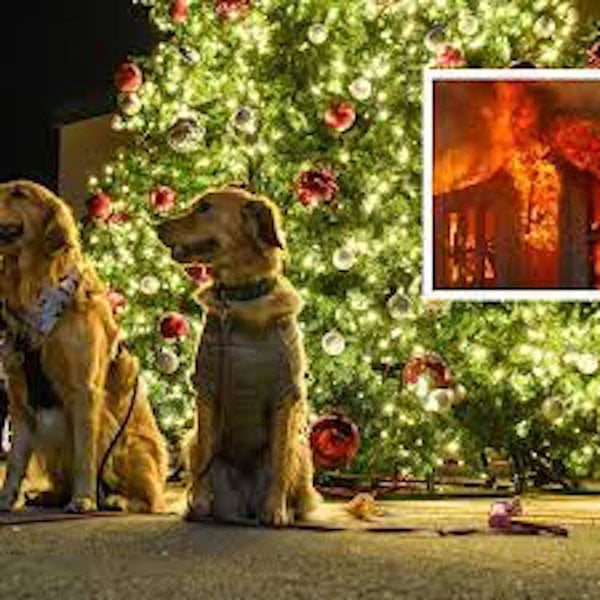 Homeowner Stephanie Mulhall recounted that she was awakened by her dog Chloe scratching at their bedroom door at around 1:30 am. Upon opening the door, she noticed that there was smoke spreading inside their house.
"We just thought she had to go out because she doesn't sleep with us. She sleeps downstairs, and then as soon as I opened the door, I ingested fumes. And as soon as my husband went downstairs, he saw the house on fire," Stephanie said.
The couple immediately woke up their two young boys and got out of the house just before the smoke defectors belatedly went off.
Firefighters from the nearby areas of Nanuet, New City, West Nyack, and Pearl River responded to the 911 emergency call and got the fire under control.
Stephanie further recounted that her boys were terrified and screaming because the fire alarms were so loud. "They both were scared. The older one was able to jump right out of bed, and I carried the baby down the stairs because he was very scared."
The cause of the fire was unknown, but the Clarkstown Police Department suspected the fire had started outside the house.
After the fire, the community helped the family by donating clothes, food, and Christmas gifts for their two boys. A GoFundMe page was also set up by a family friend that was able to raise nearly $32,000.
Dogs Saving Their Family
It is very well proven that dogs have the innate capacity to save their families, even sacrificing themselves. Dogs raised in good homes are likely to be instinctively protective of their family due to the strong emotional bonds formed.
One notable example of a dog saving a family from a fire happened in Florida three years ago when a Jack Russell Terrier named Zippy barked to alert his sleeping family of the spreading flames. The entire family was saved, but the dog died when it tried to save another family dog trapped inside the house.
Another incident in August 2022 in Maryland involved a Cairn Terrier named Bear, alerting a couple of a fire that started at the back of their home while they were asleep. The couple survived the fire, including their two dogs, even though the fire had completely destroyed their home.