Noodle, the Pug, who became beloved on TikTok for his daily videos wherein his mood would determine whether it is a "bones or no-bones day," died at the age of 14.
His owner, Jonathan Graziano, posted a video message on his social media page about the sad news the day after his passing on December 2, 2022.
Graziano said that Noodle died at his home with the dog in his arms. "This is incredibly sad. It's incredibly difficult. It's a day that I always knew was coming but never thought would arrive," he said.
While the Pug's death was devastating for Graziano, he urged Noodle's followers to celebrate his life by remembering how much he has touched and made happy millions of lives the world over.
He thanked the more than 4 million followers of Noodle and urged his fellow dog owners to appreciate and hug their beloved pets, adding "to give their dogs a cheese ball tonight, but it has to be the fake stuff."
TikTok Sensation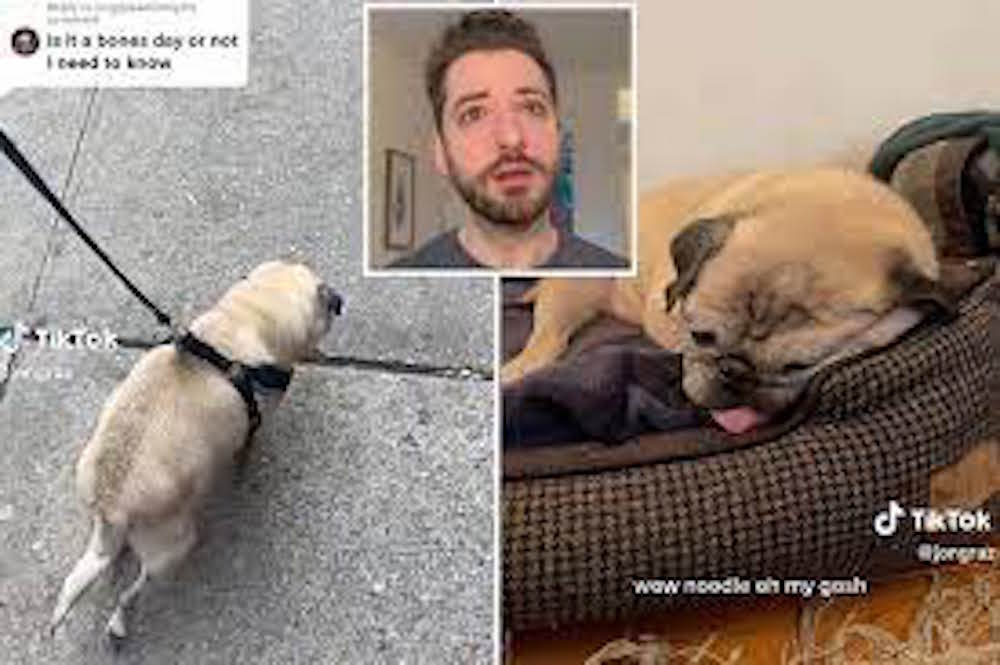 Graziano first started posting about Noodle's daily mood on September 2020. From the first few thousand views on TikTok, it ballooned into more than a million views a day in just a few months.
The dog owner would start each day by setting up a camera in front of the Noodle's bed and see how the Pug's mood would be when he woke up.
If Noodle stands on his own when Graziano props him up, then that would mean he is in good spirits, and his "bones" are ready to tackle the day head-on. If the Pug collapses back into his bed, then that would be a "no bones" day for him.
A "bones" day for Noodle includes a walk around the neighborhood and even enjoying a bite of turkey on Thanksgiving. A "no bones" day means more snuggling, belly rubs, and taking it easy. 
These short videos have impacted many people around the world. One follower is said to have proposed to his partner in one of Noodle's "bones" days, and another was prompted to buy a lotto ticket that eventually won half a million dollars.
Promoting Self-Care
Many have praised Graziano's posts about Noodle, not only for its entertaining value but also for teaching people about the importance of self-care.
The posts are a gentle reminder to people that it is okay to feel down and try to disconnect from the busy world once in a while and be up and about on some days, which is the central theme of Graziano's published picture book entitled, "Noodle and the No Bones Day."
Several weeks before Noodle's passing, Graziano was forced to take a break from posting the daily videos because of the dog's deteriorating health. "He's 14-1/4 years old, and as many of you know, A LOT comes with that kind of age. We're just navigating some of the 'a lots' right now," he wrote in late September.
Upon Noodle's passing, several fans shared their condolences and honored the beloved Pug, including a post from the owner of another famous Pug – Doug The Pug. It reads, "RIP Noodle The Pug. A great friend and a pug who spread joy to millions. May it forever be a bones day."