You only want the best for your pet – and that includes the highest quality food to keep your dear Fido's health thriving. With that being said, fresh food is a good option to provide your pooch with balanced nutrients and more whole foods in his diet. And here are our top picks for you!
When it comes to superior quality – both flavor and nutritive value – PetPlate rocks our world. From the packaging to the wide range of top-notch ingredients, it's definitely up there. Following closely behind are NomNomNow, and We Feed Raw, which cater to every pup's diet and nutritional needs.
If you're anything like us, who's picky about what food to give your pup, then this list of fresh dog food delivery brands will come in handy for you. We've done our homework to help you make the best choice for you and your pooch.
22. Pet Plate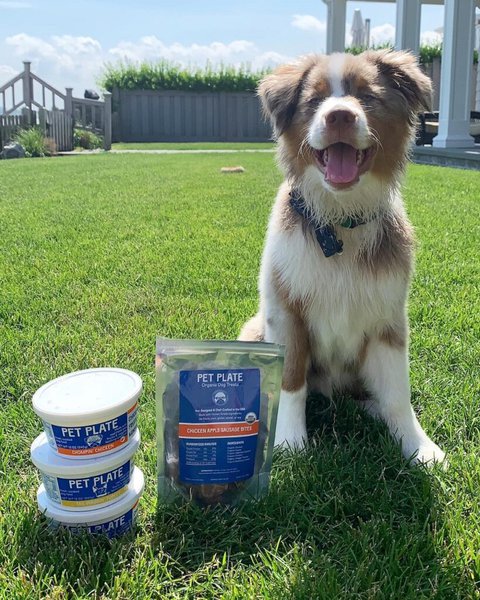 Cost: $23 to $90 per week
Availability: 48 states
The main selling point of Pet Plate is its excellent packaging. It resembles a yogurt container with a resealable lid, so you can simply seal it shut to save the remaining food for later. There's also an insulating liner to keep the inside fresh.
As for their well-loved meals, Pet Plate offers oven-roasted turkey with vegetables, braised lamb with quinoa, and farmhouse beef, to name a few. It is most definitely a delightful treat for your pooch!
21. NomNomNow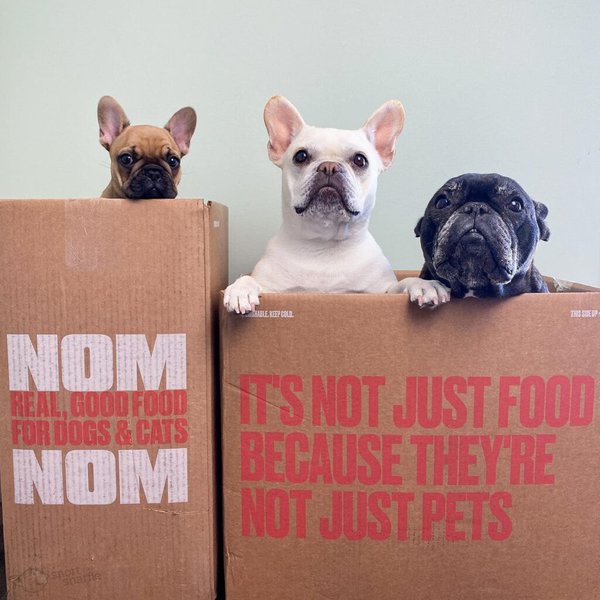 Cost: $30 to $120 per week
Availability: 48 states
NomNomNow stands by its promise – to provide its customers with safely packaged, tasty, and nutritious meals for dogs each time. Their packaging is small and compact, which also comes in easy-tear openings.
The brand also makes it easy for you to portion the meals because of the single-serve packs. Ingredients and nutrition facts are also indicated on the package, so you know what your pet is getting exactly.
20. Spot & Tango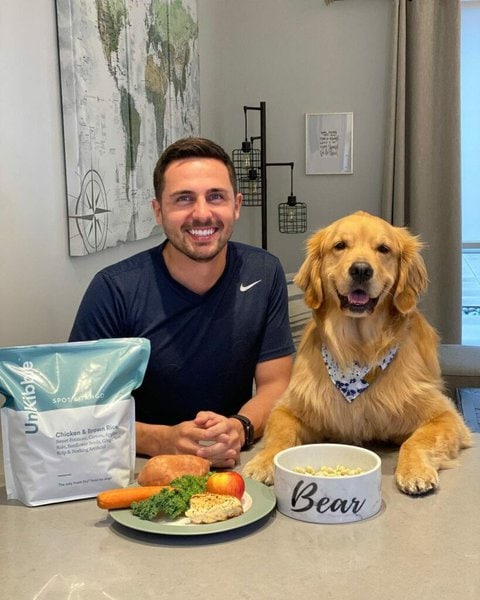 Cost: $7 per week
Availability: 48 states
Spot & Tango puts an end to every dog owner's meal prep woes with sleeves of single-serve frozen munchies for pups. The portions are perfect, and no stink at all in the fresh food. Among the whole food ingredients used are spinach, turkey, peas, red quinoa, and many more.
If your freezer is always packed, it should be easy to fit these compact baggies by Spot & Tango. They're slim enough to fit any crowded freezer, plus there's a clip added in if you want to save the rest for next time.
19. Chi Dog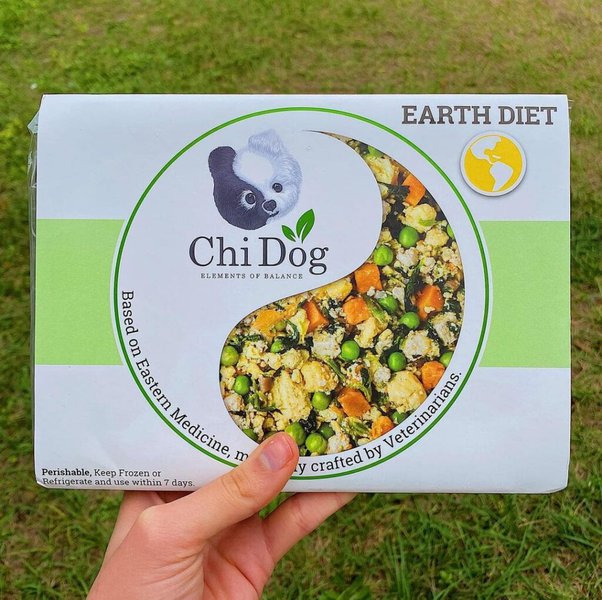 Cost: $3.99 per day
Availability: 48 states
At a little over $3 per day, Chi Dog is definitely a steal for budget-conscious paw parents. But it's not just the price point that is awesome about this brand; it's their extensive menu that blows our mind. 
There are five menus to choose from, and these are all designed to meet your pet's nutritional needs. Most importantly, every meal uses organic, human-grade ingredients. So you know what is getting into your puppy's tummy exactly.
18. Pet Flow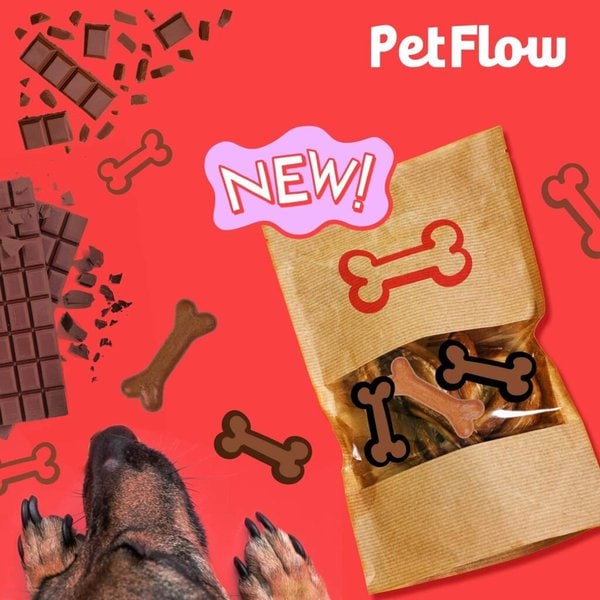 Cost: $28 per week
Availability: 48 states
PetFlow is a one-stop shop for paw parents' must-haves for their pets. This online marketplace offers a full suite of toppers, mixers, wet food in pouches, dry food, and so on. There are also treats and other supplies available, so that makes shopping for your pet very convenient.
And here's the kicker – they run a special promo for new customers. You can get a 30% discount on your order, so that's pretty sweet savings right off the bat.
17. Ollie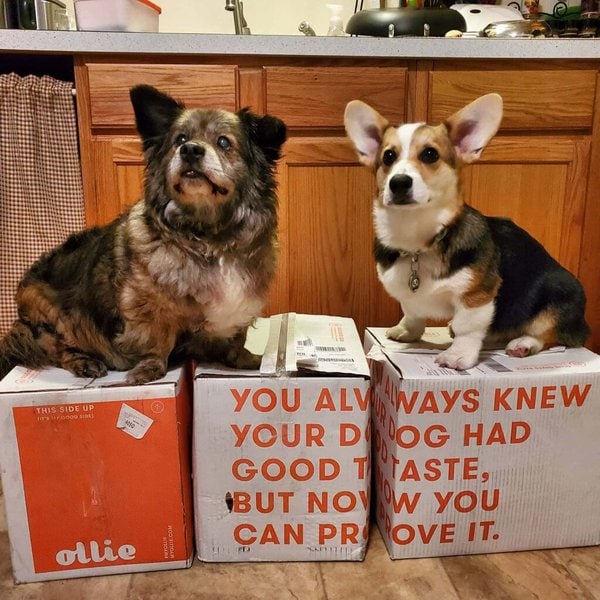 Cost: $9 to $42 per week
Availability: 48 states
Next up in our list of the best fresh dog food delivery brands is Ollie. This company is not just about providing great options for nutritious dog food but also educating every owner about their pet's nutrition.
Every order comes with an instructional booklet on how to keep food fresh, feeding guidelines, and even hacks for picky eaters. Their food even smells quite pleasant because it's always fresh and made of quality ingredients.
16. Bark Box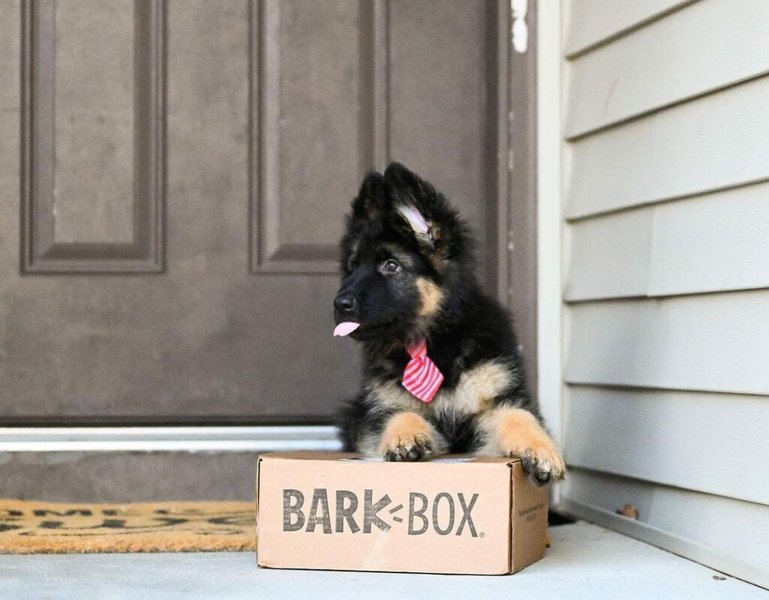 Cost: $23 per delivery
Availability: 48 states
Looking to treat your beloved pooch? Bark Box lets you customize each box, which includes a couple of full-size packages of dog treats, toys, and a chew. There is also a theme each month, so it's a fun surprise for your fur baby.
Do take note that it's a subscription service, so the price varies depending on how long you want to stay subscribed. They also offer special deals, so it would be good to keep posted to know more about their promos and discounts.
15. Evermore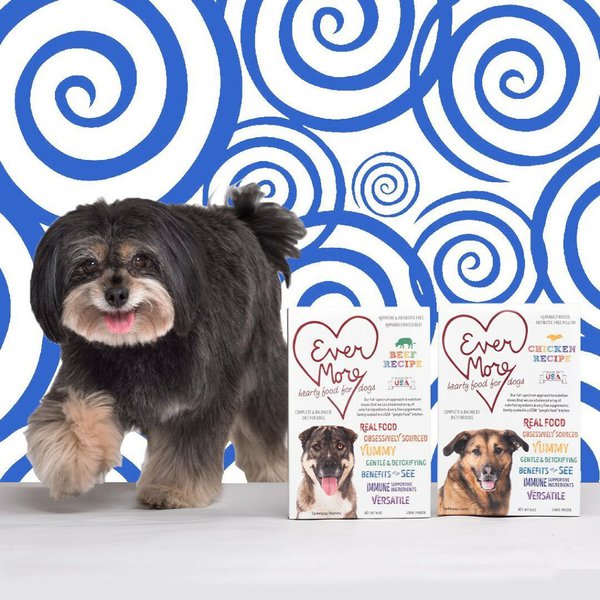 Cost: $14 to $300 per week
Availability: 48 states
Another great choice for fresh dog food delivery brands is Evermore. They offer a selection of single-serve meals in vacuum-sealed plastic, so it's easy to stuff them into the freezer. Whether your pooch has food allergies or a sensitive digestive system, there's a meal for every pup.
Evermore focuses on using high-caliber ingredients in every product. For instance, they don't include soy, potatoes, white rice, and corn. Instead, they use organic vegetables, grass-fed meats, and pasture-raised organic eggs as their common ingredients.
14. Sundays Food For Dogs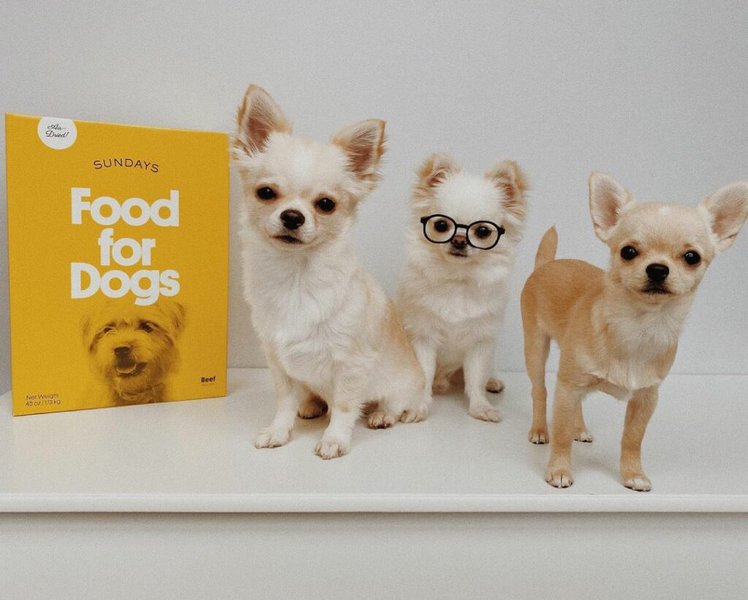 Cost: $75 per week
Availability: 48 states
Just looking at the price, $75 may be a bit too steep for folks with a streamlined budget. But if you're looking to spoil Fido once in a while, Sundays Food for Dogs lets you go all out on yummy munchies for your four-legged pal.
Their meals are vet-developed, so you can be sure these are nutritious and safe for your pet. Plus, they don't add fillers but only stick to USDA meats, which are meticulously dried to retain the nutrients. And the taste is most definitely pup-approved.
13. A Pup Above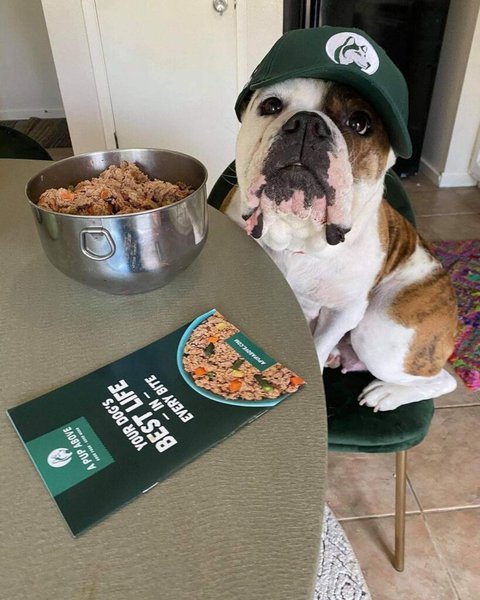 Cost: $69 per week
Availability: 48 states
A Pup Above prides itself on offering the finest fresh dog food to its patrons. With their sous vide cooking method, you can expect nothing but restaurant-quality meals in every package. It's healthy, easy to prepare (just soak the bag in boiling water), and it's good to go.
Speaking of packaging, it's BPA-free, so you can be sure that it's void of toxic elements. The ingredients are also USDA-inspected and absolutely safe for your pet's consumption.
12. Darwin's Raw Dog Food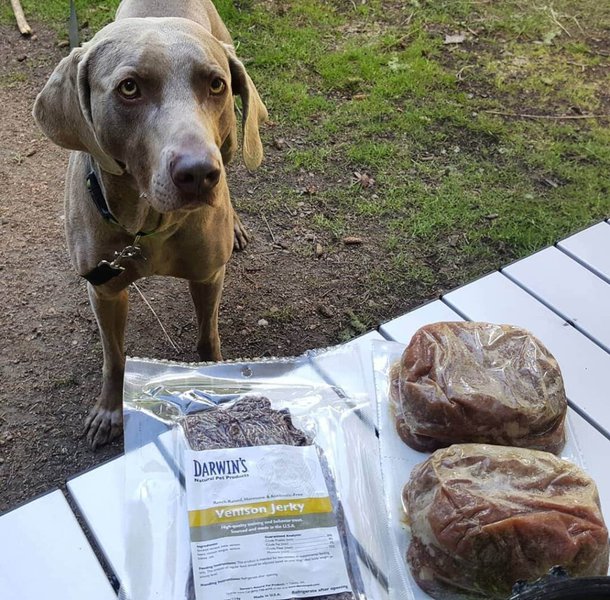 Cost: $5.99 per day for every pound
Availability: 48 states
If your pooch follows a strictly grain-free diet, then Darwin's raw dog food is something to consider. This brand offers quite a selection of raw food for dogs, including a product line specifically for canines with cancer or kidney issues.
At $5.99 for every pound, it's a reasonable amount that lasts for a few meals. In addition to that, they also offer a menu consultation that's free of charge, which is helpful for owners looking to keep their pets healthy.
11. Nature's Diet Pet Food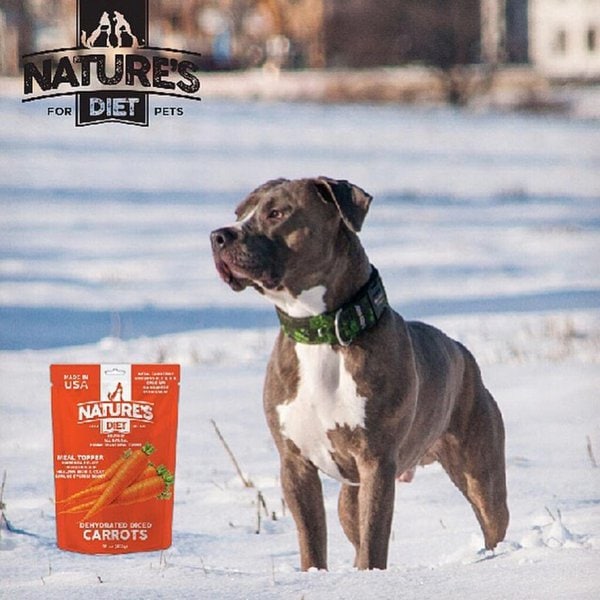 Cost: $29.99 per day
Availability: 50 states
The driving force behind Nature's Diet is their belief that traditional raw is the best way to go for pets. But they make it easier to prepare and store by creating a product line of meals for pups preserved in a breakthrough process. The result? A shelf-stable, portable and tasty meal that is available all year round.
The owners of this company are fur parents themselves. Thus, they know what pups want and make sure it's not just nutritious but delicious, too!
10. Just Food For Dog
Cost: $21 per week
Availability: 50 states
Just Food For Dogs offers well-packaged fresh dog food stored in a thermal bag with ice to keep it in optimal condition. There are also many pet must-haves available, including supplements, treats, and their proprietary "DIY Nutrient Blend."
But best of all, the meals are indeed fresh. There's no nasty fishy odor or anything foul-smelling to it at all. Many customers also report that it helped with their pet's digestive issues, which is definitely a plus point.
9. FreshPet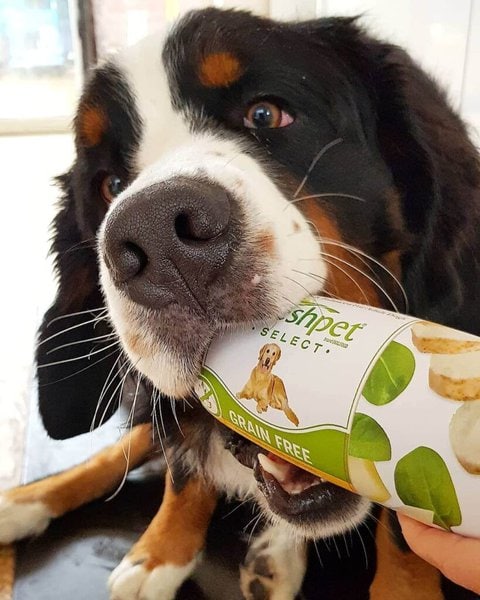 Cost: $6 per day
Availability: 48 states
With recipes made with high-quality beef or chicken raised in the US, FreshPet is one of the finest fresh dog food delivery brands for your precious canine. The ingredients are sourced from whole foods, have zero preservatives, and are approved by vets.
FreshPet also offers healthy and wholesome meals for dogs packed with nutrients. As these are steam-cooked, this retains the nutritive value while making it quick to prepare and ready in just minutes.
8. Portland Pet Food Company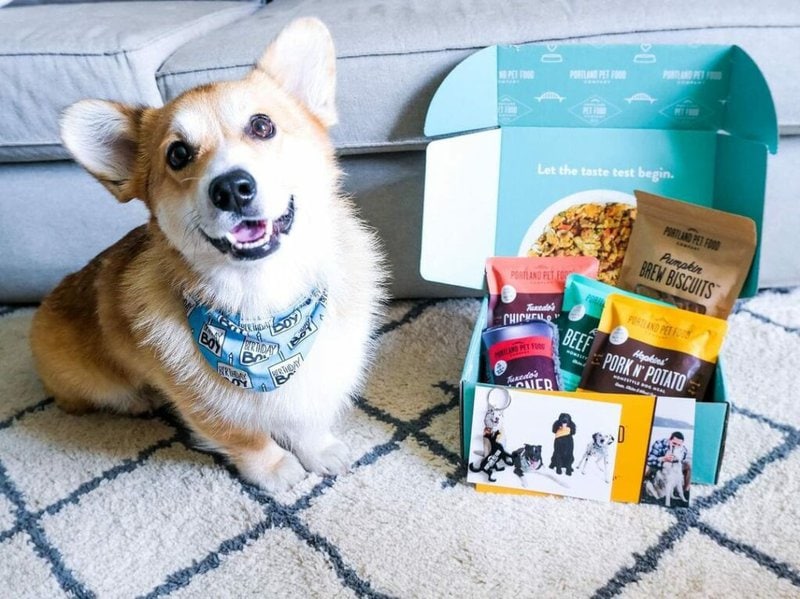 Cost: $20 per week
Availability: 48 states
What sets Portland Pet Food Company apart is their human-grade and BPA-free pouches for meals. These are not your usual meal replacements but packs of toppers, soft treats, and mixers for fussy eaters and busy paw parents.
The pouches are also vacuum-sealed, so they are free from contamination. There's no need to put them in the freezer, which adds to the ease and convenience during the meal prep process.
7. I And Love And You
Cost: $10.99 per day
Availability: 48 states
If what you look for are dehydrated meals for your pooch, then I And Love And You got you covered. This brand offers a line of 100% wholesome dehydrated foods for dogs.
Instead of giving canned food to your pet, you can simply add some water to these dehydrated meals, and then they're pretty much ready to munch. There are also raw homemade meals available, as well as chews and treats to spoil your pup.
6. Jinx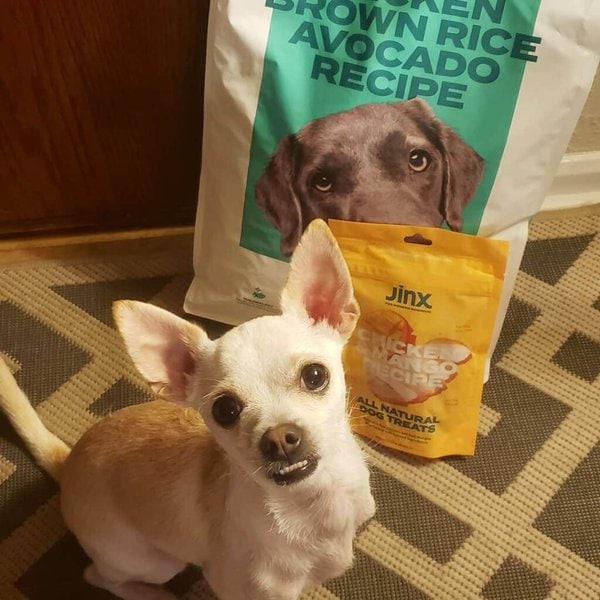 Cost: $20 per week
Availability: 48 states
Don't be deceived by the name – Jinx is actually an amazing brand of fresh dog food with the best ingredients in every packaged meal. They are very transparent in presenting not only the nutritional details but also the ingredients. So, you'll know what your pooch is getting exactly.
You can also sign up easily and subscribe for the best deals. Delivery is fast and secure. All in all, it's worth the price.
5. Box Dog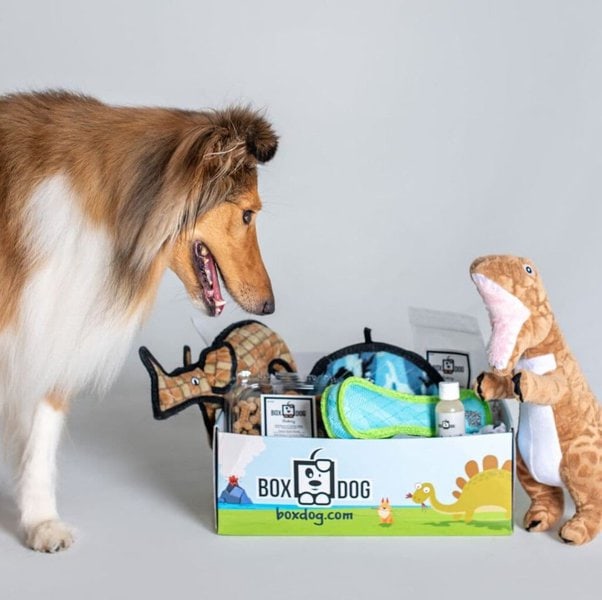 Cost: $40 per delivery
Availability: 48 states
When you want something fun – and nutritious – to give to your pooch as an occasional treat, Box Dog has something for you. This subscription service offers a delightful range of handmade snacks for pups and even some skincare products, toys, and cool pup outfits.
Every time a Box Dog package arrives, it's like Christmas morning to your precious pet. And the best part, it's all guiltless treats that are tasty but nutrient-packed at the same time.
4. Chewy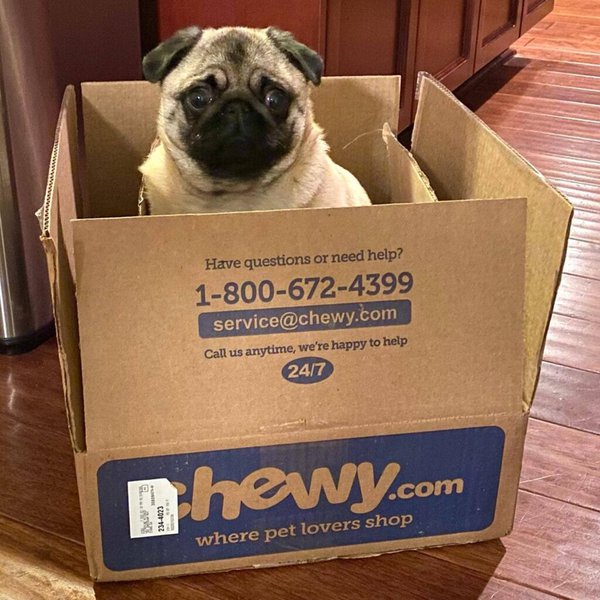 Cost: $45 per week
Availability: 48 states
If subscription meal services are not your thing, then Chewy has something for you. It gives you an option to buy one time by canceling the shipping schedule, so there's no commitment at all. Whether you want raw, human-grade, dry, or wet food, this brand has it all for you.
For an additional discount, however, choosing the AutoShip option is a practical choice. You can even get 30% off on your initial order with an auto-fill mode, so that's a cool thing to take advantage of.
3. We Feed Raw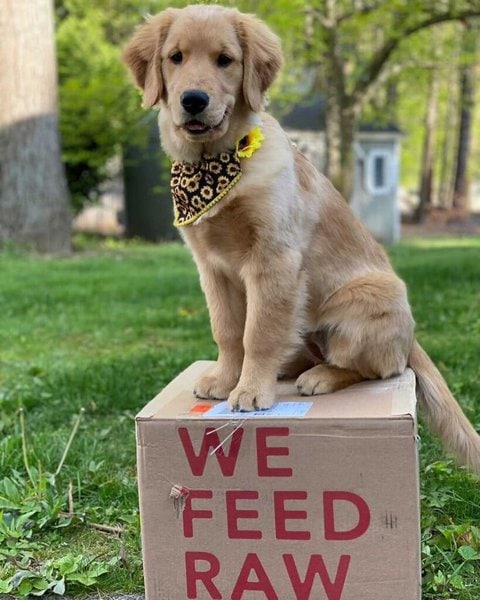 Cost: $10 per day
Availability: 48 states
Raw foodies, here's one for your pup! If you've been a huge proponent of a raw food diet, then We Feed Raw can make it easy for you to transition your pet to this lifestyle. There are dozens of raw meals available, which are specially formulated by their in-house animal nutritionist.
With human-grade USDA meats and BPA-free packages plus high-pressure processing to eliminate pathogenic bacteria, this brand is one of the most trusted in the industry. It's also relatively cheap per meal at only $10 a day (or under!).
2. Hungry Bark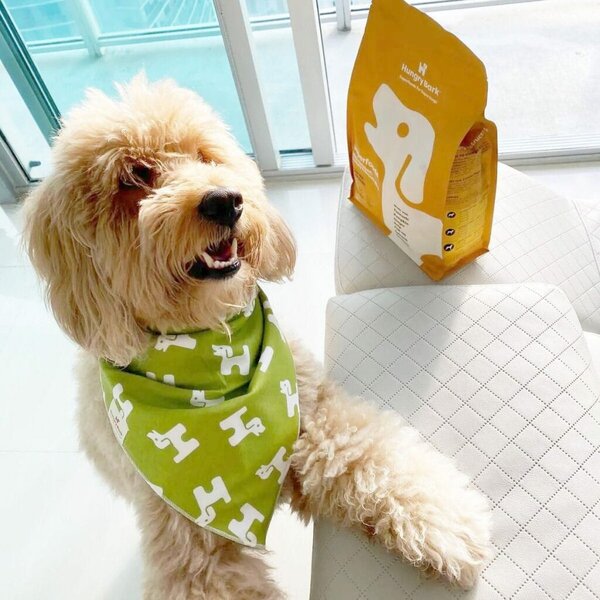 Cost: $13 per week
Availability: 48 states
Clean, fresh and tasty are Hungry Bark dog food's strong suits. The packaging is outstanding and the moment you pop it open, you can instantly see and smell just how fresh everything is. Expect your pooch to start salivating as he takes a whiff of all that good stuff!
Hungry Bark also offers resealable mix-in bags. So, if you want to save the rest for another meal, you can easily keep it tightly sealed and fresh.
1. The Farmer's Dog
Cost: $14 per week
Availability: 48 states
Tired of thinking about what to feed your picky eater? The Farmer's Dog makes meal planning a breeze with their extensive array of tasty meals for pups. And the best part? They're all fresh with wholesome ingredients!
Whether your pooch is on a grain-free, high-protein, or whatever dietary requirement, The Farmer's Dog got your back. You can also take the quick online quiz to better plan your fur baby's daily meals.
---
Related Questions
---
Can A Dog Live On Dry Food Alone? Yes, they can. In fact, canines like dry food as it contains balanced nutrition that caters to dogs of all ages and life stages. However, variety is also essential, so it would be good to give fresh or wet food once in a while.
Is Fresh Dog Food Better Than Dry? Fresh dog food has bioavailable nutrients and ingredients that makes it more easily absorbed by the body than highly processed ones. It is also more efficient to optimize the nutritional component of fresh food for your canine to enjoy the maximum health benefits fresh food brings.
Is It OK To Cook For Your Dog? A resounding yes! When you cook for your dog, you can combine selected ingredients with nutritive components that your pet needs the most. However, there are some home-cooking misses that may arise, such as using ingredients that are unsafe for your dog. This is why homemade dog meals have their merits, but it won't hurt to try giving pre-packaged fresh dog food, as well.