The estate of Gunther VI, the millionaire German Shepherd, recently put the Miami mansion it owns on sale on November 17, 2021.
The Tuscan-style villa, once owned by pop star Madonna, is selling for a whopping $31.75 million with a great view of the Biscayne Bay. The waterfront home has nine bedrooms, 8½ bathrooms, a swimming pool, and is just some miles away from Miami Beach.
Doggone Dog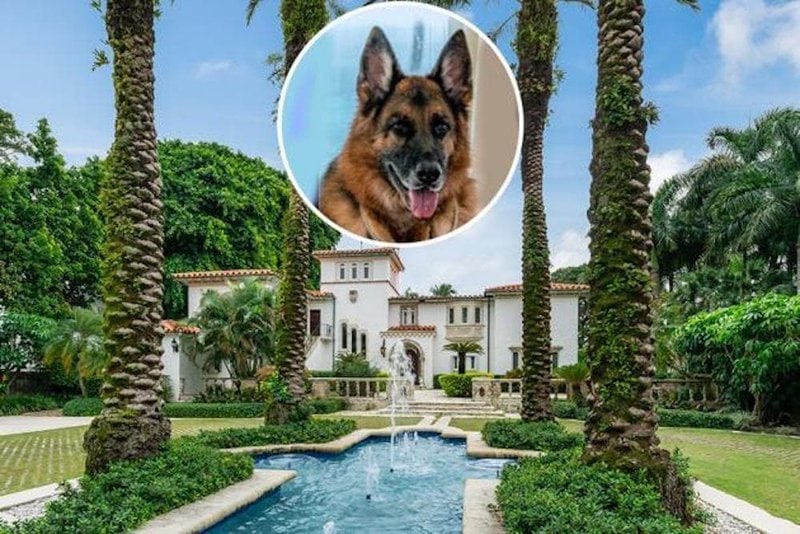 Gunther VI descended from Gunther III, the German Shepherd who inherited a massive $50 million fortune, when its owner, an unmarried German Countess Karlotta Liebenstein, died in 1992.
The estate, which is being managed by a board, has since ballooned to $500 million and has invested heavily in various real estates, a men's soccer team, and a women's swimming team, among other things.
Gunther lives the life of a true well-heeled heir, jet-setting on his private jet from one posh location to another and being trained for obedience skills by his trainer every day, and dining in meals prepared by a Chef with a slather of caviar once in a while.
He even sleeps in Madonna's former bedroom in a plush, round, velvet bed overlooking the bay when he is in Florida.
Ruthie Assouline, the real estate agent who is managing the sale, was surprised that a dog owns the property saying, "At first I thought it was insane, but I saw that other people left money to their pets. How could it be an illusion?"
Doggone Hoax
If the story is too hard to believe and swallow, well, you might not be amiss with your suspicions.
According to the New York Post, this is all a made-up story. Their source confirmed that there was no dog found sleeping in Madonna's former bedroom. The owner thought it would be a fun way to score a reality show.
The fabricated story was picked up by several news media and even caught the attention of the Material Girl herself. Hilariously looking glum in her photo on her social media account, she wrote, "when you find a dog is selling your old house for three times the amount you sold it for."
The certified owner of the villa is an eccentric 65-year old Italian entrepreneur from Tuscany named Maurizio Mian. There wasn't even a Countess Liebenstein.
The Post's sources said that the fake story goes back 20 years and that Mian borrowed or rented the dog for publicity shoots.
They continued, "Maurizio wanted to get into the film business and made up this fake story. He is the son of a billionaire. It is a joke. I would like someone to put an end to this nonsense. Right now, they have hired a dog and are filming at the house. They hired a dog 20 years ago, and now they've hired another – it's a scam."