It's not everyday that you welcome a new pup into your home. So what better way to make this day even more special than by choosing the most badass name for your super cool pooch? We've got several dozen of merle dog names for you, so go ahead and take your pick!
Classic merle dog names will include Amber and Bambi, but you can go for something a little more uncommon like Artemis or even Galaxy. We've also got cutesy names for your cuddle bug such as Apple, Bubbles, and Blueberry.
That's just a sneak peek to our laundry list of merle dog names that are common, unique, and anything in between. Scroll away and choose one, mix and match, it's up to you!
Merle Dog Names That Start With 'A'
Amber
Appa (Appaloosa)
Apple
Aqua
Artemis
Asher / Ash
Azul
Azure
Merle Dog Names That Start With 'B'
Bambi
Belle
Berry
Bintik (Binny – Javanese)
Blade
Blender
Blizzard
Blot
Blotch
Blotchy
Blotter
Blueberry
Bruiser
Brush
Brusher
Bubblegum
Bubbles
Bullet
Bumps
Buttons
Merle Dog Names That Start With 'C'
Camo
Candy
Carny (Carnation)
Caspian
Cheetah
Cherry
Chips
Cobalt
Coral
Crackers
Cross (Criss cross)
Cruella
Merle Dog Names That Start With 'D'
Dappers
Dapple
Dappler
Denim
Dollop
Donatello (Dona)
Dorian (gray)
Dots / Dotty
Dust
Dusty
Merle Dog Names That Start With 'E'
E.T.
Earl (Gray)
Erka
Errol
Eskimo
Merle Dog Names That Start With 'F'
Fafi (Samoan)
Fiji
Flake
Flakes / Flakey
Flare
Flack
Flecks
Flicker
Flint
Flurry
Flutter
Flux (Fluctuation)
Foam
Folt (Hungarian)
Fractal
Freckles
Merle Dog Names That Start With 'G'
Galaxy
Gandalf
Gash
Gasher
Genie
Glacier
Glitter
Granite
Graphite
Gravel
Grid
Grover (Sesame Street!)
Merle Dog Names That Start With 'H'
Harlequin
Heinz
Hermes
Hoser
Huckleberry
Hyena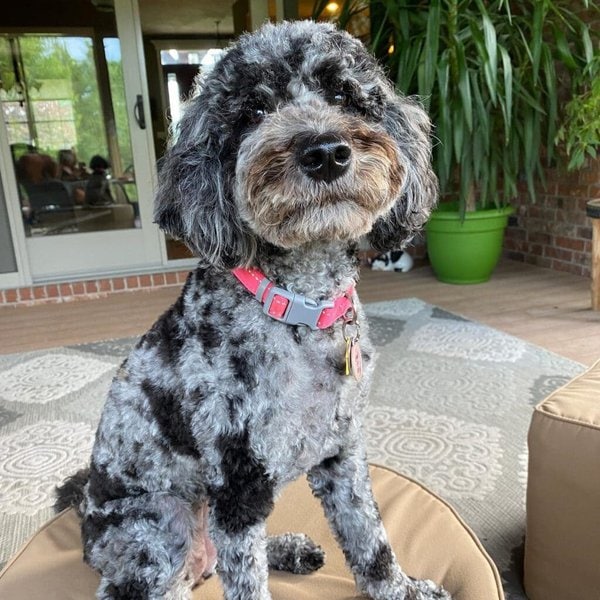 Merle Dog Names That Start With 'I'
Indigo / Indie
Indy / Indigo
Iris
Itchy
Ivory
Merle Dog Names That Start With 'J'
Jack
Jackson (Pollack)
Jag (Jaguar)
Jeans
Jinka
Merle Dog Names That Start With 'K'
Kentucky
Kida (Fakida in Greek for "freckle")
Killer
Klint
Kris
Merle Dog Names That Start With 'L'
Laka (Georgian)
Lentigo (Tigo)
Leo (nardo)
Leopard
Levi
Lumber (jack)
Merle Dog Names That Start With 'M'
Macula (Cula)
Marble
Marky
Marquee
Mash / Mashy / Masher
Mesh
Michel (angelo)
Mixer
Moon
Mottles
Mutt
Mystique
Merle Dog Names That Start With 'N'
Napalm
Nella
Nepal
Neptune
Nila
Merle Dog Names That Start With 'O'
Obsy (Obsidian)
Ocelot (Occie)
Opal
Oreo
Oscar (Wilde)
Othello (Otho)
Oy (Oyster)
Merle Dog Names That Start With 'P'
Palette
Pantone (Panny?)
Patches
Peacock
Pebbles
Peca (Spanish)
Pega (Serbian)
Pegi (Macedonian)
Pekas (Cebuano)
Pepe (Pepen is "freckle" in Armenian)
Pepper
Pepperoni
Peri (Periwinkle)
Pew (Pewter)
Picasso
Piga (Catalan)
Pinto (bean)
Pip
Pippy
Pock
Pockles
Polka
Pollock (Jackson)
Puli (Malayalam)
Punk
Merle Dog Names That Start With 'Q'
Quake
Quaker
Quali
Quibbles
Quiver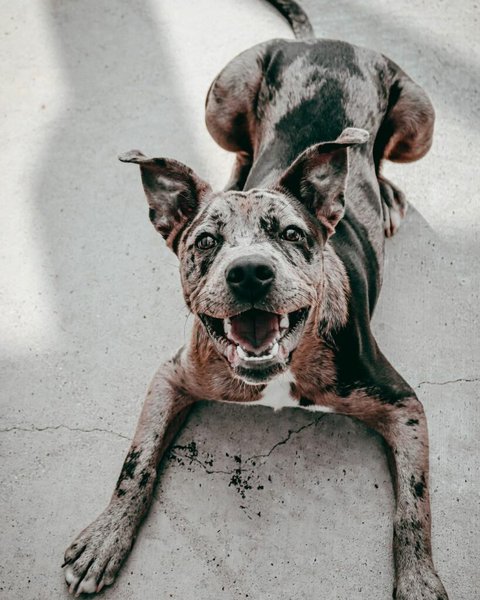 Merle Dog Names That Start With 'R'
Raph (Raphael)
Ripple
Rose
Rosie
Russel
Merle Dog Names That Start With 'S'
Scatter
Sherbet
Skittles
Sky / Skype
Smeary
Smokey
Smudge
Smudgy
Smurf
Smutch
Sonic
Sparkles
Sparky
Spatter
Speck
Speckles
Splash
Splasher
Splashes
Splashy
Splatter
Splosh
Splotch
Splotcher
Splotches
Sponge
Spot
Spray
Sprinkles
Spurt
Star
Steel
Stirrer
Stone
Stony
Storm / Stormy
Streak
Streaks
Stream
Stroker
Strokes
Swash
Swasher
Swatch
Swatcher
Swisher / Swish
Merle Dog Names That Start With 'T'
Tahiti
Tanzanite (Tanzy)
Tiles
Tinsel
Torrent
Twirl
Merle Dog Names That Start With 'U'
Merle Dog Names That Start With 'V'
Vaika
Valet
Valkyrie
Valor
Vanda
Merle Dog Names That Start With 'W'
Waldo
Wally
Wango
Whacko
Whisper
Wiggles
Willow
Wisp
Wispy
Wobbles
Merle Dog Names That Start With 'X'
Xalla
Xanadu
Xelle
Xendie
Xilla
Merle Dog Names That Start With 'Y'
Yabba
Yammie
Yogurt
Yolk
Yonk
Merle Dog Names That Start With 'Z'
Zila
Zimba
Zipper
Znipe
Zyper