If you're one of those folks who's a sucker for royalties then you need a regal name for your pup. But what are the best royal dog names that fit a pampered pooch? We've got endless name suggestions to the rescue, so brace yourself for monarchical names overload!
Royal dog names such as Mary, William, Charlotte, and Elizabeth, are easily some of the regnal names you will hear and see out there. But if you've got a male dog, names of noble men such as William, Charles, Arthur, and Edward should fit your sophisticated fur ball to a T.
Get your pup-naming game on and browse through our comprehensive list of royal dog names inspired by distinguished figures throughout history. Then, you can get that gold-plated, bling-infused dog tag made for your four-legged blue blood!
Royal Dog Names That Start With 'A'
Abu
Adam
Aesthetic
Aladdin
Alexander (Alex)
Amethyst
Amidala
Anastasia
Andrew
Angel
Anna
Aragorn
Aria
Ariel
Arthur
Arwen
Astrid
Athena
Aurelius
Aurora
Aveline
Royal Dog Names That Start With 'B'
Bailey
Baron
Baroness
Beatrice
Bella
Belle
Beth
Bianca
Blossom
Bluebell
Brinn
Bristol
Butler
Buttons
Royal Dog Names That Start With 'C'
Camilla
Candy
Cassandra (Cassie)
Cathy
Charles
Charleston
Charlie
Charlotte
Charming
Christopher
Cinderella (Cindy)
Claire
Clara
Cora
Cornelius (Corny)
Crackers
Crown
Crownie
Cruella
Crystal
Curtsy
Royal Dog Names That Start With 'D'
Daenerys
Daisy
Diamond
Diana
Dobby
Drogo
Duchess
Duke
Duncan
Royal Dog Names That Start With 'E'
Earl
Edward
Elizabeth
Elrond
Elsa
Elvis
Emerald
Emma
Eric
Eriksson
Escobar (Esco)
Esmeralda
Estelle
Royal Dog Names That Start With 'F'
Faith
Felipe
Ferdinand
Fergus
Fiona
Flounder
Fluffy
Flushers (Royal Flush)
Flynn
Francis
Royal Dog Names That Start With 'G'
Gabriel
Galadriel
George
Giselle
Godfather
Goldie
Royal Dog Names That Start With 'H'
Hades
Hans
Harry
Hazel
Hedwig
Henry
Hercules
Hermoine
Highness
Holly
Honey
Humphrey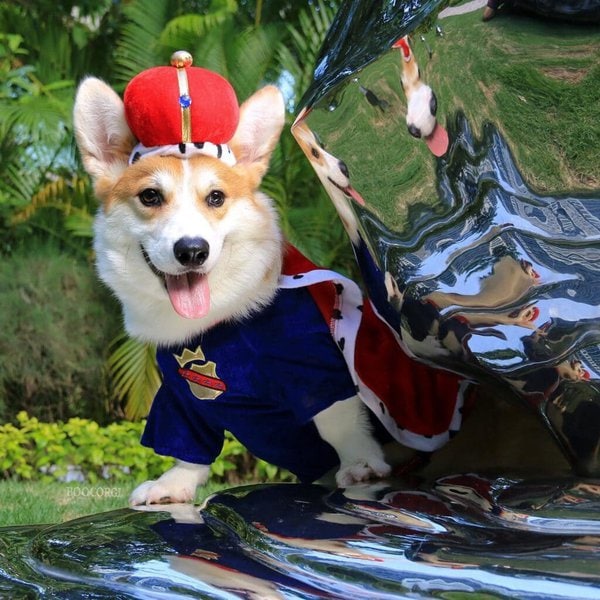 Royal Dog Names That Start With 'I'
Ian
Ilga
Ingrid
Inise
Isabella (Izzy)
Royal Dog Names That Start With 'J'
James
Jasmine
Jeffrey
Jester
Jinny
Joffrey
Josephine (Josie)
Royal Dog Names That Start With 'K'
Kate
Katherine
King
Knight
Kong
Kristoff
Royal Dog Names That Start With 'L'
Leopold
Leslie
Lilly
Lincoln (Linc)
Lizzie
London
Louis
Louise
Lucifer
Luke (Skywalker)
Luna
Royal Dog Names That Start With 'M'
Magdeline
Mage
Magnus
Majesty
Malcolm
Manuel
Margaret
Marianne
Mathilde (Matty)
Maximus (Max)
Megara (Hercules)
Meghan
Meredith
Merida
Mia
Michael
Midas
Moana
Mulan
Royal Dog Names That Start With 'N'
Nancy
Natalia
Natasha
Neville
Nicholas
Royal Dog Names That Start With 'O'
Oakley
Octavius (Octo)
Odin
Orlando
Oscar
Ozzy
Royal Dog Names That Start With 'P'
Pablo
Paris
Pearl
Pepper
Peter
Phillip
Pocahontas (Pocky)
Pom-Pom
Poofers
Pooh
Prince
Princess
Princessa
Principe (Prince in Spanish)
Pula
Royal Dog Names That Start With 'Q'
Queenie
Quella
Queso
Quilla
Quinn
Royal Dog Names That Start With 'R'
Ragnar
Raj
Raja
Ralph
Rapunzel
Regina (Queen in Latin)
Reina (Queen in Spanish)
Remy
Rey
Robb
Robert (Baratheon)
Rollo
Rosalina (Rosie)
Royale
Ruby
Royal Dog Names That Start With 'S'
Salt
Sapphire (Saphy)
Sebastian
Shimmer
Shine
Shrek
Simba
Snow-White (Snowy)
Sophie
Sparkles
Sugar
Sven
Sylvia
Royal Dog Names That Start With 'T'
Tanzanite (Tanzy)
Tarzan
Thor
Thorin
Tiana
Tiara
Tigger
Topaz
Royal Dog Names That Start With 'U'
Udessa
Ukato
Ulena
Ulina
Ultra
Royal Dog Names That Start With 'V'
Vader
Van (Helsing)
Victoria
Violet
Vulcan
Royal Dog Names That Start With 'W'
Wally
Will (Smith)
William
Willow
Winter
Royal Dog Names That Start With 'X'
Xander
Xandra
Xanos
Xanthos
Xena
Royal Dog Names That Start With 'Y'
Royal Dog Names That Start With 'Z'
Zelena
Zeus
Zoe
Zoomie
Zoopy