Tough and courageous, police dogs are always ready to do their job. These are your fearless pups who mean business – and it only makes sense to give them the perfect police dog names for their valiant persona!
Nothing spells out B-R-A-V-E more than tough names such as Bond, Bruce Lee, and Hobbs. But if you've got a female K-9 pup, awesome names like Clarice, Conner (as in, Sarah), and Venus fit your pooch just right.
Pick the best name from the bunch that matches your doggo's personality the most. Here's our comprehensive list of police dog names inspired by movies, places of interest, and simply the most badass names you've never thought of!
Police Dog Names Inspired By Movies
Adonis
Anakin
Arnold
Beast
Bond
Boomer
Bourne
Bruce Lee
Bunk
Clarice
Conan
Connor (Sarah)
Diesel
Doyle
Dragon
Escobar
Ethan (Hunt)
Fargo
Hans (Solo)
Hobbs
Hooch
Hutch
Jackie (Chan)
Jackson
Jimmy McNulty
Joker
Katniss
Kiddo
Leonidas
Mackey
Magneto
Matrix
Maximus
McClaine
Morpheus
Mulan
Neo
Pablo
Ripley
Robo
Rocky
Rusher
Scout
Sicario
Storm
Tango
Trinity
Tyler (Durden)
Vader
Vic
Wick
Wiggum
Wolverine
Yoda
Zodiac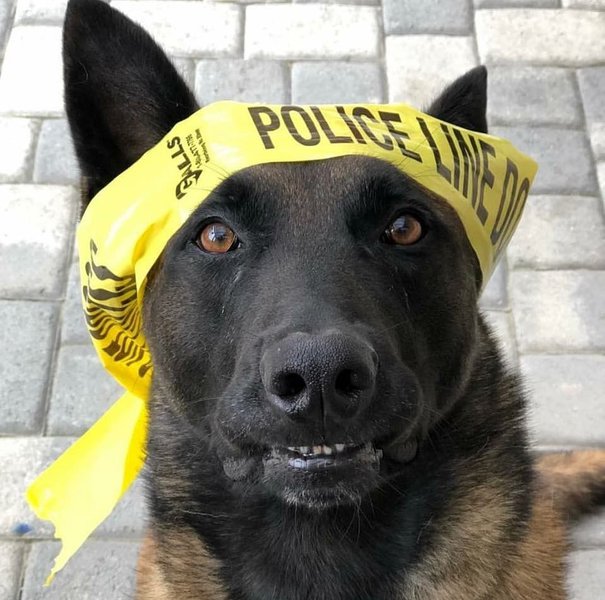 Police Dog Names Inspired By Places Of Interest
Alabama
Alaska
Andes
Angel (Falls)
Arctic
Brazil
Bronx
Cameroon
Cherokee
Chevy
Chicago
Chile
Colombia
Colorado
Congo
Dakota
Dallas
Denver
Desert
Everest
Gobi
Haiti
Harlem
Himalayas
Ice
Iceland
Indiana
Jersey
Jupiter
Kentucky
Kodiak
Mali
Mars
Mercury
Minnesota
Montana
Neptune
Nevada
Oregon
Patagonia (Pattie)
Pluto
Rio
Sahara
Saturn
Siberia
Sierra
Spacey
Texas
Utah
Vegas
Venus
Yosemite
Yukon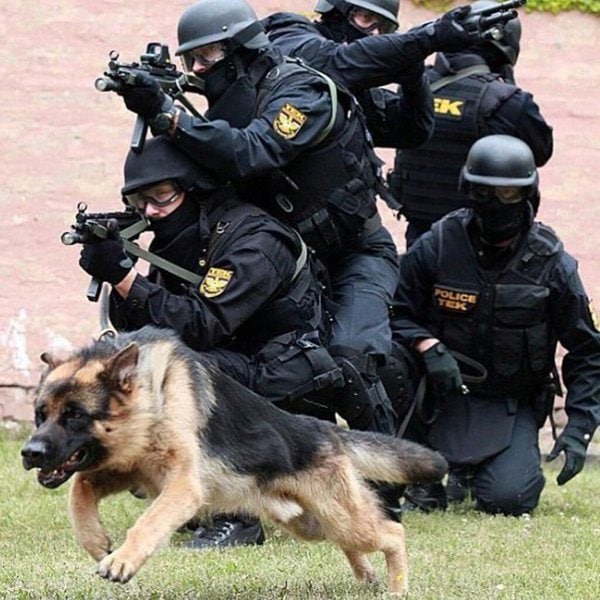 Badass Police Dog Names
Achilles
Agent
Apollo
Archer
Athena
Axel
Azlan
Badge
Bailey
Barrel
Bates
Baxter
Bolt
Brady
Brick
Brock
Bruiser
Bruno
Brutus
Buddy
Bullet
Bully
Butch
Buzz
Caesar
Cain
Captain
Carter
Chase
Chief
Chip
Chopper
Chuck
Churchill
Clint
Colonel
Colt
Colt
Crash
Crowley
Cujo
Dante
Dexter
Diablo
Drake
Duke
Fang
Flash
Flynn
Gonzo
Gunner
Hannibal
Harley
Harvey
Hawk
Hera
Hercules
Hunter
Jasper
Jeep
Jet
Judge
Justice
Kane
Khan
Killer
Knox
Kobe
Kona
Kong
Lancelot
Leo
Loki
Luther
Lynx
Major
Marshall
Maverick
Moose
Mufasa
Odin
Onyx
Ozzy
Paco
Parker
Pharaoh
Ranger
Rebel
Remington
Rookie
Sarge
Sheera
Simba
Tank
Thor
Titan
Trident
Trigger
Trooper
Venom
Vice
Xena
Zeus