The benefits of raw dog food are difficult to ignore as a dog parent who wants the very best for your furry bestie. By adopting a BARF diet (bones and raw food), your dog will have a lot of perks to enjoy whether you are trying to reduce the dog's weight, stabilize their bowel movements, or even build muscle to support a weak skeletal system.
That is where the brand Raw Wild Dog Food comes in.
It is one of the best-rated and best-selling raw dog food subscription services out there. But is it really worth the hype? Or is it just any other raw dog food out there?
Before we go into details about what makes Raw Wild so awesome, check out their website for more on what they have to offer. You could even find some of their awesome discounts, including seasonal offers and a 25% OFF for your first plan when completing their Raw Wild dog food trial.
What Is Raw Wild Dog Food?
Raw Wild Dog Food is a raw food option made from game meat.
The brand believes in feeding dogs what is most familiar to their palates on a carnal level which is meat from wild animals. It features elk and deer as the only sources of animal protein.
In addition to the unique flavor and texture, this option spares the dog exposure to chemicals often used in the process of rearing livestock used in other dog food preparations.
Raw Wild dog food has garnered highly positive reviews from over 100 happy customers and is celebrated for its combination of high-quality ingredients and safe practice processing.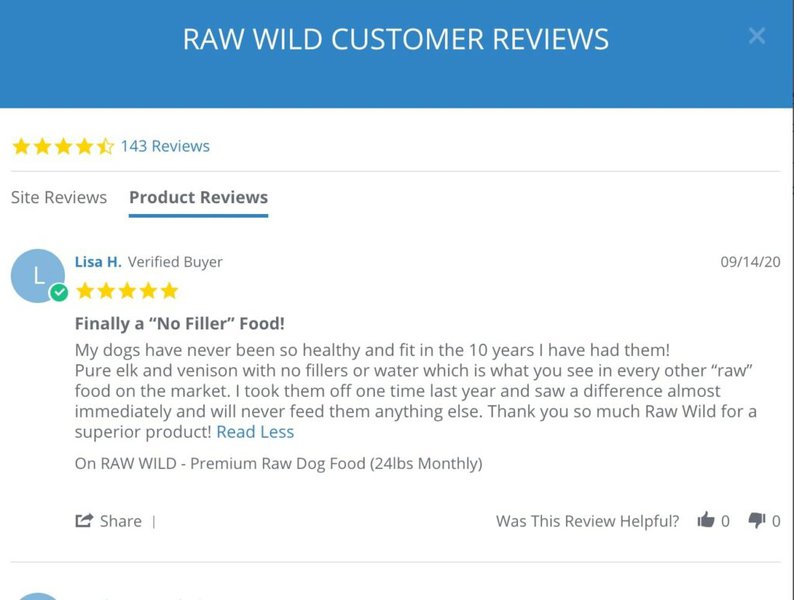 This ensures that, in addition to benefiting from the healthy balance of nutrients, your pooch will not suffer any side effects from consuming raw wild dog food.
The subscription itself is super easy to use and allows you to choose from a variety of main meal and topper packages based mainly on your dog's size and age.
Here is more on what you have to look forward to from Raw Wild dog food.
Raw Wild Dog Food Unboxing
What We Like
It Is Ideal For A High Protein, Low Carb Diet
Raw Wild pet food contains 56% protein and 0% carbs. The rest is healthy fats, fiber, vitamins, and minerals. This balance makes it fantastic for dogs that need to lose weight. Despite being so filling, this food is far from fattening and instead helps strengthen their muscles for increased activity and further weight loss.
All-Organic
Raw Wild uses real game meat as opposed to farm-raised animals like chicken, beef, and turkey. The raw wild ingredients are free from several hormones found in the livestock breeds making it healthier for your dog. Say goodbye to those harmful, man-made, and artificial compounds, including growth hormones, GMOs, antibiotics, preservatives, and coloring.
It Is Awesome For Dogs With Food Allergies
Food intolerance and allergies in dogs are caused by a variety of foods. The most common are dairy, gluten, and eggs. The dogs could also be allergic to proteins like soy and animal meat including beef, fish, and chicken. What do all of these have in common? They are all absent from the Raw Wild list of ingredients making this a fantastic option for dogs with sensitive guts.
Rich In Omega Oils
This dog food contains fish oil and sunflower oil. These are what are considered healthy oils and include omega-3 and omega-6 compounds that are good for coat health and brain development. You could, therefore, use the Raw Wild pet food as a topper to supplement omega oils in other diets.
It Meets All The Aafco Dog Food Standards
The Association of American Feed Control Official has a set of nutritional profile standards.
For example, dog food should have a protein minimum of 22.5% of dry content. Raw Wild has 56% and manages to live up to all the standards when it comes to all the other main nutrient groups.
Fantastic Texture
Unlike many other raw food options, Raw Wild is ground lightly enough that it does not lose its texture. This preparation plus the gaminess of the elk and deer offers the perfect texture for an enjoyable meal by doggies of all ages. Here is a closeup of the food so you can visually appreciate the texture.
Free Shipping
We also like the fact that they offer free shipping on the monthly subscriptions so all that you are paying for is the food. This will save you a lot of money in the long run. However, it is important to remember that they only deliver to some regions of the country.
Dogs Actually Like The Stuff
Dogs are obligate carnivores and tend to gravitate towards raw and gamey meat. It, therefore, comes as no surprise that Raw Wild is such a hit with most dogs. You will actually have to watch their portions as they would gladly clear a whole pack in one sitting if allowed to.
100% Money-Back Guarantee
In addition to the trial discount, you have a 100% cash refund guarantee to lean back on in the very unlikely event that you or your dog do not like what you get from the subscription. Just make sure to return the package within 7 days of receiving it in order to get your refund.
Setbacks But Not Deal Breakers
Raw wild dog food reviews paint a great picture of the brand, whether it is on their platform or on independent review sites like Dog Food Advisor. With a 5 out of 5 stars rating for the latter, it seems that this food is every dog owners' dream. To be fair, it is just that in a lot of ways; most of which have been highlighted above.
However, it does have a few cons that, though a little pesky, are not grounds to completely disregard the dog food. Here are two of these setbacks.
A Bit Pricey
The average of a meal plan on a monthly basis is about $100 for small dogs to $400 for big dogs.
However, considering the fact that Raw Wild ingredients include hard-to-find options like elk and deer, it is safe to say that this price is justifiable.
Requires Careful Handling And Storage
If not properly handled, raw food is more likely to harbor microorganisms that could wreak havoc on your pooch's gut if ingested. It is therefore important to keep the dog food refrigerated and to ensure that served portions that were leftover are discarded.
---
Final Thoughts
---
Is it worth it? Well, all factors considered, it is safe to say that Raw Wild more than lives up to expectations and the buzz around it on the market. They offer something very unique both with their use of wild game and their raw formulation. This food will come in handy if you are starting your dog on a BARF diet or a low carb, high protein one. With perks like free shipping, quality ingredients, and chemical-free meat sources, you can rest assured that you will be getting value for your money.
The best part is that you get a 25% off trial offer for your first order. This allows you to interact with the product and see how well your dog takes to the new diet. That way, the next time you invest, you know that it is worth it. And if you do not like it, which is highly unlikely, you could always return it for a 100% cashback refund.
So, check it out for yourself. You will not be disappointed.