In April, beer brand Busch came up with a contest that would help them hire a new and unique employee, so unique that it would be a first for the company. The contest was meant to help them find the best talent for the position of "chief tasting officer," but with a twist. The position would involve tasting canine beverages, so they definitely wanted a canine to hold the position. And finally, they have found the best dog for the position.
On Friday, May 21st, 2021, Busch Beer announced that a rescue dog named Ethan had won the contest and would be coming to the company as the Chief Tasting Officer. Here's the best part – the position comes with a handful of great perks, including a $20,000 salary.
The Story Of Ethan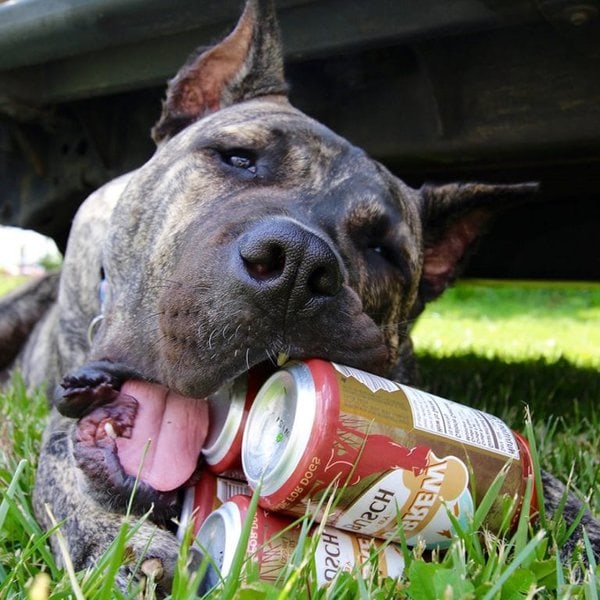 Ethan's story is the perfect rags to riches story of a dog who went from being abandoned and malnourished to being a C-level executive, all in the span of a few months.
In January 2021, a severely underweight dog was found abandoned in a parking lot just outside the Kentucky Humane Society, his life hanging on the balance. Fortunately, he was rescued and put into the care of the Kentucky Humane Society, who nursed the young dog back into health.
At the time he was picked up, Ethan weighed just 38 lbs and didn't even have the strength to lift up his head. By the time he was adopted by his forever family, Ethan already weighed 85 lbs.
Ethan's adopted family entered him into the Busch canine chief tasting officer contest because they felt that he had a very inspiring story and a fur-rific resume. Ethan is an adorable dog who has fought for his life and beat all odds to become a healthy, cheerful dog living a normal life.
In addition, Ethan is a big lover of Busch's dog beer. Don't worry about whether Ethan is over 21 years old, though, because the Busch dog beer is not actually real alcohol, but a bone broth recipe that allows dog owners to share a drink with their canine buddy.
Becoming The Chief Tasting Officer
It is Ethan's inspiring story that helped him win the contest and get hired to the position. As Busch Beer's canine Chief Tasting Officer, Ethan will get a $20,000 salary, a pet insurance package, and a lifetime supply of Busch dog beer.
A position with such huge perks doesn't come without its responsibilities though. As CTO, Ethan will be expected to taste the brand's various dog beer products and to head the quality assurance team. In addition, Ethan will also act as the brand ambassador for Busch dog beer. But all this is nothing that Ethan can't handle.
Taking it to social media, Ethan's adopted family couldn't hide their joy and elation. They were happy that in just 4 months, Ethan had gone from an unwanted dog who was dumped by the owner, to a famous dog with an inspiring story who is recognized on a national level. And with Ethan's new job, his story has just gotten more inspirational.