The Seattle dog icon who travels the bus by herself to the dog park has sadly passed.
Eclipse, a Black Labrador and Bullmastiff Mix, died in her sleep on October 14, 2022, according to her owner, Jeff Young. Eclipse, who was diagnosed with cancerous tumors, was 10 years old.
The adorable dog with an independent streak has been riding the D Line bus route in Seattle solo for the past 7 years from her home to the doggie park several times a week. She was well-known in the city, and bus drivers and passengers alike will definitely miss one of their regular fellow commuters.
Dog On Board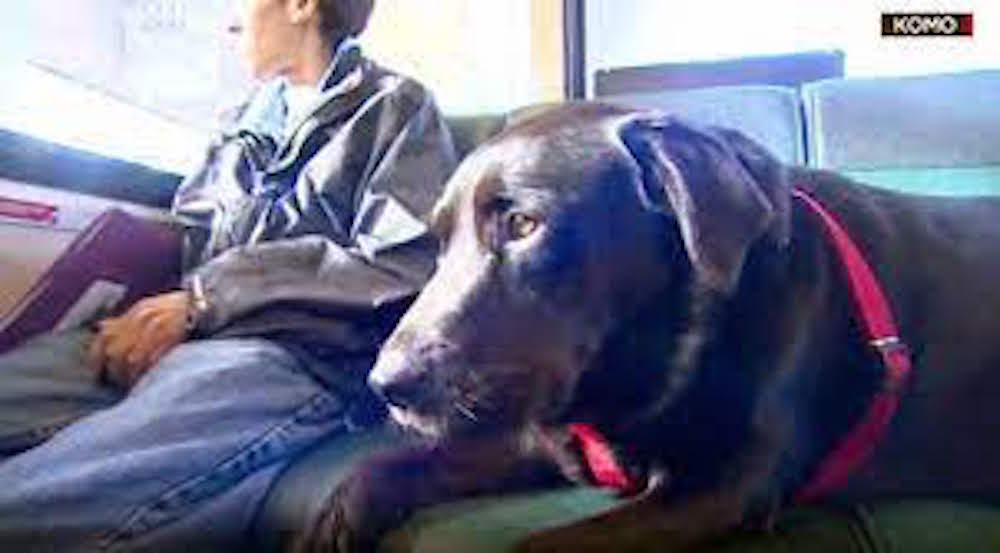 Eclipse learned to ride the bus all by herself when her owner couldn't finish a stick of cigarettes on time to board the bus. They were waiting in line at the bus stop one day near their home to go to the dog park, which was a block and a half away.
They have been regularly doing this routine several times a week, but on this one particular day in 2015, as the big red and yellow bus arrived and Jeff could not board, Eclipse sneaked into the bus and left her surprised owner on the pavement. Jeff was able to catch up with Eclipse in the park by taking the next bus.
From this time on, Jeff realized that his dog is smart enough to know where exactly to get off, and Eclipse can always rely on him to catch up with her later.
Jeff said that every time Eclipse saw the bus arriving, "she would break off whatever conversation she was having or whatever interaction, jump down, go to the back door and start banging on the glass."
Eclipse's antics were first reported by KISW radio host, Miles Montgomery. "She was most concerned about seeing out the window, and I couldn't figure out what that was," he said. "It was really just about seeing where her stop was."
The smart dog has since gained renown in Seattle and eventually got her own free bus pass. "All the bus drivers know her. She sits here just like a person does. She makes everybody happy," a fellow commuter once commented. "How could you not love this face?"
Jeff even created a social media account for Eclipse with a profile that states, "I love my big city life and enjoy taking the D Line daily to the Belltown dog park."
A picture book for kids entitled, "Dog on Board," written by Dorothy Hinshaw Patent and Jeff with photographs by William Munoz, was published in 2016, and a music video advertisement for the King County Metro, which operates the bus line, was also aired.
"The celebrity kind of got out of hand," Jeff affectionately said.
Sorely Missed
King County Metro posted on their social media account, "Eclipse was a super sweet, world-famous, bus-riding dog and true Seattle icon. You brought joy and happiness to everyone and showed us all that good dogs belong on the bus. Rest in peace, Eclipse."
Jeff said that Eclipse had been with him since she was a puppy and had been a very special part of his life. "Missing her doesn't even cover it," he said. "Even on bad days, I could turn over and look at her, and it never did seem so bad."