Soon, public school students across the state of Maryland could be allowed to have their therapy dogs accompany them to school, if a bill that has been tabled in the House and Senate is passed.
If the bill gets passed into law, canines with therapy dog certification will be allowed into schools to provide students with emotional. At the moment, there are no such state-wide policies.
Bill Tabled To Allow Therapy Dogs In Schools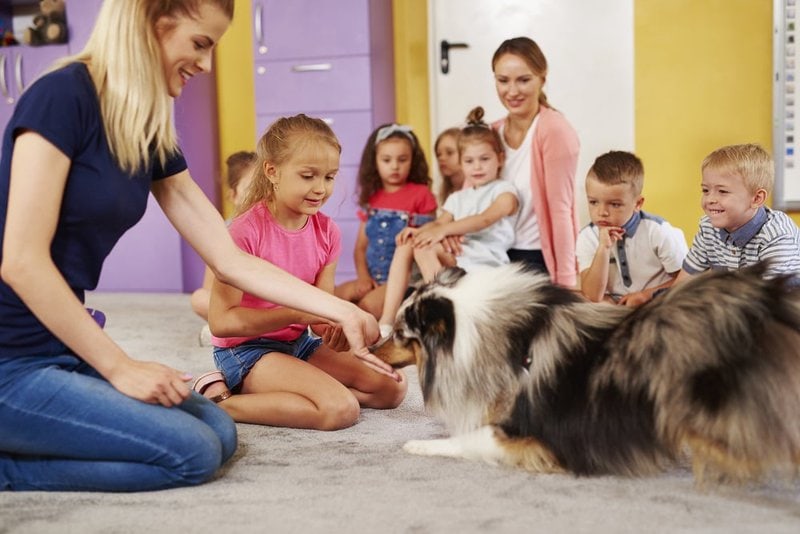 It's good to note that the law does not provide any directions on how this will be implemented. Instead, it is up to the boards of education in each county to figure out how to implement the law. In addition, public schools will not be required to provide students with therapy dogs. Instead, the law simply requires such dogs to be allowed in school.
According to Sen Ben Kramer of Montgomery, who sponsored the bill, allowing therapy dogs to accompany students to school is a great way of helping the students to relax and feel at ease, which is crucial for learning.
The idea for this legislation was brought to senators by school social workers from the country, who claimed that they had had great success with therapy dogs in schools and wanted the senate to put in place a statewide law that would allow the use of these dogs in class.
The county school social workers claimed that their experiments involving the use of therapy dogs in a learning environment had shown that the dogs made uncomfortable readers more relaxed, which in turn led to improvements in performance.
It's good to note that students won't be required to have their dogs around them all day. Instead, the dogs will be used during specific subjects where their benefits are more likely to be felt. Ultimately, it will be up to schools to come up with specific policies about the use of therapy dogs in class.
Issues With The Bill
One of the things that is going to be an obstacle to this law is the lack of clear definition of what therapy dogs are. According to Disability Rights Maryland, therapy dogs do not fit under the classification of Americans with Disabilities Act service dogs, and they are not classified as emotional support dogs either.
This is not the first time such a bill is being tabled in Senate. There was a similar bill tabled in Senate last year, but it did not go through. Among the concerns raised by detractors of the bill was that signing the bill into law would "unreasonably mandate" the use of dogs in ways that do not conform to current laws on dog usage in schools.
Currently, the Individuals with Disabilities and Education Act allows students to be accompanied to school by their service dogs. Since therapy dogs are not categorized as ADA service dogs, this means there would be no standardized criteria on how schools would permit the use of therapy dogs.
However, the senator behind the bill believes that the current bill has addressed the concerns that led to the failure of last years' bill.
For now, we can only wait for the outcome of the bill hearing, which will be taking place on Wednesday and Thursday next week.