As a pet parent, there would have been days when you were really scared about your pet's health. Thankfully, in today's world of tech-supremacy, communication technology has advanced so far as to bring you the advantages of vet telemedicine.
So, what exactly is vet telemedicine? It's a technology-based solution that enables a pet parent to consult a verified veterinarian via text, call, or video chat. If the vet has previously seen the pet, they can even provide a diagnosis or prescribe medicines. Veterinary telemedicine services fall under the broader spectrum of telehealth, whose aim is to make healthcare accessible to all pet parents.
Hi! I'm Pete Decker, dad to a six-year-old Weimaraner, Staples, diagnosed with hip dysplasia. And vet telemedicine has been a blessing for me, as it helps me to consult a vet irrespective of my location or the time. Hence, I came up with this guide to explain everything about vet telemedicine and how I make use of it for Staples.
What Is Vet Telemedicine?
When it comes to explaining vet telemedicine, first, it's essential to have a look at what telehealth is. Technology now allows us to interact with a health practitioner over a video call or text message.
So, these digital communication processes eliminate the need for a patient to visit a doctor physically. And, this ability to communicate via a digital platform for care, advice, or education related to medicine is known as telehealth.
Telemedicine is a subcategory of telehealth, and it focuses on a medical practitioner seeing the patient over a digital platform. In telemedicine, the physician or medical institution has to be already acquainted with the patient prior to any online session.
This means that there needs to be a veterinarian-client-patient relationship (VCPR) to avail your pet of telemedicine services. And, you must have visited the vet at least once in the last twelve months.
One of the most common telemedicine needs is follow-up examinations after a surgical operation. And, this can be done through a video communication platform like Skype or even through a dedicated app. And, as the facility will already have the patient's records, there's no need to worry about resending it.
The advantage of telemedicine is the health practitioners' ability to diagnose and treat the patient digitally without visiting a facility. One such platform that I have come across is Pawp, where the vets are available throughout the day. In fact, I don't even need to make an appointment for a consultation.
Telemedicine VS Tele-Triage
As I pointed out before, you'll need to have a VCPR with a practitioner to get help via telemedicine sessions. But, there's another process called tele-triage, which is quite close to the idea of telemedicine.
Tele-triage has come up as a crucial step towards resolving the doubt of pet parents regarding the health of their pets. And, it doesn't require the VCPR, which is a prerequisite for telemedicine. A great point of tele-triage is that it can help to note the urgency of a situation, and the vet communicating may refer your pet to another vet based on the situation.
Because of federal and state laws and regulations, the practitioner can't diagnose or prescribe medicine in a tele-triage session. Practitioners often state that pet parents do have a lot of questions, and searching on the internet may often cause confusion.
So, along with emergency consulting, tele-triage can also be used to get the vet's general advice on a topic related to your pet.
How To Avail Yourself Of These Telemedicine Services?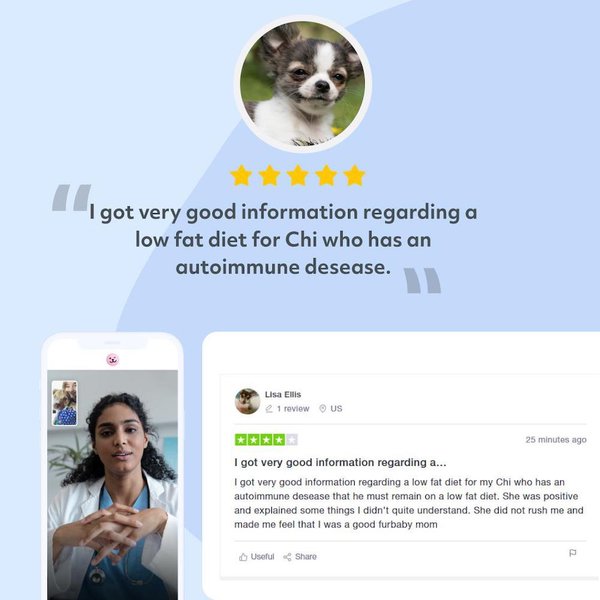 Getting help from a telemedicine service can be as simple as downloading an app. However, it's best to call up your pet's usual vet clinic and ask them if they are providing telemedicine services. As most vets are getting into using telemedicine sessions for their patients, they will most likely recommend you a web or app platform used for the service.
And, if your pet's vet doesn't offer telehealth sessions, you can always ask them for a referral to a reliable service provider. At times you will need answers to more general questions about your pet, and in such a situation, try to look for an app or a web-based service that provides tele-triaging.
Once you're on the web or app, create an account and log yourself onto the platform. There will be an option to check out the different services, and you can select one according to your need. Some platforms come with monthly or annual subscriptions, while others charge a flat fee for every consultation.
Hence, when you are in need of tele-triage services, it's better to have a look at the different platforms before selecting a service. And, some also come with certain perks like emergency funds for the pet.
The consultation can be through text, voice calls, or even through a video call. So, make sure that you have an excellent network reception before the session begins.
For instance, before attending a Pawp video consultation, I usually write down the vitals of Staples in a notebook, along with the questions I need to ask the vet. This helps me in getting all my queries resolved without fail.
Benefits Of Telemedicine
Monitoring The Pet's Health
These days, the vets themselves will often give you the option to make use of their telemedicine services, especially if your pet has got a serious diagnosis. Pets that have had recent surgery can also get help from vet telemedicine, as making a journey to the vet's office can often be stressful for them.
Rather than going to the clinic, the vet can guide you through the regular telemonitoring sessions. And, in this case, as VCRP is already established, they will also be able to prescribe medicines or diagnose any further problems that may have developed.
Less Stressful For The Pets
Pet parents know that taking your furry friends to the vet isn't the easiest thing. My friend, who has an elderly cat, often struggles with getting her pet to a vet's appointment. And, there have been instances where she gave up midway.
But, telemedicine makes this process easier by letting you consult the vet when the pets are in their habituated environment. This is especially helpful for pets that have anxiety or stress-related issues. Also, it has been observed that vital signs like heart rate and temperature are more accurate when the pets are at home.
Emergency Consultation
Have you recently noticed a rash or some bumps on your pet? A vet telemedicine consultation session can be the quickest way to know if it's something serious. In case of emergencies, the vet present at the telemedicine appointment can refer you to a local vet.
And, you can also go for tele-triage services with queries regarding the diet or exercise regime of your pets.
Final Words
I hope that this guide has helped you know more about vet telemedicine. Just make sure to find out about the most reliable source for such digital services.
Keep in mind that the variety of services along with the cost may change according to the platform. Hence, always do a proper review before choosing a vet telemedicine platform for your pet. Also, do let me know if you have any further queries about vet telemedicine.
Till then, goodbye and take care!