An ice cream cone or a popsicle can easily beat the summer's heat – and your dog agrees! This is why dear Fido cannot resist a lick of that berry popsicle when the dog sees one. So, what kind of ice cream can dogs eat? There are quite a few that are tasty and safe for your pooch to eat!
If your pup cannot handle dairy, then a cup or cone of nice cream is a fantastic choice. This kind of ice cream is made with some frozen bananas and berries, and it's good to go. You can also give your pet some frozen vegetables, like broccoli or carrots, as a yummy, indulging treat.
When it comes to ice cream for dogs, it's better to stick to the right ingredients that are not only tasty but non-toxic, as well. Here are our top picks for the best ice cream dogs can eat that you can easily make at home.
22. Strawberry Banana Ice Cream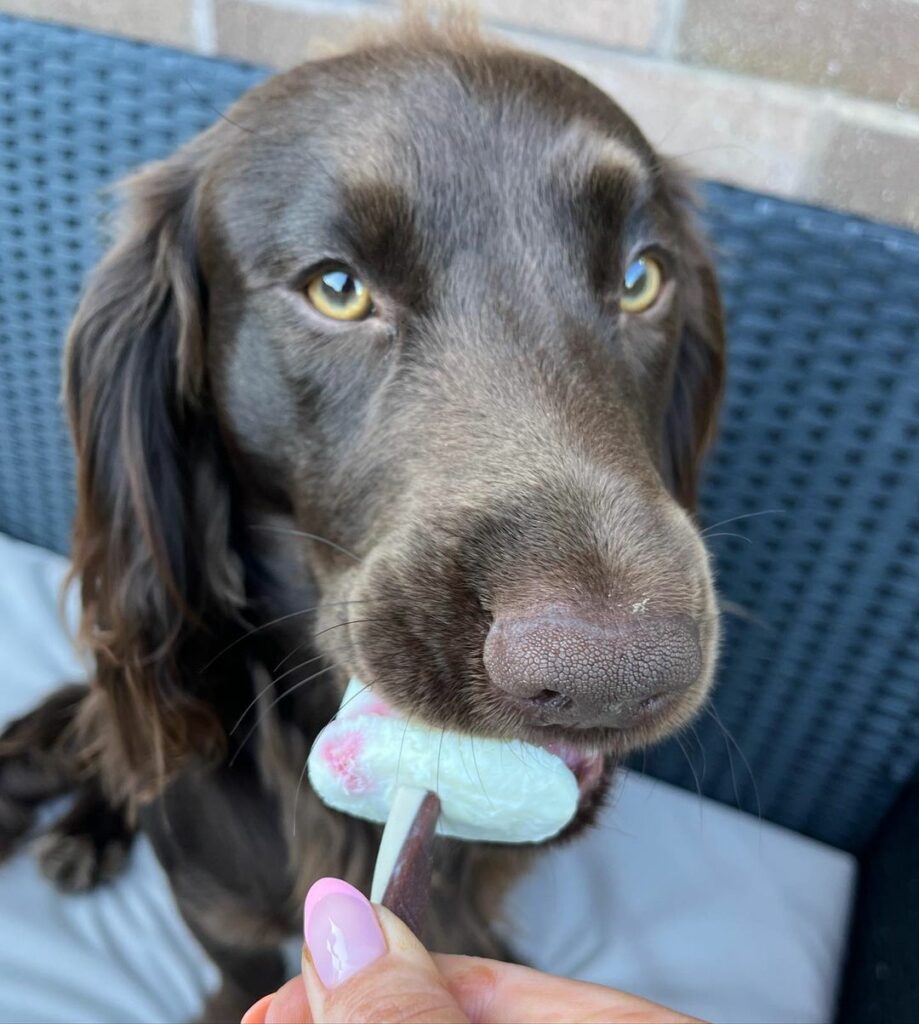 Doggie ice cream is so easy to make. This ice cream recipe for dogs, in particular, is only made up of a few ingredients – bananas, peanut butter, and strawberry. But if your pooch is allergic to peanut butter, you skip that ingredient and still be able to make this frozen dessert.
All you need for this recipe is a blender and your ingredients. Once blended, it should be good to go. You can even make a big batch and store it in the freezer. Keep it in a tightly sealed container, and it should last for up to 8 weeks.
21. Berry Coconut Pineapple Ice Cream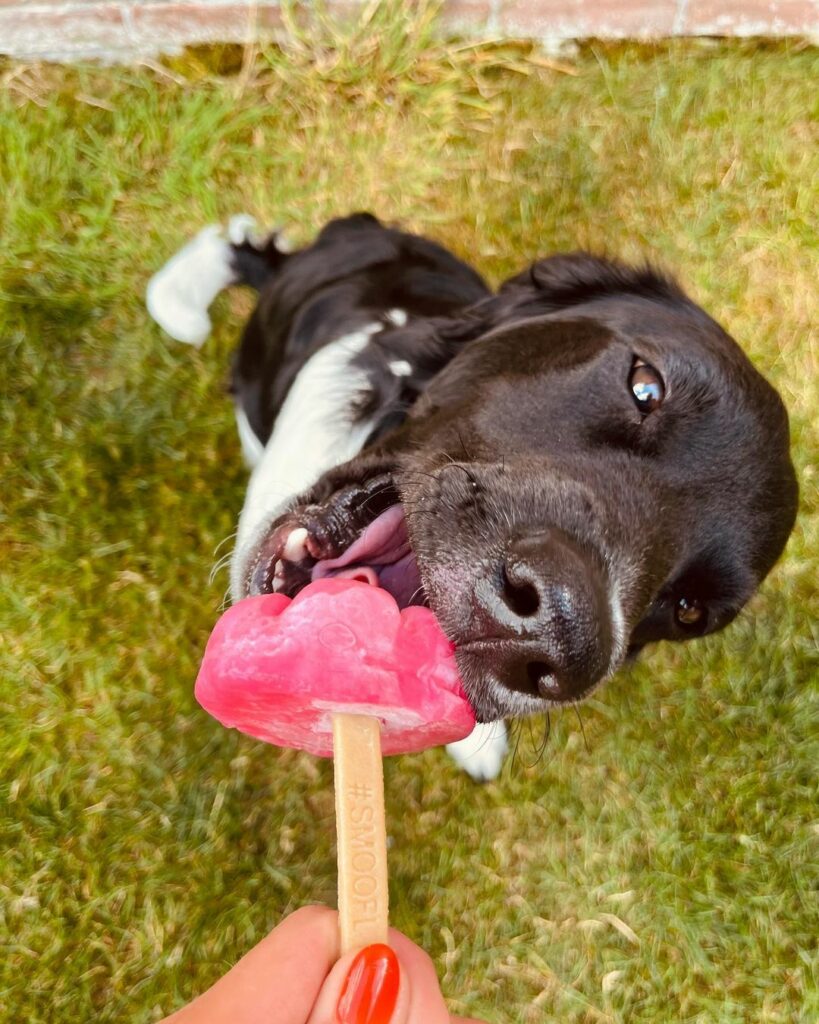 Beat the summer heat with this fantastic ice cream recipe for pups. This berry coconut pineapple ice cream includes tropical ingredients that are perfect for a delectable, healthy, and refreshing dessert for your furry pal.
Blend your banana, coconut oil, and pineapple until it's nice and smooth. Add some dried fruit into your molds, and then pour the mixture over it. Freeze overnight to set, pop out of the molds, and it's good to go!
20. Banana Blueberry Ice Cream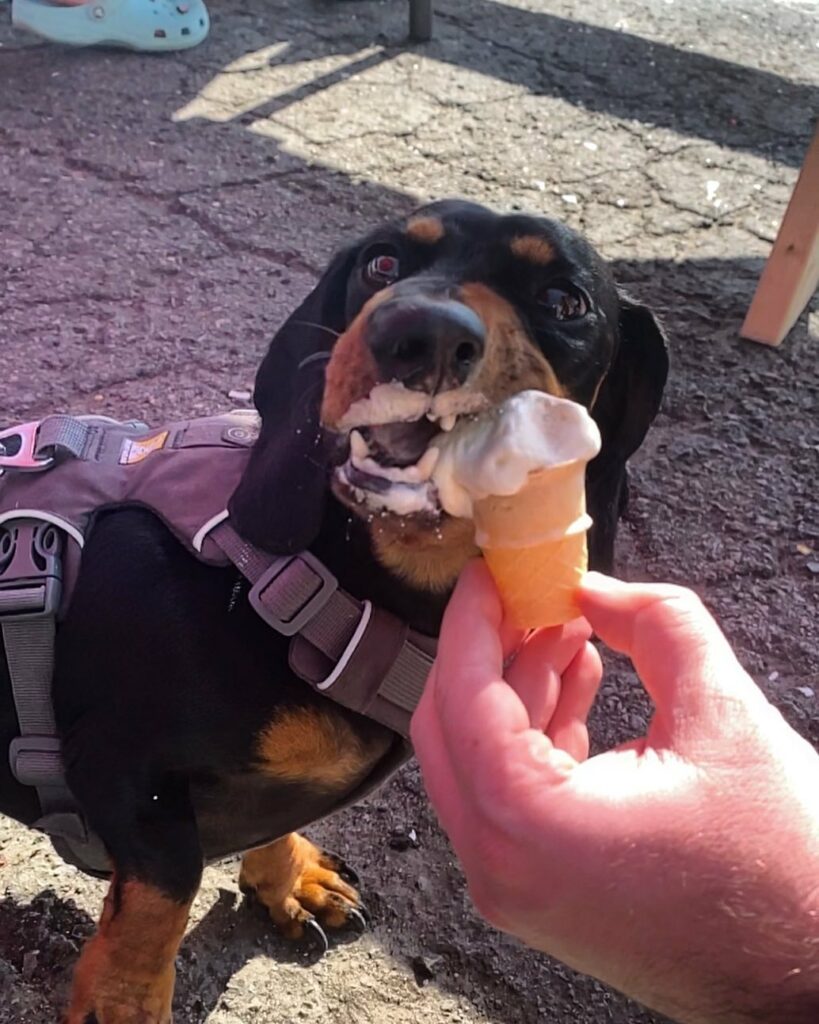 Fruit fanatic fur babies will fall in love with a banana blueberry ice cream. It's packed with antioxidants, vitamins, and minerals that are not only tasty but absolutely nutritious for your pet pal.
You should be able to whip this ice cream recipe up in minutes. Simply blend some frozen bananas and blueberries until smooth and thick, freeze for an hour, then serve once firm. Delicious!
19. Yogurt And Honey Popsicles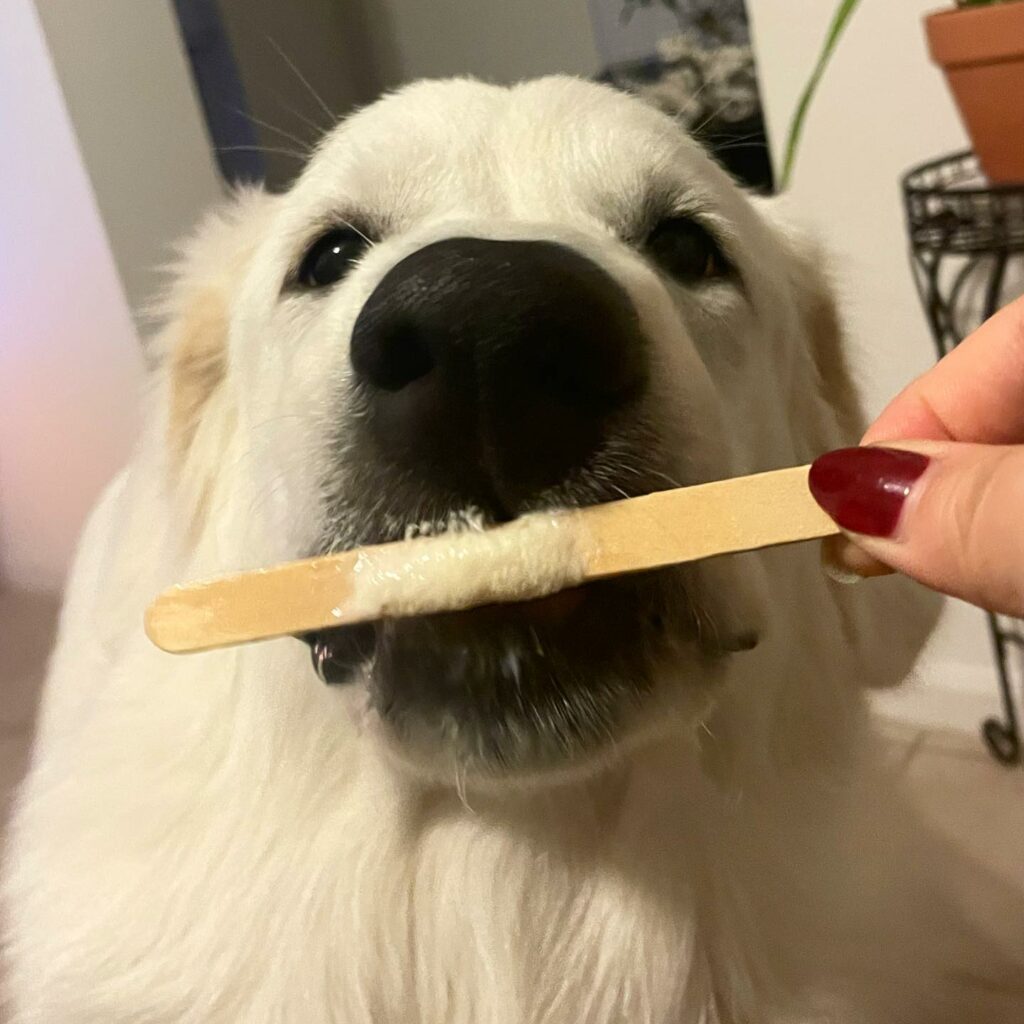 If you have a pooch that's a little on the picky side, then these yogurt and honey popsicles should be a fun treat the dog simply cannot refuse. Just be sure to use dog-safe yogurt or non-dairy yogurt if your pooch is lactose intolerant.
This ice cream recipe only requires a couple of wholesome ingredients – dog-friendly peanut butter and yogurt, honey, and some frozen bananas. That's all there is to it! Blend these all up, pour into tiny cups or in a cone, and it's good to go.
18. Chicken Ice Cream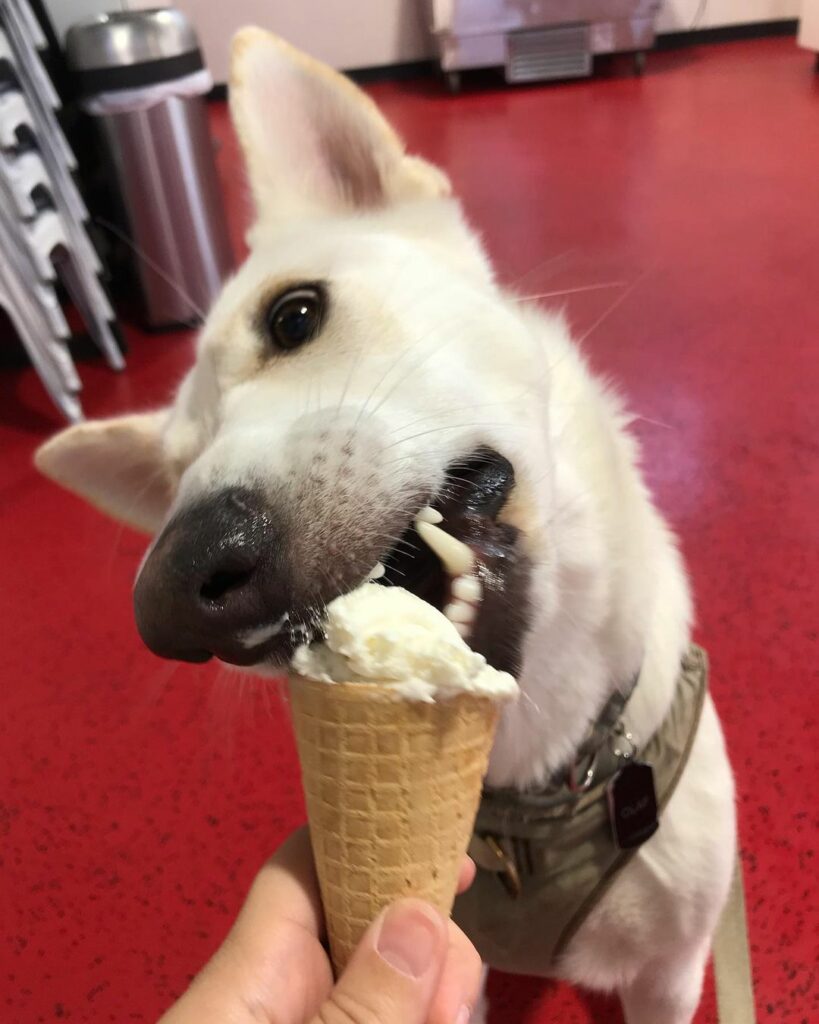 Give your four-legged pal a delectable treat that's a little different from the usual. This savory ice cream is cooling and protein-packed at the same time. Awesome goodness for your fur baby!
To make this chicken ice cream, you only need two ingredients – cooked chicken and chicken stock (make sure it's onion-free). Dice and freeze the chicken, blend or process until smooth, and re-freeze for a firmer consistency. Then, serve it up in a cone or a bowl. Yum!
17. Berry Sorbet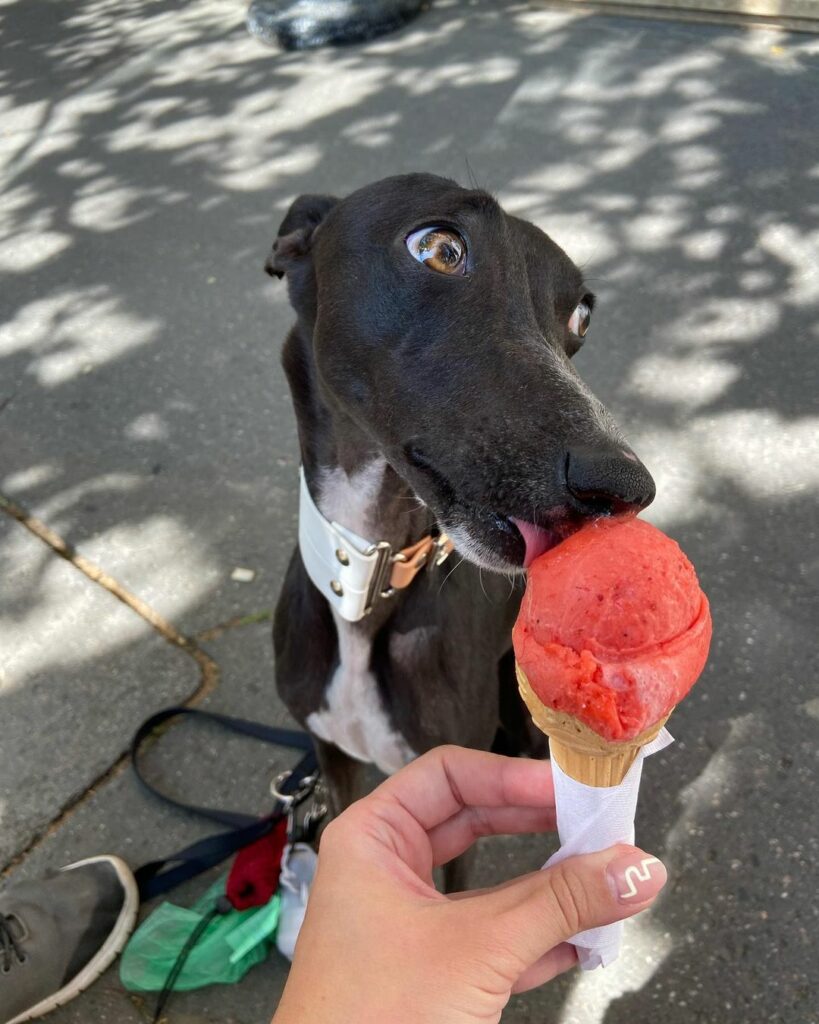 When the weather is hot, a berry sorbet sounds about right for your pooch. This delightful dessert is perfect for dogs that cannot handle milk or excess fat. It's also easy to prepare and loaded with antioxidants to keep your pooch healthy and thriving.
For this non-dairy berry sorbet, you need a few ingredients – a cup of frozen mixed berries and half a cup of cold water. Pulse in your food processor until smooth, and add a bit more water until you have achieved your preferred texture.
16. Pumpkin Ice Cream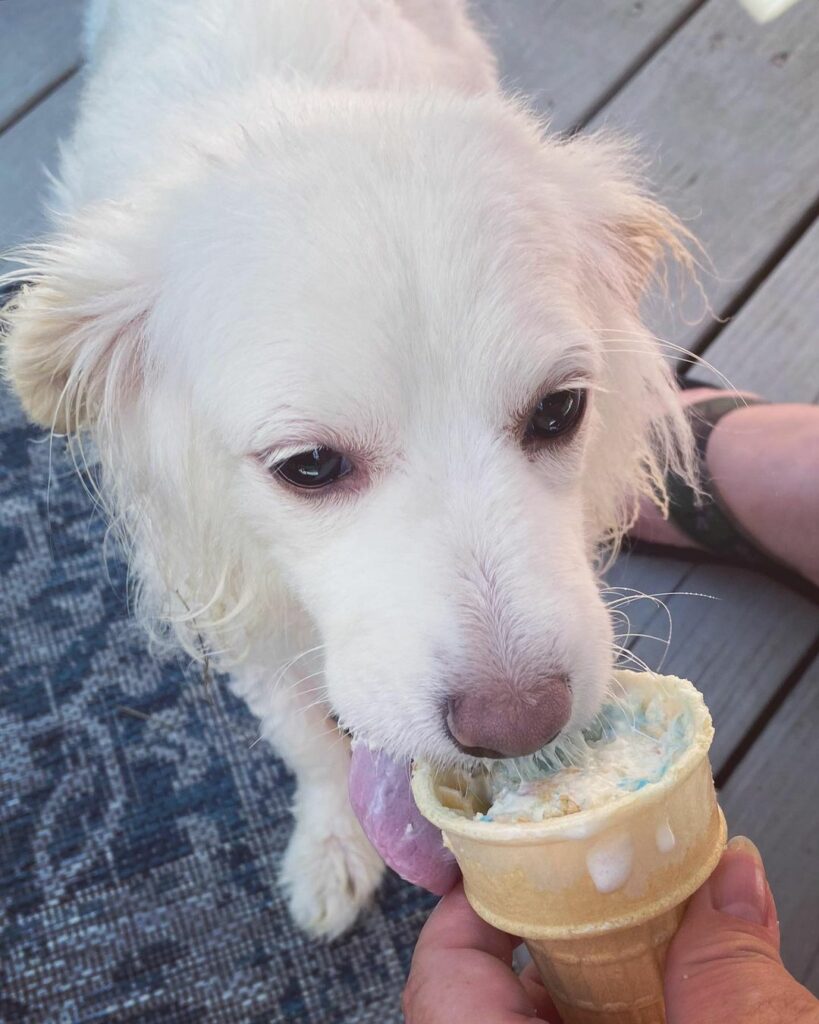 Pureed pumpkin is great for just about any recipe – including ice cream! You can also add some maple syrup and cinnamon for that extra flavor, and it's an excellent summer treat for your pet. Another healthy add-on is just a pinch of turmeric for a pop of color and nutrition benefit.
If your pup is not a huge fan of pumpkin, pureed sweet potato should be perfect, too. But just be sure to add more liquid to achieve the right consistency. You can also use coconut milk or almond milk instead of just plain water for a richer flavor.
15. Cantaloupe Dog Ice Cream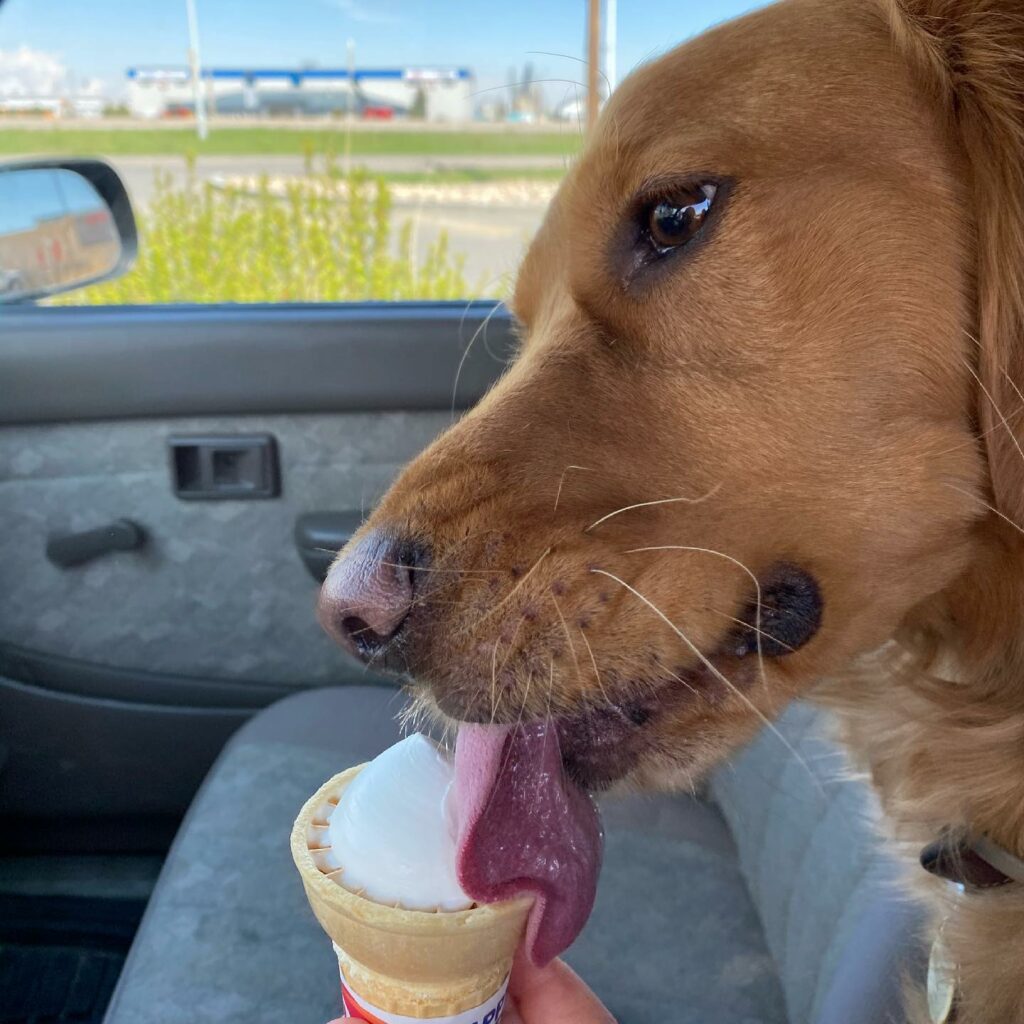 Cantaloupe is a great summer treat that you and your four-legged BFF will love. But instead of serving up some chopped cantaloupe, you can make some yummy cantaloupe dog ice cream for a fun, little dessert.
Simply blend some cantaloupe and nut milk in a blender, freeze for an hour or so, and let it sit for about 15 minutes until it is just the right consistency. Serve in a cup and enjoy!
14. Peanut Butter Bacon Ice Cream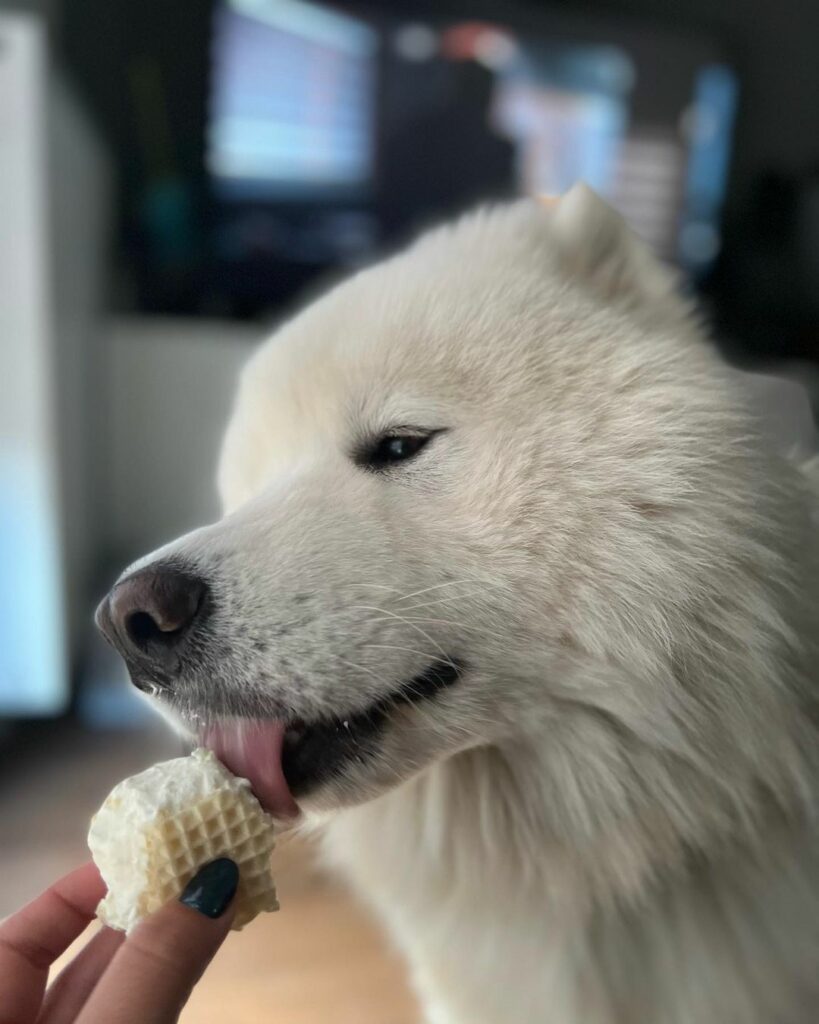 Savory, healthy, and oh-so-yummy, peanut butter bacon ice cream is one unique dessert recipe for your pooch. It's a fine combination of protein, good fats, and some carbs plus a delectable flavor that your pup will adore.
Blend a couple of tablespoons of peanut butter (dog-safe variety, of course), half a cup of nut milk or coconut yogurt, and some bacon bits. Freeze for an hour, transfer into a bowl or cup, and serve to your doggo.
13. Chewy Fruity Ice Cream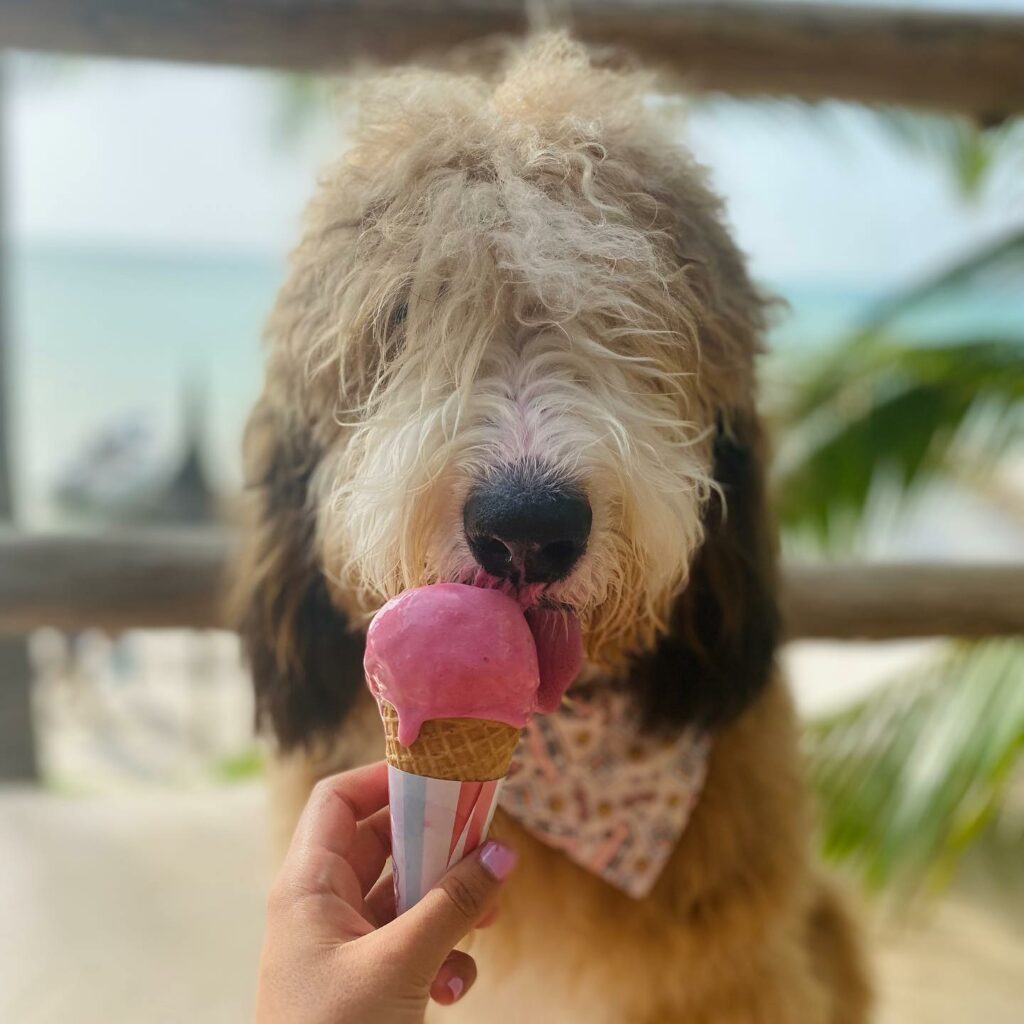 Most fruits are safe for your pooch, so no wonder this chewy fruity ice cream is great for your canine. It requires only a few ingredients, too, which makes it super simple and hassle-free to prepare.
For this chewy fruity ice cream recipe, you need some crushed pineapple, frozen banana, and a cup of dried fruit such as mango or berries. Blend until smooth and pour into a popsicle mold. Add in some chopped dried fruit and freeze, and voila – there's your chewy, fruity cool treat!
12. Frozen Savories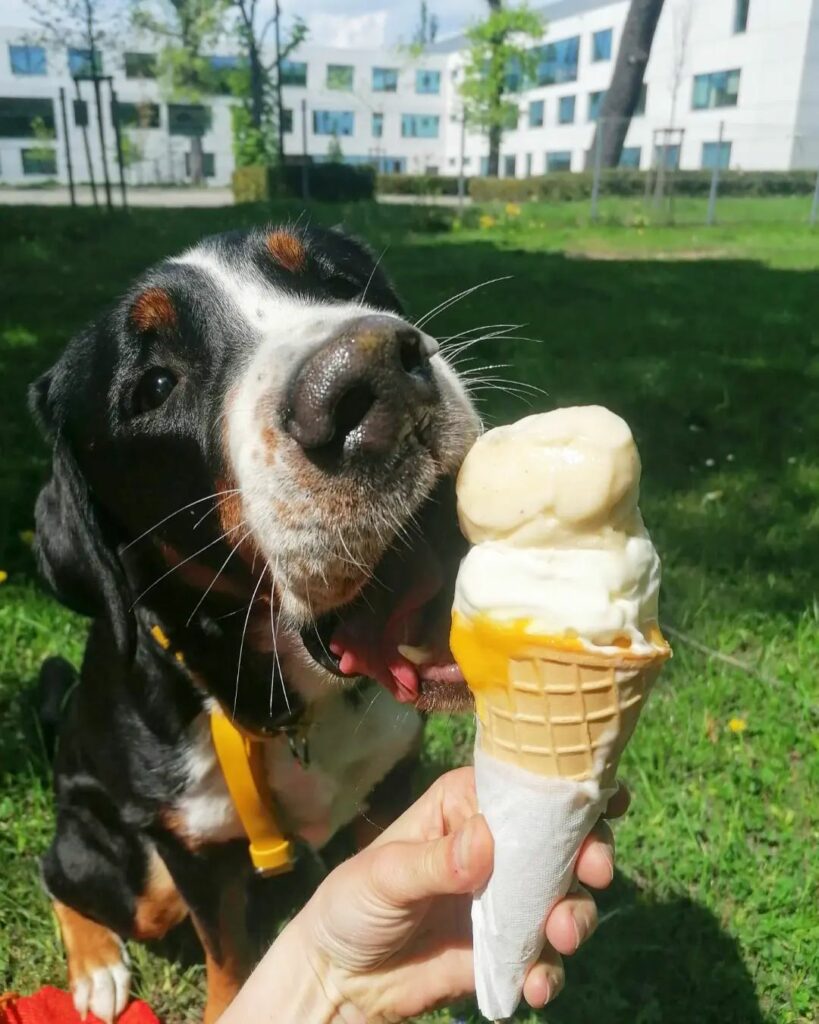 Savories never get old for our four-legged fellows. Whether it's frozen chicken, bacon, beef, or any of your pup's favorite meat, this unique dessert recipe is a great option to consider.
To make it even better, frozen savories are so easy to make. All you need to do is to freeze a cup of chopped meat, blend with half a cup of broth, re-freeze to let it firm up a bit, and it's ready to serve!
11. Carob Chip Ice Cream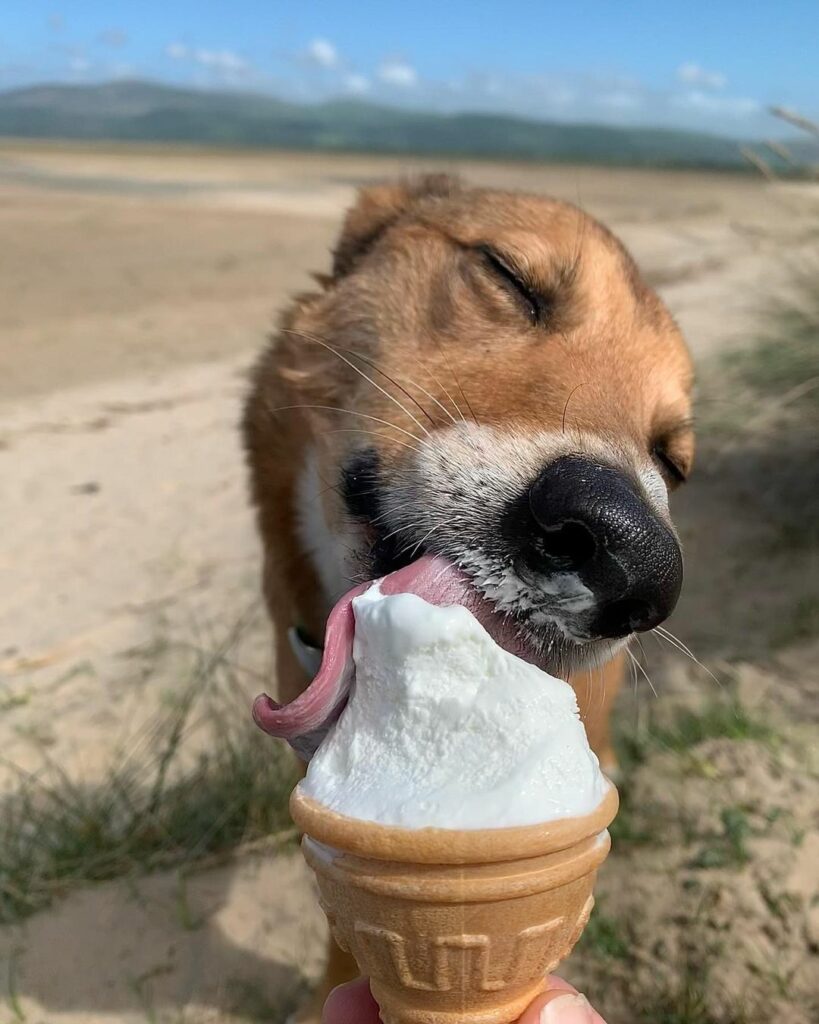 Carob is a dog-friendly alternative to chocolate, which your pup will love. Plus, it's nutritious, too, and adds some sweetness to your doggo's ice cream. You can make any ice cream you want and add in some carob chips for that extra crunch.
Frozen bananas and some coconut milk blended up will make a fine soft-serve for your pooch. Sprinkle some carob chips, and it's ready to go!
10. Coconut Blueberry Ice Cream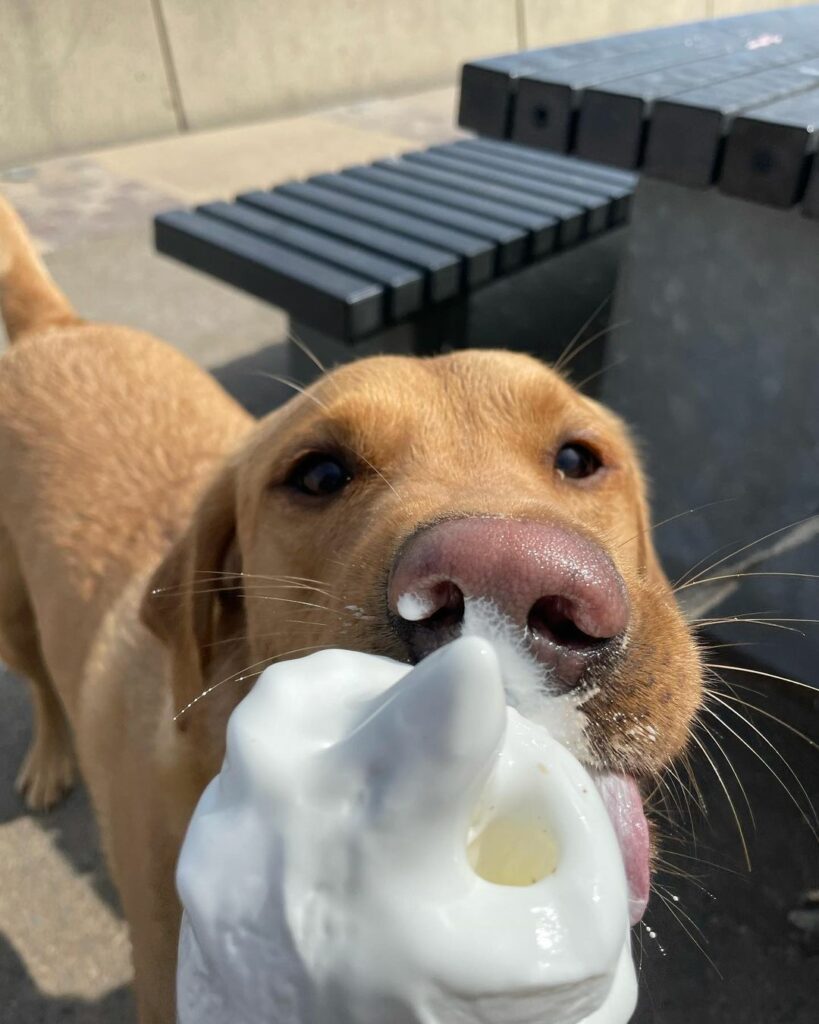 A healthy and satisfying treat for your pooch, coconut and blueberry make for the best ice cream ingredients. Blueberries add some sweetness to the mix while coconut makes it extra creamy and packed with some healthy fats.
If you want an additional crunch to this dessert, you can even sprinkle in some coconut flakes and dried blueberries. Whether it's a popsicle or soft-serve, this fruity dessert is too irresistible for your furry friend.
9. Banana Ice Cream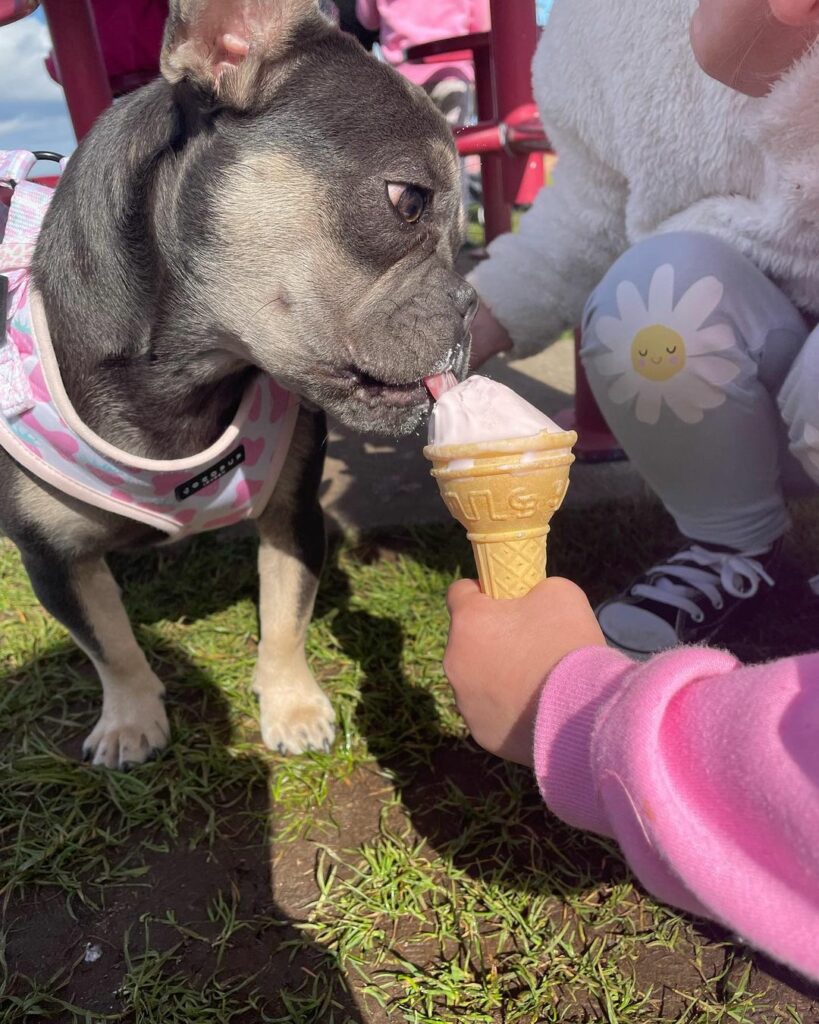 Busy fur moms and dads can easily whip this recipe up in minutes. In fact, it is so quick and simple that you can make it everyday! All you need is a frozen banana and some coconut milk, and your ice cream is ready to go.
Blend up some frozen chopped banana and half a cup of non-dairy milk or pulse in a food processor. You can serve it as is or re-freeze to let it firm up a bit, just like a popsicle.
8. Coconut Ice Cream
Another pet-friendly cooling dessert, this coconut ice cream is a suitable alternative to dairy ones that most dogs cannot handle. Although you should be able to find coconut ice cream at the store, it is often loaded with sugar that your pup is better off without.
So, we highly recommend that you make one yourself since it's super easy and fast to prepare, anyway. Just blend or process coconut meat and coconut milk in a blender, freeze for an hour or two, then serve in a cup or cone.
7. Peanut Butter Ice Cream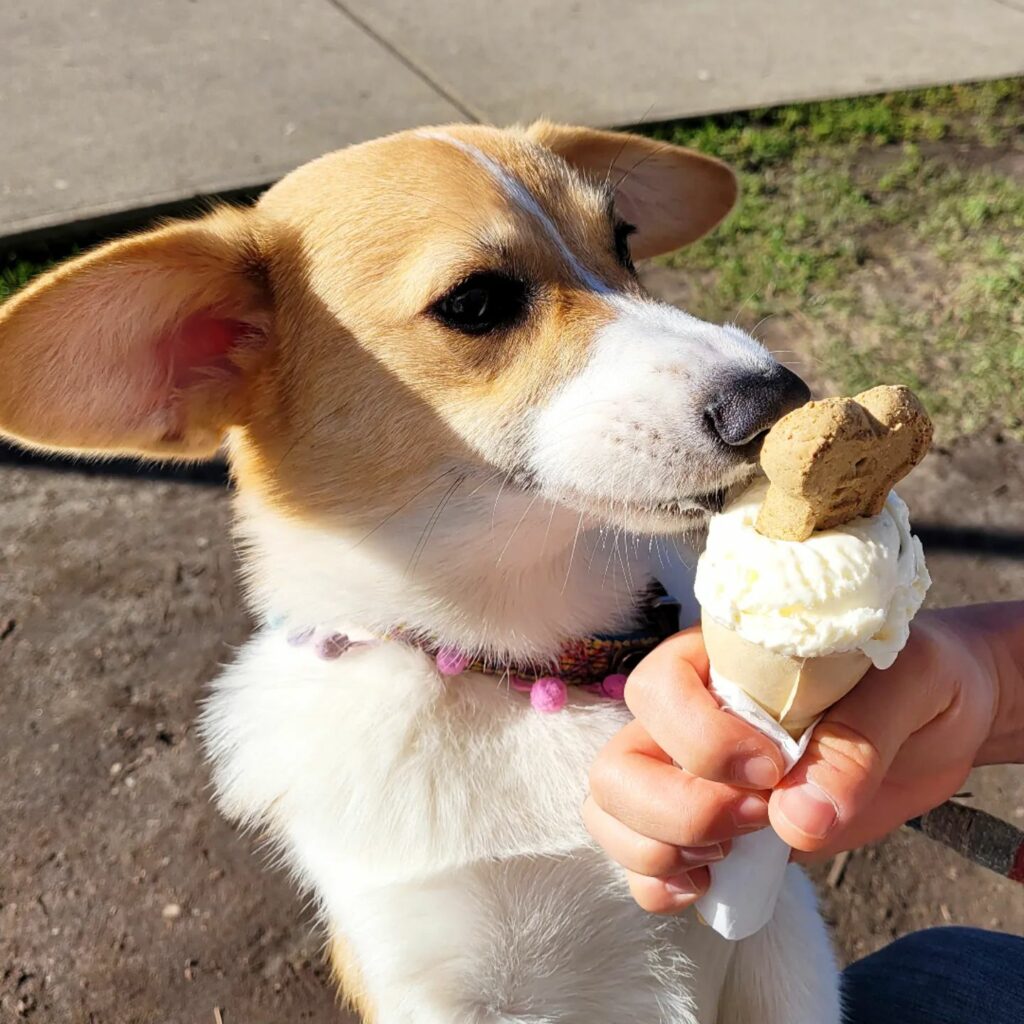 Dogs cannot resist peanut butter. So if it is scorching hot outside, why not give them some peanut butter ice cream that's a delightful little treat for your canine buddy?
All you need to do is to dice up some ripe bananas, freeze them for a couple of hours, then blend them further with other ingredients, such as dairy-free yogurt and peanut butter. Once it is smooth, serve with your dog's favorite cookie or some berries, and enjoy!
6. Yogurt Ice Cream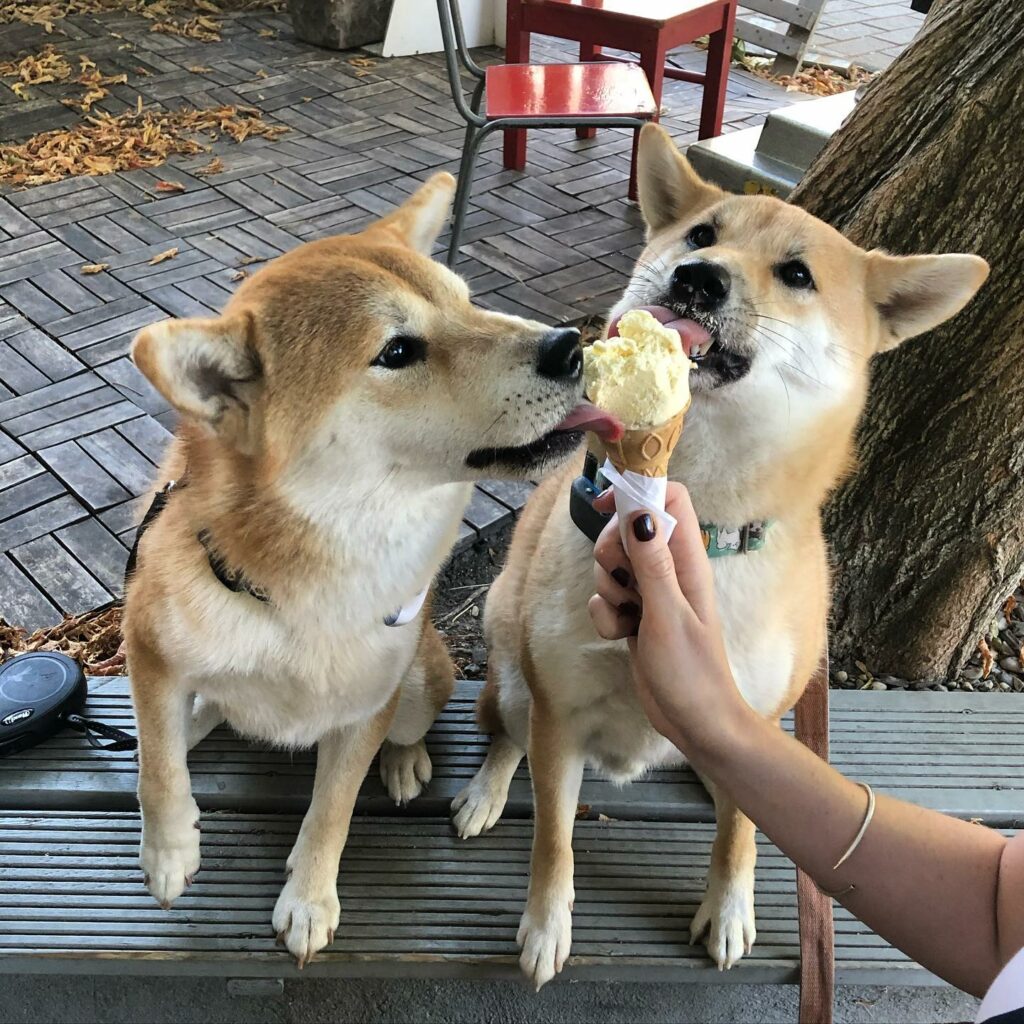 Why buy ice cream at the store when you can easily and cheaply make one at home? This yogurt ice cream is a healthier alternative to sugar-packed store-bought ones, and you can be sure that it is safe for your pooch.
Simply mix a cup of non-dairy yogurt and frozen banana in a blender, blend until smooth, and pour into a popsicle mold or ice cube tray for a couple of hours. Pop these out of the tray and serve.
5. Fruit Sorbet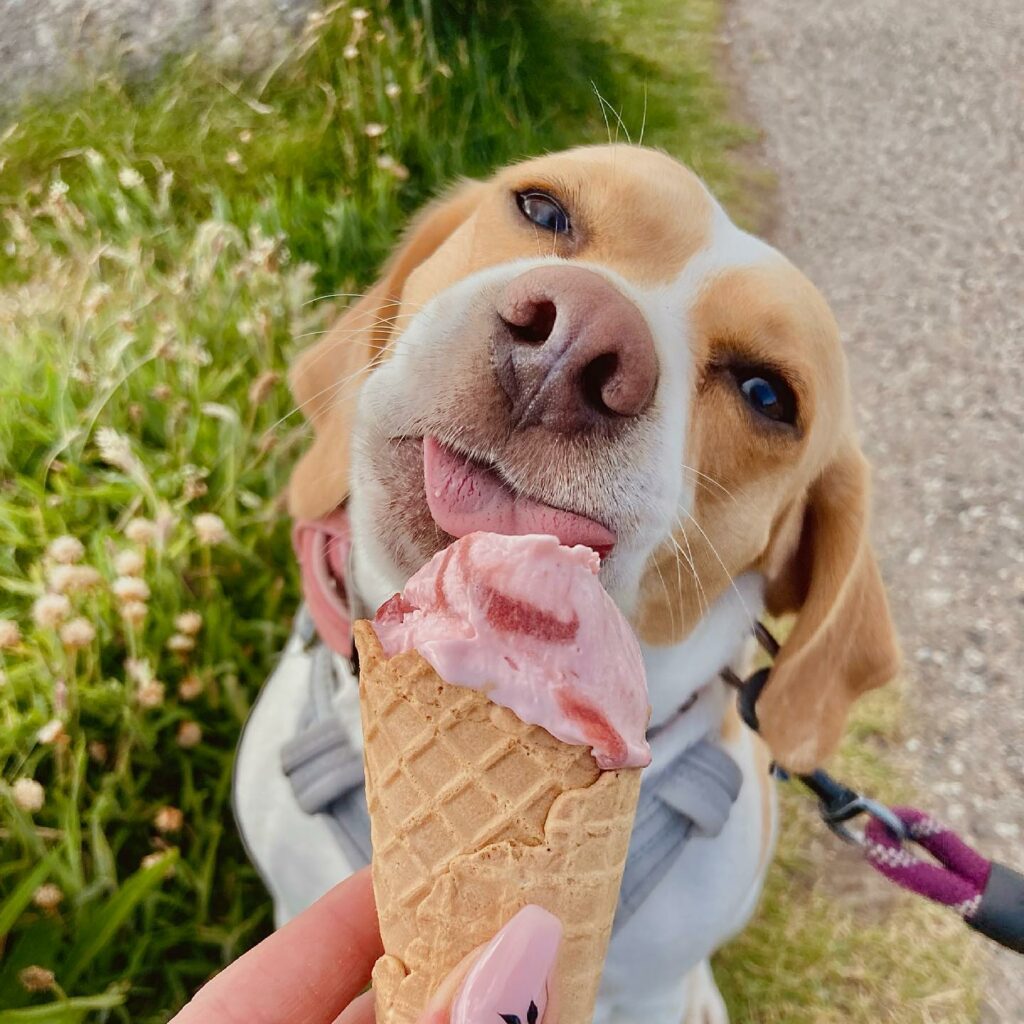 Fruit sorbet is a fantastic, non-dairy nutritious dessert for your doggo. You can choose from a variety of fruit to use, such as berries, bananas, and mango. The choice is endless!
Plus, if you have a blender or a food processor at home, you can quickly make this recipe in minutes. Pulse or blend until smooth and serve as is or topped with fresh fruit.
4. Plain Vanilla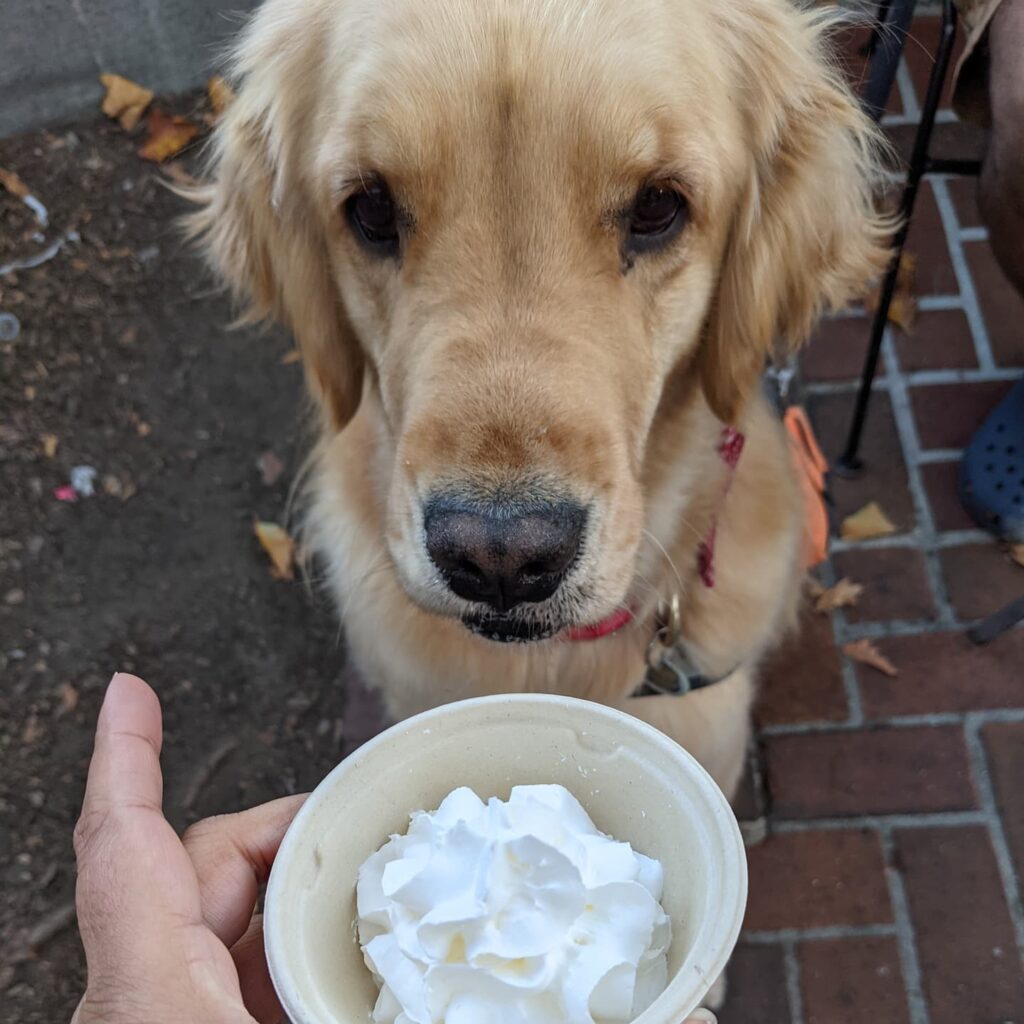 When you have no time to make your pooch ice cream, you can also share some with your pet. However, we recommend that you stick with some good-old plain vanilla ice cream with low sugar content.
Vanilla is safe for dogs, but as long as there is no dairy or high sugar content tossed in. You can also make this yourself with coconut milk for extra creaminess (and skip the sugar).
3. Frozen Vegetables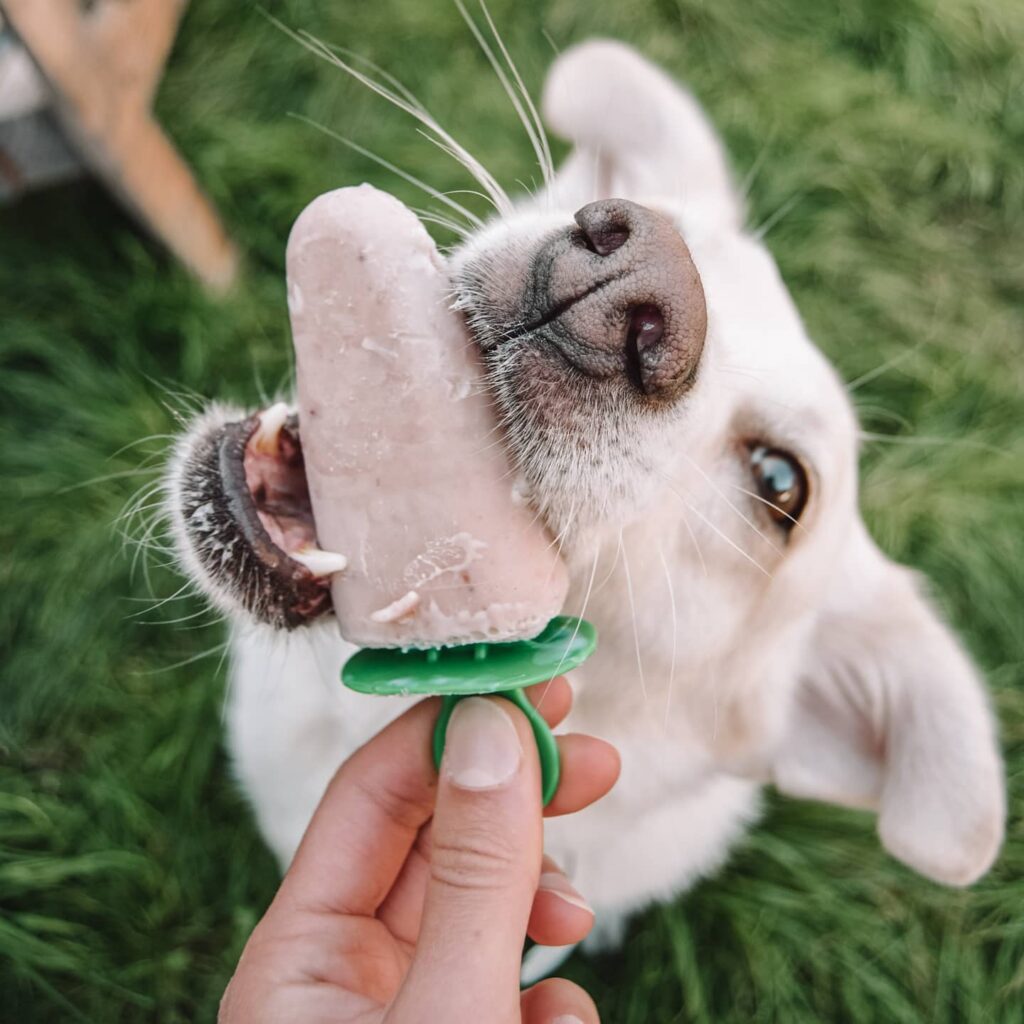 If you're trying to keep your pooch off of sugar or limiting its calorie intake, then frozen vegetables should be a better choice for a delightful dessert. You can choose from different kinds of vegetables, such as asparagus, broccoli, carrots, or green beans.
Just freeze up these chopped vegetables, blend or pulse them into your food processor, and it should be ready to go. You can also add in some freshly chopped carrots on top for an extra crunch.
2. Frozen Fruit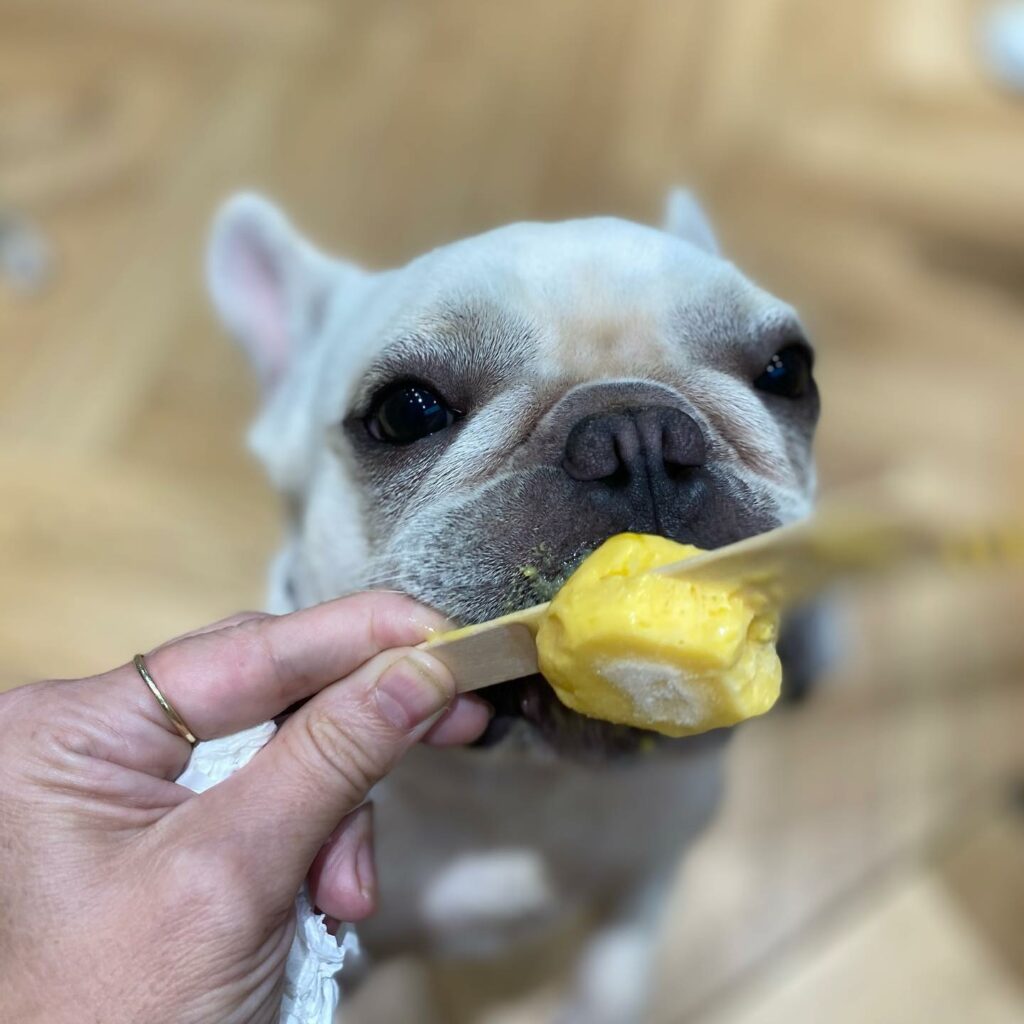 Give your pooch some fruit to beat the summer heat. Fruits are nutritious treats that are basically never a hassle for you to prepare too. You can choose from different kinds of fruit, such as watermelon, blueberries, apples, and bananas. 
Or even better, why not make frozen fruit ice cream for your doggo? Just freeze some chopped fruit and toss in a blender, and process until smooth. It's perfect for serving it soft or firm, just like a popsicle.
1. Nice Cream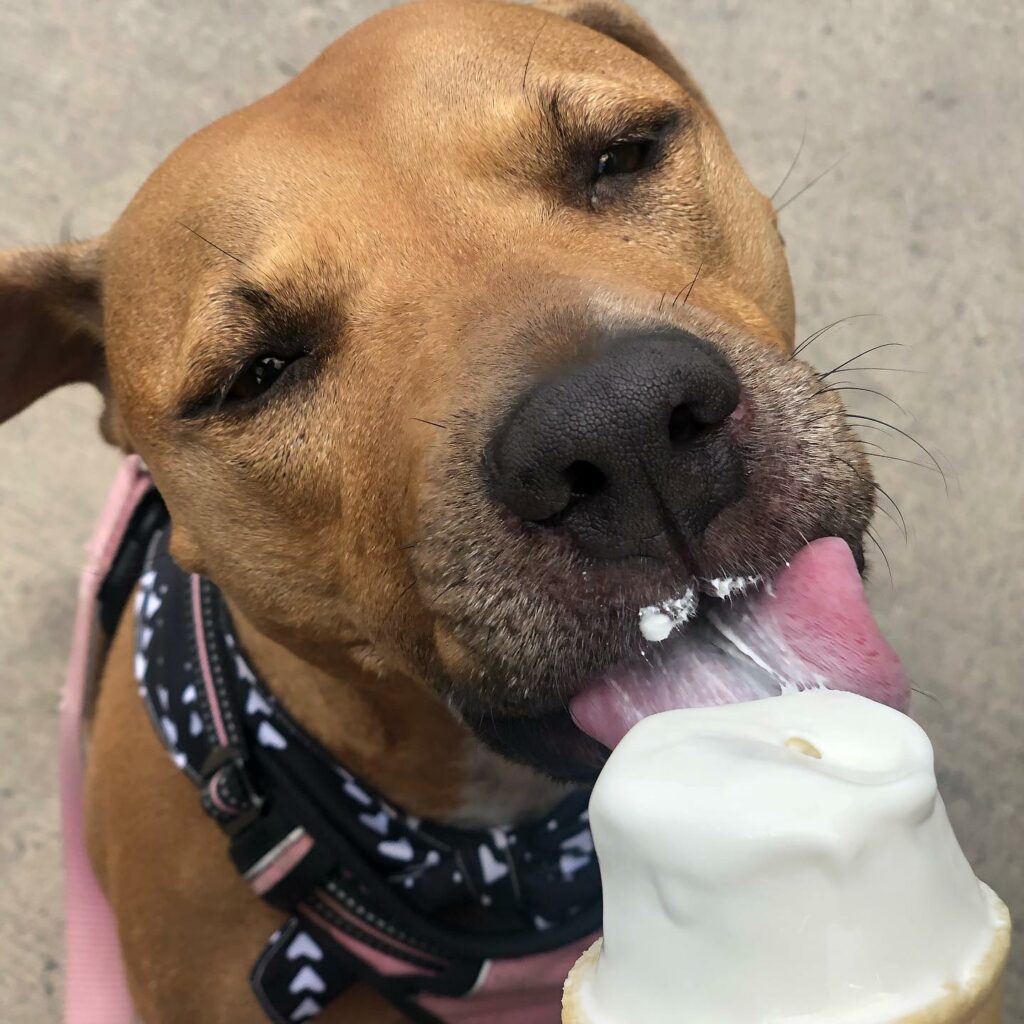 Last but not least, nice cream is always a well-loved treat that your pooch – and you – will enjoy. It's usually made of frozen bananas, some nut milk, and fruit, and that's it!
The perfect consistency should be creamy – not too thick or thin. You can also re-freeze it and scoop it for later. Just be sure to thaw for a few minutes before serving this delightful frozen treat to your furry pal.
---
Related Questions
---
What Happens If Your Dog Eats Ice Cream? Some dogs are sensitive to dairy, which is why dairy ice cream can cause them gas, constipation, or bloating. This is why fruit-based and non-dairy ice cream is a better choice for your canine.
How Much Ice Cream Is Too Much For A Dog? A lick or two of ice cream should suffice for your pooch. Never give your pet an entire bowl of ice cream, especially if you are trying to reduce its calorie intake.
Why Does My Dog Throw Up After Eating Ice Cream? If your pooch throws up after eating ice cream, particularly dairy-based ones, it means the dog is allergic to it and cannot tolerate the dairy. This is why it is best to stick to non-dairy ice cream or give it frozen fruit or vegetables instead.