So you've just gotten yourself a white-colored pooch – great! Now, the question is, what should you name your fur baby? Whitey? Snow? If nothing cool enough comes to mind, these awesome white dog names should give you that elusive "Aha" moment!
Fur parents make a big deal out of naming their whitest pups… And they should. You want it to be an excellent match for your pet, not to mention 100% awesome. It's a name your doggo will carry for the rest of his or her life, after all.
Take a look at our white dog names from A to Z suitable for your four-legged pal. But be warned – they're all so cool, it'll be crazy hard to pick just one!
White Dog Names That Start With 'A'
Al (bino)
Alaska
Alba (Latin)
Alps
Amaryllis (Amary)
Angel
Anjo (Angel in Portugese)
Artemis (Moon god)
Artic
Aspen
Avalanche
White Dog Names That Start With 'B'
Bai (white in Chinese)
Balta (white in Lithuianian)
Balto
Begonia (Beggo)
Bella (Bela – white in Slovenian)
Bellanca (Italian)
Bello (Belo in Macedonian)
Belly (Beluga)
Beo (Serbian)
Beyaz (Turkish)
Bianca (Italian)
Bianco (Spanish)
Billy (white in Czech)
Bino (Albino)
Blanca (Spanish)
Blanco
Blanka (white in Esperanto)
Blizzard
Boda (white in Sundanese)
Bolt
Bone
Bones
Boo
Borra (Malta)
Branco (Gaelic)
Bulan (Indonesia)
White Dog Names That Start With 'C'
Caddy (Cad – Somali)
Calla (Lilies)
Camellia
Cammy
Candy (Candytuft)
Carny (Carnations)
Casper
Chalky
Chando (Shona)
Checkers
Chena (white in Shona)
Chisa (Chisanu in Chichewa)
Cita (Punjabi)
Clematis (Clemmy)
Cloud
Cloudy
Coco (nut!)
Coke (Cocaine, hah!)
Comet
Cookie
Cosmos
Cotton
Crackers
Creampuff
Creamy
Crystal
White Dog Names That Start With 'D'
Daffodil
Daffy
Dahlia
Daisy
Delphy (Delphinium)
Denali
Diamond
Domino
Dove
White Dog Names That Start With 'E'
Eggy
Elsa
Eski
Eskimo
Everest
White Dog Names That Start With 'F'
Fari (white in Hausa)
Fluffball
Flurry (Snow flurry)
Frosting
Frosty
White Dog Names That Start With 'G'
Gally (Galanthus)
Gardenia
Gerbera (Daisy)
Gerby
Ghost
Glacier
Golf
Gwen
Gwyn (Welsh)
White Dog Names That Start With 'H'
Hayan (Korean)
Heaven
Helio (Heliotrope)
Hibiscus
Hydra (Hydrangea)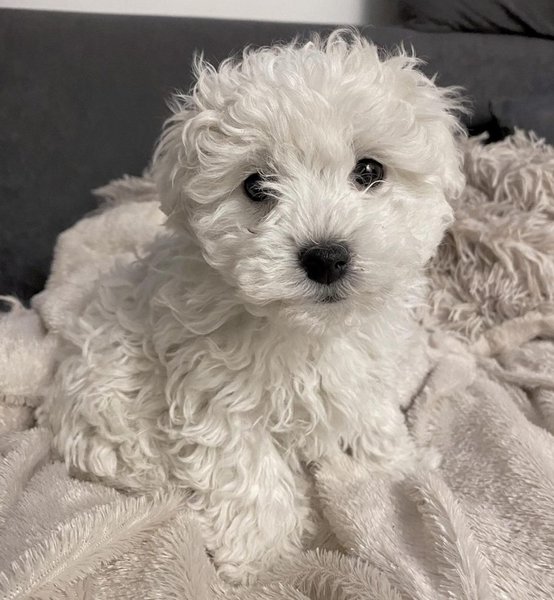 White Dog Names That Start With 'I'
White Dog Names That Start With 'J'
Jasmine
Jazz
Jazzy
Jella (Bijela in Bosnian)
Jezebel
White Dog Names That Start With 'K'
Kamar (Moon – Qamar in Hindi)
Kappy (Kap in Kyrgyz)
Kimo
Kiona (Samoan)
Koda
Kodiak (in Alaska)
White Dog Names That Start With 'L'
Lace
Lacey
Lilac
Lily
Lumi (Estonian)
Luna
Luno (Esperanto)
Lupin (Lupine)
White Dog Names That Start With 'M'
Maggie
Magnolia
Mahina (Hawaiian)
Mane (Danish)
Marble
Marigold
Marshmallow
Marshy
Masina (Samoan)
Mayo (Mayonnaise!)
Michael (Jackson, hah!)
Milk
MIlky
Misty
Moon
Moonflower
Moonie
Moonlight
Mozzy (Mozzarella)
White Dog Names That Start With 'N'
Nadoo
Neve ('snow' in Corsican)
Niko
Nimbus
Nix (Latin)
White Dog Names That Start With 'O'
Ocha (acha ocha in Igbo)
Ollie (Oleander)
Opal
Orchid
Oreo
White Dog Names That Start With 'P'
Pandhara (Marathi)
Pearl
Peony
Perry (Periwinkle)
Petunia
Phantom
Polar
Pool-ball
Powder
Prim (Primrose)
Puff
Puffball
White Dog Names That Start With 'Q'
Q-tip
Quarry
Queso
Quirl
Quixie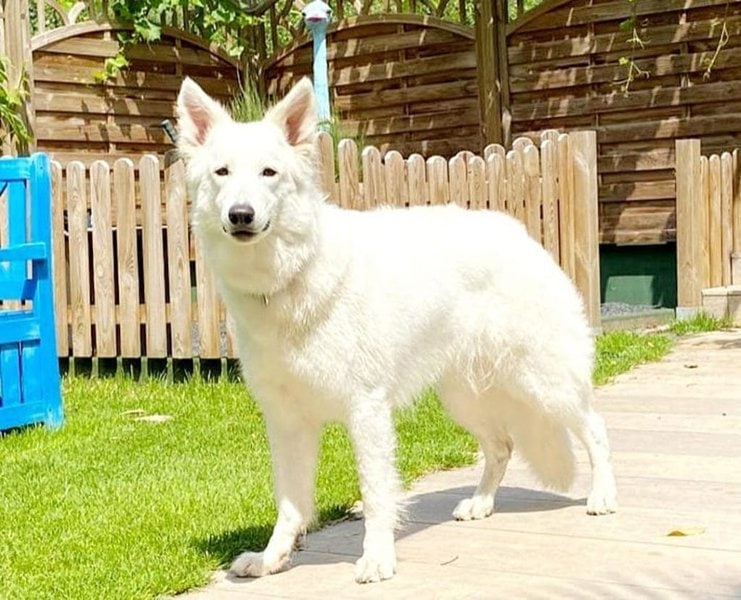 White Dog Names That Start With 'R'
Rasta
Reggie
Rose (Tuberose)
Roxy
Ruban
White Dog Names That Start With 'S'
Sada (White in Bangla)
Saffy (Sapheda in Gujarati)
Salt
Salty
Sea shell
Seto (Nepali)
Shiro (Shiroi in Japanese)
Snow (I guess?!)
Snowball
Snowbell
Snowdrop
Snowflake
Snowman
Snowy
Song (Khmer)
Spot
Stef
Steffie (Stephanotis)
Sudu (Sinhala)
Swan
White Dog Names That Start With 'T'
Talvi (Finnish)
Tofu
Toothless
Tulip
Tura (Datura)
White Dog Names That Start With 'U'
White Dog Names That Start With 'V'
Valko (Valkoinen – white in Finnish)
Vanilla (Nilla)
Vanna (For the wheel of fortune fans!)
Vella (Malayalam)
Vinca
Vitty (hvitt in Icelandic)
Volana (Malagasy)
White Dog Names That Start With 'W'
Whitey (Another duh)
William (Sweet William)
Winky
Winter
Wisty (Wisteria)
Woody (Dogwood)
White Dog Names That Start With 'X'
White Dog Names That Start With 'Y'
Yang
Yeti
Yogurt
Yucca
Yukon
White Dog Names That Start With 'Z'
Zena
Zima (Winter in Bosnian)
Zoyera (Nyanja)
Zuri (Basque)
Zuria (Basque)