Dog weddings are virtually unheard of, which is why two dogs, Sassy and Spero, made it to the news when they tied the knot in a grand wedding. The two rescue dogs, who are heartworm survivors, decided to get married in a bid to raise funds that would help other shelter dogs get treatment for heartworm, which can be very expensive.
When Spero's family adopted Sassy, she already had a heartworm infection. Spero, who had already fought and conquered a heartworm infection, provided Sassy with companionship as she dealt with her infection. This is where their love developed.
Heartworms In Shelter Dogs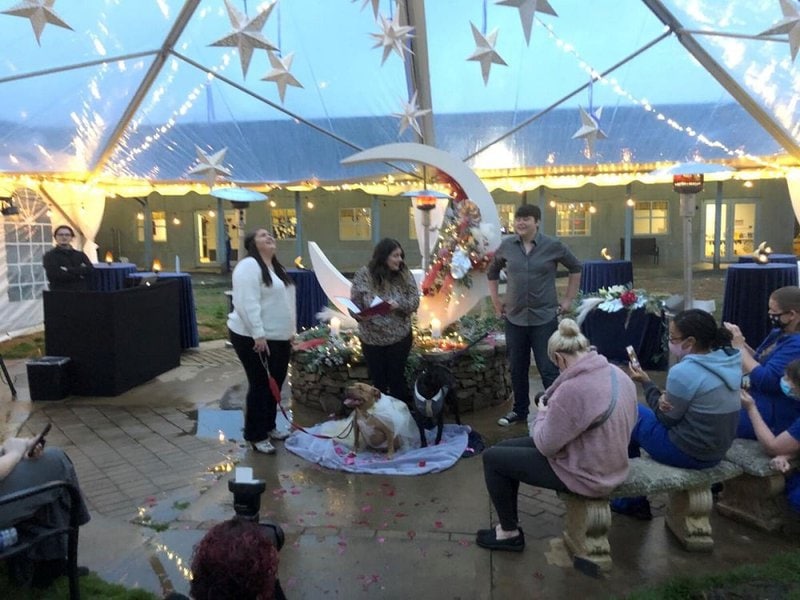 Heartworms are considered to be major parasite infections that are very common among rescue dogs. Left untreated, heartworm infection can be fatal for dogs. In addition, heartworm infections make it a lot harder for shelter dogs to get adopters.
Getting treatment for heartworm costs dog owners between $500 and $1,000, and a lot of adopters opt to adopt dogs that are healthy, rather than spend this amount on getting treatment for a pooch they just adopted.
On the week of February 12th, 2021, when the rescue dog couple help their wedding, Greenville County Animal Care waived adoption fees in the hope of encouraging more people to adopt shelter dogs.
However, the greatest impact from Sassy and Spero's wedding was a fundraiser that hopes to raise funds for the "Have a Heart fund". The fund will help the shelter provide treatment to dogs with heartworm disease.
A Grand Dog Wedding
Despite being in love and having a good life today, life hasn't always been good for Spero and Sassy. At one time, both dogs were rescue dogs, and both of them have been infected with heartworms. However, the two dogs overcame their challenges and went on to fall in love, a love that culminated in the grand wedding.
Despite being a rare occurrence, the dog wedding between Sassy and Spero was as colorful as any other wedding you've been to. Event planning organizations from South Carolina stepped in to make the celebration as good as can be. The two lovedogs were even dressed like your typical bride and groom.
Surrounded by their friends and family, Sassy and Spero declared their love for each other and exchanged their vows. To top it all off, they had a pet-friendly cake that they ate after saying their vows.
In addition to being a great occasion that made a lot of people smile, the wedding between Sassy and Spero has also done a lot to help other dogs who are in need. While the two newlyweds are oblivious to the impact they've made, their action will go a long way in helping other dogs suffering from heartworm disease.
Heartworm disease is a huge challenge for shelter dogs, with close to a third of dogs entering shelters suffering from the disease. Through the "Have a Heart" fund, Sassy and Spero are hoping to help these dogs get treatment, which will not only improve these dogs quality of life, but also ensure that they get adopted.