Everyone knows how a school bus filled with kids can get a bit rowdy at times. But, this bus in Skagway, Alaska, is the most well-behaved group you'll ever encounter, and one doggie lovers would certainly find delightful.
Because this is not your regular school bus but a "puppy bus" that picks up local dogs and takes them for off-leash walks or hikes in the woods on the outskirts of the town.
Mo Mountain Mutts is a dog walking and training business operated by Mo and Lee Thompson.
A viral video posted by the couple on January 2023 showing a number of dogs getting picked up in front of their homes and politely taking to their assigned seats in the minibus has delighted over 50 million viewers worldwide.
Hop On Board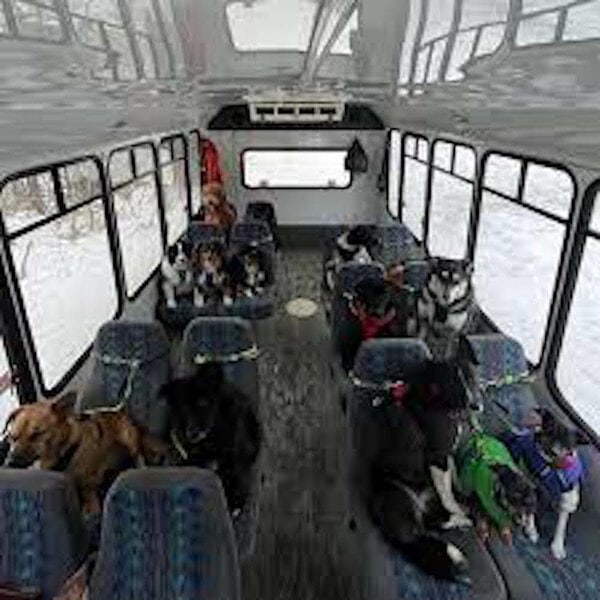 In the video that started the sensation, a dog named Jake was seen hopping on board the minibus as Mo greeted him, "Good morning." She then can be heard hilariously directing the dog to his assigned seat as she straps his harness and gives instructions like a flight attendant. "Keep the paws to yourself. Tails tucked out of your aisles and remained in your seats until we get to your house." 
The minibus then picks up more pooches along the way until it is filled with dogs of different breeds and sizes. Each dog is gladly greeted by the other dogs as it takes its seat.
One adorable dog, named Amaru, was seen outside in the snow waiting by the roadside for the bus to arrive. "He got used to sitting in that spot," said his owner, Gary Hisman. "He even looks in the direction he knows they're going to come."
The couple said that there are currently 41 dogs enrolled in their regular walks, with around 12 dogs comprising each trip.
"I look in the rearview mirror of the bus as I'm driving sometimes. And I see all the dogs back there. And I can't believe we do this for a living," Mo said.
Good With Dogs
Mo didn't know that their business would become such a sensation. It started with her walking her friends' dogs during lunch breaks which eventually got the attention of some of the locals.
"I started working with some teachers at a local school, and it was just kind of a ripple effect of, 'Hey, I heard you're really good with dogs. Can you help me?" Mo said.
She initially started using a bike to collect dogs which later progressed to a minivan and then to a minibus.
Her husband started to help out as more dogs were enrolled, which included taking photos and videos to show clients what their dogs were up to on their walks.
As the couple started to have more fun with the videos, they decided to post them online, which eventually garnered more and more views and followers. "So it's really spread further than just Skagway," Mo beamed.
One fan commented, "It's bringing me so much joy," and another said, "can we all agree that this video heals all sadness? Cause I was crying two minutes ago. I am not anymore."
Mo couldn't believe the impact the videos had created, with some dogs becoming fan favorites like Amaru and Jake.
What started out as just love being in the company of dogs led to a dream business that touched many hearts worldwide.