Wrangler, the famous service dog from NBC's Today Show died on Saturday night, July 17, 2021, at the age of 6. The dog's original handler, Saxon Eastman, announced the cause of the death was due to liver disease.
Wrangler stole the hearts of many viewers while he was on the show and also raised awareness on service dogs.
Saxon said in her Instagram post, "In his short six years, Wrangler did more than most humans. He started a wave of national media coverage for guide and service dogs, he worked as a guide dog, and most importantly, he protected thousands of people every day as a Connecticut State Police Explosives Detection K9."
Puppy With A Purpose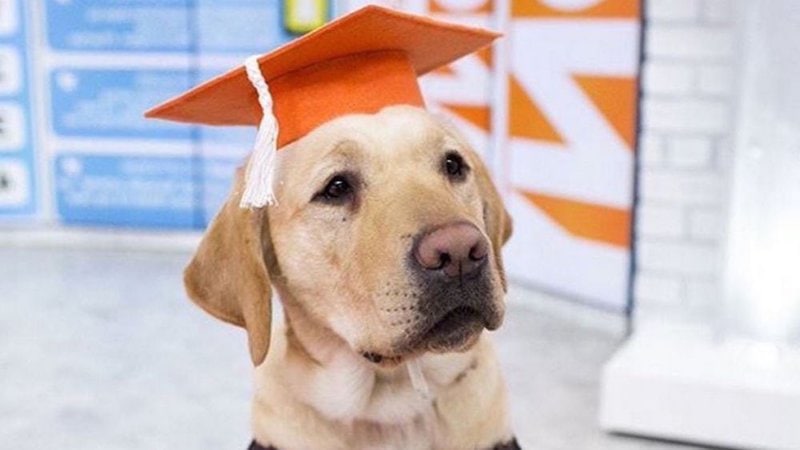 Wrangler, a Yellow Labrador Retriever, was first seen on the Today Show in 2015 when he was just 8 weeks old.
The program dubbed Wrangler as their first "Puppy with a Purpose" which allowed guide dogs in training to be on the set to raise awareness of how much goes into the training of service dogs and to give them proper socialization to mature into focused and confident dogs.
The show documented his training as a guide dog with the help of the New York non-profit, Guide Eyes For The Blind. His name was chosen by thousands of viewers of the morning show.
Wrangler stayed on the show for nearly 300 episodes making friends with the anchors and crew, meeting lots of celebrities such as Chrissy Teigen and Keith Urban, and also receiving as much as 6,000 treats during his time there while being trained as a puppy. He traveled extensively across the country and even starred in the 2015 Super Bowl ad.
The loveable dog left the show in March 2016 and since then, large companies and professional sports teams had followed suit in raising guide and service dog puppies before they were off for more extensive training.
Dog With A Mission
C
After his tenure on the show, Wrangler spent a year as a guide dog to a visually impaired person before going on to train as a specialist in explosives detection from the Connecticut State Police.
Wrangler graduated in December 2019 and worked with Trooper First Class Kevin Reed of the Mass Transit Unit keeping watch of trains and train stations between New Haven, Connecticut and New York City for potential explosives.
"He protected thousands of people every day as a Connecticut State Police Explosives Detection K9," Eastman said.
The Today Show paid tribute to the dog with a video montage showing his start on the show as a puppy until his final appearance. The dog became truly beloved by the hosts and crew of the show as well as his viewers who witnessed the dog's growth ever since he became a regular.
Carson Daly said, "Wrangler made my mornings so much brighter, and hopefully he did the same for you".