The best automatic dog water dispenser is Fairy Tale Automatic Pet Water Dispenser.
No matter how busy you're during those fun summer days, make sure that your doggie drinks at least an ounce of water for every pound it weighs, if you don't want your pooch to dehydrate. However, with the best automatic dog water dispenser, you can readily manage that and not have to fret about it.
#1 Fairy Tale Automatic Pet Water Dispenser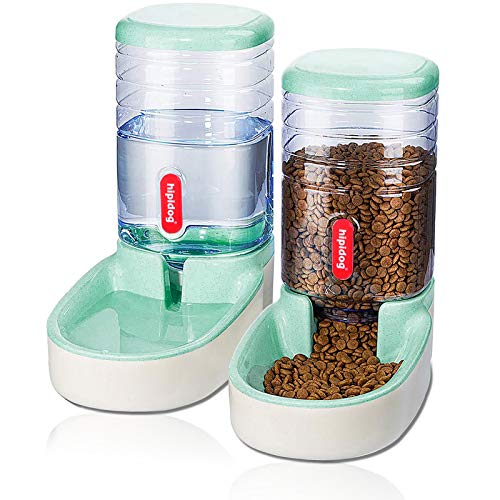 This gravity-based pet water dispenser doesn't require any source of energy like electricity, etc to run. Its non-skid rubber feet ensure that it doesn't skid away when your dog attempts to drink water.
It has been designed very considerately, provided with easy to carry side cut-out handles for extra portability. Owing to its compact size, it is very convenient for traveling, parties and other outdoor activities.
The plastic material employed in its manufacturing is eco-friendly and free of harmful chemicals such as BPA which is capable of disrupting your pet's normal metabolic functions and can even induce cancer.
Fairy Tale Automatic Pet Water dispenser is the ultimate pet water dispenser you'll find in terms of convenience, portability, design and build quality, and thus the best option in this list. It comes with all the handy features, with our favorite one being its separable barrel and chassis, allowing you to clean it with ease. If you ask us, we'd say just go for it blindfolded and thank us later.
Pros
---
It comes with an automatic supply feeder as well.
Its 1-gal capacity tank is enough to last for a week.
Thoughtfully designed for portability and ease-of-use.
It can be easily cleaned without much hassle.
#2 Automatic Capacity Replendish Gravity Waterer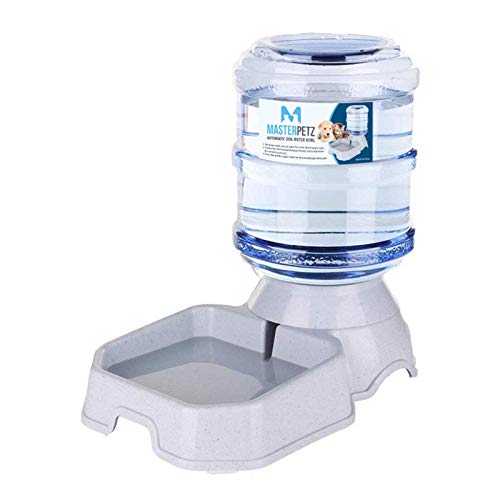 This automatic gravity-based waterer comes with a whopping 1-gal capacity water tank, making it easy for you to keep your beloved pet hydrated even if you are gone for a couple of days.
The signature secure twist-lock opening ensures that there're no occasional leaks. It comes with a see-through barrel allowing you to know the time to refill the tank.
There's a superiorly designed, thick pet water bowl in place with can be easily cleaned by wiping with a wet towel or cleaning in the dishwasher.
You're getting a full-fledged pet water dispenser with all the necessary features such as a high-capacity tank, leak proof technology, high-quality dog water bowl and much more at a groundbreaking price tag. We wouldn't want anything more from an automatic dog water dispenser than we're being offered in this package.
Pros
---
A tank capacity of one gallon
Suitable for small pups.
Secure twist-lock opening for safety.
Most cost-effective offering.
#3 Ancaixin Automatic Gravity Dispenser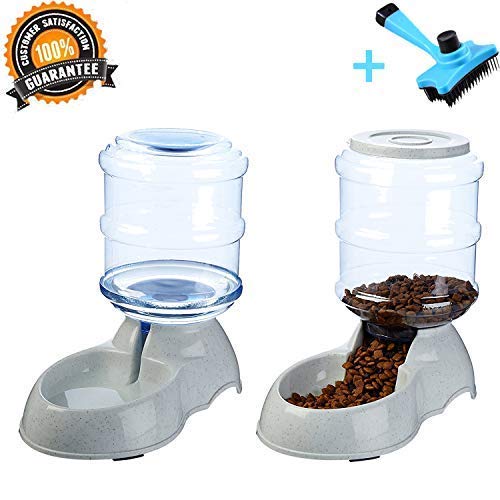 This dog water dispenser is known for its high-capacity one-gallon water tank, supplying enough water for 3 to 4 pets throughout a week. A self-cleaning slicker brush is provided to be used to clean the tank fittingly.
It has been manufactured from BPA-free, non-toxic plastic, safe for your doggie and our ecosystem. BPA is a harmful agent which messes up the hormonal balance in your pet's body and can cause life-threatening medical conditions.
The bottom portion of this gravity waterer is built of anti-slip rubber material which keeps the water bowl firmly attached to the ground. There're side cut-outs in place for easy lifting and cleaning purposes.
Our pet-owner employees have a crush on this one because of its 100% refund policy for the first 30 days, a two-year assurance and lifetime customer service. Besides that, it can store a gallon of water which makes it an irresistible deal.
Pros
---
A storing capacity of one gallon.
Self-cleaning slicker brush is provided.
A feeder with a food holding capacity of 6 lbs.
Made from BPA-free, non-toxic plastic.
#4 PetSafe Healthy Pet Gravity Dog and Cat Food Station
SALE ALERT!!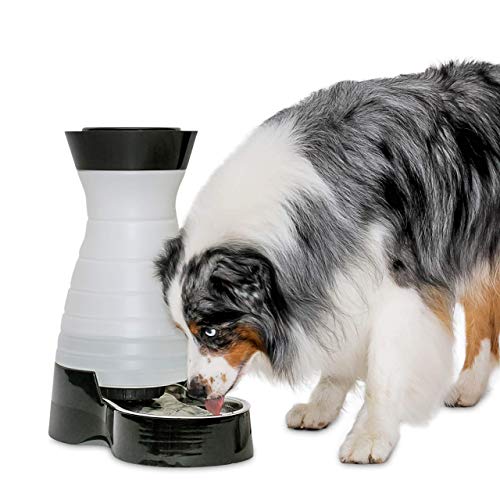 The PetSafe Healthy Pet water station comes in 3 sizes; Small with a 64-oz capacity; Medium with 128-oz capacity; Large with a 320-oz capacity.
It comes with a stainless steel water bowl instead of a plastic bowl. Stainless steel bowls last longer, discourage bacteria, and do not leach chemicals when exposed to heat or sun. They are also more hygienic and easy to clean as compared to plastic bowls.
Being a gravity-based dog water dispenser, it doesn't require electricity to run and thus can be taken to any place or placed anywhere. Besides that, this automatic waterer has been designed in a compact and modern style, thus suitable for any room setting.
Being responsible pet-owners, we'd prefer our pets to drink water from a stainless steel bowl instead of a plastic one. And for our convenience, an automatic dog water dispenser with a wide reservoir would be awesome because it makes cleaning the water tank very easy. So, we'd definitely buy it for these two reasons.
Pros
---
A stainless steel bowl is featured.
Coupled with a food station.
Available in 3 sizes; small, medium and large.
Wide reservoir for easy cleaning.
#5 Petmate Pet Cafe Waterer Cat And Dog Water Dispenser
SALE ALERT!!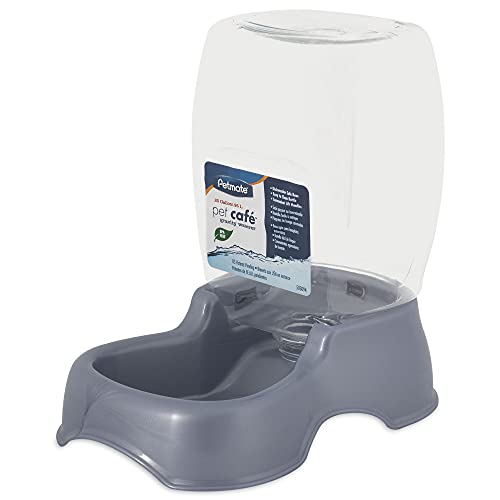 Petmate Pet Cafe Waterer Cat and Dog Water Dispenser, pearl silver gray, 0.25 GAL (24436)
AUTOMATIC REFILL: The cat & dog water bowl dispenser slowly dispenses water to prolong time between refills. Perfect for...
SPILL-FREE WATER STATION: Easy-grab cutouts allow pet parents to easily lift the pet water bowl without spilling....
FOOD & WATER: Keep pets fed with fresh food & water with a variety of our products. Check out our airtight dry food...
The Petmate Pet Cafe Waterer is an automatic-refilling water dispenser designed to ensure that pets have access to fresh, drinkable water at all times.
Water hoppers can automatically fill this Petmate dispenser reservoir when water levels get low, and the inverted nature of the dispenser ensures water constantly remains in the water bowl.
To ensure easy maintenance, the wide-mouth bottle of the Petmate waterer, featuring a screw design, can be removed and cleaned.
Easy-grab cutouts located at the sides of the waterer base make it possible for pet parents to lift and relocate the waterer without spilling water across the floor of the home.
Concerns about the flimsy nature of the Petmate water dispensers cover lids abound, but overall, this is a great product for busy pet parents looking to ensure that their pets continuously have access to work while they are away at work.
Pros
---
A sizable reservoir that can hold 0.25 gallon.
Automatic refill.
Inverted, anti-gravity design of the dispenser.
Easy to maintain.
Works without electricity.
#6 AmazonBasics Self-Dispensing Gravity Pet Waterer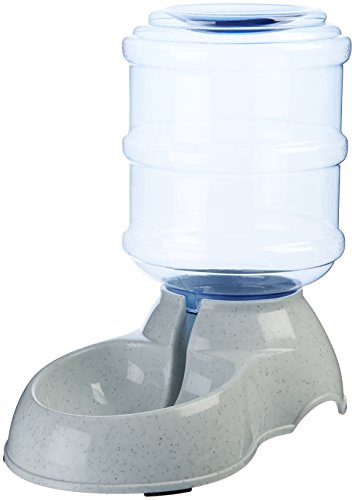 Amazon Basics Gravity Pet Water Dispenser, Small (1-Gallon Capacity)
Small pet waterer uses gravity to ensure a consistent supply of fresh drinking water; ideal for cats or dogs in single-...
Extra-wide-mouth bottle holds up to 1 gallon of water
Base made of PP; water bottle made of transparent PET, which allows for checking water levels at a glance
This automatic dog water dispenser by Amazon provides a durable framework, with its PP top lid and transparent PET storage hopper making it easy for you to check its water level.
It comes with an extra-wide-mouth water reservoir aided by removable parts ensuring that cleaning the water dispenser doesn't have to be a burden on you.
The side handles are integrated, making it easy for you to lift the dispenser from one place to another. Owing to its non-skid rubber feet, the dispenser doesn't scooch across the floor when your pet is trying to drink water.
When it comes to its build quality, you can't mess with AmazonBasics branded products and that's what makes this product a super worthy offering in this list. Other than that, a feature worth paying for in this package is its innovative connector which prevents leakage of water, and of course, AmazonBasics backed one-year warranty makes it a delightful deal.
Pros
---
Uses gravity as a source of energy.
One gallon of water storage capacity.
Made of PP lid and PPT hopper.
Extra-wide-mouth water bottle for easy cleaning.
#7 Old Tjikko Dogs Water Dispenser
Old Tjikko Dog water dispenser comes equipped with a water tank capacity of one gallon, made of BPA-free, non-toxic PET plastic material that is safe for drinking purposes.
Flaunting an anti-skid silicon film at the base, this water dispenser can withstand forceful tugs, therefore, making it suitable for dogs of all sizes and ages.
Its thoughtfully designed system ensures that no water spillage takes place at the time of refilling or replacing the water reservoir.
It's a cost-effective, safe and secure dog water dispenser to keep your dogs water-fed for 3-4 days without having to worry much. So, we recommend you to buy the product right away if it's matching all your requirements.
Pros
---
A storage capacity of one gallon.
Anti-skid silicone base for firm standing.
BPA-free PET material reservoir, considerably safer than PVC.
Gravity based auto-replenishing system.
#8 Veken Pet Fountain Water Dispenser
SALE ALERT!!
The Veken water dispenser is a 95-oz plastic construction that is designed to offer a constant supply of water for pets. The dispenser features food-grade, BPA-free plastic construction. This, along with the inclusion of a triple filtration system, helps ensure that water in the dispenser remains healthy for pets to consume.
Additionally, the dispenser's innovative water level window makes it easier for pet owners to keep track of how much water their pets drink and when the dispenser is due for refilling. And with the two flow methods available with this Veken dispenser, pet owners can easily draw their furry friends' attention and encourage their pets to drink.
The dispenser also boasts a smart water pumping system that automatically turns off when the fountain runs dry, along with a handy LED light that alerts users when water levels run low. The Veken dispenser's low-energy pump makes little or no noise while in use, making it quite suitable for indoor use.
Several intuitive and user-friendly features make the Veken 95-oz fountain water dispenser the product to buy if what you seek is equipment that'll constantly keep your pet hydrated. The durable plastic construction ensures you'll get years of use with this dispenser and the inclusion of a filtration system to help keep water free of contaminants is a nice touch.
Pros
---
Measuring 8.7 inches long by 8.7 inches wide by 5.5 inches tall.
A 0.74-gal capacity tank.
Uses a triple-filtration system comprising an activated carbon layer, an ion exchange resin, and a thick non-woven fabric layer.
Durable, BPA-free plastic construction.
LED light indicator for water level.
#9 Flexzion Pet Water Dispenser Station
SALE ALERT!!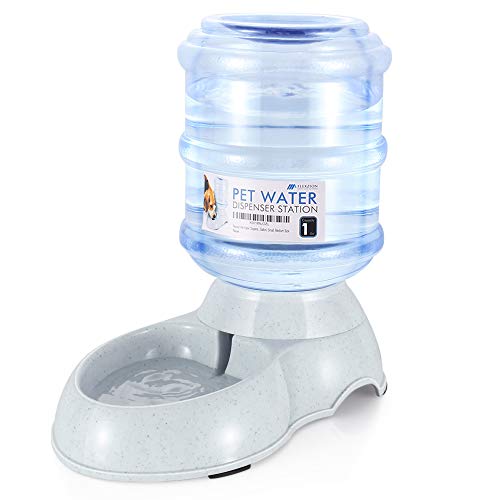 Flexzion Pet Dog water dispenser flexes a gravity-based watering system that's capable of automatically replenishing your pet's supply every time it becomes low.
Its anti-microbial material ensures that the growth of stain and odor-causing bacteria stays in check. It is the most suitable option for multi-pet households because it houses an extra-large 3-gal water reservoir, although available in the 1-gal capacity as well.
It comes equipped with wide-angle, large area feet that flaunt anti-slip rubber padding capable of withstanding forceful tugs and pushes.
You'd love this automatic pet water dispenser, especially if your dog is a mess-maker because its rubber padded feet are extremely stable and there's no chance of water spillage. We'd highly recommend this for such pet-owners because we're in love with its feet.
Pros
---
Anti-microbial material for bacterial control.
Anti-slip, rubber padded feet for extra stability.
Available in 1-gal and 3-gal variants.
Suitable for small to medium-sized dogs.
---
Automatic Dog Water Dispenser Buyer's Guide
---
If you're confused about which type of automatic dog water dispenser to buy for your pet, this buyer's guide is mainly dedicated to responsible pet-owners like you. Let us help you buy your pet the best gravity waterer.
Major Benefits Of Automatic Dog Water Dispensers
They can provide your pet with a continuous supply of clean water for days when you're not at home.
Water dispensers operate based on gravity and don't necessarily require any form of energy to work, so no water connection is required.
Dispensers are very portable systems as they can be easily displaced from one place to another.
Some dispensers also come with extra filtering technologies allowing your doggie to drink clean water.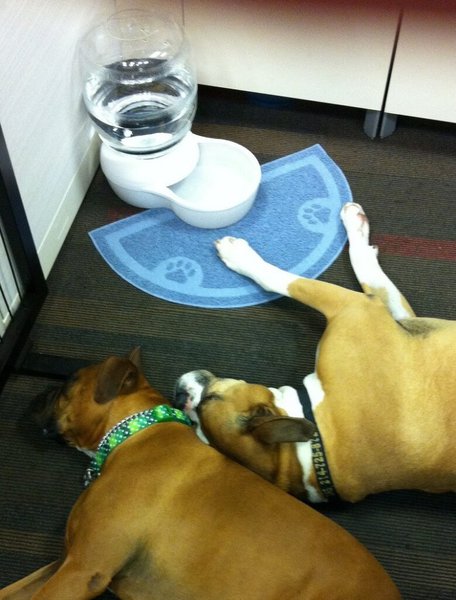 Things To Consider When Buying An Automatic Dog Water Dispenser
The Capacity Of The Dog Water Dispenser
These automatic water dispenser systems are a convenient way to keep your pet hydrated in the scorching heat of summer days. However, these water stations aren't universally suitable for all occasions. If you've got a single pet, you'll be looking for a low-capacity waterer that can keep your pet hydrated.
In contrast, owners with multiple pet dogs need to buy a water dispenser with a considerably higher capacity. If you intend to let the water dispenser keep your pet hydrated for more than 2 to 3 days, you'll need to buy a dispenser with a capacity of 3 to 4 gallons.
In case, the water quality of your area is troubling you, then you'll need to consider buying a water station that has an activated carbon filter or antibacterial materials to keep the stain and odor-causing bacteria at bay. If you can't refill the water reservoir all by yourself, you'll need to consider buying the one which can be refilled via the top lid.
Ergonomics Of The Dog Water Dispenser
There are several things that you'll need to take into consideration when it comes to the ergonomics of a dog water dispenser. Firstly, you should look for how convenient it is to refill the reservoir. It's easier to refill the storage hopper via the top lid as compared to the bottom valve.
Another thing to consider is how handy it is to carry the dispenser from one place to another. Most of the dog water dispensers are provided with double-sided cutouts which make them very portable.
If your pet dog is aged or is suffering from arthritis, you'll want to buy an automatic water dispenser with a stand. It is because your pet dog won't have to bend down for drinking water, thus giving him relief from stiff muscles and sore joints by the reduction in stress on its neck, hips, and shoulders.
Lastly, you should go for the waterer which has some kind of padding at the feet such as rubber or silicone padding because the dispenser should be stable enough to withstand tugs and pushes by dogs.
Build Quality Of The Dog Water Dispenser
There're some very essential things to consider in this section before buying a gravity waterer. The lid and the storage tank should be manufactured from non-toxic materials such as PET, PP plastic material, stainless steel, etc.
PET and PP are usually coupled together as lid and storage hopper material for a dispenser respectively because these materials make a safe combination for water storage. Several water dispensers some with stainless steel bowls, since stainless steel is more effective against bacterial growth, rust-free, and can last much longer.
The most important thing to consider when buying a plastic manufactured dispenser is the fact whether it is BPA-free or not. BPA is a very harmful chemical because it can disrupt normal life processes and is carcinogenic.
Ease Of Cleaning
You should also consider the fact that not all dog water dispensers are dishwasher-friendly. Some materials get damaged in the dishwasher while some materials get harmed when you wash them with hot water. So, always look for these things when buying an automatic dog water dispenser.
---
Final Thoughts
---
There's no doubt that all of the dog water dispensers listed above are great products that deserved to be put to use. However, it would be best if you went for what we would go for, i.e., our top pick.
We feel that an ideal water dispenser, besides fulfilling its basic functionality, should be structurally stable to avoid unnecessary spillage and water mess when knocked or being pawed at, and should have a reservoir made from non-toxic, BPA-free, eco-friendly plastic material to safeguard your dog's health and show our care for the environment.