Boot season is officially here, and that means it's time to start thinking about the best boots for your dog. If you've never purchased boots for your dog before, the process can seem a bit daunting. But don't worry, we're here to help!
While it may seem like a fashion statement, there are actually many types of dog boots on the market. Be sure to pick the right type for the right purpose. Besides offering protection, dog boots need to be properly sized such that they do not come off easily during an activity. Hence, with so many options on the market, it can be challenging to figure out the right one for your pup.
In this blog post, we'll take a look at some of the best boots for dogs and discuss what to consider when making your purchase. Stay warm and dry this winter with the perfect pair of boots for your furry friend!
#1 EXPAWLORER Waterproof Reflective Dog Boots
The Expawlorer dog boots boast an ergonomic design, and with an expandable closing system featuring hook and loop fasteners, it is easier to put on and take off the shoes from a dog's feet.
Despite being available only in black, dog owners have the option of choosing from eight available size options, with each pack containing four dog boots to fit at most one dog.
A flexible lug and grooved sole design that keeps dogs stable no matter the ground conditions and reflective material used in constructing the boots provides visibility and safety at night.
The Expawlorer boots are washable by hand. The waterproof nature of these boots provides additional protection for a dog's paw in snow or rain, thereby making the boots suitable for indoor and outdoor use.
As with any good dog boot product, protection and comfort are the driving forces behind the design of the waterproof Expawlorer dog boots, and this is why we think this product is a good fit for dog owners looking to provide that extra bit of security for their Fido's paws.
Pros
---
Flexible lug design for extra grip on any terrain.
Employs a grooved sole design for enhanced durability.
Has eight different size options to choose from.
Reflective straps for enhanced visibility under low ambient light conditions.
Waterproof build to keep the dog's paws dry.
Cons
---
Its soles can wear off easily, especially for dogs who tend to drag their feet.
Its internal stitching may cause sores and not work well for every dog's paw.
#2 CovertSafe& Dog Boots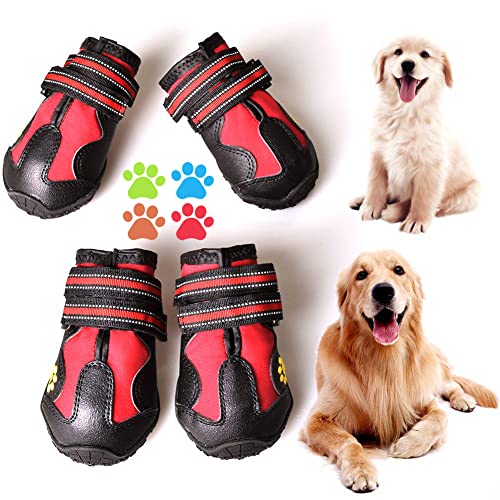 The CovertSafe& dog boots provide a safe and comfortable way for dogs to go on walks without fear of injury to their paws. These boots are available in different sizes from 1 to 8 and, as such, are suitable for use in dogs of various sizes ranging from 10 to 95 lbs.
The rugged nature of the shoe soles is perfect for walking on different ground conditions, with the anti-slip design providing much-needed traction and stability, as well as protection from thorns and scalding hot pavements.
The CovertSafe& dog boots are expandable, with two adjustable and reflective straps ensuring they properly fit a pooch's leg while also providing safety while walking at night. And when it comes to maintenance, these boots can be hand-washed for easy convenience.
The comfortable design of the CovertSafe& dog boots is one that your canine buddy is sure to appreciate, and the fashionable and safe nature of its boots is something that you and your Fido will be proud to show off outside.
Pros
---
Easy to put on and remove.
Adjustable and reflective straps.
Tough sole design.
Hand washable.
Expandable nature.
Eight different sizes, ranging from 2.3 inches long by 1.6 inches wide to 3.3 inches long by 2.9 inches wide.
Cons
---
Boots are reported not to be fitting well on smaller paws of dogs weighing less than 20 lbs.
Its boot sizing chart needs to be improved, as the recommended sizes do not always work.
Only available in black.
#3 Ruffwear Summit Trex Everyday Paw Protection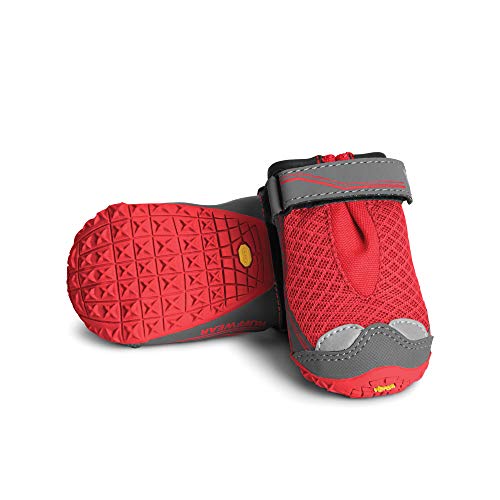 When you want to protect your dog's paws from exposure to a hostile environment, then the Ruffwear Summit Trex Everyday Paw Protection are the boots you should opt for.
These extreme conditions could be anything, ranging from unfavorable temperatures, unfriendly surfaces, and even chemicals spread out on a surface where snow is melting.
The stretch gaiter protects legs from being affected by dirt and debris while walking outdoors, and the outsole offers flexible traction. The upper part of the shoes is made of weather-resistant fabric that keeps moisture and debris away.
What's really good about these boots is the fact that they fit a wide range of paw sizes. If you have a dog that grows out of its boots sooner than you can buy the next pair, then this is your best bet.
Its reflective velcro trim enhances visibility that lets you keep an eye on your canine friend even when it strays ahead of you in the dark.
We recommend this because it can keep your dog well-protected if you shift to a new environment where the terrains and the surfaces are unfriendly and unknown.
Pros
---
Reflective strips make it visible in the dark.
Fits a wide range of paw sizes from 1.5 inches to 3.25 inches.
Available in three colors, namely, Blue Spring, Obsidian Black, and Red Currant.
Absolute protection in unfavorable weather conditions.
Cons
---
Some of our readers have mentioned that the front boots tend to come off easily.
#4 Pawz Water-Proof Dog Boot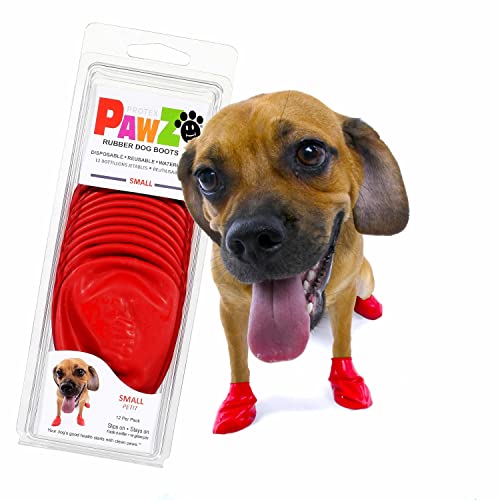 Are you looking for convenience?
The Pawz Water-Proof Dog Boot is one of a kind as they are 100% disposable. So no more washing or drying after taking your dog out for a walk!
You have to agree that you simply cannot settle for anything less than what is natural for your furry friend.
These boots are made of natural rubber and is 100% biodegradable. They are also designed in a way that ensures a hassle-free fit without needing zippers or straps of any kind.
What users seem to like the most about these boots is the fact that they provide an absolutely natural feeling without the addition of unnatural padding. This helps your canine companions to keep feeling the ground which is essential to equip them with a sense of security.
These boots are not only natural on the skin but also mold themselves as per the motion of your dog's body. This allows their paws to move as and how they need to and provides maximum comfort.
These boots can be used on lawn chemicals, ice, sand, salt, and snowmelt chemicals. You can also use these boots post-surgical treatments to keep unhealed wounds protected. If your furry friend has allergies to most dog boots, you can rest assured that he/she will be absolutely comfortable with these boots. They also help in traction control which is an added advantage.
We recommend these boots because they provide maximum protection; your wallet will definitely agree because they are really inexpensive.
Pros
---
Disposable and reusable.
100% biodegradable (Yay!)
Just under $13, it is the cheapest option among the listed dog boots.
Cons
---
Coloring from the boots might stain your dog's paws.
#5 Hcpet Dog Boots Paw Protector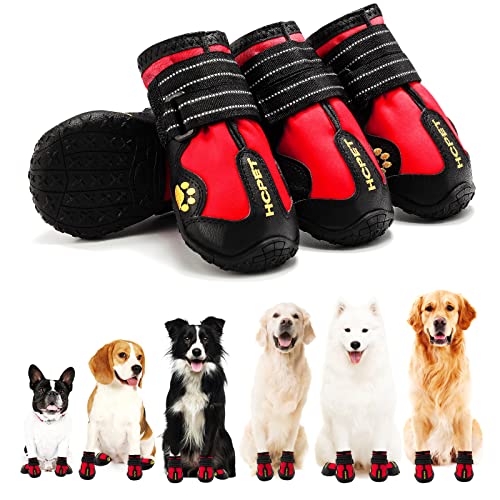 The Hcpet paw protector boots are available in eight different size options – ranging from 2.4 inches long by 1.6 inches wide to 3.4 inches long by 3.0 inches wide – to cater to different paw sizes, and these boots are intended to be worn by small to large-sized dogs.
Each boot is tough enough to protect against sharp thorns and burns from hot pavements, with an anti-slip sole design providing stability.
The Hcpet boots feature long and adjustable straps that can be fastened to prevent shoes from falling off a dog's foot. And this product's waterproof build ensures durability while also offering additional protection against rain and snow for the dog's paws.
Each Hcpet boot can be reused as much as needed to ensure the longevity of the paw protectors. However, maintenance is limited to hand-wash only.
Just as promised in the name, the Hcpet paw protectors offer optimal protection from harsh walking surfaces for a dog's paws, and they are well worth purchasing as an added layer of protection if your Fido has particularly sensitive feet.
Pros
---
Anti-slip soles.
Reflective straps based on 3M technology.
Waterproof design.
Adjustable straps.
Eight different size options in six different colors.
Cons
---
Boot variants are, however, limited to selected colors.
Boots occasionally don't stay on while the dog wearer runs.
---
Buyer's Guide – How To Choose The Best Dog Boots
---
Instead of simply reviewing the products and listing out their advantages and disadvantages, let us take you on a tour of what an ideal pair of boots/shoes/booties should be like.
We would also love to add a few pointers regarding canine boots in general so that by the time you finish reading the article, you are exactly aware of what to look for and how to find the right pair.
How We Found The Best And Reviewed Them
When there is a whole world of websites out there trying to sell you their reviews and buying guides, why should you trust us and follow our reviews?
When we started reviewing pet products, we realized that most websites offer biased and partial reviews. Half of the reviews are not reliably sourced and talk of advantages without having a base. We decided to do things differently.
It does take us more time to come up with review articles, and that is because we only rely on first-hand information. We speak to veterinarians, trainers, and dog owners and prioritize their recommendations over and above all else.
After bringing together all the pieces of information, we head over to Amazon to get ahold of real customer reviews. This is where we find information that is true and unbiased.
This is what comprises our review articles.
Furthermore, to help our readers make an educated decision on choosing which dog boots/shoes to buy, we have also included a Buyer's Guide.
Protects Against Cuts And Injuries
There are unfortunate events when your canine friends injure their paws, and walking around barefoot can only open up the superficially healed wounds.
This is where dog boots come in handy. They keep the paws protected till the wounds dry up.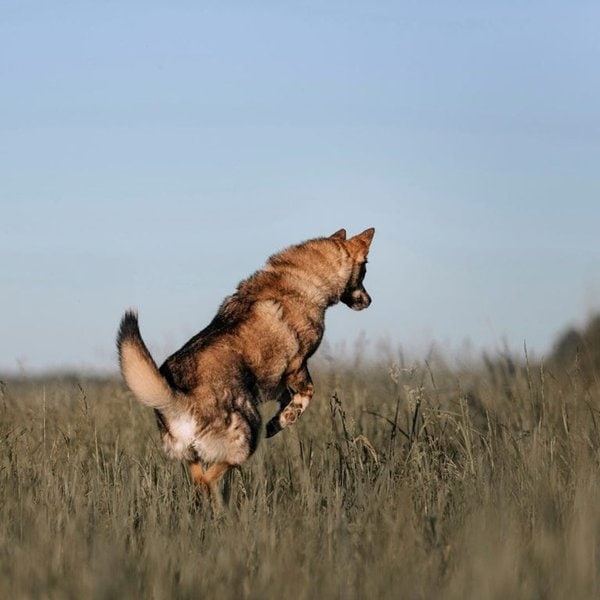 Other Factors To Look For While Buying Dog Boots
This is a common question among first-time users. It is important to know the factors that decide how good they are, especially if you are looking to get one that actually stays on.
Listed below are the important ones:
Dog Boot Size
This is by far the most important factor while you are out and about finding the right pair of boots for your dog. If you get the wrong size, the chances are high that your furry friend will either kick them off and you will lose them, or they will rip them apart because it might annoy them with an improper fit.
What helps to choose the right size is to read the size chart or the size guide provided by the manufacturer. The most typical way to find out the right size is to draw the outline of each paw by placing them on a piece of paper. This will help you to measure the widest area and the length of the paw. The final step is to use a ruler to measure the total length and width of the paw.
A lot of dogs have different-sized front and back paws that make buying dog boots inconvenient. There are manufacturers who sell boots in pairs that allow you to buy different sized pairs for the front and back paws.
Shape Of Dog Boots
There are various shapes in which dog boots are found. While some of them are shaped like regular boots and sandals, others look like socks that seem to have more aesthetic appeal than anything else.
The most standard types of dog boots look like socks that are kept in place with the help of two straps. The popular designs look more like ankle boots, but even high boots are in vogue these days.
Material
Dog boots can be made of a number of materials, and that usually depends on the purpose that they serve. Most of them are made of nylon, neoprene, and rubber, while some others are made of breathable fabric. The material that this footwear is made of is directly dependent upon the environment in which it would be used.
The rule of thumb is that no matter what the environment is, or whatever the use of the boots is for, they should be made of durable materials. This is because dogs sweat through their paws, and if the material is not breathable, they will not be comfortable wearing them for extended periods of time.
Take Note Of The Different Types Of Dog Boots
There are five types of dog boots, depending on five different uses. They are:
Indoor dog boots
Outdoor dog boots
Hot weather dog boots
Cold weather dog boots
Waterproof dog boots
We will be going through the different types of dog boots here.
Indoor Dog Boots
Indoor dog boots are meant to be used within the confines of the household, and therefore, their soles are softer and more flexible. These boots are specifically used to protect your floors from getting scratched and also to offer some support to your dogs indoors such that they do not slip. A few users prefer using dog socks, but one should only use them if they have rubber grips on the soles.
Outdoor Dog Boots
As the name suggests, these boots are tough and protect your pooch's feet from hot and unfriendly surfaces. Their soles are solid and durable, and the rest of the materials depend on their use.
Hot Weather Dog Boots
During hot summer months, you need these kinds of boots to protect your dog's feet from hot sidewalks, asphalt, and streets. These are invariably made of breathable fabric so that your dogs can wear them even if it is quite hot outside.
Cold Weather Dog Boots
You need to be extra careful about protecting your dog's paws during the cold winter months. Especially for younger puppies, when it snows outside, and you take them out for a walk, the sharp ice and chilling weather can cause a lot of injuries. It would help if you had high-quality and weather-resistant boots that are insulated and waterproof to keep your dog's paws well protected.
Waterproof Dog Boots
When it rains outside, your dog would love to go for walks and strolls because of the pleasant weather. Waterproof dog boots can help keep your dog's paws dry and protected.
Tips For Buying Boots That Stay On
Buying dog boots and getting them to stay on the paws are two entirely different things. It is not that easy to keep your dog's boots in place, even if you know exactly which size to buy. So what could you do to ensure that they don't fall off? Read below!
Buy a dog boot that fits snugly even if it is loose by half an inch; you can be sure that your dog flings it away at will.
Velcro strapping keeps them in place; the best kind of dog boot is the one that has two Velcro straps to prevent it from falling off.
---
Final Thoughts – Safety Is Paramount!
---
Although your canine friends do have a good amount of padding on their paws, they still require added protection when the terrain is rough and the weather conditions are unfavorable.
While there are plenty of products to choose from online and offline, it could get quite confusing when you are not aware of what to buy. In our article, we have attempted to help you with this choice.
The only few things to remember while buying dog shoes are the factors like their shape, their size, and whether your dog is comfortable in them or not. You will also have to note the fabric to ensure that your dog does not feel restricted in its motion while walking in them.
All pooches are different, and they react differently to different products. If you are unsure of your dog's preference, try and keep your basics right and invest in a popular brand so that they have a refund and return policies to work in your favor.
At the end of the day, dog booties should be able to protect your best friends and keep you feeling happy through your evening or morning strolls.