The best brush for short hair dogs is Hertzko Soft Dog Brush.
Although short-haired dogs are not prone to tangles, it's still important that you brush their fur regularly using a special brush.
Remember that brushing your dog's hair is very important. This is to remove the dust and debris that might have accumulated on their fur all day long. Brushing regularly also helps to ensure that their coat remains shiny and beautiful.
When it comes to brushes for short hair dogs, there are 3 common brush types:
Slicker Brush: Ideal for most coat types
Bristle Brush: Suited for thicker coats
De-shedding Tool: Mainly used for deshedding
To save you time, we've created a list of best brushes for short hair dogs, along with a quick review of each of them.
#1 Hertzko Soft Dog Brush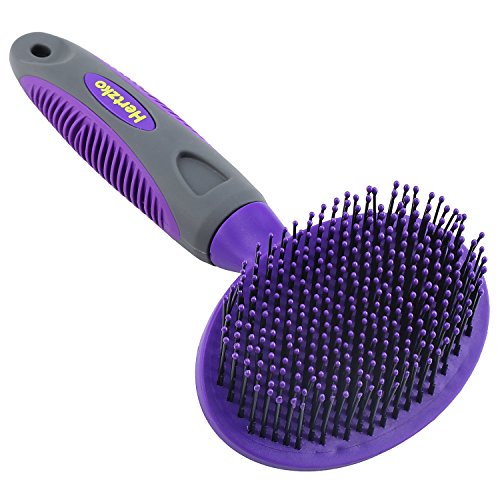 Our top choice is the Hertzko soft dog brush, which is recommended for short-haired dogs with sensitive skin. It's also ideal for dogs that have grown some fur on the most sensitive parts of their body, such as on their paws and faces.
The brush's gentle design and softly rounded ends mean your pet will not get hurt during the process of brushing. Furthermore, the brush will not harm or scratch your pet's sensitive skin.
What's great about the Hertzko dog brush is that the bristles of the brush will massage the skin and coat of your short-hair breed dogs, which increases the circulation of blood, resulting in a shiny, soft, and more beautiful coat. It's effortless to use and features a sturdy and durable design. The handle has a comfortable grip with an anti-slip feature.
The Hertzko dog brush is best suited for dog breeds with short hair, and works perfectly with most coat types.
Pros
---
We like the Hertzko soft dog pin brush because of its gentle and soft bristles. The brush is safe to use since it has rounded ends and will not scratch or damage your dog's skin as you brush.
Ideal for hair shedding as it removes loose fur and hair
Offers 100% satisfaction guarantee
Safe and gentle to use
Strong but comfortable
#2 Li'l Pals Dog Slicker Brush
For budget-conscious dog owners who want a cheaper dog brush, but with a sleek design, the Li'l Pals dog slicker brush is what we would recommend. The pin brush is a bit smaller than the other bristle brushes of the same category, so it's ideal for small breeds or puppies.
But despite its small size, this dog brush does a great job at removing loose fur and tangles. It can work well for most breeds of dogs, especially the short-haired breeds. Although the Li'l Pals Dog Slicker Brush is cheap, it's still one of the most competitive dog brushes for short-haired dog breeds out there.
As a matter of fact, it's a top-rated brush because customers say that the dog brush does a great job keeping their pooch's short coat healthy and shiny.
The Li'l Pals Dog Slicker Brush is small in size. While this may be a good thing for small-sized dogs, it can be an issue if you've got a medium or large-sized dog. Furthermore, the handle is also small in size, which some canine dog owners might find uncomfortable.
Nevertheless, this pin brush is a great choice for dogs with short hair. It's safe to use on your pooch and is just the right size for small breeds of dogs. Above all, it works well in cutting into the topcoat and removing any tangles in the dog's undercoat.
We like this slicker bristle brush for dogs with small furs because it evenly distributes the natural oils all over the hair, resulting in a soft and shiny coat. It also gently removes dead hair at the same time.
Pros
---
Relatively cheap compared to other slicker brushes
Small head which is ideal for puppies and small breeds
The pins are plastic tipped for added comfort
#3 AtEase Accents Natural Bamboo Grooming Brush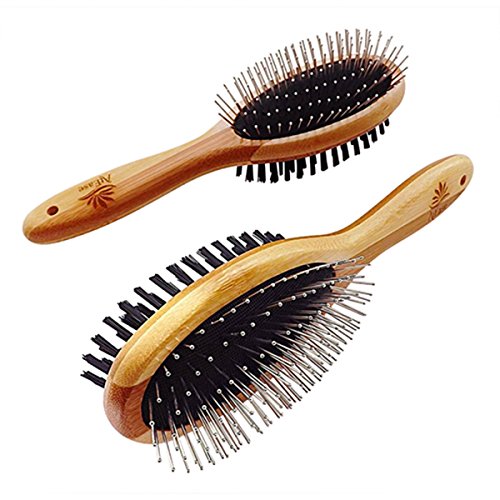 Another dog brush that's worth checking out is this Natural Bamboo Grooming Brush from AtEase Accents. This is by far, one of the best bristle brush choices for dual-sided brushes in the market.
It's an excellent choice for de-shedding larger breeds with short hair because it comes with double-sided bristles. What's more, it's eco-friendly, so it's ideal for eco-conscious customers.
This dog de-shedding bristle brush features a unique modern design that looks very sleek. The soft bristles are not only comfortable for your short-haired pooch, but they also help to stimulate the blood flow in your dog's skin. Made from all-natural 2-toned bamboo that's very eco-friendly, this brush can help to prevent tangles from developing in your dog's coat.
Pros
---
We like this dog brush for short haired dog breeds because aside from being eco-friendly, you can be certain that your dog's fur will be free from irritants and will remain clean at all times.
Durable and easy to use
Made from eco-friendly materials
Modern unique design
100% money back guarantee
#4 Hartz Groomer's Bristle Brush
SALE ALERT!!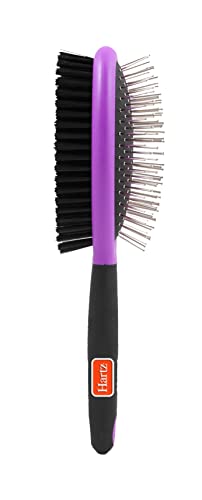 Hartz Groomer's Best Combo Dog Brush
Developed with pawfessional groomers for everyday de-shedding, detangling and removing small mats
Features two brushes and grooming actions in one! One side contains stainless steel tips with a protective coating to...
Ergonomically designed handle allows for maximum comfort and control
The Hartz Groomer's Best Combo Dog Brush is another product on this list that's getting lots of praises online. The dual-action brush comes with two specialized sides.
One has stainless steel pins that help to remove tangles and loose hair while the other side features nylon bristles that help to redistribute the natural oils in your dog's fur and restore silkiness and shine. This bristle brush is ideal not only for dogs with short hair but also for those with long and curly coats.
After grooming, be sure to offer your puppy some doggie treats as a form of positive reinforcement!
Pros
---
We like this brush because it comes with an ergonomically designed handle that lets you brush your dog with less effort.
The brush features two specialized sides
The handle has an ergonomic design
Tipis are made of stainless steel
#5 GoPets Professional Double Sided Pin & Bristle Brush
The GoPets Double-Sided dog brush is a 2-in-1 dog brush that consists of a pin and a bristle brush, making it a great brush to use for pet owners who have two dogs at home.
This brush is not only ideal for the short-haired pooches, but also those with medium and long fur. Its handle is made of silicone gel that's non-slip, which allows for a more comfortable grip.
You can use one side to remove loose dead short hairs while the pin side can be used to make your pet's coat glossy and shiny. The ends of the pins of this brush are rounded, which allows for a more comfortable grooming experience. It enables you to get through to the coat of the skin for better removal of dust, loose fur, and dirt.
Pros
---
We like this dog pin brush because it's perfect not only for short-haired dogs but also for medium and long-haired ones.
Capable of removing loose hair and mats
Comfortable to use for both you and your dog
Offers easy and fast results
#6 BV Dog Bristle Brush
SALE ALERT!!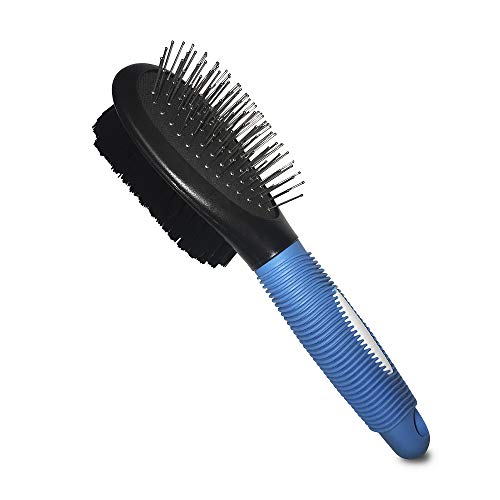 The BV Dog Brush has a double-sided combination, which you can use for both your short-haired dog and cat.
Your dog will love the feel of the brush on their skin as it also massages their head and releases natural oil to the fur to bring out its glow and shine. Featuring an ergonomic handle that is comfortable and secure enough on your hand, this brush offers excellent control as you go through repeated motions during brushing time.
The BV Dog Brush is ideal for all breeds of dogs that have different types of coats. With this bristle brush, your pets will stay clean all the time while their fur will remain shiny and beautiful!
We like this dog pin brush because of its rounded tip pin that evenly distributes natural oil to the fur of your furry friends, resulting in a silky and smooth coat. It makes brushing your dog so much more relaxed and hassle-free.
Pros
---
Can be used for all breeds of dogs
Comes with a 1-year limited warranty
Features an ergonomically designed handle
---
Brushes For Short Hair Breed Dogs Buyer's Guide
---
Remember that when it comes to brushing your short hair dogs, you cannot just use any ordinary type of dog brush out there. It has to be something that's specifically designed for your canine buddy's fur. So if you happen to have a dog with short hair, then you need to use a bristle brush that can work well for them.
Choosing the best bristle brushes for dogs with short hair is very important. As pet owners, we want our pooch to feel comfortable at all times. So in order not to irritate them when brushing their hair, make sure you use the most suitable canine bristle brush for your short-haired dogs.
What Is A Dog Bristle Brush?
Dog brushes are also called dog hair removers. This bristle brush tool is designed specifically for managing the shedding of your dog's short hair. It looks just like any ordinary brush, but it can do a lot for your canine companion, especially if they are curly and short-haired. These brushes are different from the regular dog brushes that may not reach the skin of your pup during brushing. Also, regular dog brushes don't come with any built-in mechanism that could attract loose short hair.
Remember that it's not possible to remove all of your canine's loose hair. Sometimes, the amount of loose short hair removed by these tools will mainly depend upon the characteristics of your dog's coat and fur. There are some breeds of dogs that tend to shed a lot of fur, allowing for these dog pin brushes to remove up to 80% of the shedded fur. But for dogs that shed minimally, the amount of fur that these dog brushes are capable of removing could reach up to 90%.
With that in mind, here are the different types of dog brushes that you will find in the market. One such brand that you might have heard of is the Furminator For Dogs bristle brush.
Understanding each of them will help you choose the best pin brush for your short-haired dog.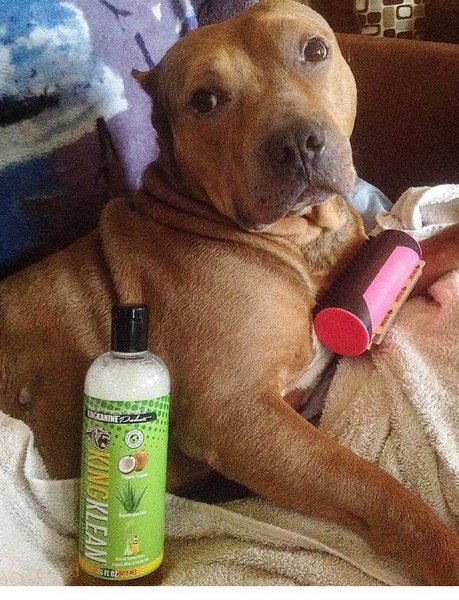 Main Types Of Dog Brushes
Undercoat Rake
Certain breeds of dogs such as the Pomeranians, Huskies, and Samoyeds tend to shed their fur in clumps. An undercoat rake is a great tool to effectively take the loose fur off. Its wide teeth could get into the hair's topcoat to remove any of the dead undercoat short hair. Removing them can help to prevent matting and minimize the clumps of fur in your home. Make sure to apply even pressure when using this tool and avoid pressing it too hard so as not to hurt your pooch's delicate skin.
When the grooming is completed, always remember to treat your pooch with some treats or dog food. It helps with positive reinforcement.
Flea Comb
From the name itself, a flea comb is a comb used for removing fleas, eggs, and flea dirt. The comb's teeth are arranged closely to each other, which allows for the effective removal of fleas and other things that may have gotten into the fur. Since it has a fine set of teeth, it's a great comb to use for short-haired dogs with silky, smooth, and wiry coats.
Slicker Brush
The slicker brush is a type of brush that has fine wire bristles sitting on a flat base or a slightly curved base. These bristles are usually angled and sometimes come with protective nubs that prevent damage to the skin. You should choose the type of slicker brush that's capable of removing knots in either medium, long, or curly hair. This kind of brush is also capable of removing undercoat and loose fur.
The slicker brush can work for short-haired dogs, but extra caution must be exercised, so you don't end up scratching your canine's skin.
Rubber Brush
The rubber dog brush is a multifunctional tool ideal for all kinds of coats. Because of the rubber nubs, this is a great brush to use on short-haired dogs that tend to shed a lot. The rubber nub will serve as a magnet that will attract loose fur while the soft pins help massage the skin and allow for the natural oil to spread evenly.
---
Final Thoughts
---
The Hertzko Soft Dog Brush is the best brush for short hair dogs because the bristles of the brush will gently massage the coat and skin of your pet and encourage blood circulation.
It also allows for the even distribution of natural oil, leading to a shinier and smoother coat. With a comfortable grip feature on its handle, using this brush on your pet will be effortless.