Dogs need to exercise and play outside, just like we do! But if your dog is like mine, he or she can quickly become a messy eater and drinker while outdoors.
Outdoor dog bowls come in a variety of shapes, sizes, and colors. But when it comes to finding the best one for your pup, go for a heavy-duty bowl preferably made using ceramics or stainless steel to stand up to vigorous playtime, or opt for one with a non-slip base to keep it from being pushed around by playful pups or gusty winds.
That's why we've rounded up the best outdoor dog bowls to help keep your furry friend's feeding area clean. So check out our top picks and find the perfect bowl for your pup!
#1 YETI Boomer 4 Dog Bowl
YETI Boomer 4, Stainless Steel, Non-Slip Dog Bowl, Holds 32 Ounces, Navy
The YETI BOOMER Dog Bowl is designed to be as dependable and adventurous as your best friend
FOOD SAFE – The Boomer 4 holds 4 cups (32 ounces) of enjoyment. Perfect for kibble, water, and prime cuts
18/8 STAINLESS STEEL - Puncture resistant, rust resistant, and tough enough to handle any dents and dings
This bowl from YETI is perfect for the outdoors, thanks to its sturdiness and no-slip nature. That no-slip is particularly helpful for canines who like to play with their bowl or even drag it around, as they will not be able to do so. The bowl is made from 18/8 stainless steel, or Type 304, which allows it to resist rust and punctures, as well as dings and dents.
The inclusion of a BearFoot non-slip ring on the bowl keeps it in place with ease, even if your furry friend tends to get too enthusiastic when eating or drinking. This is a large enough bowl to satisfy big breeds or provide water for the full day, as it holds 32 oz.
Cleaning this bowl is also a breeze, as it is dishwasher safe. As a bonus, you can choose from seven colors for the bowl, letting you select the one that matches the rest of your canine's outdoor gear, like the dog house or bed.
This dog bowl from Yeti has a no-slip design that will help keep it in place, even when it is windy or if your canine companion eats or drinks with a bit too much energy. It is machine washable for easy cleanup, which is particularly important for an outdoor bowl exposed to dirt, grass, and the elements.
Pros
---
A holding capacity of 32 oz or about the size of 4 cups.
No-slip bottom.
Dishwasher safe.
#2 The Coldest Dog Bowl
SALE ALERT!!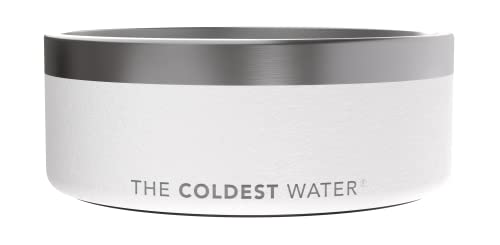 This dog bowl from The Coldest Water is a premium, stainless-steel bowl designed to feed puppies, adult dogs, and cats. Its smooth finish ensures that it is easy to clean and maintain, and the ultra-durable design of this dog bowl should last you for a considerable amount of time.
The bowl features a super-insulated, triple-wall build that helps keep food warm, and its non-slip rubber bottom helps prevent accidental spill-overs, a subsequent wastage of food, and protects the floor from scratches.
The Coldest dog bowl keeps things simple and ensures that our furry friends can conveniently enjoy their meals without having to worry about anything else. The steel bowl's smooth finish makes maintenance easy, and a super-durable build means this might as well be your pet's last food bowl.
Pros
---
Non-slip rubber bottom.
Triple-wall design.
A stainless steel build with 7 different colors to choose from.
Smooth finish.
Easy to clean.
Available in two size options; 42 oz and 64 oz.
#3 NAMSAN Thermal Outdoor Dog Water Bowl
SALE ALERT!!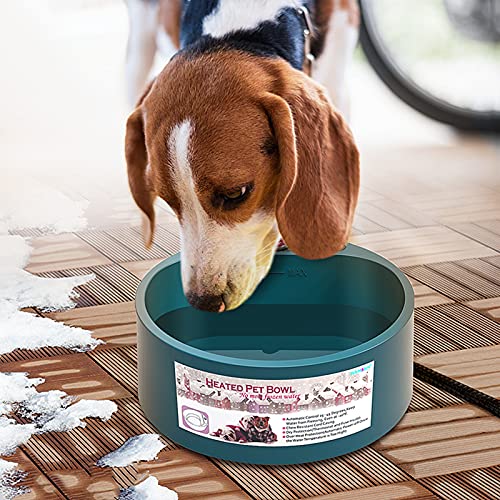 NAMSAN Heated Pet Bowl Outdoor Heated Dog Water Bowl Thermal-Bowl Livestock Heating Dish Provide...
NAMSAN focus on researching pet supplies, this heated pet bowl is authorized by Namsan, which made of quality BPA free...
The thermostat is sealed inside the bowl, keep the water temperature between 77-95℉, but it will be affected by...
5.5 feet charging cable, steel wrapped, chew-resistant, safety for pets water drinking, can place in the yard, coop,...
Hailing from NAMSAN, this is an excellent option for those who need an outdoor bowl in colder climates, as it is heated. The bowl has a built-in thermostat that maintains the water between 77°F and 95°F. This way, your canine always has drinkable water even if the temperatures drop to sub-freezing. No more worries about leaving the dog water bowl on the patio!
The heating element and electronics are all fully sealed in the bowl. The charging cable is 5.5 feet for versatility. It is also wrapped in steel and chew-resistant, so you do not have to worry about your furry friend or the weather damaging the electricity.
The bowl has a holding capacity of 0.58 gal, so you will not have to refill it frequently.
This heated water bowl from NAMSAN will keep your canine's water at an appropriate temperature, even in sub-freezing temperatures. It holds a full 2.2 liters of water, and all of the electronics are safely sealed for peace of mind.
Pros
---
Provides additional comfort by maintaining a warm water temperature between 77°F and 95°F.
Holds 0.58 gal.
Uses BPA-free plastic.
Comes with a waterproof power switch.
#4 PET WEIGHTER Elevated Dog Bowl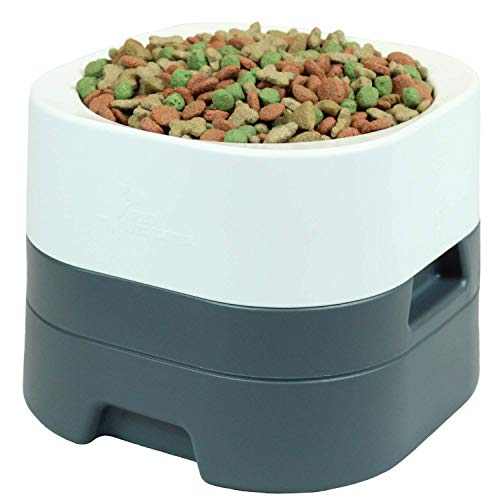 This PET WEIGHTER dog bowl is a strong choice for those who want an outdoor bowl that is non-slip and weighted to help with its stability. The weighted nature of the bowl means that the wind will not carry it away while empty. Your pup is less likely to knock the bowl over or accidentally slide it around, especially when they are a notch more excited about being outside of the house.
The design features a base as well as the bowl itself, and you can fill the base with sand for extra weight or with ice to cool the water slightly. The base also grants the bowl an elevated position that is best for bigger and taller dogs while eating.
Made from a durable ABS material, the bowl measures 10.24 inches long by 10.24 inches wide by 8.15 inches tall. Also, there are five different bowl colors to choose from, namely Baby Pink, Blue, Hot Pink, Platinum Gray, and Red.
With its weighted and elevated design, this outdoor dog bowl from PET WEIGHTER will not spill or fly away and ensures your canine is comfortable while eating. You can choose from two sizes and multiple colors.
Pros
---
Weighted to prevent sliding and spilling.
You can fill the base with ice, sand, or water.
Incorporates an elevated bowl design for increased comfort that bigger dogs will have during mealtime.
#5 Neater Pet Brands Big Bowl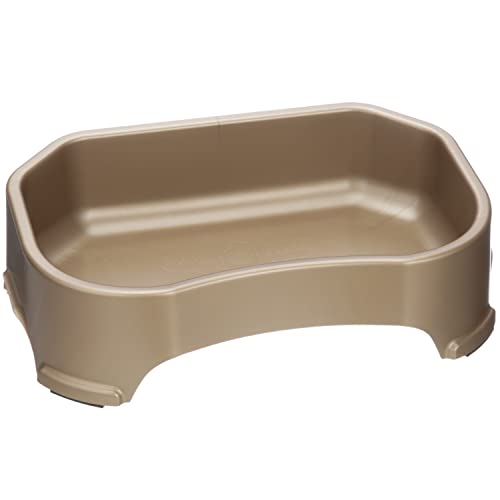 The Big Bowl from Neater Pet Brands holds 1.25 gallons of water, minimizing the frequency at which you need to check and refill it to quench your thirsty pooch. Its capacity makes it a strong choice for multi-dog households.
Measuring 15.75 inches long by 10 inches wide by 4.75 inches deep, the bowl comes with non-skid feet and a non-tip base, both of which help prevent spills and sliding, whether in an indoor or outdoor setting. If you have a larger breed or a canine with health problems, you can also add leg extensions from the same brand to the bowl to lift it.
The use of BPA-free plastic means that you do not have to worry about rusting when the bowl is placed outdoors during the rain, and the bowl can come in different colors. The colors are Aquamarine, Champagne, Gunmetal Gray, and Vanilla Bean.
With the ability to add leg extensions and hold 1.25 gallons of water, this outdoor water bowl from Neater Pet Brands appeals to those with multiple canines or larger breeds. The non-skid and non-tip nature of the bowl prevents you from having to refill it excessively following spills.
Pros
---
Compatible with leg extensions.
Holds up to 1.25 gal.
Non-tip and non-skid.
Comes in four different colors of your choosing to fit most home decors.
#6 Amazon Basics Stainless Steel Pet Dog Bowl
SALE ALERT!!
AmazonBasics Stainless Steel Dog Bowl
Durable stainless-steel food bowl for puppies, dogs, cats, or kittens
Holds up to 38 ounces; perfect for dry kibble, wet food, treats, or water
Rust resistant; offers a healthy alternative to plastic; doesn't hold odors
Those in search of a simple outdoor dog water bowl will appreciate this option made from durable stainless steel. Coming from Amazon Basics, the steel construction of this pet dog bowl is designed to be rust-resistant, so you do not have to worry about the weather elements taking their toll on it. The stainless property of this material also means that it should not hold odors.
Measuring 10.1 inches long by 10.1 inches wide by 2.8 inches deep, it can fit 38 oz of food or water, plenty for a hungry or thirsty dog.
The rubber base stops the bowl from sliding around as your canine uses it and can help minimize the risk of wind blowing it around. The design also resists tipping, so you do not have to worry about a spill leading to your pooch going thirsty.
This Amazon Basics bowl is a simple yet effective option, giving your canine a non-slip, non-tip bowl that resists rusting and will not hold odors. It fits 38 oz and the stainless steel is highly durable.
Pros
---
Rust-resistant stainless steel.
No-tip design that does not slide.
Dishwasher-safe for cleaning.
#7 SUHEEUS Raised Pet Bowl
These simplistic dog water bowls from SUHEEUS have a raised design and also feature an anti-ant design, in the form of a tray that you can fill with water or mineral oil. The material is safe, so you do not have to worry about your canine's health.
The bowl is ultra-light, a unique option for outdoor bowls. This particular feature may help it appeal to those who occasionally need to bring the bowl with them, in addition to those who want to leave it in the backyard. Even when the bowl is very light in weight, its no-spill design keeps food and water both contained to prevent unwanted messes.
This bowl from SUHEEUS for your canine is lightweight and made from food-grade plastic in your choice of color. The design keeps ants out of your furry friend's food, so you do not have to worry about insects ending up in your furry friend's diet.
Pros
---
Anti-ant tray.
Food-grade materials.
No-spill design.
Comes in a set of two different colored bowls, blue and yellow, for food and water.
#8 K&H Pet Products Coolin' Pet Bowl
K&H Pet Products Coolin' Pet Bowl Blue 96 Ounces
POWERFUL COOLING: The only pet cooling bowl that keeps water fresh and cold for up to 15 hours to help keep pets cool...
INDOOR/OUTDOOR: Cooling water bowl can be used indoors and outdoors, does not use electricity and is BPA free
EASY TO USE: Great for home or on the go simply activate the cooling crystals by filling the interior with water once;...
If you live in a hot climate, then this cooling bowl from K&H Pet Products is a great choice for the outdoors. It does not require any electricity, instead of relying on a strong design. You freeze the bowl and then fill it with water. This lets the water stay cool for 15 hours, even in hot, humid weather.
Measuring 11.5 inches long by 11.5 inches wide by 4 inches tall, this blue-colored bowl is considerably spacious with a generous holding capacity of 96 oz. This way, you do not have to worry about refilling it over and over again throughout the day, even if you have large pooches or several. The bowl even has a one-year limited warranty.
As a cooling bowl, K&H Pet Products takes its design seriously to provide cool water whenever dogs need it. Hence, it is such a good option for pups that get overheated easily or if you live in hot areas. It can keep the water cool for as long as 15 hours and holds an impressive 96 oz of water.
Pros
---
Cools the water without electricity.
Comes with a one-year limited warranty.
Holds 96 oz.
#9 Petfactors Heated Outdoor Dog Water Bowl
This Petfactors heated water bowl holds 0.58 gal of water, minimizing refills throughout the day. It regulates the water temperature between 97°F and 109°F such that your canine will appreciate it very much.
The 5.7-ft power cord is wrapped in plastic to resist chewing and tearing, so your pup will not damage it or get injured in the process. The power switch is waterproof and has a light indicator, so you know if the heater is turned on.
What's also interesting about this heater is that it can be powered continuously for the entire day to keep the water heated. The heating process is fully automated and shuts down when the temperature threshold is reached, such that you don't need to constantly turn on and off its switch.
This pink-colored bowl is good for multi-dog households because of its large size and quadrangle shape. That shape gives enough room for more than one canine to drink at once. The bottom is also elevated to protect the bowl from severe weather and put your pooch in a more comfortable position while drinking.
This dog bowl from Yeti has a no-slip design that will help keep it in place, even when it is windy or if your canine companion eats or drinks with a bit too much energy. It is machine washable for easy cleanup, which is particularly important for an outdoor bowl exposed to dirt, grass, and the elements.
This pink bowl from Petfactors holds a gallon of water and keeps it warm for your canine companion, even when the temperatures drop. The on/off switch lets you easily adjust the heating feature and the cord is chew-proof.
Pros
---
Uses a black plastic-wrapped cord for improved chew and tear resistance.
Comes in a glaring pink PolkaDots design.
Has a holding capacity of 0.58 gal.
---
Outdoor Dog Bowl Buyer's Guide
---
Any of the above options will be a great choice for your furry friend to always have access to food and water when outdoors. As you consider the above options or maybe do some additional browsing, consider these important factors.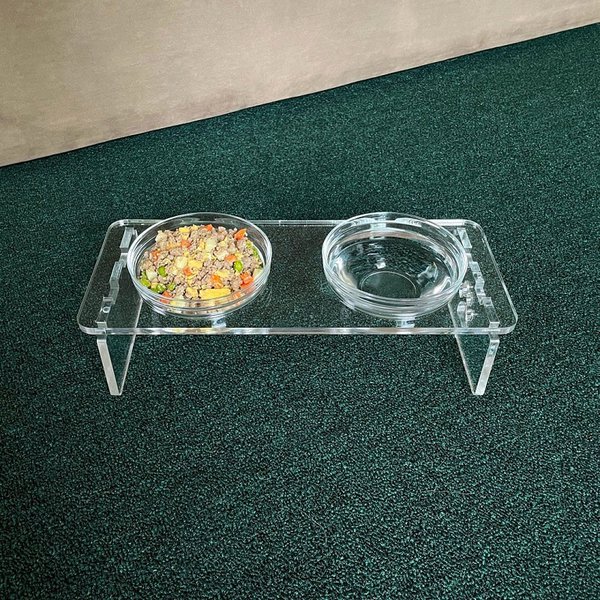 Material (Including Food Safety)
Start by considering the type of material that you prefer for your dog's water bowl. The most common options are metal, plastic, and ceramic, although you can also find some other choices.
Plastic water bowls tend to be more affordable than metal ones in most cases. However, unless they are very sturdy, there is a risk that your furry friend will chew the water bowl. Depending on the strength of your canine's teeth, this may lead to eating little bits of plastic.
You will also need to look out for dog water bowls that are BPA-free. BPA is a toxic substance that has negative repercussions on dogs and humans alike. They are known to cause cancer and should be avoided at all causes.
Additionally, plastic water bowls can sometimes feature small cracks that invite bacteria. You can avoid that with proper cleaning, but the risk is still enough that some pet owners avoid plastic.
Ceramic water bowls are heavier, which can help stop them from tipping over. However, they are easy to break and when broken, bacteria can form in the cracks. Breakability makes them a poor choice for outdoors since a strong wind blowing them around would break the water bowl.
Many pet owners opt for stainless steel because it is long-lasting and is less likely to form chips or cracks that can harbor bacteria. Keep in mind, however, that stainless steel can heat up or get very cold depending on the weather conditions. There is also a risk of rusting, depending on the specific metal and coatings used.
Size And Shape Of The Water Bowl
You will also want to think about how large of a water bowl you want for your canine. Most people in search of an outdoor dog water bowl prefer larger ones that do not need to be filled throughout the day, so you do not have to go in and out of the house as much to check on the amount of food or water left. Just make sure that if you opt for a larger water bowl than your furry friend needs that you swap out any leftover food or water for fresh versions every day.
You will want a larger water bowl if your canine tends to be thirsty, is a larger breed, or if you have multiple furry friends that spend time in your yard.
To some extent, the size of the water bowl also depends on its shape and your canine's snout shape. Make sure the water bowl is deep if your furry friend has a longer snout, as it may otherwise be challenging to eat.
Follow this up by thinking about if you want an elevated water bowl or one that sits on the ground. Elevated water bowls are good for canines with limited movement as well as larger breeds. Eating from an elevated dog bowl relieves joint pressure.
As a bonus, elevated water bowls will prevent water from accumulating at the bottom when it rains.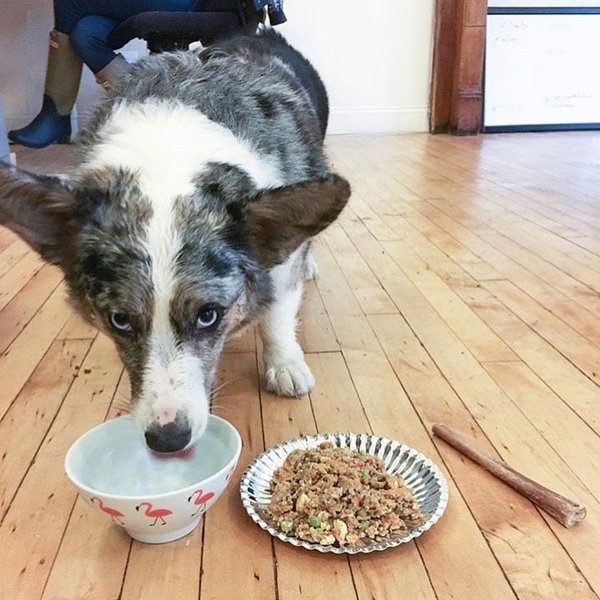 Resisting Spills
It is always smart to choose a dog water bowl that resists spills or is tipped over, and this is particularly important for outdoor dog water bowls. You are less likely to notice if your canine spills water or food when the dog bowl is placed outdoors, so your pooch may end up without water if that happens.
You also want to consider whether the outdoor dog water bowl has any features to minimize the risk of it tipping over in the wind or if your canine gets too excited. Features like specially-designed rubber bottoms on the bowls or weighted dog water bowls can take care of this.
Extra Features
Finally, think about the additional features you want in your dog's water bowl. If you live somewhere with long winter months and your dog enjoys being outdoors in that weather, then you must look for dog water bowls that offer a heating feature. Ensure heated dog water bowls keep the heating element and electronics enclosed for waterproofing.
The power cord must also be waterproof and protected from your canine chewing on it. Otherwise, there is a potential risk of electrocution.
If you live somewhere that gets very warm, then you will want to consider bowls that keep the water cool. While your canine does not want ice-cold water, most pooches prefer that it remain at room temperature instead of getting extremely hot in the sun, especially on humid days.
You can also find some other innovative features, such as anti-ant designs that have little moats or trays on the outdoor dog bowl to keep out ants. This feature is particularly useful if you will use the bowl for food and have a lot of ants in your yard.
---
Final Thoughts
---
The best outdoor dog bowls will resist spilling, have plenty of room for food or water, be sturdy, and be easy to clean. Look for bowls that will have no-slip features, such as our top pick. For easier cleaning, opt for bowls that are dishwasher safe, a requirement that the bowl also meets.
Most pet owners will not need heated or cooled bowls. Stick to one of our recommendations for the best outdoor bowls, using the Buyer's Guide to make an informed decision on the right purchase.