About Bully Beds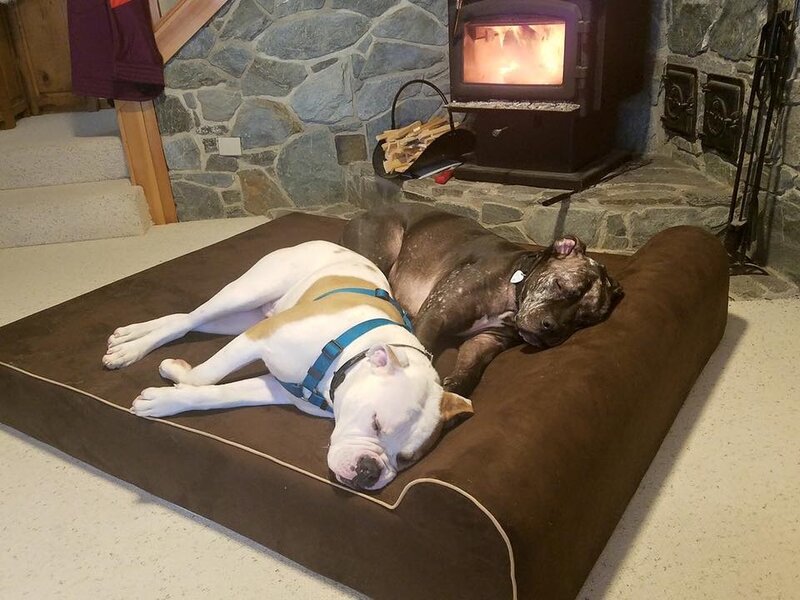 Given how much time your pooch spends in its bed, you're certainly well aware that choosing a high-quality large dog bed is essential. Most dogs must be given a good bed to guarantee that they get a good night's sleep and wake up ready to protect your home against those nasty critters in the front yard.
The possibility of arthritis and dysplasia should always be taken into account when buying a bed. A good bed is an important purchase that will aid your dog's sore joints. Additionally, a recent medical study indicated that the use of dog beds could largely help large dogs with arthritis enhance mobility and reduce joint discomfort, joint stiffness, and limping.
Bully Beds are orthopedic dog beds explicitly made for huge dogs. Made of high-quality materials, these beds are designed to withstand the abuse of any dog bully. The company creates stylish giant dog beds with a 20-year, no-fail warranty. As such, it has garnered a significant presence on social media platforms, especially Facebook, where it has 114.2k followers.
In addition, the brand has been highlighted in publications like Digital Journal and Newsbreak. It was emphasized how excellent the brand's products are for improving every dog's overall quality of life. These beds are waterproof and use washable covers, among many other advantages.
Overview Of Bully Beds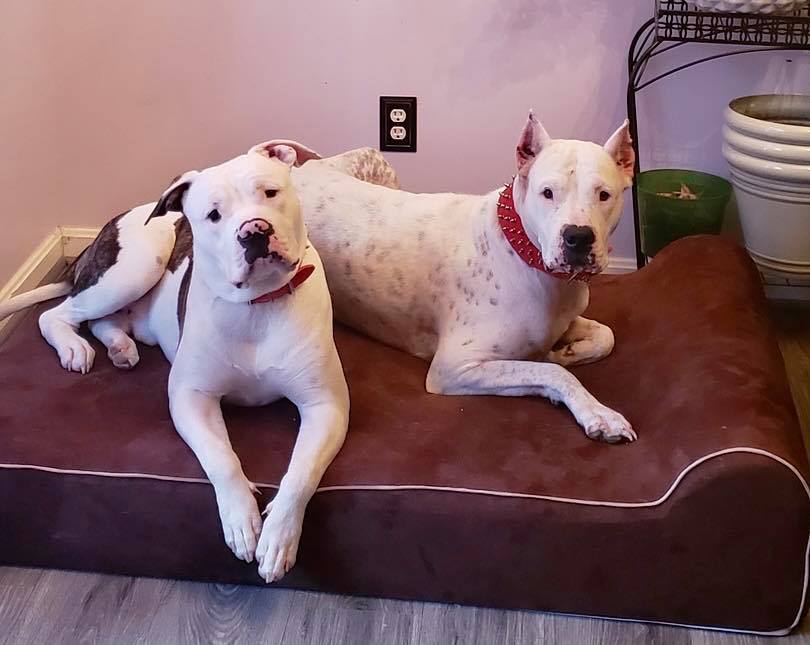 Bully Beds was named after Bull, a Cane Corso Mastiff that weighed 150 lbs and had hip problems. Bull's owner, or the company's founder, Joe Chanda, invented the brand out of desperation after trying dozens of beds that didn't provide appropriate support or comfort for Bull's hip condition.
After extensive research, Joe came up with the perfect foam combination and design, and the Bully Bed was created. The brand is still a small, family-owned business based in sunny Florida, despite its rapid development. They understand how vital it is to get the right bed your dog desires and deserves.
Bully Beds offers the first and only FDA medical device-certified dog bed. Their infrared ion fibers use your furry buddy's natural power source to reflect FIR emissions back towards the skin. This improves blood circulation, relieves discomfort, and promotes overall body wellness.
All of the beds are manufactured with non-hazardous orthopedic memory and support foam that is precisely developed to help with hip pain, joint aches, and general discomfort. They feature a foam density of 4.5 lbs, making them ideal for senior canines, dogs suffering from arthritis, and those struggling with pain in their joints, bones, and muscles.
To make things easier and more hygienic, all of their beds include removable and washable covers. The base is made of waterproof material, which makes cleanup a breeze. They also make sure to provide everything you need in sizes ranging from medium to XXL and neutral colors that blend in with any decor.
Furthermore, to avoid chewing, their beds have either a heavy-duty Velcro fastening or a covered zipper. They also provide a dog bed with very tough cushioning that is nearly chew-resistant for special occasions. In addition, for this specific product, they provide a 200-day chew guarantee and replacement.
Pros Of Bully Beds
The base is non-slip.
Certi-PUR-US-certified safe for dogs.
Great for dogs that have hip dysplasia or other joint problems.
Has orthopedic memory foam of the highest quality.
The liner is made of waterproof material.
The microfiber cover can be removed and washed.
Provides a 20-year no-flat warranty.
Returns and delivery are both free.
There are no toxins or dangerous substances.
There have been no recalls.
The zipper is chew-resistant and heavy-duty.
Cons Of Bully Beds
Some dogs don't like their chew-resistant beds since they aren't as comfortable.
The dog beds available are quite expensive.
The dog bed cover is a little thin.
There are a few color choices.
Any beds that are not returned in their original packaging must have their measurements checked by a Bully Bed staff to ensure they are not oversized. They will happily accept a bed with some drool, but they will not consider beds that are torn or ripped in any manner and beds with traces of feces, urine, or vomit anywhere else on the covers or foam.
Also, it will not be possible to return a bed once the Bully Bed tag has been removed. Furthermore, clearance, open box dog beds, and any beds that have been sold at a 20% or larger discount are final. These transacted products are no longer returnable or refundable.
How Does Bully Beds Work?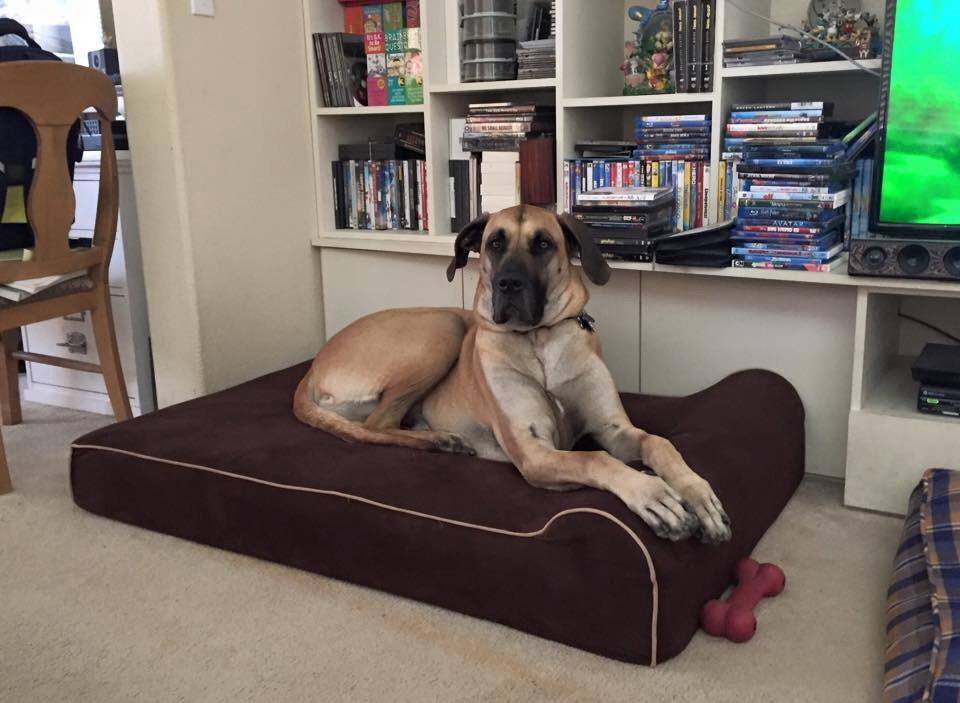 Getting your dog a high-quality bed is truly worth every penny spent on the purchase. Therefore, before buying one, we'll walk you through the selection process so that you know what you're getting yourself into.
The best way to buy Bully Beds is to go directly to their website and search for the best dog bed appropriate for your dog's needs. Once you've decided on a bed, all you have to do now is fill out your basic information as well as your shipping address. Shop Pay, PayPal, G-Pay, Amazon Pay, or a regular credit or debit card are all options for payment.
Once your order is placed, you will receive a confirmation email and a tracking number. The shipment will take around 1 to 2 days. After the package has arrived at your address, make sure to keep the items included to be eligible for the return process. The following must be included inside the box:
Bully Beds dog bed wrapped in plastic for protection against dust and moisture
Washing instructions
Directional guide for use
Bully Beds advises you to unwrap your new bed carefully. Because the plastic wrap shrinks it to packaging size, you'll want to unwrap it delicately and, of course, without the use of any sharp tool, fearing that it may cut through the new fabric. Let the unwrapped dog bed rest and sit for 72 hours until it has been fully expanded. Your dog can use it thereafter.
Original Bully Bed
The Original Bully Bed is available in four sizes, ranging from medium to XXL, with the largest model measuring 60 inches long by 48 inches wide and 7 inches thick. The orthopedic dog bed is made of density support foam weighing 4.5 lbs, making it perfect for large dogs, older dogs, or dogs with muscle and joint difficulties.
This dog bed includes a washable and removable exterior microfiber cover to help remove the filth and odor from your doggie's bed. The zipper is covered to curb any form of unnecessary chewing and comes with a non-slip foundation to ensure that everything stays in place. The non-hazardous foam is clear from all the nasty stuff you don't want your dog to come into contact with.
Chew-Resistant Bed
Bully Beds suggests the Chew Resistant Bed for canines who have a habit of chewing. The bed is not only made of a patented BullyTuf material that prevents biting and digging damage, but it also includes a 200-day chew warranty.
The chew-resistant bed has heavy-duty velcro covers, a water-resistant and no-stink design, and a hair-resistant, no-cling outer cover, on top of all the impressive features found in the Original Bully Bed.
Round Sherpa Top Bolster Bed
Round Sherpa Top Bolster Bed has a spherical form with only one bolster on one side of the bed. It's ideal for pups who like to share a bed with another dog in the house or dogs who like to sleep curled up.
However, this bed is only available in three size options; Large, Extra-Large, and XXL. There is no medium size available for purchase. Furthermore, regardless of their size, all beds are all 6-inch thick to provide the additional comfort a sleeping dog needs.
Bully Beds Review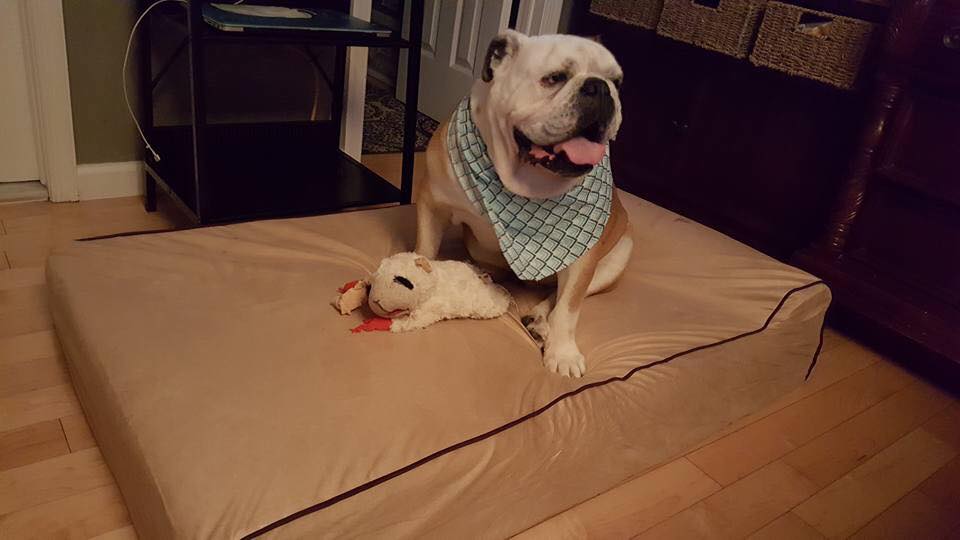 Bully Beds' awesomeness, on the other hand, doesn't stop with beds. In addition to its fantastic selection of dog beds, the brand also has new covers for each of them.
We have also found it convenient that you can get a chew-resistant crate pad to keep your dog comfortable while you're away from home. We particularly liked how comfortable and supportive it is for senior dogs, dogs with joint problems, and even your maturing pup.
Bully Beds keep their shape and stability over time, which is one of our favorite features. The manufacturer is so confident in its product that it offers a 20-year warranty. They will replace your bed for free if it becomes flat and no longer supports your dog. Every purchase comes with a 30-day trial period to ensure that your dog is totally at ease in its new bed.
While this brand is on the expensive side, it is also certainly one of the best. So, if you want the best, you must pay for it in this day and age. To put it another way, you should definitely try it to see it for yourself.
Who Owns Bully Beds?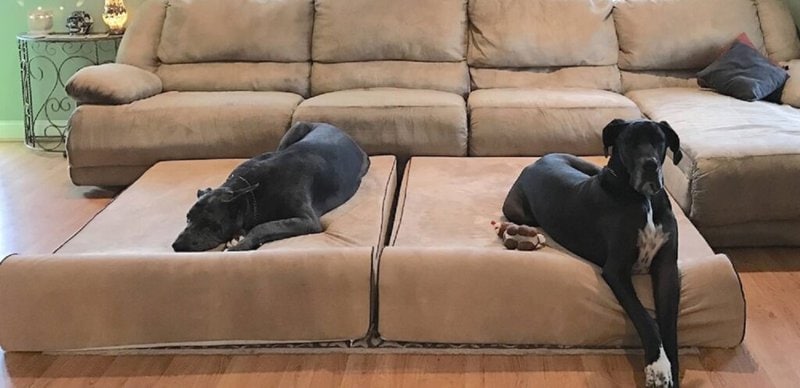 Joe Chanda owns Bully Beds as a tribute to the dog who transformed his life, Bull. The 150-pounder Cane Corso Mastiff, Bull, offered the seed of desperation that developed into Bully Beds in the end.
Due to its gigantic size and body weight, Bull began to experience hip pains in 2015. According to the vet, a dog's bed will have a considerable impact on the capacity of the dog to rest in a proper posture and sleep soundly. Joe was thus recommended to seek a dog bed for Bull's sake.
Joe started looking online and discovered various beds that billed themselves as therapeutic and orthopedic designs. These aggressively marketed items were significantly more expensive than the usual dog bed. He spent a lot of money on beds that either didn't hold his dog's weight or didn't provide enough support, and that's where he decided to make his own brand.
Nandi and Pascal Thulin are the owners of Bully Beds in Europe. They are both dog lovers and breeders of South African Boerboel dogs. For years, they faced the same difficulties as Joe and his wife in locating a dog bed that delivered on its claims.
Where Are Bully Beds Manufactured?
Bully Beds are actually manufactured in China. Despite coming from another country of manufacturing origins, each bed is made from orthopedic-grade, non-toxic, hypoallergenic memory foam supporting joints.
All in all, it's a specially constructed dog bed to help relieve arthritis, joint pain, and hip pain. The owner, Joe Chanda, learned the mechanics of foam manufacturing from density to its ILD rating.
Joe then spent what seemed like a lifetime looking for the perfect manufacturer, somebody he could trust to continually maintain quality standards and value at a reasonable price that any dog owner could afford.
Where Is Bully Beds Located?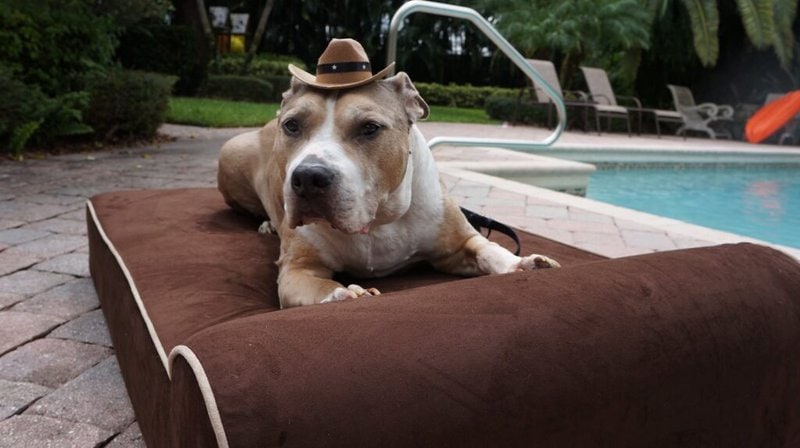 Bully Beds is located at 709 Silver Palm Ave, Suite B, Melbourne, FL 32901. The company also has branches in Europe to share its high-quality products with dogs from all over the world. They can deliver to canines in the United Kingdom and the Netherlands.
Bully Beds Europe is located at Toermalijndreef 112, Emmen, Netherlands, 7828 AS, Drenthe. The brand has been in the European market since November 2020, providing dogs with the comfortable, happy, and healthy lives they deserve.
Who Is Bully Beds For?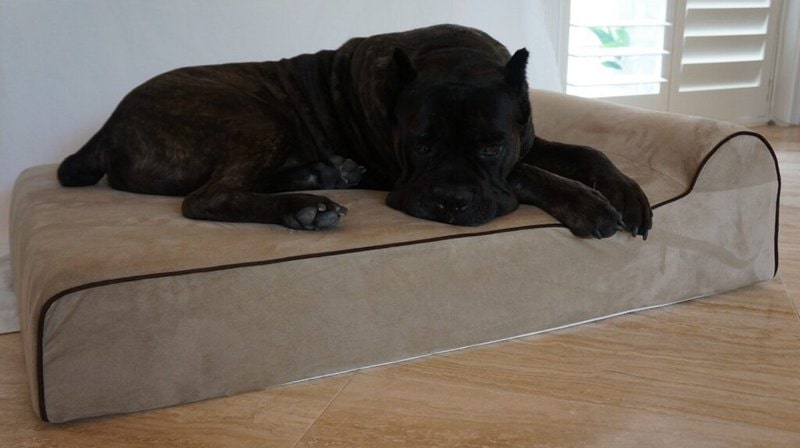 The orthopedic beds from Bully Beds are specifically developed for large breed dogs, but they also help older and extra-large dogs suffering from joint and bone problems or arthritis. The non-toxic orthopedic foam and non-hazardous in their dog beds benefit both thin and small canines.
If your dog has any of the following conditions, Bully Beds is a useful investment to help relieve the symptoms:
Arthritis
Cancer
Hip dysplasia
History of injury
Comparison: Bully Beds VS Big Barker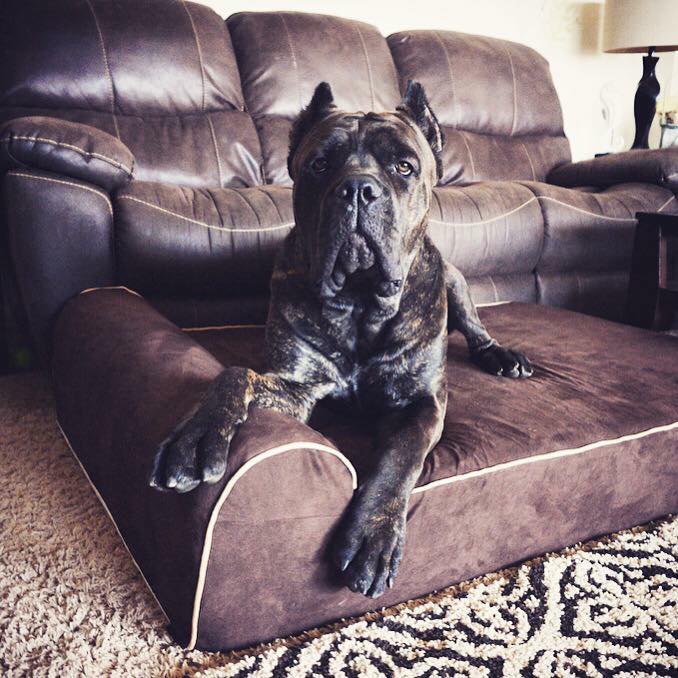 Comparing the dog beds of Bully Beds Big Barker will help you in selecting the right orthopedic bed for a large size dog. We'll go through the primary features of each brand before doing a compare-and-contrast to assist you in making an informed decision.
Bully Beds
Bully Beds is a family-owned small business that was created to solve a major concern among large dog owners. Bully Beds come in four different sizes and are all made for large breed dogs. The products are made to reduce pressure on your dog's joints by using many layers of foam to provide support. Some of its features are as follows:
The outer sheet is a removable protective mask that can be washed.
It has a non-slide base to keep the bed in place so that it doesn't slip when the dog pounces on it.
The products have received certification as being safe for pets.
It has unique materials and hardware designed to endure aggressive chewers.
Offers six unique bed lines.
Provides extra comfort for your huge dog.
Made in China.
Big Barker
Big Barker Beds, like Bully Beds, is an American-owned business dedicated to meeting the demands of giant dogs. The brand developed a unique three-layer foam structure that blends comfort and durability in collaboration with the country's finest foam engineer. Some of its features are as follows:
It has a machine washable, non-shrink microfiber cover.
Its designs are backed by science.
Has a low amount of VOC gas to promote indoor air quality.
Made without ozone-depleting chemicals.
Does not contain any toxic substances.
Made in the USA.
Bully Beds and Big Barker are designed to provide maximum comfort for larger dogs who have joint disorders or other body sensitivities. These two brands now have the greatest beds for large dogs on the market.
Bully Beds has a wider selection of dog beds and covers and other miscellaneous dog goods. The brand is known for delivering the stiffest dog beds for huge dogs. The Big Barker Dog Bed, on the other hand, is backed by a clinical study that illustrates how their beds can enhance your dog's health and well-being, particularly if they have joint and bone concerns.
You have complete control over whatever option appears to be the best suit for your preferences. However, if you want a bed designed for heavier dogs, Big Barker is the way to go. If your dog isn't that huge but has a large appetite for chewing everything, a Bully Bed is the better option because it's designed for giant and strong jaws.
Similarities
They both make orthopedic beds that are wide and extra-big for large or even gigantic dogs.
Made with non-hazardous and non-toxic materials.
Both beds have a no-flat guarantee.
Provides your large dog extra comfort.
They both have a waterproof and washable cover.
Differences
Bully Beds are made in China, while Barker Beds are made in the USA.
Big Barker Beds are designed specifically for large and giant breed dogs, while Bully Beds have options for medium-sized dogs.
Bully Beds have a 20-year warranty, while Big Barker Beds only have a 10-year warranty.
How Much Is Bully Beds?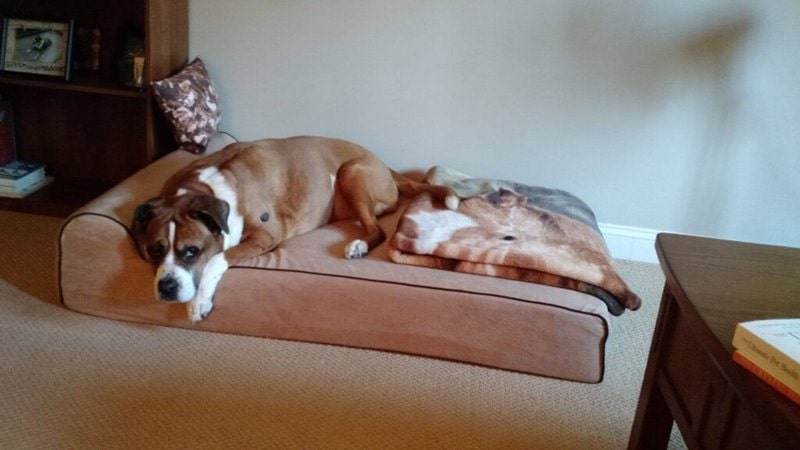 Prices of Bully Beds vary depending on their size and type. While all of the beds listed below have essentially the same characteristics, features, and benefits, each one has been designed for a special purpose.
As a result, you must choose based on your dog's requirements and interests.
The Original Bully Bed is available in sizes ranging from Medium to XXL and costs between $130 and $330. It has memory and support foam with a density of 4.5 lbs.
The Chew Resistant Dog Bed is available in various sizes from Medium to XXL and costs from around $140 to $310. It includes a 200-day chew warranty and a one-time total replacement.
The Round Sherpa Top Bolster Bed comes in various sizes ranging from Large to XXL and costs between $220 and $330. This bed is built to last with a comfortable sherpa top and heavy-duty fabric.
Bully Beds Reviews: What Do Customers Think?
We checked a lot of customer reviews on dog owner sites and looked at what others are saying about these dog beds on the internet, and the feedback is generally positive. According to certified buyers, Bully Beds are the greatest dog beds and are well worth the money.
There are over 3,500 verified reviews from Bully Beds' official website, and one customer exclaimed, "obviously pricey, but so worth it! It's been difficult finding a bed that is big enough and sturdy enough but, so far, so good!" It was also mentioned that the dog beds provided their canines with the necessary comfort. Another customer wrote, "excellent quality and comfort, especially for aging dogs."
Bully Beds' founder has truly discovered the best manufacturer for the brand. "We've tried others, but whatever the other manufacturers put in the bed makes them want to dig. The only thing they wanted to do with Bully Bed is to lay down and sleep," one customer stated.
Moreover, a customer can attest to the fact that Bully Beds Chew Resistant Bed is classified as "chew-proof." He commented, "Frankie loves his new bed! He hasn't managed to chew it up either, and the fabric makes it really easy to clean."
A total of 263 reviews have also been seen on Reviews.io and garnered an overall rating of 4.8/5.
A customer from Reviews.io mentioned how he really loved the dog bed's quality, "we now have three bully beds, one for each of our dogs! They are well-loved, high quality, and easy to keep clean. We have a very naughty English Bulldog who likes to initiate every dog bed in the house by urinating on it to mark it as her own. The waterproof beds and easy-to-remove covers make the Bully Beds a must-have."
Bully Beds received a 4.6/5 rating on Amazon, with buyers praising the sturdiness feature, which received a 5/5 rating.
The sturdiness of the dog bed was highly praised by an Amazon customer, "the XL bed was sturdy enough to support my dog without sinking to the floor. Both of the dogs immediately jumped on and were comfortable side by side, so there's more than enough room."
Is Bully Beds Worth It?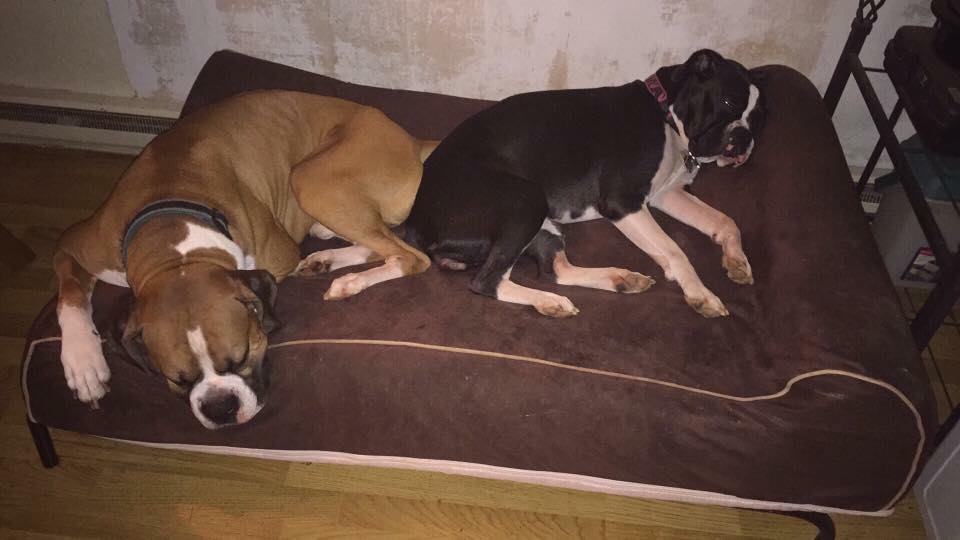 Absolutely! Buying a dog bed from Bully Beds will help your senior or large pooch a lot. Its high-quality memory foam bed can help enhance movement, ease aching joints, and provide much-needed relaxation for a dog in discomfort.
However, if your dog is experiencing joint problems, the brand's chew-resistant dog beds do not come highly recommended. The high stiffness and rigidity are what make the bed chew-proof but not as comfy and soft for your indisposed dog to lay on and can occasionally cause sharp pains to its joints while lying on hard surfaces.
Instead, opt for the Original Bully Bed or Round Sherpa Top Bolster Bed, which is considerably softer for its comfort.
Bully Beds Promotions And Discounts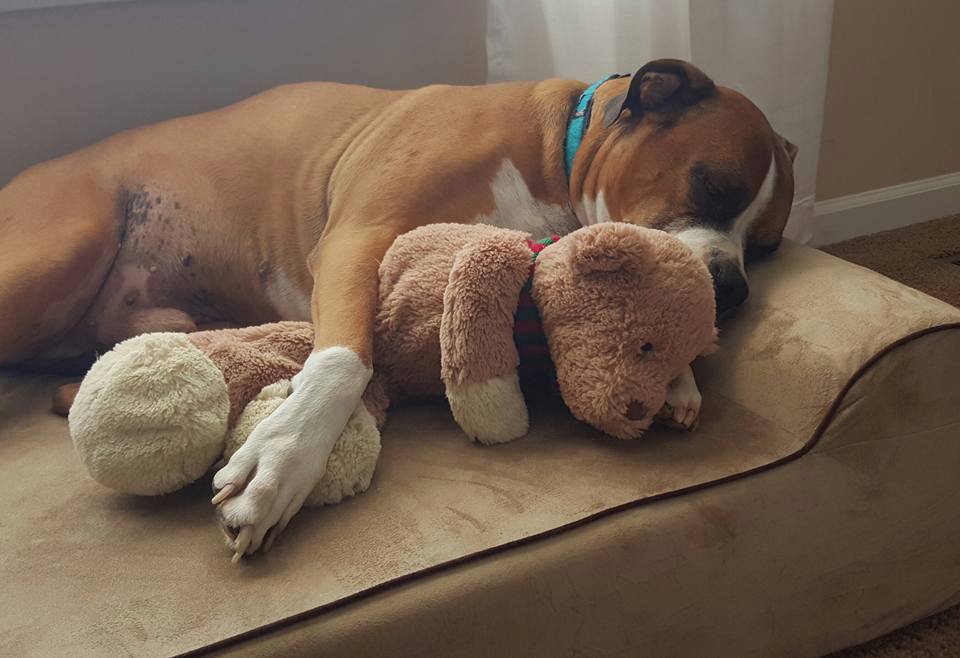 For those who are always looking for a better bargain, special discount offers may be an excellent option. Currently, there are no available deals found on the website at the time of writing.
To receive the latest deals and offers, head over to the Bully Bed's website and subscribe to their weekly newsletters. Alternatively, you can directly chat with them over the Facebook widget.
Where To Buy Bully Beds OR Sign Up For Bully Beds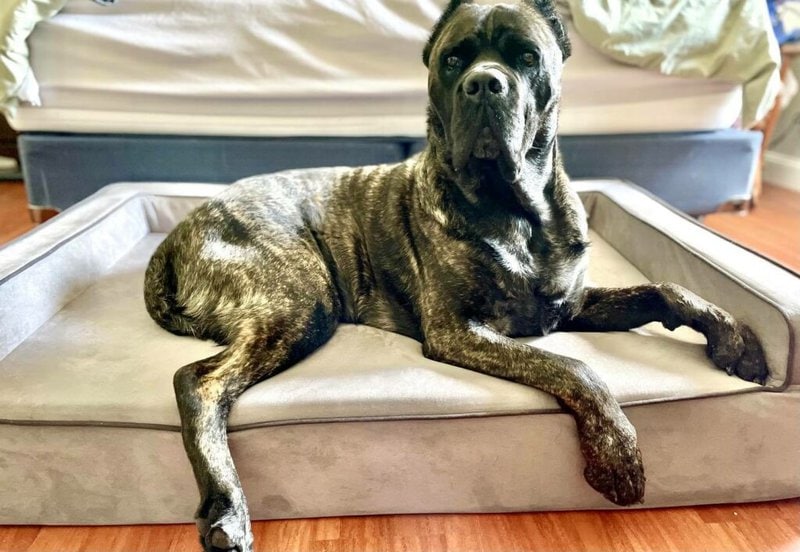 All of their Bully Bed choices are available on their website. Only a few versions of Bully Beds are available for purchase on Amazon and Chewy. Because there are some knock-offs, always double-check that they are legitimate Bully Beds.
In order to purchase a product from Bully Beds, you first need to make an account and register your email address to benefit from order tracking and history and pre-filled forms before checkout for future orders.
FAQs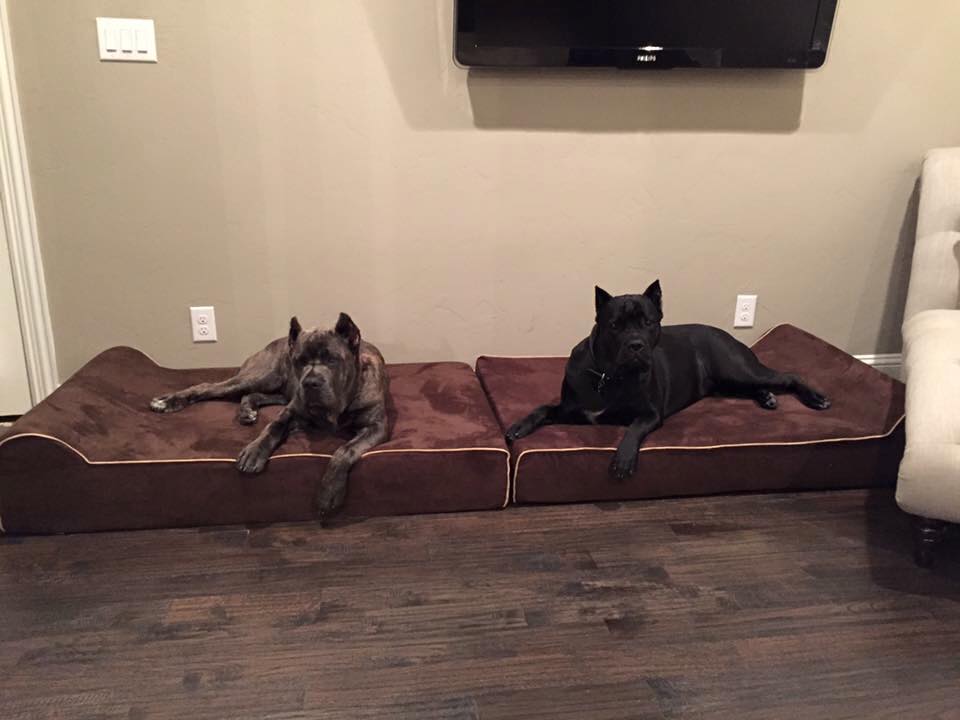 How Do You Wash A Bully Bed Cover?
It is highly recommended that you get a dog bed with a washable and removable cover if you want to keep your dog bed clean with a pleasant scent. Before you wash your bed cover, keep in mind to remove any excess fur or crumbs that have accumulated on it.
Remove the removable cover from your dog's bed and place it in the washing machine. To avoid your dog developing any type of skin response or discomfort, only use pet-friendly detergents.
After washing it, you must dry your dog bed cover to get it to look fresh and bright. The best method to do this is to toss it into a medium-heat dryer for 30 minutes.
How Long Do Bully Beds Take To Ship?
You can obtain your Bully Bed in as little as 1 to 2 days after placing your order. Please keep in mind that if you choose expedited shipping, the service will begin when the bed arrives from their warehouse, not when the order is placed.
What Is Bully Beds' Return Policy?
You and your dog get 30 days to try out the bed in your house from the moment it is delivered. Please keep the original packaging and box as much as possible throughout this period. If you decide to return the bed, they would gladly accept it for a full refund or exchange.
Returns without a return number, however, will not be accepted. Refunds are not available for beds returned after the 30-day delivery window has passed. Any beds ordered after a return will not be eligible for free return shipping and will be subject to a 20% restocking fee.
How To Contact Bully Beds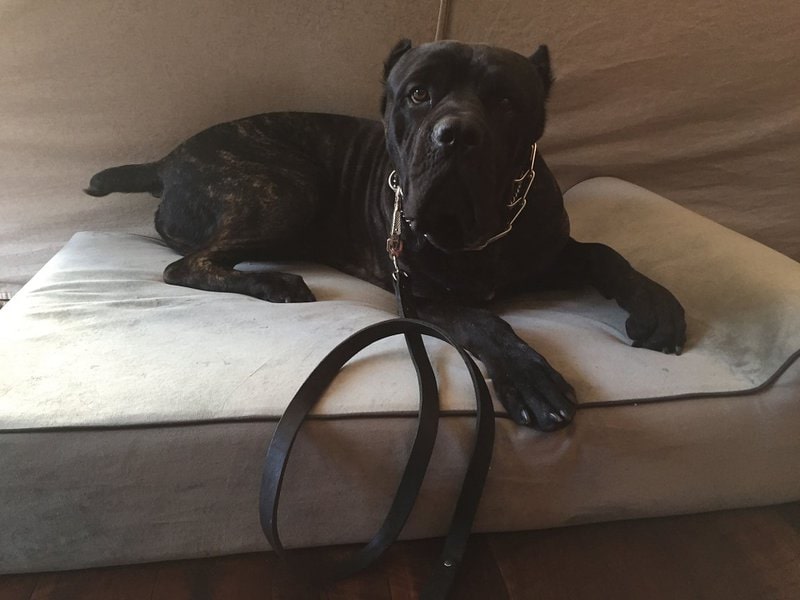 For inquiries unrelated to Bully Beds, you can contact the company via:
Phone Number: (321) 272-8114
Email Address: support@bullybeds.com
Physical Address: 709 Silver Palm Ave, Suite B, Melbourne, FL 32901, USA
Social Media Platforms: