About CatsPlay Furniture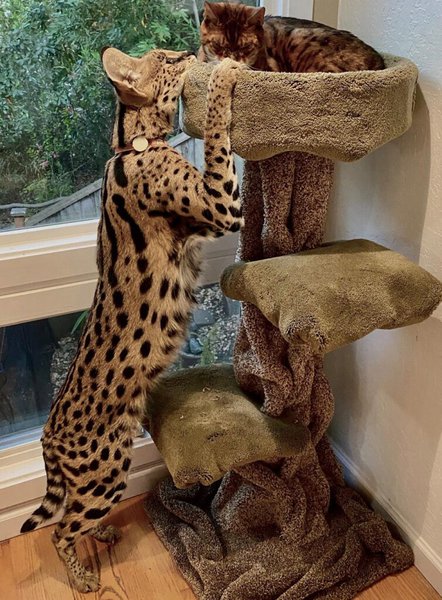 Finding suitable forms of entertainment for cats can be a tasking chore, but with the premium cat furniture and accessories manufactured by CatsPlay Furniture, feline parents can provide their kitties with the physical and mental stimulation that is needed for proper development.
Based in Santa Cruz, California, CatsPlay manufactures customizable high-quality cat furniture, including the popular cat shelves, to keep cats engaged daily in physical activities. This brand has garnered a net positive social media presence, boasting close to 4,500 followers and over 4,000 likes on its Facebook page.
The brand also runs an Instagram page that has 1,700 followers at the time of writing this article. The review article talks about the various cat furniture products manufactured by the CatsPlay brand, how the company works to produce quality furniture, and the promotions and discounts that customers can take advantage of to secure better deals on CatsPlay products. This review also features customer testimonials and a comprehensive rival analysis to help you decide whether or not they're worth checking out for your beloved kitty cat.
Overview Of CatsPlay Furniture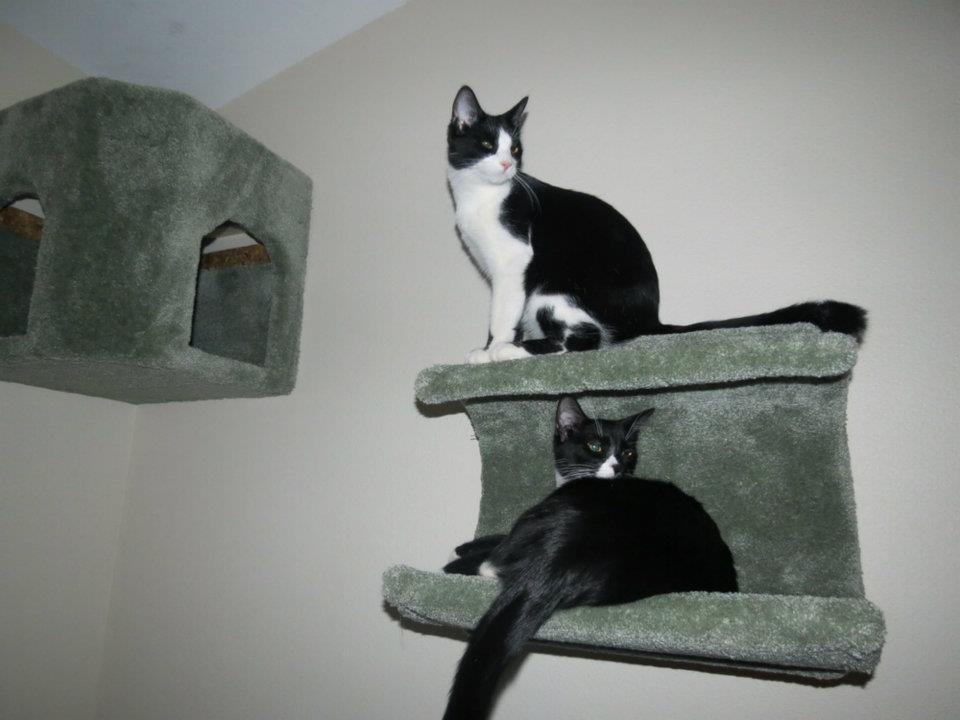 The CatsPlay brand has been in operation since 2002, and the company was established by Brian Bettar, a veteran in the cat furniture industry. Mr. Bettar has been in the business of manufacturing cat furniture since 1985, and the CatsPlay brand was founded with a clear mission – "to be the definitive web destination for cats whose owners spoil them."
The CatsPlay brand specializes in manufacturing premium quality cat furniture with custom colors and options designed to match existing home aesthetics. CatsPlay Furniture products are crafted in the United States by cat ergonomics design experts who bring more than 30 years of experience handcrafting furniture pieces.
Apart from serving as a shopfront for cat furniture, the CatsPlay website contains a series of articles to guide cat parents make informed decisions on which furniture product is suitable for their kitties.
Many of the pieces available in the CatsPlay signature furniture line are exclusively produced and sold by the brand, with 'Signature Quality' badges available throughout the brand's site.
Pros
Pet parents can order custom-made products.
Wide variety of products to choose from.
Product dimensions are provided on the website.
Modular cat trees can be modified in multiple ways to provide different playing options for cats.
Solid wood construction.
Furniture is covered in plush carpeting to ensure the comfort of cats
Crafted from eco-friendly materials.
The website is easy to navigate.
Cons
The prices of CatsPlay products are on the pricey side compared to other brands.
Lack of a printed product catalog.
Some products require assembly.
How Does CatsPlay Furniture Work?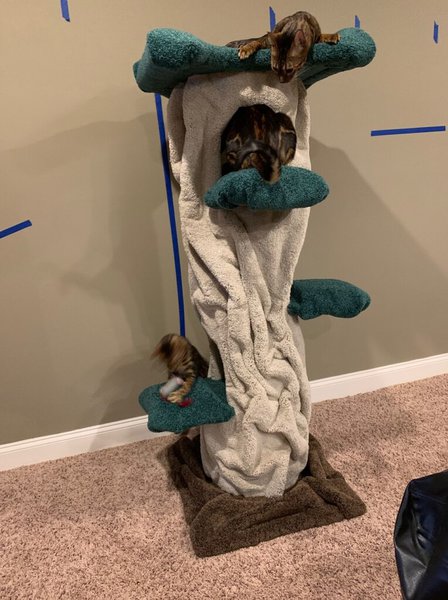 While most of the cat furniture products on offer in today's market are mass-produced with sub-par materials, the CatsPlay product line is made up of cat furniture that is custom-built in the United States, based on customer choices such as carpet color selection and sisal rope additions.
The brand's furniture range includes a variety of cat trees, cat gyms, cat condos, scratching poles, indoor and outdoor cat enclosures, as well as modular cat systems. Its various products are designed to fit seamlessly into both indoor and outdoor environments, and they are equally available in a wide variety of heights, top choices, and designs.
Each of the products available in the CatsPlay Furniture line has sturdy frames that are crafted from solid fig wood, usually obtained from the center of the fig tree. Additionally, CatsPlay's signature line of cat furniture is hand-covered in residential-grade plush carpeting, and customers can choose from 13 different carpet colors.
Ordering of CatsPlay products is done on the brand's website, and this can be done with or without signing up for a CatsPlay account. That said, assembly is required for some large CatsPlay Furniture pieces to ensure ease of delivery. For such products, the package typically contains all hardware required for assembly, as well as easy-to-follow instructions.
Delivery times for the CatsPlay Furniture products vary as most of the products are custom-made to order, with different lead times. That said, the ready-made CatsPlay products are usually available to ship immediately, while custom cat furniture orders, on the other hand, are usually ready to ship within two weeks after the order has been made.
CatsPlay Furniture Review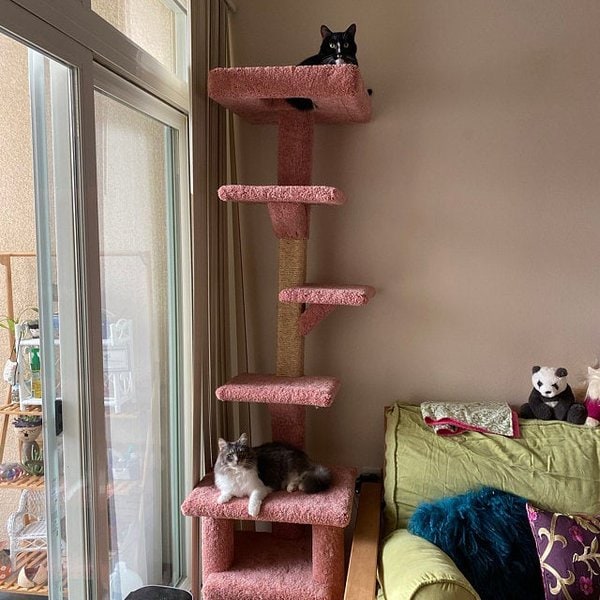 The intelligent design typically incorporated into every CatsPlay Furniture product carefully considers the way how cats naturally move and provides varying degrees of agility challenges with multiple easy-to-navigate climb paths for cats of different ages to conquer.
All areas of the products have been covered with carpets, both the insides and outsides, thereby ensuring that cats don't have to deal with rough or uncomfortable surfaces.
The brand's cat trees and gyms have a small footprint, taking up minimal space within the home, but they provide cats with a lot of climbing room. Additionally, the CatsPlay modular cat tree configurations can be switched to multiple configurations, thereby providing cats with a new play and scratch configurations.
Product dimensions are provided on the CatsPlay website, and this helps pet parents determine whether or not the desired product will be an ideal fit for the available space. Also, the fact that CatsPlay products aren't mass-produced, coupled with the fact that production is carried out in the United States, provides a form of quality guarantee.
What Furniture Do Cats Need?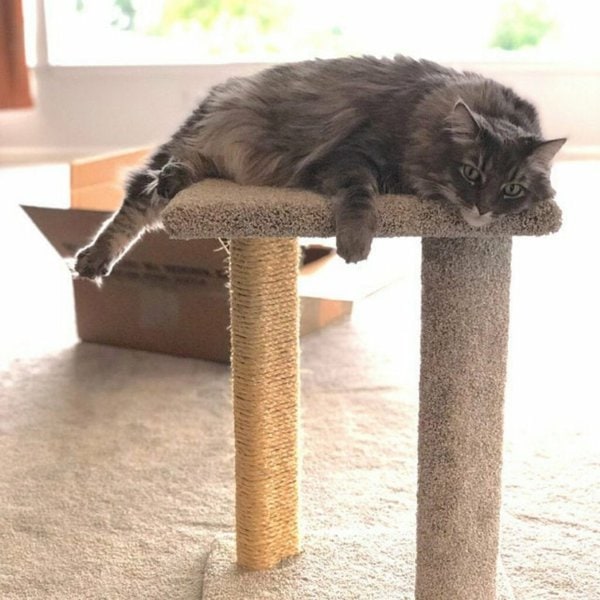 Cat parents are left with limitless options and possibilities when it comes to picking furniture that is suitable for their kitty's mental and physical needs.
That said, some of the more popular – and beneficial – options when it comes to furniture for cats include cat trees, cat gyms, cat condos, window cat shelves, cat wall shelves, cat scratching posts, and cat beds. Each of these furniture options affords cats the variety when it comes to entertainment and exercise.
Cat trees, for instance, are vertical play structures that are typically designed to provide felines with one or more lounging or laying spots while considering a cat's natural climbing path. Similarly, cat gym products typically combine multiple enclosed and open spaces to provide cats with even more options to enjoy climbing, lounging and scratching.
Cat condos provide a safe haven for shy or nervous cats to relax, while the window cat shelves afford felines the opportunity to observe the outside world from a high perch. Scratching posts provide cats with an area to stretch and remove dead outer layers from their claws, while cat steps are ideal for elderly felines that have difficulties reaching elevated surfaces such as beds.
Do Cats Like CatsPlay Furniture?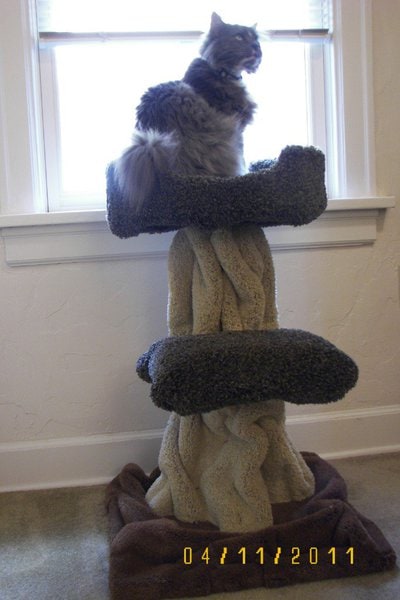 Reviews and feedback from pet parents have been rather positive, a strong indication of the cats' love for the various furniture products from CatsPlay (more on that later). This is also because these products truly satisfy the feline needs.
The feline needs satisfied by CatsPlay's furniture products include, but are not limited to, the desire to scratch, the act of marking territory, the removal of dead outer layers from their claws, and the feline instinct to observe the world from high places, as well as the establishment of social hierarchy.
Additionally, the plush carpeting and smooth hardwood finishing that is typical with the CatsPlay Furniture products help ensure that cats remain comfortable either while playing or lounging lazily on these products.
Will CatsPlay Furniture Entertain My Cat?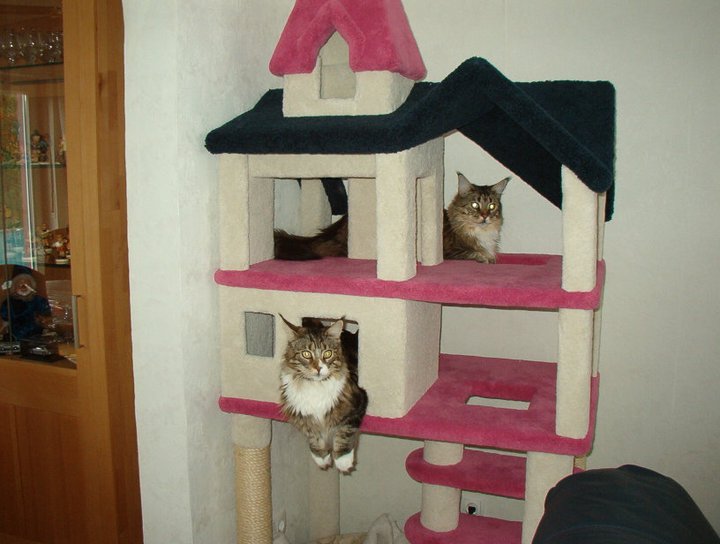 The provision of floor-based cat furniture or wall-based cat shelves, all of which are available with CatsPlay Furniture, encourages cats to engage in various physical activities such as climbing. And apart from helping the cat in question stay physically fit, taking part in these activities helps a cat stay entertained.
The CatsPlay's modular systems, for instance, are innovative cat furniture systems that have multi-levels to not only provide exercise and amusement for cats but also relieve stress and boredom for indoor cats.
The brand's cat trees boast multiple carpeted levels that provide cats with a memorable climbing experience, while the CatsPlay wall shelves satisfy a cat's natural urge to climb and lounge in high places.
Who Is CatsPlay Furniture For?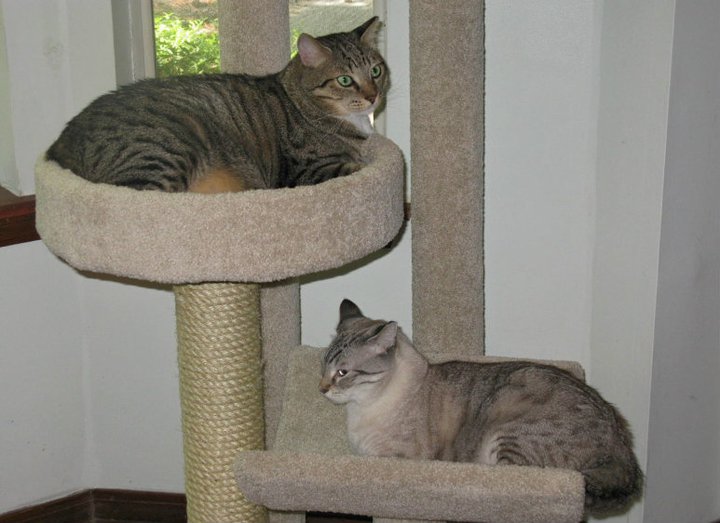 CatsPlay Furniture is specially designed by cat ergonomics design experts for cats of all sizes, ages, and breeds. The design of each furniture piece is well-thought-out and holistic in anticipation of how a cat moves, thereby supporting the feline need to play, scratch, and sleep.
Territorial cats can establish a social hierarchy by occupying spaces at different levels on CatsPlay trees, while elderly dogs can make use of cat steps to reach otherwise inaccessible areas. All cats have an instinct to protect themselves, and the provision of CatsPlay vertical perching spots will help provide cats with a sense of security.
Additionally, cat owners with limited home space can take advantage of the compactness and minimalistic designs of the CatsPlay cat trees and wall climbing systems. These cat trees and wall climbing systems are designed to take up as little space as possible while making it possible for cats to lounge and explore up high.
Comparison: CatsPlay Furniture VS TRIXIE Pet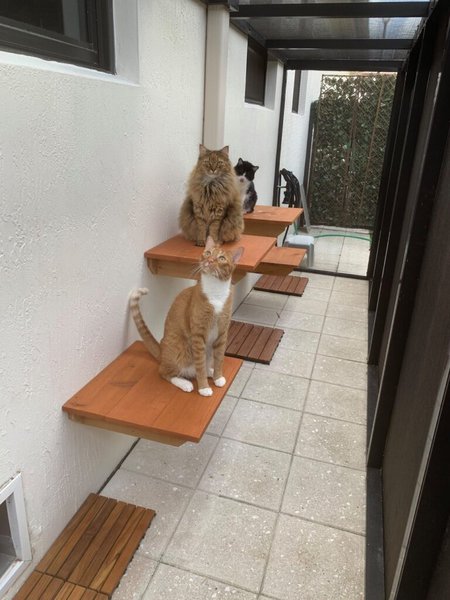 There are several other reputable companies that sell high-quality cat furniture products besides CatsPlay Furniture. Hence, as a test of the quality of the service provided by the CatsPlay brand, this review article puts our featured brand head-to-head with reputable cat furniture supplier, TRIXIE Pet.
The line of products from TRIXIE Pet not only caters to cats but also extends to several pets, such as birds, dogs, and reptiles. However, in this section, we'll be limiting the comparison to the cat furniture products manufactured by both the CatsPlay and TRIXIE Pet brands.
Like CatsPlay, TRIXIE Pet specializes in the sales of cat trees and posts, cat steps, outdoor enclosures for cats, and litter boxes. However, being a company that is focused mainly on the sale of cat furniture, the CatsPlay brand offers a greater variety when it comes to the available options.
That said, similarities and differences between cat furniture produced by both CatsPlay and TRIXIE pet brands are summarized below:
Similarities
Both brands make use of soft, plush covers for their furniture.
Typically, products that require assembly come with instructions from both brands.
Differences
CatsPlay Furniture offers a wider variety when it comes to available cat furniture options.
CatsPlay Furniture is generally sturdier and is able to resist toppling over with aggressive play compared to TRIXIE Pet products.
TRIXIE Pet cat furniture products are generally more budget-friendly compared to CatsPlay products.
CatsPlay sells furniture that is handcrafted, while TRIXIE pet products are sourced from third-party manufacturers.
CatsPlay gives room for custom orders, but this option isn't available with TRIXIE Pet.
CatsPlay products are manufactured exclusively in the United States, while TRIXIE Pet sources products worldwide.
How Much Is CatsPlay Furniture?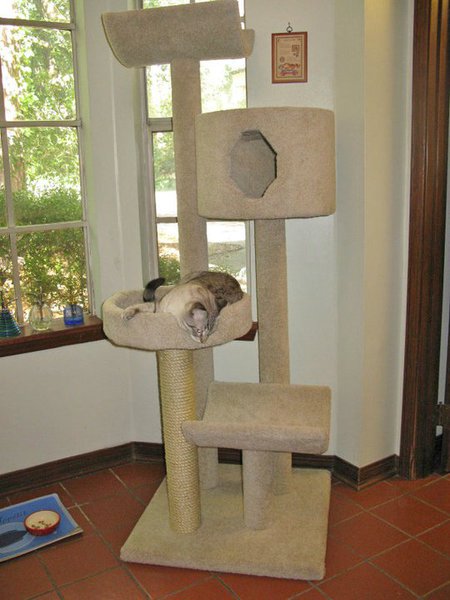 The CatsPlay Furniture product line includes a series of cat trees, wall systems, scratch posts, cat beds, and litter boxes, with the prices of each unique product differing from the other.
Some of the best-selling CatsPlay cat trees and their prices are listed below:
Solid Wood Triple Perch Cat Tree – Price starts at $439.00
Sisal Sleeper – Price starts at $239.99
Risotto Luxury Wood 2-Tier Cat Tree – Price starts at $189.99
The highest-rated CatsPlay wall systems and their respective prices are summarized below:
Wine Barrel Cat Wall Bed – Price starts from $279.00
Wall Mounted Cat Tree Artisan Perch – Price starts from $199.0
Snake Mini Cat Wall Scratching Tree and Rounded Cat Shelf – Price starts from $229.99
Outdoor Cedar Cat Wall System: Perch – Price starts from $80.00
Outdoor Cedar Cat Wall System: 44-inch Ramp – Price starts from $115.00
Similarly, the most popular CatsPlay scratch posts, cat beds, and litter boxes, along with the prices you can expect to pay for each of them, are given below:
Cat's Choice Large Tub Cat Lounger with Sisal Post – Price starts from $159.99
Cat's Choice Angled Cat Scratcher – Price starts from $79.99
Cat's Choice 32-inch Solid Wood Scratching Post – Price starts from $109.99
Spaceship Alpha Ultra-Modern Cat Bed – Price starts from $196.00
PVC Frame Cat Bed – Price starts from $94.99
K&H Mod Capsule Cat Bed & Carrier – Price starts from $129.99
Top Entry Cat Litter Box – Price starts from $199.99
Jumbo Cat Box Litter Box Enclosure – Price starts from $189.99
Decorative Sloped XL Kitty Litter Box – Price starts from $214.99
For a comprehensive list of the available CatsPlay Furniture products and their respective prices, you can refer to the company's online shopfront.
NOTE: Prices provided in this review article are correct at the time of writing this article. However, there is every possibility of price changes in the future.
CatsPlay Furniture Reviews: What Do Customers Think?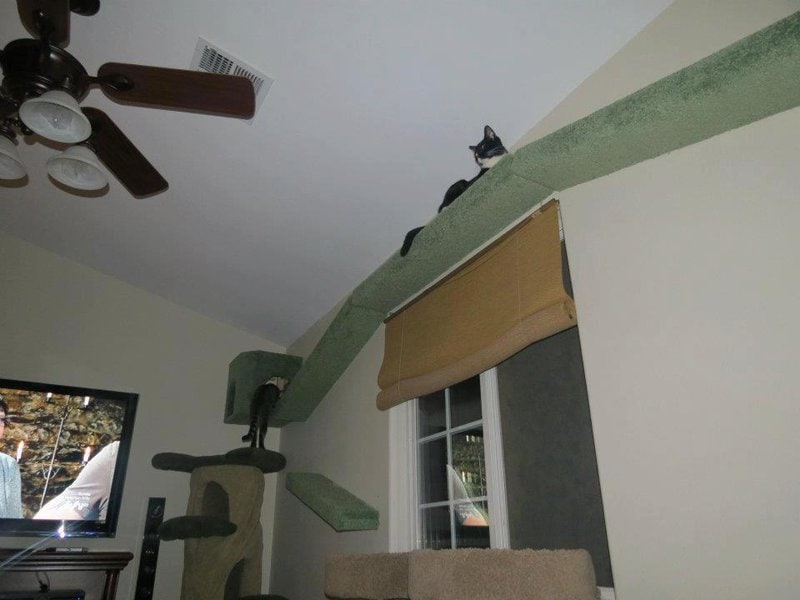 This CatsPlay Furniture review article wouldn't be complete without hearing from pet parents who have purchased and used any of the numerous CatsPlay products. Hence, while writing this article, we went through several customer feedback to see what people really think about this cat furniture manufacturer.
The CatsPlay website hosts several reviews, with the majority of the customers giving a great rating of 5 stars on its products. From the reviews we went through while writing this article, customers were extremely pleased with the customization options offered by the CatsPlay brand and the quality of the products.
Craving a little more in-depth information, we headed to the CatsPlay Furniture page on an American e-commerce website, Etsy. We found an average item rating of 5 stars from 261 reviews is further proof of the quality of CatsPlay Furniture products.
Customers were left extremely pleased with their "well-made" products, with several pet parents also praising the 'solid structure' of the CatsPlay Furniture. Others complimented the 'fast shipping times' and the fact that the ready-made products "arrived in great shape."
That said, some customers have complained about instructions for CatsPlay products requiring assembly being difficult to follow, with a pet parent stating that "instructions were difficult to understand, ended up calling the maker and he explained it."
On the other hand, the willingness of the maker to explain the assembly process highlights the excellent customer service that is provided by the CatsPlay brand. And this is further reinforced by the remarks of pet parents who praised the "outstanding customer service" and "excellent communication."
Is CatsPlay Furniture Worth It?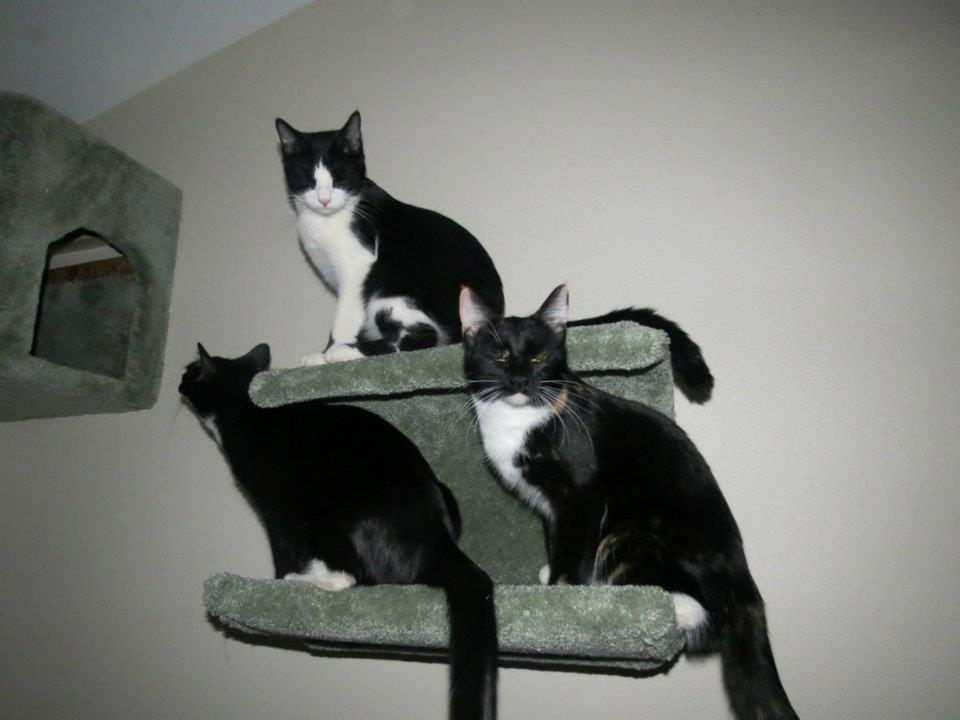 One thing that sets CatsPlay apart from other pet furniture brands out there is the freedom given to pet parents to customize their cat furniture selections. With CatsPlay, customers have the option to choose from a wide variety of sizes, carpet colors, and sisal options, just to mention a few.
CatsPlay's wall-mounted shelves and cat perches are ideal for pet parents who live in small apartments and are keen to save valuable floor space. Our feline friends aren't left out of the mix either, as the various CatsPlay wall shelves provide cats with an opportunity to do what they love doing best – explore and lounge on high places.
For pet parents who are conscious of litter boxes messing with their home aesthetics, CatsPlay's litter box concealers provide a stylish means of blending their feline's litterbox nicely into home décor.
That said, the prices of the various CatsPlay products may not be the most pocket-friendly, but the quality of the materials and the processes involved in manufacturing these products ensure you'll get value for your money.
Conclusively, the CatsPlay Furniture product line is worth your investment if you're looking to provide cat furniture for your kitty without compromising quality.
CatsPlay Furniture Promotions And Discounts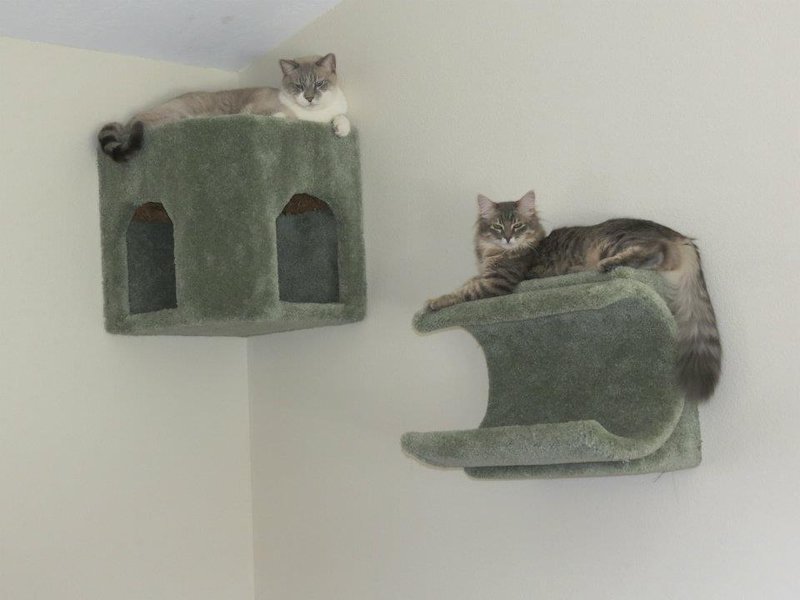 CatsPlay offers regular discounts on some of its premium quality products to ensure they remain affordable for pet parents. Discount amounts vary, and they depend on the particular product a customer is interested in.
That said, the CatsPlay website has a special page that is dedicated to keeping customers in the loop regarding deep discounts and sale items; This page is also regularly updated to provide information regarding new arrivals and discounts on these products – when applicable.
Additionally, some CatsPlay products are eligible for free shipping, and customers can look out for the 'ships free' badge that indicates such products. We were, however, unable to find CatsPlay coupon codes on the brand's website.
Where To Buy CatsPlay Furniture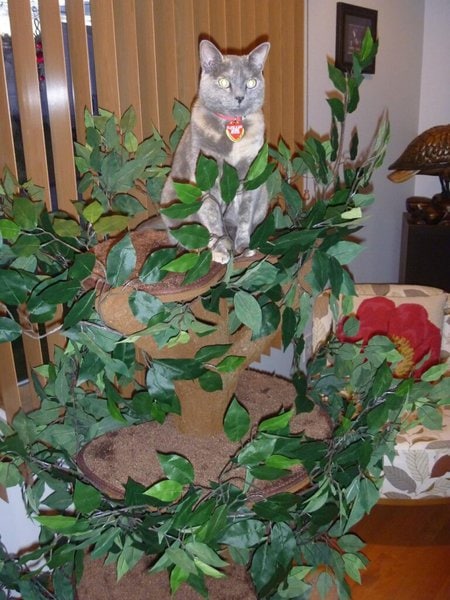 All CatsPlay Furniture products are available for purchase on the company's official website. Items can be purchased with or without signing up for an online account.
Buying products on the website is straightforward. Customers can add as much furniture as they want to the cart before proceeding to checkout. Upon checkout, customers must provide account details (if applicable), billing details, delivery details, delivery method, and payment method.
FAQs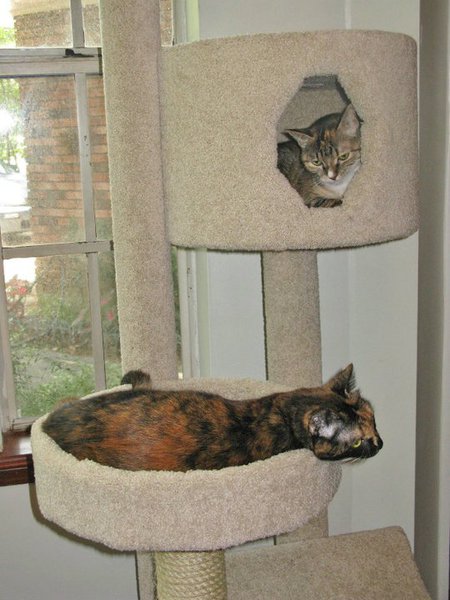 Is Assembly Required For CatsPlay Furniture?
Some large CatsPlay Furniture products are shipped in parts to ensure easy shipping; Hence, assembly is required for such products upon delivery.
All required hardware, as well as assembly instructions, are typically included in the package when shipped.
Does CatsPlay Ship Outside Of The United States?
CatsPlay Furniture is in partnership with a third-party company, International Checkout, to fulfill orders for international customers. However, due to prevailing covid restrictions, international shipments are temporarily unavailable, although there are plans to resume soon.
What Are CatsPlay Furniture Made Of?
Custom-made selections from CatsPlay Furniture are crafted from quality solid wood and non-loop sisal carpeting. Similarly, these same quality materials are used in the production line of CatsPlay Furniture products.
How To Contact CatsPlay Furniture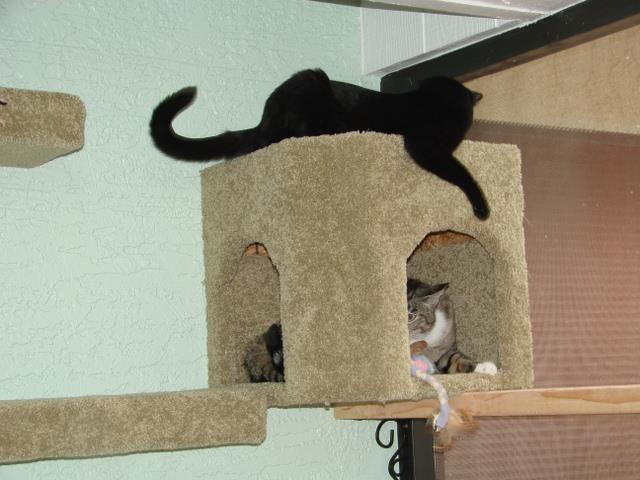 For enquiries unrelated to this CatsPlay Furniture review, you can contact the company via:
Phone Number: (831) 750-5784
Postal Address: 423 Centennial Street, Santa Cruz, CA 95060, USA
Social Media Platforms:
Customers can also file a complaint on the CatsPlay website, where they can choose to be contacted via email.