A dog trapped in a burning Ford SUV was rescued by a valiant Colorado police officer on January 22, 2022, in the neighborhood of Castle Rock, Colorado.
The entire incident was filmed via the officer's body camera and was released by the county sheriff's department on their social media page on February 3, 2022.
Body-Cam Video Footage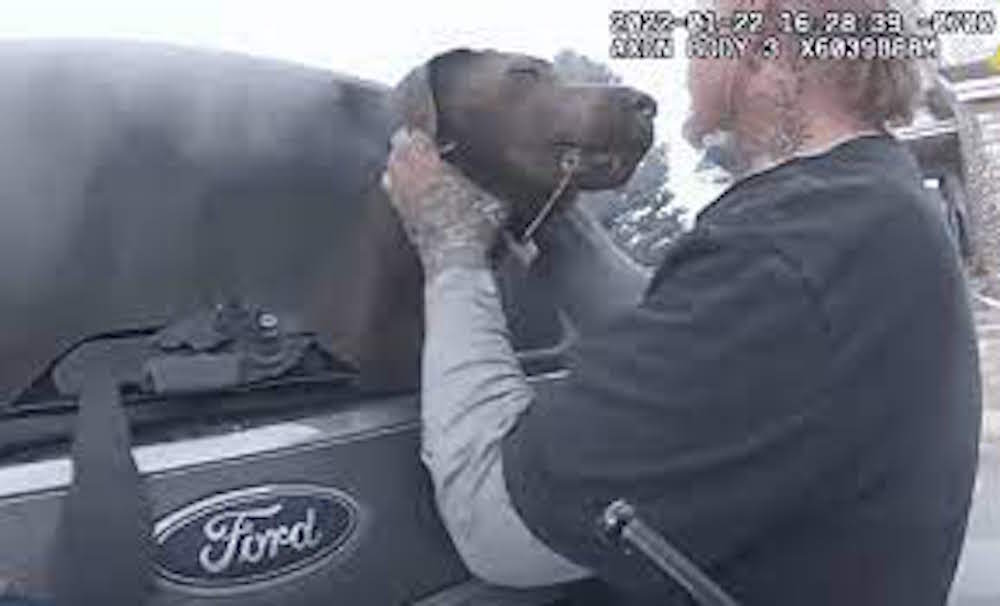 The footage shows Douglas County Deputy Michael Gregorek arriving at the scene with a man looking distressed and panicking around a vehicle that is billowing smoke from the inside.
The officer said that he did not know of the details of the emergency when he received the call, and at first, he thought the man was tossing a Molotov cocktail into the car since they had had such an incident several days prior.
But then the man screamed to him that his dog was in the car. "It flipped the switch from 'It is obviously not a crime' to 'Now we have a life'," the officer said.
The officer then shattered the windows of the car's back windshield with a retractable baton, and the dog owner immediately tried to pull his dog out. The man was having some difficulty, so Gregorek then helped him out and successfully retrieved the dog named Hank, who was seen salivating and clearly scared.
"That's his baby; I'm not going to get in his way while he's trying to rescue his baby, but the second he opened up an opening for me, I just went in there and grabbed on."
"And his body had already started to tense up, so I knew he was really in a bad way. Nothing else really mattered at that point other than getting Hank out of the car," the officer recounted.
Immediately after Gregorek freed Hank on the snowy ground, the dog was seen happily sprinting and running around. Later, a neighborhood veterinarian checked Hank and found him in good health and spirits. The cause of the fire still remains unclear.
Hero Cop
Gregorek received lots of praises from all around when it was posted on social media. "Wow, what a wonderful happy ending! Great job, Deputy! You brought tears to every dog lover's eyes with this rescue!" commented one netizen.
"Thank you. You're an amazing individual with the instincts of a Pit Bull. Incredible job!" another netizen wrote.
And another posted, "I'm without words, but have plenty of tears. DCSD does so much that goes unrecognized and unappreciated. Beyond grateful for your service."
The video received almost half a million views with lots of reactions and comments.
Gregorek, a dog owner himself, said, "I'm a dog parent. My only child is a dog, so I would've done the same thing, whether it be a baby, human, dog, cat. Life is life. You kind of treat it as such in a situation like that."