A trip to the vet has become a difficult task for many pet parents due to hectic lifestyles and a lack of time. Thankfully, pet experts are available online who can give a quick insight into your pet's condition.
So, how can an online veterinarian help you? Consulting an online vet or a pet telehealth expert is an accessible way to get answers about your pet's health. You can have virtual conversations with a licensed veterinarian and get immediate advice using merely your computer or mobile phone. The best part about online vet services is that they are available around the clock at reasonable prices.
In the ever-increasing world of virtual connection, healthcare consultation for pets has seen rapid popularity in recent times. There are several advantages of using online pet health services, which I have discussed in this article. Along with that, I've also mentioned a couple of websites like Pawp that helped me with urgent consultations on numerous occasions.
Online Veterinarian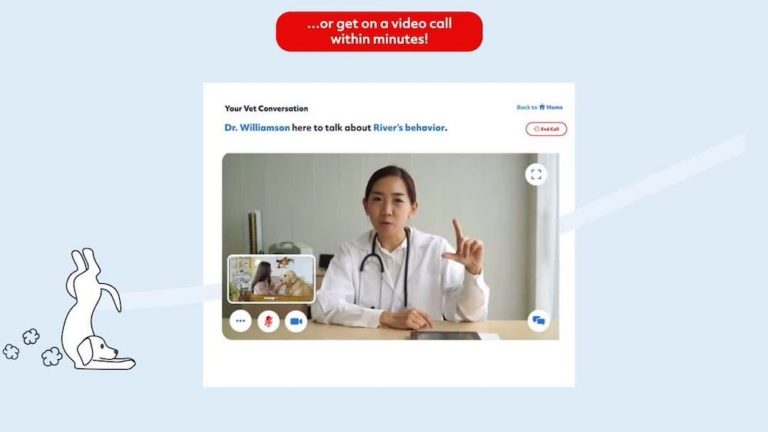 Bringing up a pet is a challenging task. I realized this when I was held up at home for two weeks. It was just Staples and me at home when I noticed her walking had become awkward again. This wasn't the first time I saw this since she was diagnosed with hip dysplasia a year ago.
But the symptoms had returned, and I couldn't physically take her to the vet! Worried about her health, I checked online pet health options and received much-needed help from websites which I will elaborate on later in this article.
Digitalization of pet health care is on the rise as much as any other service these days. And it has helped me on several occasions with immediate questions I had about Staples' condition. Before I mention the websites I liked, let me share the advantages and disadvantages of consulting an online veterinarian.
Advantages Of Consulting An Online Veterinarian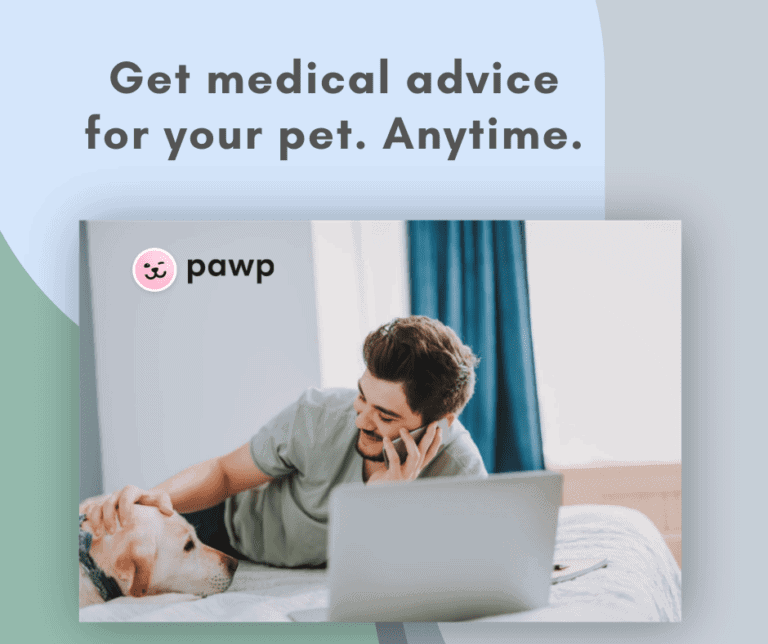 Convenient Hours
When I first noticed Staples hobbling to her bed, it was around 8 pm. And it wasn't possible to reach out to the regular vet office since they close by 6 pm. That day when I consulted an online vet, it was no less than a blessing to have a professional to talk to at that hour.
Vet Can Decide If The Situation Is Urgent Or Not
It's possible that your pet has a minor condition that can be treated with home remedies or habit and lifestyle changes. In those cases, it may not be necessary to take your dog or cat to the clinic after all. Also, if you describe the pet history, conditions, and symptoms, the vet can decide whether the problem is an urgent one that needs medical attention.
In this way, online diagnosis can save a lot of your time and money, especially if the condition is easily treatable at home.
Low Cost And Less Stressful For Pets
Traveling to the vet clinic is no pleasant experience for dogs and cats alike. Pets undergo stress while traveling and during examinations and often need to be pacified with treats. Staples doesn't mind traveling, but she knows when we are going to the vet clinic and tries her best to wriggle out of my reach.
So, if the treatment or suggestions for minor problems can be provided online, I'd opt for that. Also, once you try it, you'll find that online consultation fees are much less than clinics. You get a licensed professional's consultation at a reasonable cost without even leaving your home.
Disadvantages Of Consulting An Online Veterinarian
No Written Prescriptions
Unlike regular consultations, a vet cannot write a prescription if they haven't seen your pet in person. Although pet parents might like the idea due to its conveniences, vets cannot prescribe medication unless a VCPR has been established. A vet-client-patient relationship, or VCPR, only happens when the vet can examine the pet in person.
Communication Might Be Difficult
Vets are trained to diagnose the issues with pets, but you might not be able to explain your dog or cat's condition to the fullest. If the trouble is external, like wounds, scabs, diarrhea, or vomiting, it might be possible for pet parents to describe the condition.
However, it won't be easy to figure out the situation for internal issues and behavior changes unless there is an in-person examination.
Technical Problems
Technology comes with its limitations. And it's possible to face an internet connectivity issue while consulting. Even trivial stuff like slow internet connectivity, dead phone battery, and dropped calls can disrupt the session and lead to incomplete communication.
Online Pet Health Care Websites I Like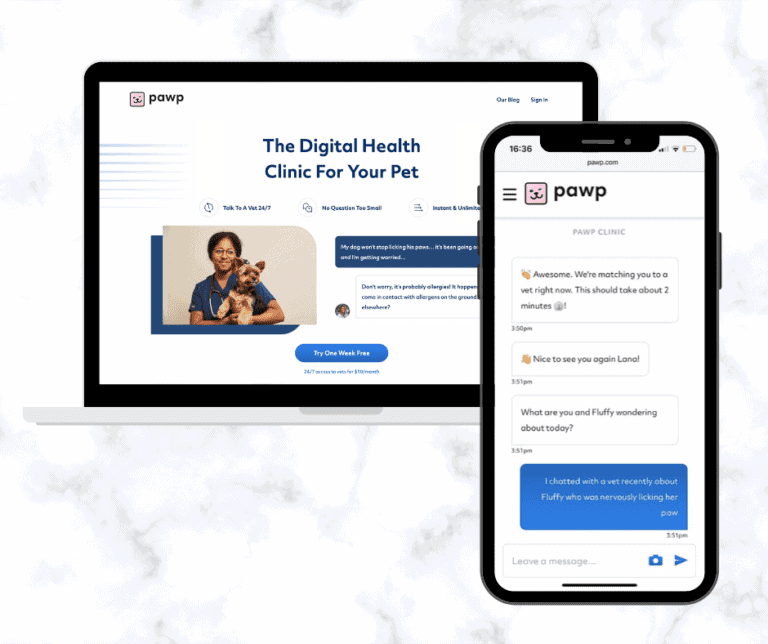 Pawp
The first digital clinic I looked up for Staples was Pawp. Within minutes of reaching out for support, I was connected with a licensed vet who heard my worries patiently. Since I opted for a video call option, I could show Staples' bad leg via camera and discuss her history of hip dysplasia.
The professional at Pawp guided me through the best options for Staples and the types of treatment that would be best. We also discussed her food habits, nutrition requirements, and activity levels to consider her overall health.
The good thing about Pawp's website is that there isn't any wait time, and you can contact a licensed vet at any hour – day or night. Also, the consultation came at a pretty reasonable price.
AskVet
Over time, another online pet health website I discovered was AskVet which was also accessible 24/7. Unlike regular clinics, there is no non-business hour for this website, similar to Pawp. And you can get help in relation to all types of animals like fish, reptiles, and birds.
What I liked about AskVet is its mobile app feature which makes it easy to use on the go. I've often used this app for my dog and recommended it to many of my clients as an easy option for getting general recommendations.
Yes, some serious issues need a visit to the pet clinic, but an online consultation is helpful if you want a second opinion. It will also help if you need to find out whether the situation is an emergency or not.
Few Things To Keep In Mind Before Online Consultation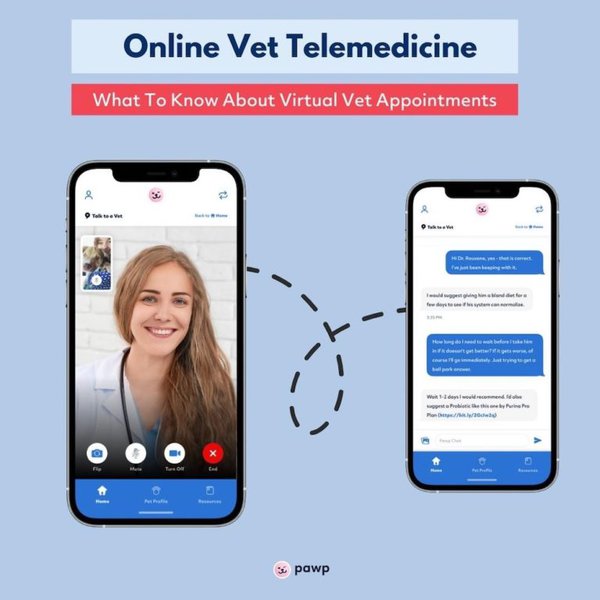 Depending on your pet's condition, decide beforehand if you need a chat or video consultation. The vet can determine the condition better if they can see the eyes, ears, gums, coat, and skin.
The online vet will ask you the same questions as a regular one, so be prepared with your pet's history, diet habits, and medication.
The professional can also give you a few reading materials in case your pet has allergies. Mostly, it will be information that can easily be shared online. However, if the condition is severe, they are most likely to recommend a visit to a clinic.
Final Words
So the final question to answer is, "Should you consult an online veterinarian?" If you would like to benefit from the 24/7 online pet care service from the comfort of your home or mobile, then yes! I would recommend pet parents sign up with an online pet health service to get the freedom to contact a vet whenever they want.
I hope this guide helps you with all the info you'll need for consulting an online veterinarian. On that note, I'll take your leave, bye!