About Dr. Marty Dog Food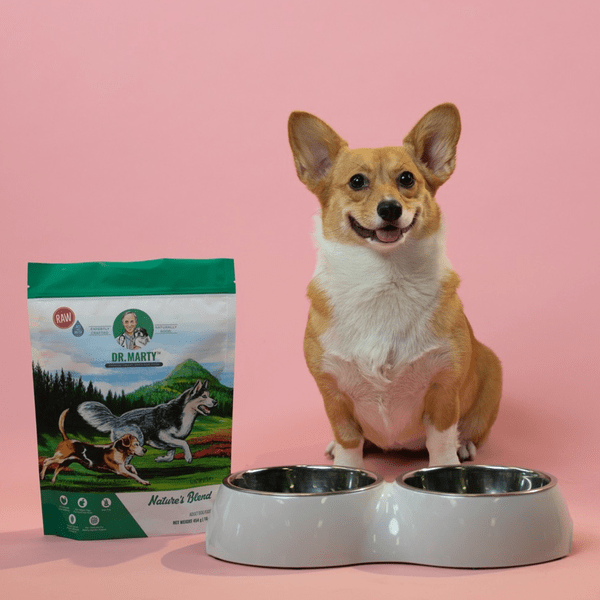 Dr. Marty Dog Food is a revolutionary brand of food for your pooch that combines the best in terms of flavor, safety, and health benefits when it comes to food for your pooch.
With the raving endorsements from household names, such as Martha Stewart and Oprah Winfrey, whom Dr. Marty's methods have garnered over time, there is no doubt that Dr. Marty Dog Food is worth looking into.
The support from nearly 37,500 Instagram followers on social media speaks volumes about Dr. Marty's brand. What also makes Dr. Marty Dog Food truly stand out in the dog food market is the fact that the meals are made using more than 80% raw, fresh meat, which is freeze-dried for additive-free preservation.
The freeze-drying method that Dr. Marty Dog Food uses is not only great for ensuring a long shelf life but also maintains the flavor for picky pooches. The absence of high heat steps during the preparation process also means that all the nutrients in this dog food remain intact.
In addition to the dog food options that the Dr. Marty Dog Food brand offers, you can get treats and supplements for your pet made with the same amount of mindfulness to ensure your dog's well-being. These are also made using only the finest ingredients.
Overview Of Dr. Marty Dog Food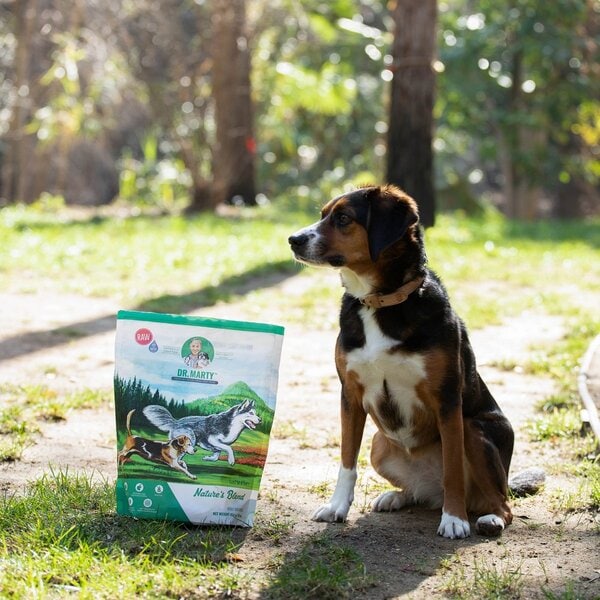 Dr. Marty Dog Food is the brainchild of renowned veterinarian, author, and pet health enthusiast, Dr. Martin Goldstein. Dr. Marty has been the go-to pet nutrition expert for many A-listers, from John Travolta to the dog whisperer himself, Cesar Milan.
The good doctor used his more than 40 years of experience observing the effects of different pet diets to come up with one of the best dog food lines on the market. Through a lot of research as well as trial and error, Dr. Marty soon put together his famed pet diets.
The doctor realized quite early in his career as a vet that most common pet foods had serious long-term consequences on the health and well-being of pets he had worked with. These ranged from gut issues to increased risk of conditions like diabetes, obesity, and even cancer in some pets.
This is what set things in motion for him, from his crusade of creating awareness about the health benefits of a raw diet for pets to eventually starting his own company to fill this niche.
Currently, Dr. Marty's has factories in Canada and the United States, with their headquarters in California. Here is a bit more on what they produce in their North American factories.
Dr. Marty Dog Food is made using a wide variety and healthy balance of raw ingredients. About 80% of the content is raw meat with options like beef, lamb, and chicken. The rest is a mix of fresh fruits, vegetables, and healthy carbohydrates.
There is always going to be a place for supplements in even the most wholesome of doggy diets. Dr. Marty covers this with some of the best vitamin and probiotic supplements on the market.
These are the likes of Shine & Luster, a chewable tablet to help your dog against seasonal allergies, the Free & Active supplement for better hip and leg mobility, as well as Alpha Guard with its special mushroom blend – including reishi mushroom extract, probiotics, such as Enterococcus faecium and Lactobacillus acidophilus, that help boost the immune system of your furry friend.
The brand also includes healthy treats made from all-natural, raw ingredients. These include pup favorites like their freeze-dried beef liver, pork liver, salmon, and even chicken treats.
Pros
Contains a high concentration of raw meat (80% of the ingredients).
Can be served in three minutes.
The ingredients used are hypoallergenic for most dogs.
Availability of vitamin and probiotic supplements.
Treats sourced from all-natural ingredients are also available.
Cons
Short shelf-life of 3 months.
Falls on the pricier end but gives you value for your money – plus, you get discounts on multiple bag purchases.
How Does Dr. Marty Dog Food Work?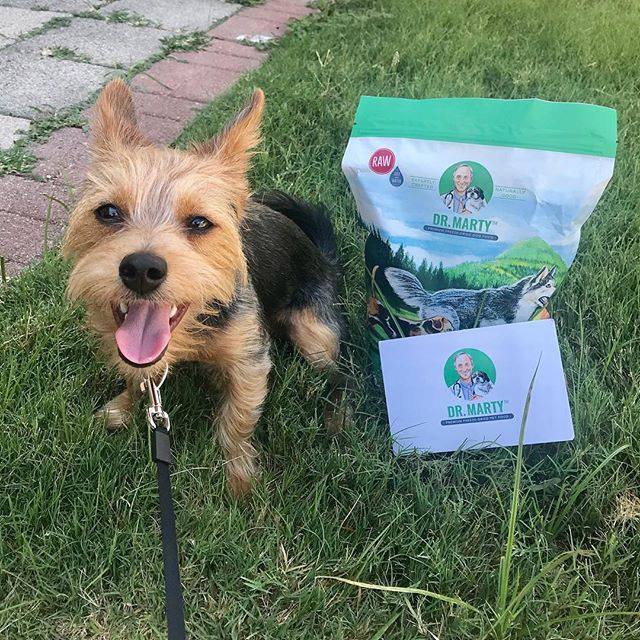 The whole point of Dr. Marty Dog Food is to mimic the most natural diet your dog would have if they still lived in the wild. As obligate carnivores, their diet should be comprised mainly of meat that is minimally tampered with, which is what you have to look forward to.
Here is a quick overview of how the entire process works, from the subscription and orders to the actual meal preparation.
Subscriptions And One-Time Orders
Dr. Marty Dog Food can be purchased in one of two ways. These are one-time purchases and subscription plans.
The one-time plan is great if you are just starting off and want to know how much your dog will like and benefit from the diet change.
In contrast, going for a subscription plan means jumping all in, but it comes with advantages, including access to special discounts.
The subscriptions are monthly and include the following:
Three bags per month subscription for $82.35
Six bags per month subscription for $158.70
12 bags per month subscription for $311.40
Storage Options
Dr. Marty Dog Food is freeze-dried, which makes it very easy to store for long periods. As long as the contents of the bag are left dry and cool, you have up to 3 months to serve the meals.
The best way to store Dr. Marty Dog Food is in the packaging that the dog food comes in. The zip lock mechanism helps to ensure freshness as long as you religiously seal the bag after use.
Serving Portions And Options
The portion of Dr. Marty's freeze-dried meals that you should feed your dog depends entirely on the dog's size and age. The good news is that there is a detailed chart with the recommended portion sizes based on the weight on the Dr. Marty Pets website.
On the other hand, the serving options regarding how you rehydrate the food are a bit more flexible.
The general recommendation is to add 1 cup of water for every 2 cups of freeze-dried dog food. However, you can use more or less water to suit your dog's texture preferences.
Dr. Marty Dog Food Review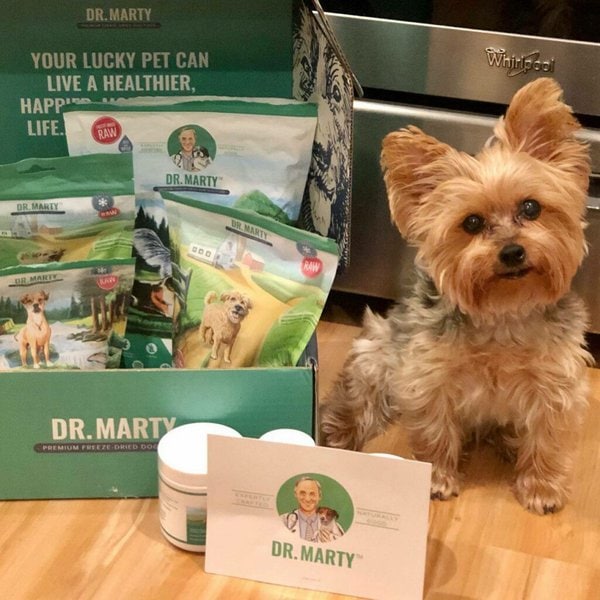 Dr. Marty Dog Food has a lot to offer both you and your dog. Here is a quick review so that you have a better idea of what you are in for.
Zero Additives
Studies have shown that a lot of flavor and preservative additives found in most dog foods today can be linked to numerous health issues that dogs face, from cancer to heart disease.
Dr. Marty Dog Food spares your dog this unnecessary exposure, thus giving them a better chance at a longer and healthier life.
Great Flavors
Dr. Marty Dog Food is perfect for your picky eater of a pooch. Your dog instinctively remembers its wolf roots and will love the taste of raw meat and other fresh ingredients.
The best part is that dog food comes in a variety of flavors, including beef, chicken, salmon, and many other types of meat.
Guaranteed Quality
If your concern with raw dog food is safety and quality, then you have very little to worry about with Dr. Marty Dog Food. Everything from their sources to their processing plants is strongly regulated to guarantee both quality and safety for the dog.
Great Nutritional Balance
While meat is a huge part of your dog's dietary requirements, they also need all the other food groups for a truly balanced and wholesome diet.
Dr. Marty ensures this by including a wide variety of ingredients comprising seeds like pumpkin, fruits like apples and blueberries, as well as vegetables including carrots and broccoli.
How Long Does Dr. Marty's Dog Food Bag Last?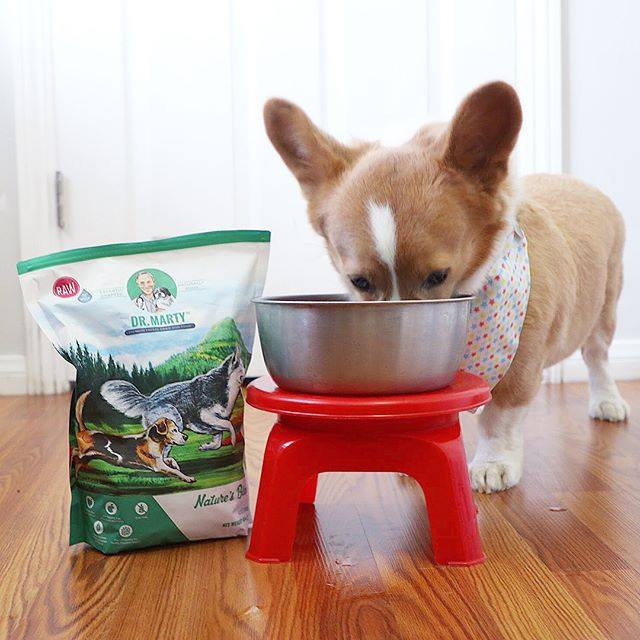 Dr. Marty Dog Food is meant to last for about three months. This is what makes it such a great option for dog owners who want the quality of raw food with the convenience of dog kibble.
The long shelf life that Dr. Marty Dog Food offers is largely due to the preparation process. As the name implies, freeze-drying dries up the dog food by using very low temperatures instead of traditional high-heat drying techniques.
The result is the same preservative effect of drying without compromising the structural integrity of the different nutrients.
In addition to the freeze-drying process, Dr. Marty Dog Food also lasts long due to how it is packaged. They use zip lock systems that minimize the amount of moisture that can get into the pack.
As long as you seal your pack of dog food up nicely after serving, you should be able to keep it fresh for months.
How Do You Serve Dr. Marty Dog Food?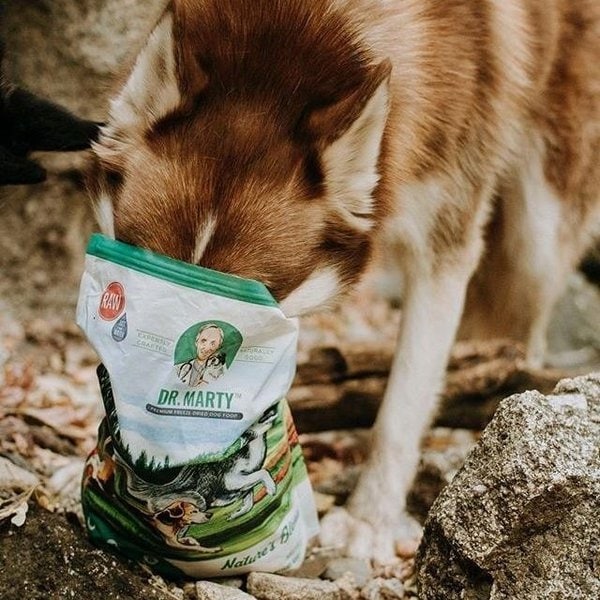 Serving Dr. Marty Dog Food is a simple three-step process. Here is a quick run-through of the entire process so that you have a better idea of what to do once you get your pack of doggy food delivered.
Scoop
Scoop some of the Dr. Marty freeze-dried dog food into your dog's bowl. The amount depends on your dog's daily nutritional requirements.
It is also imperative that you choose your bowl carefully for the next step. This is because the subsequent steps involve some use of heat. It is, therefore, best if you work with heat-safe dog food bowls.
Soak
Unlike dog kibble, which is served dry, the best way to ensure that your dog enjoys and gets the most benefit from Dr. Marty Dog Food is to ensure that you rehydrate.
The golden ratio of freeze-dried dog food to water, in this case, is 2 cups to 1 cup, respectively. The resulting texture is ideal for all dogs, from small teething pups to old pooches with most of their teeth missing.
Serve
Once the Dr. Marty Dog Food has soaked for about 2 minutes, it is ready for your doggy to chow down on. Just make sure to give it a good mix so that each bite your dog takes is bursting with the diverse flavors of all the ingredients used.
Does Oprah Use Dr. Marty's Dog Food?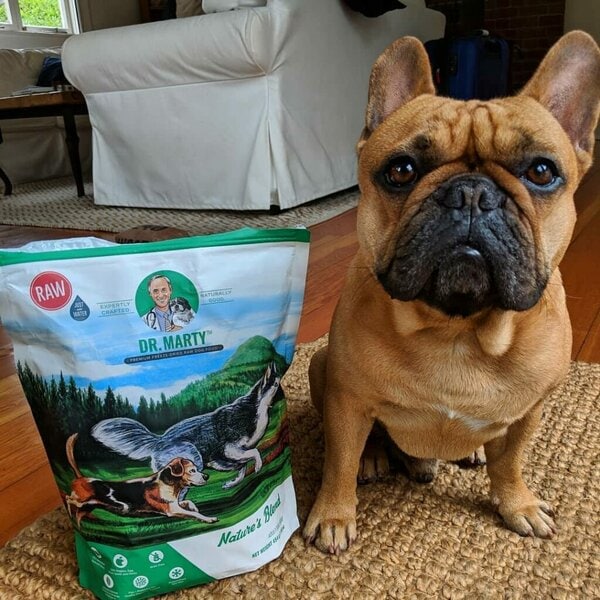 Oprah Winfrey is known for a lot of things. Her successful showbiz career. Her numerous philanthropic ventures. And her love for her dogs.
While it is not known what brand of dog food the megastar uses when it comes to nourishing her pooches, there is no denying that Dr. Marty had a huge role to play in determining their diet.
It all started after Oprah's dog Sophie suffered kidney failure and became one of Dr. Marty's patients. During that course of treatment, Dr. Marty shared his wisdom with Oprah on the importance of feeding dogs a holistic, fresh, and all-natural selection of food.
On the doctor's advice, Oprah made the decision to become more conscious of what she chose to feed her dogs.
She now nourishes her fur babies with a healthy mix of fresh ingredients, including chicken, beef, lamb, brown rice, potatoes, and carrots, and her dogs no doubt thank Dr. Marty for the advice.
Who Is Dr. Marty Dog Food For?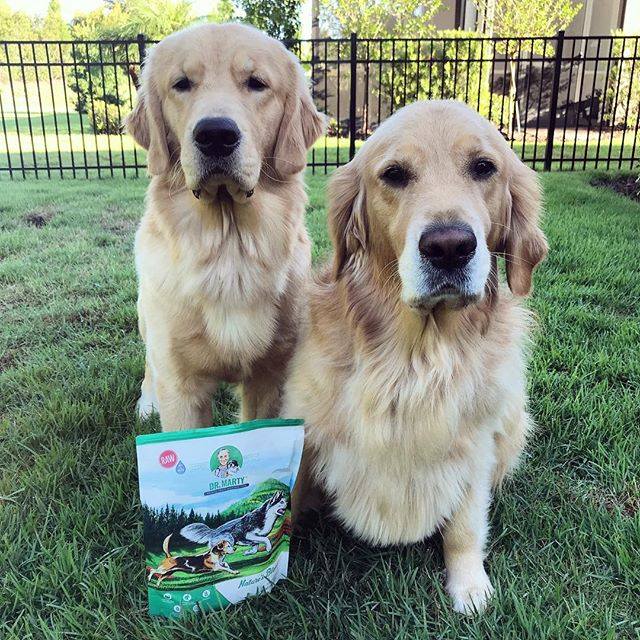 With all the fresh ingredients, nutrient-friendly preparation methods as well as lack of chemical additives, Dr. Marty Dog Food is essentially ideal for all dogs.
However, there is no denying the fact that there are some dogs out there that may require this specialized diet more than others. Here are a few such pooches.
Dogs With Food Allergies
The ingredients used in Dr. Marty Dog Food are hypoallergenic to most dogs. This is in contrast to many brands of dry dog kibble whose ingredients as well as their additives may lead to allergies.
However, it is important to remember that dogs can still be allergic to healthy ingredients, including blueberries and meat.
Dogs With Chronic Illnesses
A healthy diet is crucial when it comes to reducing the risk of chronic illnesses in dogs as well as slowing down the progress of the same issues for dogs that are already affected. The rich nutritional profile that Dr. Marty Dog Food offers is ideal for such doggies.
Sensitive Tummies
A dog's gut is not meant to process most of the chemicals present in additives that are found in most dog foods.
This may result in gastrointestinal irritation over time which explains why it is so important to always check the food label for these chemicals and consciously monitor what you feed your dog. Dr. Marty Dog Food takes care of this for you.
Picky Eaters
Your dog is not a picky eater; they actually have great taste and just know that most dry kibble is terrible.
You don't have to worry about this with Dr. Marty, as the raw meat and other flavorful ingredients are exactly what their instincts are tuned to gravitate towards.
Comparison: Dr. Marty Dog Food VS JustFoodForDogs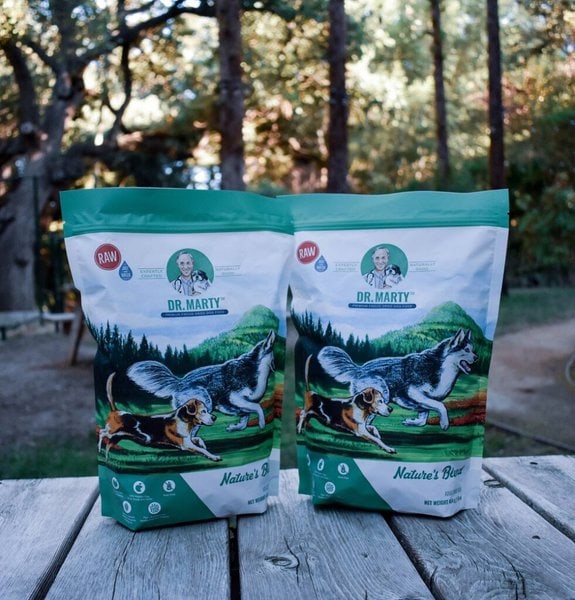 Apart from Dr. Marty Dog Food, JustFoodForDogs is a real contender for the top spot of the best raw dog food option for your furry best friend. However, there are many differences that you need to understand so you can make the best possible decision for your pet.
In terms of preparation and serving methods, Dr. Marty Dog Food is prepared by freeze-drying raw ingredients, including meat cuts, vegetables, fruits, and even seeds. This dog food can either be served dry or rehydrated by soaking it in water for about 3 minutes.
On the other hand, JustFoodForDogs is prepared by freezing the dog food after it is mixed and chilled. It is then stored frozen and thawed when it comes to the serving.
In this case, the convenience of a 3-minute soak makes Dr. Marty a fantastic option for dog owners who want a quick and convenient fix.
In terms of ingredients used and their variety, both brands stand out and are almost neck to neck. They both include a wide variety of meats, including beef, chicken, fish, and turkey. Furthermore, they both also use vegetables for a bit more nutritional balance.
Again, Dr. Marty Dog Food stands out in this case, including fruits and vegetables for additional nutrients, such as fiber and antioxidants.
In terms of shelf life, JustFoodForDogs takes the cake in terms of numbers, as the freezing and vacuum sealing means that the dog food can stay fresh for up to a year.
On the other hand, Dr. Marty Dog Food has a shelf life of about three months, facilitated by freeze-drying and zip lock packaging.
However, the longer shelf life offered by JustFoodForDogs comes with a caveat which is the fact that the dog food must be stored in a freezer to maintain its freshness.
Similarities
You get beef, chicken, fish, and turkey meat options with both Dr. Marty Dog Food and JustFoodForDogs brands.
Both brands include vegetables and fruits in the ingredients to give your pup a wholesome meal.
Differences
Listed prices for Dr. Marty Dog Food range from $82.35 to $85.35 for three bags, while JustFoodForDogs starts at $47.80 to $90.65 per serving, depending on the recipe.
Shelf life with Dr. Marty Dog Food is three months, and JustFoodForDogs, they go up to 1 year.
While Dr. Marty Dog Food products use freeze-drying, the JustFoodForDogs are fresh-frozen.
Dr. Marty Dog Food gives you two meal options, and seven meal options are available for JustFoodForDogs.
To serve Dr. Marty Dog Food, rehydrate by adding 1 cup of water for every 2 cups of dog food. With JustFoodForDogs, you thaw and serve.
How Much Is Dr. Marty Dog Food?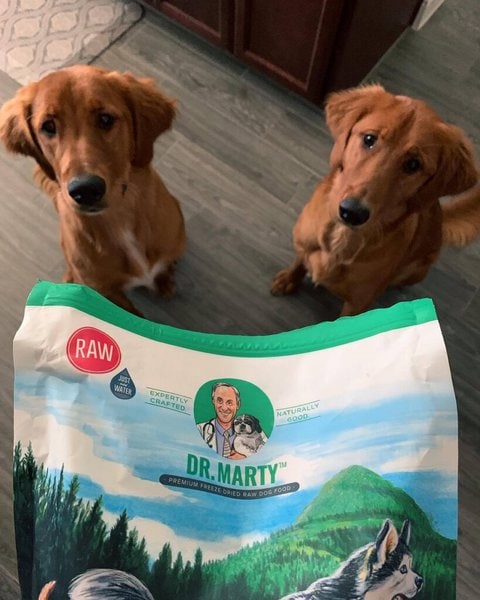 Dr. Marty Dog Food is a bit on the pricier side, which is definitely a consideration, especially if you are shopping on a tight budget.
When it comes to the actual dog food, the price for a single bag of either the Nature's Blend or Nature's Feast dog food is $59.95.
The dog treats available from Dr. Marty Dog Food are typically more affordable and can go for as little as $16.95. However, more premium meat cuts can go for as much as $22.95 for options like the pork liver treats.
The price of Dr. Marty Dog Food depends on two key factors.
Number Of Units Bought
Dr. Marty Dog Food typically includes discounts for bags of food that are bought in large quantities.
For example, you get 5% off if you buy three bags of dog food at the same time, as well as shipping. This discount increases further for purchases of up to 6 bags, in which case you get to enjoy a discount of about 10% in addition to the free shipping.
The Type Of Meat Used
Not all meats are created equal, and this is reflected very strongly in terms of the price variations with Dr. Marty Dog Food when it comes to the flavor options.
Cuts of meat like salmon are typically more expensive than other alternatives like pork liver, and beef. This is best appreciated with Dr. Marty's options on dog treats based on individual meat types for different flavor alternatives.
For instance, here are the prices for three bags of different meats:
Joey's Favorite (Raw salmon) – $76.95
Red's Rewards (Pork liver) – $65.40
Tilly's Treasures (Beef liver) – $47.85
Dr. Marty Dog Food Reviews: What Do Customers Think?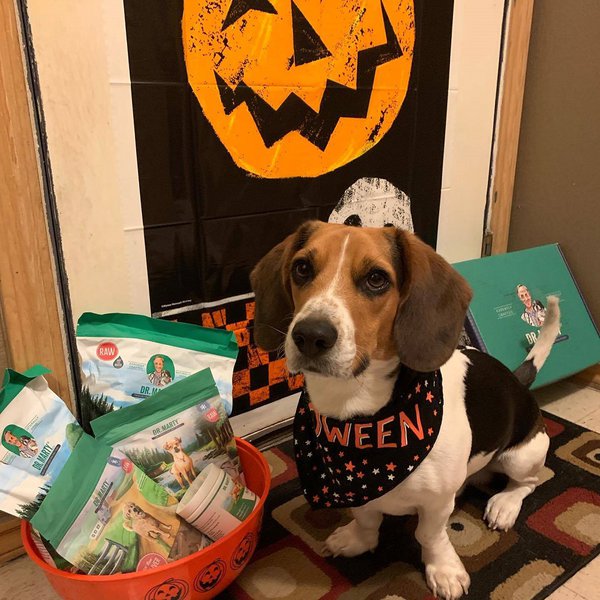 Dr. Marty Dog Food is probably one of the best-rated dog foods there is, with 5 out of 5 stars from 1,682 customer reviews. Clearly, they are doing something right.
An Amazon buyer loved how the nutritional value of the dog food made their 14-pound dog more playful and energetic, even going as far as to "rely solely on this food in the near future."
The owner of an 11 yr old Weimaraner had the dog transform from being sluggish and not completing his meals to "devouring the bowl of food like he was six months old." The dog ended up having more spring in his step, from playing to having normal bowel movements.
Here is more consensus on what customers have to say about this brand of dog food:
"No more fights to feed. I think it's amazing, and my dogs love it."
From dogs incapable of waiting for the food to be served to picky eaters falling instantly in love with Dr. Marty Dog Food, there is no denying the fact that dogs love these meals. Who can blame them, considering the quality and flavor-sealing preparation methods?
"Thrives on this food. My dog has never been better in every way."
Something else that customers seem to appreciate with Dr. Marty is the fact that the results are undeniable. Within as little as a few days, customers have noticed changes in their dogs' energy levels, coat health, bowel movements, and much more.
Customers have also noticed long-term effects, including improved joint health and maintaining a healthy weight.
"I like that it's easy to store in my cupboard and easy to fix."
The fact that all it takes is about 5 minutes to serve your dog up some good quality dog food is part of what makes Dr. Marty Dog Food such a great hit among dog owners. It also helps that you can store the food for months as you would with regular dry kibble.
"My dog is a picky eater, and she gobbles this food right up since I started it."
You can serve Dr. Marty's freeze-dried food in a number of ways, whether it is mushy and wet or dry like kibble. This versatility seems to come in very handy when it comes to switching things up for dogs that are picky about both flavors and textures.
Is Dr. Marty Dog Food Worth It?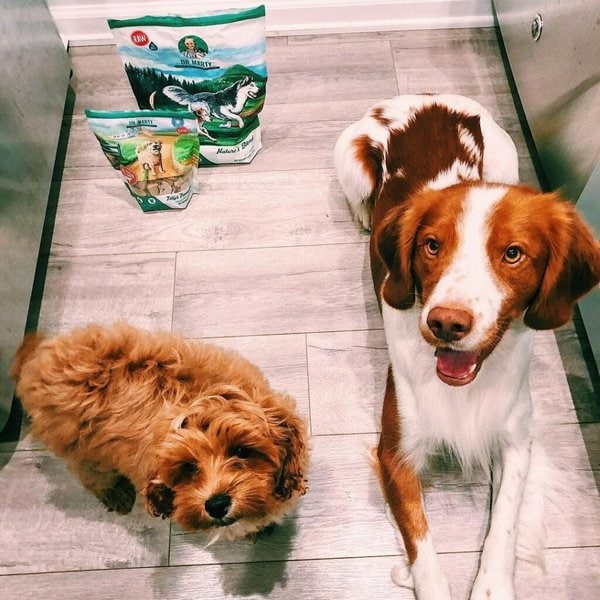 There is no denying the fact that Dr. Marty is a bit on the pricy side as far as dog food goes. But is it really worth it? The answer is a resounding yes. Here is a bit more on why this is the case.
High-Quality Ingredients
With Dr. Marty Dog Food, you can rest assured that you will be getting value for your money as all the ingredients used to make your dog's meals are of premium quality.
This includes meat imported from reputable farms as far away as Australia.
Undeniable Nutritional Benefits
There is also a lot in it for your dog in terms of value, as the dog food from Dr. Marty is rich in all sorts of nutrients. You, therefore, do not have to worry about the constant need to supplement an already pricey diet.
It Will Save You A Lot Of Vet Bills
Think of it this way; vet bills will always be more expensive than good quality dog food. It is, therefore, best to avoid skimping out. This is because the cheaper dry kibble options will no doubt cost you later on as your dog suffers the health consequences of years of a poor diet.
Dr. Marty Dog Food Promotions And Discounts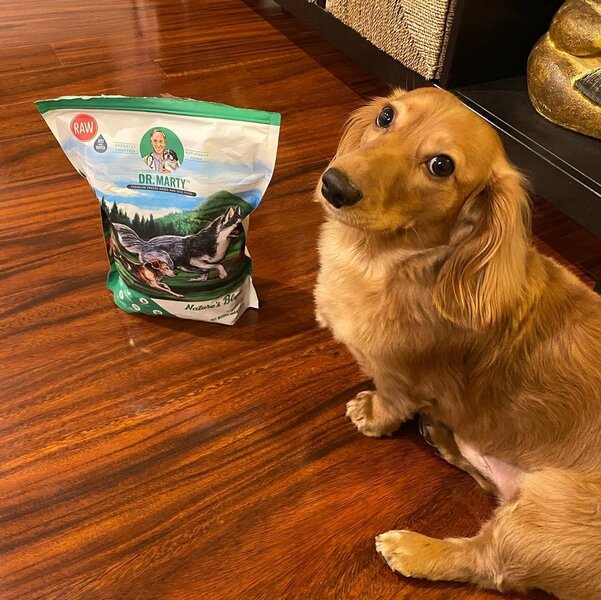 A great example is the discount of up to $120 if you buy more than six bags at once.
In addition to getting this generous discount, this bulk order will also grant you the privilege of free delivery, which further helps you save money.
With these in-house offers, discount coupons, and numerous seasonal promotions, you can definitely get the benefits of Dr. Marty Dog Food without stretching your budget too thin. You just need to know where to look.
Where To Buy Dr. Marty Dog Food?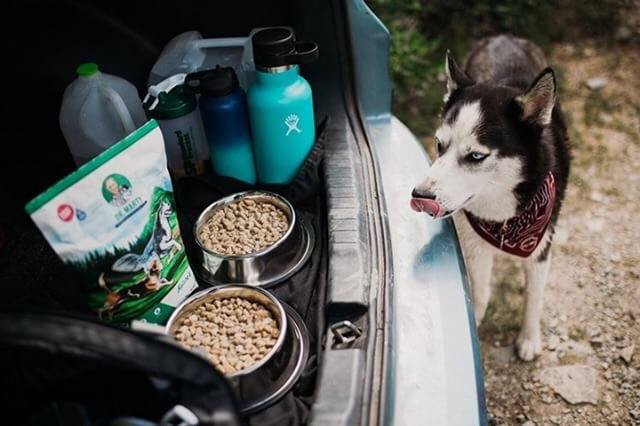 Dr. Marty Dog Food is available on many online shopping platforms, including Amazon.com, as well as a number of niche sites that cater specifically to pet food and other pet products.
While this dog food is available elsewhere, there is no denying the fact that it is best to get it straight from the source and just buy your dog a pack or more of Dr. Marty Dog Food through the company's very own website and e-commerce platform.
In addition to a guarantee of product quality, you get to enjoy exclusive deals as well as the 90-day money-back guarantee.
FAQs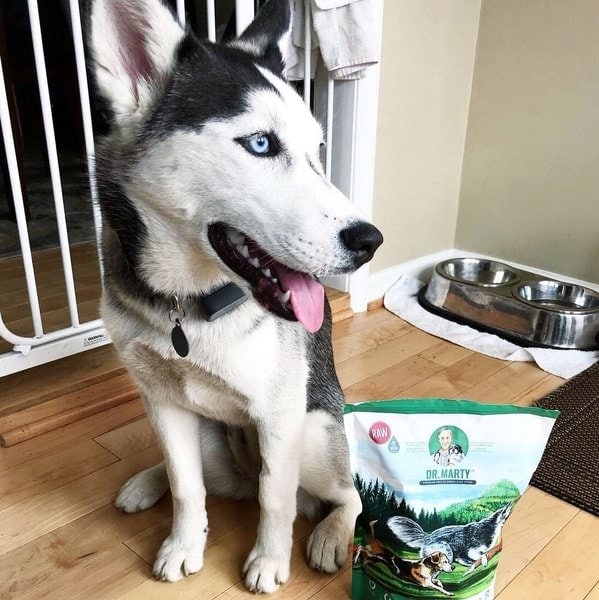 How Should I Transition My Dog To Nature's Blend?
It is best to introduce nutrient-dense Dr. Marty Nature's Blend dog food slowly to your dog's diet to avoid irritating their gut.
For the first three days, ensure that your serving of Nature's Blend does not exceed 25% of the dog's daily food intake. Increase this proportion by another 25% every three days. It should take you about ten days to completely transition your dog to the new, healthier dog food.
My Dog Prefers Less Water In Nature's Blend… Is That Okay?
Soaking to rehydrate the freeze-dried dog food is simply a suggestion but not the only way to serve Nature's Blend. If your dog prefers a bit more bite to their food, you may opt to use less water.
You could even serve the dog food dry for dogs that are too used to the texture of dry kibble to transition seamlessly.
What If It Doesn't Work For My Dog? Is There A Guarantee?
If your dog dislikes Nature's Blend from Dr. Marty Dog Food or if you are not satisfied with the results, you have a 90-day money-back guarantee. You definitely will not be disappointed with your purchase of Dr. Marty Dog Food.
How To Contact Dr. Marty Dog Food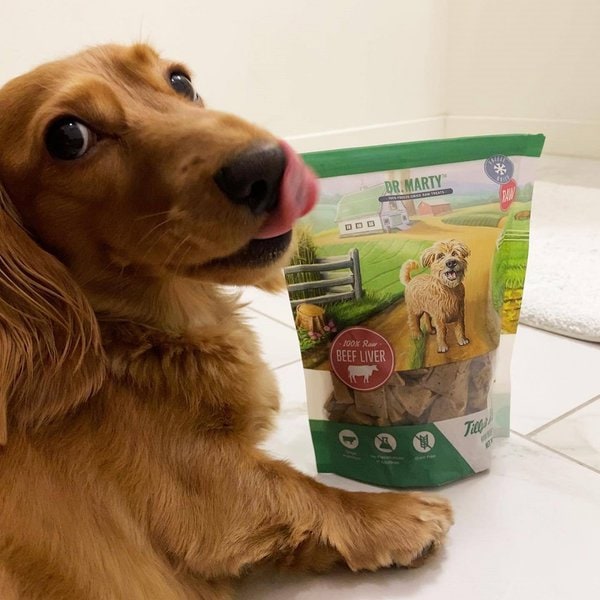 If you have any questions, concerns, or complaints, there are many ways for you to reach the customer support service at Dr. Marty Pets.
You could try sending an email at support@drmartypets.com. You could also try calling any of the verified numbers present on their website.
Dr. Marty Pets also facilitates contact through a form on their website through their contact form. All you have to do is fill in your email address for a response and submit your query.
Dr. Marty Dog Food is known for having great customer support, and you definitely will have an answer to your questions or solutions for your concerns.
Here are some of the contacts that could come in handy if you wish to reach out.
Telephone Number: (800) 670-1839
Email: support@drmartypets.com
Mailing Address: 8320 Canoga Avenue, 15th Floor, Woodland Hills, CA 91367
Social Media Platforms: