Whether you have a long-haired Goldie or a short-haired pug, investing in a grooming table is always a fantastic idea. This will make your life infinitely easier for all your grooming sessions, whether it is weekly brushing, monthly baths, or even yearly fur clipping.
Flying Pig is one of the leading brands when it comes to grooming tables. If you are in the market for one, here are 5 of their best tables.
Flying Pig Heavy Duty Electric Lift Dog Grooming Table
Flying Pig Portable Mini Dog Grooming Table
Flying Pig Heavy Duty Dog Hydraulic Grooming Table
Flying Pig Foldable Grooming Table
1. Flying Pig Heavy Duty Bone Pattern Dog Grooming Table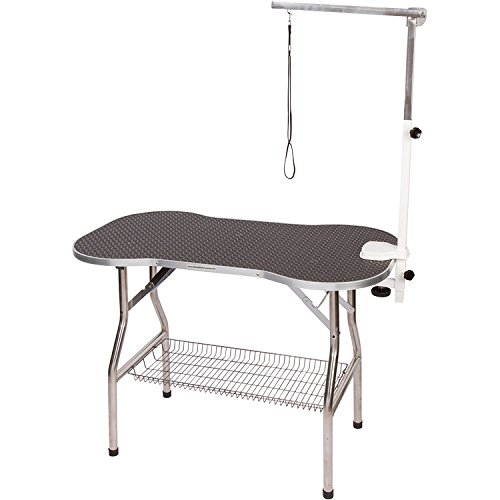 On paper, the Bone Pattern Grooming Table is very similar to the Foldable Grooming we just highlighted. They are both built to be sturdy and super convenient.
The main difference is quite obvious, and this is the curved design of the working space. It kind of looks like a doggy bone with its bulging, rounded corners, and narrower mid-section. This definitely makes it awesome if you want aesthetic value.
However, the curved design exists mainly for the sake of safety. They protect both children and over-excited pets from getting serious injuries if they accidentally bump into the table.
The somewhat hollowed-out mid-section also serves as a nook for you to fit in, offering flexibility as you work on restless doggies.
Pros
---
It has a 330-pound weight capacity.
It has a removable storage basket under the working space.
It has an adjustable and foldable arm.
2. Flying Pig Foldable Dog Grooming Table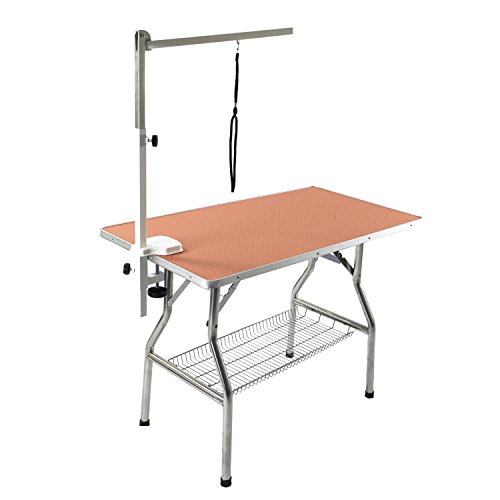 The foldable dog grooming table is one of the simplest grooming tables from Flying Pig. However, where it lacks in flair, it more than makes up for in sturdiness. It is one of the best grooming tables for working on large dogs. This is due to its impressive 330-pound capacity and the large 44 inches long by 24 inches wide working surface.
This dog grooming table also stands out with its storage basket underneath the working surface. With this feature, you have a convenient place to store your grooming tools and products, from doggy wipes to brushes and clippers. That way, they don't get knocked off the crowded table as you work or as your dog fidgets around.
Pros
---
It has a foldable arm for easy storage.
The arm and the grooming loop are also adjustable.
The working surface is made from a rubber mat.
3. Flying Pig Heavy Duty Dog Hydraulic Grooming Table
Flying Pig Heavy Duty Dog Pet Hydraulic Grooming Table
The heavy duty hydraulic grooming table by Flying Pig Grooming is designed to make your grooming job more enjoyable and...
Tabletop Dimension: 43.5"L x 23.5"W. Lift range from 19.5" to 39.75"
Foot-operated lift for easy smooth height adjustment. Non-skid bone pattern rubber surface is easy to clean.
We have yet another adjustable grooming table that offers almost as much range as the first model we highlighted. This one allows you to adjust the height from 19.5 to 39.75 inches. This grooming table uses a hydraulic system controlled using a foot pedal to achieve this flexibility.
Unlike electronic units, hydraulic systems require continuous pressing down on the pedal in order to generate the pressure required to raise the table. This may require a bit more effort, but for all the perks you get, it is definitely worth it. Once you reach the desired height, there are bolts to lock it in place so you can safely put your pooch on the table for the grooming session.
Pros
---
It has no-skid, rubber feet.
It measures 43.5 by 23.5 inches.
The grooming arm is adjustable and foldable.
4. Flying Pig Portable Mini Dog Grooming Table
SALE ALERT!!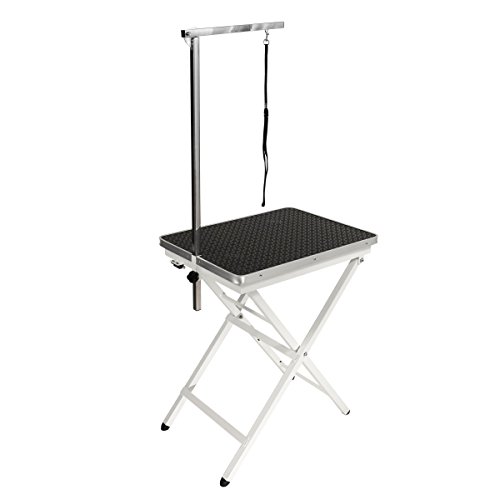 The Flying Pig mini dog grooming table is built for convenience in terms of portability. This is made possible by the foldable design that reduces it to 24 inches by 18 inches, compact board. This makes it very easy to transport as it can be laid flat in the trunk of most vehicles. It also makes storage super convenient if you are strapped for space.
The design also offers versatility by allowing height adjustment to two levels. This is done by manually changing the level at which the two crossing legs attach to each other. The design allows adjustment to 28.75 inches and 32.25 inches. This may not be as flexible as with other adjustable options, but it is still a pretty handy feature.
Pros
---
It has a maximum weight capacity of 50 lbs.
It has non-slip feet for safety.
It has a sturdy and durable steel frame.
5. Flying Pig Heavy Duty Electric Lift Dog Grooming Table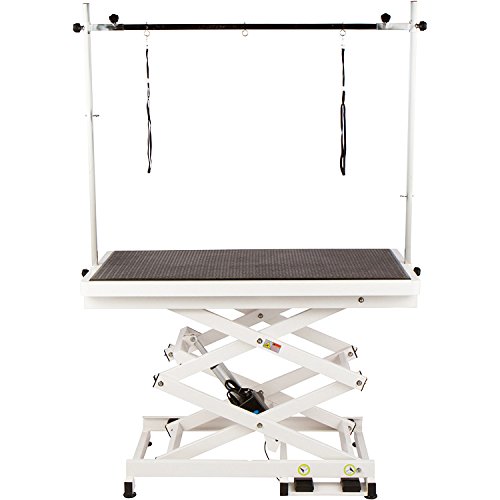 Flexibility is key when grooming a dog, as you need to get yourself and the pooch in the most comfortable position to make the session as easy as possible. That is what makes the adjustable height on the Flying Pig electric life grooming table such an amazing feature.
The electric system is controlled using 2-foot pedals. One moves the table up while the other moves it lower until you get the right height that is most comfortable for you.
Furthermore, this grooming table comes with not one but two loops. These allow you to restrain the dog both at chest and lower torso levels for better control. They come in particularly handy if you are grooming a very large and restless doggy.
Pros
---
The grooming surface measures 45.8 inches by 25.7 inches.
It has a maximum weight capacity of 220 lbs.
It has leg levelers for use on uneven surfaces.