While having a pet at home is one of the warmest feelings, it does get terrifying when they fall sick.
Free online vet chat services can be beneficial when it becomes problematic to take your pet to the vet. With an increasing number of services going online, it is no surprise that you now get to consult some of the best vets through online chats. Although you may have to take prior appointments, these consultations can be free and smooth.
However, to make the most of these services, you would need to take a few things into consideration, as they come with their set of advantages and limitations. Hi! I am Pete, Staples's dad, and a proud dog trainer. And today, I will take you through all that you need to know about free online vet chat services.
Reasons To Go For Online Vet Chat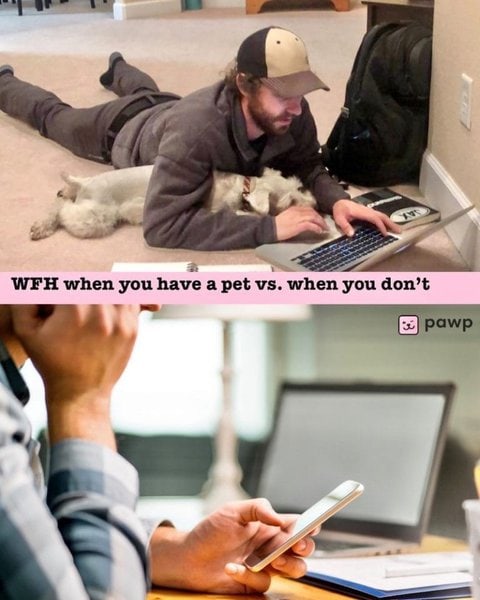 Like every service that you opt for, even online vet chats come with their set of advantages and disadvantages. In this section, I will take you through some of the significant pros and cons of going for online consultation for your pets.
Advantages
Honestly, there's no greater joy than seeing your pet happy and healthy. And when they fall sick, the best that you can do is get in touch with a vet who can alleviate their pain.
I generally prefer online consultation over visiting the pet clinic as it gives me a wide range of options regarding the vets I can talk to. Since I have many pets at home, I am generally required to speak to pet doctors who are specialized.
And with online consultation, I can talk to vets practically from any part of the world. Naturally, this increases my access to vets with different specializations without worrying about taking my pet to them.
Because there is no need to travel and wait in long queues, the time spent getting your pet checked will get cut down to half. Plus, you can rest assured that your pet will stay safe and they won't catch an infection on the way to the doc or when traveling back home.
Disadvantages
Just because there are multiple benefits to accessing free online vet chat doesn't mean that they don't have certain disadvantages.
The most significant trouble that I see in the pet industry is that there is a lot of misuse of drugs. Unless they are properly regulated, there's a good chance that the medicines are bought and sold under the wrong prescriptions. And in the absence of any direct contact, the opportunities to use fake prescriptions get multiplied.
The other problem that's quite prevalent, and I have also faced it many times with my pet Staples, is the lag in virtual communication. Since there is no personal contact, it gets a little impersonal when the pet, the doctor, and the parent meet virtually and not in person.
However, even if there are a few disadvantages, the advantages will outnumber them any day. You can consult a vet any time you feel like it from the comfort of home.
From my personal experience and from what I have seen my other friends do with their pets, I can say that most of your pet problems can be solved through online consultation with the vets.
But this in no way means that all the problems can be solved like this. You need to immediately get your pet to the vet clinic when they get sick in certain situations. If your pet needs to be operated on, it sure cannot be done online!
Who Can Help?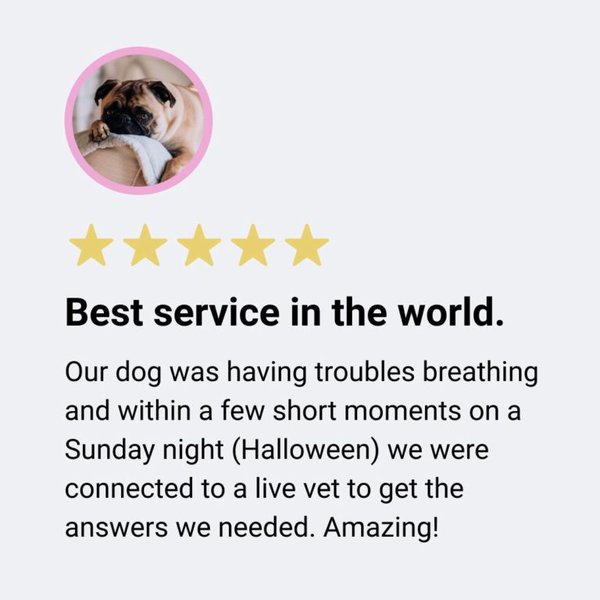 It does not matter which part of the globe you are located in – an active and stable internet connection will provide you with the access to consult a vet for free. And in this section, I will tell you about some of the best free online vet chat services.
Pawp
| | |
| --- | --- |
| How it works | Log in using your Pawp account and start speaking to a vet via chat, a phone call, and a video chat within minutes. |
| Costs | $0 (only for registered users) |
My sweet Weimaraner, Staples, had hip dysplasia a few months back, and I was worried out of my wits as to how to help her. And that is when one of my fellow pet owners recommended consulting the digital vet clinic Pawp and its telemedicine service.
The vets at Pawp are capable of helping your pets deal with different medical conditions like allergies and parasite infestation. Moreover, they may help you understand the general nutrition needs of your pets, which is especially beneficial for first-time pet parents.
You can read our in-depth review of Pawp here.
You can consult the vets any time of the week as they are available 24/7, but remember that not all medical conditions can be attended to online. In case your pet requires offline medical treatment, the vets at Pawp will direct you to the nearest pet hospital.
Connect With A Vet By Chewy
How it works
Log in using your Chewy account and commence a live chat instantly or a live video call within the next 30 minutes between 8 am to 11 pm ET.
Costs
$0 (only for AutoShip customers)
$14.99 for live chat, $19.99 for live video (for non-AutoShip customers)
This online vet consultation service is one of the initiatives Chewy is spearheading to virtually connect its customers with licensed veterinarians in the USA.
Available in chat and video call formats, each teleconsultation session comes free of charge, as long as you are an AutoShip customer. For non-AutoShip customers, the chat and video live sessions cost $14.99 and $19.99 respectively.
A video call can be scheduled at one's earliest convenience within 30 minutes or up to 2 weeks, but it is limited to 20 minutes per session and is only available from 8 am to 11 pm ET. On the other hand, live chats can be set up as soon as you hit the "Connect" button.
PetCoach
| | |
| --- | --- |
| How it works | Submit a query and receive a response from professionals with a lead time spanning over 2 hours. |
| Costs | $0 |
As the name implies, PetCoach by Petco serves to coach pet owners with useful care tips for their pets. If your pet is behaving abnormally, and you are unable to figure out what went wrong, or driving to a vet clinic is not feasible, just hop onto PetCoach's website or mobile app to submit it as a question.
Its team of licensed veterinarians will get back to you with a reply, or an answer, for free. However, for this free-tier service, you can expect this response to typically take two hours or longer.
If you prefer a quicker turnaround for the answer, you can do so for a fee of $20 and this puts you directly in a private consultation session with a veterinarian.
Ask.VetBabble
| | |
| --- | --- |
| How it works | Post a query on the website's front page and receive a response from professionals with some lead time. |
| Costs | $0 |
You can visit its website right away to share your query with veterinarians and other fellow pet owners. I have spent hours here and even made friends talking to pet trainers, veterinarians, and caretakers to have my queries answered free of cost.
In hindsight, it makes for a warm and welcoming community where many pet experts and owners come together to share and exchange credible resources to help the pets. You can even choose to engage in a one-on-one chat with the editor, who helps ensure that you get access to nothing but credible and reliable information.
Final Words
That is all I have for you today. I hope I have given you a glimpse into how you can easily access online free vat chat from the comfort of home. However, I would warn you that not all online forums provide valid resources and consultations.
And for that reason, it is essential to do your research well in advance to know which forums you can trust in case of emergencies. I have listed a few of them in this guide, and you can always talk to your friends to get their opinion.
Some of my fellow pet owners and I have formed a support group to talk about pet worries and share relevant resources, and you can do the same.