A Houston woman is trying to find her dog a new home and the ad she released is attracting some attention. The ad is a tongue-in-cheek description of a sassy Siberian Black Mouth Cur Mix named Hank.
The ad goes, "While we were parked outside the Red Bull Factory, Hank flew into our passenger side and immediately helped himself to our stash of road trip snacks like a teenager raiding the fridge after school."
It adds, "He's 54 lbs of pure, unadulterated, kinetic energy with eyes like the ocean. Unfortunately, that ocean also sank the Titanic. Stop f***ing reading and adopt now." The rest of the ad goes on describing Hank and comes with a lot of cuss words to emphasize the fact that he is quite a handful, but in an endearing and funny way.
A Stray Pup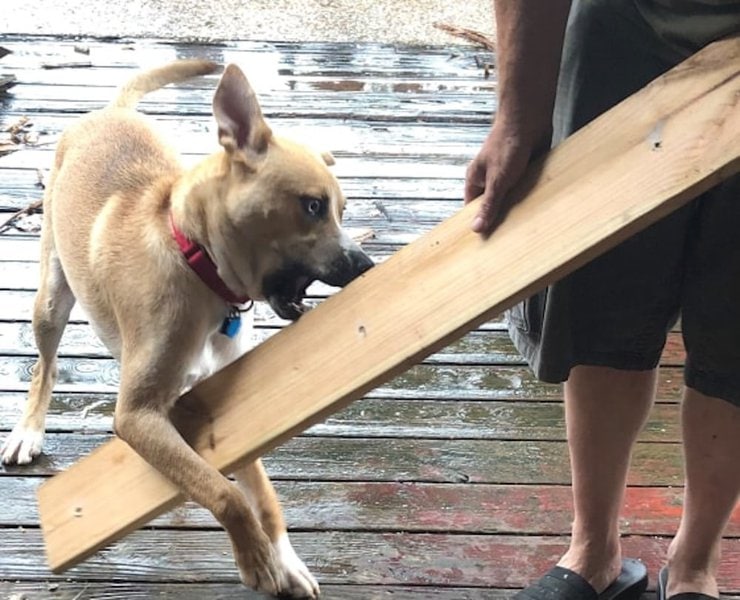 Christine Clauder created the page PleaseAdoptHank.com on July 2, 2021, to find a new suitable owner to adopt the one-year-old dog she hilariously describes as "hellion". She adopted the abandoned dog in early May when she discovered him in an industrial part of Houston, Texas.
Hank was malnourished and covered in fleas back then and Clauder took him home and got him cleaned and neutered. He is a cross between a Black Mouth Cur and a Siberian Husky with the distinctive blue eyes typical of a Husky.
The pup also inherited the intelligence and sassy personalities of its parents. Clauder notes, "Siberian Huskies are extremely intelligent dogs and they are always getting into shenanigans and his personality matches that completely as well." She said that Hank was very receptive to training as it took only several days for Hank to learn how to obey commands for sit, shake, and lay down.
The dog also helped Clauder get through the loss of her previous dog who died the day before they found Hank. "He makes us laugh every single day and when he stares at you with those bright blue eyes, you know exactly what he's thinking", Clauder said.
A Mischievous Dog
Clauder and her husband decided to give up Hank for adoption because she is currently looking for new work with her husband and being out most of the day, so they both have little time to take care of Hank.
"Hank cannot be alone, and he doesn't deserve to be alone – at least during this stage in his life", Clauder stated. They also do not want to leave the dog inside a crate all day, saying, "that is not his personality."
In the ad, Clauder describes Hank as always having an 'always-on personality' adding that "I love this dog, but he is exhausting." She laced her ad with cuss words that are meant to be funny because she wanted to attract the right kind of would-be owner that is active, tough, and willing to take on Hank's similar personality.
"I did not want to advertise Hank as just a great family dog with small babies and children, because that's not Hank. And being honest about his personality would reduce the chances of a return. If you're offended by words on a website, Hank isn't the dog for you because Hank is an offensive dog…and you will need a thick skin and that sense of humor to be able to raise him," Clauder said.
The adoption site has already received numerous inquiries and each one is being carefully reviewed.