SALE ALERT!!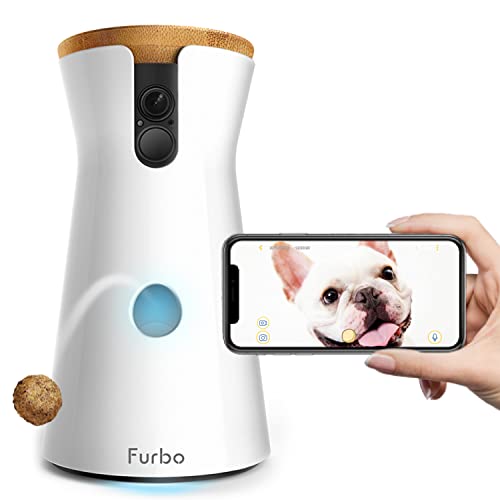 When I was a kid, I would get extremely sad every time my parents left for work. Then I started going to school, and I realized that my parents would also be sad leaving me with the house help at home. Of course, I grew out of it with age.
But this separation anxiety experience came back some years ago when I brought home my dog. I would be sad to leave, and I knew he was sad too. So, when the Furbo Dog Camera was launched in 2017 by Tomofun, I had to be among its pioneer users, and I've never regretted doing so to date.
The Furbo Dog Camera maintains the connection between you and your dog when you are away from home. You can talk to your dog and your dog to you, toss treats to reward or calm your dog, keep an eye on your dog's movement and behavior, and your dog can even take selfies!
If you are wondering how all this happens, then this article is for you. We'll explain to you all the features of this godsend product.
What Is The Furbo Dog Camera?
A camera that minimizes the distance between you and your dog using two connected devices; your phone and the Furbo.
The camera keeps you updated about your dog's activity and gives you control of your dog's movement and behavior as though you are at home with your furry friend.
Its key features include an audio speaker, a microphone, a video system, and a treat dispenser. The bamboo cover at the top gives the Furbo a polished finish and aesthetic effect.
You do not need to worry about your dog knocking over the camera in an effort to get out the tasty treats. The strong adhesives at the bottom have been tested using against the strongest dog breeds. See this quick video for a demonstration.
It's, however, advisable to set up your camera 12ʺ to 20ʺ from the floor, depending on your dog's height.
How To Set Up The Furbo Dog Camera?
Once your Furbo has been delivered, it's pretty easy to set it up. You'll need your smartphone, your new Furbo Dog Camera, and a good and stable Wi-Fi connection.
Follow these steps to get your doggie surveillance cam going:
Go to your App Store if you have an iOS device or to Google Play if you have an Android device and download the Furbo app.
Enable Bluetooth to ensure your smartphone detects the Furbo once it's switched on.
Power up your Furbo by plugging it into a power source, and wait for the green light to come on. If the light does not go green after a few minutes, perform a cold boot (hard reset) by turning off the power and turning it on again.
Open the just downloaded Furbo App and tap the 'New Furbo User' option to set up your account (old users would have to sign in). You'll be prompted to enter your Furbo email and set a password.
The technological efficiency of the Furbo App will immediately start searching for the Furbo Dog Camera. If you have any issues at this stage or getting an error message, follow the error message 'can't connect to your Furbo' and seek help.
If your Furbo is detected, your setup is ready to continue, and you need to select your Wi-Fi network. That should be 2.4GHz, but if it's dual-band, connect only to the compatible option.
Once you are connected to the Wi-Fi, wait a couple of minutes for your Furbo to complete the setup. You'll soon be on the home screen, and you can start operating all the exciting features.
How It All Works: The Features Of The Furbo Dog Camera
Even though the Furbo's key features are the treat dispenser, the video system, and the audio speaker, the camera has a lot of other useful features on the app that you can explore to make the connection with your dog more engaging.
Here are the notable features of the Furbo device.
The 1080p Quality Full HD Camera
While the treat dispenser is the most exciting feature, Furbo's HD Camera is the most important.
The camera has a wide angle of 160°, which allows you to see your dog's movement at any point in the room. You can also zoom in to have a closer check on your furry friend.
Your smartphone connects to the Furbo via Wi-Fi or Bluetooth to deliver live stream video on your phone screen. That allows you to survey your dog from wherever you are 24/7, and that includes at night.
Depending on the video capture resolution you want, you can choose from 3 possible options: 360p, 720p, and 1080p. Your camera is set at 720p default but you can always adjust to your liking on the phone app.
One thing you will not be able to do is pan. In other words, you cannot sweep through the room with your phone to focus on particular areas. It's more like when you talk to someone on skype, you can't explore their room. But the Furbo camera resolution gives you a perfect view of what your pet is up to. So, not being able to pan should not be a problem.
The Two-Way Audio And Microphone
The two-way audio and microphone enable you to do several things, as explained below.
You Can Record Your Voice
The Furbo camera has a pre-recorded voice feature to greet your dog before you can give him a treat. But this feature also allows you to custom-record your voice and use words that are familiar to your furry friend.
For example, if you usually use a "Hey there, big boy!" every time you come home, this could be the alert greeting that gets your dog to return to the room from the yard or stop the destructive behavior.
The volume of your voice can also be adjusted to fit the context. For example, if you live in a tiny apartment with an enclosed balcony where your pet can walk to change the scenery, you can set the camera to a medium level, so your dog hears you even from the balcony.
You Can Get Alerts On Your Dog's Barking And Activity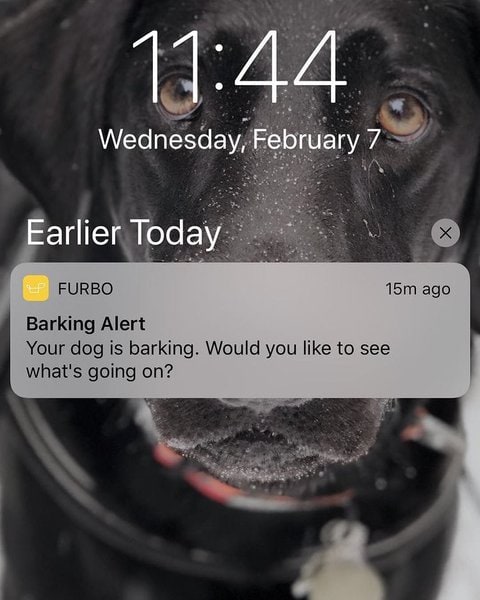 The best part about the 2-way audio is that you can get messages from and about your dog, and you can talk to your furry friend. You can make this a real-time 2-way chat by simply tapping an icon to enable the feature.
Messages from and about your dog come in the form of alerts on your smartphone screen.
The dog activity alert is delivered on your screen if Furbo detects activity by your dog. The alert could read, "Your dog is getting active would you like to check it?" or "Your dog is barking, would you like to see what he is doing?"
Once the alert is delivered, you activate the video to control the situation, and if need be, you can activate the 2-way audio to talk to your dog.
The person alert lets you know when someone enters the room where your pet is. This could be your spouse/boyfriend, the dog's walker, or trainer, but it could also be an intruder, which gives you a chance to act and save your dog.
The dog selfie alert tells you that your dog is facing the camera and taking selfies from a close range. This will most likely happen once your dog has learned that the cam connects both of you and when your furry friend is missing you most. The camera will need to be quite close and almost at your pet's level.
Note that only the real-time barking alert is activated if you are in the Furbo basic alert features. You have to be subscribed to the Furbo Dog Nanny service for other dog activity, person, selfie, and home emergency alerts, as well as several of the other features.
Your Furbo Dog Camera comes with a free 30-day trial for the Furbo Dog Nanny. If you like to renew after 30 days, you pay $6.99 per month. But you are better off paying an annual subscription of $69 and saving $14.88. An even better offer is to opt for a 2-year plan, and you'll only pay $119, saving a whole $48.76!
You can check the details on the subscription and cost offers on the Furbo Dog Nanny subscription costs site for the United States.
You Can Control Furbo's Sensitivity To Your Dog's Barking
You can set your Furbo's sensitivity to your dog's barking to suit your situation. You choose between low, medium, and high options.
For example, if you live with neighbors who are highly sensitive to a dog's barking and where there are no other dogs, you are better off setting the barking sensor at the 'high' option to ensure you detect every little bark. You don't want your neighbors at your door as soon as you get home from work.
The "Let's Play At Toss" Treat Dispenser
If you could read your doggie's mind, your pet might be wishing you understood that this feature is their favorite. Why wouldn't a 'home alone' dog be happy about a camera feature that not only tosses around tasty treats miraculously but also gives your furry friend a minute of exercise and stimulation?
You just need to feed the camera with round-shaped kibbles, and you can dispense one or a couple every time you want to reward or calm your dog. The treats must be smaller than the dispensing outlet (around 0.4ʺ in diameter). Don't use other kibble shapes to avoid jamming your dispenser.
Your dog will enjoy the catch game since the treats are tossed up to 6ʺ away. The tossing is accompanied by an exciting 'clack' sound, similar to the one from a training clicker.
Load The App On 2 Phones
The Furbo manufacturer knew that dogs often have two parents. For that, they created the camera with the possibility of setting it up on two phones.
This is an excellent feature because when one parent cannot respond to an alert, the other possibly can. Nonetheless, only one user gets to set an email and password.
Furbo Dog Camera Indicator Lights
Furbo communicates the different status of the camera by changing light colors.
White – You've just plugged your new Furbo into the power source.
Green – You're ready to go through the guided setup.
Purple – Your Furbo is not connected to Wi-Fi.
Yellow – Your Furbo is connected to Wi-Fi.
Blue – You, or your partner, are logged on to the Furbo App (the Furbo camera is in use).
Furbo Works With Alexa
If you have Amazon Alexa and foresee an extremely busy day at work, you can ask the virtual assistant to dispense treats on a particular schedule, say every hour.
You simply talk to Alexa and give her the directions of what you want to be done. See how that works in this video.
The Doggie Diary
Furbo will keep an account of your dog's daily activities and, at the end of the day, ask you if you are interested to view a minute video of the day's best shots. You have to be subscribed to the Furbo Nanny to enjoy this feature if your free 30-day trial has elapsed.
Cloud recording allows Furbo to store the daily videos of your dog's activity as well as your dog's diary. You can access the diary and all other alerts for seven days to view and download or even share with a friend, after which they will disappear.
Others
With the Furbo Dog Nanny, you have a few other features, including crying and howling alerts and a continuous barking alert. A dog emergency alert is also on the way.
The Spillover Benefits Of Furbo Dog Camera
The Furbo Dog Camera manufacturer may not have contemplated protecting your home or becoming your dog's psychologist, but apparently, that has turned out to be a spillover benefit for some dog parents.
Furbo Dog Camera And Your Dog's Separation Anxiety
Remember my introductory account of my separation anxiety and my discovery that my parents would go through the same when they left home for work? Well, Furbo has similar situations to deal with.
Especially if your dog is from a breed that is prone to separation anxiety, like the Labrador Retriever or the Toy Poodle, Furbo is going to be an essential remedy by keeping you connected from a distance.
Most people work for 8 hours a day, and that's the maximum limit of the number of hours your dog should be alone, according to the AKC. The Furbo Dog Camera will shorten these hours and ease separation anxiety for your dog by:
Enabling you to talk to your dog
Tossing treats to help calm your dog
Talking to your dog to stop destructive behavior like chewing and jumping on furniture
Providing some stimulation while you are away
Helping you decide whether you need to return home and attend to your dog
And it's not just your pet that will enjoy your surveilling presence when you are away, but you will also be more at ease. Your separation anxiety will also be taken care of, as expressed by a Furbo user in their feedback: "I'm convinced Furbo has improved my mental health."
Nonetheless, always get the opinion of your dog's vet on issues related to your pet's health.
Furbo Home Emergency Alert
Through the Furbo person and home emergency alert, which detects smoke and carbon dioxide, some Furbo users have been able to save the life of their dogs from fires and their homes from burglars.
Here are some Furbo users' testimonials: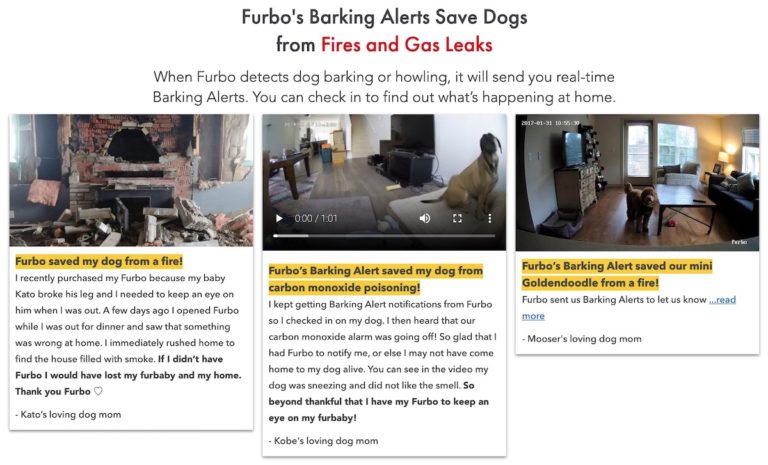 Furbo Dog Camera FAQs
How Fast Should My Wi-Fi Be To Transmit Data Quickly And Smoothly?
The minimum recommended Wi-Fi speed should be at least 0.1 MB per second (0.8Mbps). This will maintain good quality video streaming and make alerts and communication to your dog in real time.
Does The HD Camera Resolution Setting Affect Data Usage?
Yes! You'll be consuming more data if you choose a higher camera resolution as compared to a lower resolution. For example, using the 720p HD quality will cost you around 29 MB of data every 5 minutes. If you opt for the 320p resolution, you'll consume 6.6 MB of data every 5 minutes. Bear in mind that a higher resolution will give your better image output at the cost of more data.
Do I Incur Extra Costs After Purchasing My Furbo Dog Camera?
If you only use the basic features of the Furbo Dog Camera, you do not need to pay any extra money. If, however, you want all the features of the camera, you'll have to make a monthly subscription. This goes to pay for the cloud storage of your dog's activity videos and the daily diary.
What If My Camera Fails To Work, Can I Return It?
The Furbo dog camera comes with a one-year warranty. If your camera has manufacturer defects, you can return it for replacement. You'll, however, not be able to claim warranty rights if your camera fails following a fall, contact with water, or inability to follow the instruction in the manual.